It seems today that traveling is not so much about the horizon expanding experience, it's more about the photos you collect. Tourists are so busy snapping selfies at the Grand Canyon, for example, they barely pause to soak in the majesty without looking through a camera lens. At just about every landmark, attraction and scenic vista around the world, hordes of visitors are clamoring to get their obligatory cliché shots. Some just want to capture the moment for their personal albums, while many others are compelled to share pics with their social media peeps. We're guilty of it too, to some extent, so don't think this is a snobby condemnation of this cultural practice. In fact, there are some iconic hotspots out there where certain dorky shots are almost required. Sure, there's nothing original or clever about them, but it's hard to resist taking these cheesy shots along with everyone else. You're not a cool or "superior" traveler if you resist the urge. Don't overthink it. You know you want to. Here are 13 unabashedly tacky tourist photos you have to take when you're at these global landmarks.
1. Holding up the Leaning Tower of Pisa
It's almost comical watching the crowds carefully aligning themselves to get their classic Pisa shot, posing like a Tai Chi flash mob. The standard position is to angle your palms so it looks like you're trying to push the tower back to an upright position. Variations include kicking it over, flicking it with your finger, pinching it, leaning like it and, um, angling so it looks like the tower is protruding between your legs. Anything you can think up has already be done before, but that's okay. You'll regret it if you don't have one of these tacky tourist photos in your Pisa collection. Just do it like everyone else, and move on.
2. Holding the Eiffel Tower
Every traveler to Paris longs to see the Eiffel Tower and capture its essence in artsy photos. It's probably the most photographed landmark in the world. This iconic structure shows off well from many angles throughout the city. Among your various romantic skyline shots, close-ups of the ironwork and that cool angle looking straight up from under it (everyone does it), you just have to include a distant pic that looks like you've got the tiny tower in the palm of your hands. Alternatively, make it look like you're pinching it from the top like a dangling ornament. If you want to lay the cheese on extra thick, make a heart shaped frame with your fingers. Walk far down the Champs de Mars or Trocadero to find the right perspective.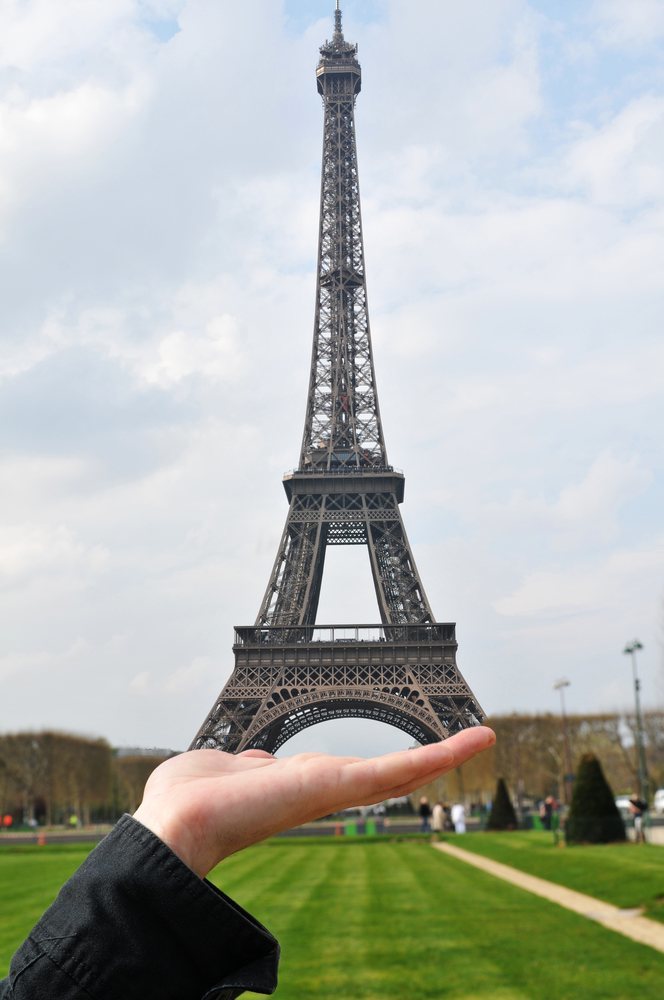 3. Straddling the Equator
If you're traveling in Ecuador, chances are you'll take a trip to the Mitad del Mundo – the equatorial line around the middle of the Earth for which the country was named. There's a museum and marker here, and tourists like to straddle the yellow line so they can be in two hemispheres at once. A variation on this theme is to balance on top of line, like a centered yogi. Which hemisphere are you in then? Well, hate to burst your bubble, but the latitude of the Mitad del Mundo is a little off of the real equator. Newer GPS calculations have determined that it actually lies 240 meters north of this painted yellow line. But close enough, so straddle away and snap a couple of tacky tourist photos anyways.
4. Walking Across Abbey Road
The Beatles' album, Abbey Road, came out in 1969 yet it still resonates with legions of global fans. In fact, when many of them pass through London, they flock to the "zebra crossing" outside Abbey Road Studios to recreate the famous LP cover of the Fab Four crossing the street. It's really just an average looking crossing, with nothing too scenic to see down the road. However, it's iconic and famous and, damn it, you want to walk in the footsteps of the world's most influential pop group of all time. No shame in that. Beatlemaniacs can take the Jubilee Line to St. John's Wood Station, and follow the crowds for a five minute walk along Grove End Road to the studio junction. It's quite amusing to watch the other tourists taking their snaps (often shoeless, like Paul), while irate cars honk at them to move off the road.
5. Cupping the Juliet Statue
When in fair Verona, Italy, it is all but required for visitors to stop by Casa di Giulietta (Juliet's House), a 14th century house at #23 Via Cappello. There you'll find the famous balcony and a statue of the young star-crossed lover. This tourist attraction presents itself like the Capulet's home from Shakespeare's Romeo and Juliet. But remember, this play was a work of fiction so there really isn't an authentic setting to see. Once you've taken your necessary photo pining for Romeo from the balcony, line up with the other tourists to get your shot fondling the bronze Juliet statue in the courtyard. Tradition says if you cup her right breast, you will be lucky in love. Not surprisingly, this area of the statue is buffed and burnished raw from all that manhandling. Other strategic areas of the statue are also looking a little warn, too (poor girl). Take your token boob shot, if you must – but for Bard's sake, no other violations, please!
6. Standing on the I Amsterdam Sign
Besides biking along the canals, checking out the Red Light district and enjoying some local "coffee" shops, many visitors to Amsterdam want to get a photo on the famous I Amsterdam sign. Why not? It has become an iconic symbol of the city, in some ways, and will certainly give your vacation snapshots a sense of place. You'll find the sign in Museumplein square, in front of the fabulous Rijksmuseum. People like to climb and sit on the various letters for their "unique" spin on this cliché snapshot. Bonus points for isolating the "terd" letters.
7. Playing with Perspective on the Salt Flats
The Bolivian salt flats of Salar de Uyuni are spectacularly scenic. The snow-like expanse of cracked white crystals as far as the eye can see messes with your sense of proportion and defies perspective, which makes for some fun photo-ops. Play your positioning right and it can look like you're holding teeny tiny toy-sized friends. All sorts of goofy shots have been taken here, it's become a "thing". People actually bring toys and props with them to set up planned shots. The cornier the better. Go on, you might as well join the fun while you're there.
8. Smooching the Sphinx
Going to the pyramids on your trip to Egypt? You may look a little weird puckering up to the air, but angle it right and you can get a great shot of you lip-locking with the Great Sphinx. Who cares if this is a tired, over-done photo that many a traveler before you has snapped? You can no longer get close to the Sphinx, so this silly shot might be the best one you can take. Lots of tour guides can help you find the right spot to line up the pic (often for a fee). This shot is all the more cheesier once you realize the Sphinx is actually staring at the Pizza Hut across the street.
9. Pinching the Washington Monument
Washington DC is full of stately monuments, but its iconic centerpiece is the commemorative obelisk to George Washington. The 555 feet tall and 55 feet wide marble and granite column proudly stands in front of the Reflecting Pool and the Lincoln Memorial in the National Mall. What better way to honor the founding father and first president of the nation than with some tacky tourist photos? Force the perspective so it looks like you're pinching the monument, or poking your finger with its pinprick top. You wouldn't be the first to find an angle where it looks like a phallus protruding from your pants. Hopefully the ghost of George has a sense of humor.
10. King of the World Pose
This one's kind of cringeworthy, but pretend you're being "ironic" and we'll give you a pass. When you're at sea, make like Jack and Rose and recreate their famous Titanic "King of the World" pose on the bow of the ship. It really is a freeing feeling staring out at the endless oceanscape with your arms outstretched wide. Woot woot if the mood strikes as someone snaps your cheesy photo of you. Just ignore the eye rolls of other passengers who will be mocking you. They've probably already taken their similar shot.
11. Meditating at Machu Picchu
You can't help but be inspired at the surreal vista of Machu Picchu perched atop the mountain pinnacles of the Peruvian Andes. The Caretakers Hut, Sun Gate and Temple of the Moon provide some classic photo-op views over the Inca ruins, but they tend to be crowded. Hiking up Huayna Picchu – the mountain that most people photograph – will give you a refreshingly different vantage point over the complex. You'll see a lot of tourists striking cheesy poses throughout this sacred site. Yoga contortions and contemplative meditative positions seem to be most popular. Even Liam Pain from One Direction found his center here. If you can manage to get a llama in the shot, all the better.
12. Four States at Once!
There's a point in the Colorado Plateau where the boundaries of Colorado, New Mexico, Utah and Arizona meet. It's the only place in America where four states touch. Four Corners Monument marks the spot, a location that is just begging for a "look ma, I'm in four states at once" shot. Some people lie down spread eagle across the boundary lines, some push up on all fours, while others sit right on the center spot. There's not much point in coming here if not for the token photo, so snap away.
13. Go for Baroque at the Trevi Fountain
When in Rome, all tourists trek to the Trevi Fountain to do the obligatory coin toss. Don't bother to resist it. It simply must be done, crowds be damned. Legend has it, if you throw a coin with your back to the water, right hand over left shoulder, you will return to Rome some day. Throwing a second coin in will lead to new romance, and a third will lead to marriage. Even if you don't buy into this superstition, it's a charming tradition that is featured in countless movies, books and blogs. It's also an enormous sculptural masterpiece of historical and artistic significance, it should be on everyone's must-see list in Rome. Besides, all the money is collected to support various Roman charities (over $3000 per day!), so grab some coins and your camera and just do it.