If you thought the gridlock on your morning commute was bad, get a load of some of the worldwide traffic jams people have endured. We may talk a lot about greening up the globe by encouraging cycling, walking and public transit, but people everywhere love their cars. More and more of us are driving, and roadworks simply can't keep up with the ever-increasing demands. Throw a bad storm, natural disaster or national holiday into the mix and things often crawl to a standstill. Here are some roadways that couldn't handle the flow, resulting in chaotic congestion that would make anyone trapped behind the wheel blow a gasket.
1. Beijing
They say 750 million travelers take to the roads on Chinese holidays like National Day and Lunar New Year, and the highways simply can't take it. Even the colossal 2,273km long fifty lane Beijing-Hong Kong-Macau Expressway was clogged to a standstill during Golden Week this past October. The fifty lanes had to merge down to twenty to get through a toll, and the result was carmageddon.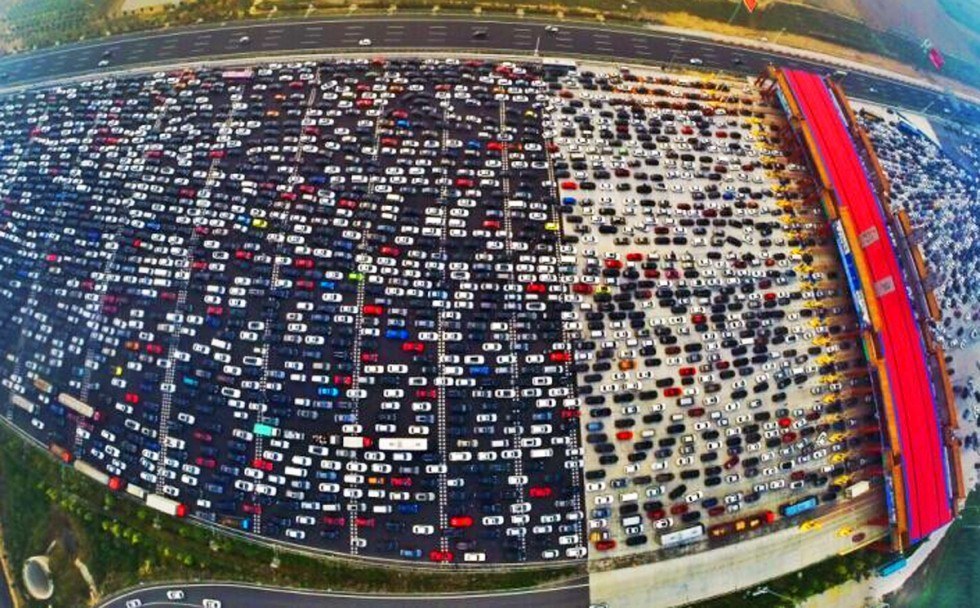 2. Moscow to St. Petersburg
Highway M-10 is one of Russia's busiest roads, linking Moscow and St. Petersburg. On November 30, 2012, a snowstorm led to epic mayhem on this road. Vehicles were at a standstill for 3 long days while workers struggled to repair the road and get the flow moving again. The delay went on so long that authorities even had to set up tents to provide amenities to drivers trapped in the jam.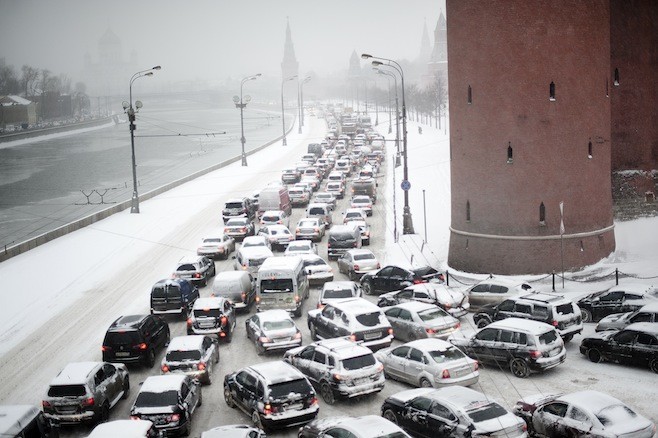 3. Sao Paulo
Brazil's largest city is famous for some of the worst traffic on the planet. Its booming economy has increased its greater area's population to well over 20 million, and it is said the average commute takes about four hours. One ridiculous traffic jam occurred on June 10, 2009, which stretched a whopping 182 miles long.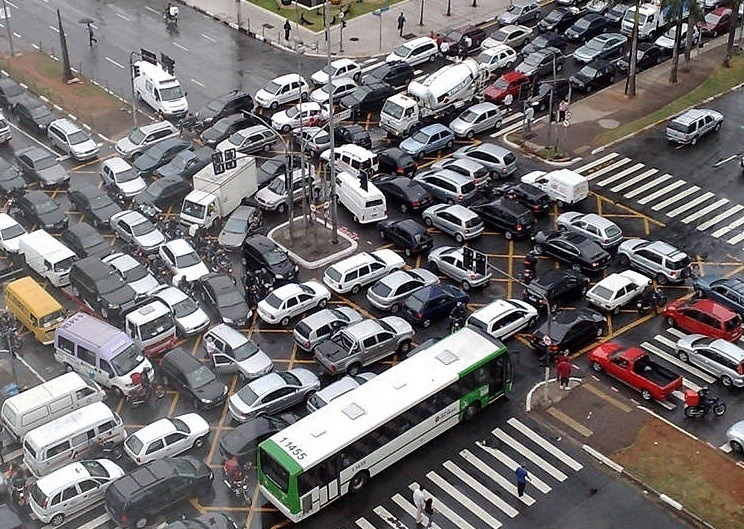 4. East/West Germany
When the Berlin Wall went down, Germans from East and West were desperate to reconnect with friends and family from the other side. The April 1990 Easter holiday brought an estimated 18 million vehicles onto a road that normally sees just half a million cars per day. Needless to say, that caused a few maddening delays.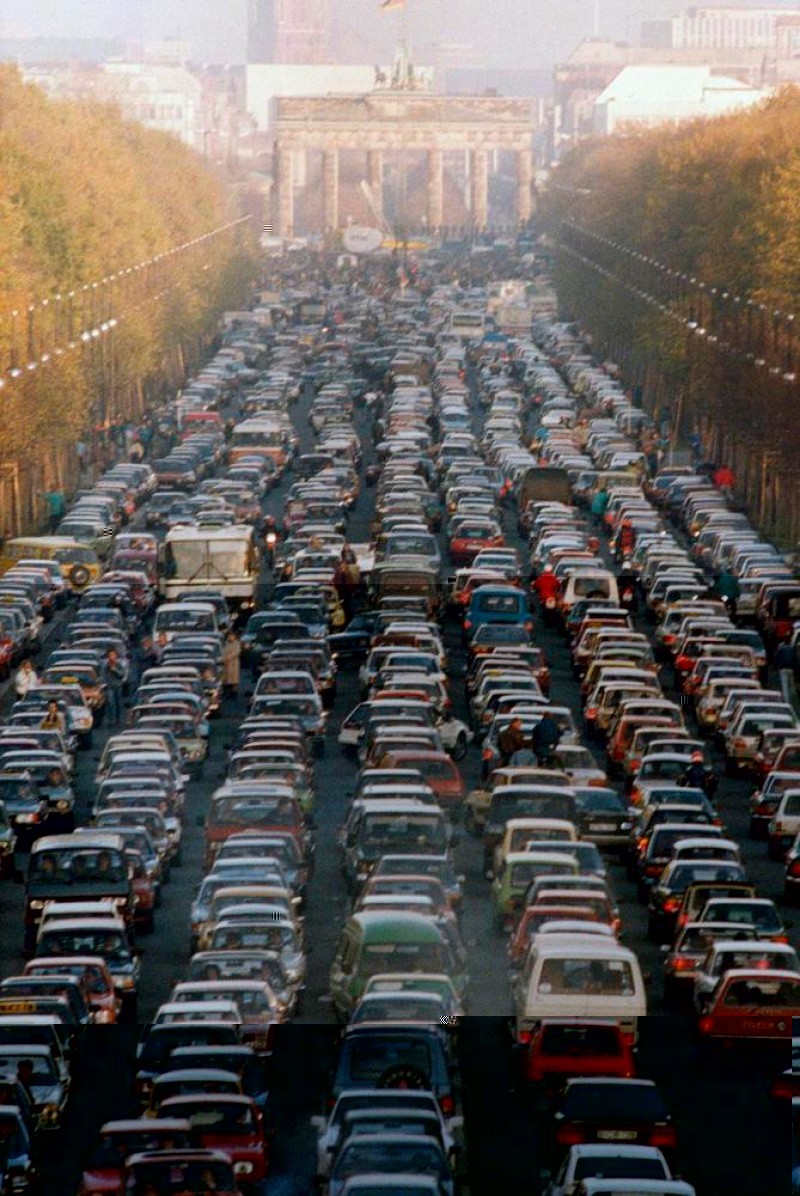 5. Chicago
Bad weather on February 1, 2011 resulted in many road accidents which halted the Chicago traffic to a snowy standstill. The motorists were almost buried in their cars as 20 inches of snow fell that day. It's never worth leaving home during treacherous conditions like that.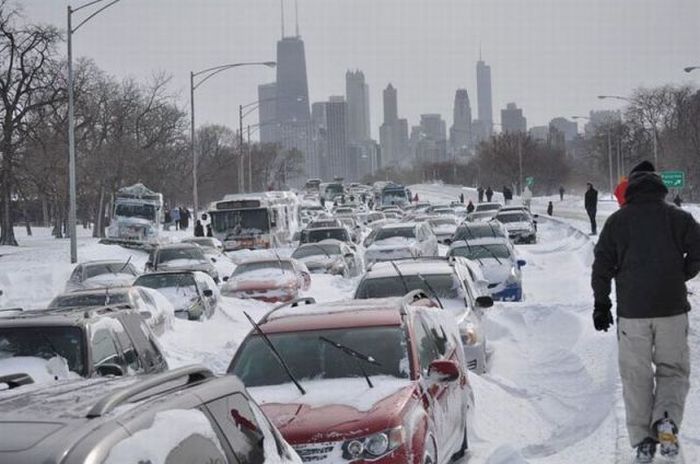 6. Western Japan
Densely populated cities like Tokyo or Osaka always have traffic congestion, even with their heavy reliance on train transit. But even the rural areas can get filled to over-capacity. One of the worst traffic jams on record occurred in August 1990 between between Hyogo and Shiga prefectures. Not only was this the time of year that people visit family for the O-bon festival, there was also a typhoon warning the day before so even more people took to the roads to make up for lost time. The result was 84-miles of highway hell with nobody going anywhere for about 48 hours.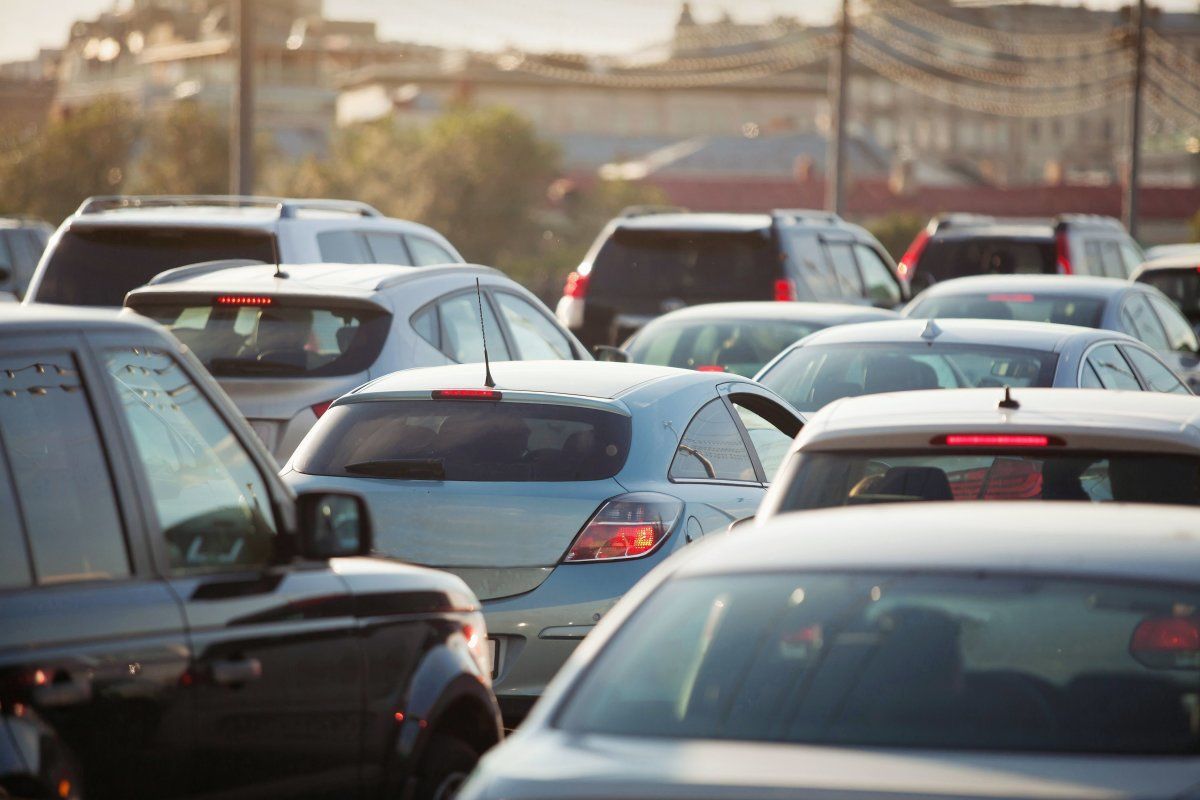 7. Jakarta
According to a study by Castrol, Jakarta is the world's worst city for traffic jams. The study detected that the average driver there taps their breaks 33,240 times per year, which indicates a pretty severe stop and go traffic situation. The United Nations Environment Program (UNEP) says Jakarta is the world's third most polluted city (after Mexico City and Bangkok) and that 67 percent of the pollution comes form automobile emissions. The city's thoroughfares certainly have some epic snarls on a daily basis.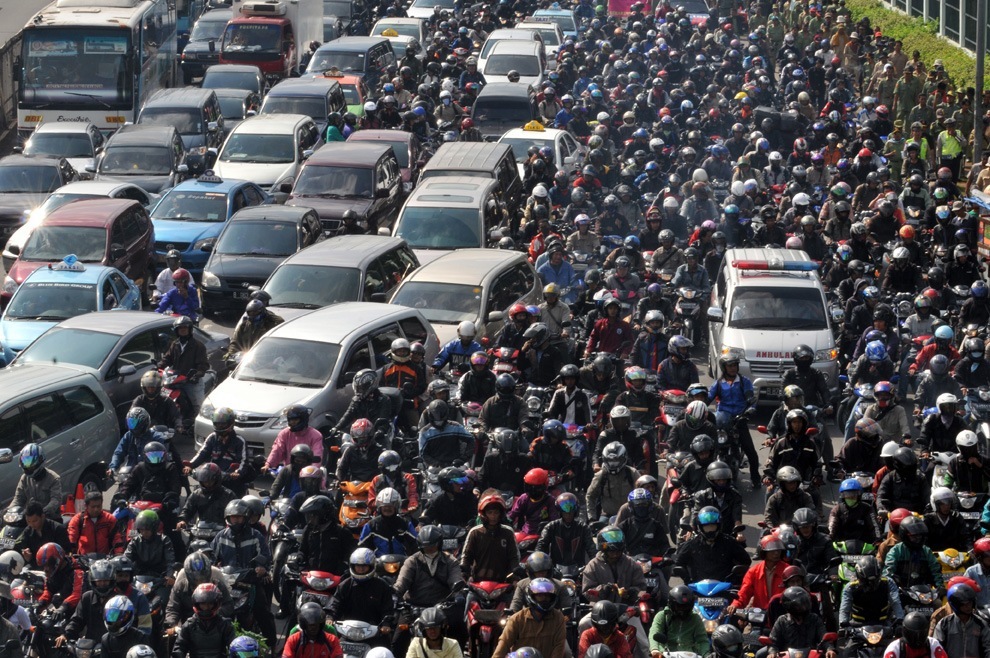 8. New York
Naturally, everyone was eager to get out of the city on 9/11. Bridges and tunnels were only accessible by emergency vehicles, so the city streets were at a standstill. Then again, they usually are during any average rush hour.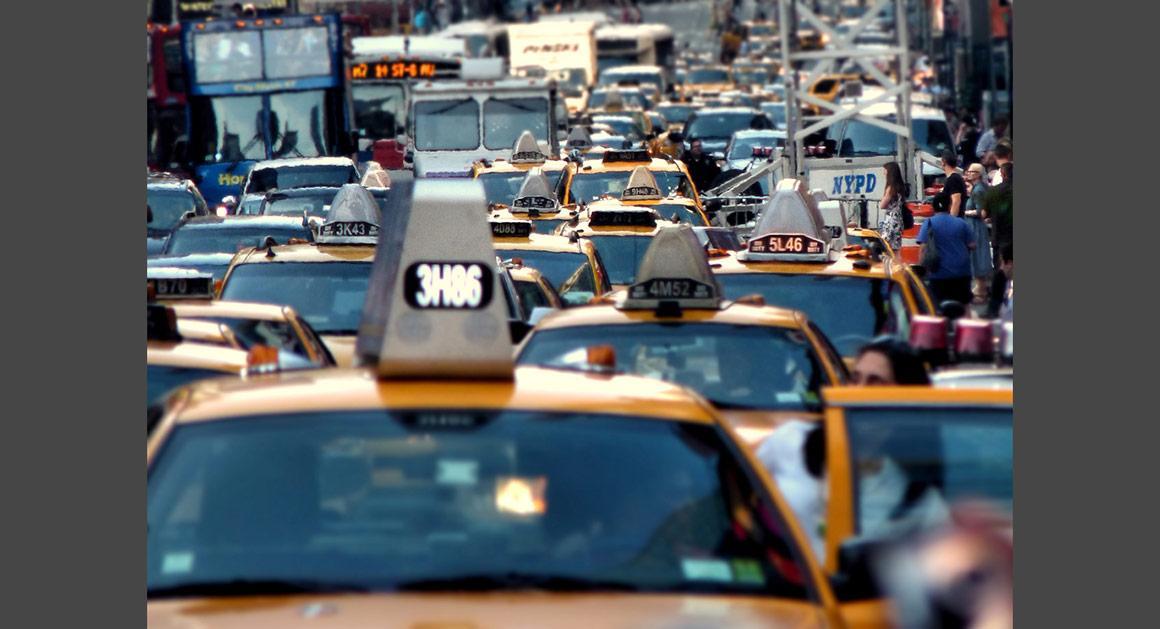 9. Lyon to Paris
Another one of the longest and most nightmarish traffic jams in history occurred in France in February 1980. The highway from Paris to Lyon was backed up for 109 miles. Drivers returning to the capital hit a storm which led to multiple collisions and lane closures. It took some people 24 hours to make it through to Paris.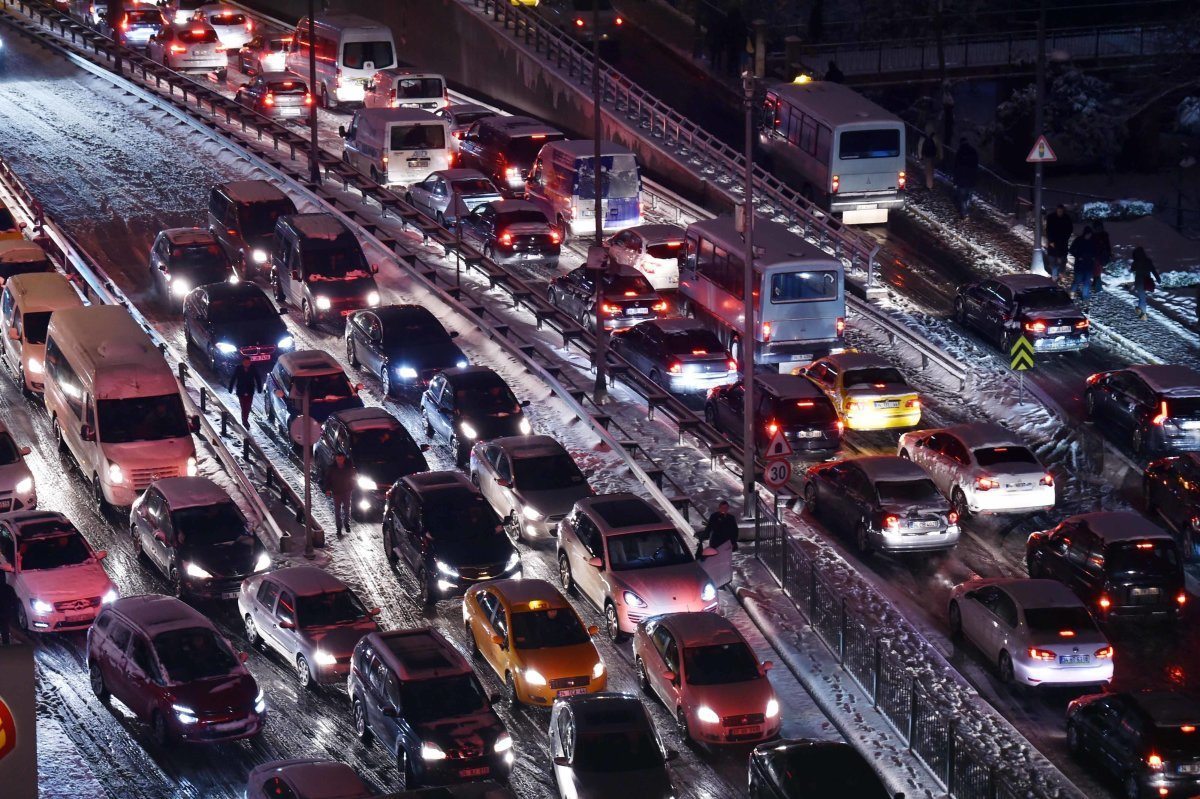 10. Rome
Italy has one of the highest car ownership densities worldwide. Accident stats reinforce its reputation as a nation of crazy drivers with little regard for road laws or pedestrian rights of way. Romans are, perhaps, the most aggressive motorists in the nation, if not the world. Cars, Vespas and other vehicles thunder down narrow cobblestone alleys, have no patience for pedestrians and consider road signs to be optional. You can always count on seeing some colorful hand gestures from Roman drivers in thick traffic.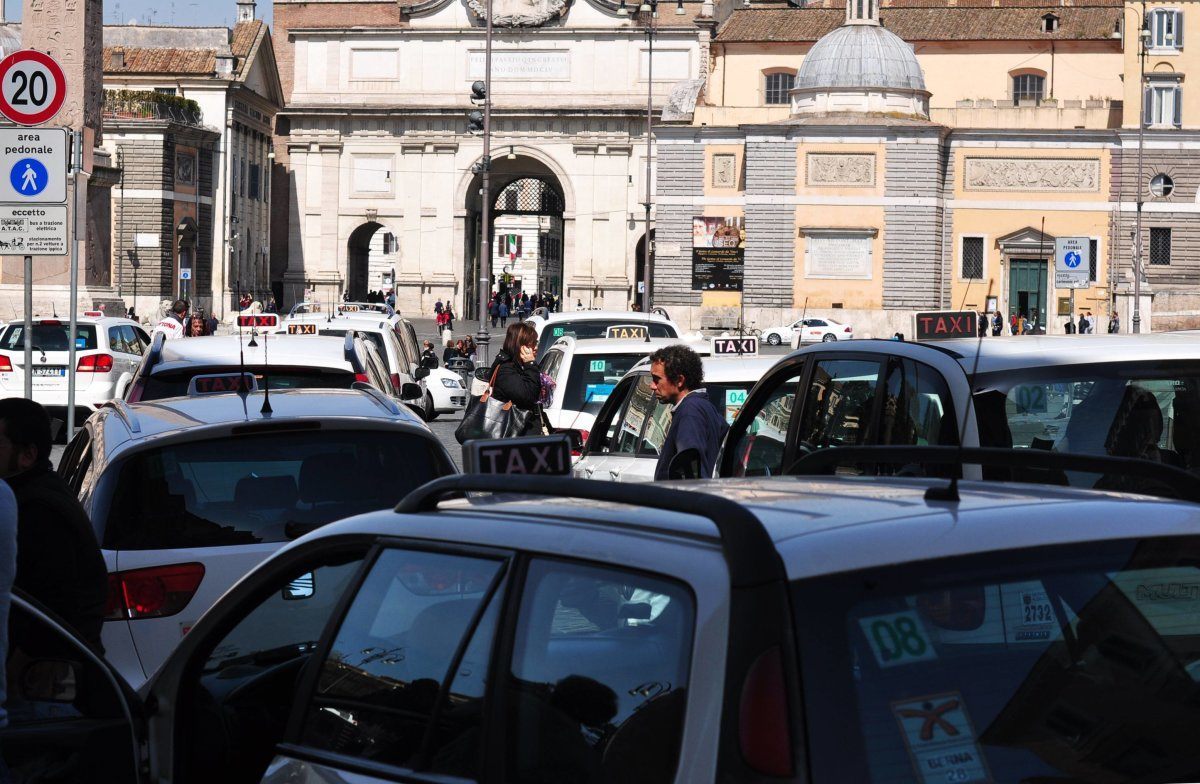 11. Bangkok
Bangkok's traffic is so thick you can literally taste it in the city smog. Car ownership is a status symbol in the developing Thai capitol, and so today there are five million vehicles on overburdened roadways that shouldn't cope with more than than two million cars. The result is slow chugging traffic where it can take an hour to get somewhere that should be a ten minute journey. During the rainy season, flash floods are common which can impact the traffic, too.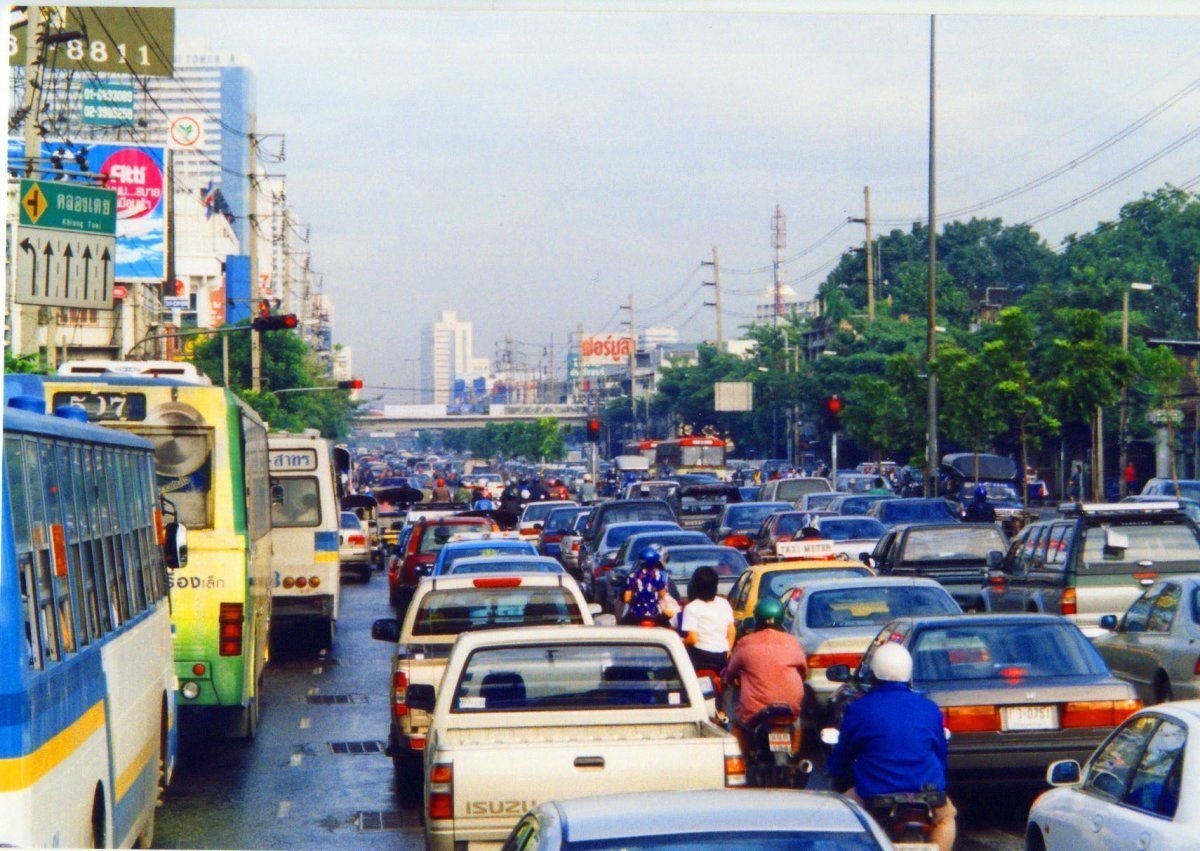 12. Houston Texas
On September 21, 2005, Hurricane Rita's scare prompted in a massive evacuation from Houston. About 2.5 million tried to leave the city, resulting in a 100 mile long traffic jam along Interstate 45. Some were stuck in this traffic jam from Galveston to Dallas for 48 hours. When everything came to a standstill, some drivers got out of their vehicles to play catch or chat with their fellow evacuees.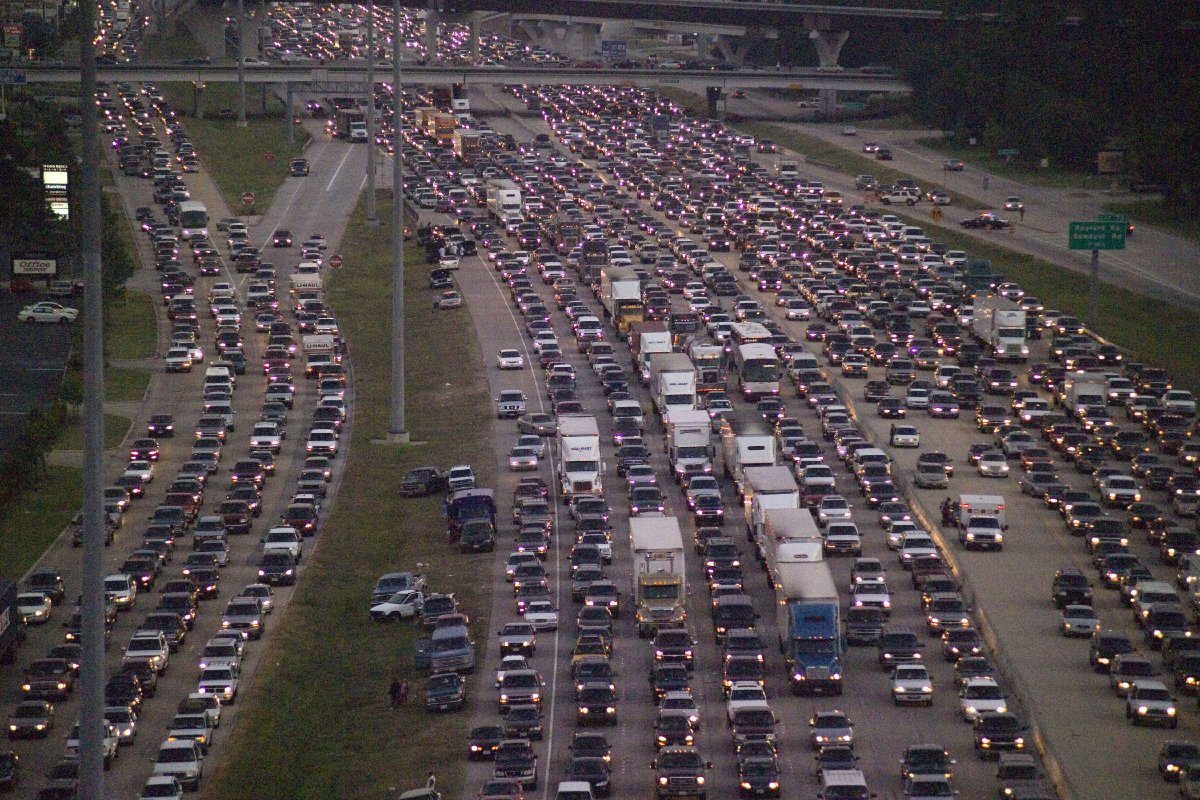 13. Buenos Aires
The Argentinian capital has a reputation for bumper-to-bumper traffic, and makes the Castrol study's top ten list of cities with the worst stop-and-go gridlock. A system of bike lanes and bike share schemes have recently been put in place to try to encourage less driving in this congested-to-maximum-capacity city.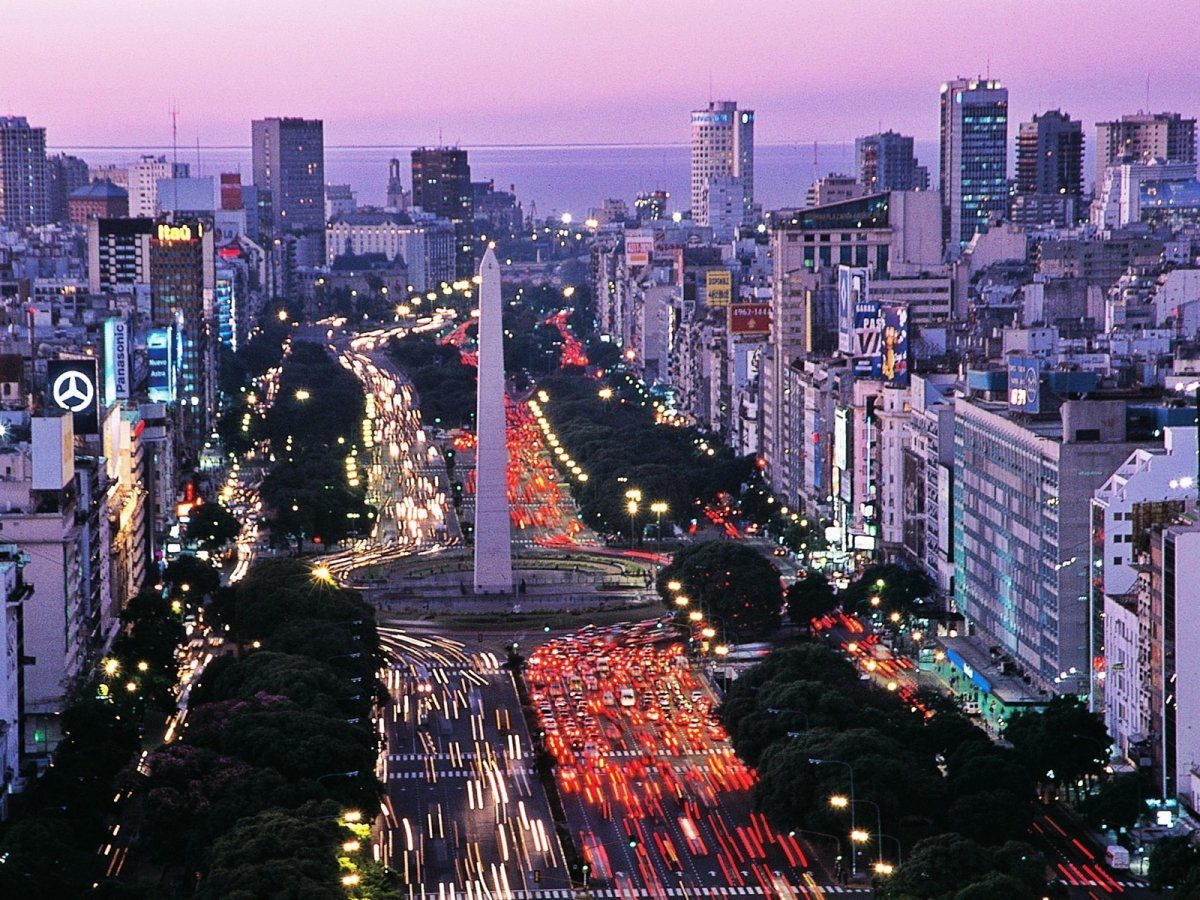 14. Atlanta
When a rare snow dump fell over Atlanta in January 2014, drivers didn't know how to cope with the slick conditions. It became a road to nowhere as a million drivers came to a complete stop for almost 12 hours. The chaos even resulted in one woman giving birth in the midst of this chaotic snow jam.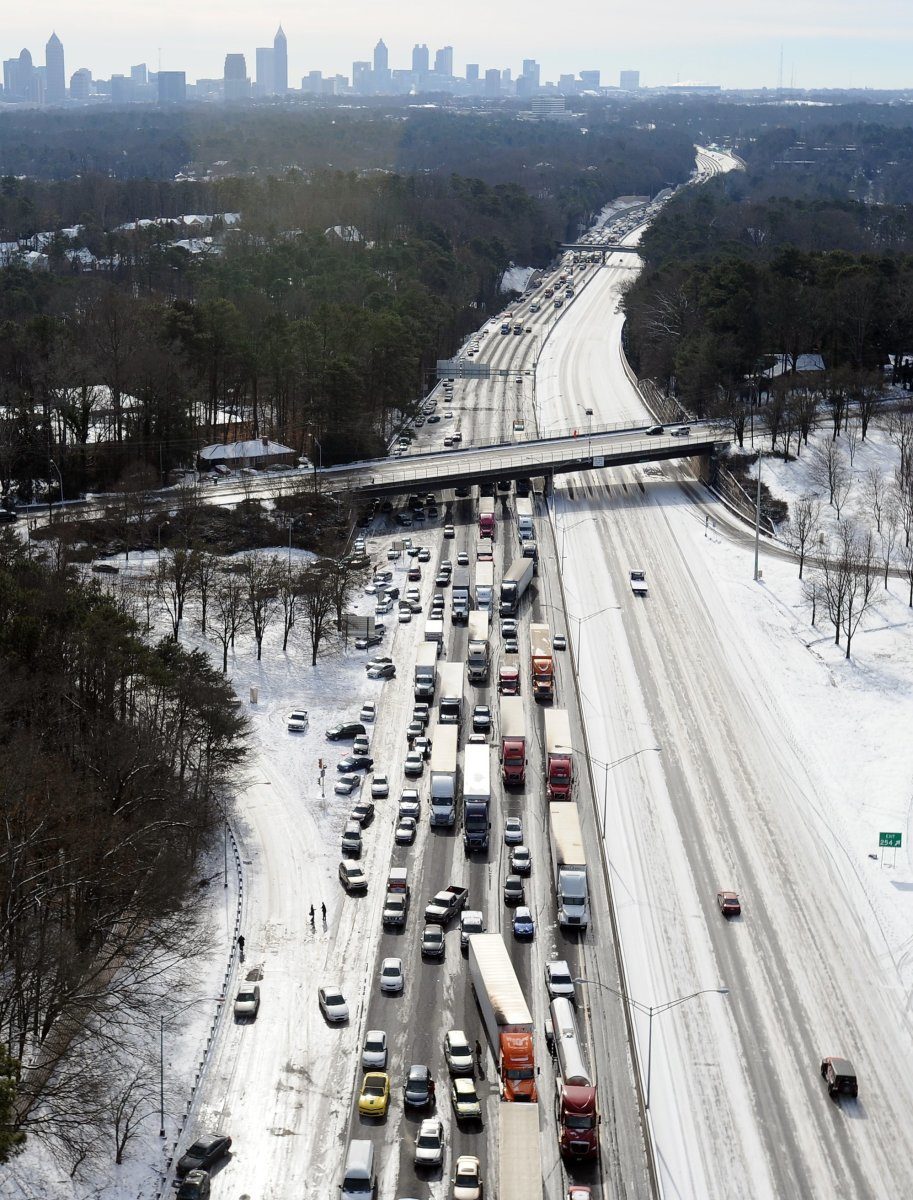 15. Mexico City
In just four decades, Mexico City's population has exploded from about five to 22 million people. It's valley setting is like a smog trap, and unfortunately the air pollution is a serious concern you can see, smell and taste. In an attempt to cut down on congestion, people with vehicles are only permitted to drive on certain days of the week, with serious fines if one violates the restriction.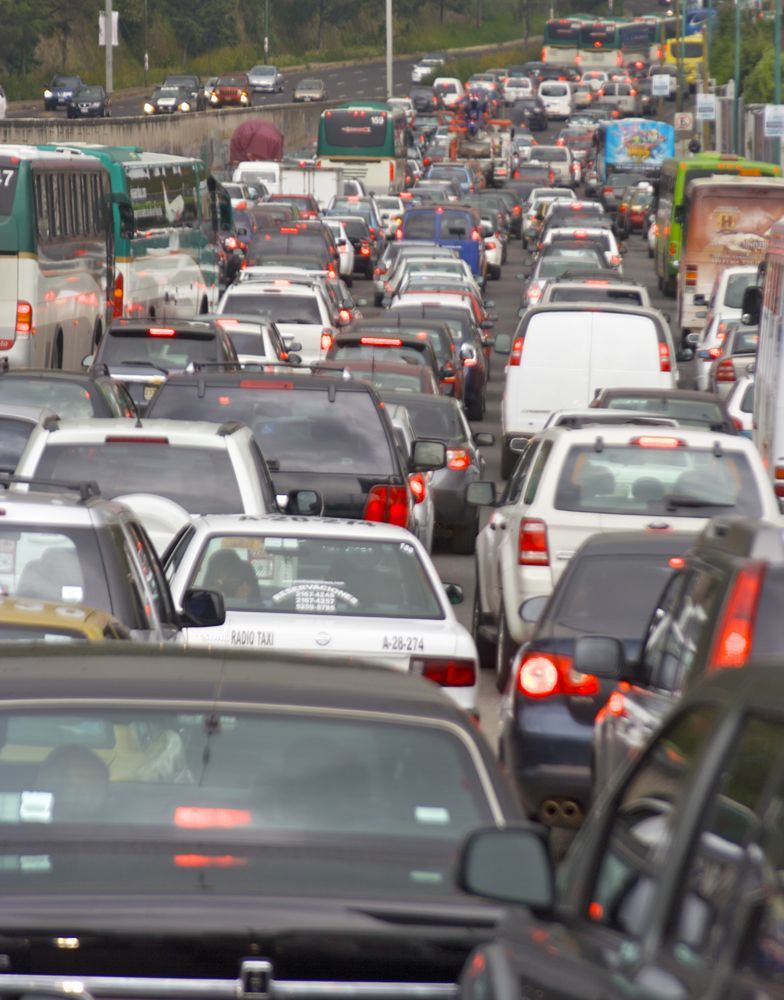 16. Istanbul
TomToms' annual traffic survey has found the Turkish city to be the most congested in the world in 2015. Not exactly a proud accomplishment. The average half hour drive in the city takes over an hour during rush hour, which results in 125 wasted hours stuck in infuriating traffic each year.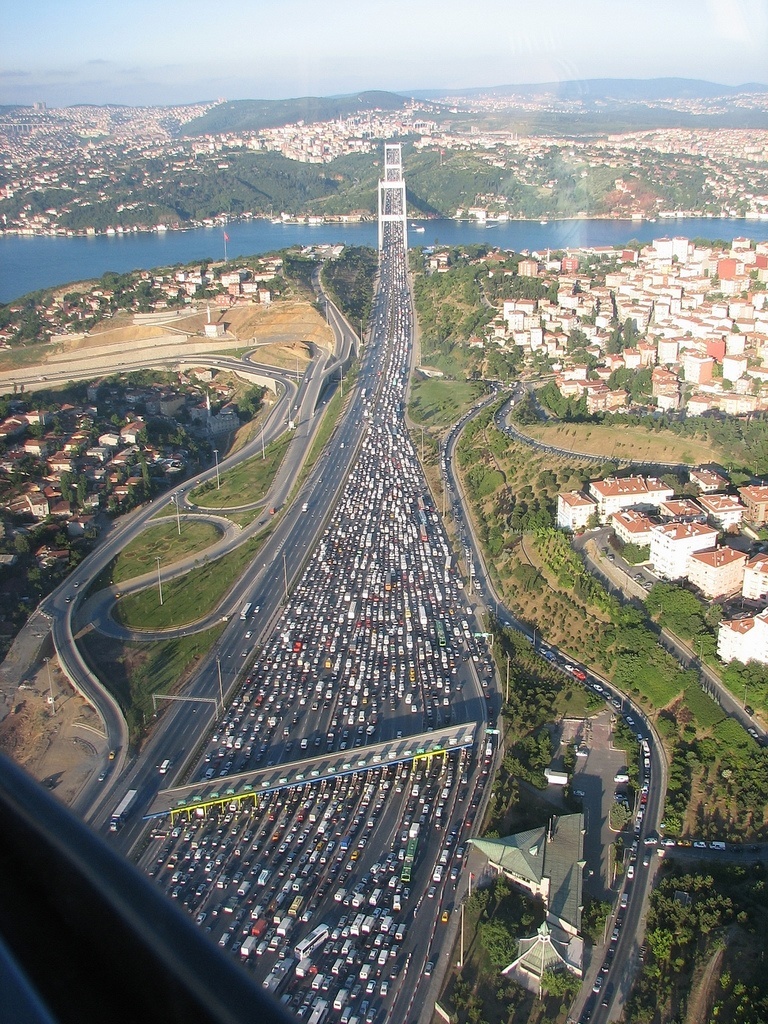 17. Bethel, New York
When the Woodstock Music Festival was about to open near Bethel, New York, the roadways became clogged for over 20 miles. More than 500,000 people tried to drive to the event from August 15 and 18, and those rural roads couldn't take it. Many people simply abandoned their cars and walked to the festival, which only made matters worse. Things got so congested that some performers had to fly in by helicopter as they couldn't get to the farm on the road.