Are you the kind of traveler who yawns at the thought of snowboarding down a black diamond? Do you get bored thinking about parasailing yet again? If you find lying on a beach to be dull, and you've exhausted all your other "extreme" options, then it's time to think about a kiteboarding vacation. This extreme sport combines the thrill and athleticism of snowboarding, windsurfing, paragliding, and gymnastics to create one of the most intense (and fun) sport experiences on the water. If you're interested in trying this one-of-a-kind vacation experience — or you're planning your next kitesurfing adventure — here are some sunny destinations to keep in mind.
1. Nabq Bay, Egypt
Get ready to pick up some speed when you take the time to go kitesurfing at Nabq Bay in Egypt. The wind is steady and strong, so you shouldn't have any trouble pulling off some slick moves as you glide across the water. When you need a break, Nabq Bay offers world class snorkeling and plenty of historical sightseeing.
2. Dreamspot Eco Kite Lodge, Sri Lanka
You'll need to make reservations to check out this beautiful kiteboarding resort, but if you want a chance to get a crash course in kitesurfing, then this remote location in the Sri Lankan wilderness might just be your best bet.
3. Tarifa, Spain
This Spanish kitesurfing capital boasts around 300 days of sunshine every year, which makes it one of Europe's most popular kiteboarding destinations. Sure, it might be a bit crowded during the most popular times of the year, but Tarifa is also about as perfect a spot as you could hope for.
4. Maui, Hawaii
Keep your kiteboarding adventure in the United States with a trip to Maui. Not only will you not need a passport, but the Hawaiian destination is known as perhaps the best kitesurfing spot in the entire world. There's even a specific beach (aptly named Kite Beach) that is perfectly suited to some great kiteboarding opportunities. Even if you're a kitesurfing rookie, there are plenty of chances to learn in Maui.
5. Ulcinj, Montenegro
This nine-mile stretch of pristine beach in the beautiful Mediterranean country of Montenegro is a great location for veteran and amateur kitesurfers alike. Not only is Montenegro an affordable Mediterranean option, but the Ulcinj locals have a worldwide reputation for being extremely welcoming to tourists.
6. Taveuni Island, Fiji
Everyone from beginners to seasoned pros will find some kitesurfing opportunities at Fiji's Taveuni Island. The wide open expanse of the islands lets rookies get their feet wet while still offering plenty of room for seasoned veterans to tackle more challenging terrain should they so desire.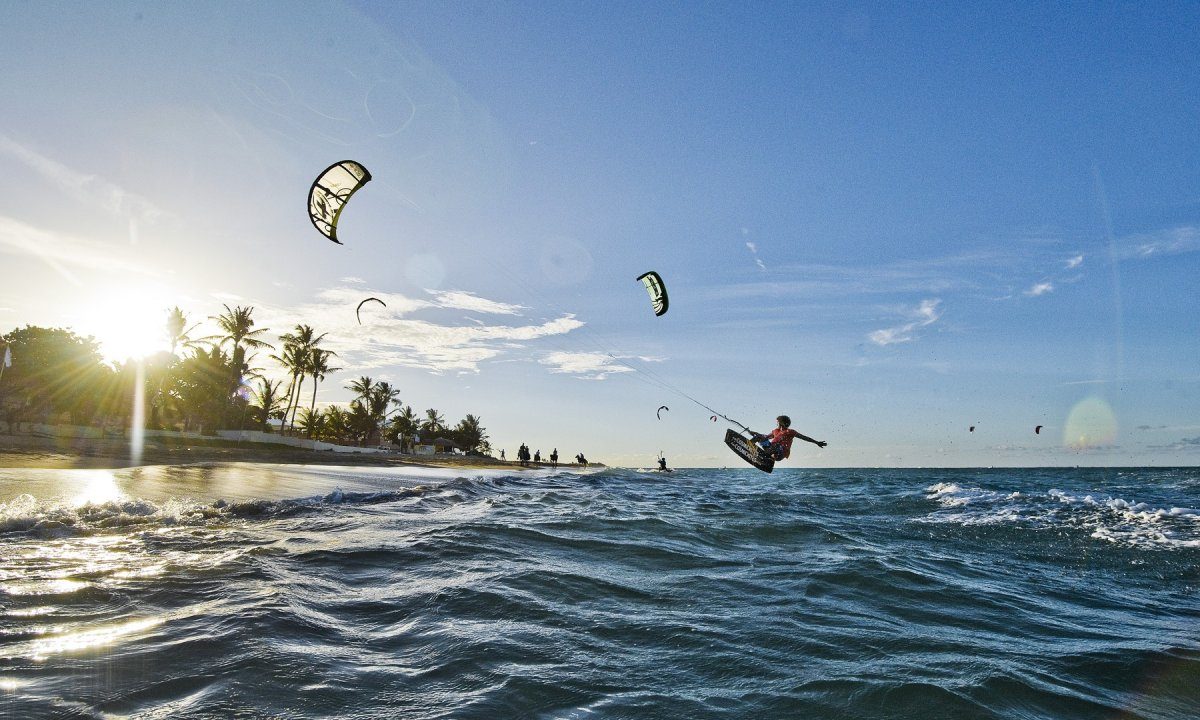 7. La Ventana, Baja California
If you're hoping to try out kitesurfing for the first time and you're not sure you'd like to fully commit to an entire vacation focused on the sport, then head to La Ventana, Baja California's scenic, little beach town that's always offering a full array of beach-friendly activities. The kitesurfing is great, but so is the snorkeling, diving, fishing, and lounging.
8. Grand Cayman, Cayman Islands
Feel free to bring the whole family to Grand Cayman in the beautiful Cayman Islands. Even if you're entire family isn't into the whole extreme sports thing, Grand Cayman is filled with activities designed to soothe every visitor. Meanwhile, you can enjoy the steady winds and gorgeous waters on the back of your kiteboard.
9. Tatajuba, Brazil
Rookie kitesurfers will find themselves delighted by the offerings at Tatajuba, Brazil. The shallow water location also lends the region a steady stream of wind that makes for some safe and exciting kiteboarding opportunities. Perhaps best of all, the location isn't as crammed with tourists as a lot of others, which means you can really stretch out and enjoy yourself.
10. Jupiter, Florida
You don't even need to leave the contiguous United States to get some great kitesurfing action under your belt. Jupiter is one of the state's most beloved beach towns, which means that beyond the kiteboarding options there are plenty of restaurants and attractions (including some off-season baseball options) that are sure to keep you busy.
11. Kite Lodge, Kenya
Want to fully immerse yourself in this challenging, but exciting water sport? Book your room at Kenya's Kite Lodge, where visitors can stay right on the beach, mere moments from the beautiful water. The lessons provided on site are also great for beginners who want to learn the ropes.
12. Calamianes Islands, Philippines
If you want to mingle a first-rate kiteboarding vacation with some truly remote surroundings, then head to Calamianes Islands in the Philippines, which is only reachable by a plane ride AND a boat ride. Of course, the travel is totally worth it for kiteboarders of every skill level. Honestly, even if you're not in the mood to kitesurf, Calamianes Islands is a unique destination in and of itself.
13. Sal, Cape Verde
Located just off the northwest coast of Africa, Cape Verde is a beautiful, friendly chain of islands known for their steady winds and gorgeous beaches. Both beginners and veterans will find something to love on the Island of Sal, where the Bay of Santa Maria protects kiteboarders from real harm.
14. Kos, Greece
The sterling Greek city of Kos is absolutely perfect for anyone hoping to learn as much about kitesurfing as possible. There's a great kitesurfing school for anyone hoping to learn, and the gentle warm waters off the coast will insure that — even when you bite it — you're still having a good time simply learning.