There's something romantic and old-school about a hot air balloon that makes for an elegant adventure. It's actually man's oldest passenger flight technology. It debuted in France, when the Montgolfier brothers launched a balloon over Versailles in 1783. That first flight had a sheep, duck and rooster for passengers, but the next month two humans braved the basket. We've been firing up the burners and floating into the wild blue yonder ever since. While other gravity-defying vessels have been developed since then, hot air ballooning as a scenic thrill ride is still going strong. Need some uplifting inspiration for your travel wishlist? Come up, up and away as we highlight 8 ultimate hot air balloon adventures around the world.
1. Aerial Views in Cappadocia, Turkey
A birds-eye view over this distinctive Turkish terrain makes one of the most spectacular balloon rides on the planet. The twisted rock formations, limestone fairy chimneys and eroded cave dwellings are unreal. It's a worthy splurge in Cappadocia, and several companies offer scenic 60 or 90 minute flights of fancy above the rocky pillars and spires. Try Royal Balloon or Goreme Balloons and let your spirits soar.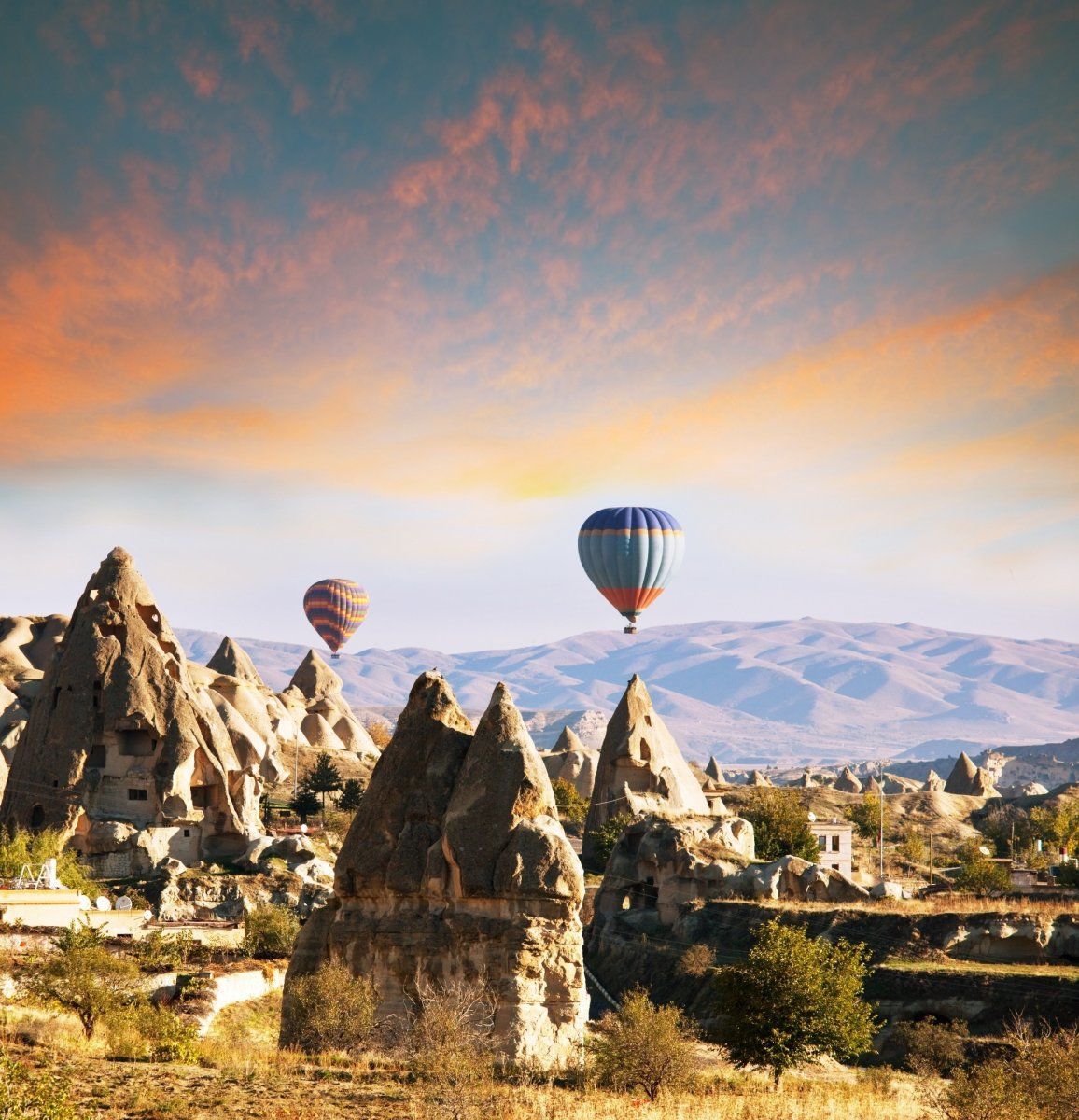 2. Look Down on the Jungle in Muelle, Costa Rica
Rise above the rainforest canopy and experience a new perspective on the lush Costa Rican jungle. Chase the clouds, hang with the birds and spot monkeys and sloths in the treetops. Fertile farm land, meandering rivers and a glimpse of the Arenal volcano can be seen from your basket vantage point. Serendipity Adventures is the only hot air balloon operator in Costa Rica, taking off near La Fortuna. For $1200 you can charter a flight for five, or pay $345 per person for a 1-2 hour experience of a lifetime. The photo ops are well worth the lofty expense.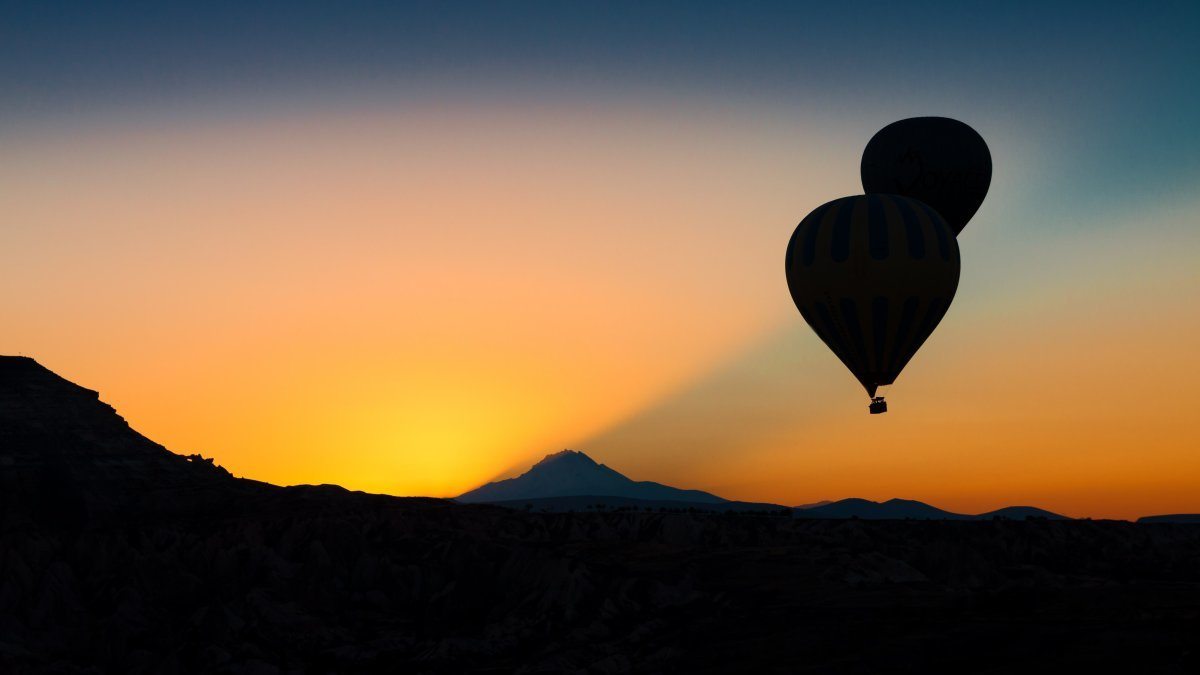 3. Get High in Napa Valley, California
One way to get higher than a wine tasting is to take to the skies when in northern California. Gently soaring above the endless patchwork of vineyards will be a highlight of your Napa experience. Sunrise is a particularly good time to launch, especially if its followed by a champagne brunch set among the grape vines. Try Balloons Above The Valley for a one hour trip ($200 – $250).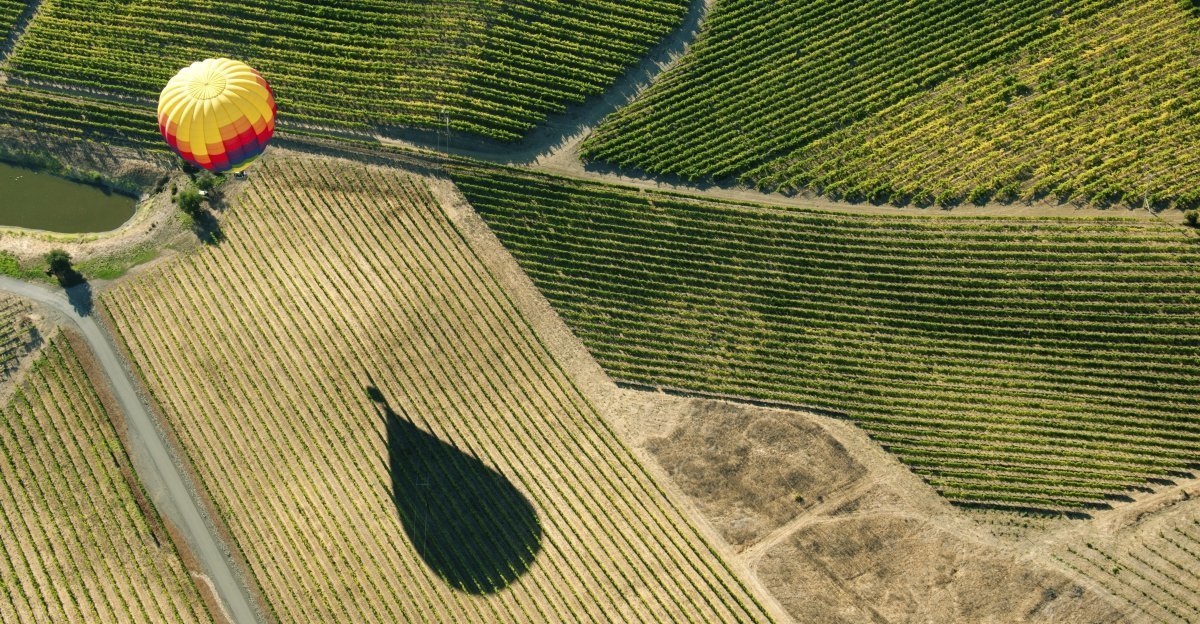 4. Balloon Over the Loire Valley, France
The Loire Valley, southwest of Paris, is one of the most breathtaking landscapes around. Over 800 storybook chateaux and manor houses dot the area, interspersed with cobblestone villages, vineyards, rivers and sunflower fields. This was French invention, so it's not surprising that several outfitters in the area offer scenic hot air balloon adventures. Floating above a castle is a wondrous experience, especially when accompanied by another bubbly French specialty – champagne. Try France Montgolfières for an hour journey under $300 per passenger.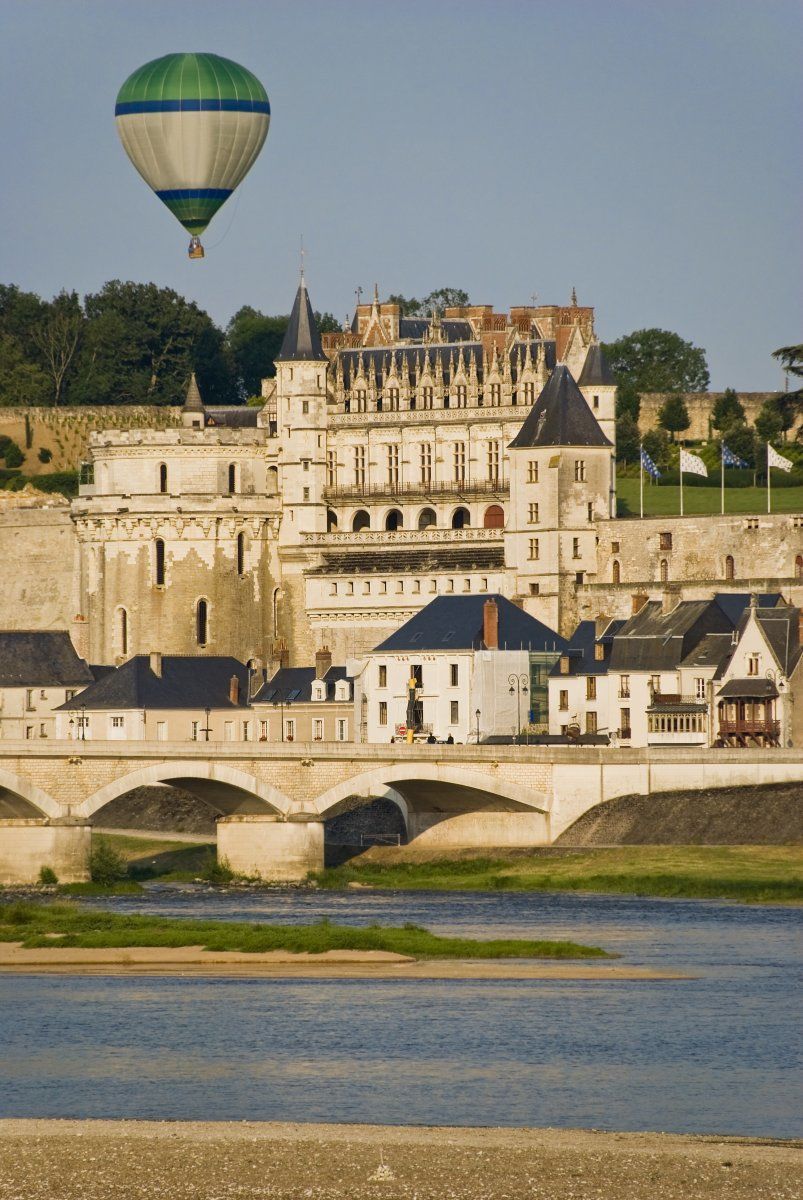 5.Soar Above the Serengeti, Tanzania
Drifting above the grassy expanse of the Serengeti makes one of the most memorable hot air balloon adventures around. Chances are you'll spot herds of wildebeest, gazelle or zebra migrating across the vast plains. If you're lucky, you may even see lions, leopards, giraffes and other wildlife from this sky high safari. Most migrations occur from March to May or October to December, but any time is a good time to balloon over Africa. It doesn't come cheap, but for around $500 per person Serengeti Balloon Safaris will take you on a breathtaking sunrise flight for about an hour, followed by a fantasy "Out of Africa" breakfast.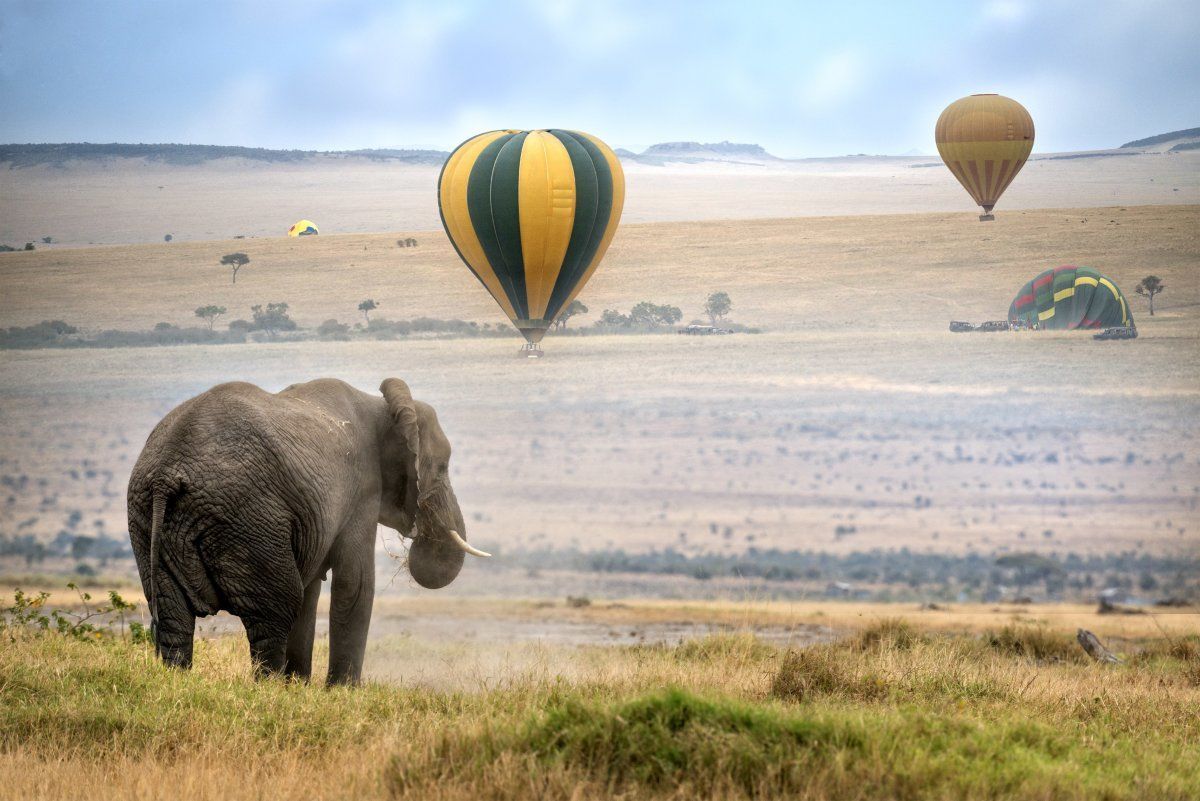 6. Hot Air Balloon Adventures in Australia
Another landscape that just begs to be viewed from above is the Australian outback. Outback Ballooning takes you on a stunning ride in the Red Center of Oz. While you don't actually float above Uluru (Ayers Rock) or Kata Tjuta (Mount Olga), you do get an awesome view of these geological wonders, as well as the surrounding desert and MacDonnell Ranges. A half hour dawn's early flight will put you back about $300 AUD, including insurance, wine and a picnic breakfast. Another Aussie area that's ideal for hot air balloon adventures is the Yarra Valley, not far from Melbourne. This is Australia's premier wine country, so you can gawk at stunning views of the hills, dales and vineyards. Chances are you'll spot some kangaroos while up there too. Global Ballooning offer one hour flights and champagne breakfasts for around $350.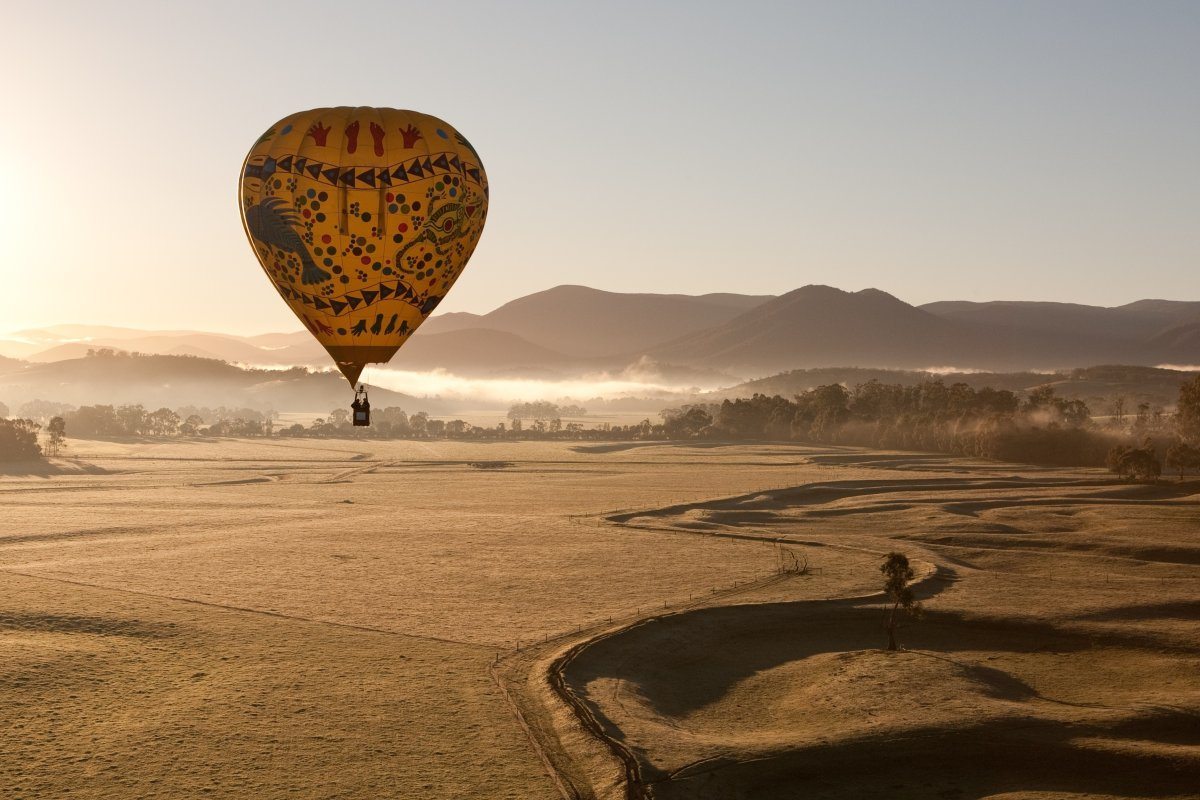 7. Balloon Fiesta in Albuquerque, New Mexico
Albuquerque has become a hot spot of hot air ballooning due to its year round ideal weather. Each October they host a festival for international balloon enthusiasts, and the skies are filled with more than 500 colorful orbs inflated across the sky. You'll often see fun odd-shaped balloons too. It's amazing to see as an on-ground spectator, but truly awesome if you can rise above ground yourself. Try Rainbow Ryders for around $200 per person for an hour's drift. Double that during the Balloon Fiesta.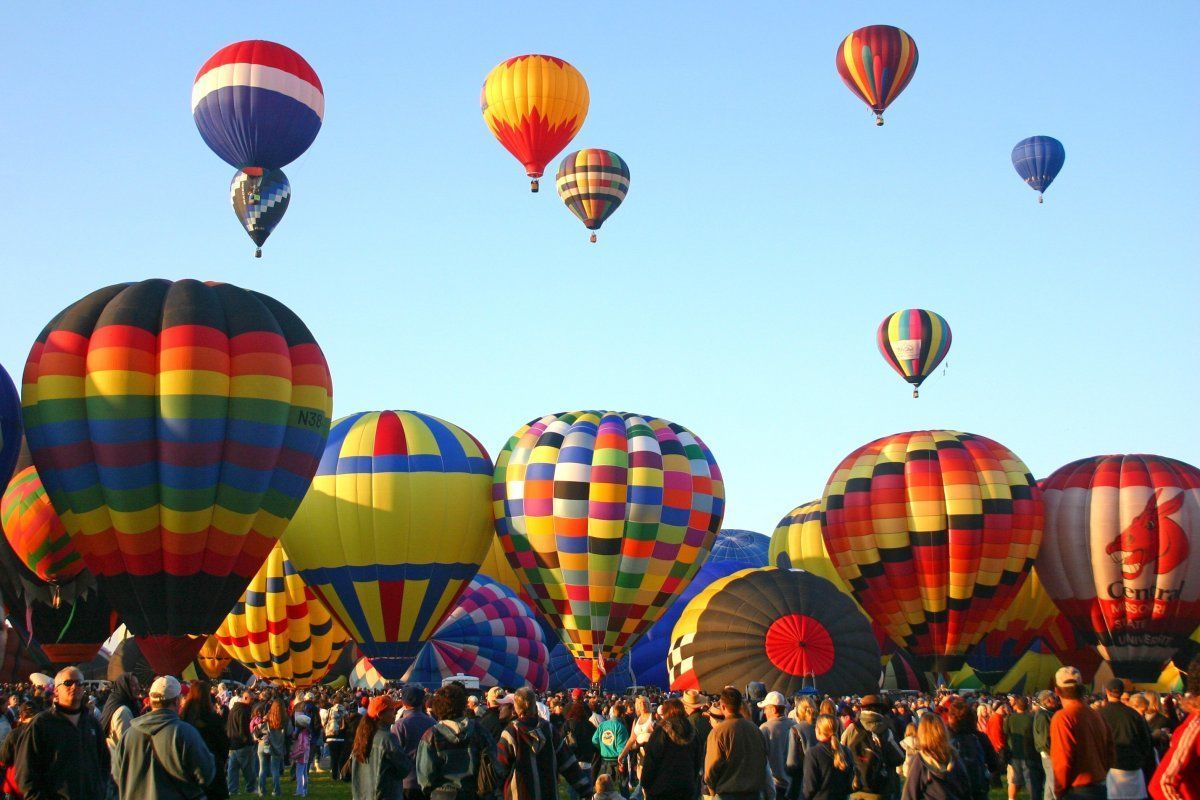 8. Bird's Eye View Over Bagan, Myanmar
For a truly exotic hot air balloon adventure, take to the skies over Bagan, Myanmar (formerly Burma). A sunrise soar illuminates thousands of temples and pagodas across this entrancing southeast Asian landscape. Eastern Safaris lets you balloon over Bagan at dawn, when the light is best for photos. Their classic trip provides fruit, pastries and a glass or two of bubbly to toast the flight, while their premium service offers a more intimate, luxurious experience. Rates range from $320 to $390 per person.