You won't believe what you can buy out of vending machines these days. No longer just convenient coin-operated contraptions for dispensing soda and chips, there are all sorts of crazy products available, from pot to gold. If there's a market for it, some enterprising person will try to distribute it at the touch of the button, without the need for pesky human interaction. Countries across the globe offer a unusual array of items for cash, coins or a swipe of your bank card, but there are even some in the US that might surprise you. Here are 17 unbelievable things you can buy in vending machines around the world.
1. Live Worms
If you ever have a hankering for wriggling worms, you can buy a cup of them 24/7 at any number of coin-operated bait dispensers. Not surprisingly, they tend to be located around fishing communities. The worms can thrive for 10 days in the temperature-controlled machines and peat moss mix. Just don't mistake them for gummy worms.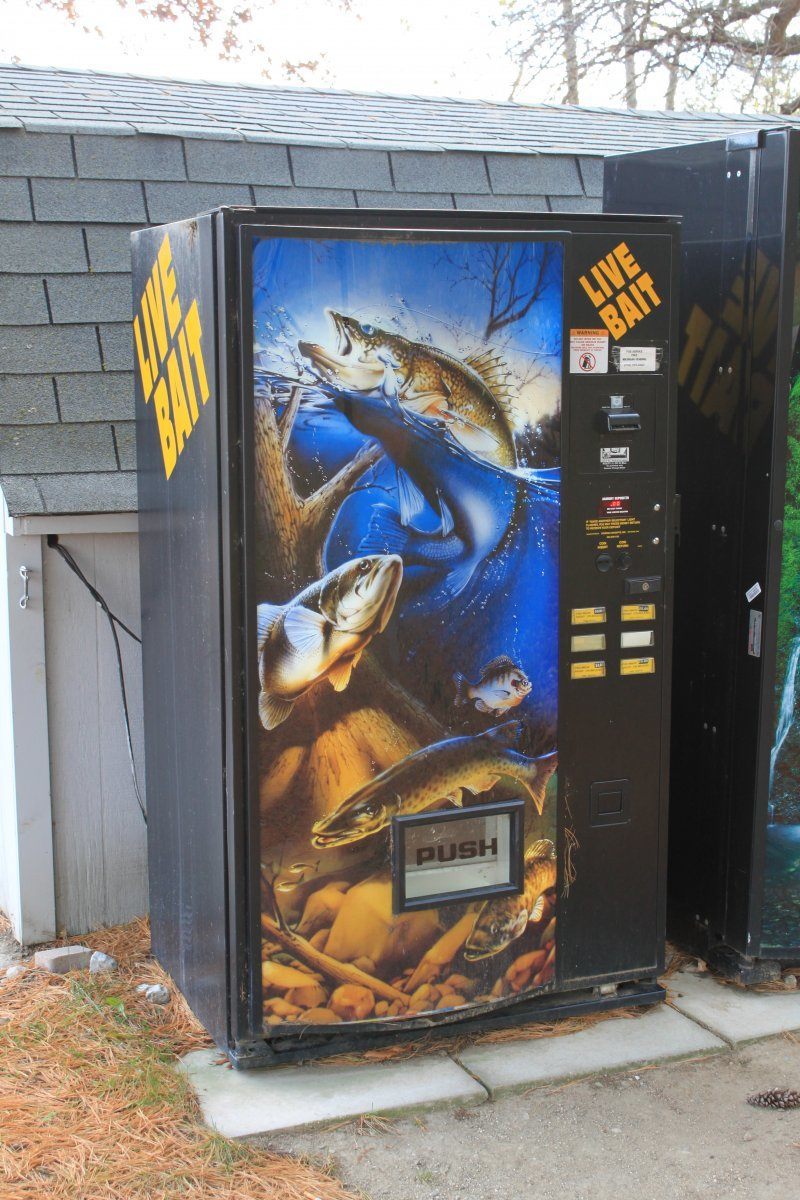 2. Mashed Potatoes
You see all sorts of packaged potato chip products for sale at snack vendors around the world, but what if you're not in the mood for a crispy spud treat? Maggi mashed potato machines have been popping up around Singapore and other parts of Asia. Like self-serving a Big Gulp, you simply hold a cup under the nozzle, press a few buttons, and out squirts a serving of powdered instant mash. Different flavor toppings like gravy or BBQ make this more palatable.
3. Fresh Baguettes
Why bother with a fine Parisian boulangerie (which are on just about every street corner), when you can get your daily bread from a vending machine? Before you scoff too hard, apparently the entrepreneur baker behind "Pani Vending" is raking in the dough. The par-cooked loaves are given a final blast of heat so out comes a fresh, hot baguette any time of day.
4. Beer and Liquor
Japan is home to 5.52 million vending machines, the highest concentration in the world. You'll even see fleets of them outside temples. It's an easy way to shop and sell, and just about anything you can think of is sold out of these contraptions. One of the first things many foreigners are surprised to find here is that beer and liquor are freely dispensed on the street, no age-limits or ID required. It's a testament to Japan's civilized culture that these machines aren't frequently vandalized or broken into.
5. Gold
There's gold in them thar machines in Abu Dhabi. These vending machines dispense gilded things like customized gold coins and 10-gram gold bars, and prices fluctuate to market value every ten minutes. It's commonly referred to as the "gold ATM", and is understandably tight with security measures. Before you think this is only something to find in the Emirates, gold vending machines are popping up in places like London, Frankfurt and Boca Raton.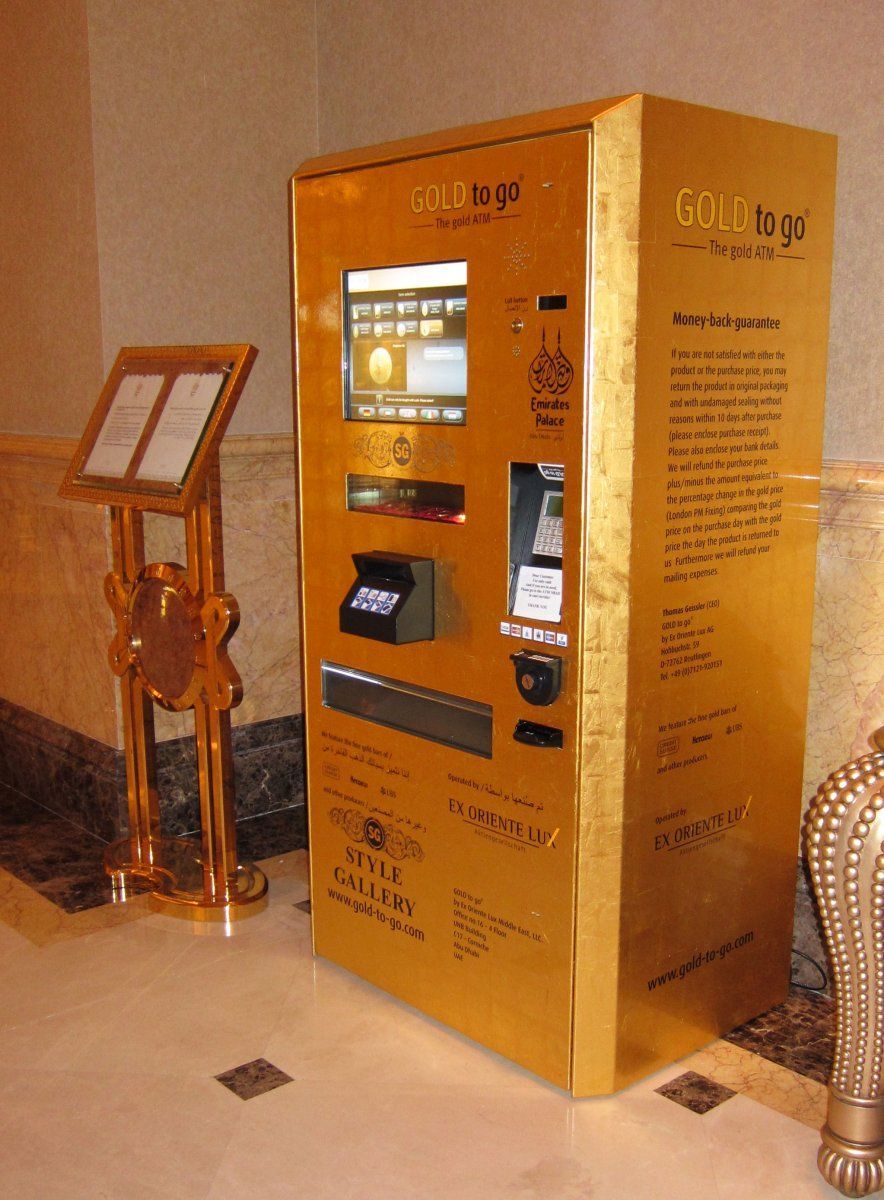 6. Hairy Crabs
While you're passing through this Nanjing subway station, don't forget to pick up some live hairy crabs for dinner. Vending machines selling this delicacy have popped up in various places around China. The climate controlled environment helps the "sleeping crabs" stay fresh, and they're restocked daily to meet the demand for crustacean snacks.
7. Guitar Strings
Vending machines in Portland, Oregon supply guitar strings for musicians in a pinch. On your way to a gig and a string pops? Well luckily someone thought of a solution for when the music store's closed.
8. Cupcakes
Who wouldn't be tempted by the output of this delightful pink ATM? Sprinkles has several 24 hour vending machines dispensing freshly baked and boxed cupcakes in New York, Los Angeles, Las Vegas, Chicago and more. There's even doggy cupcakes for sale at the drop of a coin.
9. Hot and Cold Coffee
Another one of Japan's ubiquitous vending machine offerings is canned coffee, served both piping hot and ice cold. Black, milk, low sugar, cafe au lait and other flavored varieties are on offer at just about every train station and street corner. While cafes and coffee shops like Starbucks are as popular here as everywhere else, Japanese kan kohi continues to be a convenient big seller.
10. Bicycles
If you find yourself with a pocket full of change, why not buy a bike from a vending machine – or at least rent one. While there are several self-service sellers of bicycle parts and accessories around the world, in the Netherlands you can actually rent a bike from one of these unmanned automated kiosks. Commuter convenience.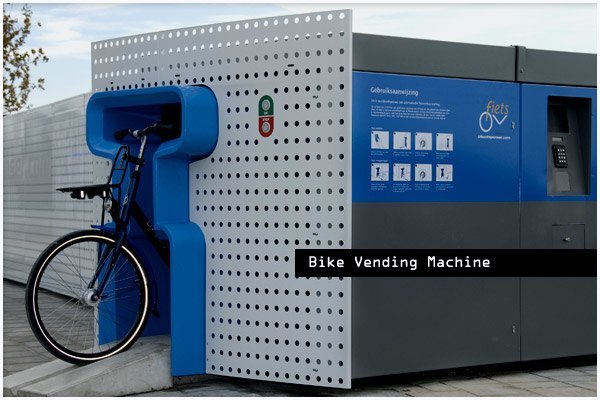 11. Pizza
Mama may not approve, but you can purchase a freshly made pie with toppings of your choice in about 3 minutes from these state-of-the-art pizza vending machines. We're not talking reheated frozen slices, but a real dough/sauce/toppings/cheese 'za that is easy to assemble and apparently quite good. These hot food vending machines debuted in Italy but have begun to pop up in the UK and other countries.
12. Lettuce
Who says vending machines are all about junk food? In Japan, you can buy freshly grown lettuce leaves whenever the mood strikes. These revolutionary Chef's Farm machines can produce 60 heads of lettuce each day (20,000 per year) without sunlight. The seeds flourish under 40 watt fluorescent lighting. We're ready for the zombie apocalypse now.
13. Lobsters
You know those arcade games where you try to pinch a prize with a joystick-controlled claw? Same concept, only the difference is you actually trying to snatch a live lobster – claw on claw. Call it entertainment before dinner. Apparently lobsters can live in the tank for three or four months without feeding. These machines can be found outside several seafood restaurants in the US.
14. Noodles
Back to Japan again. It's no big surprise that a country that loves noodles has plenty of noodle machines around. Rather than the munchies, Japanese people love slurping ramen, soba and udon noodles as a quick snack, day or night. These styrofoam Cup Noodle machines don't necessarily offer the tastiest noodles in the country, but they are quick, cheap and convenient.
15. Tech Gadgets
Move over gum, chips and beverages. Today you can buy some pretty pricey goods from vending machines. You've no doubt seen these gadget-filled purveyors at airports around the world selling everything from keyboards and iPods to headphones and tablets.
16. Baby Essentials
This is one of the most practical vending machines on this list. At Seaworld in Orlando, Florida a vending machine that distributes everything a parent could need in an emergency was spotted. Essentials like diapers, pacifiers, baby wipes, lotion, powder, etc. filled the machine. Because, leaving home without enough diapers could be a nightmare!
17. Fortunes
Shrines and temples in Japan often sell omikuji, small folded paper fortunes imparting a random blessing for the day. These automated vending machines just simplify the sacred process.
Do you know of other bizarre things you can buy in vending machines around the world?