When you were a kid, a few planks, some nails and a rope ladder could transform into a palace or secret clubhouse in the branches of a backyard tree. There was just something about being nestled in the boughs high off the ground that was physically and spiritually uplifting. Treehouses have come a long way in the past few decades. A handful of visionary designers, architects, builders and hoteliers have taken the concept of living in the treetops to a whole new level. Some of these out-on-a-limb hotels feature incredible furnishings, amazing views and a uniqueness that sets them apart from "just your average treehouse". Here are 10 fabulous treehouse hotels that will blow your mind and beckon your inner child.
1. Tongabezi Lodge Treehouse, Zambia
This luxury African treehouse is tucked away in a huge ebony tree and offers an entirely open concept, complete with claw foot tub that overlooks the Zambezi River. No outside walls ensure that guests are immersed with unobstructed views of the incredible surroundings. The magnificent king size bed comes complete with canopied mosquito netting on the middle level of the house. A few steps down is the lounge area where visitors can spend hours basking on the sundeck overlooking the river. West African artwork, exotic furniture and hand woven carpets all set the stage for a unique and stunning stay in this romantic treehouse not far from Victoria Falls.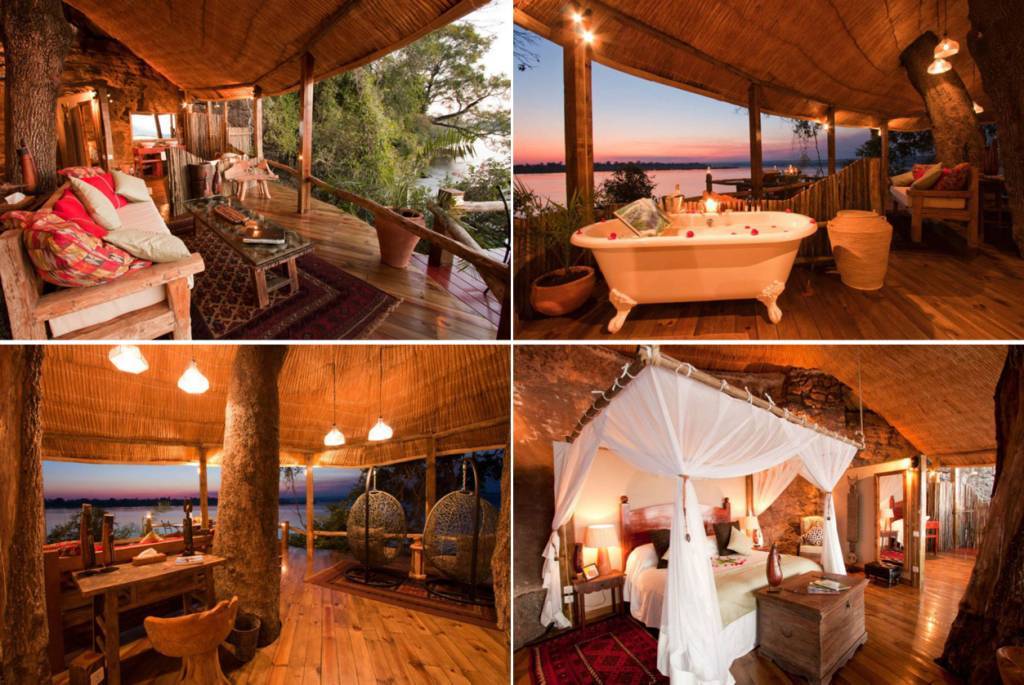 2. The Mirrorcube, Sweden
Tucked up in the Swedish trees is a dwelling that blends so perfectly into the surrounding forest you will have to look twice to realize it is actually there. The Mirrorcube is camouflaged by outer walls that reflect the surroundings, creating a treehouse unlike any other. Thoughtfully, this mirrored house has a special covering that only birds can see, thus avoiding any avian accidents. The inside is spectacular, with a double bed, bathroom, lounge, rooftop terrace and six windows that offer spectacular views near the Lule River.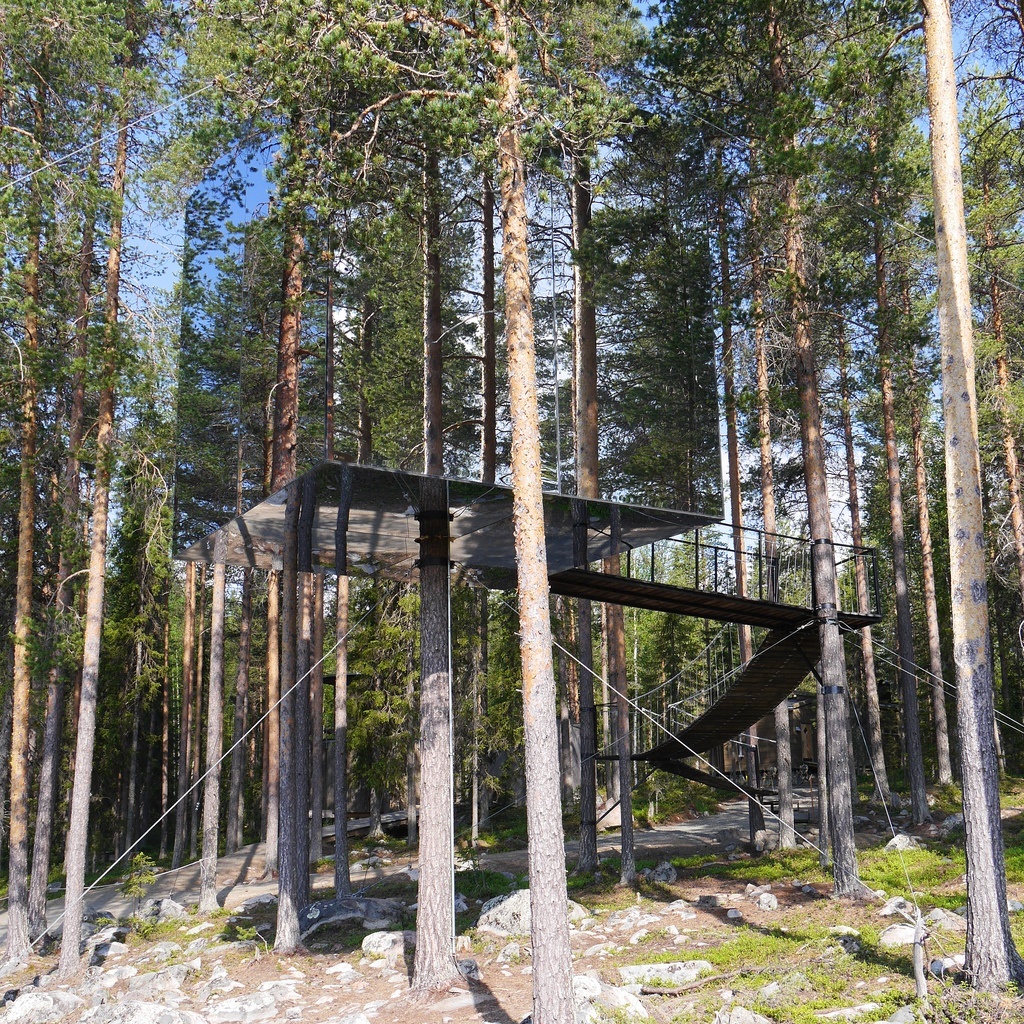 3. 727 Fuselage House, Costa Rica
A 1965 vintage Boeing 727 airplane is the next unbelievable treehouse on this list. The unique two bedroom suite is set atop a 50 foot pedestal in the heart of the jungle in Costa Rica. The plane was once used to shuttle passengers throughout the sky on South Africa Air. Now visitors can enjoy sitting in the cockpit or dining on the wings-turned -patios. Air conditioning, private bathrooms, flat screen TVs, a spiral staircase and an ocean view terrace are just a few of the luxurious touches in this renovated "treeplane". The hand-crafted furnishings, surrounding gardens and howler monkeys as neighbors make this one incredible place to spend the night in the Costa Rican canopy.
4. Free Spirit Spheres, Vancouver Island
Three spherical treehouses are suspended in the coastal rainforest along Vancouver Island's west coast. These orbs are open 12 months a year and for adults only. The spheres are set amongst five acres of beautiful forest with a large pond in the center of the land, attracting plenty of wildlife. Each pod is unique in what it offers, from power to amenities to the size of bed. These surreal treehouses offer guests a spiritual connection to nature as they gently rock with the wind. Walkways, platforms and spiral staircases allow visitors to reach their personal haven in the trees.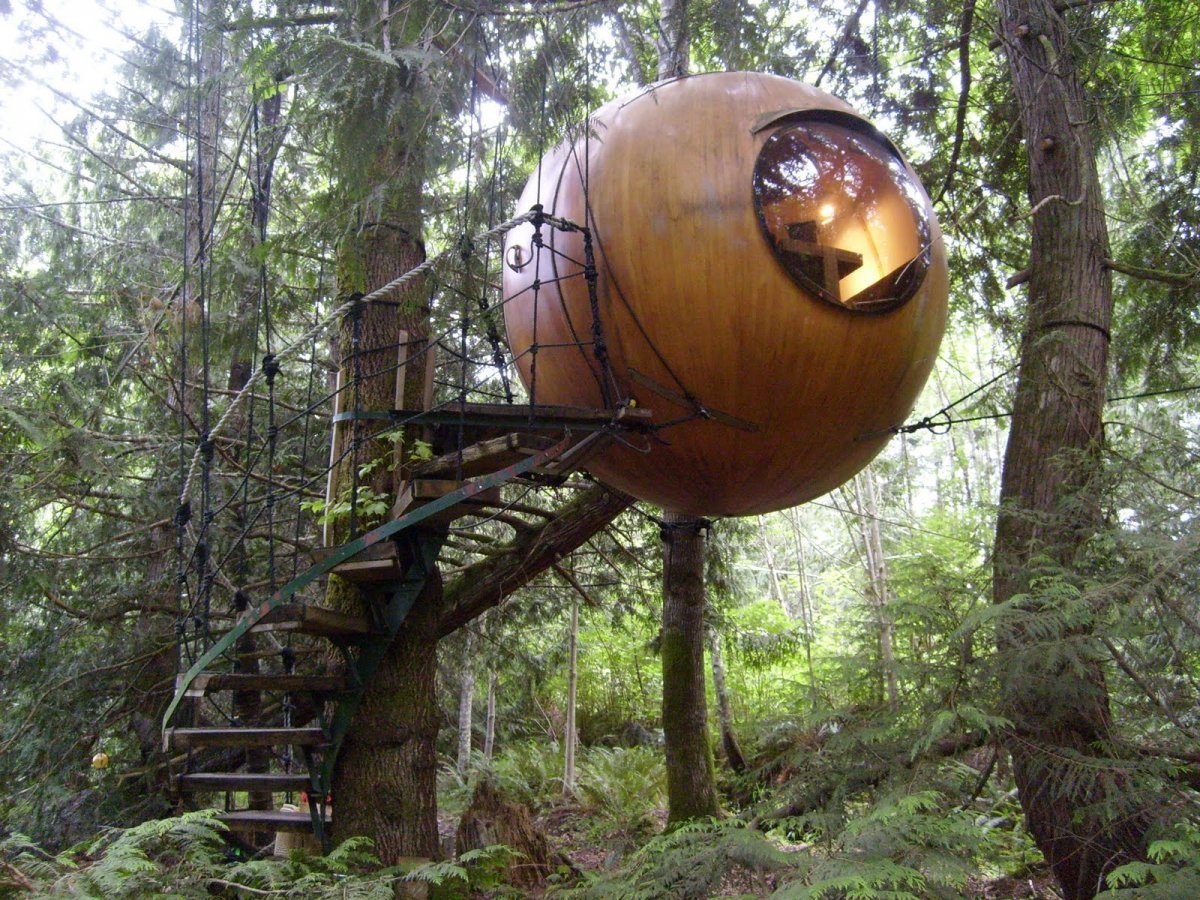 5. Cedar Creek Treehouse, Washington
This awesome treehouse sits 50 feet up in the air, nestled in a 200ft Western Red Cedar tree overlooking lush forests and a rushing river. This earth-friendly bed and breakfast offers the opportunity for guests to stay the night in a two floor treehouse that offers a sun room, kitchen nook and cozy sleeping loft. It also features a 100ft high observation tower that is reached by walking over a rainbow bridge, offering sweeping views of the surrounding mountains. This very private treehouse is yours for the night (or nights) with no other guests on the property and makes for an idyllic romantic getaway.
6. Bangkok Tree House, Thailand
Located just thirty minutes from the bustling city of Bangkok is a place where visitors can breathe fresh air, relax in nature and sleep under the twinkling stars. The Bangkok Tree House offers guests the opportunity to sleep in a jungle-top house while resting assured that this eco-friendly hotel is doing its best to stay green. Choose from the family nest that has access to three roofs and sleeps four people, and the two person "view with a room" that is void of walls or a ceiling. Beautiful outdoor showers, a natural pond and local organic cuisine makes this one of the most fabulous treehouse hotels.
7. Finca Bellavista, Costa Rica
This treetop paradise in Costa Rica is actually a residential treehouse community where a select number of visitors can live out their childhood fantasies high in the treetops. Choices range from treehouses with sleeping lofts for the kids to romantic two-pod homes. The treehouses and buildings are connected by zip lines and platforms – how cool is that? The community offers hiking trails, waterfalls, snorkeling spots and rivers throughout. A 2-night minimum is required here so that visitors can truly appreciate the authentic experience. Whether you want to stay in an octagon, square or multi-level treehouse, you will have a whimsical time here.
8. Chewton Glen Treehouses, England
Perhaps the most luxurious of the treehouse hotels on this list is Chewton Glen. They boast floor to ceiling glass allowing guests to truly feel as though they are a bird in the heart of nature. These elegant suites are outfitted with separate bedrooms and living spaces, bathed in warm colors and beautiful furnishings. An outdoor hot tub, walk-in shower, wood stove and flat screen TVs are just a few of the deluxe amenities available to guests. These stilted treehouses are privately located in the canopy of a forest and offer the ultimate experience for those wanting to spend a night in nature without sacrificing comfort.
9. Treehouse Point, Washington
Located just 30 minutes from Seattle is a rustic bed and breakfast that boasts eight separate treehouses. This romantic adult-only getaway is the perfect place to spend a relaxing weekend nestled in nature. Each individual treehouse includes heat, electricity, bottled water, hand crafted furnishings and luxury linens. This is a popular getaway for weddings and elopements. Lush vegetation, wooden swinging bridges and towering trees make this spot breathtakingly beautiful.
10. Hapuku Lodge and Treehouses, New Zealand
This New Zealand deer farm is home to impressive luxury treehouses that are nestled 30 feet above ground. The treehouses come with either one or two bedrooms, with the second bedroom featured on an additional floor – perfect for families. Great lengths were taken to ensure these treehouses blend in with nature. The huge soundproof windows along with handcrafted furniture, custom-made mattresses and a view over the dramatic mountains and coastline will make it hard to leave. It's the perfect setting to explore the dolphins, whales and albatross of the Kaikoura Peninsula.
And Now: 12 Hotel Rooms That Are Super Cool