Some of us like to travel for rest and relaxation, while others seek escape for quite the opposite reason. Adventurous souls crave opportunities to get out of their comfort zones and push their limits. There is no shortage of heart pumping, spine tingling, mind blowing thrills around the world for those brave enough to go for it. Need some inspiration? Here are 13 extreme adrenaline activities for the traveling daredevil.
1. Volcano Boarding in Nicaragua
Have you ever dreamed of zooming down the side of an active volcano? If so, head to Cerro Negro near León, Nicaragua where the thrilling sport of volcano boarding awaits you. It takes about 45 minutes to hike up to the top of this 40 degree slope of black volcanic dust (sorry, no chair lift), but then you swoosh down on a wooden board in no time. There are two ways to enjoy this sport – standing up, snowboard style, or sitting down like sledding. It may look cooler standing up, but the lower your center of gravity, the faster you fly. Volcanic rocks create a little more friction than snow so it's not necessarily a smooth ride, but it is swift. A jumpsuit, goggles and gloves are provided for protection, which you need as those sharp shards can draw blood if you wipe out.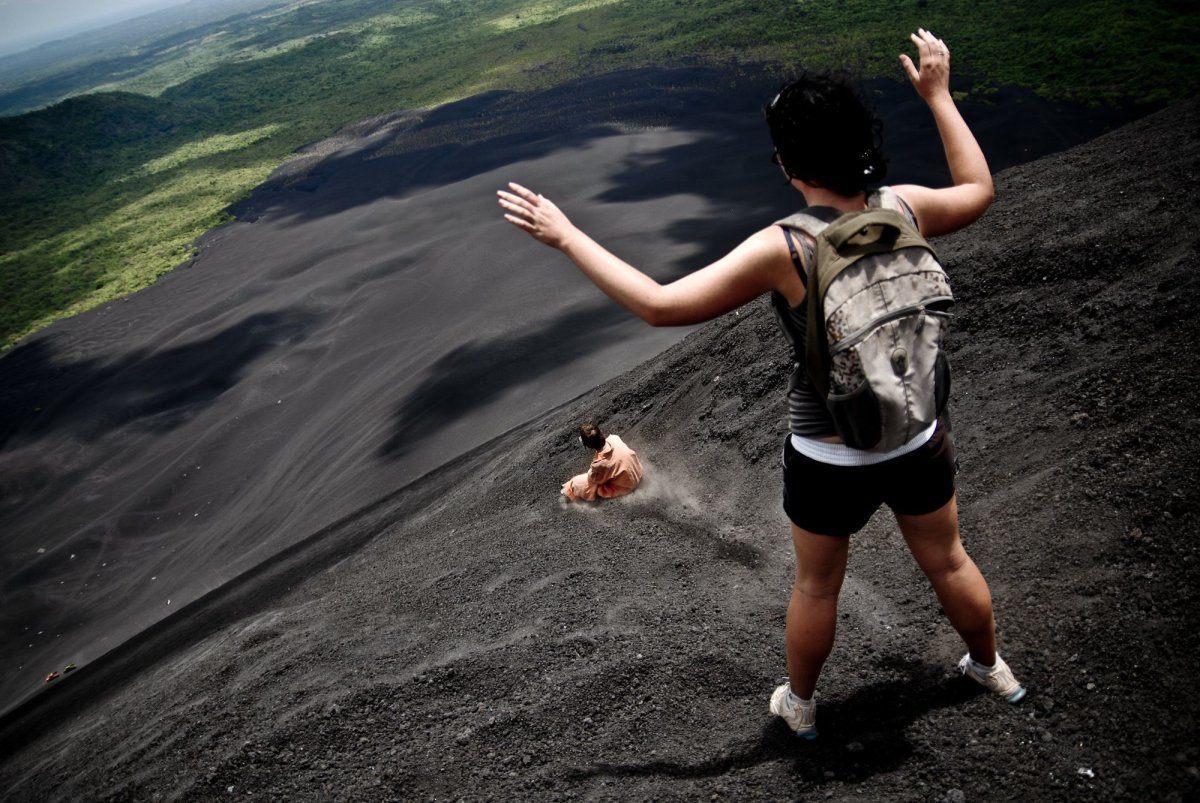 2. Cage Diving with Crocs in Darwin, Australia
It takes some serious cajones to come face to face with a crocodile, one of man's fiercest predators. Crocosaurus Cove in Darwin, Australia, offers a "Cage of Death" experience for adrenaline junkies who want the ultimate fix of coming face-to-face with a killer croc with only a thin pane of acrylic for protection. One or two people at a time get about 15 minutes in the tank with some hungry 5m saltwater crocs (the deadliest kind), immersed in a clear tube with a 360 degree view of the massive reptiles. The park features other aquariums and wildlife enclosures to peruse, but if you're the type who seeks adrenaline activities, this experience certainly qualifies.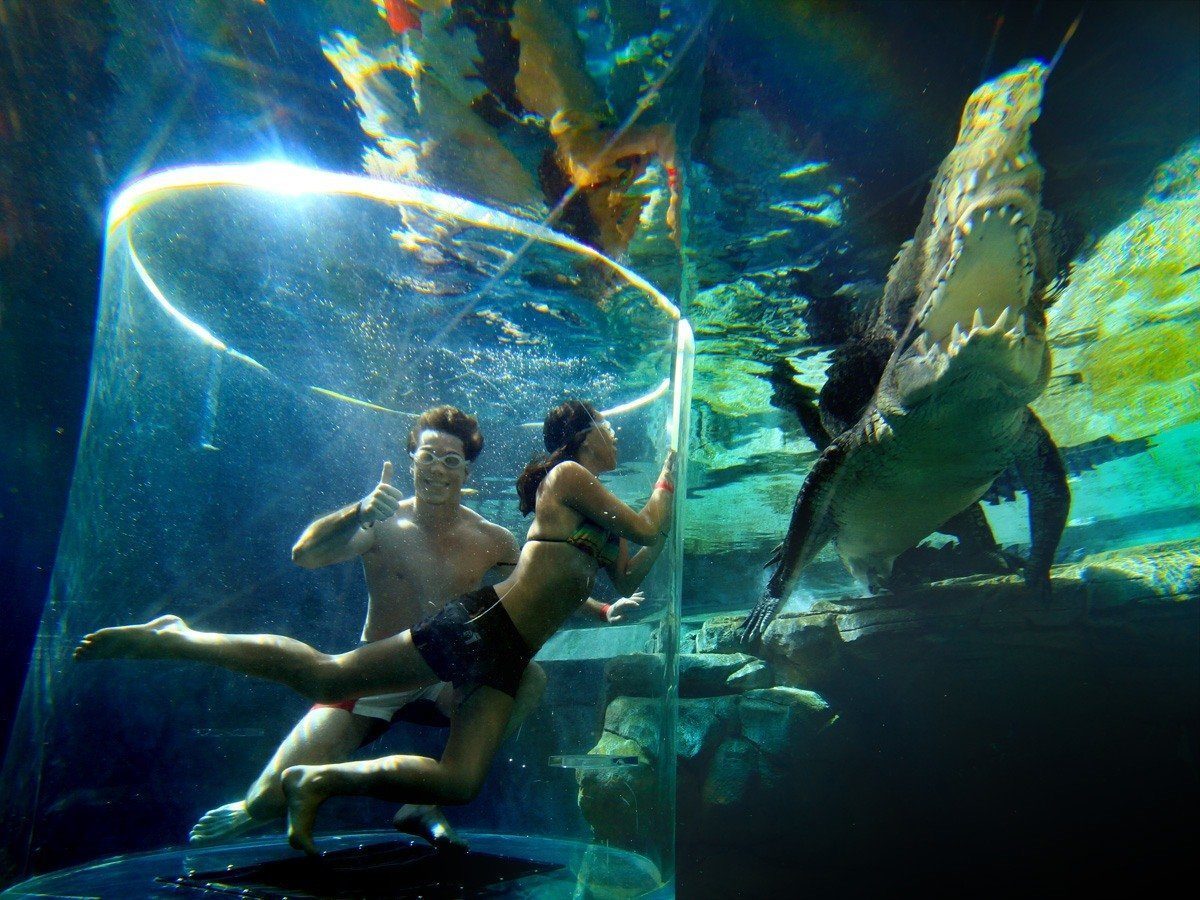 3. Biking the Bolivian Death Road
Yet another thrill with "death" in the title. Sadly, this one comes by the name honestly, as a handful of people lose their lives each year cycling down Bolivia's North Yungus Road – yet over 25,000 tourists flock here annually to partake in this. Starting at 4,650m (15,260ft), the switchback road runs 65km (40 miles) back and forth along the mountain, with sheer drops at every hairpin corner. There are no barriers or guard rails on this 3m wide gravel track. Cyclists used to share the road with cars and trucks along the route (back when 200-300 people would lose their lives each year), but as of 2008 the road is mainly for daredevils on two wheels. Go with a reputable guide who takes safety seriously and enjoy the spectacular mountain views. The dangerous Death Road is about an hour's drive from La Paz.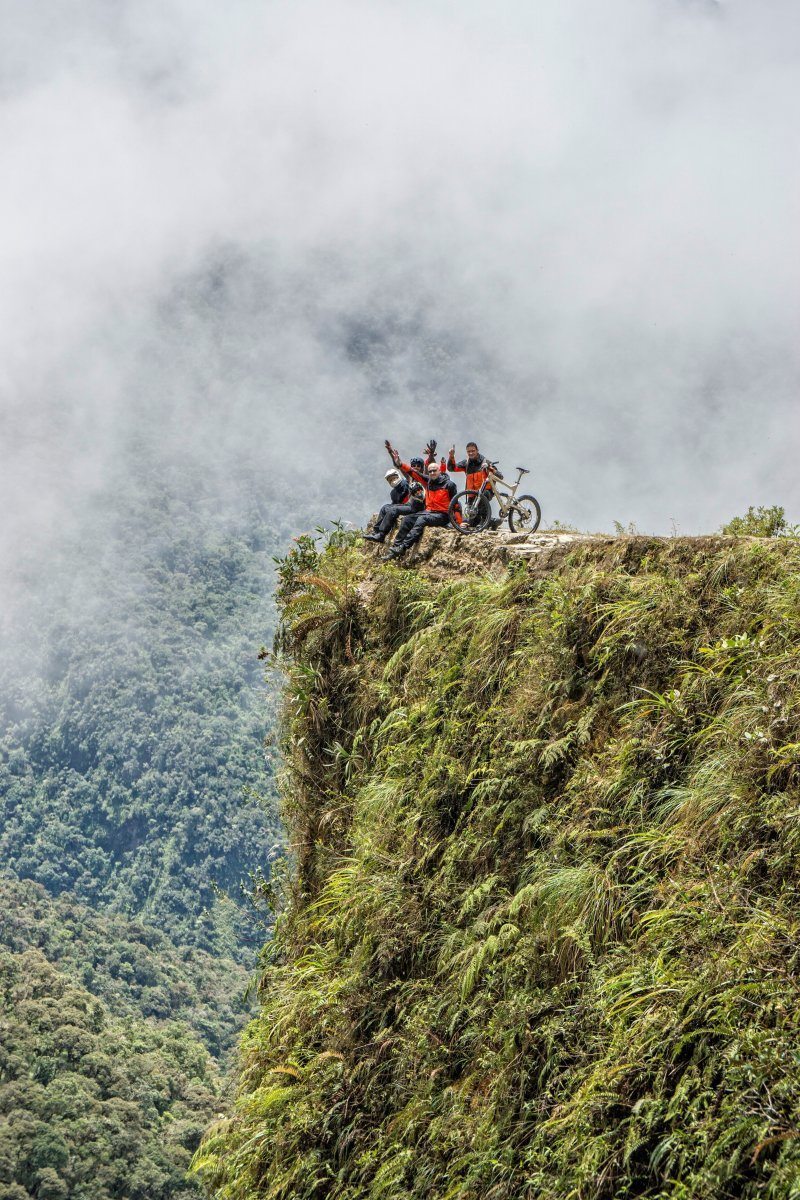 4. Sky Diving Mt. Everest, Nepal
If climbing the world's tallest mountain seems ho-hum to you, try upping the adrenaline ante with a Mt. Everest skydive. This one's not for the feint of heart or short of budget. It costs $25K (solo) or $35 (tandem) to drop out of a helicopter at 29,500ft over the Himalayas for the ultimate high. This elite adventure is the highest commercial aerial event in the world. Special thermal clothing, parachutes and skydiving oxygen systems are required for this extreme sport. If money was no object, would you be up for the jump?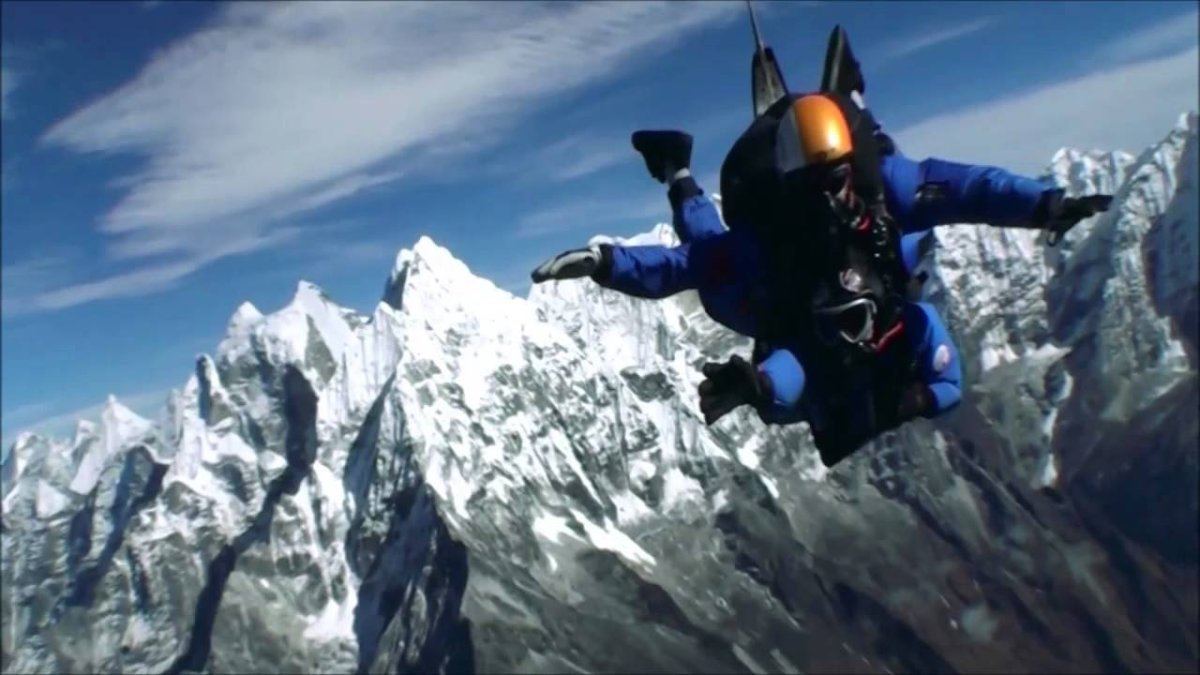 5. Devil's Pool at the Edge of Victoria Falls, Zambia
This might not be as heart-pumping as an Everest jump, but it's still a world-class thrill to be taking a dip at the lip of Victoria Falls. Usually the waters rush off the side of the cliff sweeping any swimmer to a 100m deathly plummet. But during the drier months of May to December it's like a natural infinity pool with a rocky barrier to hold you back. Getting there is half the fun. You reach the Devil's Pool on the Zambian side of this magnificent cascade via a rocky hike and a swim down the Zambezi river. Be forewarned, though, that some people have met their death while swimming at the Devil's Pool. Perhaps the risk is part of the appeal to those who seek adrenaline activities around the world.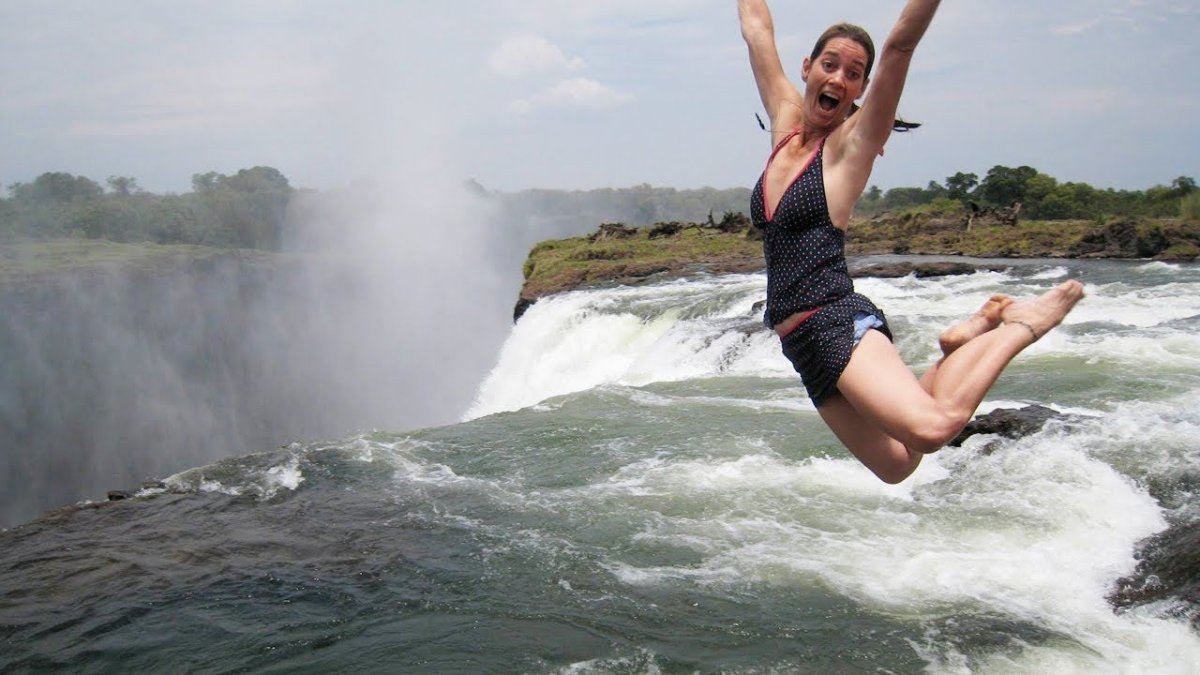 6. Acrophobia Adventures at Tianmen Mountain, China
Stunning Tianamen Mountain, in China's Hunan province, is a tourist magnet visited by the masses. However, if you happen to have any hint of acrophobia (fear of heights) there are several adrenaline-pumping activities to put you through the wringer here. The 7,455m cable car ride from the town of Zhangjiajie to the top is the world's longest, and just about anyone will feel their heart racing while dangling from a wire at these heights. Then there's the 1.6km cliff-hanging walkway that loops around the sheer mountain at 1400m, offering stunning yet terrifying views. Part of this is made of glass, so each step on this "sky walk" feels like a step down the mountain. Now there's a new glass-bottom hanging bridge between two peaks that can be a challenge for acrophobics to cross. Trained staff are on hand to help people make it to the other side, as it defies all self-preservation instincts.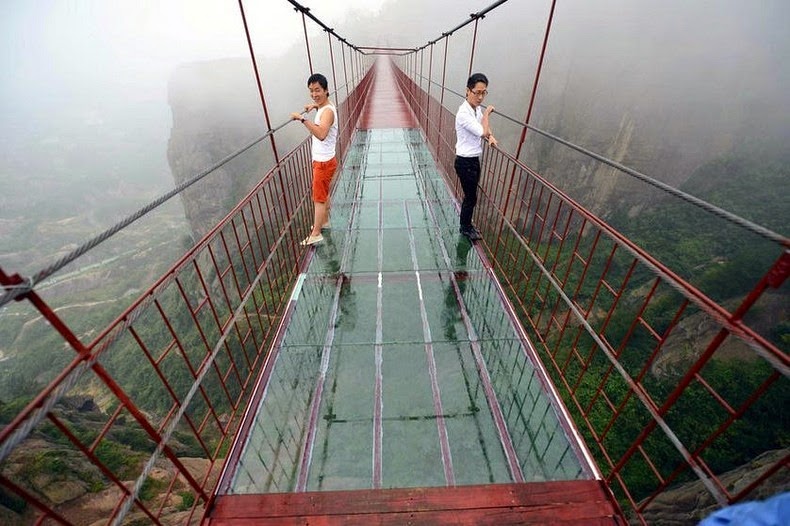 7. Running Of the Bulls in Pamplona, Spain
No list of global adrenaline activities could skip the classic "Running of the Bulls" experience in Pamplona. The Fiesta of San Fermin takes place from July 6 to 14 each year, where six raging bulls take to the streets along with hordes of brave (or foolish) humans. Fireworks are set off to enrage the feisty bulls at the start of this journey. It only takes about three to five minutes to traverse the distance of 825m, but it is a thrilling time for any runner in fray. Make no mistake, this is a risky venture. Each year, dozens of mozos (runners) are gored, trampled, or injured during the festival and 15 have been killed over the years. Tempted to sign up for this?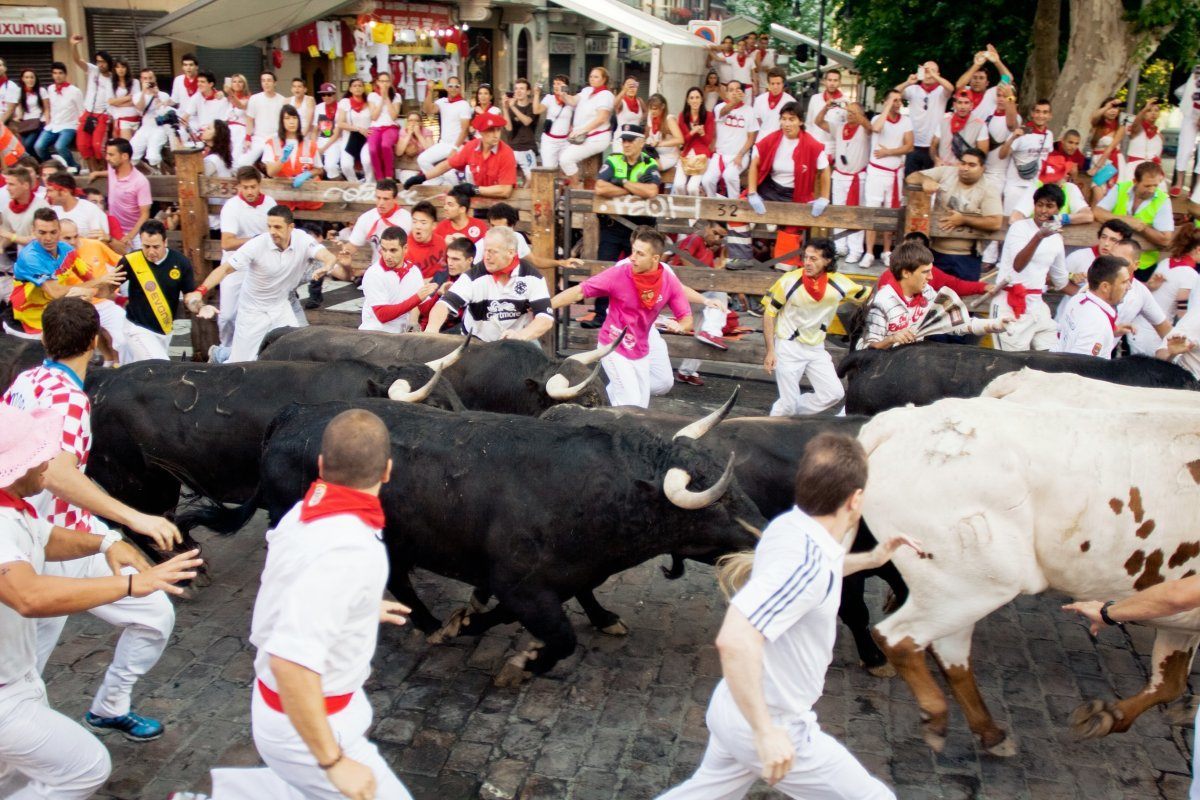 8. Dipping in a Finish Ice Hole
Nothing will get your heart racing like a refreshing swim in an icy lake. It may sound like a masochistic pursuit, but the Finns believe extreme temperatures are good for a body. A sauna is never far away, and going back and forth between the two is a prescribed health tonic. Taking the sub-zero plunge will be a mind-and-body numbing shock to any system, but they say it improves your circulation. Proponents claim a frosty dip gives you a sublime sense of relaxation and an energy boost after you've recovered from near-hypothermia.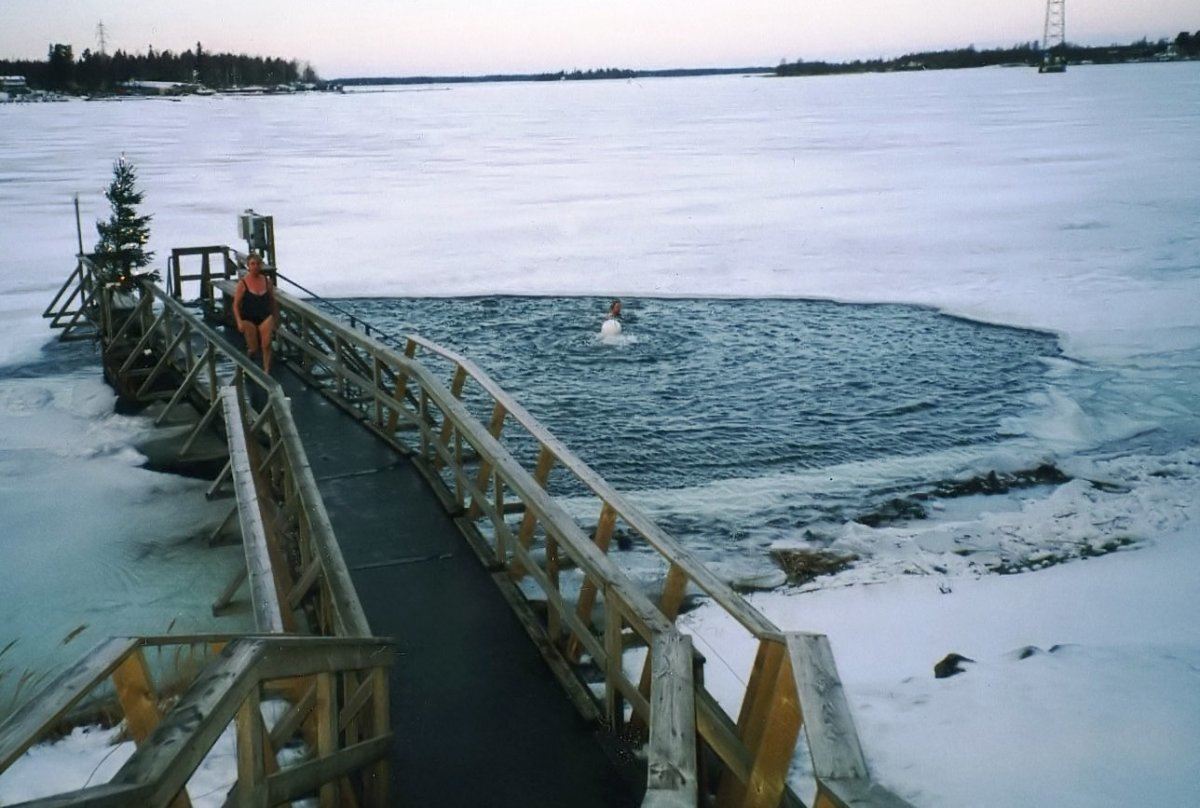 9. Attempting the Moroccan Marathon des Sables
If being frozen is not your thing, here's the other extreme. The Moroccan Marathon des Sables is considered to be the toughest footrace on earth. Known as MdS, this legendary race through the Sahara desert is about as inhospitable a climate and topography as you can get. Runners from all over the world clamor to get a spot in this prestigious race through saltpans, up desert-mountains and around ruined towns, with occasional sand storms thrown in to the torturous mix. If scorching heat, dusty sand and vast distances sound like fun to you, add this one to your extreme bucket list.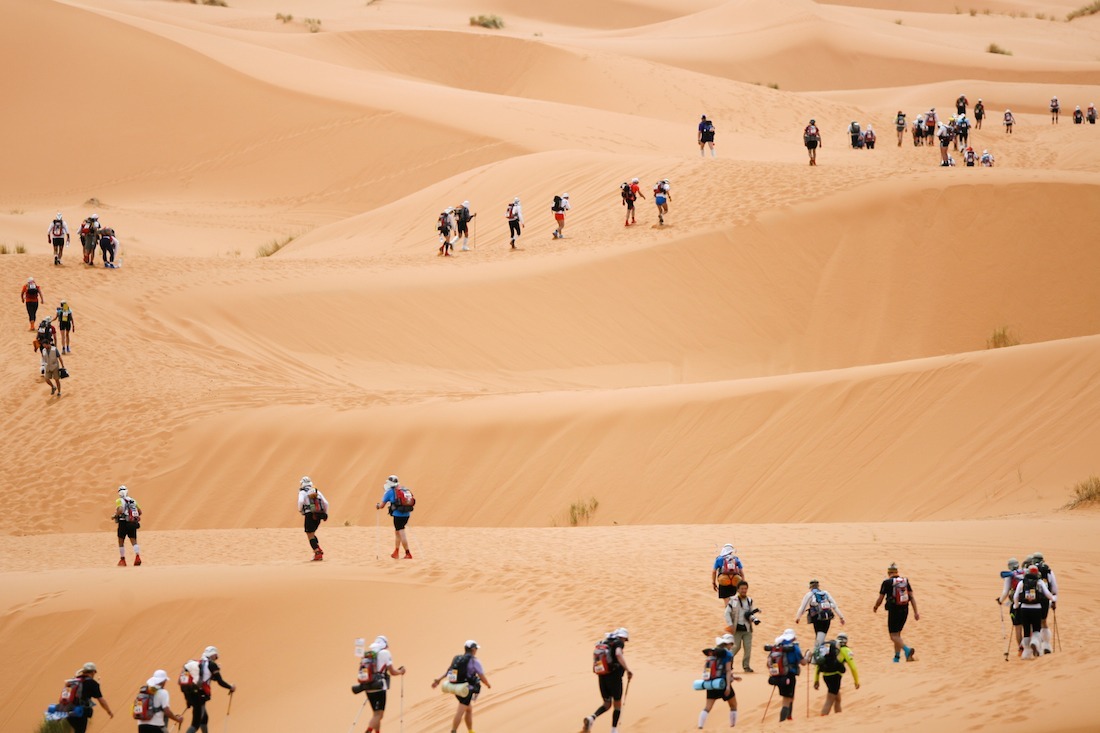 10. Shark Diving in South Africa
Sure, you're safely behind bars when diving with these Great White Sharks, but if you're adrenaline isn't coursing through your veins during this activity, you're not human. There are lots of outfitters in and around Cape Town that take daring tourists on shark cage dives. The crew puts bait in the water to attract the fearsome predators to you, in case you're not bait enough. You'll be eyeball to eyeball to these magnificent creatures, getting an up close and personal view of those razor sharp teeth. Safety is paramount to this business, so you're in good hands (fingers crossed!). Staying in the boat and watching someone else in the cage is another way to up the safety odds.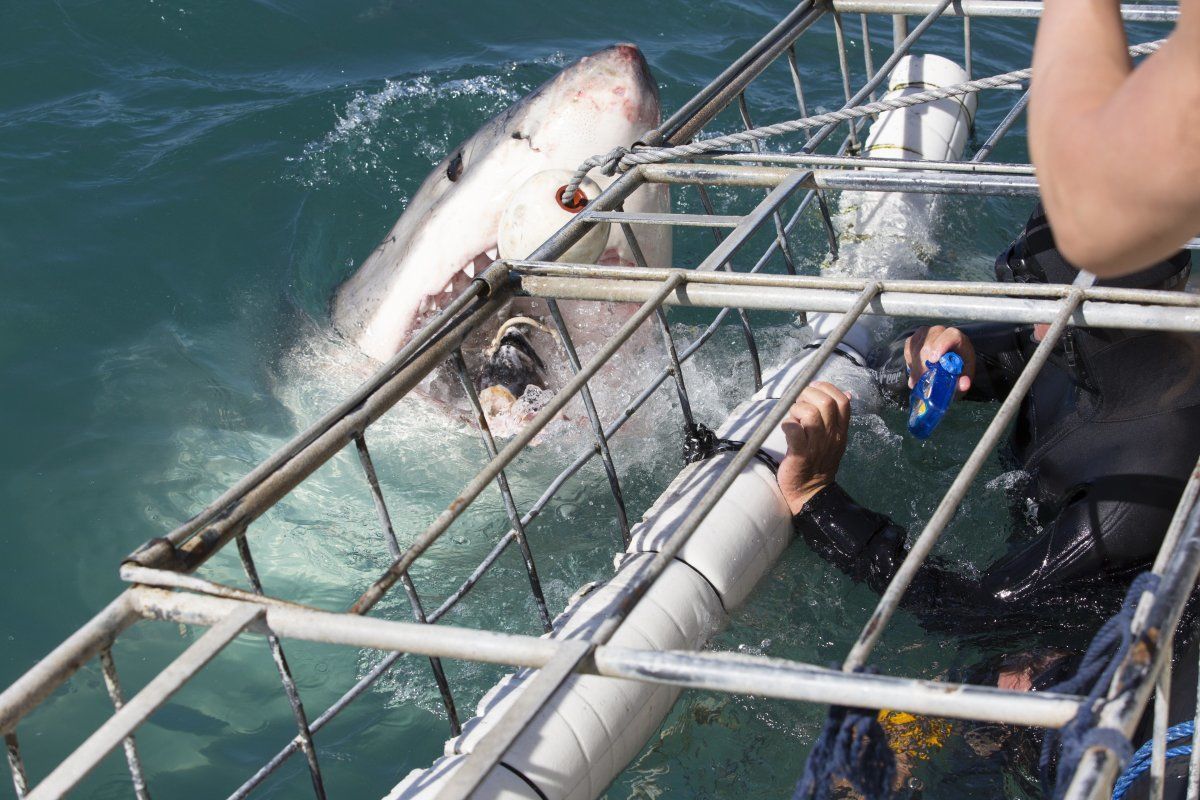 11. Zorbing in New Zealand
This seems like goofy fun, but you're bound to get the adrenaline flowing while doing this. Zorbing is a Kiwi invented novelty sport pioneered in Rotorua, New Zealand that has now become popular around the world. Essentially, you roll down a hill in a giant inflatable orb. Some of these spheres have harnesses, while others let you free-fall as you tumble down the slope while bouncing off the walls of the plastic bubble. It's as much fun as it sounds, and should not be missed by anyone seeking a lighthearted yet still heart-pumping adventure.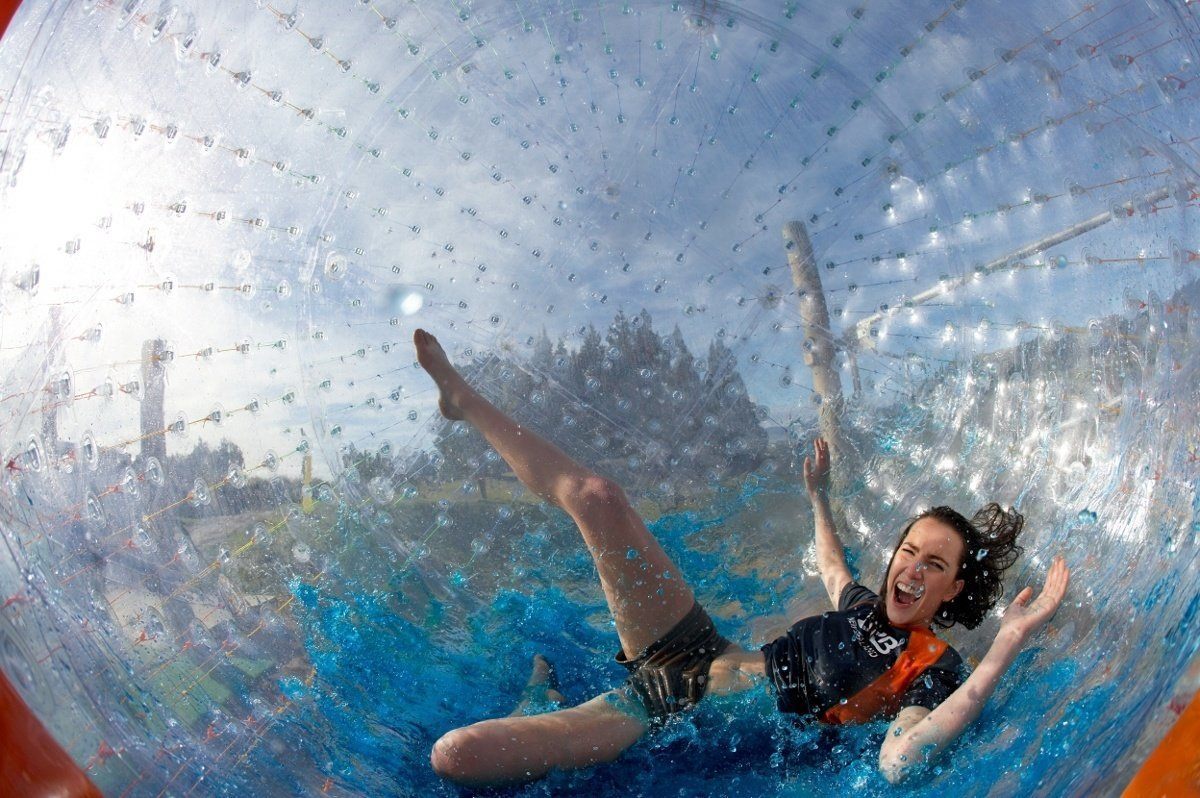 12. Experience Weightlessness With Zero G, USA
Here's one for the adventurer's bucket list, but you just might need a bucket to deal with the nausea you'll experience while free-floating up there. Zero Gravity Corporation takes groups up to the edge of space on a modified Boeing 727 for a few memorable moments of weightlessness (about 25 seconds, in fact). It costs about $5K, which is the most affordable thrill of this type out there. Awaken your inner astronaut fantasies by indulging in this adrenaline rush.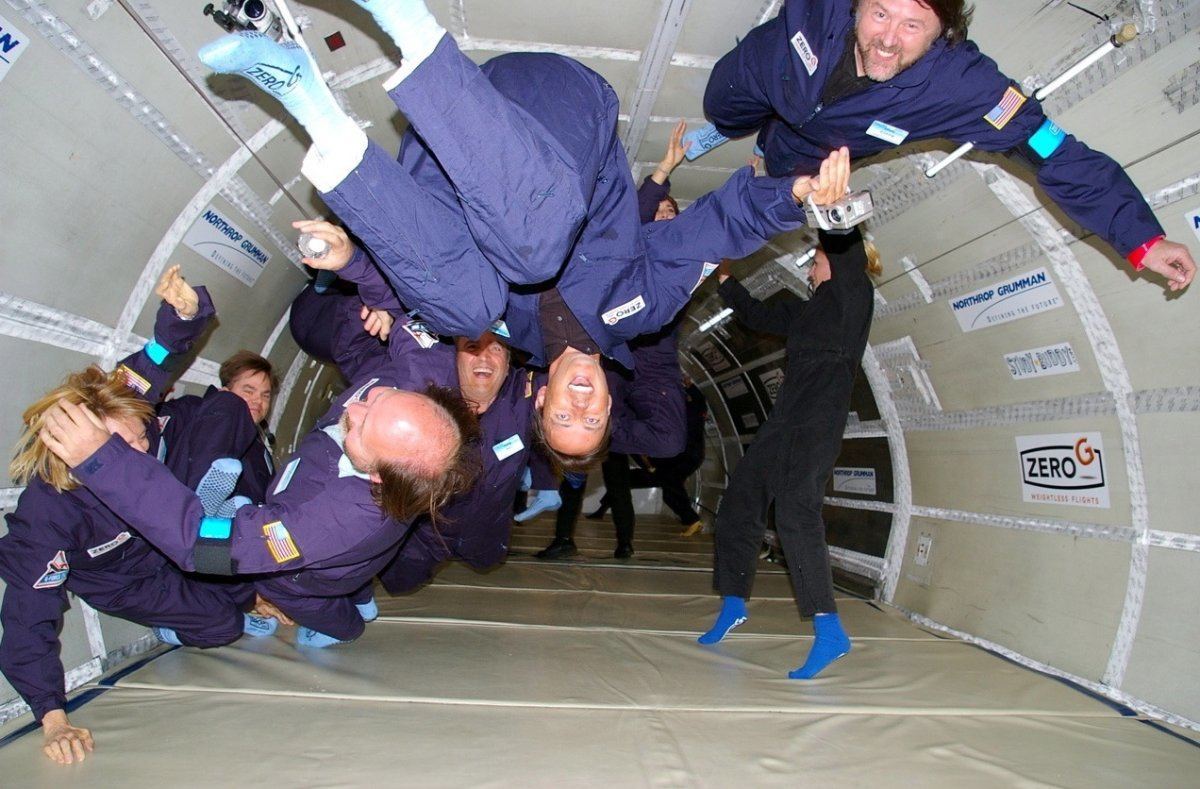 13. BASE Jumping in Norway
If the edge of space (or the Zero G price tag) is a bit too high for you, you can still get a flying thrill without a plane by BASE jumping off a fixed structure – namely, a building, antenna, span or Earth. Enthusiasts who do all four types get extra caché. This extreme fringe sport has really taken off around Kjeragbolten, Norway, where daredevil jumpers leap off a crevice-wedged mountain boulder and plunge to the bottom with a trusty parachute to soften the landing. Sometimes a wingsuit is part of the ensemble. Other popular Norwegian base jumping locations include Romsdalen and Eikesdalen. Before you sign up for this, note that BASE jumping is considered one of the most dangerous recreational activities in the world. It has a fatality/injury rate 43 times higher than skydiving from a plane, and 242 people have died doing this since 1981. So who's game?