Contrary to popular belief, Istanbul is not the capital of Turkey (that's Ankara). It is, however, Turkey's largest city with over 14 million residents. It is also becoming one of the world's most popular tourist destinations. This sprawling metropolis offers something for everyone. It's a unique cultural experience that merges east and west, old and new. You can get lost in the traditions of the Old City, with over 2,500 years captured in ancient landmarks and religious temples. Or you can explore its modern sophistication of upscale shopping centers, cosmopolitan dining venues and contemporary architecture. Here are 7 reasons to visit the thriving city of Istanbul.
1. A City Between Two Continents
Istanbul is situated between two continents, making its location one of the most unique in the world. The Bosphorus Strait separates Istanbul's tourist-ridden European side from its residential Asian side. A channel of this strait, known as the Golden Horn, further divides the European side of city into two halves, the old and the new. The Old City houses Istanbul's rich historical landmarks and architectural sites, while the New City is the business and cultural epicenter. Istanbul also boasts rolling hills which provide a perfect vantage point to take in the breathtaking views of ancient mosques and the cities' bustling waterways.
2. Tourists Welcome
In the past five years, Turkey has become one of the most popular tourist destinations in the world, attracting over 30 million visitors annually. Istanbul alone ranked as the 10th most popular tourist destination in 2010, after being named the European Capital of Culture. Istanbul has also been praised for its modern tourism infrastructure. It is one city that doesn't mind if you can't speak the language. Millions of Turks are fluent in English and are more than willing to help their country's visitors. Many tour guides are university trained, so the wealth of historical and cultural knowledge you will receive with a guided tour is more valuable than what you'll learn flipping through a guidebook. Even the taxi drivers, hotel staff and restaurant personnel will be happy to help you learn more about their city. If you feel like exploring on you own, Istanbul is a great city for exploring by foot. Wander from landmark to landmark and take in all of the breathtaking splendor that this exotic city has to offer.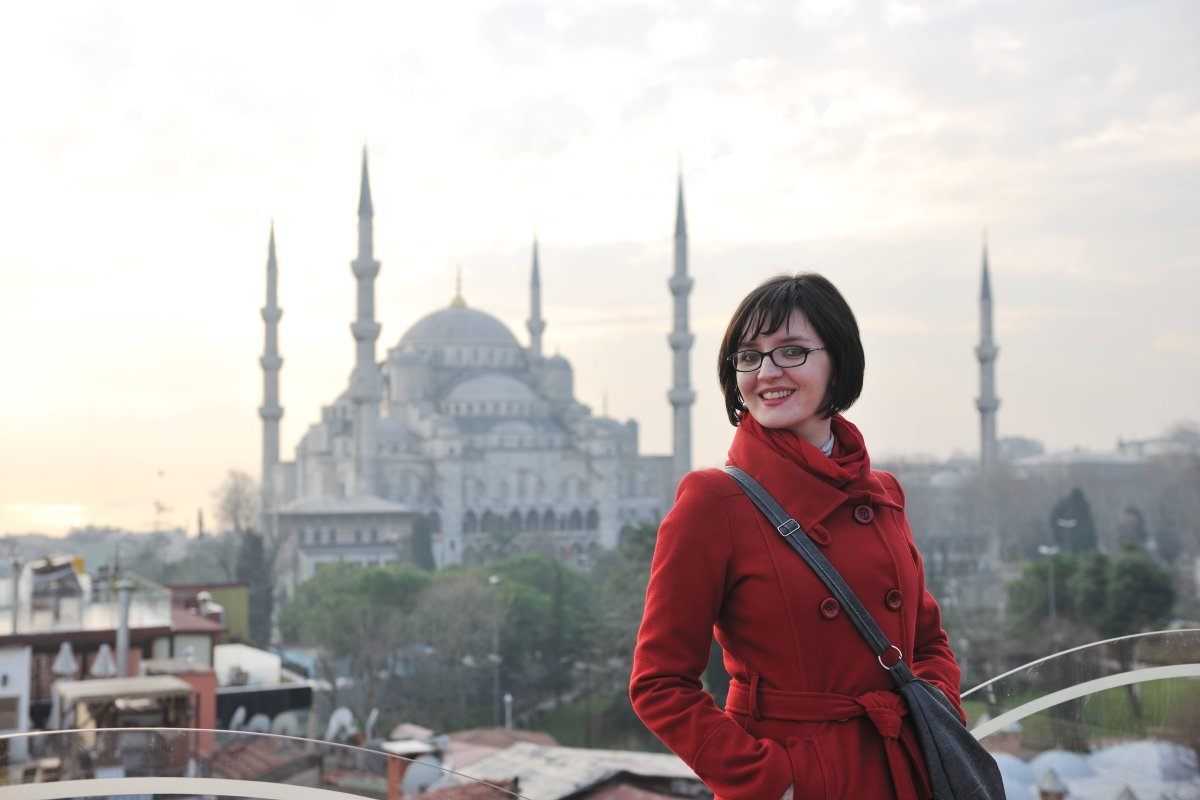 3. Historical Landmarks and Architecture
The Blue Mosque is one of the world's most famous religious mosques. It features six minarets that point dramatically to the sky and over 20,000 intricately detailed blue Iznik tiles inside. Hagia Sophia and the nearby Suleymaniye Mosque are also must-see religious landmarks. See Topkapi Palace, the ancient royal home of the city's sultans for over 3 centuries. It dates back to the 4th century and has detailed stone courtyards, lush gardens and a maze of harem rooms which were once occupied by the sultan's wives. Don't miss the underground cisterns of the Sunken Palace also known as Yerebatan Sarayi. It's an impressive underground cavern with over 360 illuminated marble columns.
4. Turkish Cuisine Isn't Just Kebabs
Istanbul provides an array of dining experiences, including roadside vendors, fashionable waterside cafes and high dining rooftop terraces offering an array of eastern and western dishes. Authentic Turkish fare can be described as a fusion of Central Asian, Caucasian, Middle Eastern, Mediterranean and Balkan cuisines. Enjoy stewed and skewered meats, fried vegetables, wrapped vine leaves and seasoned rice dishes tastefully seasoned with local herbs and spices. Istanbul is one city where dining out is a must.
5. Istanbul Comes Alive As the Sun Sets
Istanbul's nightlife scene definitely takes advantage of the city's awe-inspiring views and vibrant backdrop. Many of Istanbul's most popular bars are situated on soaring rooftops or strategically located on the Bosphorus waterfront, achieving the ultimate wow factor. Looking for a glamorous night out? Try Angelique, a waterside open-air hot spot where the cool crowd gathers to sip chic cocktails. For the late-night party crowd, the trendy Otto nightclub or the Nu'Terrace fits the bill.
6. Eclectic Shopping
Many consider Istanbul one of the world's finest shopping hubs. That's because it offers an array of shopping venues including luxurious brand name boutiques, modern shopping centers and street side craft markets. The Grand Bazaar has a chaotic atmosphere where vendors boisterously bargain with shoppers. Here you'll find intricate handmade rugs, clothing materials, jewellery and exotic home wares. Don't miss one of Istanbul's famous Spice Markets, which offer endless rows of fragrant spices and delectable sweets piled high in handmade wooden baskets. Istanbul also offers modern shopping malls like Istinye Park, an eco-friendly shopping venue that features all glass walls, a green central park and a waste oil collector.
7. Istanbul: A Paradigm of Old vs. New
One of the most unique cultural experiences that Istanbul provides is the ability for visitors to witness a traditional city evolving into a contemporary one. The Old City holds tight to its traditions, values and Islamic faith, while the New City embraces modern cosmopolitan influences from the western world. In a sense, you can travel back and forth in time and across cultures as you explore this diverse city.