Like many countries in the region, Hungary sports a heavily Germanic-influenced cuisine, albeit with its own distinct Magyar spin. Dishes tend to be extensively based on meat, bread and seasonal vegetables, with more than a few delicious desserts thrown in. Let's just say the traditional cuisine developed before the low-carb craze. Perhaps most famous is its meat stew, known to most foreigners as goulash. Heading on a trip to Budapest and beyond? Take a look at some of the tempting foods you must try in Hungary, even if you can't pronounce the names!
1. Lángos
Perhaps one of the unhealthiest fast-food options on the planet, Lángos is nonetheless quite delicious, particularly after a late night out. The base consists of a deep-fried dough, but you can choose from a variety of toppings, the most popular one being sour cream and cheese. Other options include mashed potatoes, yogurt, mushroom, cabbage or even jam. Your arteries may clog, but your tongue and tummy will thank you.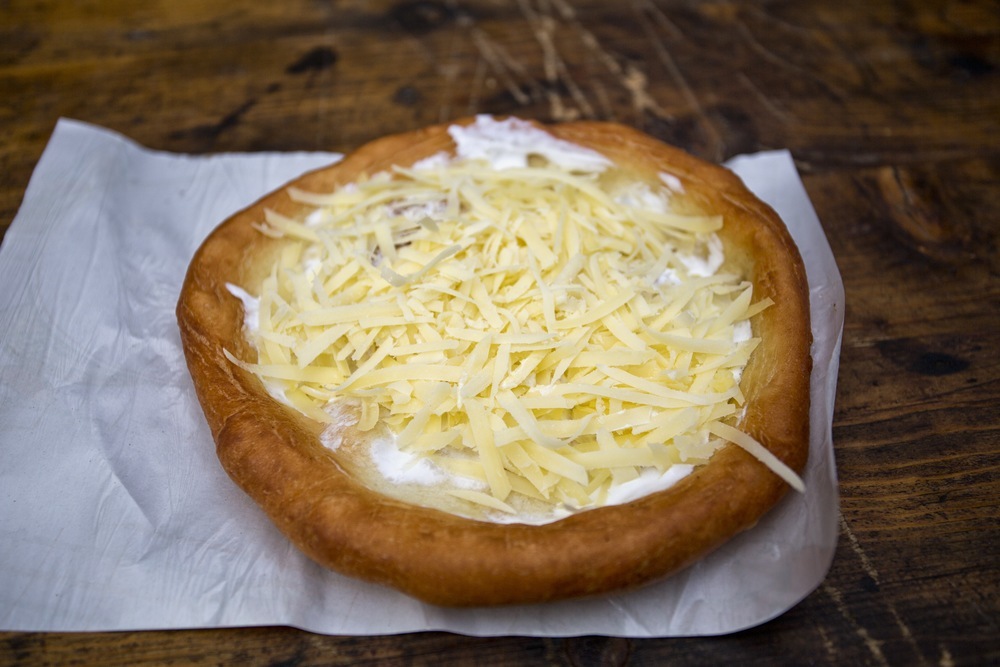 2. Gulyás
Commonly known to foreigners as goulash (pronounced the same way), Gulyás is a traditional beef stew that has served as a staple of the Hungarian diet since the ninth century. It comes in many different forms, and other countries in the region have their own national variants too. Popular Hungarian goulashes may include beans, sauerkraut, smoked meat, potatoes or sour cream. Most are quite soupy, and are often served with csipetke egg noodles.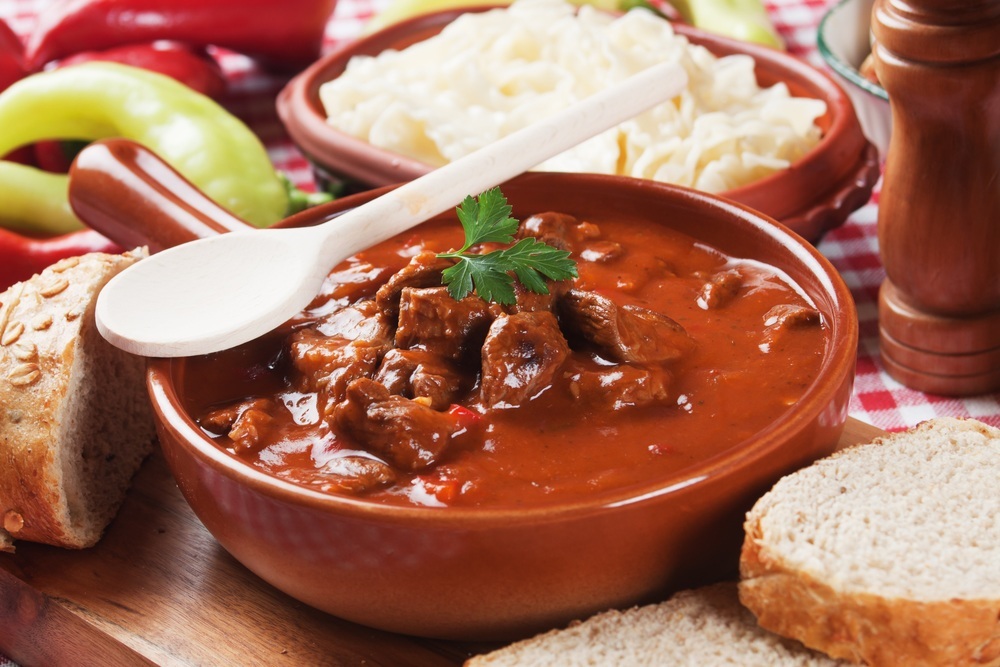 3. Pörkölt
Although foreigners sometimes confuse it with Gulyás, Pörkölt is a different kind of meat stew consisting of meat, paprika and a variety of vegetables. You'll find Pörkölt with almost any kind of meat, with beef and pork being the most common. In country pubs and more other traditional venues, you'll sometimes find it with venison or other game meats. Along with Gulyás and Paprikás, a paprika and sour cream infused stew, this is one of the national dishes of Hungary.
4. Dobos Torte
This Hungarian specialty is an intricate five-layered cake of chocolate buttercream and sponge. It is topped with a glorious crust of caramel and decorated with nuts along the side. This elegant torte, developed in 1885, is popular at many upscale restaurants and pastry shops around Europe, but is definitely one of the sweet foods you must try in Hungary.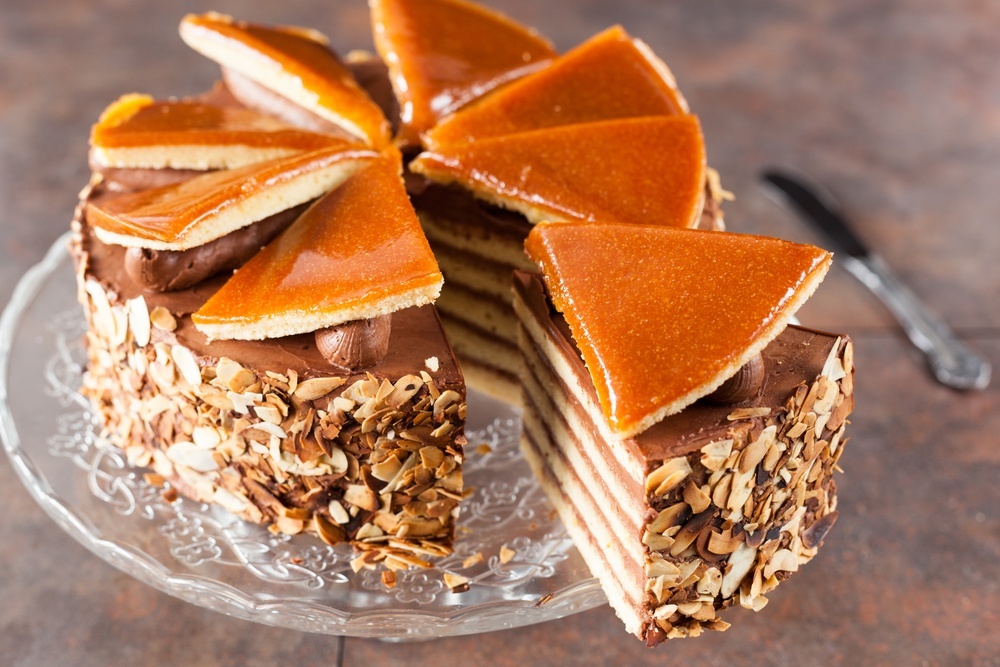 5. Rántott Sajt
Also popular in Czech Republic and Slovakia, Rántott Sajt is essentially deep-fried cheese. Battered in breadcrumbs and typically consisting of edam, mozzarella or a local cheese, this unhealthy yet irresistible dish is commonly served as a street snack. How ever did those Gabor sisters keep so svelte?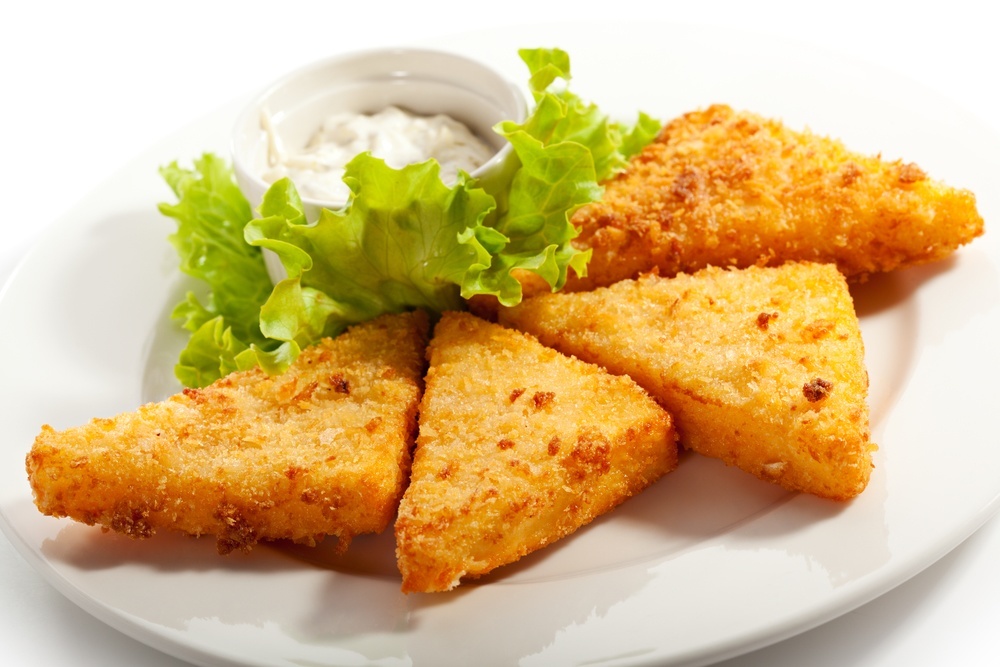 6. Gombóc
Gombóc is a type of fried dumpling, similar to those found all over Central and Eastern Europe. They are made from potato dough filled with plums, rolled into balls and boiled. Then to up the ante, they are sprinkled with bread crumbs and fried up for good measure. For a final flourish, these babies are dolloped in sour cream and sprinkled with cinnamon sugar. Savory varieties exists as well, but the dessert Gombóc are divine – never mind the calories.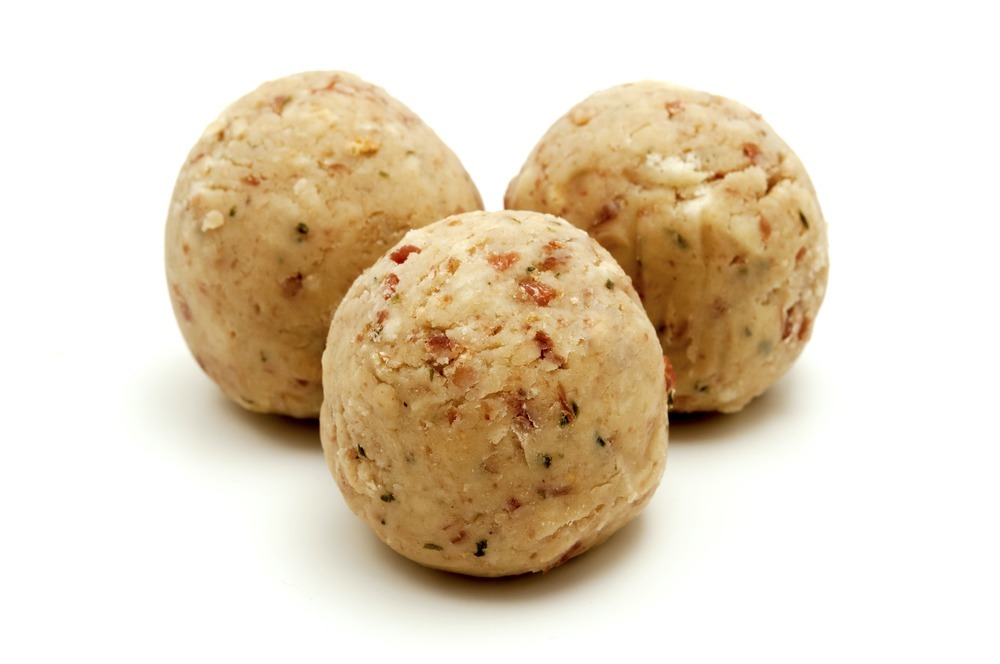 7. Kolbász
Kolbász more-or-less translates into sausage, and Hungarian variants feature quite a distinct flavor, largely due to the paprika content. The most popular version in Budapest is the Gyulai kolbász, a slow-cooked, wood-smoked pork sausage which is typically served with bread or used in stews. Another popular choice is Csabai kolbász, which is usually a spicier option. Hungarians pride themselves on their sausages, so add Kolbász on your list of foods you must try in Hungary.
8. Kürtőskalács
Popular in Hungary and Hungarian-speaking areas in neighboring Romania, Kürtőskalács is a sweet snack typically served on the street, particularly during festivals. It is made from a sweet yeast dough which is spun around in the shape of a cone before being rolled around in sugar and baked over charcoal. The sugar helps to form a crispy, caramelized crust for some truly sugary decadence.
9. Halászlé
Halászlé loosely translates as fisherman's soup, found all over Hungary and the Balkan countries. It is a spicy soup containing freshwater fish, typically carp, and an abundance of paprika – Hungarians love their paprika. It is one of the spiciest dishes of all Hungarian cuisine. Loved by both tourists and locals alike, there are several common variations, including one that uses four types of river fish.
10. Főzelék
Those wanting a break from the meat- and dough-centric dishes that Hungary typically has to offer should try főzelék, a thick vegetable stew (finally, some healthy veggies!). However, it may sometimes come with a small amount of sausage or meatballs. A commonly homemade food, it can contain kale, lentils, beans, potatoes, bell peppers, cabbages, sauerkraut and a plethora of other local produce.
11. Palacsinta
Palacsinta are similar to crêpes and made primarily from eggs, milk and wheat flour. In Hungary, they come in both sweet and savory varieties. Desserts are traditionally rolled in plum, strawberry or apricot jam or a sweet cottage cheese before being sprinkled in sugar. Another popular option includes walnuts, raisins and orange peel. Palacsinta may also be served as a main course complete with vegetables, mushrooms or meat. Don't miss sampling some of these as one of the foods you must try in Hungary.