Queenstown is known as the adventure capital of New Zealand, if not the world. Located on the scenic South Island, the resort town sits on the stunning shores of Lake Wakatipu surrounded by remarkable mountains, rushing rivers and spectacular canyons. People from all over the world flock here to embrace the great outdoors and test their limits on a range of adrenaline-pumping activities. The Kiwis practically invented extreme adventure experiences for the travel market. They're always coming up with new offerings that become the next big craze. Be warned, there's a seductive energy down here that makes even mild-mannered types get swept up in the fever. You may find yourself partaking in all sorts of thrills you never dreamed of doing before. Once you see everyone else taking the plunge (often literally), you won't want to miss out on the fun. Here are 10 daring things to do in Queenstown, New Zealand.
1. Bungy Jump
Bungy jumping has its roots in Vanuatu, where islanders were known to fling themselves off highpoints with vines tied to their feet. A couple of crazy Kiwis updated this concept back in the 1988, using latex rubber cords and a platform on the Kawarau Bridge, near Queenstown. With safety top of mind, they produced an adrenaline adventure activity that has blossomed into more than just a passing backpacker fad. Today, over a million travelers have taken a leap off the bridge where it all started, and it has become something of a required rite of passage when in Queenstown. Now there are The Ledge and Nevis jump sites to choose from, too. Try a tandem, backwards, blindfolded, water-touch or night jump to up the fear-factor.
2. Go Canyoning
The landscape around Queenstown is perfect for the adventure sport of canyoning. If you've never heard of this pastime, it involves jumping, sliding, scrambling, climbing, abseiling, ziplining and swimming through rugged canyon territory. You explore nature, defy gravity and test your physical and mental limits in ways you never knew about. It's one of the most exhilarating outdoor experiences for the Queenstown bucket list.
3. Try Flyboarding
Who hasn't imagined zooming through the air like a Superhero or leaping out of the water like a dolphin? Flyboarding gives you that jet-propelled sensation, allowing you to soar up up and down over water with a hover-board strapped to your feet. It's one of the newest offerings in Queenstown, and it's a blast. It takes about 10 minutes of training, and then you can make like Iron Man and flyboard to heights up to 30 feet.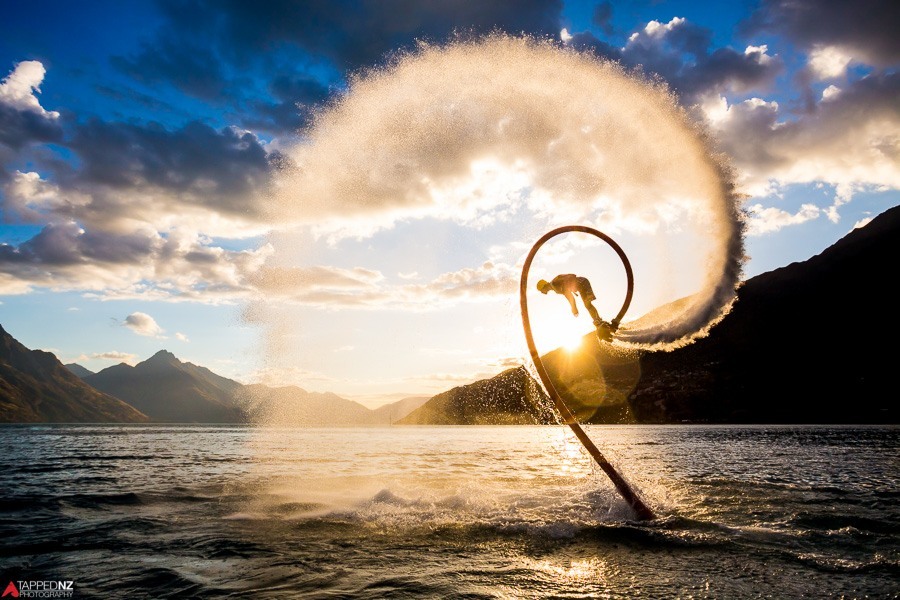 4. Experience Whitewater Rafting
Lots of rivers in the world offer whitewater rafting excursions, but Queenstown is a spectacular setting to experience this kind of wild ride. There are several nearby rivers to satisfy all levels of thrill-seekers. First-time or family floaters might prefer the grade 2-3 Kawarau River, which provides a relaxing paddle through some stunning scenery, with the occasional rapid shoot mixed in. In fact, the 400m long Dog Leg section is the longest rapid stretch in New Zealand. If you want some serious churn, though, book an outing on the grade 3-5 Shotover River. It starts out gently down the stream, but then whips up to a frenzy in rapids with names like Aftershock, Squeeze, Oh Sh*t and Pinball. Prepare to get wet.
5. Have a Jetboat Thrill
Jetboating was one of the original adventure activities offered in the Queenstown area. Shotover Jet began offering river thrill-rides in 1965, and have 50 years' experience making people scream for joy. The jet boat is a New Zealand invention that is one part sight-seeing in the breathtaking canyons, and one part adrenaline rush as you zoom across the river at breakneck speed. These boats are moved by water jets rather than bulky propellers, and can maneuver nimbly along shallow waters, between narrow cliffs and around rocky outcrops. When the jetboat pilot cuts the engine throttle, 180 degree spins get your heart pumping. Dress appropriately, as you will be sprayed.
6. Go Canyon Swinging
If you're a been-there-done-that bungy jumper, try something a little different with a canyon swing. It's different from a straight vertical drop in that you become a human pendulum between two cliffs, attached to a twin-rope swinging system. Like bungy, you start by freefalling off a platform, but then you arc back and forth in a 200m swinging motion for a rush like you've never experienced before. They offer a menu of 70 different jump styles, depending on what kind of a swinger you want to be.
7. Try Heliskiing
In the winter (remember, that's June to August in New Zealand), there are four excellent ski hills within easy reach of Queenstown region. If regular skiing or snowboarding is too ho-hum for you, take things up a notch with a heliskiing or heliboarding excursion. Fly by helicopter into remote regions of the Southern Alps, and discover pristine conditions on untouched terrain to swoosh down. That powder doesn't come cheap, but for those who can afford it, it is an exquisite thrill.
8. Climb Every Mountain
Surrounded by mountains, lakes, canyons and rivers, the great outdoors in and around Queenstown is the main attraction down here. There are endless alpine trails to explore, from easy day hikes to multi-day backcountry adventures. More technical rockclimbing and mountaineering excursions can be arranged, and for an added dare, try waterfall ice climbing. Depending on the season, your fitness level and your adrenaline tolerance, there are plenty of ways to get your kicks up and down Ben Lomond, Jack's Point and other peaks in the Remarkable Range.
9. Jump Out of a Plane
If skydiving doesn't get your mojo going, nothing will. Along with all the other adrenaline-junkie offerings, add leaping out of an airplane to your list of daring things to do in Queenstown. If you can muster up the courage to endure a 15,000ft plummet, the dramatic scenery on the descent definitely adds to the rush. It's the ultimate exhilarating thrill that will score you top bragging rights in this adventurous town.
10. Swoosh Down a Mountain on a Luge
For a slightly tamer thrill, enjoy a day on the tracks at Skyline Queenstown Luge. All ages can handle this one, as you don't necessarily have to whiz down at high speed. You're in control of your cart, so young and old, daredevil or wuss can enjoy this activity as they wish. Take the Scenic Track for a gentle leisurely ride, with a few fun bends and dips. Take the Advanced Track if you want the challenge of steeper gradients and banked corners. The gondola rides up and down are thrilling themselves, as the views over the mountains, lake and Queenstown are truly stunning.