Rome is one of those magnetic cities that most self-respecting travelers aim get to at some point in their lives. With all that art, history, culture, fashion and food, it's easy to understand why. A week or two is never enough to experience the subtle nuances of the Eternal City, but you can hit most of the major highlights. Maybe some are cliche tourist fodder, but there are simply a few required things to do on a Roman holiday. On subsequent trips you can delve deeper and live the dolce vita like a local, but these are 15 essential experiences for a first visit to Italy's capital, including a few insider tips to inspire you.
1. Stand Under the Pantheon Dome
One of ancient Rome's best preserved structures is the Pantheon, a pagan temple built by the emperor Hadrian around A.D 118. Its standout features are its granite Corinthian columns and its unreinforced concrete-like dome over the rotunda. At the top of this cavernous roof is an open oculus, like a window to the heavens. Join the crowds and stand under this architectural eye, rain or shine, and bathe under this singular source of light like millions before you. This wondrous dome is still the largest of its kind in the world today, 2000 years later.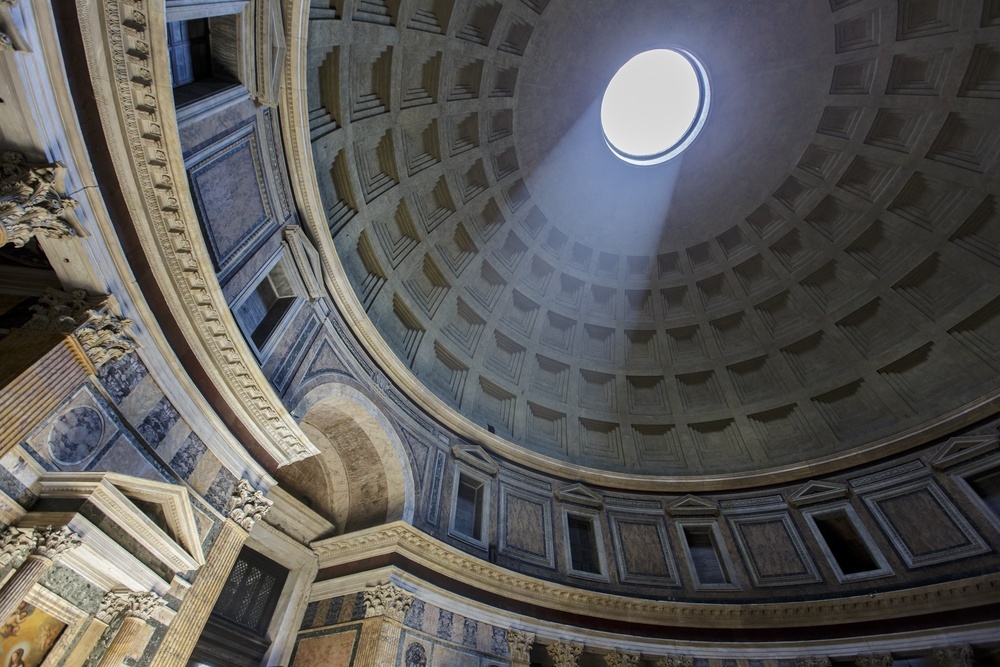 2. Climb Capitoline Hill and Gaze Over the Forum
Rome is built on seven fabled hills, one if its most central and significant being Capitoline Hill. Traces of several important temples can be found there, including ones dedicated to Juno Moneta, Virtus and Jupiter. At the top, you'll find the Michelangelo designed Piazza del Campidoglio and the various Capitoline Museums. This hill offers some of the best views over the ancient Forum, once the heart of the Roman Empire. If you can make it here for the lemon light of dawn or dusk, all the better.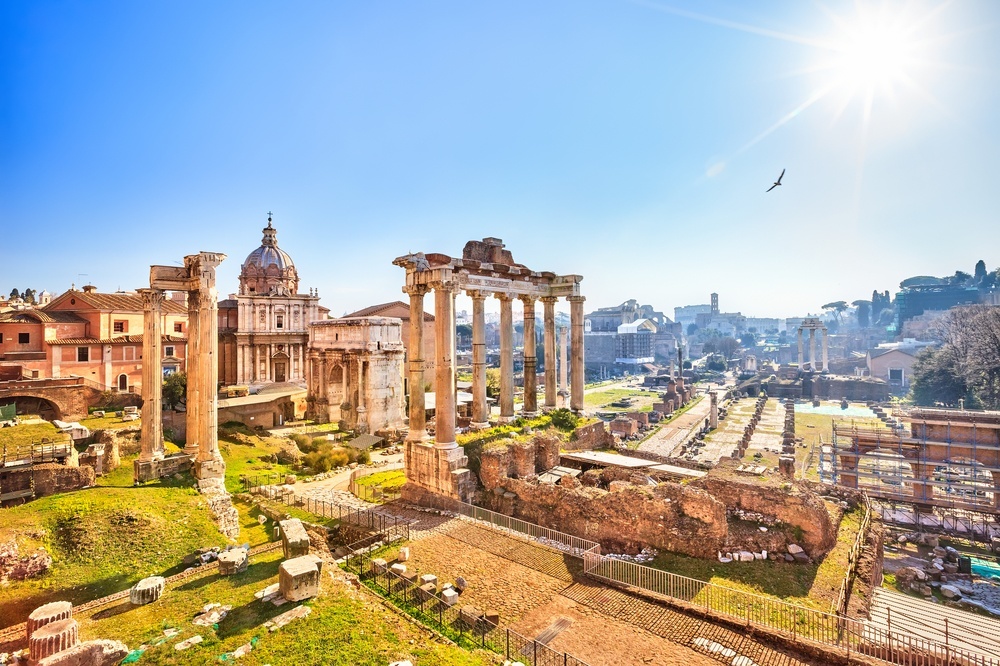 3. Sit on the Spanish Steps
Yes, it's crowded and yes, it's touristy. So what, it has to be done. The scenic stairway was built in 1717 from the Piazza Trinità dei Monti above and the Piazza di Spagna below, near what was once the Spanish Embassy. For some reason, it has become a favorite resting, gelato eating and people-watching spot, overlooking the Fontana della Barcaccia. Poet John Keats once lived in an apartment overlooking the steps, which adds to its romantic pedigree. Before or after your Spanish Steps sit, you can stroll down the Via Condotti, one of the most fashionable streets in Rome. Gucci, Valentino, Dolce & Gabbana, Prada, Armani and all the other who's who of Italian design are represented there.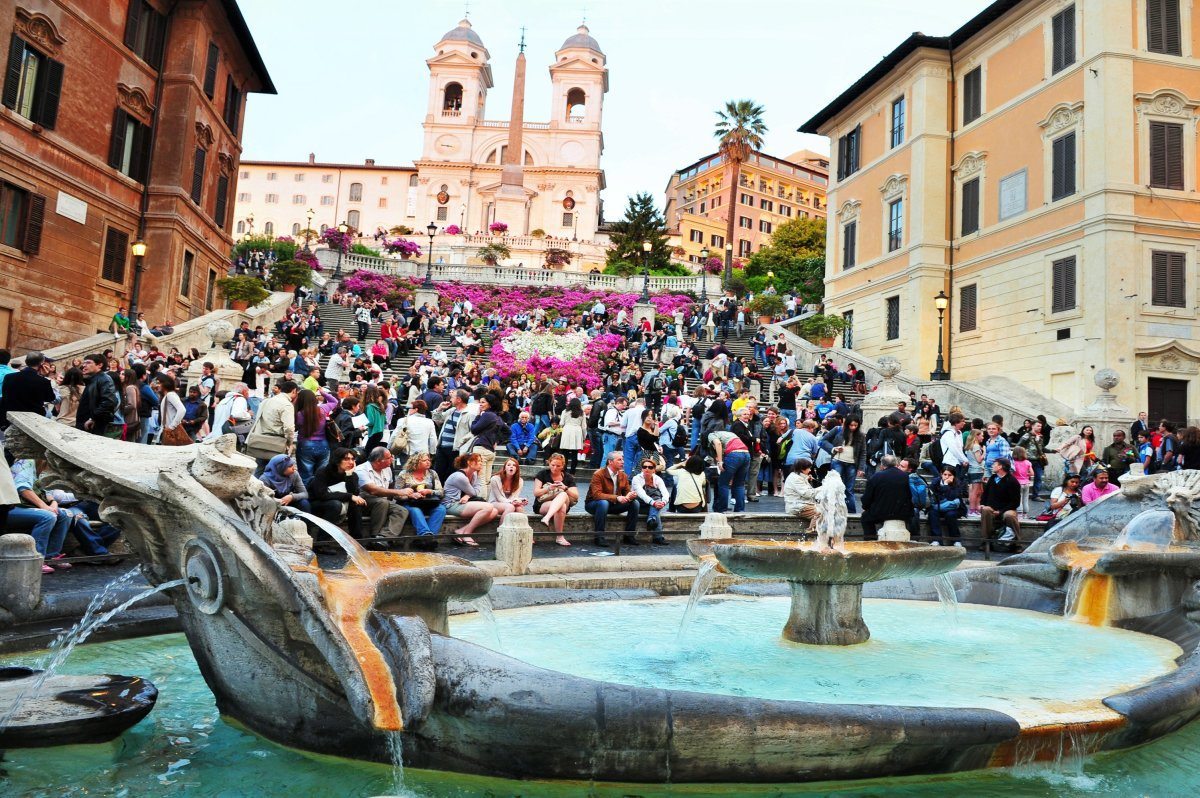 4. Travel Down Via Appia Antica
They say all roads lead to Rome, and this one is certainly a direct route. It was the ancient way to and from the city walls, connecting Rome all the way to Brindisi in southeast Italy. Stones for this impressive and strategic engineering feat were laid back in 312 BC. Take a memorable stroll or bike ride down this age-old path, which can be accessed by an short bus ride out of town or on a more ambitious 16 km walk from the Baths of Caracalla. The Via Appia Antica is part of a nature and archaeological park today, and is particularly pleasant to meander on a Sunday when it is closed to traffic. Check out the San Callisto and San Sebastiano catacombs when you're in the vicinity.
5. Take a Passeggiata Through the Piazza Navona
When in Rome, you have to partake in the passeggiata tradition of a slow pedestrian wander in the evening. There's no agenda, no purpose, no pressure on these ambling strolls. It's just a chance to breathe, observe, maybe socialize and simply soak in the street scene. Locals tend to dress up a bit, never knowing who they might bump into. Tourists who like a little hubbub with their passeggiata might want to meander to Piazza Navona, a public square which is filled with outdoor cafes, sidewalk artists and street performers. Bernini's famous Fontana dei Quattro Fiumi (Fountain of the Four Rivers) is here, as are other beautiful fountains, churches and statues.
6. Stick Your Hand in the Bocca della Veritas
Make like Audrey Hepburn in Roman Holiday, and tickle the tongue of this mythical sculpture known as the "Mouth of Truth". Legend says it's an ancient lie detector. If you tell a fib when your hand is in the mouth of this marble man, he will bite it off. It's found outside the Santa Maria in Cosmedin Church. The lineups are long and the photo-op is short. Sure, it's kind of cheesy, but just do it once simply because it's one of the things to do on a Roman holiday.
7. See the Colosseum at Dusk
Without a doubt, the Colosseum is a top attraction in Rome. In fact, it's the most visited monument in all of Italy. Every tour makes a stop here, so its crawling with people every day of the year (except for Christmas and New Years Day). Consider the bustle part of the authentic ambiance of the Flavian Amphitheatre, just like back in the day when gladiators fought here to cheering throngs of 50,000 spectators. The doors of the ancient arena open at 8:30, and lineups start congregating well before then, especially in the summer months. However, if you can swing it, aim to come by an hour and a half before closing time (4:30 to 7:15, depending on the season). By then, the enormous tour groups and cruisers have long gone, and you'll be able to breeze through with just a smattering of other latecomers. Seeing the Colosseum and the Forum ruins lit up at night is another treat. Nearby is the bohemian neighborhood of Monti, full of alfresco cafes, wine bars, nightclubs, funky fashion boutiques and gelato shops. Surprisingly, this 'hood is not really on the tourist radar, so is a great place to stroll to feel like a local.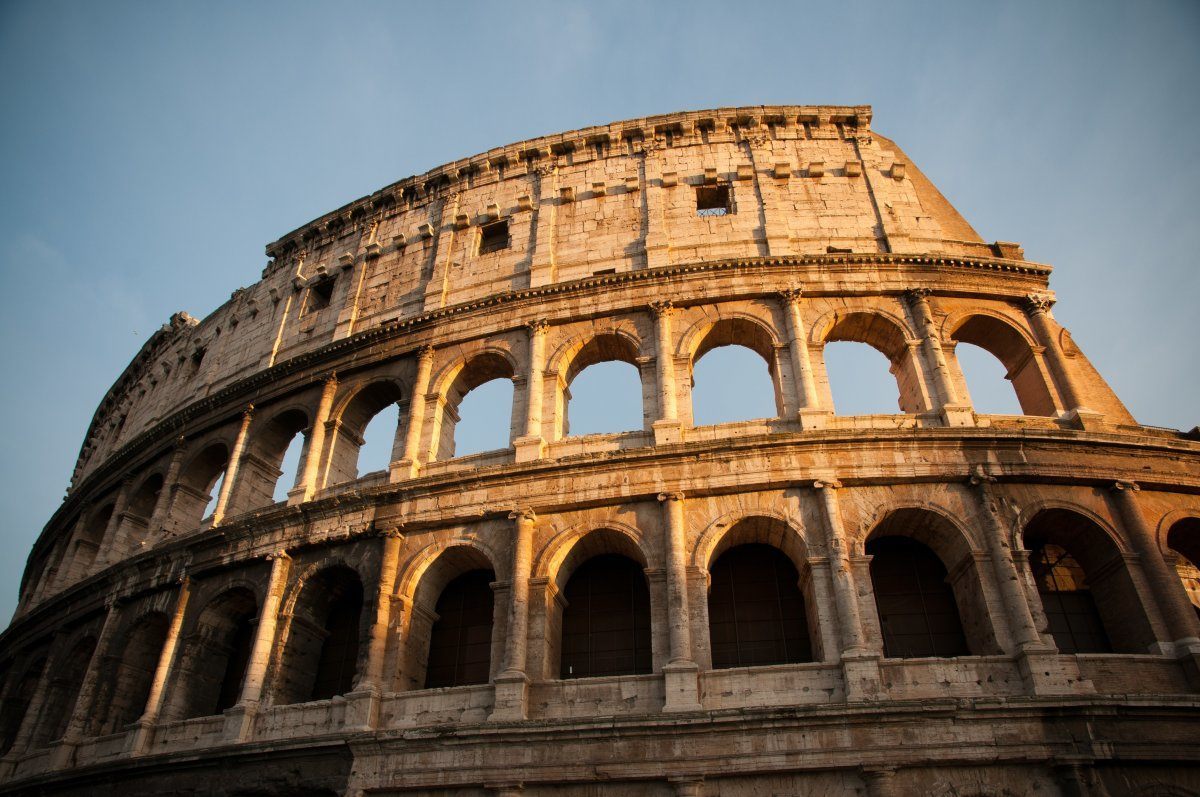 8. Peruse the Campo de Fiori Market
Even non "foodie" types will enjoy a visit to this open air market, where fresh vegetables, ripe fruit, pastas of all shapes, pungent spices, colorful flowers, and various trinkets are on offer at the stalls. The lively market dates back to Medieval times, and while its prices are jacked up for the tourists, it's still a fun place to go to experience the energy of Roman life. The square itself was once the site of public executions, including the friar/astronomer whose statue stands in the middle of the piazza. Get lost in the nearby streets like Via dei Baullari, Via dei Giubbonari or Via dei Cappellari, which are lined with cafes, boutiques and shops. At night, the Campo de Fiori morphs into a lively center filled with restaurants and pubs.
9. See St. Peter's Through the Secret Keyhole
Every visitor to Rome has the Vatican on their must-see list. You'll no doubt spend a few hours exploring the museums, basilica, palace, fountain, obelisk, statues and square. The whole area is a masterpiece, and the view from the cupola at the top of St. Peter's dome presents a classic Roman vista. However, there's a peek-a-boo view of the basilica itself from a keyhole on Aventine Hill that is well worth the trek. You'll find it in a piazza near the Knights of Malta Priory. The door is perfectly aligned to present a foliage-fringed frame of the basilica. It's not clear if this was a planned peepshow, but its certainly a coveted photo-op when you're in the Eternal City.
10. Mangia!
Not many people get through a Roman holiday without packing on a few pounds. Don't worry about it, and just indulge and enjoy to your heart – and stomach's – content. If you're lucky, all that urban walking around should counteract some of the calories. Eating is a cultural pleasure here, rather than just nourishing fuel. Atmospheric cafes, trattorias, pizzerias, ristorantes, bakeries, dessert bars and gelaterias beckon you with their temptations, day and night. When in Rome, try pasta alla carbonara, deep fried zucchini flowers, luscious artichokes, saltimbocca alla Romana, salted cod, pizza bianca and endless other delectable dishes. Roman food doesn't have the reputation of, say, Tuscan cuisine, but you certainly won't go hungry in this city.
11. Marinate in the Museums
Chances are you'll have more than a few treasure-packed museums on your list of things to do on a Roman holiday. It can be rather overwhelming, as there are so many renowned institutions and must-see masterpieces to check out. Every other visitor is trying to cram in these required cultural wonders, too, so the lineups and crowds can get to you after a while. Any time you can get an advanced ticket, skip-the-line pass or fast track tour is worthwhile. You don't want to spend all your time museum-hopping, so narrowing down your list is a necessary step. The Vatican museums and Sistine Chapel, Capitoline museums and National Museum of Rome are some of the major ones to consider. The Galleria Borghese, Castel Sant'Angelo and the MAXXI Museum are also recommended. Rome is the kind of city you'll want to come back to again and again, so save something for the next trip rather than burnout on a checklist of sensory overload.
12. Get Creeped Out at the Capuchin Crypt
Funereal art may not be on every tourists wishlist, but this one of those unusual sites you'll never forget. Located beneath the church of Santa Maria della Concezione dei Cappuccini is an old crypt where 3700 skulls and skeleton remains are on whimsical display. Although these dank chambers are a little spooky, it's not really meant to be macabre and creepy. It's more of a stark reminder of mortality, and an affirmation to make the most of life while you're living. Those Capuchin monks got a little creative with their decorative bone designs. Some are laid out in intricate patterns or can be seen hanging from the ceiling like a chandelier. There's a room devoted to pelvises, another for leg and thigh bones, and yet another to skulls. Look for the plaque with the huanting message: "What you are now we used to be; what we are now you will be…". The crypt is on the Via Veneto not far from Piazza Barberini.
13. Explore the Jewish Ghetto
When you're on your way to or from Trastevere, one of the most enchanting neighborhoods in Rome, take some time to check out the old Jewish ghetto around the Sant'Angelo district just across the Tiber River. In 1555, this was a walled quarter where thousands of Jewish residents lived in cramped conditions and under curfew for three centuries, not far from the lavish papal palace. There, they developed a unique Judaic-Roman dialect. The walls came down in 1882, but during World War II, 2000 out of 13,000 ghetto-dwellers were sent to concentration camps. There's not much "sightseeing" to do here today, but as one of the oldest continuous Jewish settlements in the world, it's legacy deserves some respect. The Great Synagogue and Jewish Museum of Rome are well worth seeing, plus there are lots of wonderful restaurants in the area serving up roman-jewish cuisine, kosher and otherwise.
14. Mail a Letter From the Pope's Post Office
One of the things to do when in the Vatican is to mail a letter from one of several post offices around St. Peter's Square. Look for the yellow Poste Vaticane boxes. Since 1929, this 109 acre country has operated its own efficient postal system and issued its own stamps, quite distinct and separate from the surrounding Italian service. In fact, many Romans come here to mail their letters as their local service is notoriously unreliable. Lots of tourists write themselves a snail mail postcard just to get the official Vatican stamp and postmark.
15. Toss a Coin in the Trevi Fountain
This is a touristy one, but how can you possibly go to Rome without partaking in this age-old tradition? The Travertine masterpiece is the largest Baroque fountain in Rome and perhaps the most famous in the world. It's located at the junction where three roads and aqueducts converge. Legend has it that in 19 BC, a virgin girl lead some thirsty Roman soldiers to a source of fresh water that was essential to Emperor Augustus' development of the city, if not the entire empire. From 1629 to 1762, various artists worked on this fountain, including Bernini, Salvi and Pannini. Its centerpiece is a ornate sculpture of Triton taming Oceanus in a seahorse drawn chariot. Throngs of people gather at the lip of the fountain to toss coins over their left shoulder, so much that over 3000 Euros are collected for charity here each day. However, most tourists aren't necessarily making a charitable contribution. They're tapping into the tradition that says if you throw a coin in the Trevi fountain, you'll return to the Eternal City some day. And who doesn't want that?