Venice is a watery wonderland of 177 canals, and there's no better way to explore this romantic labyrinth than on an iconic gondola ride. On one hand it's a pricey tourist cliché, but it's also a classic time-honored journey everyone should experience at least once when visiting this incomparable city. Don't consider it practical water-taxi transportation to get you from A to B. This is purely a sight-seeing joy ride, and it's not to be missed. Most of the estimated 15 million visitors who flock to historic Venice each year can't resist the tradition. Here's the little known backstory on these elegant vessels to sweeten your ride, plus some tips on how to get the most out of your gondola journey.
1. Gondolas Have Their Roots in Ancient History
Graceful gondolas have been used to get around this Adriatic city for more than 10 centuries, the earliest recorded use dating back to 1094. They were once the main form of transportation around the Venetian canals. Towards the end of the 16th century there were an estimated 10,000 gondolas creating aquatic traffic jams throughout the city. Today, however, there are only about 425 gondolas in Venice.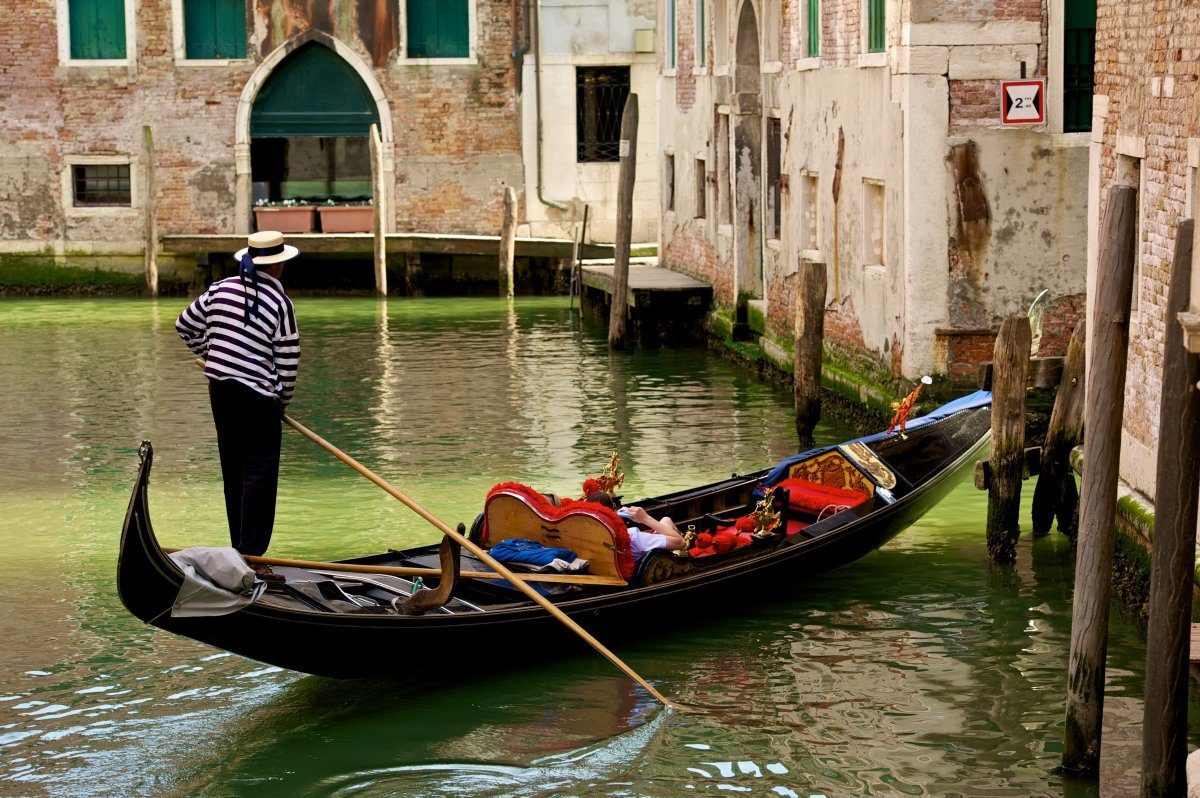 2. That Gondolier Is Licensed to Row
It's not easy to become a professional gondolier, so when you climb on board you will always be getting the real deal. It takes over 400 hours of training and apprenticeship to master the rowing, turning, slowing down, backstroke, and necessary stopping manoeuvres. Standing at the back of the boat, compensating for choppy waves, dodging speedboat traffic, snaking through narrow canals, limboing under bridges, kicking off walls – it all takes skill and balance. Singing is a bonus asset that not all gondoliers possess (ask first if you expect a serenade). Gondoliers have to pass a rigorous exam on Venetian history and landmarks and there are foreign language requirements too. It's a noble profession that has been passed down from generation to generation and only 3 to 4 new gondolier licenses are granted annually.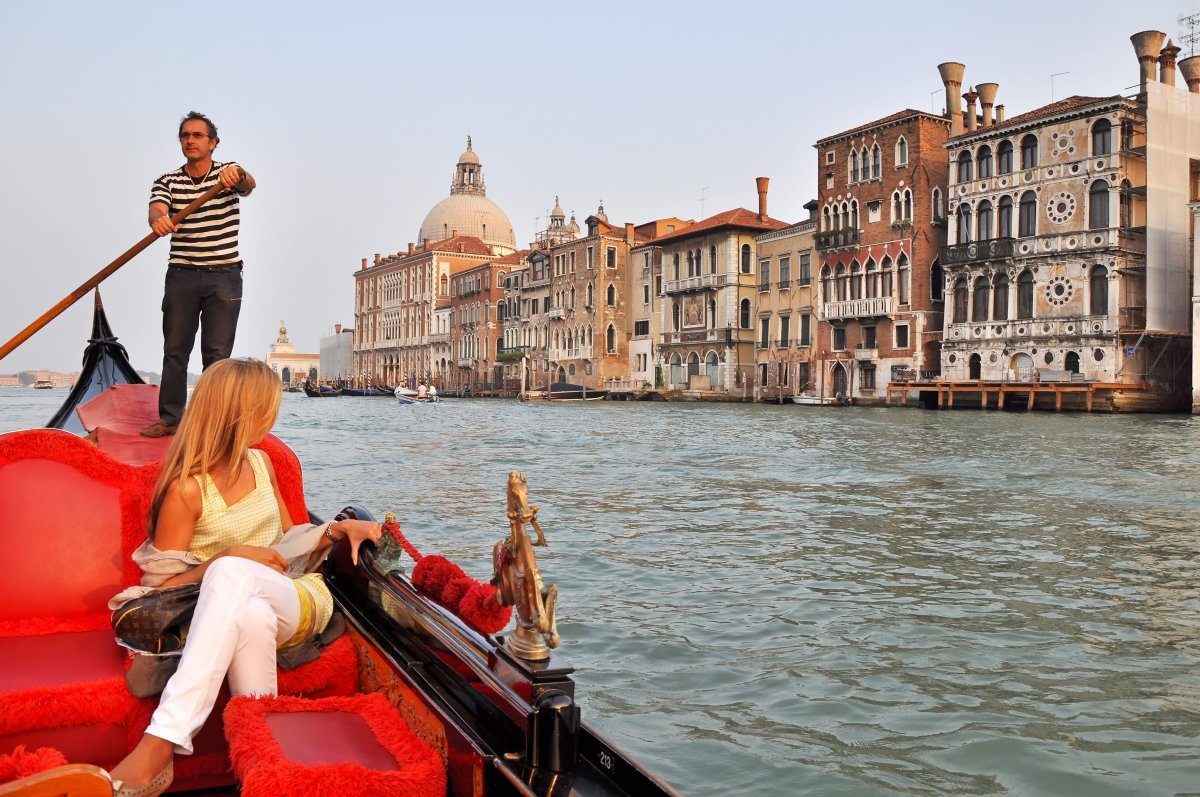 3. The Ladies Are a Little Late to the Gondolier Game
The first female gondolier – or gondoliera – was licensed in 2010. Giorgia Boscolo, the 24 year old daughter of 40-year gondolier veteran, was the first to pass the requirements and obtain a license. Another woman, Alex Hai from Germany, trained for year but failed to pass the official test several times (she believes due to discrimination) and is privately employed by a hotel as a gondoliera tour guide.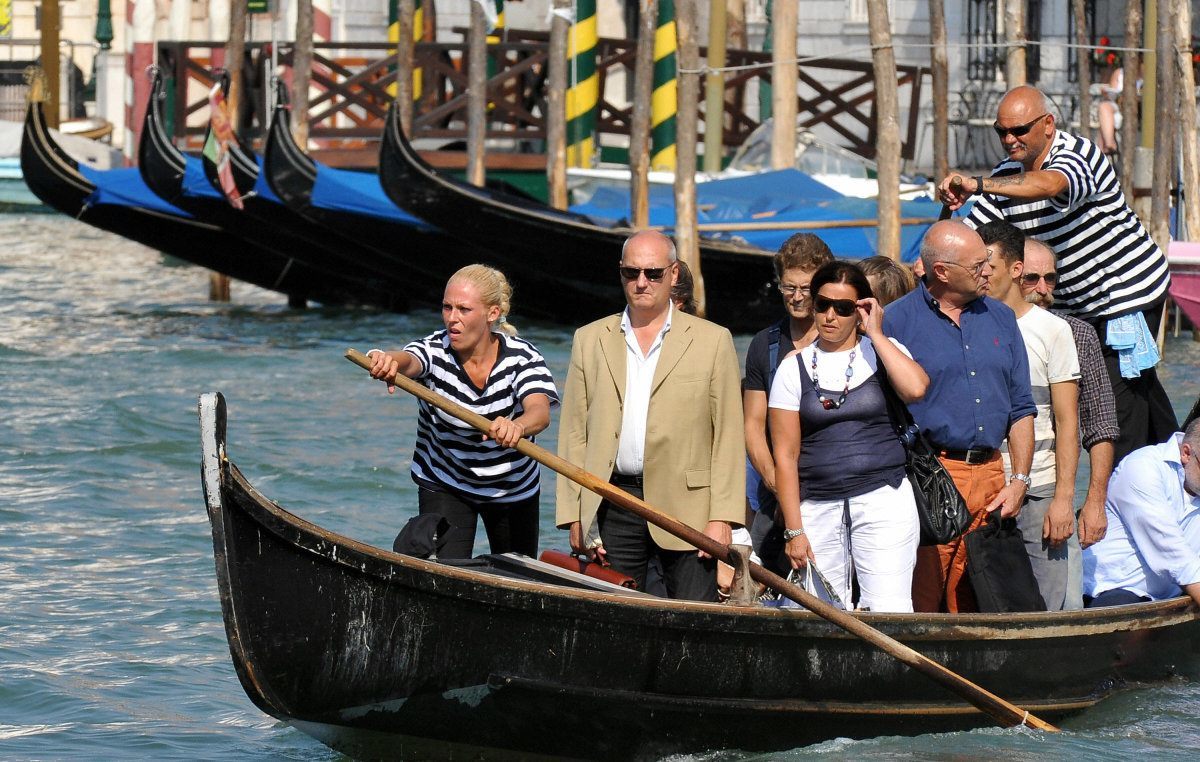 4. Gondolas Are Intentionally Built Lopsided
Each gondola is 35′ 6″ long and 4′ 6″ wide, but the left side is 10 inches longer than the other. This asymmetry helps counterbalance the weight of the gondolier who stands at the back. It also compensates for the tendency of the boat to sway left as the gondolier continually rows on the right. The sleek and stable design of this flat-bottomed boat is well-suited to the shallow conditions of the Venetian lagoon and the occasional mud flats in the canals as it can navigate in only a few inches depth of water.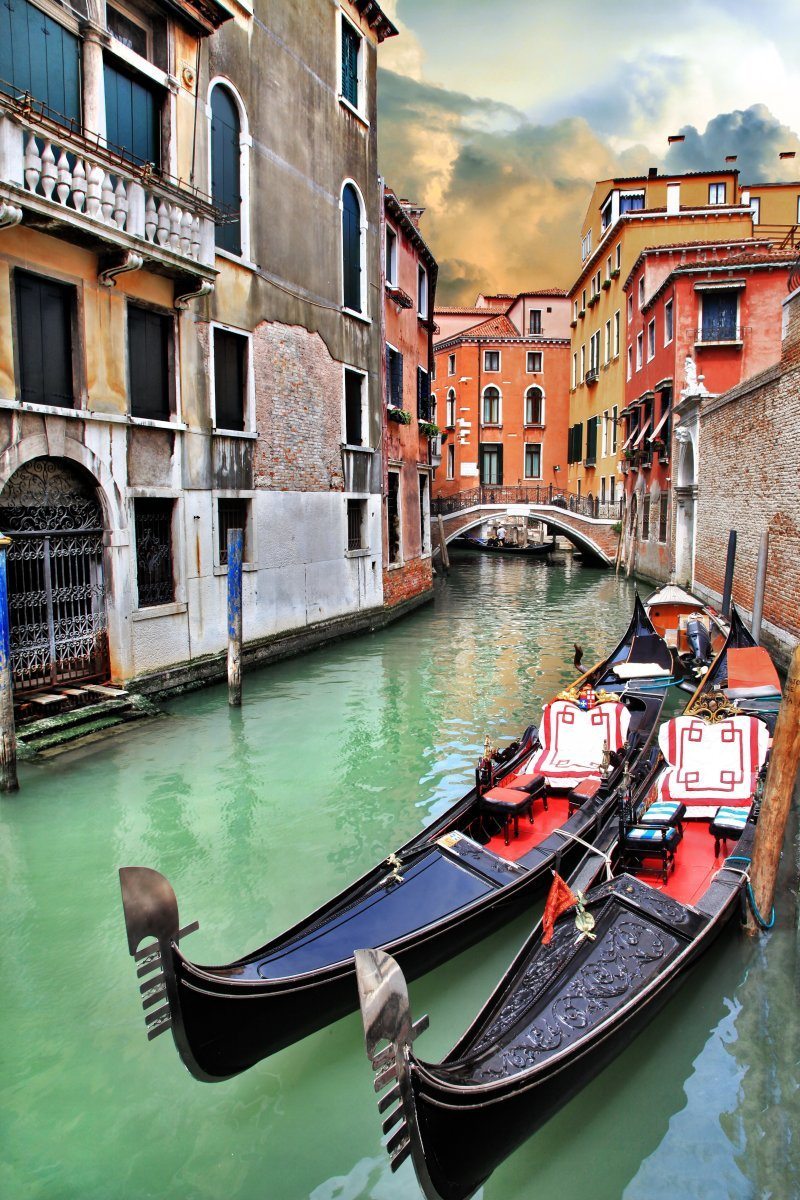 5. Their Weight Might Surprise You
Each 35 foot gondola weighs a whopping 1,100 pounds, which is about as much as a grand piano and more than the average horse. In spite of its considerable heft it is quite easy for one trained person to propel and steer it using a single oar.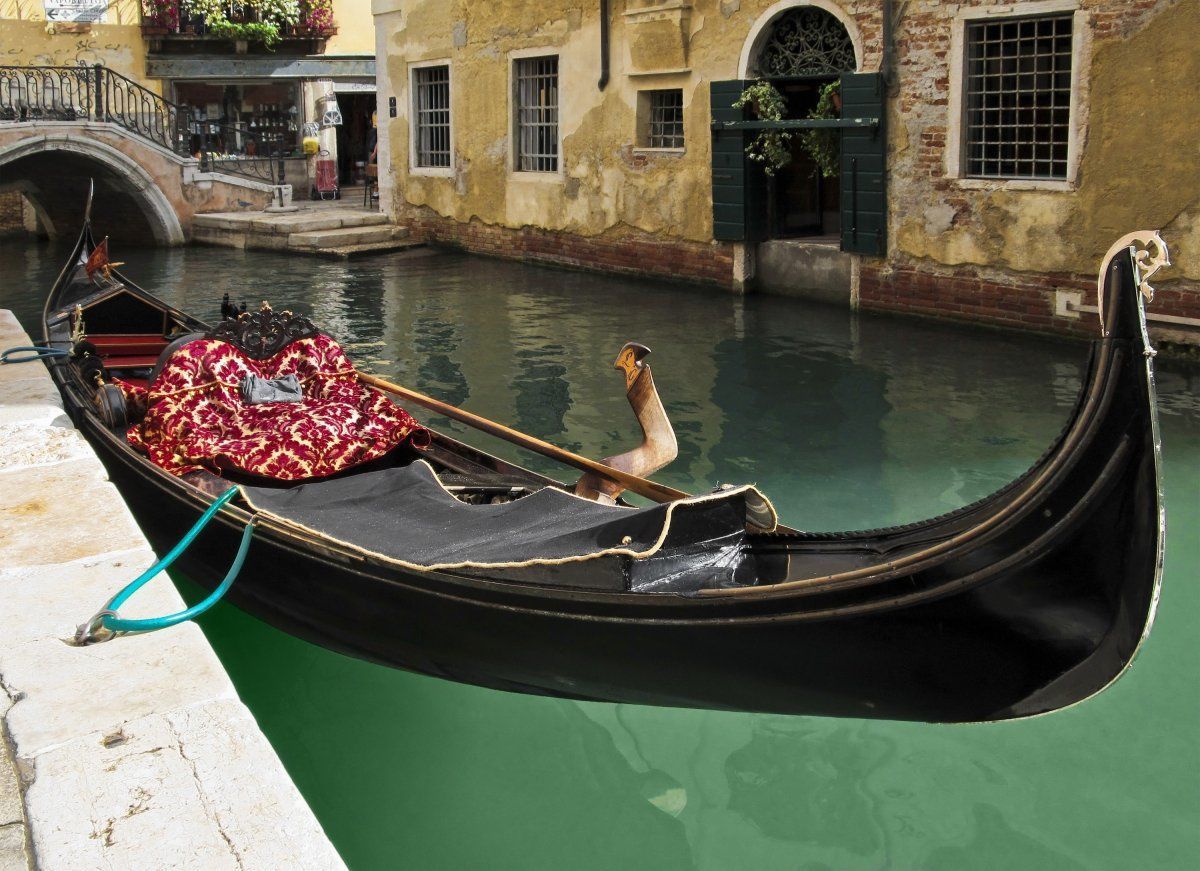 6. They're all Black Thanks to Strict Laws
You'll notice that all gondolas are painted black – at least 6 glossy coats' worth. It's actually the law. Back in the 16th-century when the canals were chock full of 10,000 gondolas, various noblemen tried to one-up each other with fancy designs and bright colors. All that egotistical extravagance started to look a bit garish. So the city passed a law decreeing that all gondolas must be standardized and painted black. No more bells and whistles beyond a curly tail, a pair of seahorses and a fancy ferro at the front. You do see the odd gondola with a little more bling from time to time. Some choose to decorate the interior with golden details, velvet upholstery, carpets or plastic flowers – especially those used for weddings or special occasions. But other than that, they're all basic black.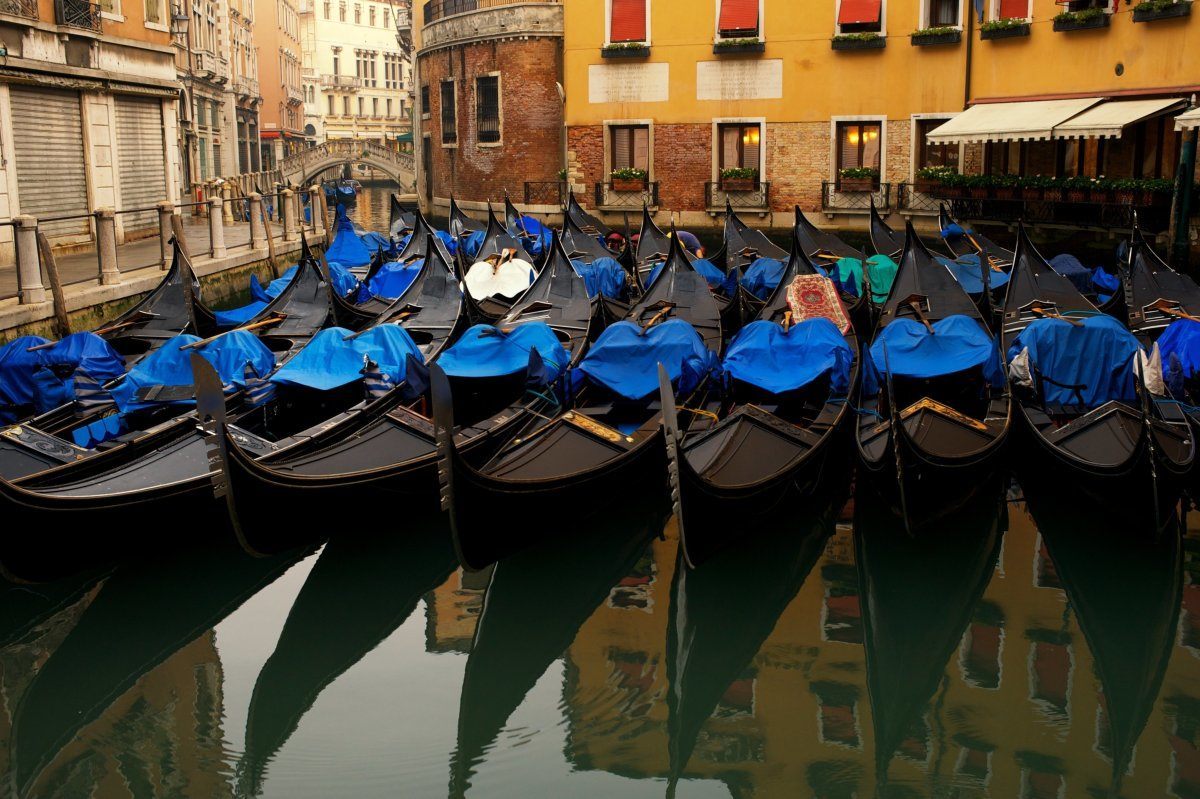 7. The Ferro on Front Is Functional and Full of Meaning
That decorative hood ornament at the prow is called the ferro, and it's full of symbolism. For starters, it's in an S shape which represents the curve of the Grand Canal as it bisects the island of Venice. The six prongs (pettini) represent the six districts of Venice, known as the sestieri. The one backwards facing prong symbolizes the island of Giudecca which is just south of the main island of Venice. The embellishment at top of the ferro echoes the shape of a Doge's cap (an elected magistrate of the republic) and the little arch between the flourish and the top prong represents the Rialto Bridge. Beyond its symbolic/ornamental touch, the ferro also serves as a kind of protective bumper in case the gondola collides with other boats or walls, plus it's a bit of a counterweight for the gondolier standing at the back.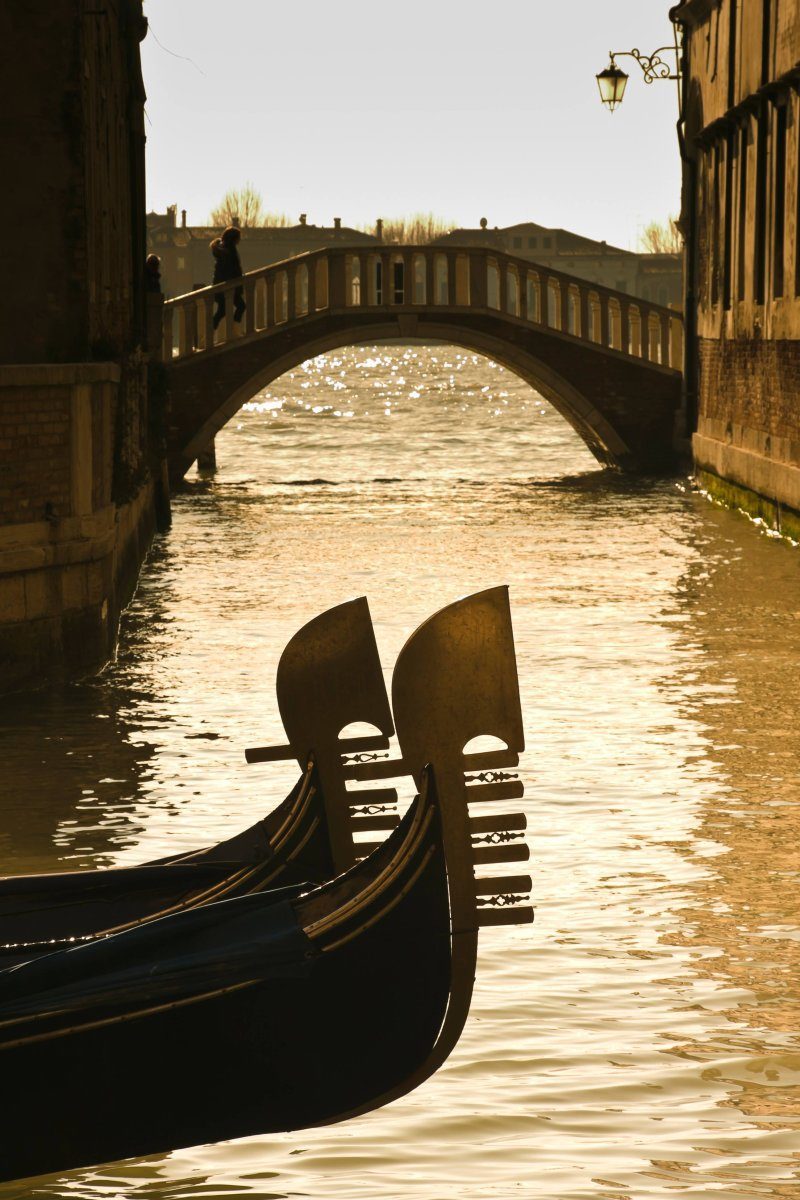 8. The Woodworking Involved Is Specific and Detailed
A lot of craftsmanship goes into the making of these tapered vessels. Each hull is made out of 280 intricately cut pieces using 8 different kinds of wood – oak, elm, lime, larch, fir, cherry, walnut, and mahogany. The oar is made of beech and the forcole (the stylized oarlock) is made of walnut. All the timber used has to be seasoned for a year.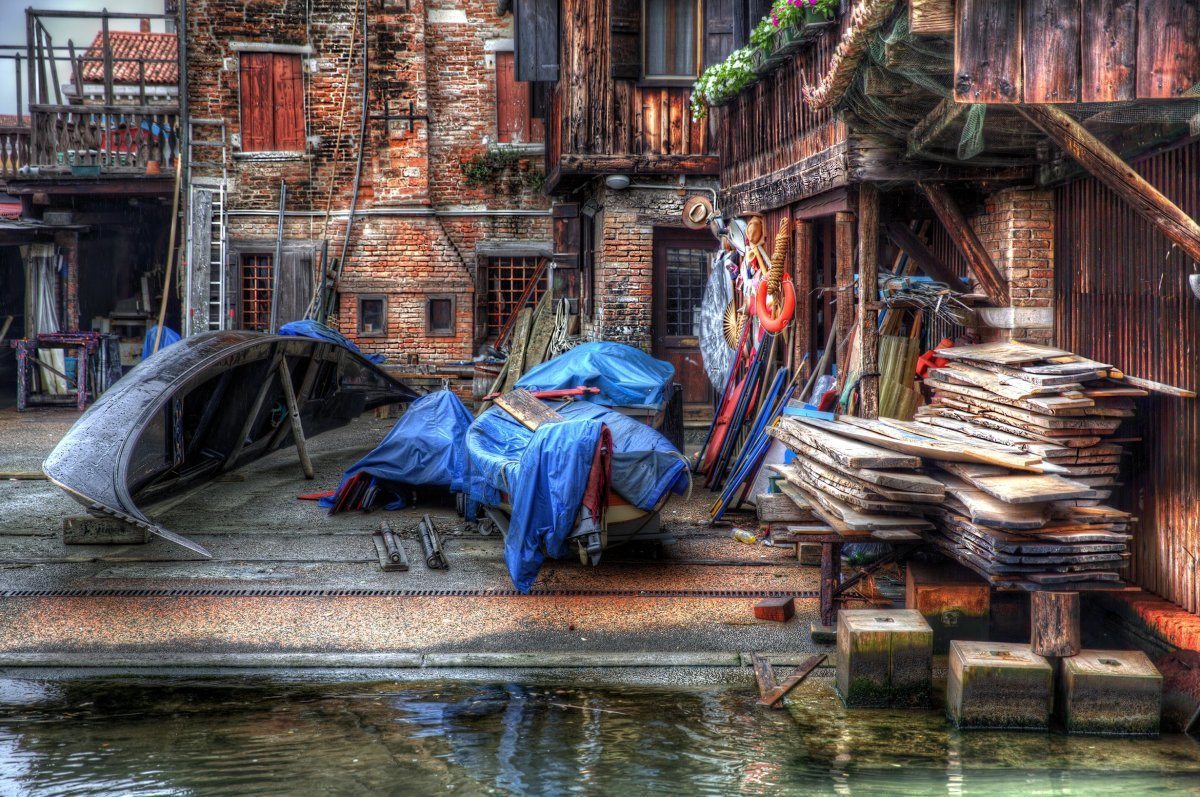 9. They're Pretty High Maintenance
The gondola hull must be treated with a new coat of varnish every 40 days to protect it against a lagoon pest that eats into wood. With proper maintenance, a good gondola can last 15 to 20 years, after which it can be refinished once to keep going for as much as another decade.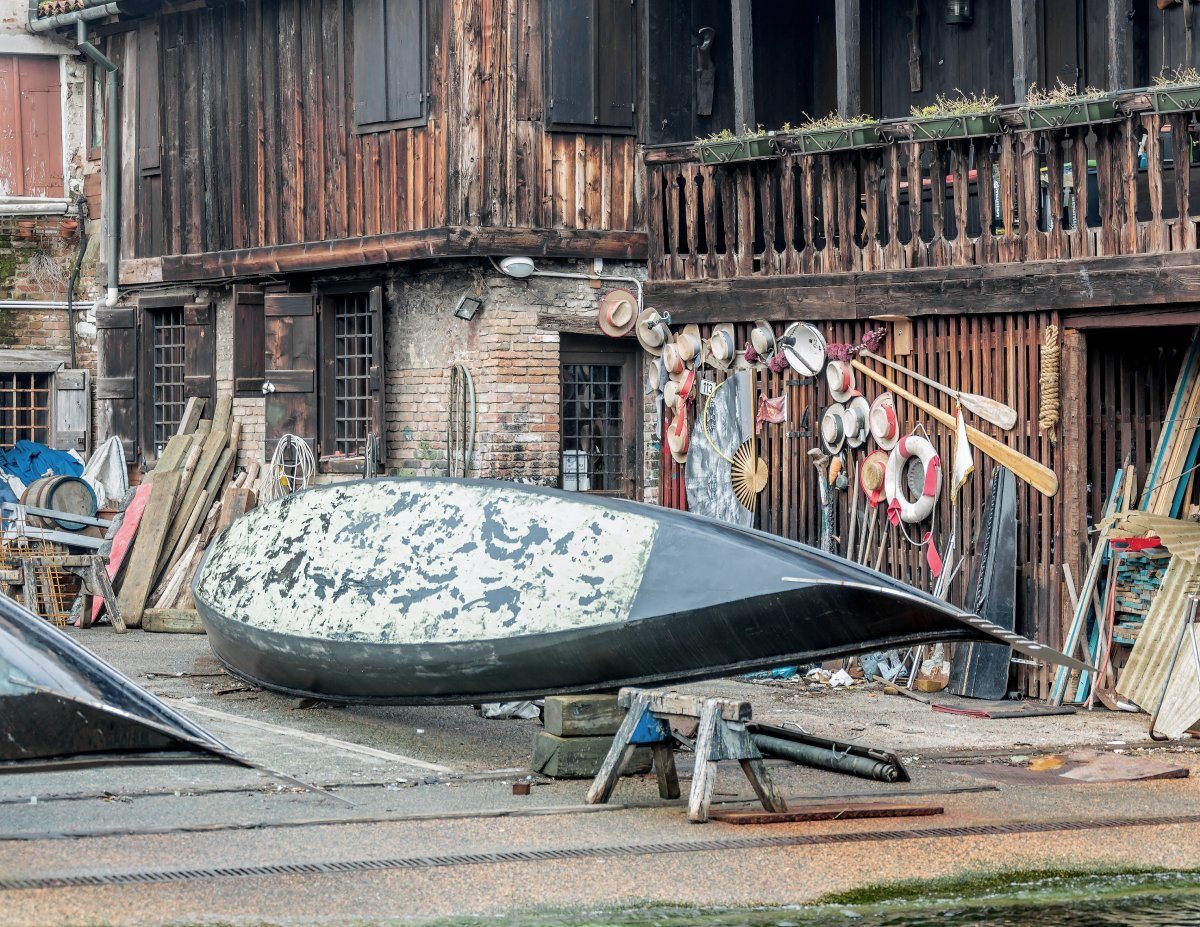 10. They Meet a Unique Standardized Design
The modern banana-boat gondola we see today is the design of 19th century master craftsman Domenico Tamontin, whose descendants still run a Venetian boatyard today. A city ordinance prohibits any modifications to this design and they are all hand-constructed using age-old traditional techniques. There are some customizations according to the height, weight and punting style of the gondolier, but for the most part based on the uniform design. Measurements are not taken in meters or feet but in "venetian feet", a special unit used since the 1400s.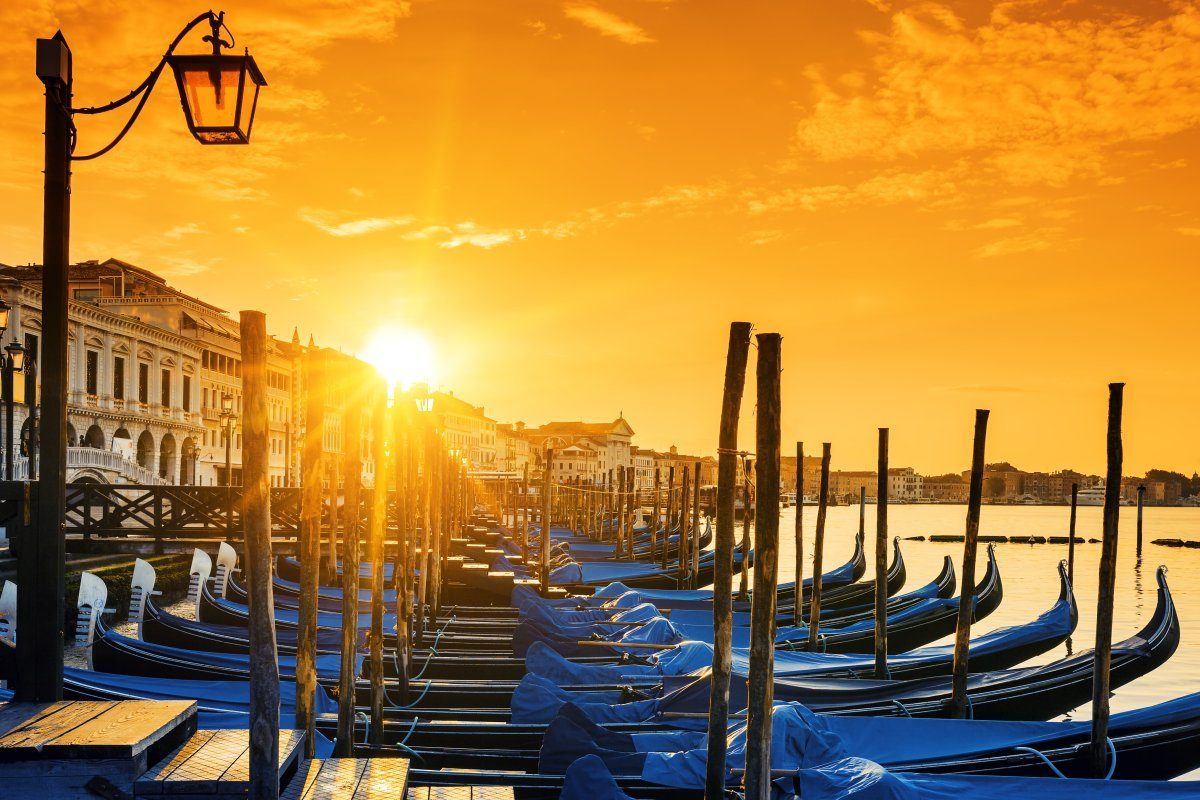 11. Visitors Can See the Building in Action at a Squero
Gondola enthusiasts might enjoy a visit to a working squero, or gondola boatyard, to witness first hand the fine craftsmanship and age-old traditions that go into building and maintaining these prized Venetian vessels. Each boat takes about 500 hours to make and only about 20 are built each year. Arrange a tour to the San Trovaso workshop near the Academia bridge or the Squero Domenico Tramontin & Figli, which is run by descendants of the man who designed the modern gondola. These are real working workshops, not tourist displays, but they do allow touring visitors to peek in to see their process.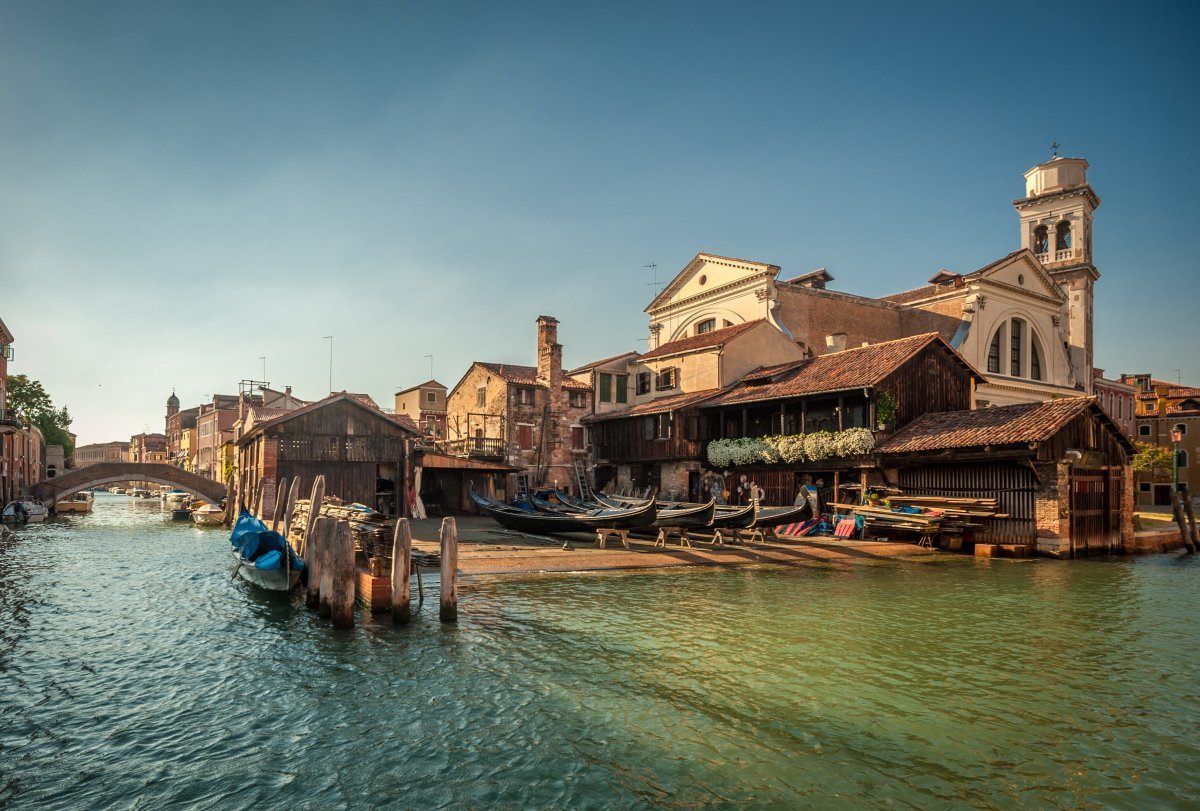 12. You Can Actually Row Your Own Boat
Rather than just being a passive passenger, why not learn to captain your own gondola? A company called Row Venice has a 90 minute tour that teaches you the basics and then lets you ply the waters – it's not as easy as it looks. You master the essential skills in a lagoon basin before venturing into the narrow canals. You don't actually pilot a real gondola, but it is a traditional cargo boat that is a close substitute. You'll find it's like a combination of stand-up paddleboarding, punting and rowing. Don't forget to pass on the left and call out around corners. Wearing a striped shirt, black pants and straw hat is optional.
13. Catch a Popular Gondola Regatta
On the first Sunday of September the Grand Canal enjoys a grand parade of decorated gondolas proudly helmed by oarsmen in period costumes. This is followed by a regatta of four exciting boat races. Teams compete in the traditional Regata Storica, as they have since the 12th century, accompanied by food, music and merriment. It can get quite heated and competitive, and is not just a show for tourists. It's a crowded event but not to be missed if you're in Venice at that time. Look out for other gondola regattas throughout the year, including the impressive ones around Murano and Burano.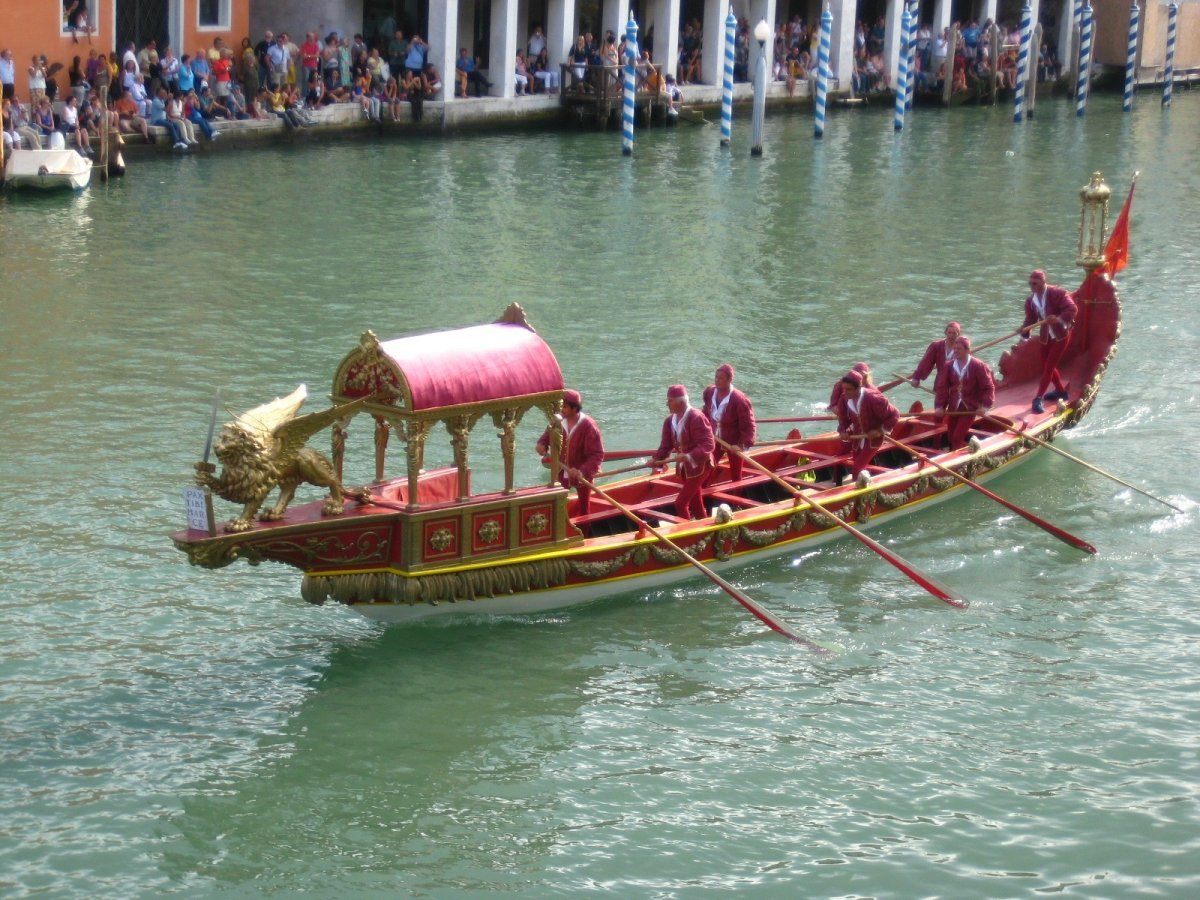 14. The Rides are Expensive, But Worth It
A scenic ride on one of these elegant black boats doesn't come cheap. The official going rate is about €80 for a 40 minute ride, with additional 20 minute increments costing another €40. After 7pm, the price rises to €100 and €50 for an additional 20 minutes, and if you want some singing on your ride it's going to cost more. Yes, it's a rip off but it's a splurge worth taking – you'll no doubt regret it if you don't. Like going up the Eiffel Tower or Empire State Building, it's just something you have to do when in Venice. If money is really an issue, try to get a party of six together and split the cost. Good luck trying to negotiate a cheaper rate in peak tourist season, but it's always worth a shot to bargain for a better deal. You'll have a better chance if you embark from the interior canals, as the gondoliers that park along the Grand Canal in front of St. Marks Square rarely budge on price. You also get a more peaceful ride rather than a bumper-to-bumper boat experience.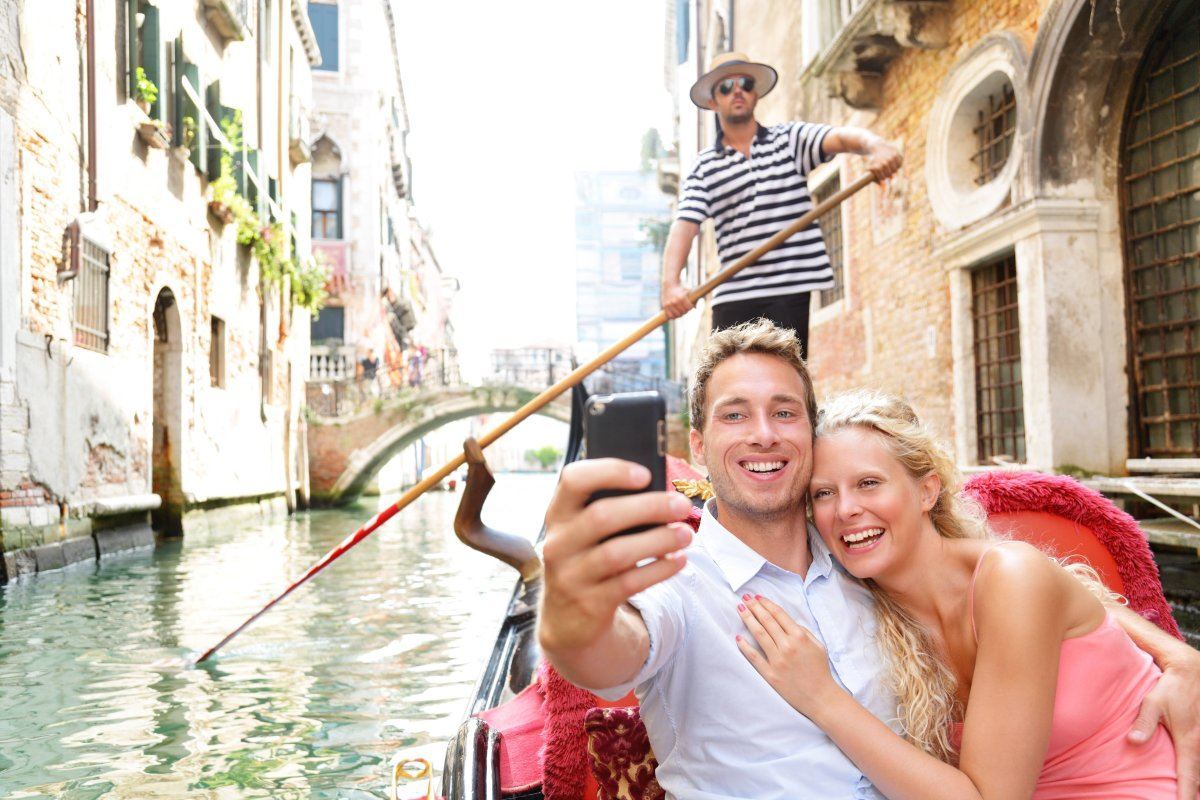 15. But There's Always a Gondola Lite Alternative
Rather than paying the inflated tourist prices, opt for a quick traghetto ferry ride across the Grand Canal. It's still a gondola, but just a shorter ride without the tour-guiding commentary or operatic accompaniment. This alternative doesn't have the romance of cruising under the Bridge of Sighs or traversing the maze of backwater canals, but you do get a great view of the Grand Canal and some practical transportation across the water. At a €50 cents price-point you can probably afford to go back and forth a few times. Vaporetti water-buses are a speedier alternative for getting around the Grand Canal, but they don't have an ounce of the magic that gondolas have.