Most people focus on the big cities when they travel, but small towns often give you a more authentic sense of place and people. If you're planning on traveling through Canada, be sure to add some of the country's distinctive small towns to your itinerary. Each one has its own particular charm and flavor that give you a richer sense of Canada's diversity. Featuring stunning landscapes, old-world heritage and unique attractions, here are 12 captivating Canadian small towns to consider.
1. Moose Jaw, Saskatchewan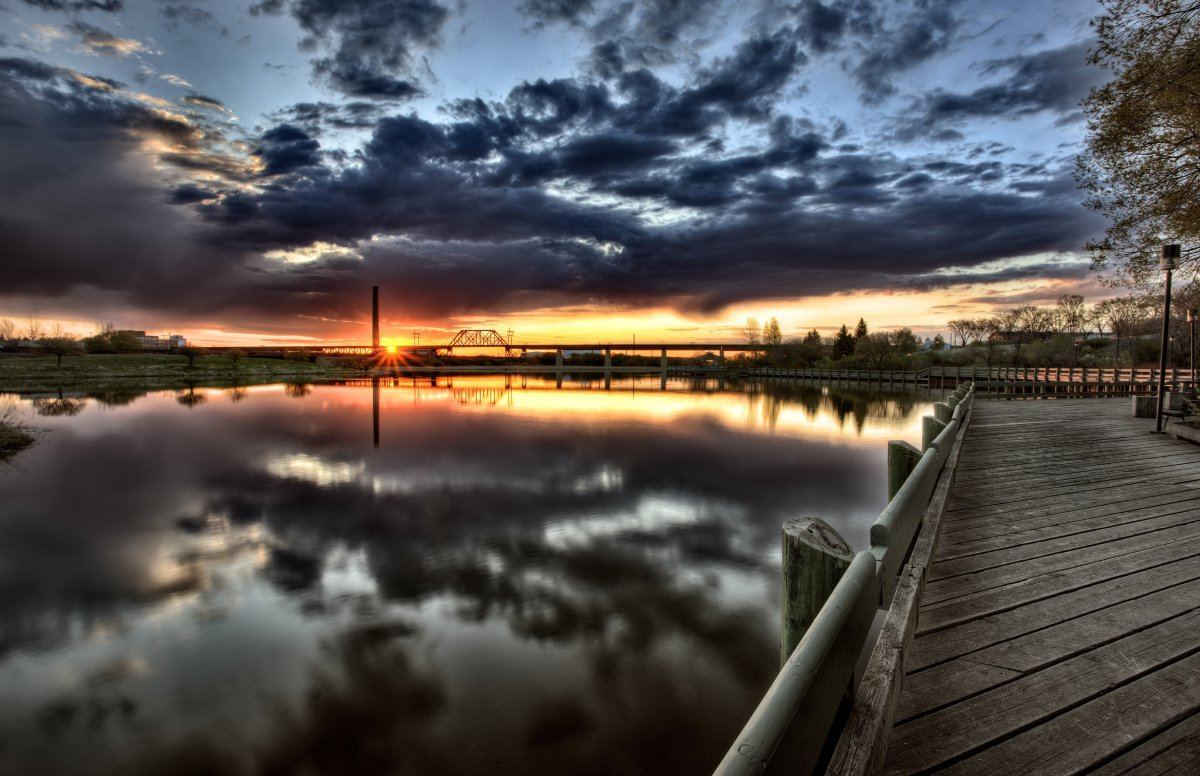 A popular prairie town on the Moose Jaw River, "the Jaw" is celebrated for its geothermal spa and casino. This old Canadian Pacific Railway town features some beautiful parks and a core of historical buildings decorated with over 40 colorful murals. One fascinating feature is its network of underground tunnels used in rum-running back in Prohibition days – the town earned the nickname of "Little Chicago" back then. Moose Jaw is also a popular retirement destination revered for its scenery. You literally can't miss the beloved statue of Mac the Moose, which at 32feet tall is the world's largest (are there really any other contenders out there?). As a quirky point of interest, the local residents are known as Moose Javians.
2. Canmore, Alberta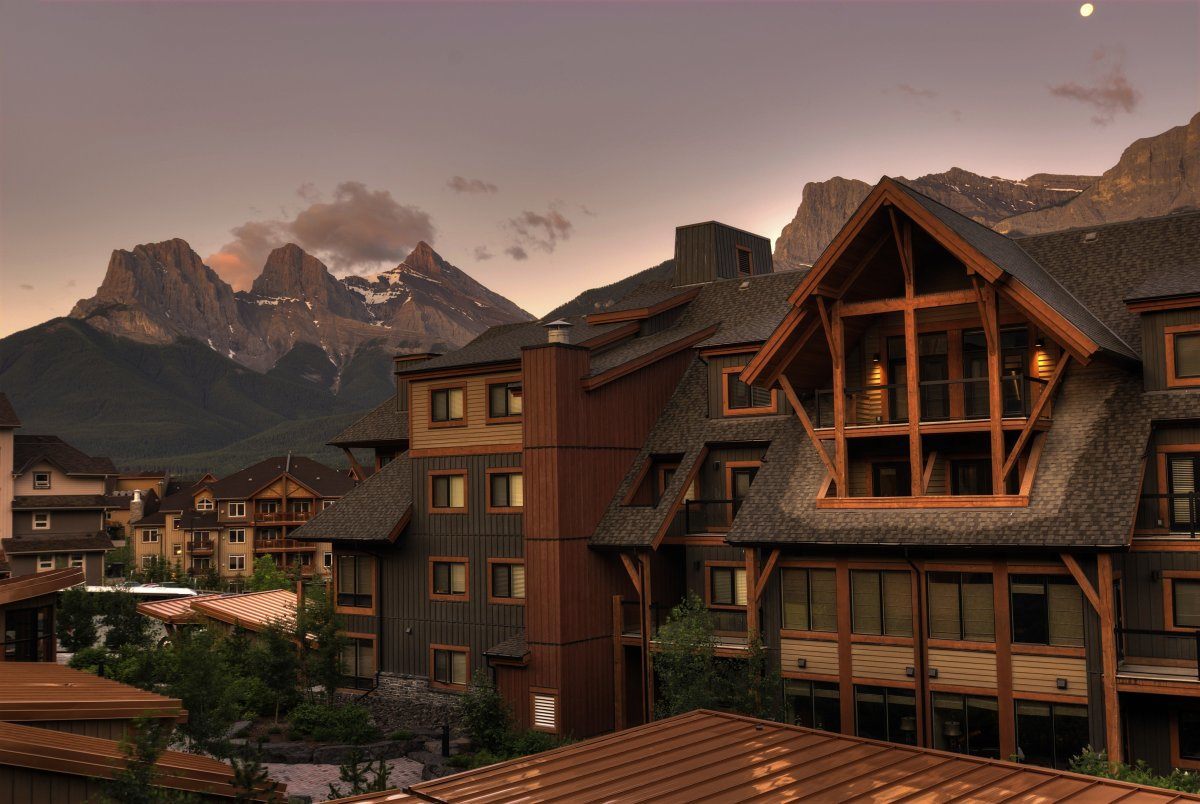 Nestled in the spectacular Rocky Mountains, Canmore is a world-renowned four season center for outdoor activities like cross-country skiing, mountain biking and kayaking. It is located on the cusp of Banff National Park and just an hour's drive from Calgary, amongst a vast and spectacular wilderness that rivals any mountainscape on the planet (Kananaskis country). Don't miss a hike up to Grassi Lake to see its unbelievable turquoise hue. Beyond all the sporting and recreational opportunities, the town has a laid-back atmosphere yet is surprisingly sophisticated in terms of arts, culture, boutiques and fine-dining options. Canmore is known for its many festivals and friendly mountain-community charm.  
3. Stratford, Ontario
Settled during the 1830s, Stratford, Ontario is a historic Canadian town that is home to the famous Stratford Festival, an annual event dedicated to Shakespearian theater. Like its counterpart in England, the river Avon flows through the picturesque town, which features Victorian architecture and pleasant parks. As a hub for arts and music, Stratford is a popular destination for culture-buffs and from all over the world, with an eclectic range of shopping and dining offerings too. On a different note, it is also the birthplace of Justin Beiber (but don't hold that against them!).
4. Baie-Saint-Paul, Quebec
La Belle Province of Quebec is brimming with quaint French Canadian villages, it's hard to pick just one to recommend. However, Baie-Saint-Paul on the northern shore of the Saint Lawrence River stands out in terms of its authentic quebecois flair. This Charlevoix-region town is one of the oldest municipalities in Quebec, complete with narrow streets, clapboard buildings, church steeples and a tapered lighthouse to set the scene. Nearby skiing draws visitors in the winter, but all seasons have an appeal here. Cozy auberges (inns), tranquil spas, gastronomic delights and scenic spots abound. Popular attractions include the Carrefour culturel Paul-Médéric, the Musée d'art contemporain de Baie-Saint-Paul and the Maison René-Richard. For over a century, Baie-Saint-Paul has had a thriving creative arts scene. It's no wonder that this town is the birthplace of Cirque du Soleil.
5. Flin Flon, Manitoba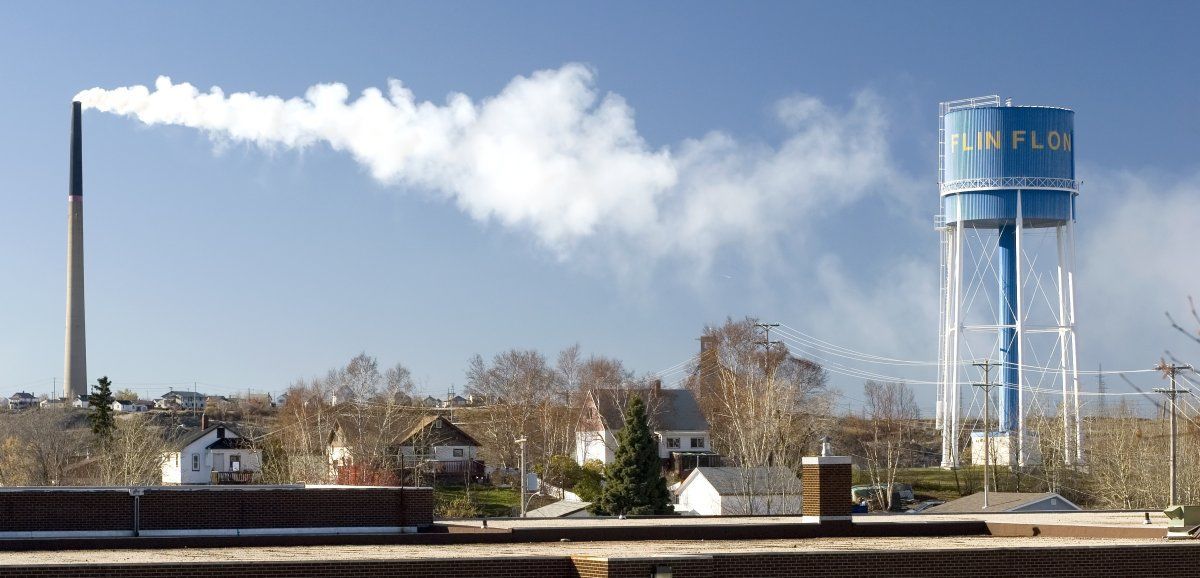 Revered for its trout festival and celebrated Bust the Winter Blues Festival, Flin Flon is located on the border of Manitoba and Saskatchewan. The old mining town with the funny name has a thriving arts scene and is well known for its cultural charms. It had the international spotlight back in 2002 when the became Canada's center for the production of medical marijuana – the pot was grown in an undergound mine. With its great scenery and friendly atmosphere, Flin Flon is definitely one of the more unique Canadian small towns to check out.
6. St. Andrews-by-the-Sea, New Brunswick
One of Canada's oldest seaside resort towns, St. Andrews is a lovely Maritime destination rich in Scottish and Irish heritage. Its National Historic District is a treasure trove of turn-of-the-century architecture. Full of great seafood restaurants (lobster galore!), galleries, farmer's markets and boutiques, the town also boasts an expansive golf course and other recreational amenities. If you want to whale watch, head to this stunning beach town. If you can swing a stay at the historic Algonquin Resort, all the better.
7. Dawson City, Yukon
A popular Canadian frontier town, Dawson City has long been associated with the Klondike Gold Rush. The local population is just around 1300 winter-loving folks, but over 60,000 visitors make it up here each year. As one of Canada's coolest historic sites, Dawson City boasts a wide array of accommodations and attractions to check out. Explore the shipwrecks at the Paddlewheel Graveyard on the Yukon River. Experience your own "gold fever" by panning for golden nuggets. Try your luck at Canada's first and friendliest gambling hall, Diamond Tooth Gerties, complete with Klondike cancan girls. August through April is a great time to see the Northern Lights. If you are interested in experiencing the Yukon landscape of the Great White North, put Dawson City on your list.
8. Trinity, Newfoundland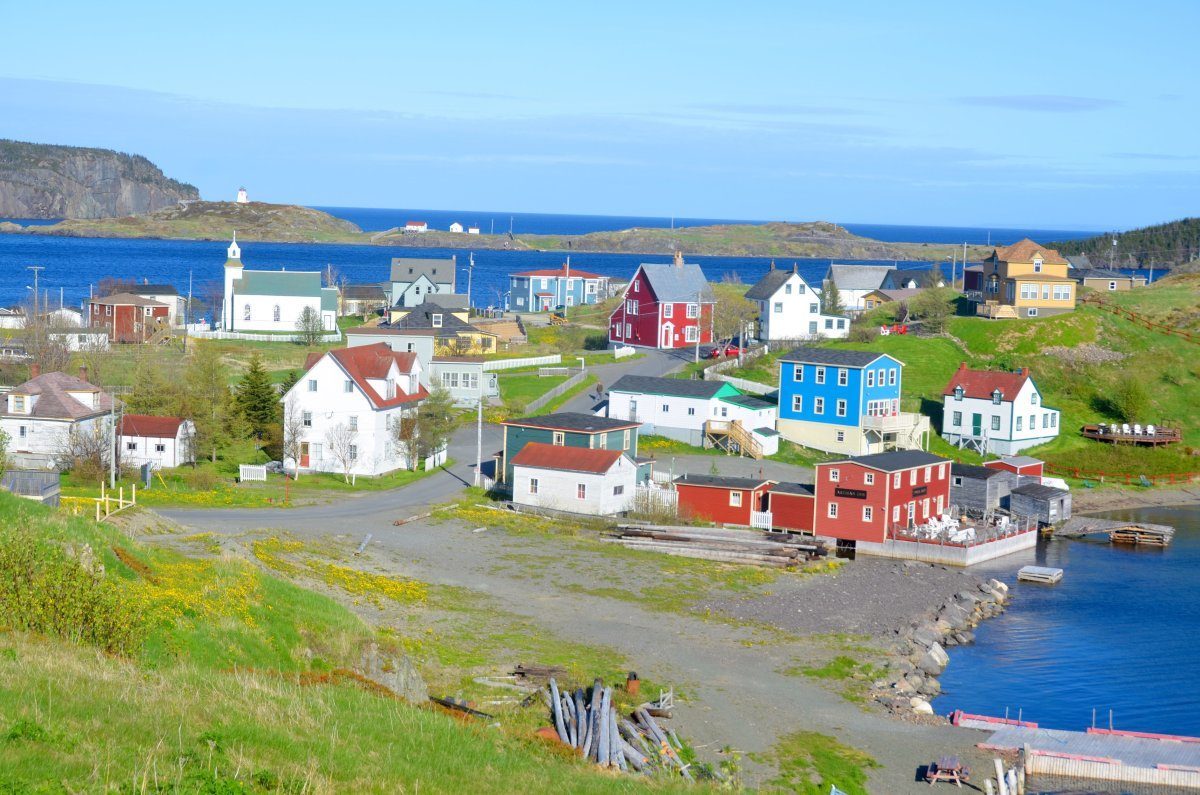 The lovely harbor town of Trinity attracts visitors throughout the year with its stunning scenery. Noted for its quaint coastal aura, this quintessential Maritime fishing town was featured in the film The Shipping News. Bed and Breakfast inns, artists studios, colorful clapboards, hiking trails and whale watching excursions are some of Trinity's offerings. It's about 3 hours by road from the capital city of St. John's – definitely worth a drive out to this postcard-worthy setting.
9. Lunenburg, Nova Scotia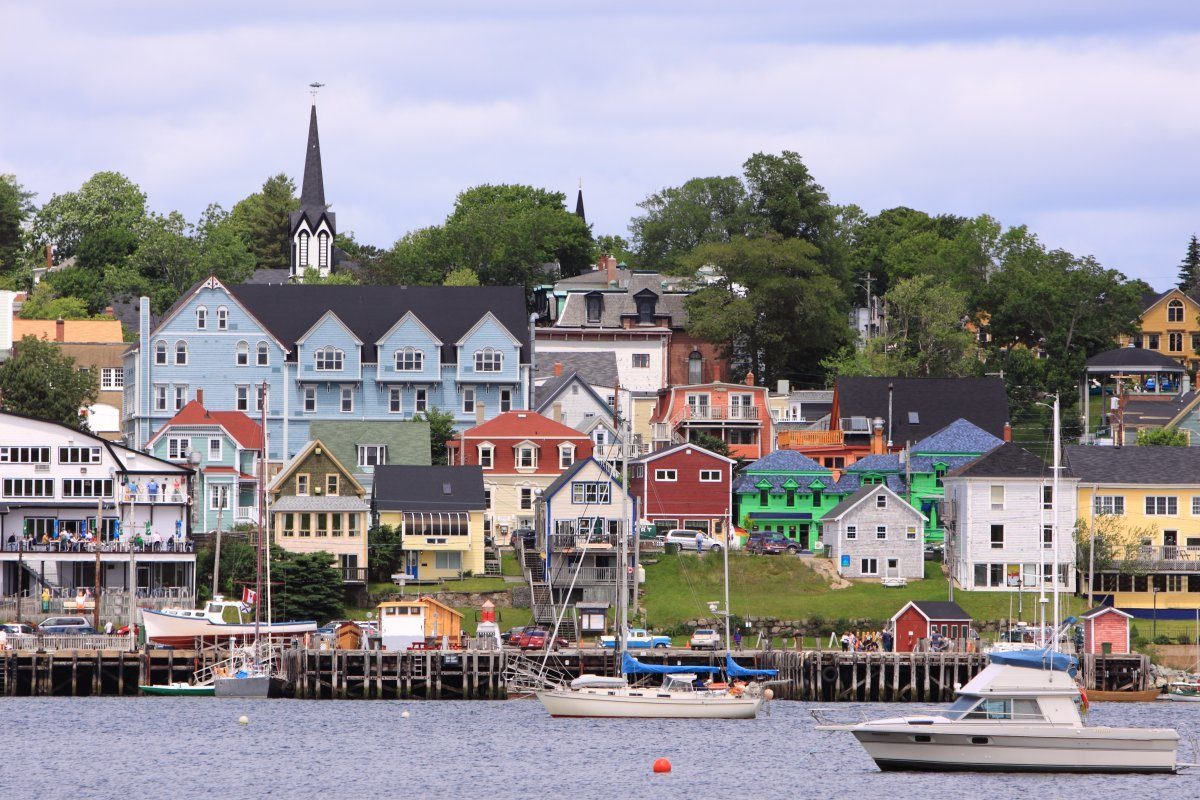 Speaking of Maritime charm, another of the distinctive Canadian small towns in the region is Lunenburg. This designated UNESCO World Heritage Site and Canadian National Historic Site is located about one hour outside of Halifax. Noted for its brightly colored colonial architecture and thriving seaport action, Lunenburg attracts throngs of visitors with its various attractions. Go there and you'll quickly see why it wins all sorts of ""prettiest small town" awards. Check out the Fisheries Museum of the Atlantic with its replica of the schooner The Bluenose II. Strike up a conversation and you'll notice that the friendly locals have their own special dialect here.
10. Port Hope, Ontario
Situated on the north shore of Lake Ontario, the town of Port Hope has been named "the best small town in Ontario". The village was once a Cayuga site, infusing it was some First Nations history. Many people visit the town for rest and relaxation on the water. The Ganaraska River runs through the historic center of town, offering waterfront trails, a sandy beach and scenic country drives. The heritage charm of the downtown district is balanced by modern amenities like cafes, boutiques, gift shops, galleries and more. There's a full calendar of festivals and events including the All-Canadian Jazz Festival and the Float Your Fanny Down the Ganny river race.
11. Corner Brook, Newfoundland
Once surveyed by Captain James Cook, Corner Brook is an historic east coast town located on Newfoundland's beautiful Bay of Islands. Its rich history includes pirate lore as well as the pioneering fishing, railway and pulp and paper industries. As a picturesque coastal town, Corner Brook's charming greenspaces are inviting during the summer months, but there is also great skiing nearby during the winter. The downtown features red brick sidewalks and historical architecture, giving it a special ambiance. Sports fans can visit the Newfoundland Hockey Hall of Fame while here.
12. Ganges, British Columbia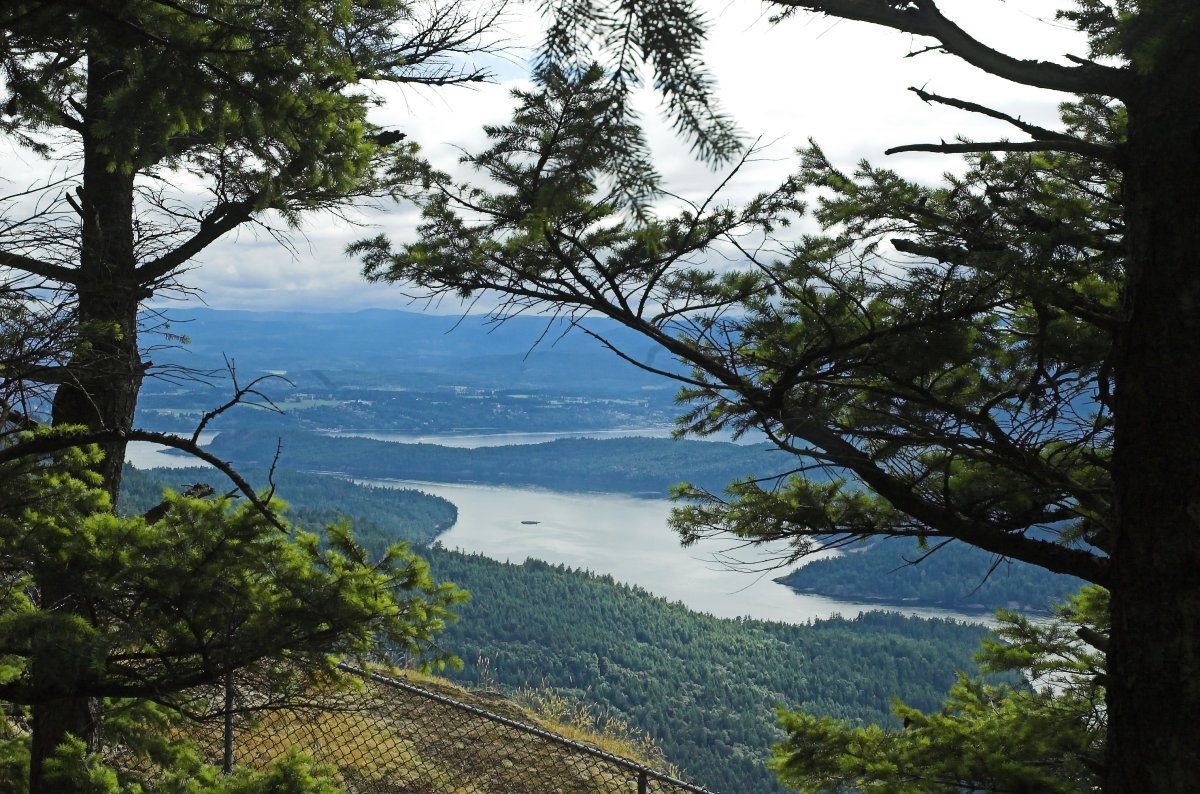 The enchanting Salt Spring Island and its village of Ganges is an easy ferry ride from Vancouver. You can explore it as a day trip, but you might be inspired to stick around a little longer. It boasts distinctive west coast beaches flanked by towering mountains and stately trees. Endless hiking trails, beachcombing temptations, ocean kayaking and other outdoor adventures will keep you blissfully entertained. The community around Ganges Harbor is chock full of curio shops, craftsmen studios, art galleries and restaurants, all with that distinctive Gulf Island feel. Watch the boats bob in the marina or the seaplanes coming and going on the water. The Saturday farmer's market from April to October is a major draw, where all vendors have a "make it, bake it or grow it" mandate on their wares.