As one of the largest cities in the U.S., Chicago boasts a wide array of ethnic neighborhoods that feature food from all over the world. The Windy City puts its own stamp on these global favorites, and is also known for some tasty specialties of its own. Although it has many fine restaurants with world-renowned chefs, this city has a reputation as a casual culinary destination. It's more "comfort food" than "haute cuisine". Here are ten things to eat when in Chicago.
1. Deep-Dish Pizza
New York may be known for its ultra-thin pizza crusts, but Chicago is the undisputed home of the deep dish pie. Baked in special pans that are at least 1.5 inches deep, these baby's hold lots of fixings and a ton of cheese. To prevent burning, often the cheese is an under-layer rather than a topping. If you are visiting downtown Chicago, you'll want to sample some of the city's best deep dish pizzas at restaurants like Giordano's or Gino's East, two legendary pizza makers that locals love.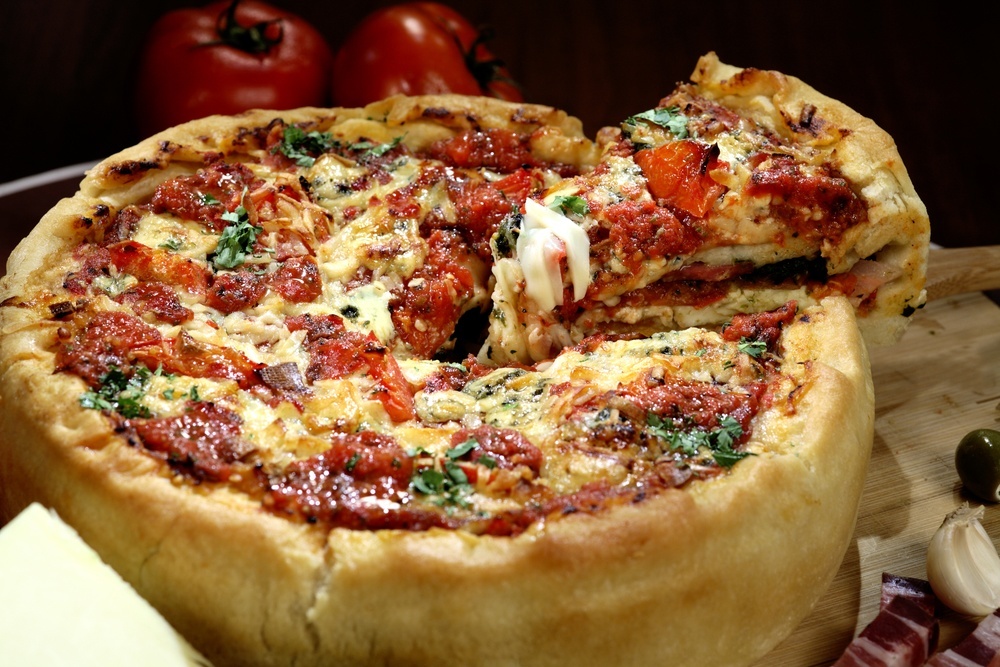 2. Italian Beef
Juicy, thinly sliced Italian beef piled high on an Italian roll with sweet peppers and mozzarella is a Chicago food icon. When you order one of these at Al's Roast Beef, you can probably get full on half and save the rest for later. Chicago, a football-loving city, is all about tailgating and these Italian beef sandwiches are perfect fodder for this. Bring napkins, as these saucy sammies can be messy.
3. Caramel and Cheese Popcorn
If you are planning to attend a baseball game to root for the Cubs or the White Sox, be sure to try the popcorn combination that marries cheese and caramel corn together. Sounds kind like a bizarre savory/sweet combination, but it somehow works. Why choose between these tastes when you can enjoy both? Once you understand the perfection of this culinary marriage, you'll crave this mix whenever you think of popcorn.
4. Chicago-Style Hotdog
The quintessential Chicago street food is the all-beef hotdog served Chicago-style on a poppy seed bun. Don't forget the mustard, chopped onions, relish, tomatoes, hot peppers, and celery salt. These dogs topped with "the works" is a taste sensation. When visiting your favorite shops on the Magnificent Mile, be sure to enjoy a quick lunch at a nearby hotdog stand. You'll find these dogs all over the city.
5. Saganaki
Legend has it that saganaki, the fried and flaming Greek cheese that complements meals throughout the nation's Greek restaurants, was born in Chicago's very own Greek Town hotspot, The Parthenon. Greek Town is home to many incredible restaurants that are inspired by Greek regional cuisine. There's nothing like saganaki appetizer with shrimp accompanied by a glass of retsina and a side of grilled octopus. Opa!
6. Fried Catfish Tacos
If you're exploring Chicago but have a taste for Southern cuisine, be sure to visit Luella's Southern Kitchen in the Lincoln Park neighborhood for some mouthwatering catfish tacos. There are plenty of other comfort foods on the menu like yummy chicken and waffles, but those cornmeal dusted tacos have hungry Chicagoans lining up for more. Deep fried and brimming with flavor, these yummy tacos are some of the tastiest morsels in the city.
7. Meatballs
A visit to Chicago means that Little Italy is close at hand. If you are a meatball connoisseur, you'll want to explore the restaurants of this popular neighborhood to enjoy traditional meatballs. They're often served with pasta, or on goey meatball subs loaded with marinara and oozing with fresh mozzarella cheese. You can even find meatball calzones and pizzas. Some of the finer restaurants are adding gourmet meatballs to their dishes. Chicago loves meatballs, and you will too after sampling Little Italy's offerings.
8. Cheeseburger, Diner Style
If you want a cheeseburger when visiting Chicago, a burger-loving city if ever there was, dine at Ed Debevic's for their great-tasting burgers served with 1950s flair. This retro diner is a Chicago landmark and popular tourist destination. Be sure to order your cheeseburger with a milkshake and fries to experience a Chicago diner classic meal. The staff at Ed's really gets into the mood, serving up sassy attitude along with your fries. It's like dinner and a show. So expect a rollicking good time when you visit this fun 50s diner.
9. Pierogi
Chicago is home to a sizable Polish population that continues to love traditional Polish foods like pierogi, potato dumplings stuffed with various types of ingredients. You'll fall head over heels for this delicious dumpling too, especially when you order some authentic ones from Pierogi Heaven, with locations on both Wells and Franklin Streets. The pierogi stuffed with cabbage and mushrooms are superb as are the sweet cheese-filled pierogi. Many pierogi vendors create specialties that you'll want to try when you're in town. Ingredients like tomatoes and kraut are always popular fillings.
10. Chop Suey
Chicago's Chinatown is a popular landmark neighborhood that is filled with amazing eateries. Chop suey is an American-Chinese classic with assorted meat, eggs and vegetables in a tasty sauce. Everybody seems to do chop suey differently, so you might just treat yourself to a chop suey tour. You'll find plenty of other authentic Chinese dishes that put Asian chain restaurants to shame. Check out the myriad of shops where you can purchase cooking ingredients straight from China to use in your own kitchen. If you're visiting during the cold season, you can ward off Chicago's nastiest weather with a steaming bowl of sweet and sour soup – sure to keep cold and flu at bay!
What would you add to this list of things to eat when in Chicago?