It's hard to believe Dubai was a simple fishing village as recently as the 1960s. Then it struck oil and underwent a radical transformation into a city of extremes. There are vestiges of the old town in there, but what puts this uber-wealthy emirate on the map are the over-the-top architectural feats, fantasy shopping malls and mind-boggling attractions that seem to be bigger, better and more outrageous anything else on the planet. Visitors can't help but be dumbfounded by its oppressive heat and obscene excess. Love it or loath it, it's an amazing modern Middle Eastern metropolis everyone should see at least once in a lifetime. Here are ten definite things to do in Dubai.
1. The Burj Khalifa
You literally can't miss seeing this skyscraper when visiting Dubai. Just look up. It's officially the tallest building and free-standing structure in the world (plus a few other record-busting titles), and it pokes its pointy head well above the other relative pipsqueak buildings in the cityscape. It's a marvel of modern architectural engineering and a source of great pride in the UAE. Plan on whizzing up to the 134th floor observation deck for a spectacular stratospheric city view, day or night.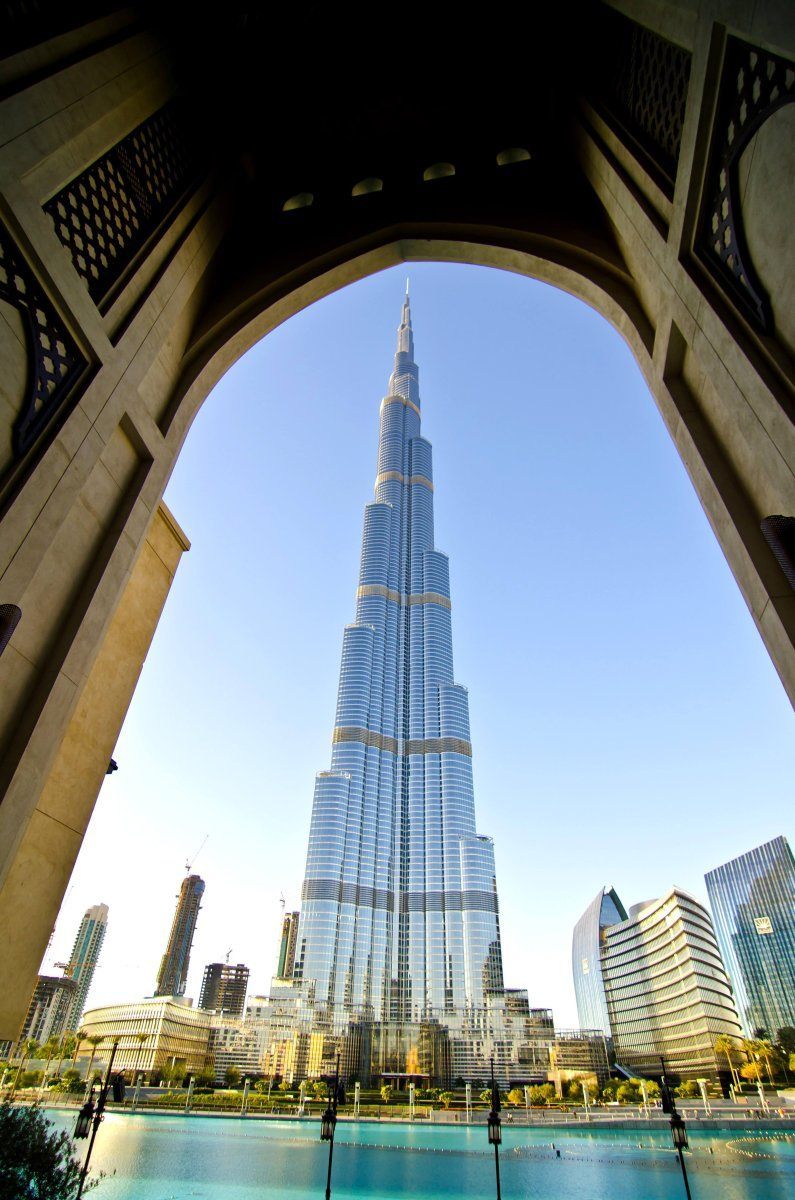 2. Palm Island Jumeirah
This is one of the most ambitious construction projects to be dreamed up – and dredged up – in Dubai. It's billed as the eighth wonder of the world and has become a symbol of the city. This artificial archipelago in the shape of a palm tree has materialized offshore from over 7 million tons of rock and 100 million cubic meters of sand. The trunk, 16 fronds and surrounding crescent reef design maximizes the beachfront real estate offerings for its luxury hotels, shopping plazas, restaurants and residences. Frankly, Palm Jumeirah is most impressive when seen from a birds eye view. It doesn't look all that when you're on it, but it's a landmark "wow" you just can't miss in Dubai. Take the monorail up the trunk to the Atlantis Hotel for some memorable fun at their waterpark. Two more reclaimed palm islands are in the works, as is a series of islands in the shape of a world map.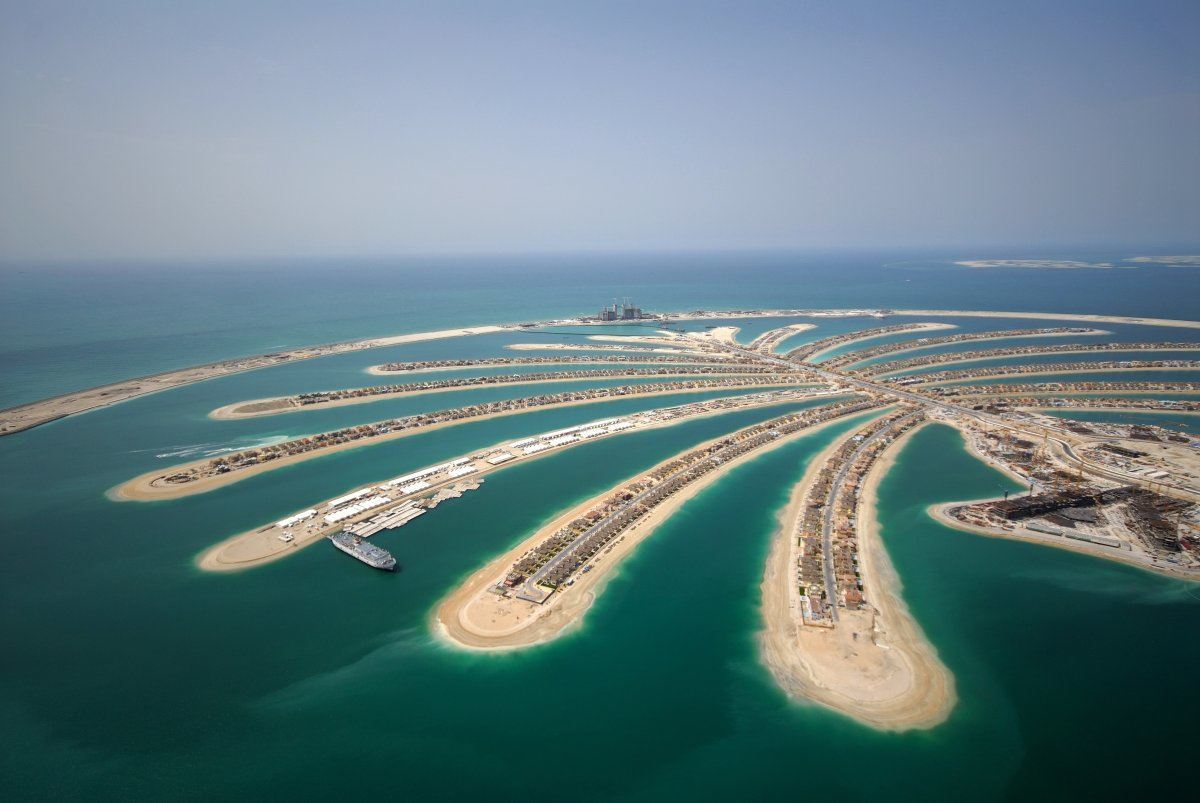 3. Desert Skiing at the Mall of the Emirates
When in Dubai, you've got to hit the indoor slopes in this extraordinary shopping mall. Ski Dubai in the Mall of the Emirates isn't just a novelty lark, it actually has five pretty decent runs up to 1,300 feet long, including the world's first indoor black run. You can rent all the gear you need there, including equipment and ski wear. Take a ski lesson, try snowboarding or just toboggan, tube or zorb down at the adjacent snow park. If that's not enough, there are also real live penguins there to enhance the snowy ambiance.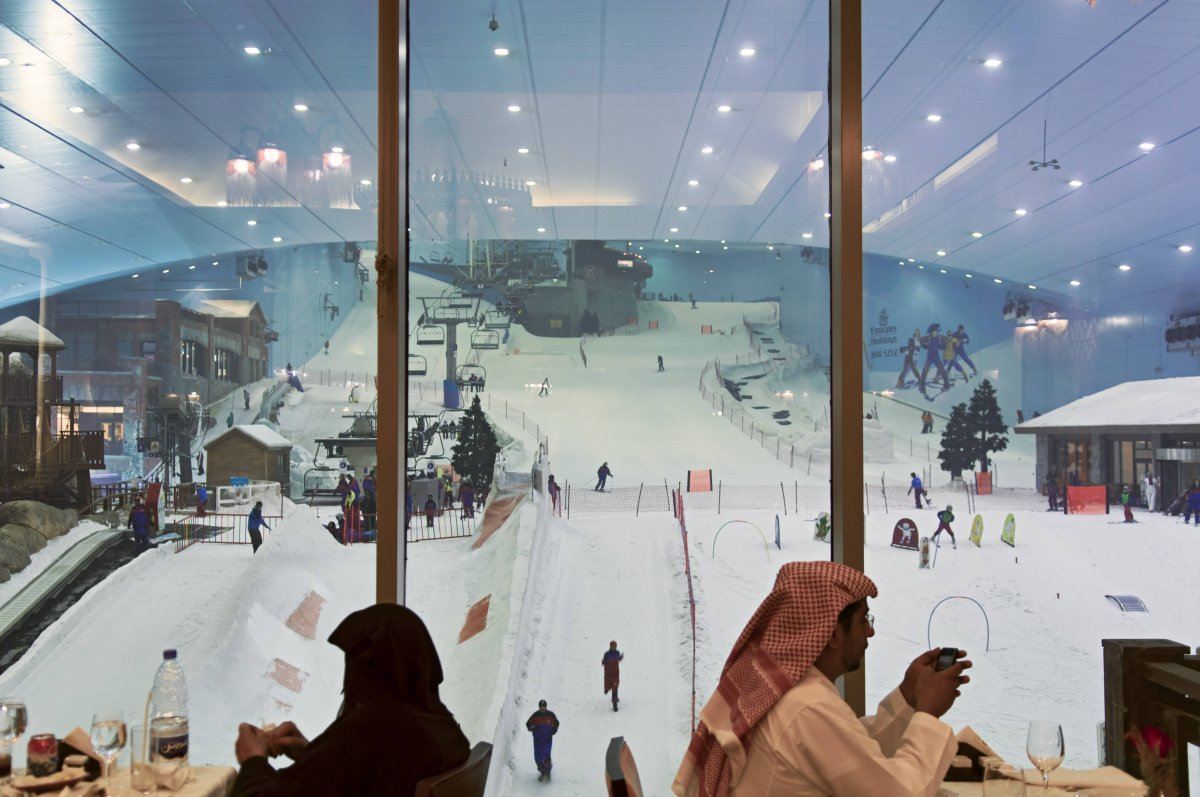 4. The Dubai Mall
Even if you're not a shopper, you have to check out this gobsmacking mega-mall where the 1200 stores are just are a second-fiddle sideline between the other main attractions. Inside you'll find Sega Republic theme park, Kidzania children's playland, 22 cinema screens, 200 restaurants and cafes, an Olympic-sized skating rink, a Boeing 737 flight simulator and a colossal Aquarium with underwater zoo. Just outside the mall, be sure to witness a Dubai Fountain show that spouts forth stunning aqua-ballets every evening from 6pm on. Book a fountainside restaurant to be dazzled as you dine.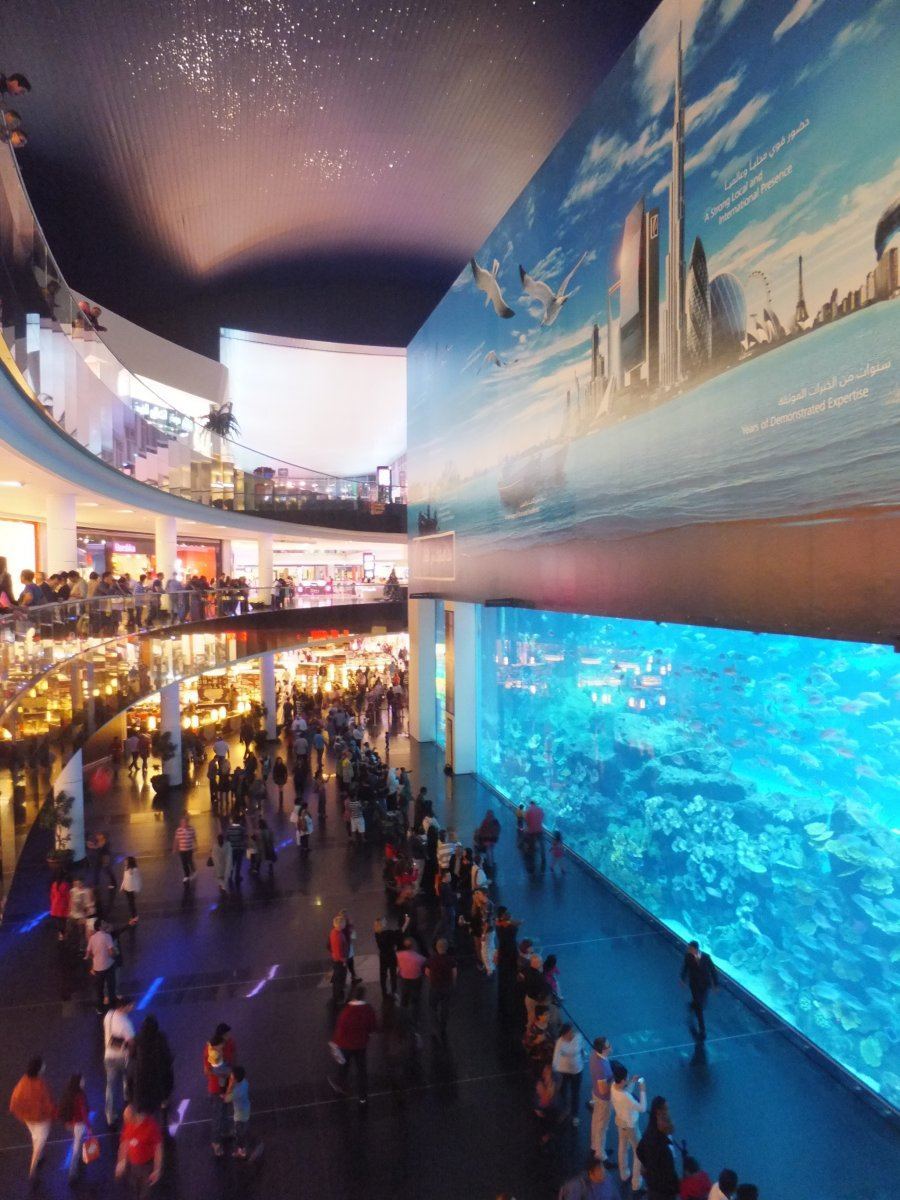 5. Burj Al Arab
Dubai's most iconic luxury hotel is set on a private artificial island and boasts the world's only 7 star rating. This photogenic facade was designed to resemble a billowing sail of an Arabian dhow. You can take a great exterior shot of the Burj from the public beach outside. If you want to peak inside to gawk at its endless atrium and panoramic glass elevator, however, you'll have to book a room (a mere $20K per night for the Royal suite!) or at least have a reservation at one of its bars or restaurants. They're quite strict about this, so book well ahead.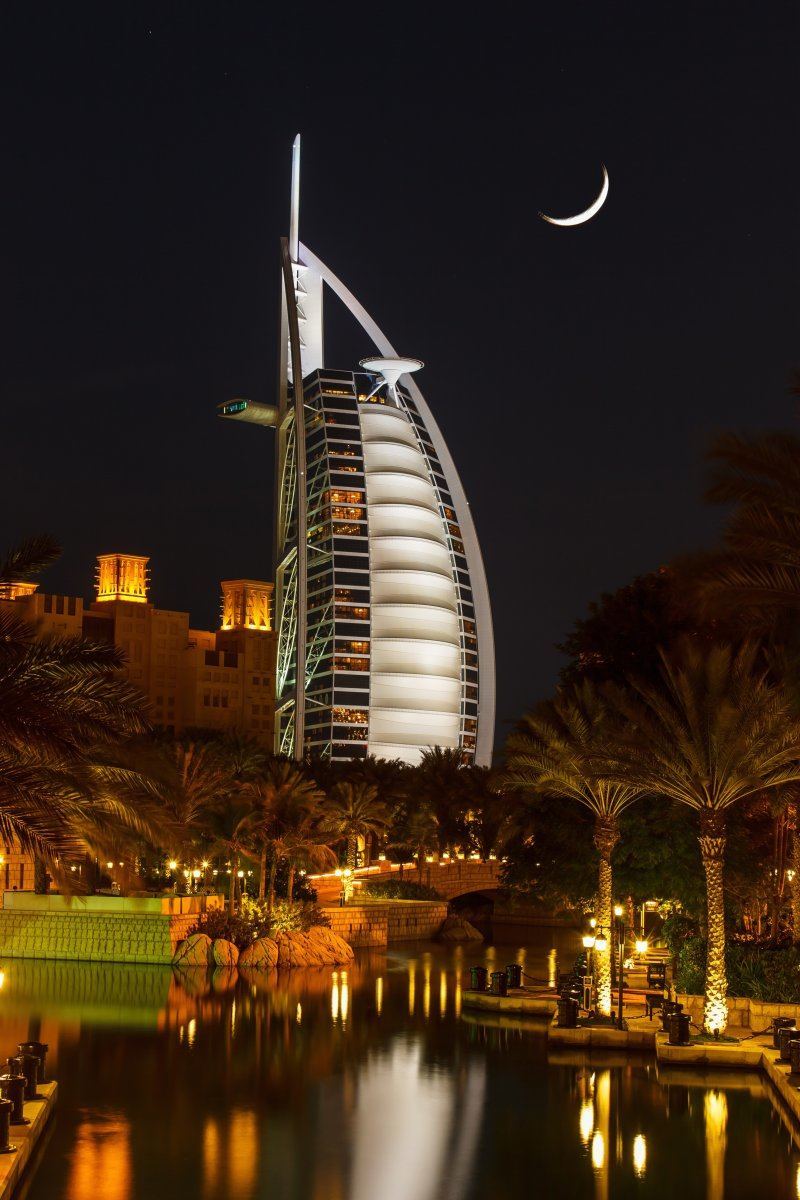 6. Stroll the JBR Walk
Dubai's city planners made a good call by creating the 1.7 km Jumeirah Beach Residence promenade along the waterfront. 36 towers of beach residences and the Dubai Marina are flanked with shops, restaurants, cafes and hotels (where the bars are), making it a bustling scenic neighborhood to stroll, hang out in and explore. There's even a Covent Garden Market here, with street performers and crafty trinket stalls to browse. Some people even jog along this strip in the cooler parts of the day. The people and car watching is hard to beat.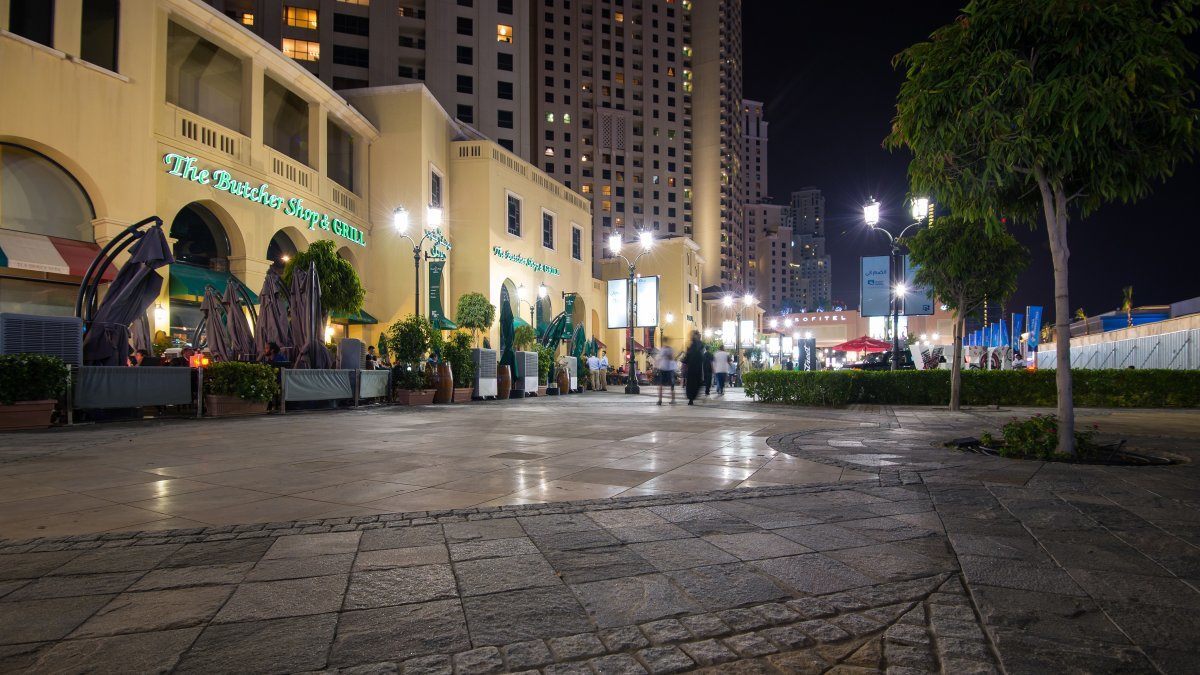 7. Champagne Brunch
Dubai does brunch in a big way. Expats and visitors, in particular, have made the Friday brunch tradition an extreme extravaganza. We're not taking your typical hotel omelet station and a cappuccino kind of brunch. These are gourmet gluttonous all-you-can-eat buffets and bottomless drinking binges that go on for hours. Hotels are the exception to the no alcohol rules in the UAE, and the champagne and cocktails flow freely during these bacchanalian brunch banquets. Each hotel tries to outdo the other with their outlandish offerings, but you can find some more relaxed venues as well. Book ahead, as these Friday feasts are popular.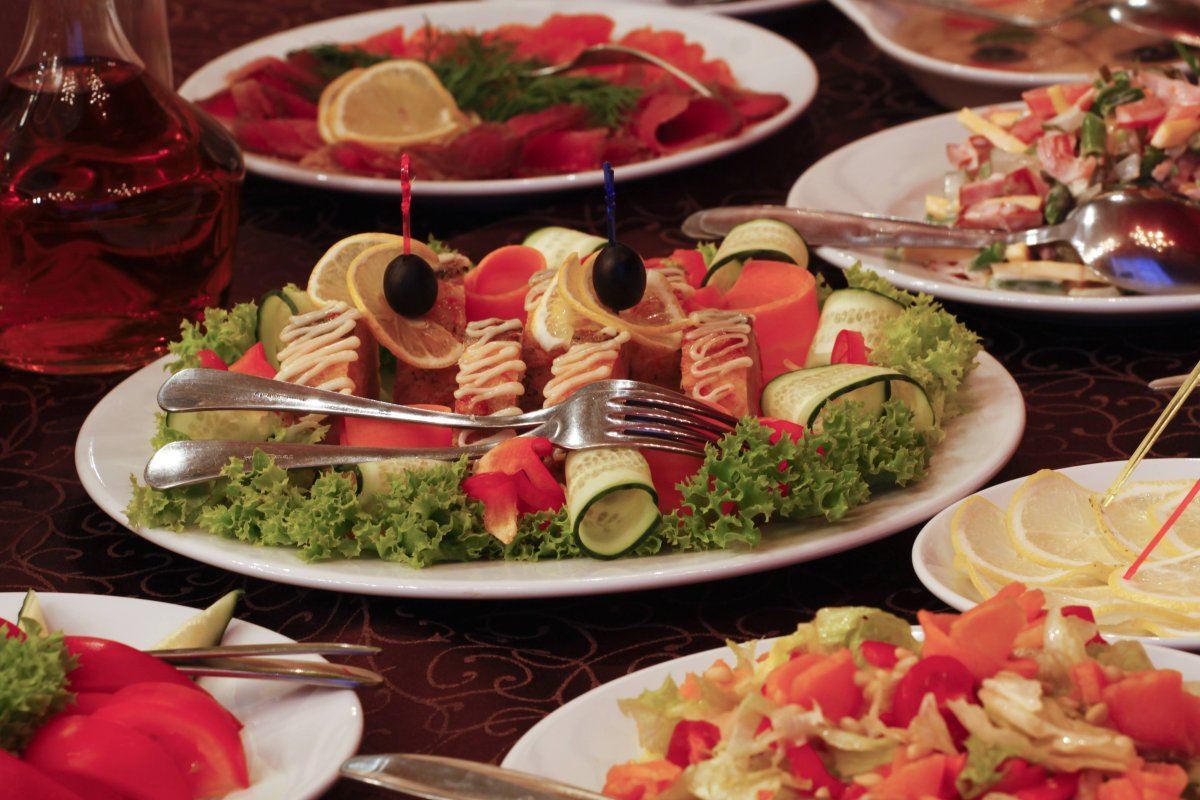 8. Desert Tripping
As a counterpoint to the cosmopolitan city, take a trip to the surrounding desert when you visit Dubai. Lots of tour companies offer excursions out to the dunes to give you a taste of traditional Bedouin life. Camel rides, belly dancers, henna painting, sandboarding and overnight 4×4 safaris are some of the options. Enjoy an Arabic meal and an apres-dinner shisha smoke and get into the spirit of the desert.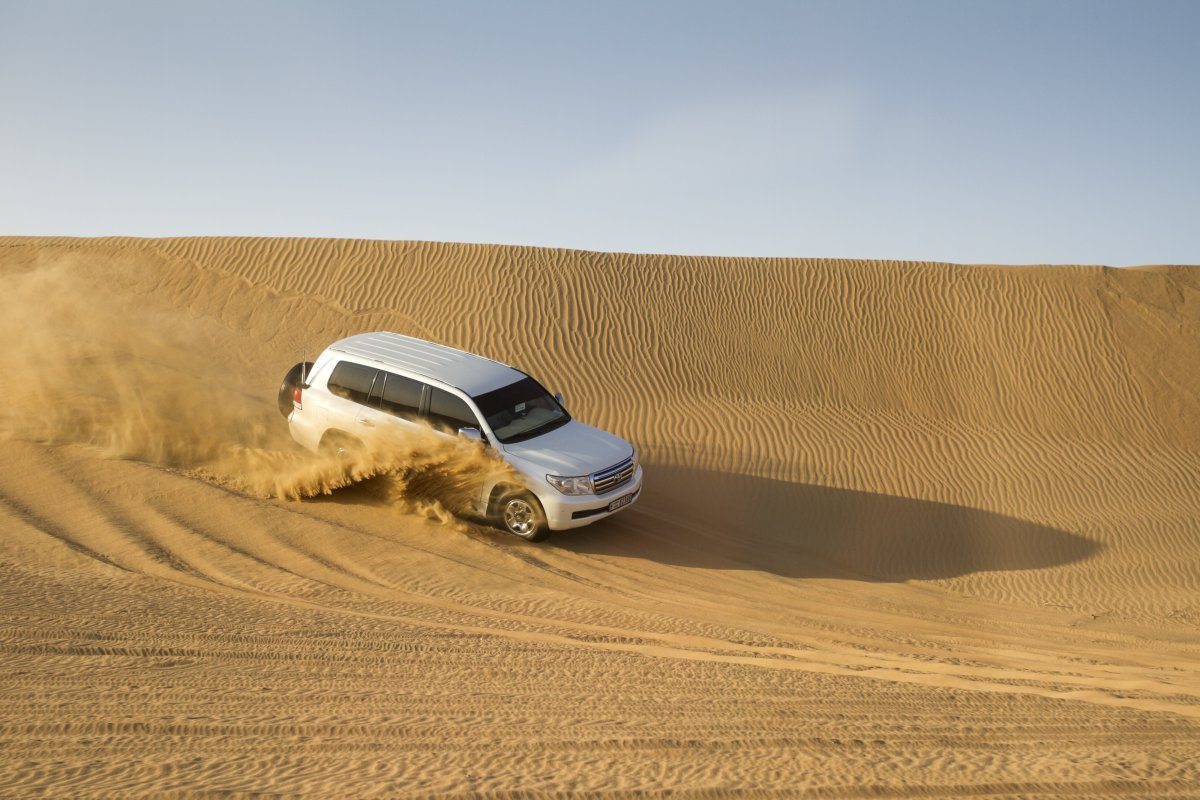 9. Souk Shopping
Beyond the mega shopping malls of Dubai, you can hunt for deals in the traditional souks just like they did centuries before the oil boom. You'll find a bustling old-school bazaar atmosphere and an eclectic array of goods to be haggled for in these vibrant markets. Bargaining with the merchants is an expected practice and part of the fun. The Old Gold Souk in Diera offers narrow alleyways of dazzling gemstones, jewelry and gilded treasures. Make like a local and take a wooden abra vessel across the Dubai Creek. The nearby Spice Souk has sacks of fragrant herbs, exotic spices, rice and dates filling the air. Check out the Textile Souk in Bur Dubai for a colorful array of woven fabrics and silks. The centrally located Souk Madinat Jumeirah is a modern replica of a traditional Arabian market. It might not be authentic, but it is a pleasant place to peruse an array of Middle Eastern merchandise.
10. Al Bastakiya Quarter and Al Fahidi Fort
A world away from the modern skyscrapers is this small authentic Arabian neighborhood of classic mud brick dwellings and labyrinthian lanes. At one point it was set to be demolished to make way for more glitz, but an international outcry led to the preservation of this historical area. It now houses some funky galleries and trendy cafes that make it a wonderful place to wander and while away an afternoon. Note the roof top wind towers, an ancient form of air conditioning that kept cooling breezes circulating in the abodes. Nearby you'll find the Al Fahidi Fort Fort, built in 1787 as a city defence. It's now an informative museum on the history of Dubai and Emirate life before oil.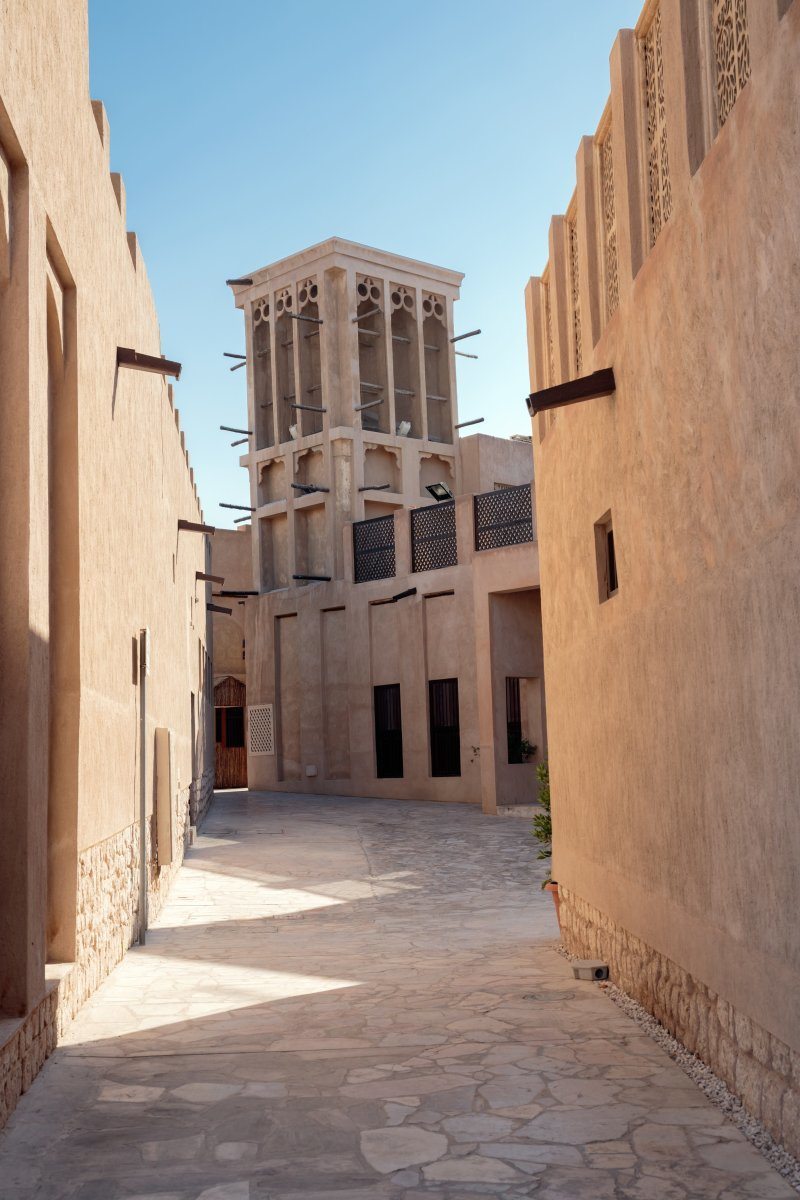 Now View: 12 Things Not to Do in Dubai on YouTube