For travelers itching to explore the great outdoors but not quite ready to give up luxuries such as private bathrooms, hot showers and a comfy bed, "glamping" is the hottest new solution. Combining all the comforts of home with an immersive experience in nature has been a hit around the world, and more and more glamping destinations have popped up throughout the United States. From luxurious tipis featuring hand-crafted furniture to safari like canvas tents with personal chefs and butlers, there are endless opportunities to get your glamp on. Here are 10 of the best glamping spots in the US you should consider for a blissful vacation, no "roughing it" required.
1. The Resort at Paws Up, Montana
One of the most glamorous glamping operations in the country is at the luxury resort at Paws Up in Montana. Safari tents boast fine linens, rustic furniture, a private en-suite bathroom, a skilled camp chef and a butler for your every whim. Your camping butler will do everything from build the fire to prepare delicious s'mores or help you arrange your daily activities. Offering romantic honeymoon packages and two-roomed family-friendly tent options, there isn't an occasion you can't celebrate in style here. From horseback riding to fly fishing to chuck wagon rides, this cushy ranch is full of fun. You better have deep pockets to stay here though; nightly rates for the glamping tents start at $1200.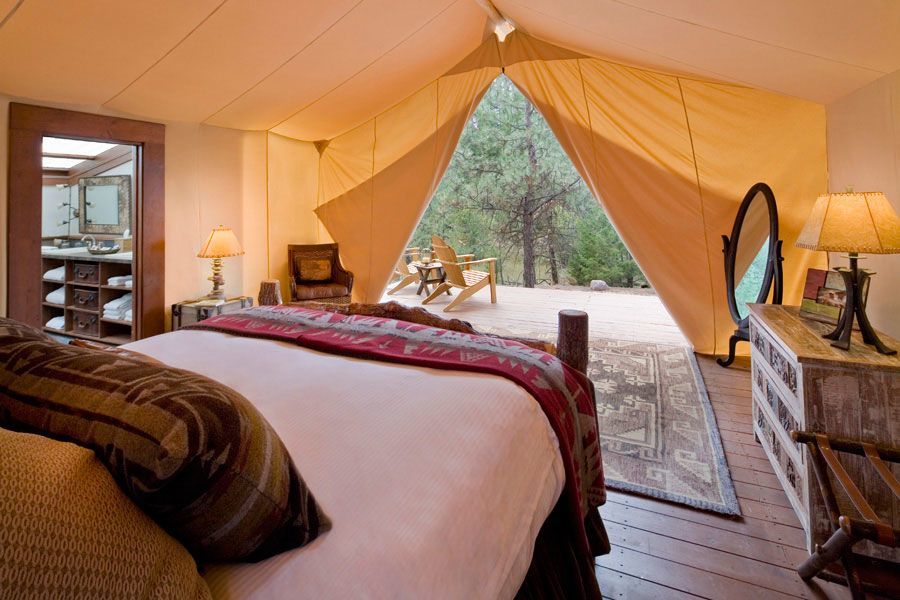 2. Camp Orenda, NY State
Offering an authentic backcountry Adirondack experience complete with custom canvas tents, delicious cuisine and outdoor activities is the goal of Camp Orenda in NY State. Creating an outdoor experience with the comforts of home is their expertise. The tents are beautifully decorated with hand crafted furnishings, down comforters and a wood burning stove, complete with plenty of split firewood for you to use. The rustic open air shower provides guests a tranquil experience in nature complete with a rainfall showerhead. A gorgeous bathhouse is available nearby if you'd prefer a leisurely soak. All inclusive rates start at $200 a night.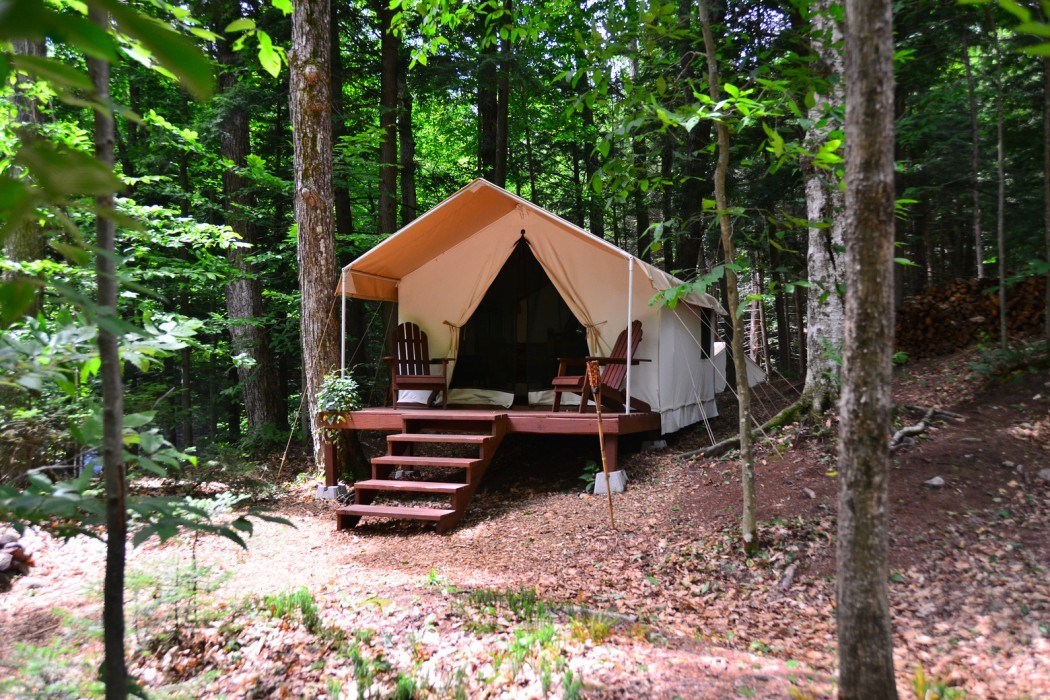 3. Yurt Village, Falling Waters Resort, North Carolina
This unique glamping experience uses yurts instead of tents. These exotic circular structures feature French doors and large windows. This resort is located adjacent to the Nantahala Gorge and offers many nearby hiking trails, white water rafting experiences, canopy tours, fishing, kayaking and more. The yurts are outfitted with a queen size bed, futon for extra guests, private deck, fridge, coffee maker and a dome skylight – perfect for staring at the stars. A picnic area complete with grills, private shared bathrooms and other amenities is available to all guests. If you still want the authentic experience of camping but want just a touch of luxury, Yurt Village will be perfect for you.
4. C Lazy U Ranch, Colorado
This all-inclusive luxury dude ranch is more than just a "glampers paradise". It offers superior accommodations, a wide range of activities and a chance to experience nature while still enjoying the comforts of home. Guests at this ranch can spend a night or two in the glamping tent, tucked away from the rest of the world. A king size bed, bunk beds, superior linens, a fire pit and a s'more kit await. A luxury spa sits on the banks of the river and suspended over the water are two massage tents with glass floors. The rest of your week can be spent in one of the more modern cabins complete with private bathrooms, handcrafted furniture, wood burning fireplaces and multiple rooms. One of the first glamping spots in the US, it remains one of the best.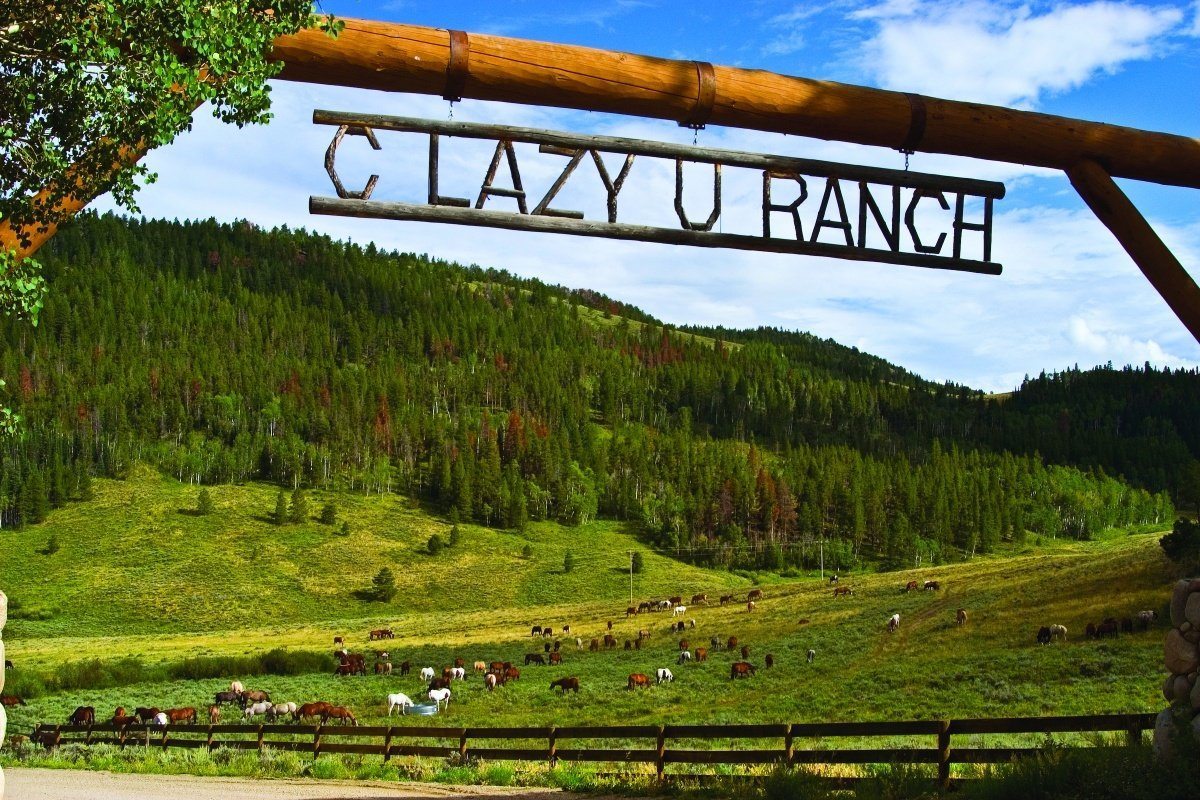 5. Sequoia High Sierra Camp, California
If you want to be a guest at California's Sequoia High Sierra Camp, you will have to hike a one mile trail to get here. This unique camp is tucked away in the mountainside and offers deluxe canvas tented cabins complete with plush-top beds and artisan furniture, with daily maid service and all linens, towels and toiletries. An open-air dining pavilion with a wood burning fireplace and a central bath house with hot showers complete the camp. Dining options include 5 course meals cooked by a skilled chef, a pack your own picnic lunch and a variety of local craft beer and wine. With activities such as hiking, bird watching, horseback riding and fly fishing located just a short hike away, it is easy to understand why glampers love this spot.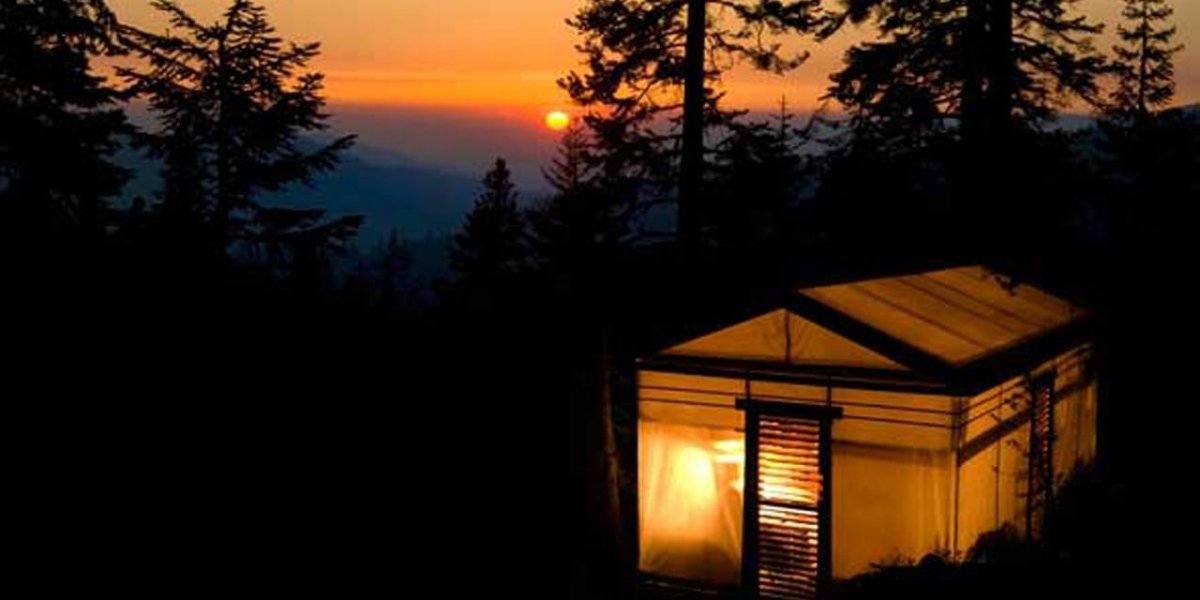 6. Mustang Monument, Nevada
This luxury wild horse eco-resort offers guests customized safari adventures while providing them with luxury amenities. This is one of the cushiest experiences to become one with nature. Luxury tipis are the favorite accommodations here, outfitted with hardwood floors, custom-made furniture, plush leather chairs and fine linens. The luxury bathhouse located near the tipis offers glassed-in showers, Jacuzzi-style tubs and plenty of hot water. Activities are endless at this eco-resort including mustang safaris, guided treks, rock climbing, roping and spa treatments. All-inclusive rates start at $1200 per night, including most activities plus five star meals, beverages and snacks.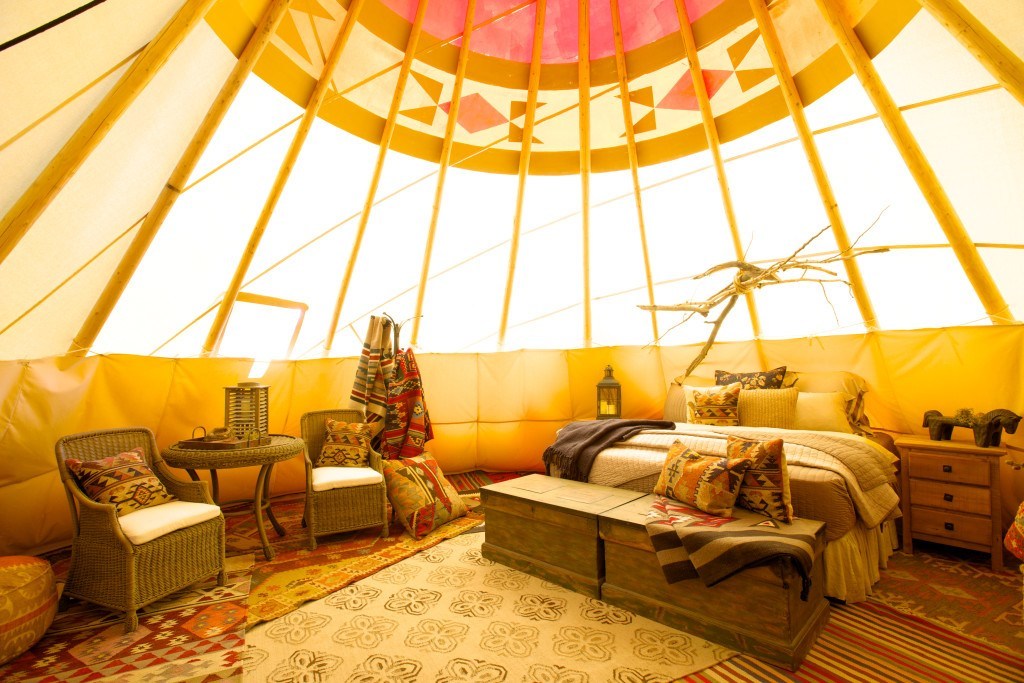 7. Treebones, California
This family-run unique glamping experience is located on the Big Sur coast. This breathtaking destination offers visitors the chance to become part of a coastal yurt community for a few days. The yurts themselves are stunning, with redwood decks facing the ocean. They are outfitted with plush beds, cozy quilts and both hot and cold running water. With an on-site lodge complete with restaurants, restrooms, shower facilities, convenience store, hot tub and ocean view pool, there is no shortage of amenities here. Enjoy daily hikes, ocean kayaking or simply just soaking in the views. If you're really feeling adventurous, Treebones offers incredible camping sites including one featuring the "human nest", artistically woven from wooden twigs.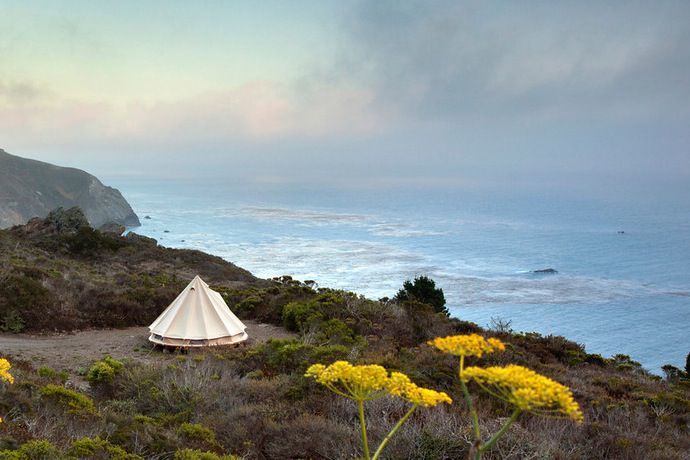 8. Fireside, Jackson Hole, Wyoming
Fireside Resort knows how to do glamor-camping right. The beautiful tents offer ultra-comfortable king size beds, luxury linens, handcrafted furniture, cleaning services and your own personal butler just a phone call away. The bathhouse for glamping guests includes heated floors, rainfall showers and organic spa products all available at no extra cost. Think s'mores, campfires, a nice bottle of wine and a home cooked steak. Just minutes from Grand Teton National Park and the city of Jackson, the opportunity for activities are endless. Fireside is truly the perfect getaway for those who crave camping without cramping their style.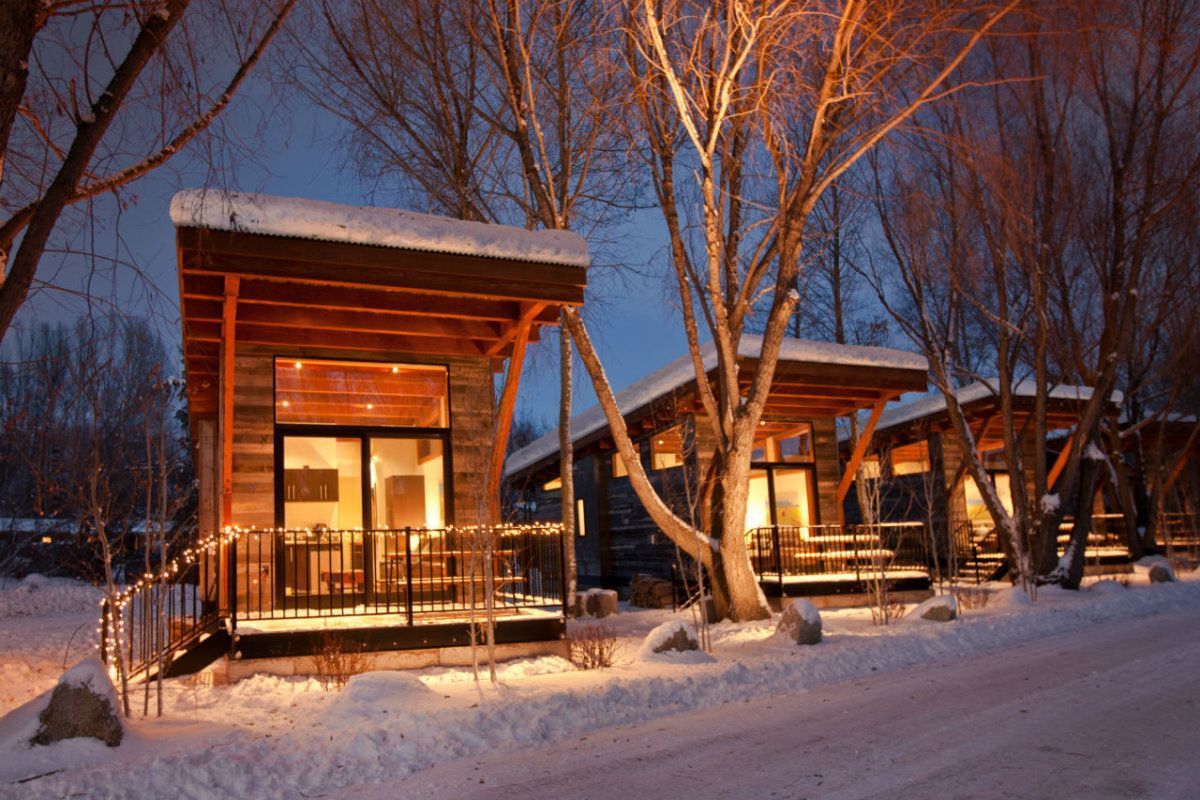 9. Dunton River Camp, Colorado
This small exclusive all-inclusive resort is located across the mountain from Telluride and offers guests the ultimate in luxury glamping. With your choice of mountain or river tents, each offers a king bed, en-suite bathroom with soaker tub, shower and heated towel racks, a gas stove and Wi-Fi. Mountain bikes are included for you to go out and explore the trails. The food is world-class, with the chef using only local organic ingredients and pairing the food with exceptional wines. The outdoor fireplace beckons you after dinner to enjoy a glass of single malt whiskey and a freshly cooked s'more. The sauna that sits by the river, the fishing that awaits you a stone's throw away and wilderness that surrounds you makes for an incredible glamping experience.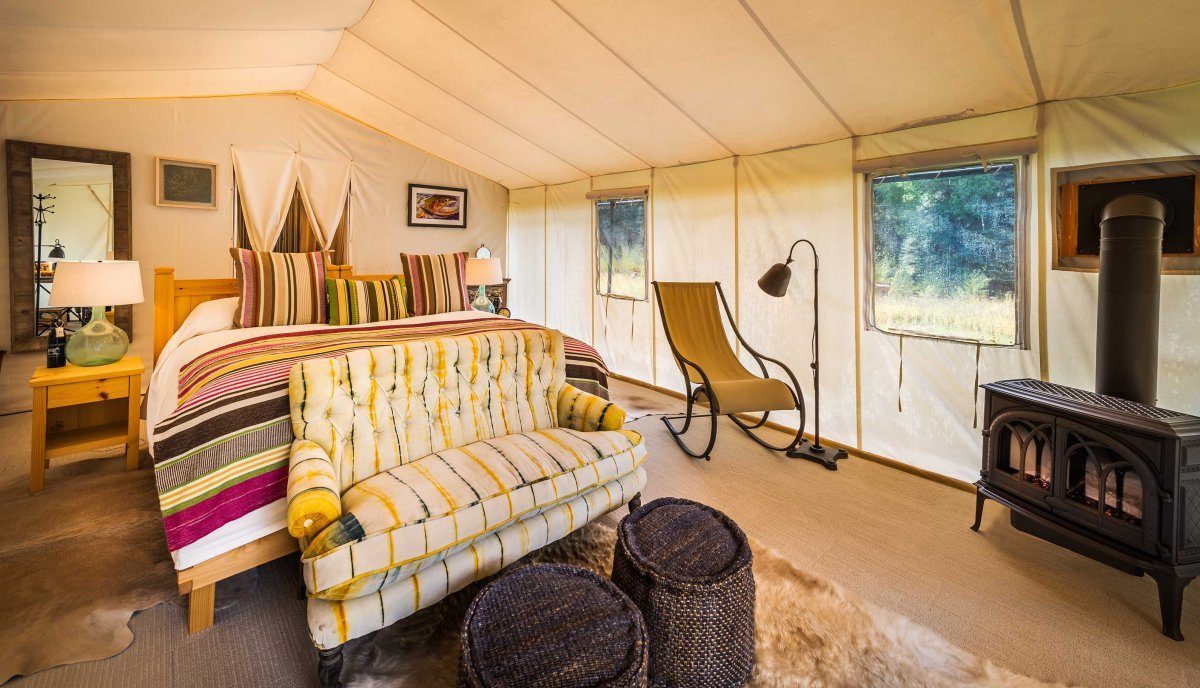 10. Moab Under Canvas, Utah
If you have ever truly wanted to embrace the desert, Moab Under Canvas is one of the most stunning glamping spots in the US. It is located just moments away from the entrance to both Arches National Park and Canyonlands National Park. A more affordable option for guests looking to luxury camp, this destination offers a wide variety of safari tents ranging from deluxe to standard canvas teepees. Deluxe tents include private en-suite bathrooms in your tent, a king size bed and wood burning fireplace complete with complimentary wood. Coffee and tea in the mornings are a welcome treat, as well as the campfires at night. Grills are available to use as there is no on-site restaurant here. The motto here at Moab is "camping the way it should be", and we have to agree.