We stay in hotels for all kinds of reasons—vacation, business, a little bit of both. No matter why, guests expect the best service and comfort hotels can provide. Hotels do whatever they can to drive us through their doors and into their rooms, even if it means a little fib here or there or hushed secret to get you there. If you're a regular to the hotel scene you may already be aware of the darker side to your stays, and those that aren't, prepare to be enlightened. What's really going on behind closed doors?
1. Marketing Hype: Exaggerate Like Your Job Depends On It
"Sun, sea, and sand" shouldn't mean images found in your hotel room's decorative paintings, and "ocean view" is a worthless term if you have to crane your neck to catch a glimpse. Then there's the hotel brochure favorite "a minute from the beach" when the only way to get there in a minute is by running at top speed egged on by wind turbines. The point is, not everything found on a hotel's website or marketing brochure is what it claims to be, and deeper research is required to get a true view of how things really are.
2. Third Party Bookings Come At A Price
Remember this before you go through third party comparison sites like Expedia, Travelocity or Orbitz: Walk-in rates and booking directly with the property are generally cheaper or bonus-filled options when it comes to lodging. Third party booking engines bring customers to their door but the hotels have to pay a commission to them (up to 30% per cent), so they often try to incentivize customers to book directly with special deals. They may offer age-based or membership discounts that most third-party systems don't have access to. Some hotel chains limit their "free" breakfast or Wi-Fi to members of their frequent stay programs who make direct bookings (call the actual hotel, not the national 1-800 number). You might even get a room upgrade for your loyalty. Extra tip: Book later in the day, you'll find some great deals that way.
3. The Germ King Awaits
We all want to believe that when we visit a hotel, our rooms are clean to the point where we could eat off the floor, roll around naked without a care in our beds, and soak for hours in a pristine tub. Lovely images huh? Hundreds have done just that and as much as hotels are "cleaned" there's no telling how clean. Many items aren't given the time of day by cleaning staff, upholstery and rugs may get some attention every few months, and things like ice buckets and coffee makers usually just have remnants thrown away and are put out for use again. The awful thing is that urine, vomit, and other bodily fluids end up in these kinds of containers quite a bit and a quick rinse is not going to get rid of the residue. Add that to the germs on "hotspots" like the TV remote control (more germs than the toilet!), light switches, clock radio, and others, and you're in for a germ-ridden stay. Trust us, you don't want to flash a UV black light around the room, or you'll think it was a crime scene.
4. Bedbugs
If there are no visible stains on them, hotel bedspreads aren't cleaned. In the premiere hotels, blankets are washed once a week. Yes, sheets are cleaned daily—but this is not a good enough defense against bed bugs. Might sound like a public service announcement, but these itchy little things deserve all the fanfare they get. They tend to cling to guests and stowaway in luggages, and when carriers stay in a room, you're doomed. The increase of instances of bedbugs in hotel rooms is on the rise (even in luxury properties) and prevention is a bit of a challenge for hoteliers where people from all over the world are checking in and out every day.
5. There Are Windows?
Hey friend, want to smell the fresh air, or want to just lean out and go "Mmm, what a bright and beautiful day"? Think again, as most modern hotels have windows that open a crack or not at all. Say goodbye to fresh air if you're going to be holed up in a hotel for a few days. Urban legend has it that this is to prevent people from jumping out, but it's really just a cost-saving measure as too many customers carelessly leave the a/c on while the window is open.
6. Deaths
The next time you go to bed in your hotel room, just think—someone could have died there. This is one of the best-kept secrets in the hotel industry, as many people die—of various causes—in hotel rooms and the information is kept under wraps so the public keeps on coming for the right reasons. The threat of "dark tourism" is real for hoteliers, who would rather their properties be synonymous with words like elegance and relaxation, rather than corpse and macabre. So they control what comes out in the press to avoid negative publicity and hotel staff are forbidden to reveal room numbers or details, and just like that, other guests seldom even know what's happened in that bed before them. If a death occurs, once the body is removed, the room is sanitized, cleaned, and made available to the next guest – and that can happen a lot faster than you'd think. Sleep tight.
7. No Rooms At The Inn
Have you ever seen a show where someone tries to check into an overbooked hotel and finds their reservation denied? Worse yet, maybe you or someone you know has had the experience and would like nothing better than to forget it. For those who've skipped out on this particular tragedy, don't count your chickens before they hatch as you could very well be in for some of the same before your travel log's closed. The sad truth is hotels (like airlines) overbook all the time, as the average no-show rate is 10% and in the end they want to make sure they're always fully-booked. Those who show up and are met with bad news—sorry no rooms at the inn—are pegged with the term "walking a guest" where, confirmed reservation or not, you're royally screwed. So what happens next? Well, hotels are not required by law or otherwise to do this, but some will seek out accommodation at a "comparable" hotel, pay for your first night and arrange transportation there if it's too far to walk. You could kick up a fuss about the breach in contract and fight the system using contract law, but as there is no industry standard currently, the results could vary.
8. Didn't I Pay For That Already?
Hotel stays mean having to factor in tip money as an added expense. You have to have a pocket full of bills to hand to the valet, doorman, bellhop and concierge. Having a late night snack wheeled up to your room can be more expensive than dining at a restaurant once you add in a tip. Having turndown service? Throw a few more bills in the ring. Need your luggage dragged from the steps to the car two feet away? Another four bucks. Don't forget to add a few dollars a day for housekeeping staff. This constant tipping can leave many guests wondering what they paid for in the first place, but it is a part of hotel culture that most of us just suck up and deal with. Sure you don't have to tip staff, but as many of them work for low compensation supplemented by tips, it's a nice gesture.
9. Now A Little Hotel Math
What began in Hawaii and Las Vegas, is becoming quite common in most of the U.S. Basic pared down room rates are posted after hoteliers chop off a chunk of the actual price, then they sneak those unavoidable taxes and fees back on in the small print you don't notice until you pay up. This kind of game makes hotels seem cheaper than they really are, so make sure you're comparing the final all-in price before making your decision of where to stay.
10. Safe Doesn't Always Mean Safe
It doesn't take James Bond level wits to keep your valuables safe from theft—where possible, leave them at home. Okay, that's the most extreme measure, so if you want to bring them along anyway, be sure that the hotel you're staying at has room safes that are insured against theft. Not all are. Furthermore, most hotels have master keys or a way for staff to get into room safes because lots of guests forget their code, so these aren't the most secure boxes out there. You're better off using the safe at the front-desk, but even those are often not fully liable for the contents you store in there. Leaving your luggage in a storage area? Be aware that those rooms are often unmonitored, so non-hotel employees can just traipse about unoticed. Use luggage locks where possible and try not to keep valuables within.
11. A Lesson In Sleight Of Hand
How can you cancel at the last minute without losing your deposit? Step one: Call the hotel's front desk and postpone your booking to a few days later (they're usually happy to accommodate, providing they have room). Step two: After a few hours have passed, call again and request a cancellation of your later reservation. Step three: Cha-Ching! Money back in the bank. What sorcery is this? Easy really, doing it this way gives the hotel a new cancellation time on the new date, which makes the need to keep your deposit null and void. Boo-ya!
12. Cheap Deals, Bad Rooms
As hotels earn the least profits from reservations made through internet discount sites, booking this way is often the path to the worst rooms available. Hoteliers take the chance that most likely these guests won't be loyal returning guests, as they didn't decide on the hotel based on brand quality in the first place but on the (perceived) cheap deal they got. Know that the best rooms are often reserved for those guests who do the complete opposite and book directly through the hotel property. Floor upgrades, corner suites and quieter rooms are often gifted to these patrons. It can pay to be loyal.
13. The Need For Speed?
In today's fast-paced world it's nearly impossible to stay off the internet, especially if you're a business person or someone who needs to keep up with social media or email. It's therefore understandable that many travelers make sure that Wi-Fi is included in room amenities, or at least available in some capacity at their potential hotel, or they simply won't book a property. The problem is that while many hotels provide it free of charge these day, some don't. If they slap on an additional charge for this it's often astronomically priced. This might be easier to overlook if the speeds were good, but in many cases bandwidth is very low and slow going.
14. All Rooms Are Not Equal
Ready for this? Actually, you better sit down. Unless you're getting the penthouse suite of the stars, there will always be a better room than the one you're in. Buildings don't have the good fortune of deciding what they're going to turn out like, and sea-view rooms that are all supposed to have the same layout may have one or two that have a slightly larger bathroom. Or maybe the hotel's going through an overhaul and you haven't gotten one of the new mini-bars yet. In some cases, you might be able to slip an attendant a few dollars and get a better room, so spend if you wish, but remember there will probably still be a better room out there unless you're a VIP.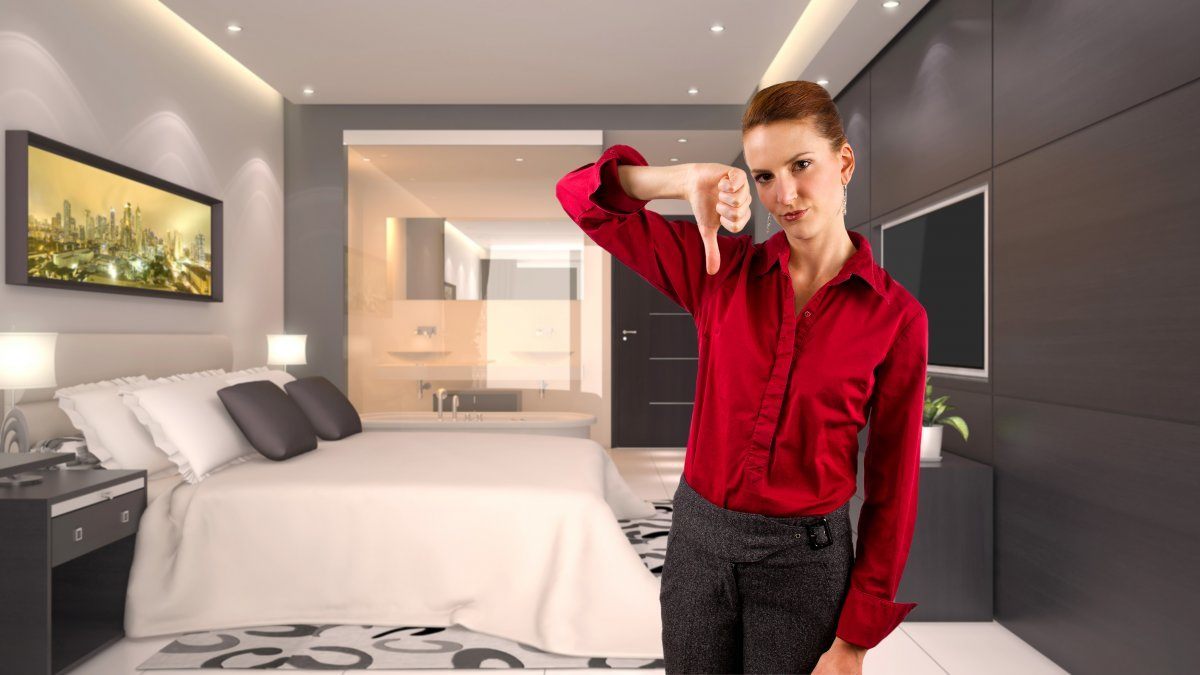 15. Hotel Glasses Are Usually Dirty
Want to wet your whistle with the bathroom glass or cup by the ice bucket? Even if they have a little cap on them, it doesn't mean they are freshly sanitized. Housekeeping rarely wash these thoroughly, and some might just give them a cursory wipe down with the same cloth used around the room. Yuck.