Flying with your children can be stressful, difficult and and utterly chaotic. But it doesn't have to be like that. With a bit of advance preparation and a few tricks up your sleeves, you can make family flying fun for both the kids and you. The most important thing to remember is that you are in charge of their experience. Don't rely on the airlines to occupy your little ones. From faithful coloring books to portable electronics to strategic treats, here are the 10 best ways to make airplane rides fun for kids.
1. Let Them Bring Their Own Bag
Invest in a small wheeled bag meant for children and let them roll it along in the airport and on the plane. There's something about having their own case that makes kids feel more grown up and self-reliant. Bonus, they won't have to ask you whenever they need something from it. Pack their bag with bigger items they can play with just in case it dumps all over the floor mid-flight (a likely occurrence). Keep the snacks and smaller toys in your own carry-on bag so you can dole them out as needed.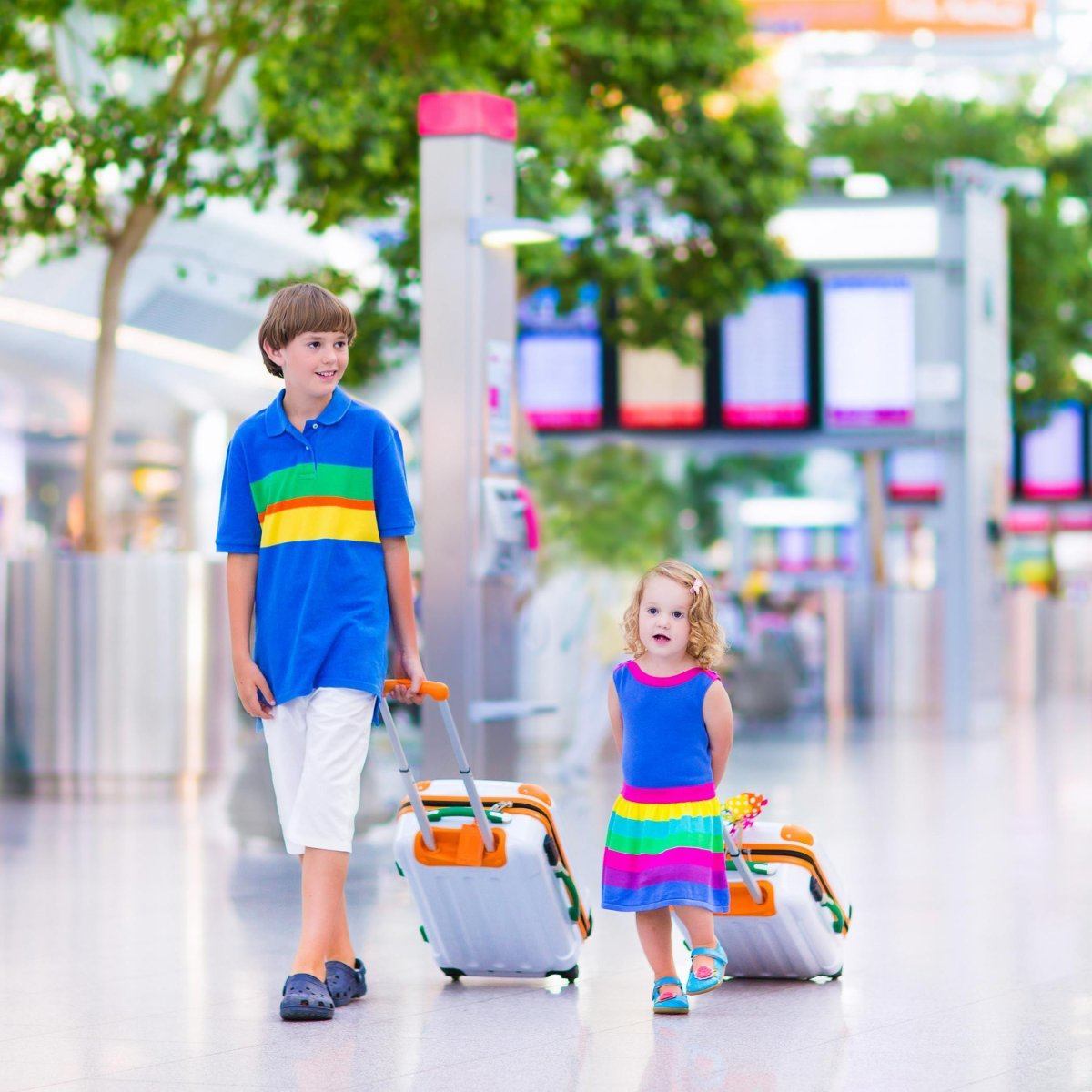 2. Pack Plenty of Snacks
We all know that airplane food is the pits and most airlines have stopped serving food on shorter flights. It's likely there won't be kid-approved items for purchase on your flight. So you need to arm yourself with an arsenal of snacks, treats and nourishment to tide kids over. Take more than you need to accommodate for delays. We promise the moment you step onto the plane your child will be hungry, and everyone knows a hungry child is a grumpy child. Packing treats that they aren't normally allowed to have and letting them have a small glass of soda instead of their normal juice will go a long way in keeping them happy. Some may call it bribery; we just call it being smart.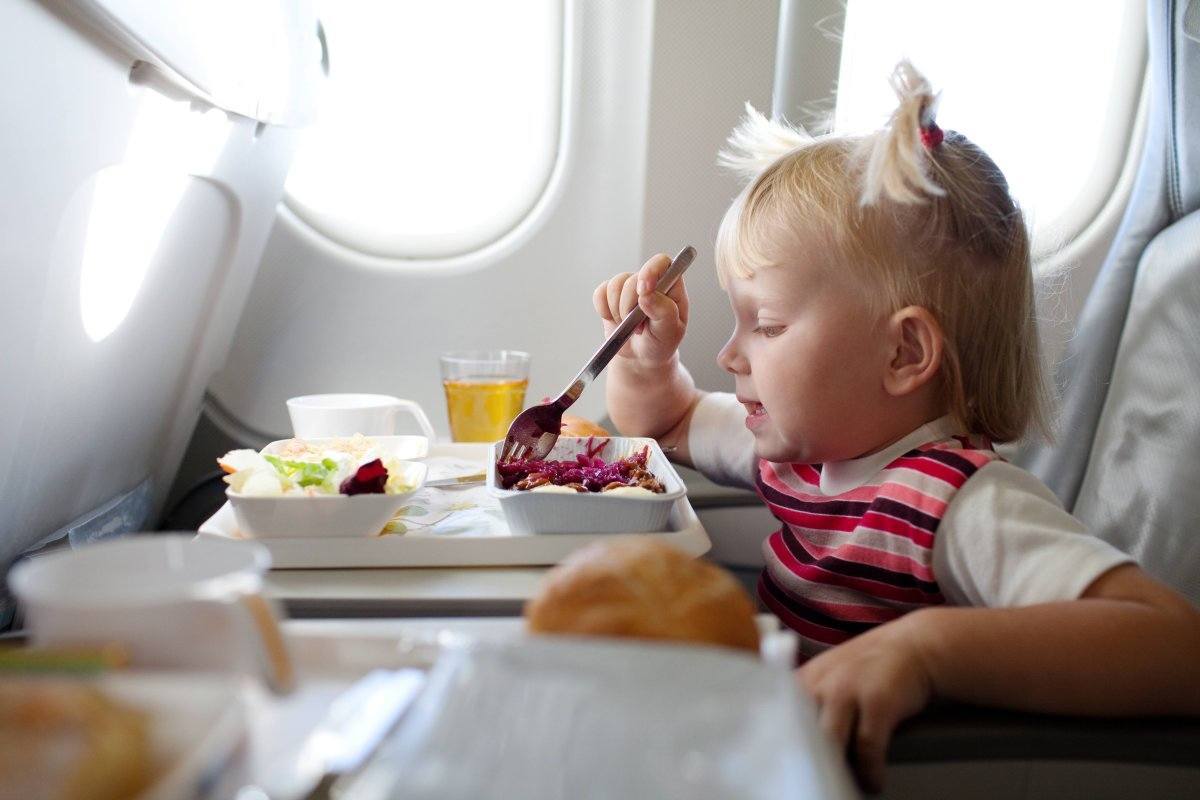 3. Let Them Use Electronics
There are all sorts of studies urging us to limit our children's screen time. Disregard that advice when trapped on an airplane. Let them use the seatback TV, tablet, handheld game, e-reader and/or smartphone as long as it keeps them occupied and content. With limited options for recreation on board, its okay to lean on the electronics for a few hours. Preload parent-approved movies and games on your own device if you want some control over what they watch or play. Most kids will eventually reach a saturation point, so be sure to have some unplugged distractions at the ready, too.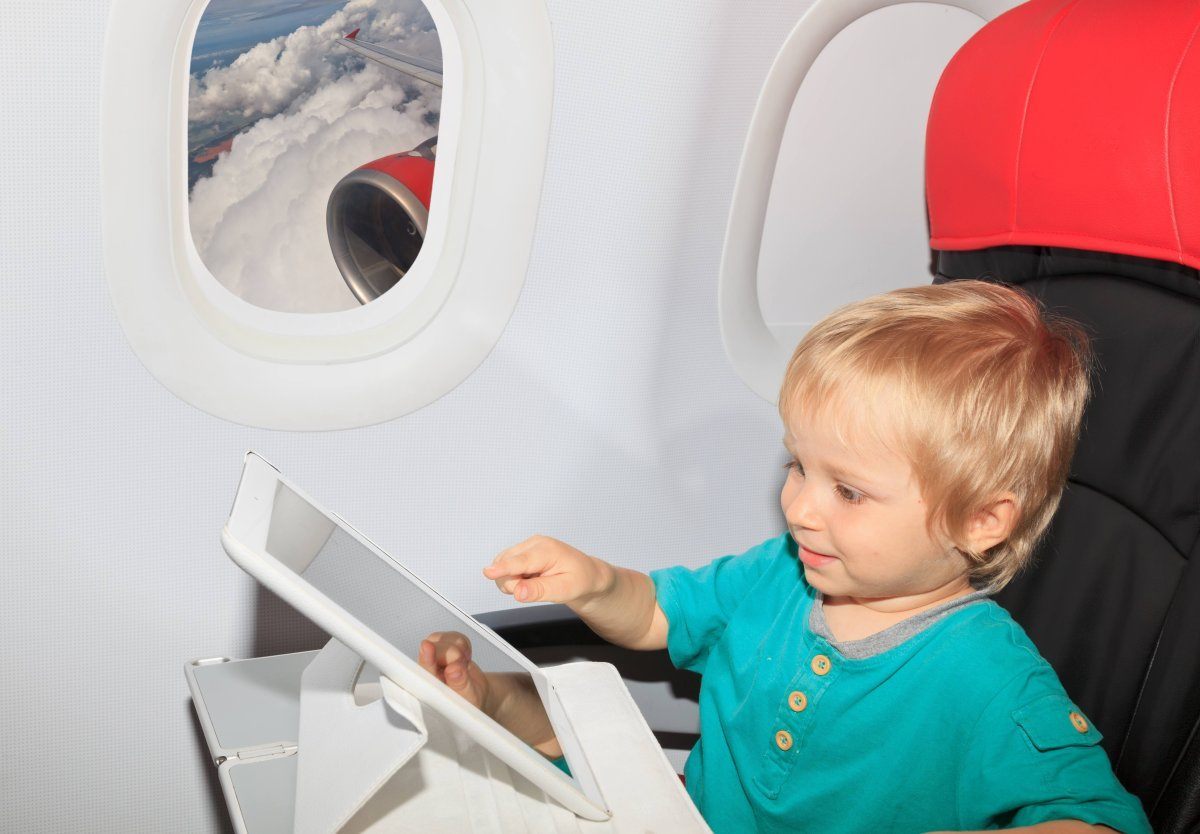 4. Prep Some Creative Projects Ahead of Time
Release your inner craft goddess and start looking on Pinterest for crafty ideas for plane rides. There are countless projects out there, from reusable window decals to creating I-spy bags to making barf-bag puppets that will keep kids occupied for at least a few minutes. Have a kit of play-doh, crayons, markers, stickers, pipe cleaners and the like at the ready and pull them out when something fresh is needed. Just leave the messy glitter and glue behind.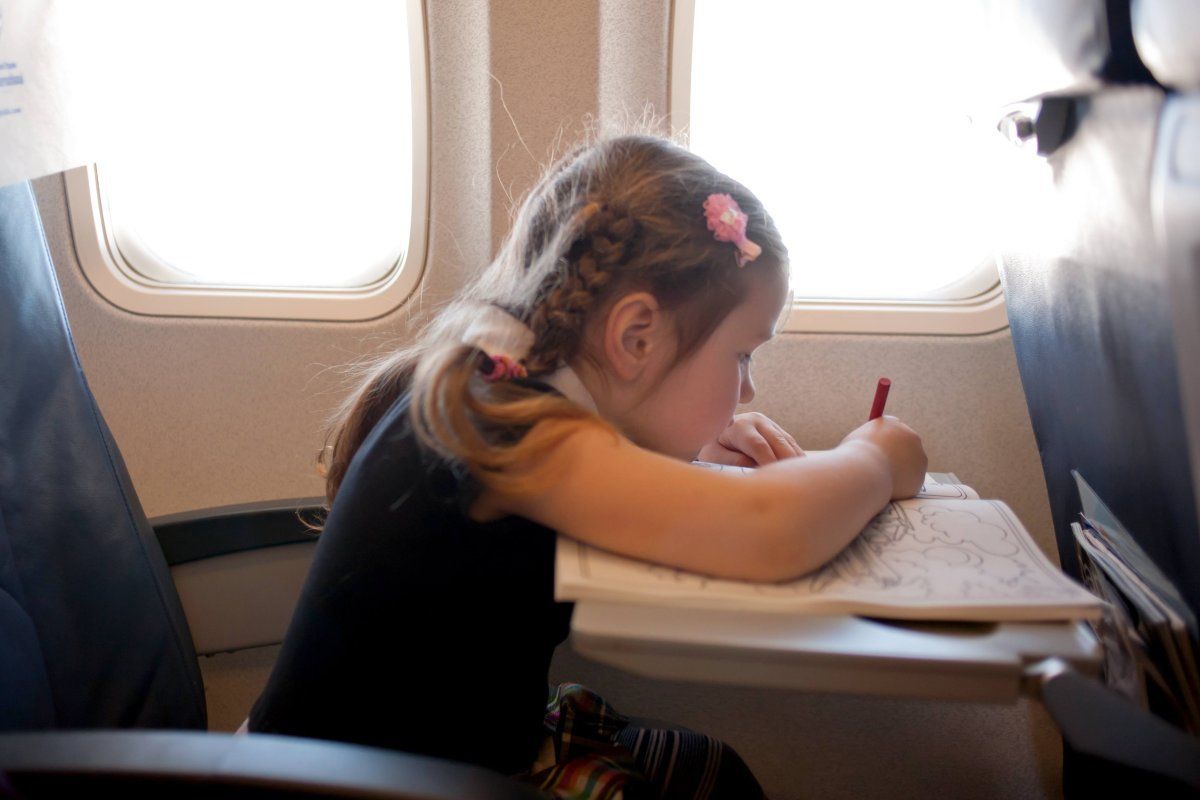 5. Request a Tour of the Cockpit
Kids are inherently fascinated with airplanes, the people who fly them and all those controls. It never hurts to ask if the kids can see the cockpit. It will depend on the pilots, crew and airline policy, of course, but it is often the highlight of the flight for kids. If they won't let you take a peak while in the skies, chances are they'll let you in before takeoff or after landing.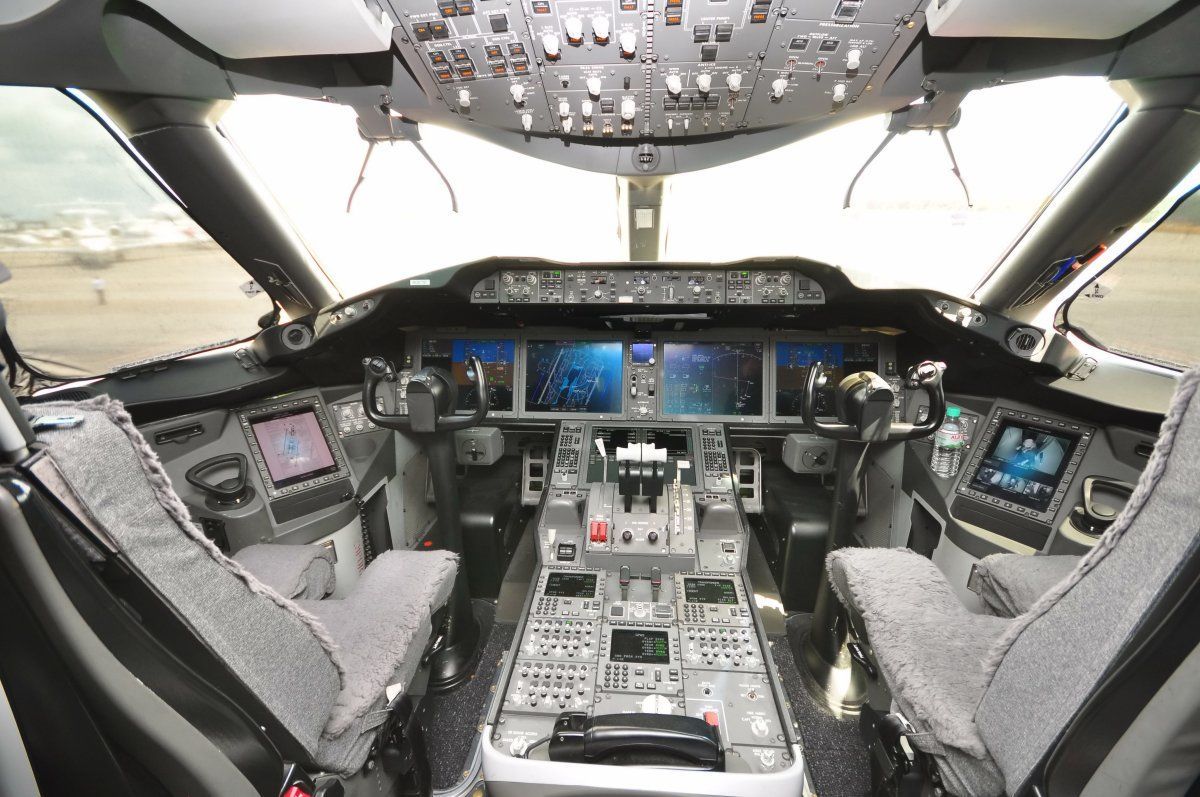 6. Keep Kids in the Loop
Flying can be an unfamiliar, intimidating and confining experience for kids. Even young children like to know what is going on and what to expect. Spend some time before the trip talking about what is going to happen inside the airport, how you will board the plane, which cities you will fly over and the proper behavior on an airplane. There is nothing worse than your child having a meltdown because you forgot to mention that there were no window seats available. Let them know ahead of time exactly how things are going to go and they might surprise you with their easygoing attitudes.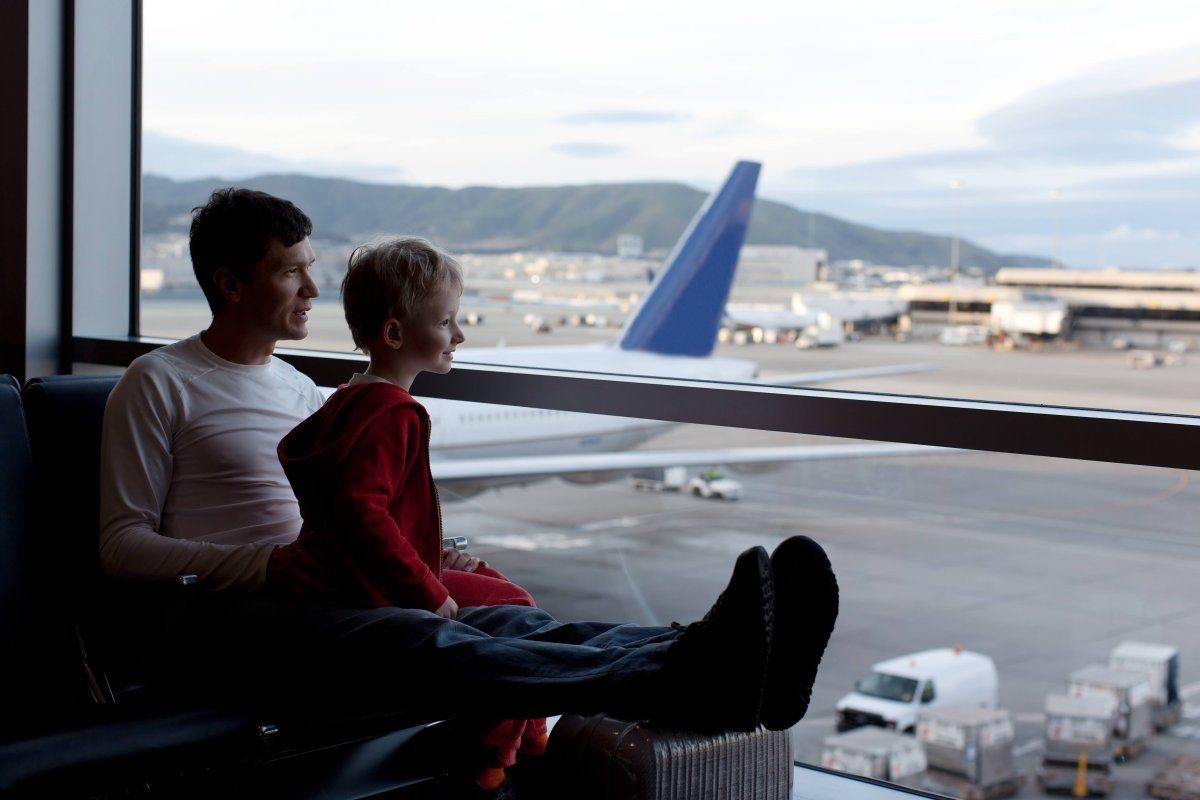 7. Bring Prizes And Surprises
What kid doesn't love prizes? Head to the dollar store and load up on little insignificant toys that you can wrap up in tissue paper to dole out throughout the flight. Your daughter behaved well for an hour, she gets a prize. Your son found Waldo in the Where's Waldo book before you, he gets a prize. Brother and sister worked together on solving a word search, prizes for both of them. You get the point. By wrapping the prizes up, it becomes more fun. Little ones might find the paper more interesting than the prize. Just make sure if you have more than one child to keep things equal. You're in deep trouble if they start arguing about whose prize is better.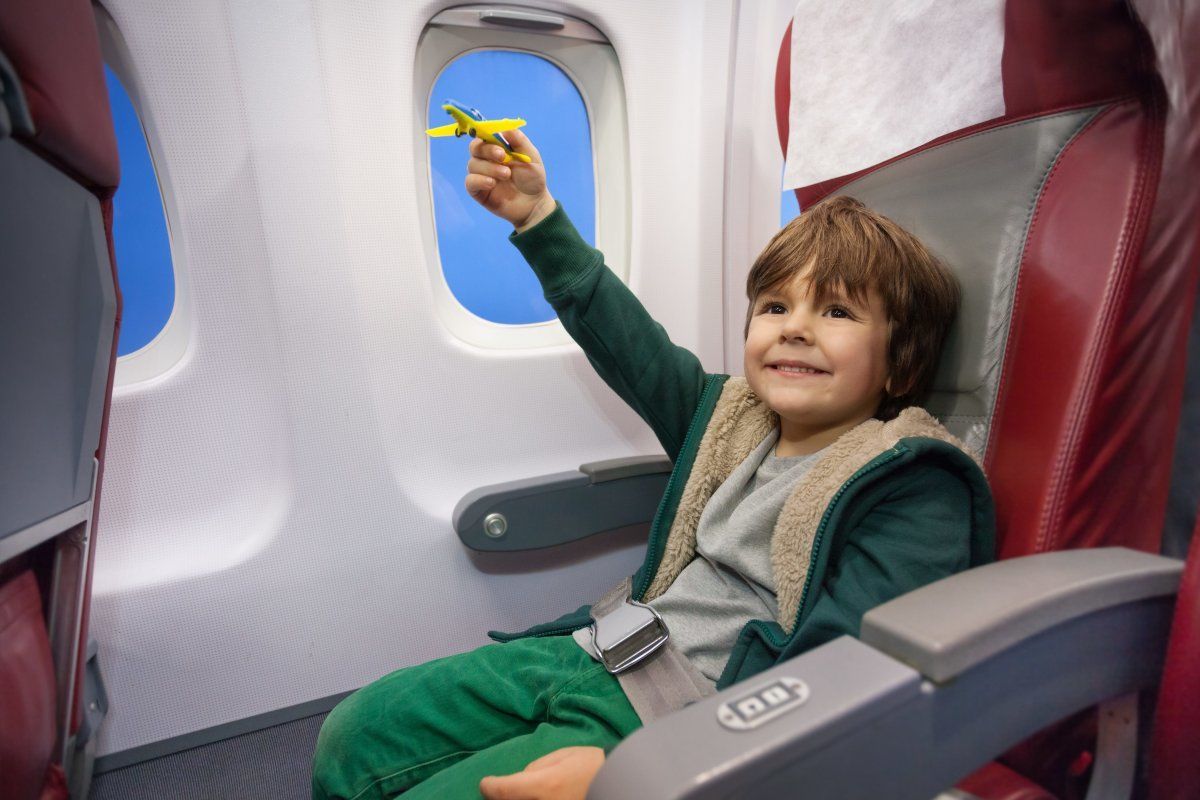 8. Time Your Flights Accordingly
This is one thing that makes flying easier for parents and kids, but we often forget about when making a booking. You want to time your flights appropriately to the age and schedule of your children. Flying midday with a 3 and 5 year old who are normally bursting with energy at that time isn't the best move. Perhaps a late night flight where they might fall asleep would be a better choice. For older kids who won't sleep on board, it may be better to take a day flight where they can read, talk and play on their tablets without disturbing other passengers. It's not always possible to time things perfectly, especially when availability or jet lag is a factor, but try your best.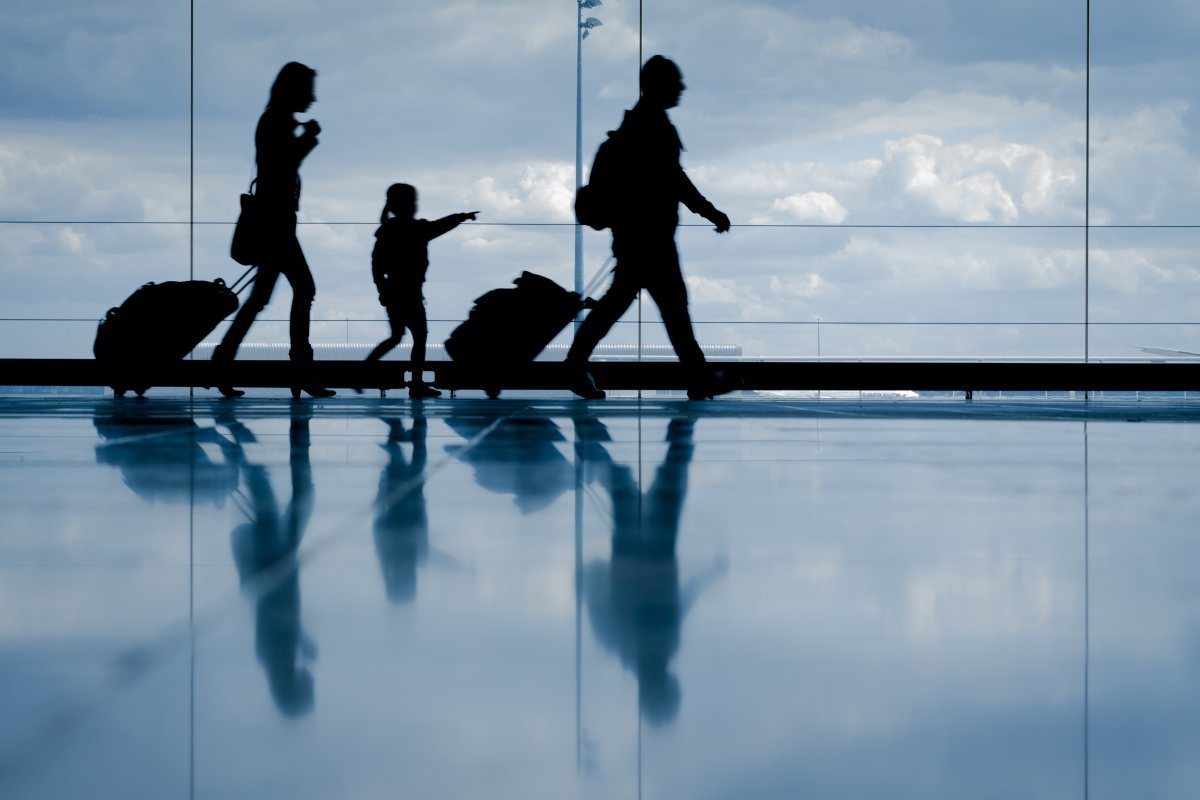 9. Bring Sleep Inducing Items
If you hope your child will grant you at least a few hours of shut-eye in the skies, bring along sleep inducing items to increase the odds. No, we are not telling you to drug your kids with Benadryl, mainly because this can often backfire and keep them wired and awake. We are merely suggesting you bring items with you that kids associate with sleep. Having their favorite stuffed animal, blanket or pillow to cuddle can help comfort them into slumber. Surrounding them with familiar scents, textures and rituals will hopefully lull them into a long snooze in the sky.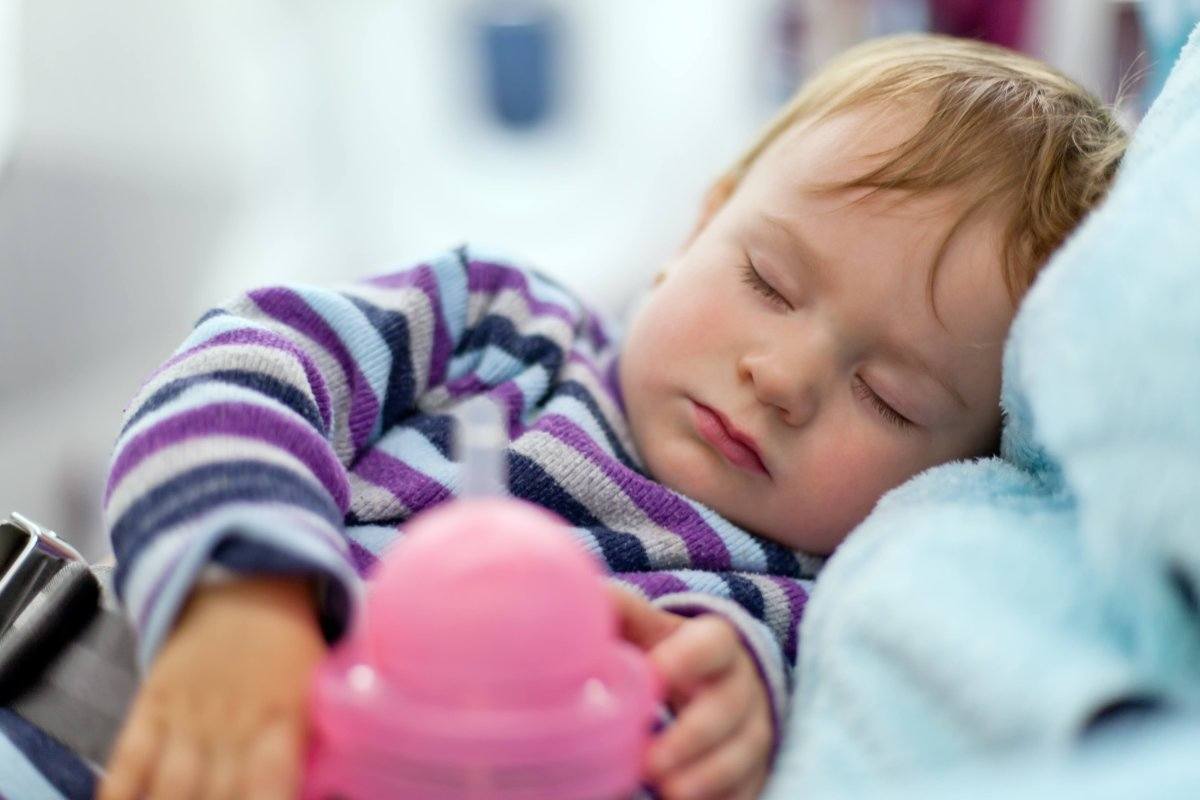 10. Have Fun Yourself
Nothing is more unsettling to a kid than watching their parents become stressed out on a flight. They feed off the energy around them and if you aren't calm and content, chances are they won't be either. Enjoy the adventure through your child's eyes, and have a little fun yourself. Put away any fantasies of "me" time when your on board with your kids. Embrace the quality time together. Engage them with activities and indulge them with some undivided attention. You may have to play endless rounds of tic-tac-toe or watch that kiddie movie for the 10th time, but some of the greatest opportunities to bond with your children occur in cramped airplanes.