We hate to burst your bubble but sometimes travel fantasies are a bit out of touch with reality. You may have a preconceived notion of what a famous landmark, location or attraction will be like, inspired by scenic postcards, glossy brochures and carefully curated websites that fuel your wanderlust. But when you actually go there, it's a bit of a letdown. When hitting the world's hot spots, it's best to keep grandiose expectations in check. You're probably not going to have the place to yourself, there may be garbage strewn about, and it might be less impressive than the hype has led you to believe. This is not to dissuade you from going there and seeing for yourself. It's always a thrill to see these icons in the flesh. Just be aware that some of these dream destinations may not be as majestic or impactful as you hope for. Read on to see what we mean.
1. Gazing at the Mona Lisa
On the must-see list of every tourist in Paris is the Louvre Museum and its famous da Vinci masterpiece, The Mona Lisa.
The trouble is, it's a lot smaller than most people think, and the mosh pit of other tourists pushing to get their token glimpse kind of takes the grandeur out of the experience.
When you do finally get up close, the bulletproof glass and reflections make it very hard to view and enjoy. Trust me, the pic below is better than actually being there.
2. Enjoying a Romantic Gondola Ride in Venice
What could be more enchanting than traversing the Venetian canals whilst being serenaded by your stripey-shirted gondolier? It's the perfect setting for romantic kisses and marriage proposals.
The reality is that it's more like bumper boats along these waterways, as the canals are clogged with these pricey vessels.
It costs about €80 for a 20-minute ride, and even more if you want a song.
No local Venetian would ever be caught in one of these tourist traps.
3. Strolling the Great Wall of China
The breathtaking Great Wall of China is on many a traveler's wish list. It took millennia to build this barrier, and walking along on this iconic Asian landmark must feel like stepping back in time.
The truth is it's more Disneyland than Ming Dynasty these days. The Badaling section closest to Beijing gets up to 70,000 visitors per day and is complete with cable cars, pulley rides, tchotchke shops, and snack bars. The less crowded Mutianyu section has cable cars and a slideway down, which may sound like fun to some visitors but it really takes away from the majesty of this historic site.
4. Soaking In an Idyllic Beach in Thailand
Stunning Maya Bay on Ko Phi Phi Lay, in particular, is the fantasy setting from The Beach that many travelers dream of escaping to.
The problem is hordes of travelers descend upon this bay, and its very popularity is what makes it less than idyllic. Are there other less touristy beaches in Thailand where you can escape the crowds? Sure, but we're not going to spoil them by telling you where there are. Discovering hidden gems yourself is half the fun.
5. Being Transfixed by the Taj Mahal
You can't go to Agra, India without seeing the Taj Mahal, the marble mausoleum built by Shah Jahan in 1631 in memory of his favorite wife. This marvelous monument to love is a world wonder you just can't miss.
However, like most must-see attractions, you're not going to be able to snap a selfie here without masses of other selfie-snapping tourists clamoring in the background. That and the air pollution kind of tarnishes the romance of the place. Avoid weekends and go at daybreak (like 6 am) to have the best shot of avoiding thick crowds – and often thicker air.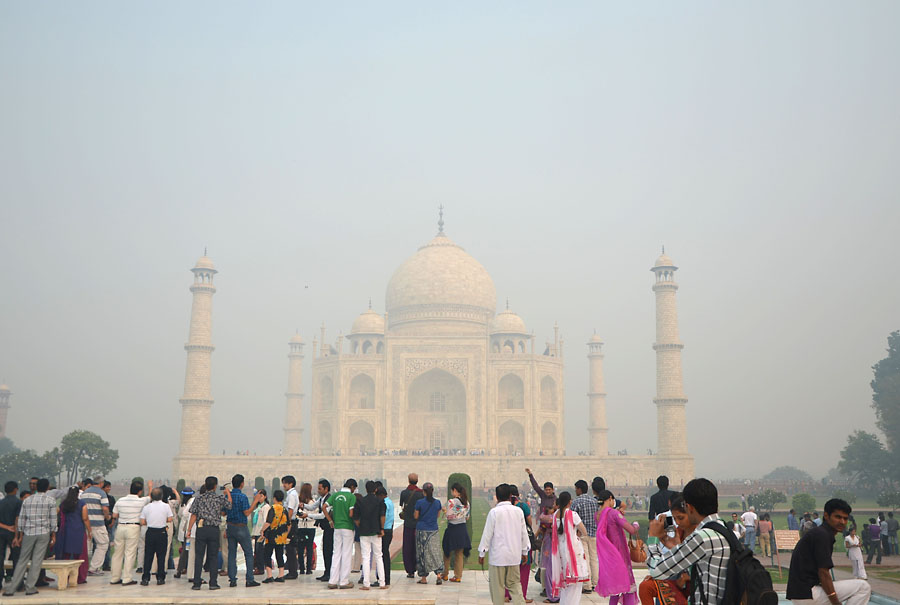 6. Perusing the Pyramids of Giza
You dream of visiting Egypt and its ancient pyramids amongst the desolate desert dunes, trusty camel at your side.
The reality is there's a Pizza Hut and KFC about 300 yards north of the Sphinx. It's also not quite the serene desert-scape of your imagination. It surprises a lot of people that the Pyramids of Giza are right on the edge of a bustling, congested city. What would Tut think?
7. Tossing Coins into the Trevi Fountain
When in Rome, you simply have to stop by the Trevi Fountain to toss your coins in, just like in the movies Roman Holiday, Three Coins in the Fountain and La Dolce Vita. Bernini's Baroque masterpiece beckons.
You'll definitely be rubbing shoulders with masses of other coin tossers, though. With great crowds come great pickpockets, so keep your guard up while rummaging for change here. Note, gelato sellers jack their prices up around touristy places like this, too, so you might want to get your fix elsewhere.
8. Trekking to the Top of the World in Everest
Many intrepid adventurers set their sights on conquering mighty Mount Everest or at least trekking to basecamp to see this pristine Himalayan peak up close.
Sadly, it's not all that pristine around the world's tallest mountain. In fact, it has the unfortunate nickname of "the world's highest garbage dump." Climbers often leave litter, empty oxygen bottles, shredded tents, and other materials out there in their quest to make it back alive. And speaking of, there are quite a few dead bodies up there from the poor souls who didn't make it. They say the average climber generates around 18 pounds of garbage, and they are starting to crack down on those who don't bring back what they took up.
If you think you'll be relatively alone at the top of the world, think again. These days, summiting Everest is big business, and there can be traffic jams of climbers snaking their way up the peak.
9. Seeing Copenhagen's Fairytale Little Mermaid
All the guidebooks tell you a visit to the iconic statue of Hans Christian Andersen's Little Mermaid is a must when in Copenhagen.
The local Danes scratch their heads at this one, though, as its really just a small unimposing bronze statue at the waterside of Langeline promenade, a bit of a walk from the center of town. She's been decapitated, disarmed, knocked off her pedestal, draped in a Muslim headscarf and otherwise vandalized over the years, but she remains a symbol of the Danish capital. A million tourists flock here each year to get their token snapshots – you need the patience to wait your turn with this camera-toting crowd. You might as well join the throngs and take your shot too, but please don't be one of the morons that try to climb the rock or grope her boobs. That's just rude.
10. Visiting Beijing's Forbidden City
Beijing's biggest draw is the Forbidden City just off Tiananmen Square, which served as China's grand Imperial palace from the Ming to Qing dynasties.
It would be magnificent if it weren't for the 14 million annual visitors pushing their way through the complex each year. Of course, you can't expect to have the place to yourself like you're the last emperor, but the crush of people can be daunting and detract from the experience. Avoid weekends, public holidays and fair-weather afternoons to have a fighting chance.
Furthermore, air pollution in Beijing can be a problem. Sometimes the air is so choked up you can barely see the place.
11. Swimming with Dolphins
Many a tourist, young and old, dreams of swimming with dolphins, and there are plenty of tour operators around the world who can arrange such an encounter either in the wild or in a captive setting. Swimming alongside a pod in the wild is magical if you happen to be at the right place at the right time, but some of the more contrived "dolphin swims" are a little offensive.
Sure, the pics of dolphins kissing your cheek or you riding on their backs are awesome but think about how the dolphins feel about being manhandled and manipulated like this. These intelligent mammals deserve a little more respect than being our photo fodder.
And please, if you are still compelled to do this, think twice about grabbing and crowding the beautiful creatures.
12. Taking in the Ancient Wonder of Machu Picchu
It's definitely a wow to gaze upon the ancient Inca ruins of Machu Picchu high in the Peruvian Andes.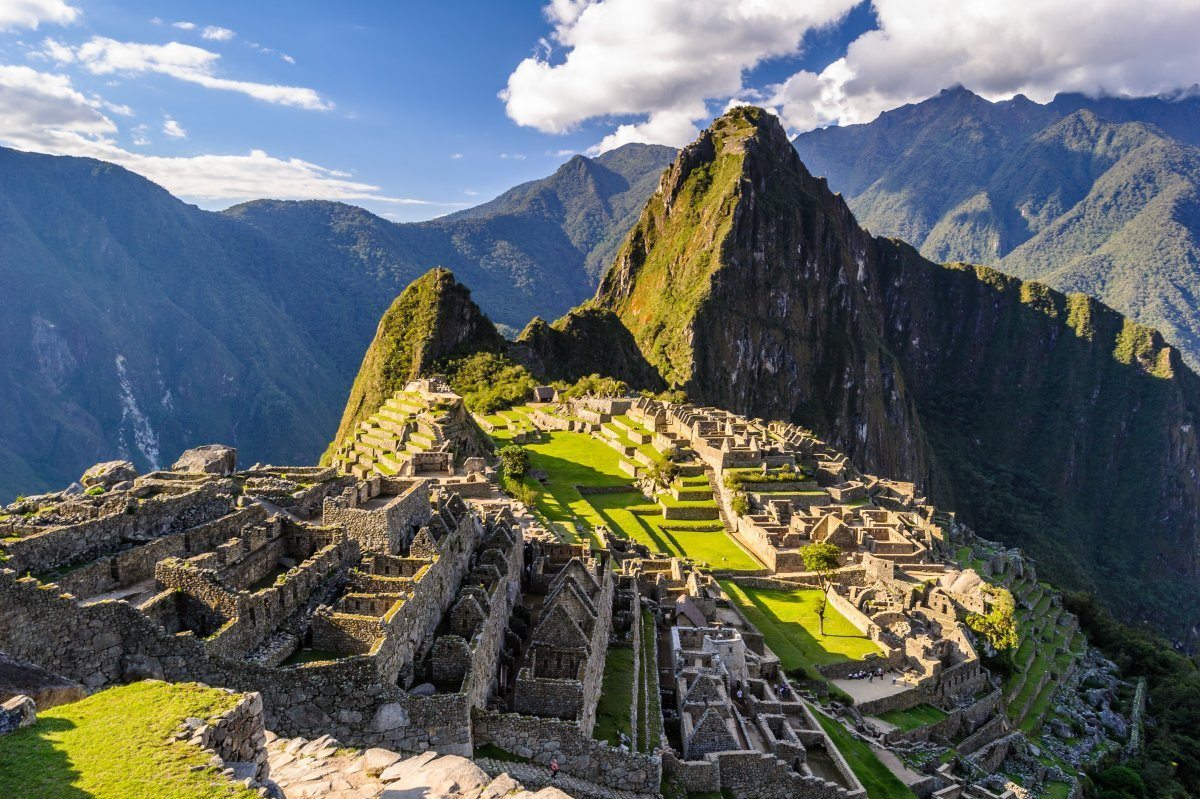 The site was abandoned for centuries, but since its rediscovery in 1911, it has been restored into a World Heritage site and major tourist attraction, so expect to see plenty of others taking in the site.
Even if you opt to trek up the Inca Trail on your own steam, you're not going to avoid the crowds. You may find pockets of peace along the path, but the campsites (and toilets!) are chockablock these days.
13. Fulfilling your Family's Fantasies with a Dream Trip to Disneyland
It's almost a parenting requirement these days to plan a pilgrimage to a Disney theme park with your cherubs at some point. After all, it's "The Happiest Place On Earth", right?
Once you get there, though, brace yourself for cranky kids, occasional tears, dreary line-ups, expensive food, potential character scares, overtired toddler tantrums and all sorts of other not-so-happy moments. Not trying to be a downer here, but it's better to be prepared for the worst with some realistic expectations.
14. Having a Romantic Moment on the Spanish Steps
Like the Trevi Fountain, Rome's Spanish Steps are in every guidebook to the Eternal City, so we are all compelled to go there at some point on our Roman holiday.
Just know that you'll be sharing your romantic moment with hundreds of other tourists, too. Try to go early morning or late afternoon if you want to get a picture without the multitudes.
15. Admiring the Grand Canyon at Sunrise
Seeing the sunrise overlooking the spectacular Grand Canyon is definitely one for the bucket list.
Loads of other people have the same bucket list, though, so expect to share the moment with other early risers. Usually, the other tourists are pretty respectful of this magical moment and tend to be in quiet reverie themselves, so you can still appreciate the majesty even if the scenic viewpoint is a tad crowded.
16. Soaking in Iceland's Blue Lagoon
Iceland is no longer off the beaten track, and their tourist boom has encouraged many travelers to discover it's natural wonders like the geothermal mineral baths of the Blue Lagoon.
Located a short drive from the airport, lots of tourists are bused here during layovers, so the waters are usually pretty thick with other travel-weary bodies. It's still pretty impressive if you don't mind soaking in "people soup." Ask a local for a recommendation of a less-touristy hot spring or thermal pool if you are seeking a more authentic, less crowded mineral dip. Iceland is full of them.
17. Experiencing the Majesty of Uluru
The biggest draw to the Red Center of Australia is the mighty monolith, Uluru (formerly known as Ayer's Rock). Witnessing this red rock resonating at sunup or sundown is truly magical, and you can see why it's considered a sacred site to the local Aboriginal people.
However, even though the Aboriginals strongly discourage people from climbing their sacred site, throngs of tourists continue to make the trek to the top, and a chained pathway helps them clamor up the steep slope.
Cheesy photo ops like this guy hitting a golf ball off the top of Uluru add to the offensive nature of the insensitive climb. There are other ways to take in this breathtaking site without being an oaf about it.
18. Kissing the Blarney Stone
Blarney Castle has done some good PR over the years, as many visitors to Ireland feel the need to visit County Cork just to kiss the famous Blarney Stone.
Whether or not puckering up gives you the gift of gab is undetermined, but it is rather off-putting to line up and go through the upside down ritual, pressing your lips to the same slobbery stone as thousands of tourists have done before you.
19. Gawking at the Glamor of St. Tropez
The Cote d'Azure has an allure of glitz, and many people flock here to partake in the glamorous life in towns like St. Tropez, Cannes and Nice, hoping for their own Bardot moment.
We're not saying the south of France doesn't have its charms, but the beaches tend to be rocky, crowded and full of pricey chairs that take some of the magic away from the dreamy experience.
20. Shopping at Harrods in London
No trip to London is complete without a visit to its grand upmarket shopping mecca, Harrods, the colossal retail emporium of Knightsbridge.
The sad truth is Harrods has gone a little "tacky tourist" and Vegas in recent years, as evidenced in the gaudy Egyptian decor around one bank of escalators. It's now owned by Qatar investors, so it's lost some of that classic British aura it once had. Still, the Food Hall is definitely worth a visit, just be prepared for crowds and exorbitant prices.