It may endure subzero temperatures, but Antarctica is becoming one hot tourist destination. Once only the domain of explorers and scientists, the remote and forbidding landmass is now accessible to adventure-seekers on a variety of package tours. The question is, should it be?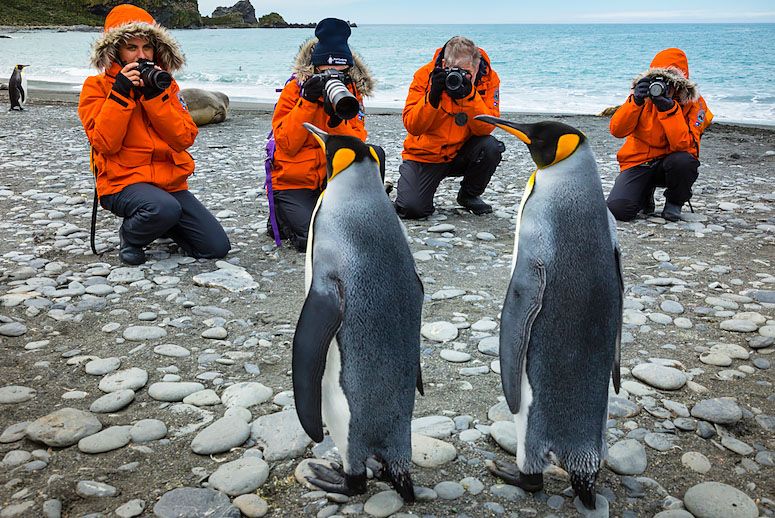 Tourism to the southernmost continent emerged in the 1950s, with just a trickle of fare-paying passengers getting a shipboard glimpse of the surreal coastline. In 1966, Lars Eric Lindblad led the world's first citizen-explorer tour to Antarctica aboard a chartered Argentine freighter. He took 57 pioneering travelers where no tourists had gone before, essentially opening up the category of expedition tourism. In 1969, the MV Lindblad Explorer became the first purpose-built cruise ship to ply the icy waters around the bottom of the world. Regular sightseeing flights took off in 1977, primarily from Australia and New Zealand, adding a new way for tourists to see this spellbinding setting.
Today's extensive list of tours have evolved so you can not only see Antarctica via ship, yacht, dive boat, icebreaker or plane, many include zodiac landings or helicopter transport so that tourists can explore the magical area on foot, partake in frosty adventure sports and even stay a while.
On the high end, you can enjoy a luxury polar safari at the recently revamped White Desert camp in the interior of Antarctica. Billed as the world's most remote lodging, it has been operating for a decade and has hosted luminaries like Prince Harry, the Saudi Royal family, bigwig CEOs and Bear Grylls. Despite the inhospitable climate, visitors are far from "roughing it" here.
The main campsite consists of six heated igloo-shaped "sleeping pods," complete with en suite bathrooms and decked out with bespoke furnishings and sustainable amenities. Guests enjoy cold-weather activities like kite-skiing, ice climbing, abseiling, trekking into ice caves, visiting working scientists or an optional overnight South Pole excursion. After the day's fun, guests can convene in the exquisitely appointed library lounge and then indulge in a sumptuous three-course meal in the formal dining room.
White Desert operates on a zero-impact policy. The solar powered field camp is a temporary installation, only operating in November to December. All waste is exported and disposed of in Cape Town, their home base. They run 4 or 5 trips per season, for either eight or 11 nights, hosting a maximum of 12 guests at a time.
The cost? A mere $72K per person. But, hey, that's all-inclusive with round-trip flights from South Africa.
On the other end of the travel spectrum, you can opt to visit on a small ship, such as a converted Russian research vessel, without the bells and whistles of a cruise liner. Some people have scored last minute half-price tickets for around $5000, but you have to be flexible and lucky to land these deals.
The average Antarctica trip runs around $10,000 and significantly upwards, depending on the dates, length of the trip, activities pursued and comforts provided. Factor in flights to a gateway point (usually Argentina, Chile, Uruguay, South Africa, New Zealand or Australia). This is not a budget destination by any stretch of the imagination, but those that make the splurge exclaim it's an unparalleled trip of a lifetime.
What intrepid traveler wouldn't want to brag about taking the polar plunge, kayaking around icebergs, visiting historic huts, summitting Antarctic mountains, SCUBA diving in icy waters, encountering penguin colonies and witnessing whales, seals, seabirds and other wildlife in some of the most spectacular scenery imaginable? There are even two annual marathon races held down there for extreme sport enthusiasts. For many, Antarctica is the ultimate dream trip for the ice bucket list.
In the 1998-1999 season, only about 10,000 tourists ventured to Antarctica, but as of the 2006-2007 over 46,000 made the trek (dipping down to 36,700 in the 2014-2015 season). That's hardly mass tourism when compared to other popular destinations, but for such an eco-sensitive region at the center of climate change concerns, choosing to travel there is becoming controversial.
Make no mistake, important steps have been taken to ensure that the pristine wilderness is protected and preserved in light of this tourism uptick. All human activities are bound and regulated by the Antarctic Treaty, which 53 nations have signed to ensure that "Antarctica shall be used for peaceful purposes only." The treaty obliges tourism operators to obtain special permits to enter the region and meet special conditions such as having secure on-board waste disposal systems and airtight food packaging.
The International Association of Antarctic Tour Operators, founded in 1991, has also come together to promote safety and environmental responsibility among commercial tourism operators there. They've voluntarily implemented restrictions on the numbers of people allowed ashore at a time (currently 100) and established minimum staff-to-passenger ratios. Large cruise ships carrying more than 500 passengers are no longer allowed to schedule shore excursions. IAATO has developed wildlife watching guidelines, emergency medical evacuation protocols and regulations for pre- and post-visit activity reporting. Bio-security is also taken seriously. Visitors are literally vacuumed for seeds and contaminants before stepping onto the ice, and are prohibited from leaving anything behind, including, um, yellow snow.
Yet despite all this vigilance, there is still an impact when humans visit such a remarkable, relatively unspoiled environment, and some are questioning if tourist thrills are worth the ecological risks.
There have been a few tourist-related accidents to date. In 1979, an Air New Zealand plane on a scenic flight crashed into Mount Erebus, killing 257 tourists and crew on board. In 1989, an Argentine resupply vessel carrying tourists ran aground on the Antarctic Peninsula, spilling about 160,000 gallons of fuel. In 2007, a cruise ship hit an iceberg in the Bransfield Strait and sank. Everyone was rescued, but the vessel now lies at the bottom of the sea along with 50,000 gallons of diesel, 6,300 gallons of lubricant and 260 gallons of gasoline. Thankfully, these incidents didn't cause catastrophic damage to the fragile and biodiverse ecosystem, but the frigid climate makes clean-up and rescue complicated and the threat of future disasters looms as more boat traffic and scenic flights venture there.
There are also concerns about human interaction with the local wildlife residents. While the voluntary guideline is for visitors to get no closer than 15 feet to the animals, the curious creatures often come to check them out. Sure, it makes for awesome selfies, but tourists' presence may have a disrupting impact on sensitive breeding grounds and nesting sites.
Most zodiacs land at the same points along the partly ice-free "banana belt" of the Antarctic Peninsula. Having people trample upon the same lichen-covered landings no doubt leaves some scars, and the various adventure/sporting activities promoted down there are potentially damaging as well, no matter how eco-friendly they attempt to be. The risk of accidentally bringing in invasive species is another inherent threat of increased influx of visitors.
With average temperatures 3 degrees warmer than they were 50 years ago and glaciers melting at alarming rates, climate change is wreaking its own havoc on the region and, indeed, the world. Although technically a desert, Antarctica holds about 70 per cent of the earth's fresh water in its ice sheets. Its vital importance to life on Earth cannot be stressed enough. Perhaps tourism is an added environmental pressure Antarctica could do without.
On the other hand, there is an upside to Antarctica tourism, too. It is a driving force in conservation, helping to educate people about the delicate destination. People privileged enough to visit first-hand tend to be well informed, influential and concerned with environmental protection. With no indigenous population to stand up for its preservation, these visitors become vocal ambassadors for the vulnerable continent.
Some consider Antarctica to be the final frontier on a planet that has all but been explored, exploited and commodified. They fear bringing boatloads of camera-toting tourists to this scenic, sacred territory may spoil the very untouched wilderness that draws them there.
But banning tourism altogether is an extreme, impractical goal. The best we can hope for is to keep asserting the responsible, sustainable standards set out by the Antarctica Treaty and IAATO, and to vigilantly monitor the situation so that the environmental impact is minimal.
Like it or not, the 2016-2017 tourist season is about to begin, and 65 IAATO vessels are registered for trips to this ethereal icescape. Whether it's ethical to set foot in a land as pure, pristine and precarious as Antarctica is something you'll have to reconcile for yourself.