There are hundreds of thousands of hotels around the globe, from massive oceanfront resorts to quaint retreats in the middle of nature. This makes choosing the best accommodations for your getaway trickier than ever. That's why we decided to come up with this list of the 50 best resorts in the world to make your life a bit easier when it's time to book your next vacay.
1. Hotel Sofitel Moorea Ia Ora Beach Resort – French Polynesia
Elegant, sophisticated, and classy are just a few of the words used to describe this hotel. The Sofitel luxury chain hit another homerun when they opened the Moorea Ia Ora Beach Resort. The 100 romantic overwater bungalows provide maximum amounts of privacy, along with private terraces all decked out with modern, Polynesian-style decor.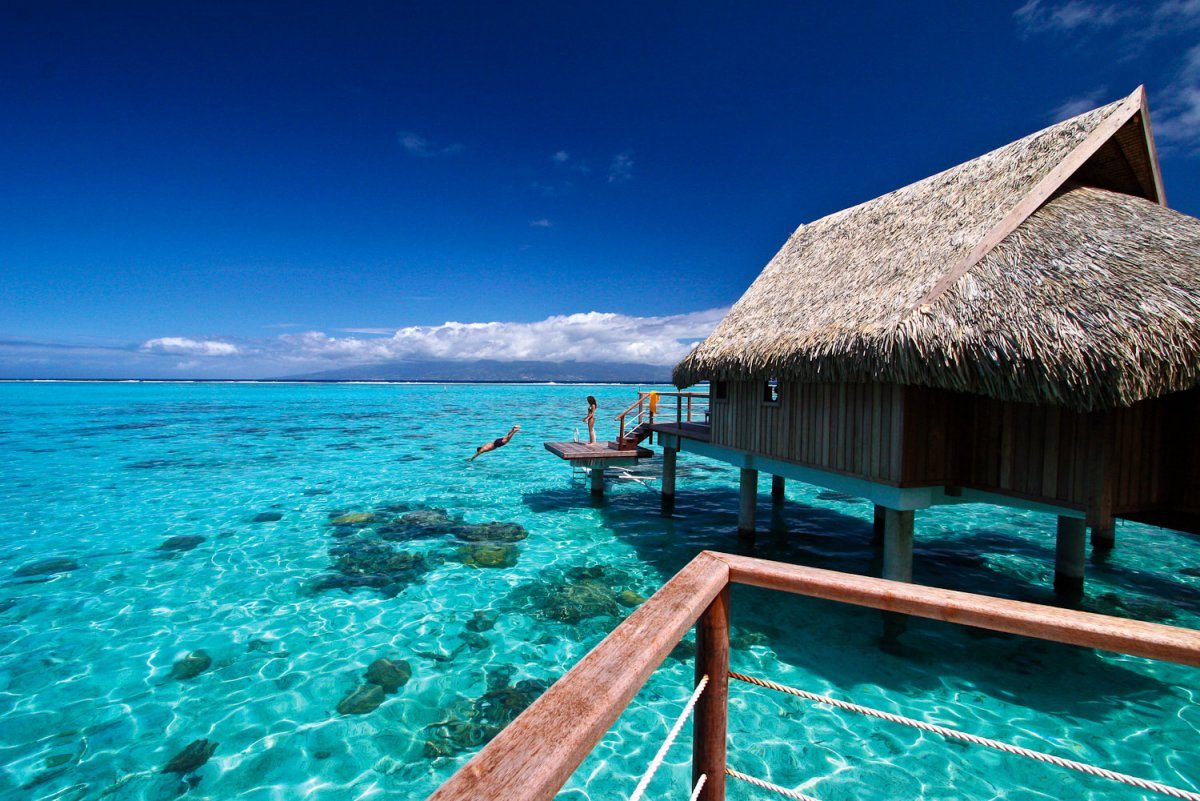 2. Soneva Kiri By Six Senses – Thailand
Take a break from the hustle and bustle of everyday life and venture off into the untamed jungles of Koh Kood, Thailand. The Soneva Kiri is tucked deep within the rainforest with direct access to Thailand's pristine beaches. This resort is more than just a place to relax and unwind. The staff is available to help you immerse yourself into Thai culture with on-site educational programs and traditional cooking lessons.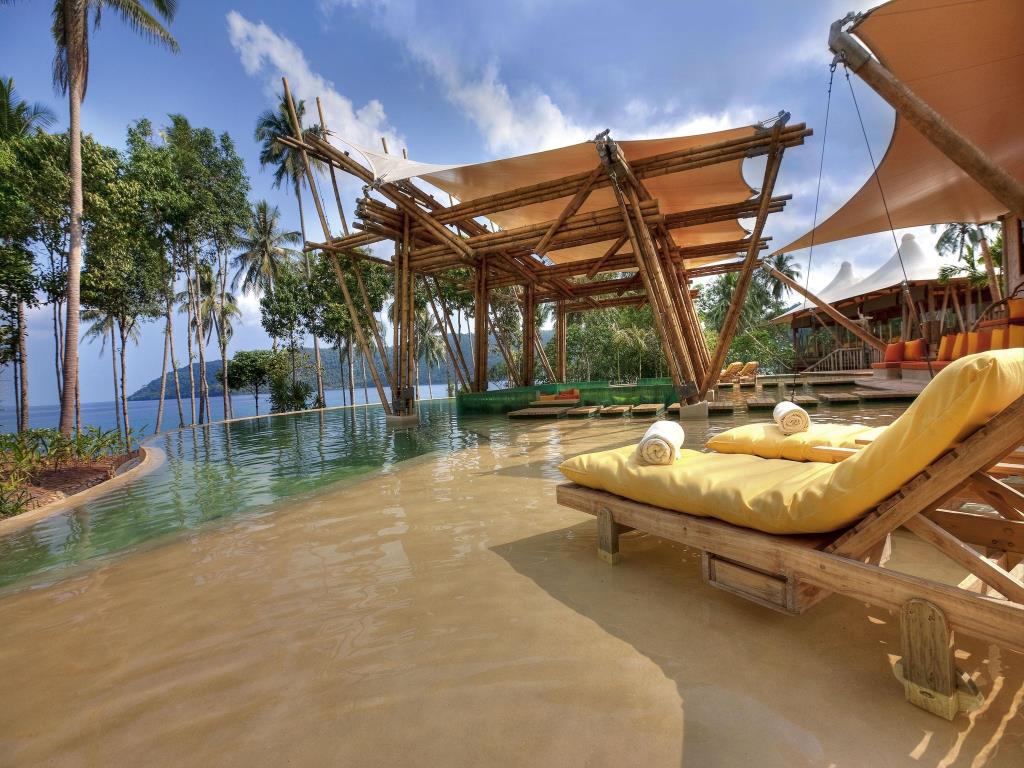 3. Oberoi Rajvilas – Jaipur, India
The five-star Oberoi Rajvilas will run you over $600 per night, but it's worth every penny. This breathtaking resort sits on 32 acres of land in the city of Jaipur. Built around an 18th century Shiva temple, you'll feel like you stepped back in time from the moment that you arrive.
4. The Atlantis – UAE
The glitzy city of Dubai has plenty of luxury hotels, but The Atlantis is a tourist favorite for plenty of reasons. Visitors flock to its open-air aquarium that allows daring individuals to swim with the sharks. This resort is also just a short drive away from Aquaventure Waterpark – which will surely come in handy when you're vacationing in the hot Arabian Desert.
5. Jumby Bay Island – Antigua
Jumby Bay Island just reopened in October 2017, and the staff is ready to pamper you and cater to all of your needs. Located off the coast of Antigua, the 40 villas are only accessible by boat, and once you arrive, you'll fall in love with this all-inclusive resort. Four miles of private, sandy beaches are the perfect spot for you to work on your tan, or perhaps you'd rather spend your vacation on one of the resort's tennis or volleyball courts.
6. andBeyond Matetsi River Lodge – Zimbabwe
If you're looking for a hotel that's close to the thunderous Victoria Falls, andBeyond Matesti River Lodge is the perfect choice. This lodge has a rustic feel, but it's full of all the modern amenities most travelers crave. With just nine suites, the lodge provides an intimate setting and a quiet place for you to rest your head before your head out into nature and explore all of what Zimbabwe has to offer.
7. Banyan Tree Spa Sanctuary – Phuket, Thailand
Another quaint and intimate hotel is Banyan Tree Spa Sanctuary in Phuket. There are only 14 villas available, and they're each equipped with luxury amenities, including private pools, indoor and outdoor showers, and al fresco dining areas for you to enjoy a meal while taking in all of the breathtaking sights.
8. The Lodge & Spa at Brush Creek Ranch – Saratoga, WY
Built on over 30,000 acres of land, The Lodge & Spa in Saratoga, Wyoming is the perfect destination for nature lovers. Decorated like a traditional dude ranch, it also includes luxury bedding, suites furnished with leather couches, and dazzling chandeliers. If you require even more luxury, the lodge's Magee Homstead includes nine seaparate cabins that come with their very own concierge service.
9. GoldenEye Hotel Race Course – Oracabessa, Jamaica
Be apart of literary history when you visit GoldenEye Hotel. This is the place where author Ian Fleming reportedly came up with the idea for the character James Bond. Since then, the estate has been converted into a 52-acre oceanfront resort in the heart of Oracabessa.
10. Anantara Hua Hin Resort – Thailand
This 14-acre resort is surrounded by lush gardens that were designed to resemble a traditional Thai village. As if the outside weren't gorgeous enough, your jaw will drop once you see what the inside has in store for you. Handcrafted wood furniture can be found in each and every room, and with nine restaurants and lounges available, you'll be able to eat as much Thai cuisine as your heart desires.
11. Sanctuary Cap Cana – Dominican Republic
Leave the kids at home and head out to the adults-only Sanctuary Cap Cana in the Dominican Republic. The colonial-style resort sits on 30,000 acres of land, complete with five restaurants and multiple pools surrounded by pristine gardens. Stunning views of the beach are right outside the back door thanks to the hotel's ideal location right on the coastline.
12. Jade Mountain – St. Lucia
In the middle of St. Lucia, the spacious Jade Mountain includes 29 open-air suites that are ideal for a romantic getaway. You can easily stay inside the hotel throughout your entire stay because there's plenty for you to do that will keep you entertained. Cooking classes are held at night, as well as rum tastings. For dinner, award-winning chefs provide delicious tasting menus that infuse Caribbean flavors into each and every dish.
13. Sanctuary Chief's Camp, Moremi Game Reserve – Botswana
Sanctuary Chief's Camp has the feel of a rugged lodge with an array of elegant finishes. The 10 suites include private plunge pools, indoor and outdoor showers, and viewing decks for you to gaze into the Okavango Delta. And of course, this is also the perfect place to get a peek at the Big Five. The hotel provides open-air jeeps and canoe rides so you can see Botswana's wildlife up close and personal.
14. Cal-a-Vie – Vista, California
You'll think you just stepped foot inside a French chateau once you visit Cal-a-Vie in Vista, California. This gorgeous resort is where the luxury traveler goes to unwind and destress. Tennis courts are on site, or you can take a boxing, yoga, or pilates class. The staff also leads daily sunrise hikes, spin classes, and spa treatments to ensure that you leave feeling rejuvenated!
15. Amanyara – Turks & Caicos
Amanyara is a combination of the Sanskrit word for "peace" and the Arawak word for "place." So what does that mean exactly? Well, you'll surely be at peace in this calm and serene retreat. Located in Turks & Caicos and off the beaten path, Amanyara is an eco-friendly hotel that was built with fortified materials. Just a few steps away is Northwest Point Marine National Park where you can peruse the grounds and learn all about this protected area of land.
16. L'Horizon Resort & Spa – Palm Springs
Most hotels in Palm Springs were built to accommodate Hollywood's superstars of the '50s and '60s who wanted to escape the spotlight. One of those places was L'Horizon Resort & Spa. When it opened in 1952, it was the go-to spot for producer Jack Wrather to unwind. Today, it has 25 bungalows with floor-to-ceiling windows to bring the outdoors inside.
17. Excellence Playa Mujeres – Cancun
This adults-only resort has 450 rooms and suites for those who want to relax in one of Mexico's most popular destinations. Excellence Playa Mujeres is an all-inclusive resort that has nine restaurants serving up everything, from traditional Mexican cuisine to sushi and Indian dishes. Take a dip in one of the seven pools, or get a full-body massage in one of the resort's soothing spas.
18. Four Seasons Resort Seychelles
All 67 villas in this five-star resort come with their own rain shower and infinity pools right outside their back doors. Designed with Creole and French colonial influences, the Four Seasons in the Seychelles provides top of the line service to make each guest feel right at home.
19. One&Only Hayman Island – Queensland
When One&Only Hayman Island opened in 2014, it immediately became the go-to resort for those traveling to Queensland. Built in the center of a tropical paradise, the beach is just steps away, and over 550 different types of plants can be found on the property. Guests can choose to stay in the lush villas or in one of the extravagant penthouses. This resort is also perfect for all travelers, whether they're on a family vacation or on their honeymoon.
20. Viceroy – Bali, Indonesia
The indoor-outdoor feel of the Viceroy brings the nature inside of this gorgeous hotel in Bali, Indonesia. Thatched-roof villas come equipped with plush furniture and their own private decks. Just check out this picture. The views of Bali are stunning from the rooftops!
21. Pink Sands Hotel – Dunmore Town, Bahamas
Since the Pink Sands Hotel opened in the 1950s, it has been visited by some of Hollywood's most notable figures, including Keith Richards and Martha Stewart. This quaint resort only has 25 suites, each with one or two rooms. You'll enjoy being away from the hectic city life once you enter the relaxing atmosphere of one of the Bahamas' most iconic hotels.
22. Komandoo Maldives Island Resort – Maldives
You can't go wrong with whichever hotel you book in the Maldives, but we definitely think Komandoo is one of the best on the islands. The adults-only resort is only accessible by a 45-minute flight from Velana International Airport, and it's worth the extra travel time. Once you arrive, you can enjoy your all-inclusive package, which consists of poolside drink service, sushi-making classes, daily meals, live entertainment, and jet ski rentals at no extra charge. But simply walking down the boardwalk as you watch the sun set in the distance is magical enough!
23. Shambala Private Game Reserve – Vaalwater, South Africa
What do you get when you mix a luxury spa all decked out in traditional Zulu decorations? The answer is: Shambala Private Game Reserve. You can get the best of both worlds at this camp, so don't worry about going out on a safari and returning all worn out and disheveled. The spa staff will whip you right back into shape in no time!
24. Naladhu Private Island Maldives – South Malé Atoll
If you want to stay on a private and exclusive resort that focuses on creating a low-key atmosphere for its guests, look no further than Naladhu Private Island Maldives. There are only 19 suites available, which means this intimate accommodation is the perfect place to escape your hectic life and release some stress. Each suite has its own infinity pool and private gardens.
After you're done soaking in the tub (that's big enough for two, BTW), lather yourself up in the best L'Occitane toiletries before enjoying dinner in one of the resort's decadent restaurants.
25. Bahia Vik José Ignacio & Playa – Uruguay
Two and three-bedroom suites make up the Bahia Vik José Ignacio & Playa – the crown jewel in all of Uruguay. Outside of each window, take a peek at the gorgeous waves crashing in the distance while you sip a glass of wine on the deck of your casita.
26. Cuixmala – La Huerta, Jalisco
Brightly colored private villas and bungalows can be found at Cuixmala – a private estate in the city of La Huerta. The estate also sits on a private beach, and adjacent you'll find a 25,000-acre nature preserve. You can bring the entire family along, and there are plenty of activities available for guests of all ages, including horseback riding and fishing excursions.
27. Chiva-Som, Hua Hin, Thailand
Chiva-Som is all about getting you realigned and centered with its more than 200 holistic treatments. From gemstone therapy to traditional yoga, you'll really wonder why you never booked a trip to this Thai resort much sooner!
28. Bwindi Lodge, Bwindi Impenetrable Forest – Uganda
Overlooking the Bwindi Forest, this lodge is truly in the center of nature! Since it's situated in the middle of the Uganda jungle, gorillas frequently pay a visit and relax on the outskirts of the lodge. Guests can also relax in the central living space that has a roaring fireplace or enjoy a meal in the hotel's restaurant that serves up traditional cuisine.
29. Sofitel Bora Bora Marara Beach Resort
Built in 1977, the Sofitel Bora Bora is known for being the extravagant place for those who love to vacation in a tropical paradise. The private beach is the best place to watch the sunset, or guest can take a dip in the infinity lagoon pool after enjoying a drink at the swim-up bar.
30. Hangaroa Eco Village & Spa – Easter Island, Chile
This retreat is located in the southern region of Easter Island, and each of the 75 rooms provide gorgeous views of the water. Although it's five minutes from the busier side of town, you'll feel like you're on a deserted oasis. You can go on a quiet, sunrise hike every morning or climb on a horse and explore the surrounding areas.
31. Banyan Tree Cabo Marqués – Acapulco, Mexico
The Banyan Tree chain of resorts opened a beautiful retreat in Acapulco, Mexico in 2010. This hotel was designed with Asian influences, from the pitched roofs to the wooden decks. You can enjoy fresh fish and seafood in the oceanfront restaurant, Las Rocas Grill, or simply order room service and take in the views of the cliffs from the comforts of your elegant villa.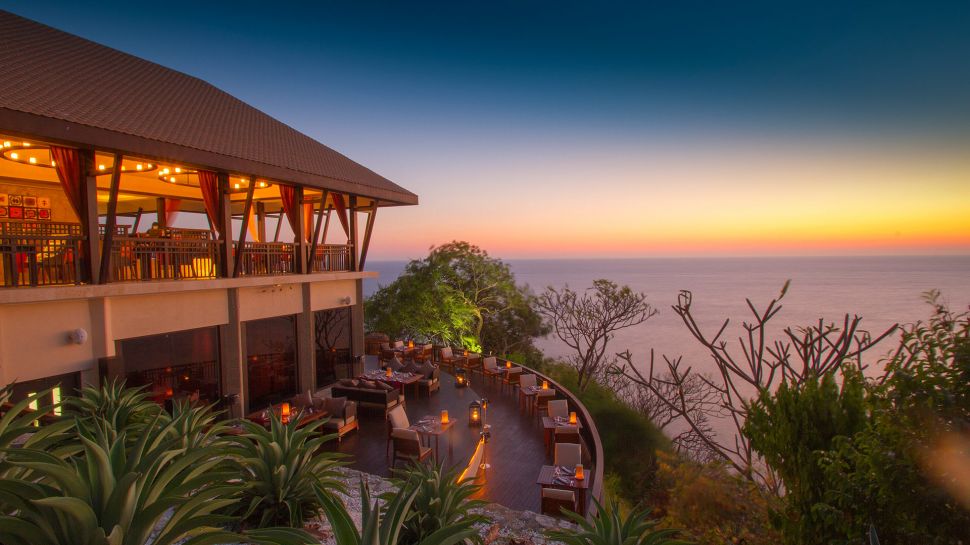 32. Four Seasons Resort Maldives at Kuda Huraa
Another Four Seasons resort to make our list is at Kuda Huraa. This resort was made for adventure seekers and water sports lovers. When you're not kicking back in your lavish suite, you can book a ride on the resort's catamaran or sign up for their surf school. If you'd prefer a more low-key stay, there are plenty of wellness treatments available in the on-site spa.
33. The Ocean Club – The Bahamas
Since 1962, those who don't think twice about paying top dollar to stay at a fancy hotel have been booking a stay at The Ocean Club. This hotel, and its 105 rooms, sits right in the middle of paradise. All of today's modern amenities are included, such as Wi-Fi, flat-screen TVs, and marble fixtures in the bathrooms. The surrounding gardens are immaculately maintained, and each suite comes with its own personal butler. Staying here is truly a five-star experience.
34. COMO Cocoa Island – Maldives
We've included a few resorts from the Maldives on our list, but we knew we couldn't leave out COMO Cocoa Island. This resort's 33 overwater bungalows are the epitome of a luxury accommodation. You'll be paying close to $1,000 per night, but it's worth it to be able to walk outside your bungalow's door and take a dip right into the blue lagoon.
This location is perfect for divers, from beginners to pros, because of the beautiful marine life. From colorful fish to vibrant coral, you'll be amazed by the magic that lies beneath the surface of the ocean.
35. Sanctuary Olonana – Kenya
Named after a Masai warrior, Sanctuary Olonana is one of Kenya's best retreats. You'll get the ultimate glamping experience in one of the retreat's 14 luxury tents. Traditional Kenyan cuisine is always on the menu, and the retreat will even put on a picnic in the bush during its game drives. If you're looking for a luxury safari experience, this one has your name written all over it!
36. Le Sirenuse – Poistano, Italy
The charming village of Positano, Italy is rich with Italian culture and heritage, and Le Sirenuse is no different. The hotel was built into the hillside to provide panoramic views of the beautiful city down below. Opened in 1951, the quaint suites also include terraces and marble bathrooms with soaking tubs that overlook the Amalfi Coast.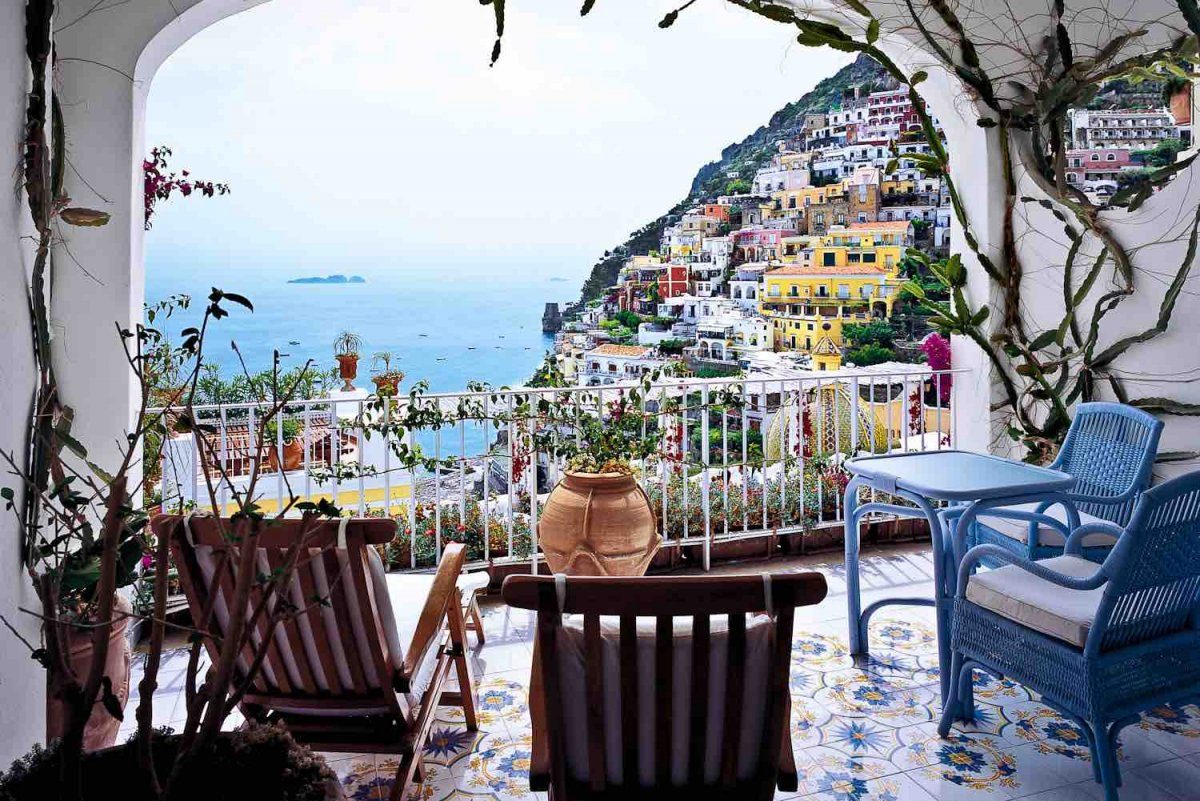 37. Mount Gahinga Lodge – Uganda
Talk a walk on the wild side and book a lodge that's right at the base of a volcano! Mount Gahina Lodge is situated at the Virguna Volcanoes, providing a thrilling experience for those who are captivated by nature. Travelers from far and wide choose this lodge as their resting place while they go gorilla tracking. Once the day is over, they can hang out in the lodge's sprawling living room and take in the marvelous views of the Kisoro Valley.
38. andBeyond Sandibe Okavango Safari Lodge – Botswana
Another andBeyond hotel to make the list is the Sandibe Okavango Safari Lodge in Botswana. This private lodge was reopened in 2014, complete with sweeping decks and outdoor lounges surrounded by fig trees. Africa's pristine landscape will make your jaw drop, especially the immaculate beauty of the Okavango and the variety of Botswana's wildlife.
39. Royal Chundu – Zambia
After your two-day game drive, head back to Royal Chundu – the private retreat in the middle of the beautiful country of Zambia. Located just 20 miles from Victoria Falls, this resort is not just about seeing the Big Five, travelers can also take advantage of its yoga retreats, open decks surrounded by Jackalberry trees, and stunning views of the Zambezi River.
40. Belmond Maroma Resort & Spa – Playa Del Carmen
Playa Del Carmen has emerged as the perfect spot for those who want to get away from the hustle and bustle of the party town of Cancun. Belmond Maroma Resort & Spa is Playa Del Carmen's gorgeous resort that's beautifully decorated with bamboo and handmade mahogany furniture. You'll find that every corner of this resort is focused on wellness and relaxation. Make sure to find one of the many hammocks on the grounds and feel free to doze off as the birds chirp in the distance.
41. Niyama Private Islands Maldives
In the Maldives, you'll find the pristine Niyama Private Island Maldives. It's known as the go-to destination for honeymooners, but it's also a great resort option for families, as well. To get your adrenaline pumping, you can take part in some of the watersport activities. If you'd rather relax, you can get a spa treatment in one of the over-water studios in their Drift Spa.
42. The St. Regis Princeville – Kauai
You can't go wrong with booking a St. Regis hotel, and we promise you won't be disappointed when you stay at the Princeville in Kauai. The 251-room resort is the luxury destination for travelers who want sweeping views of Hanalei Bay. This hotel has a very strict formal dress code, so if you're looking to throw on your flip-flops and your board shorts and walk around its 9,000 acres, this might not be the property for you. For those who don't mind getting all dressed up and looking spiffy, they'll find that the St. Regis is perfect for sophisticated travelers.
43. Grand-Hôtel du Cap-Ferrat – Saint-Jean-Cap-Ferrat, France
This hotel first opened its doors in 1908, and today it's operated under the Four Seasons brand, which means there's no shortage of luxury amenities. The Grand-Hôtel is an iconic fixture in Saint-Jean-Cap-Ferrat, and everyone from Pablo Picasso to Winston Churchill have stayed in its plush and glamorous suites. They close every year for winter break, but they'll reopen just in time for the busy season in March 2018.
44. Cheval Blanc Randheli – Maldives
This glamorous property in the Maldives is a recent addition to the tropical locale. Forty-five villas sit on the beautiful white sand beaches, and each villa comes complete with its own dedicated butler. You'll definitely have an unforgettable vacation at this LVMH-owned property.
45. Chablé Resort & Spa – Yucatán, Mexico
Chablé Resort sets the bar high in terms of spas and wellness retreats. It's a relatively new accommodation that was just opened in June 2016, but yoga lovers and Reiki enthusiasts have already uncovered how wonderful this retreat is. You'll be able to detox, relax, and unwind while surrounded by the vast jungle.
46. Unique Garden Hotel & Spa – Mairiporã, Brazil
The Unique Garden Hotel has 27 rooms scattered about the hillside retreat. For those who love to surround themselves with exotic flowers, the grounds are meticulously maintained by agronomists to ensure the gardens are always in pristine condition.
47. Caresse Resort & Spa – Bodrum, Turkey
Sixty-seven rooms and nine suites are decorated with modern and beautiful decor at this hotel. Views of the Aegean Sea can be seen from many of the suites, and the private beach is the ideal spot to catch up on some reading. The city of Bodrum is equally as beautiful, and guests of Caresse can tour the town's nearby castles or go on an exciting boat excursion.
48. The Trident Hotel – Port Antonio, Jamaica
With 13 sleek waterfront villas, this Port Antonio resort has everything you would want in an elegant retreat. Sweeping views of the coast provide a serene backdrop while you lounge in the infinity pool, enjoy a bite to eat at Mike's Supper Club, or while you're being serenaded by the tunes of some of Jamaica's local artists.
49. The Reef by CuisinArt – Anguilla
From exceptional cuisine to luxury amenities and panoramic views, The Reef by CuisinArt is the best all-suites resort in Anguilla. The contemporary design includes a fitness room, a media room, and a beachfront restaurant. Visitors can take part in the sunrise yoga class, meditate right in front of Merrywing Bay, or enjoy a relaxing game of golf on the 18-hole course.
As of the time this article was published, the resort was going through renovations due to the September 2017 hurricanes, but it has plans to reopen in April 2018.
50. Ulusaba – Sabi Sand, South Africa
This private reserve has two lodges with just 21 rooms and suites. When you're done being adventurous on your game drive, you'll find plenty to do at Ulusaba. Stiff cocktails can be found at the reserve's Rock Lodge, and the windows from your room will give you beautiful views of the Drakensberg Mountains.