A vacation is much more enjoyable when you can bring the entire family along to join in on the fun. But not all hotels are family-friendly, that's why we set out to find the best accommodations in the world that are perfect for travelers of all ages. Here are 50 of the best family hotels.
1. Amilla Fushi Resort – Maldives
Amilla Fushi is full of private residences that are beautifully designed with large parties in mind. You can choose between cabins situated near the lagoons or stunning tree houses with infinity pools. Beach villas are perfect for families with young kids as they include huge playrooms and kitchens equipped for enjoying family dinners. During the day, the little ones can hit up the kids' club and be entertained for hours on end.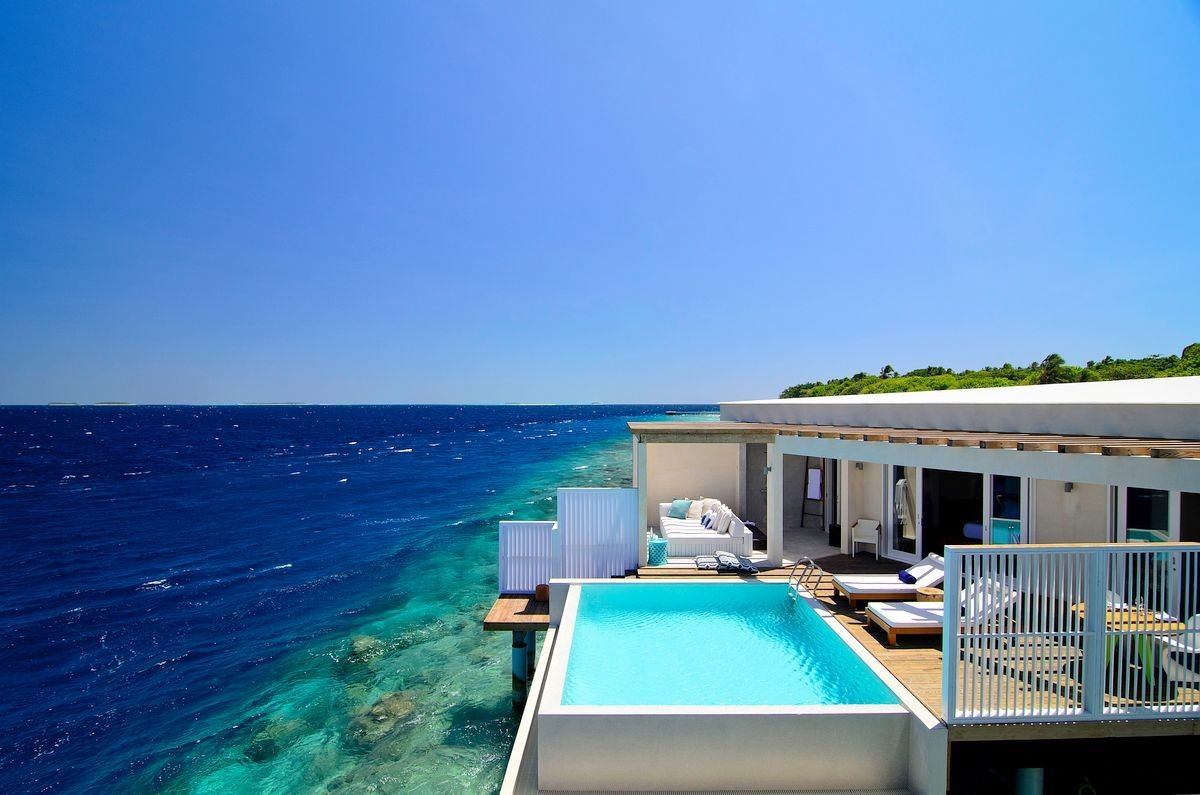 2. The Sagamore Resort, Bolton Landing, New York
There's no shortage of water activities for the entire family at the Sagamore. Right on Lake George with the Adirondack Mountains as a backdrop, the entire family can go swimming, fishing, or play basketball in the indoor recreational facility.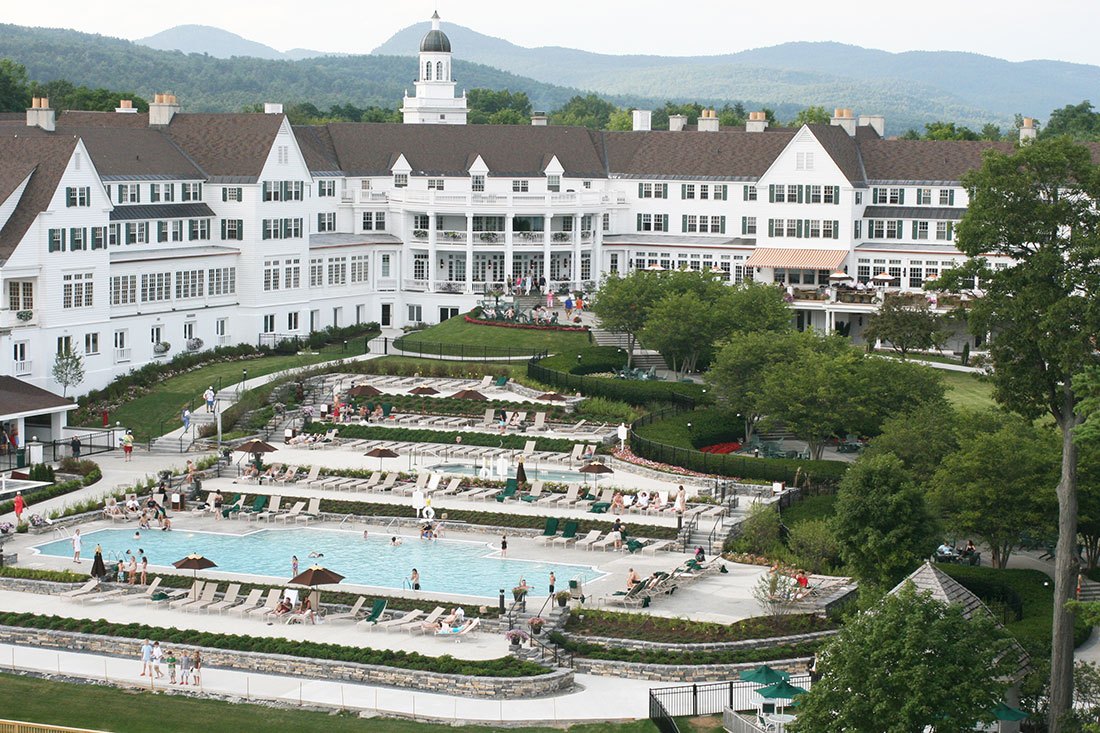 3. Disney's Yacht Club Resort, Lake Buena Vista, Florida
Disney resorts are known for being magical places filled with good old-fashioned family fun. The Yacht Club's nautical-theme means there are spacious balconies overlooking the water, a sand entry swimming pool for children of all ages, and a lazy river where the family can go tubing. To truly make it a vacation to remember, you can rent a boat and take it for a spin around Crescent Lake.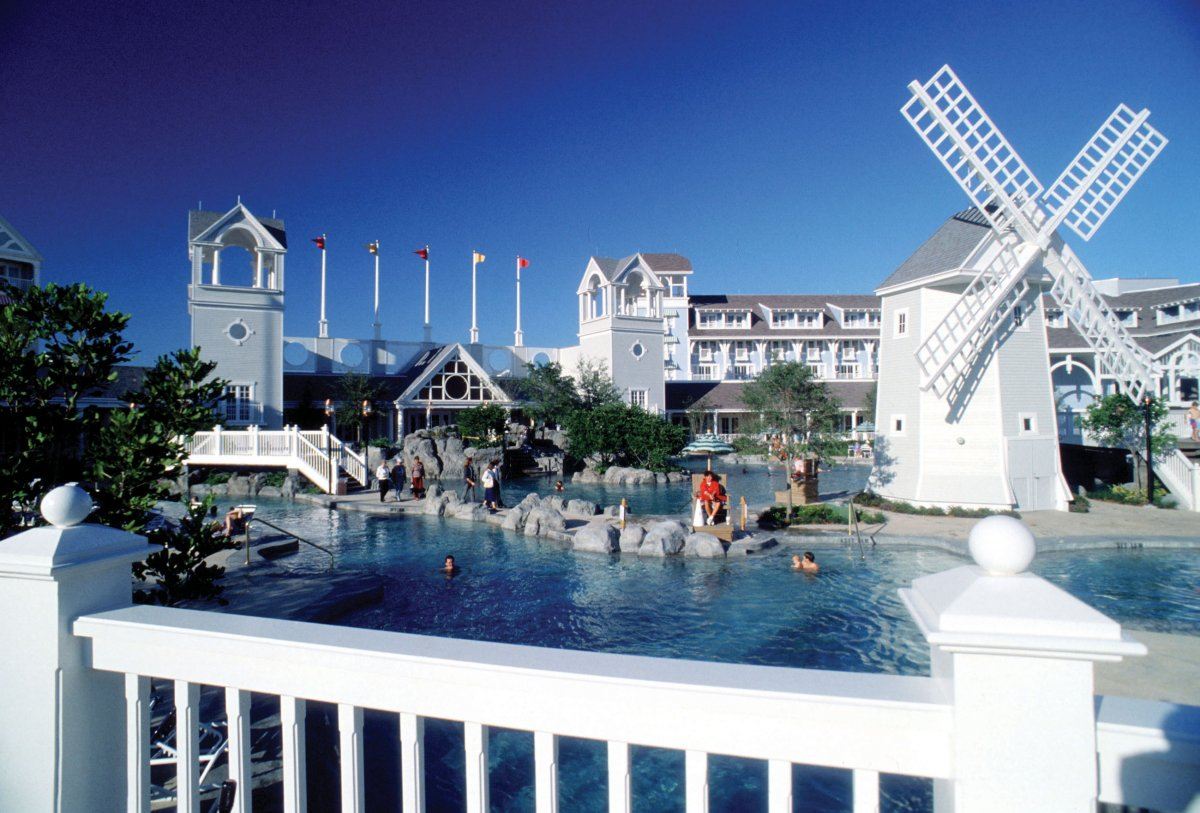 4. Soneva Kiri – Thailand
On the island of Koh Kood you'll find the family-friendly resort Soneva Kiri. Situated across 150-acres, each private villa has butler service and infinity pools. If you need a timeout from all the family fun, you can drop the kids off at The Den – the treetop kids' club – or Eco Den on the ground level that has cooking classes, movie nights, and obstacle courses.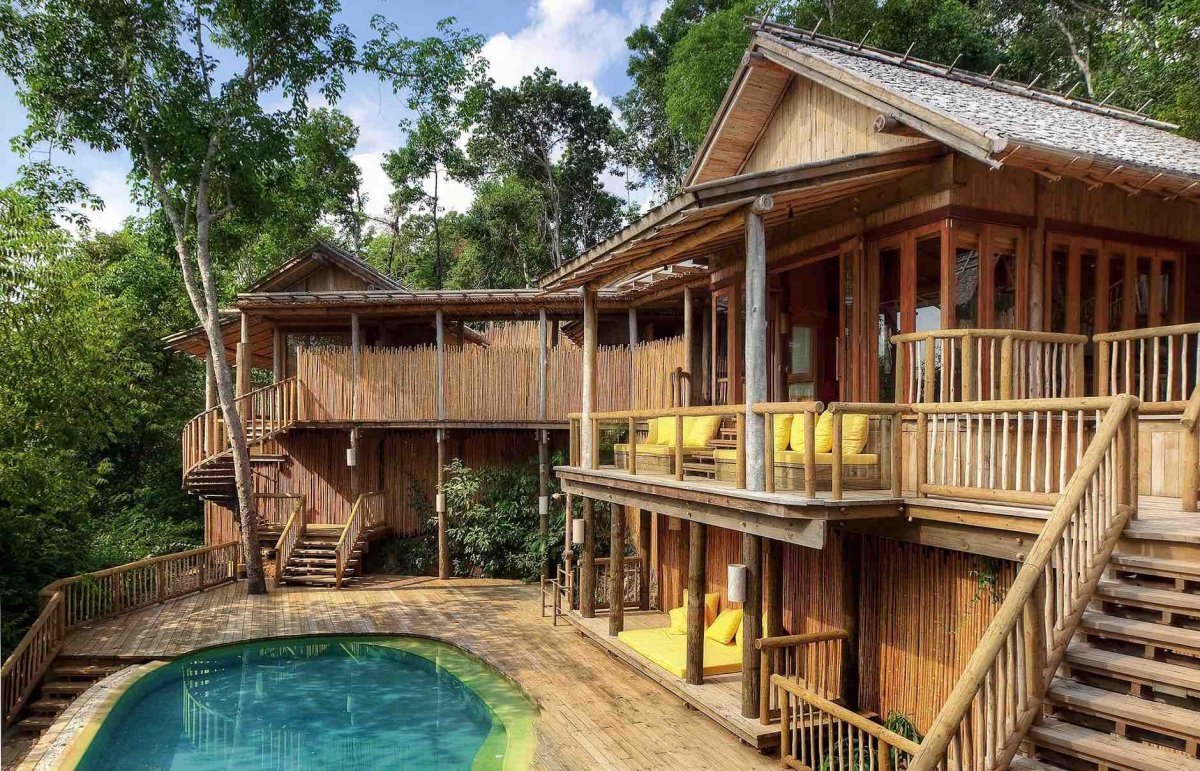 5. El Lodge – Spain
El Lodge is an outdoor enthusiast's paradise. The log cabins sit high in the mountains, so you're in close proximity to the ski slopes. After tearing up the fresh powder, the entire family can gather around one of the fireplaces to enjoy some warm drinks and great conversation.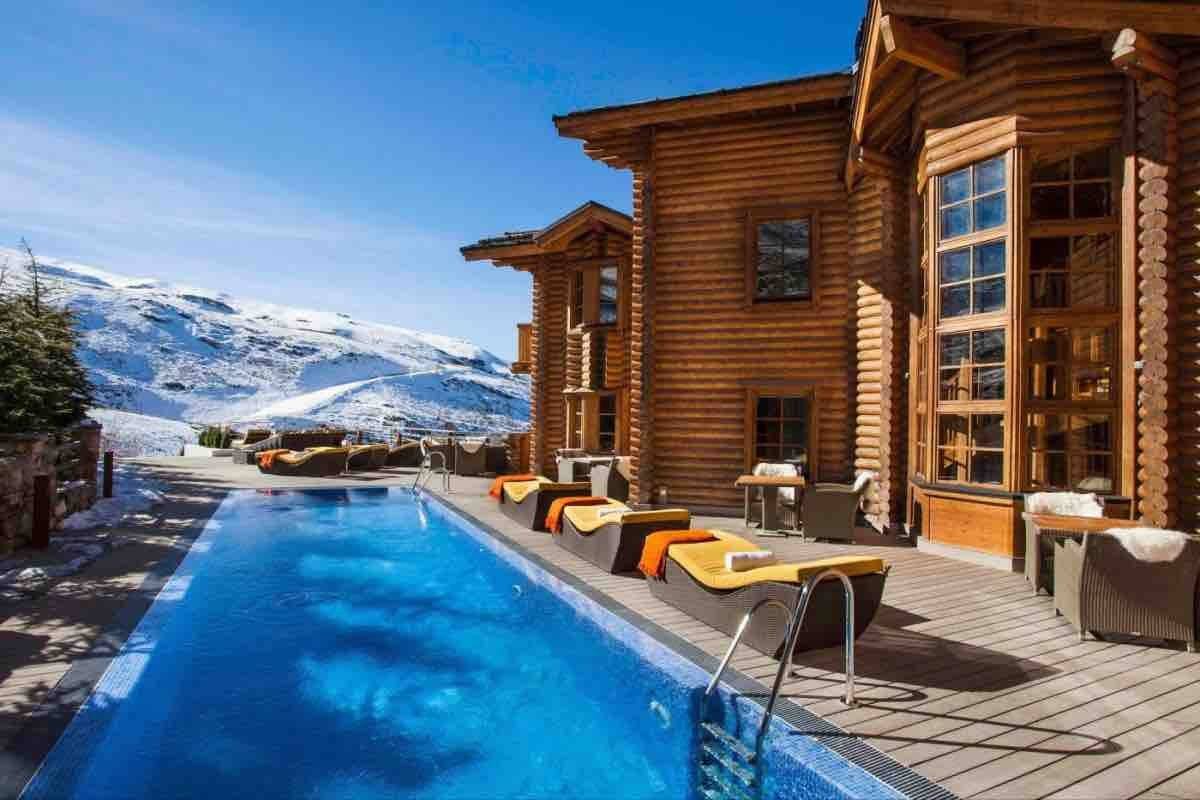 6. Grand Wailea – Maui
The Grand Wailea has nine pools equipped with waterslides, lagoons, waterfalls, and caves. There's also a man-made rapid and a picturesque grotto for the older guests in your group. If that doesn't excite you, you can always head out to the miles of beaches Maui is known for.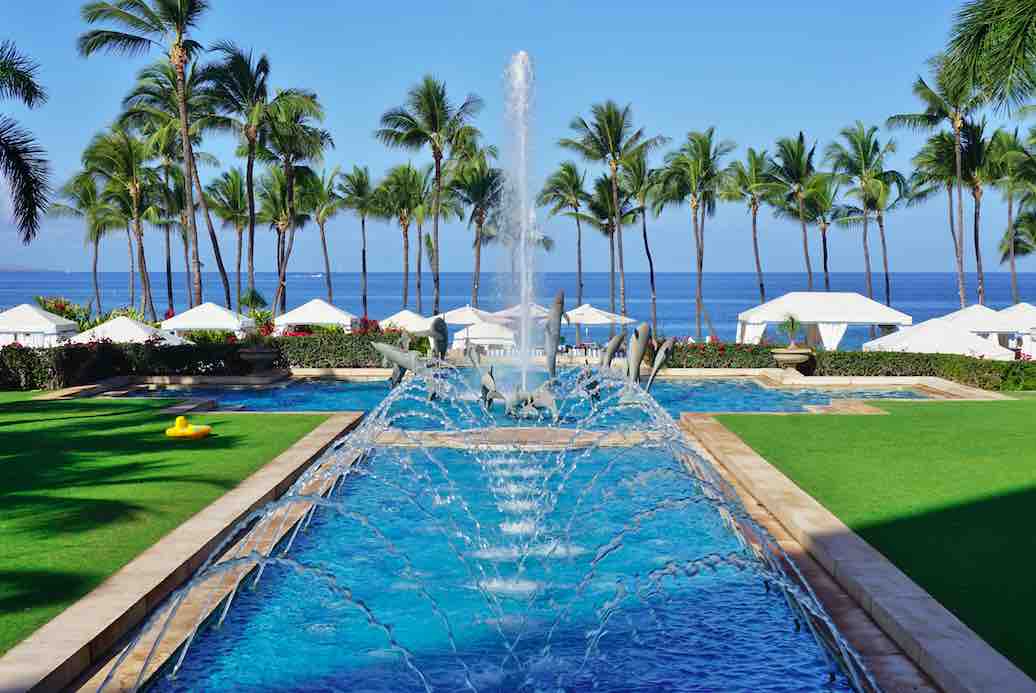 7. Pensao Agricola – Portugal
The farmhouse known as Pensao Agricola is in the heart of nature, complete with rustic rooms that are warm and cozy. Each room has its own private terrace, and miles of deserted beaches are just a short drive away.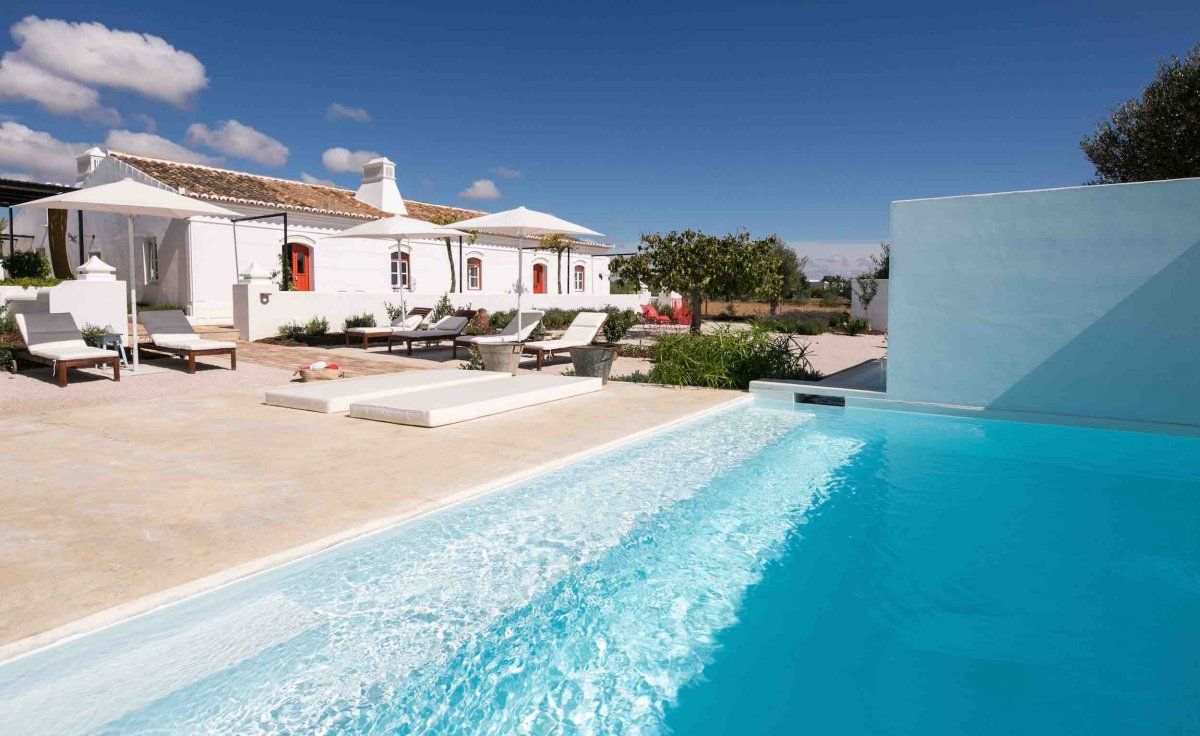 8. One&Only Cape Town – South Africa
One&Only is known for its lavish resorts, and its hotel in Cape Town is no different. Various apartments sit alongside a canal with outdoor daybeds that are perfect for taking a snooze. Many of the suites have direct access to swimming pools and the hotel's Nobu restaurant. There are also so many activities available for adventurous kids, including penguin feeding sessions and the chance for them to swim with the sharks.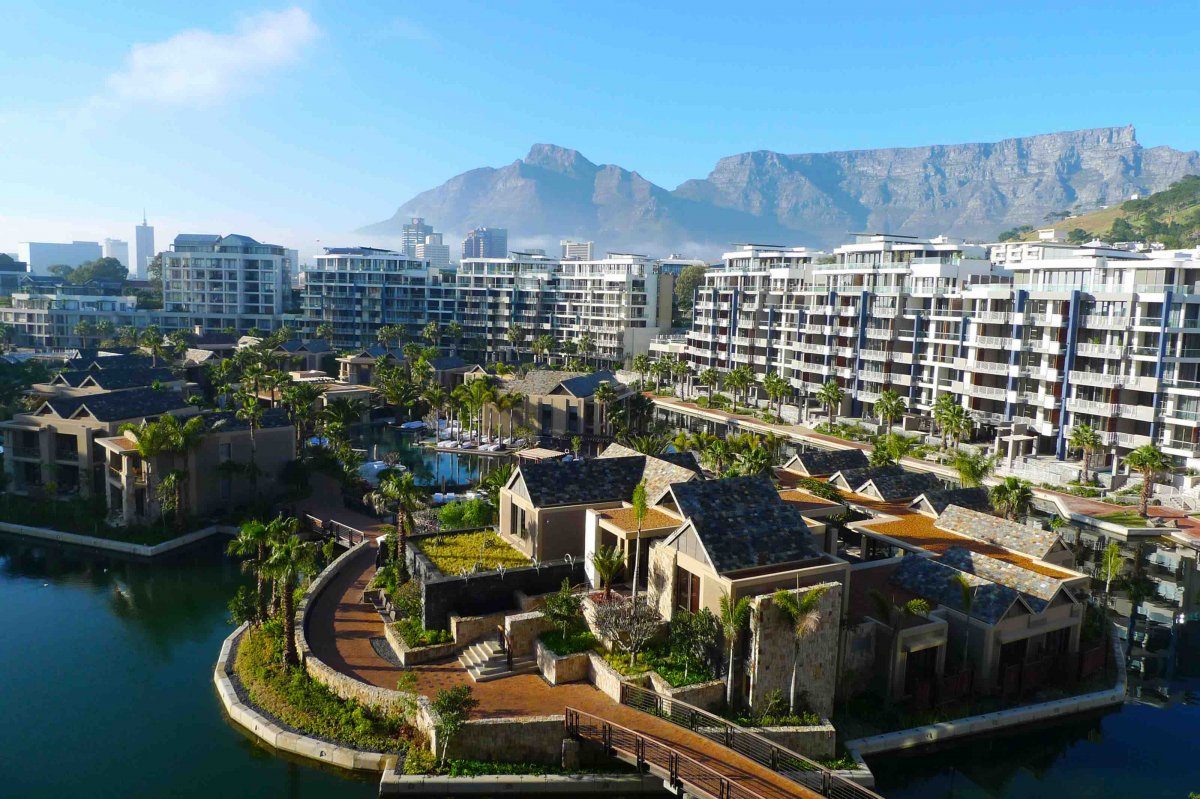 9. St. Regis Monarch Beach – Dana Point, California
St. Regis hotels are all about pampering their guests and catering to their requests. At the Dana Point location, the entire family will feel like royalty. Parents can enjoy yoga classes and spa treatments in the Miraval Life in Balance Spa, while children can go whale watching, take paddleboard lessons, or go on a guided hike.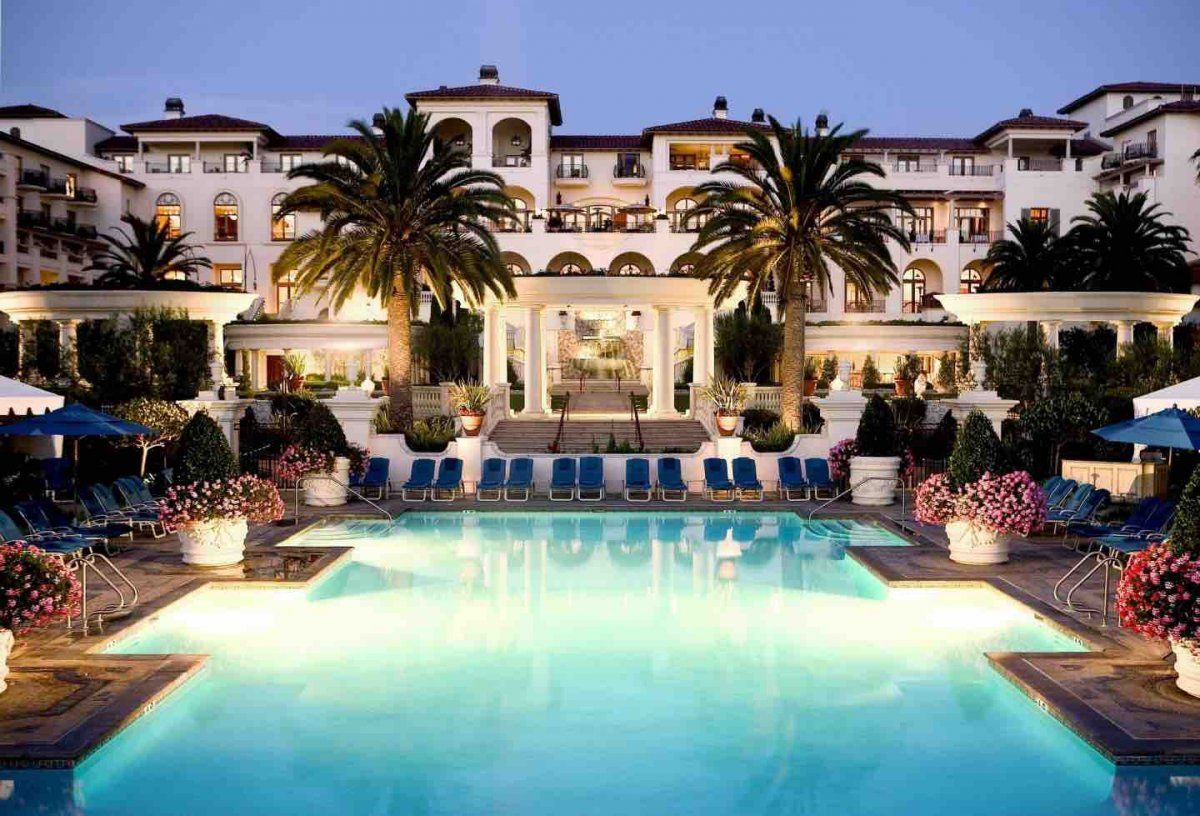 10. andBeyond Kichwa Tembo – Kenya
An African safari sounds nice, doesn't it? At andBeyond Kichwa Tembo, you're just steps away from prime animal-spotting areas. The reserve has 40 beautiful tents that are all clad in luxurious furniture and only the best bedding. Kids can take Swahili courses or play football with the staff while the adults can take a mixology course.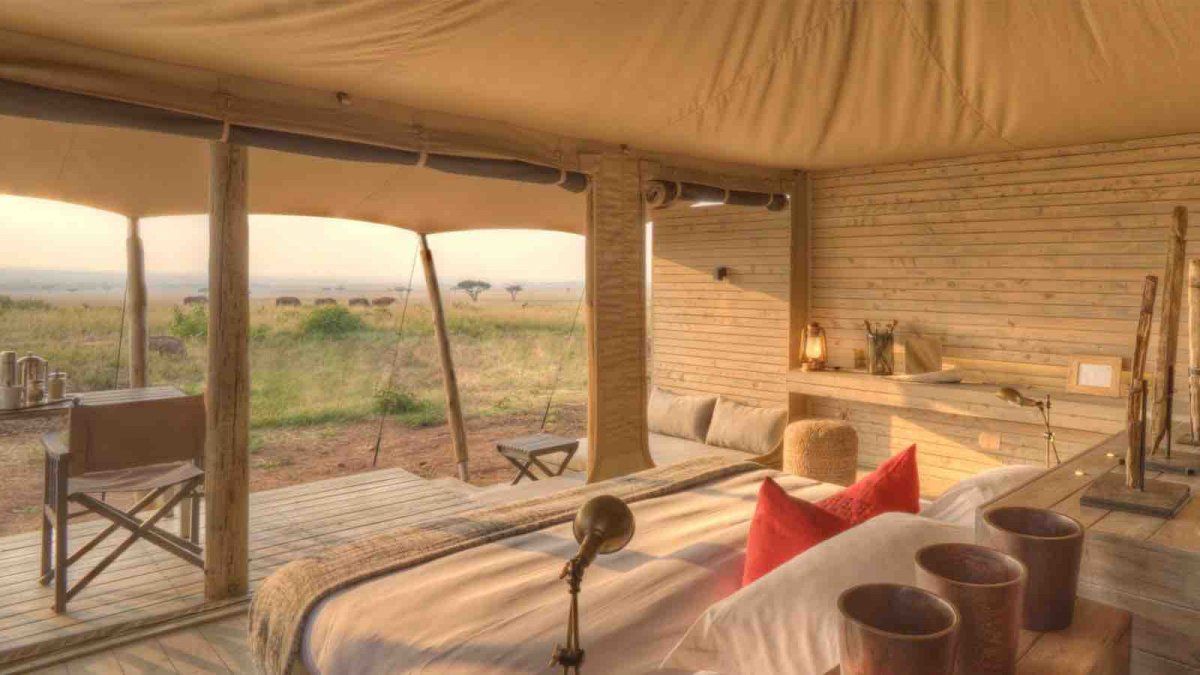 11. Inn at Palmetto Bluff, a Montage Resort, Bluffton, South Carolina
You'll be captivated by the charming design of the Inn at Palmetto Bluff. This resort is all about kicking back and enjoying the surroundings while having the time of your life with your family. Suites and cottages line the river, and your entire travel group can go for a swim, saddle up a horse and go for a ride, or go fly-fishing with some of the locals.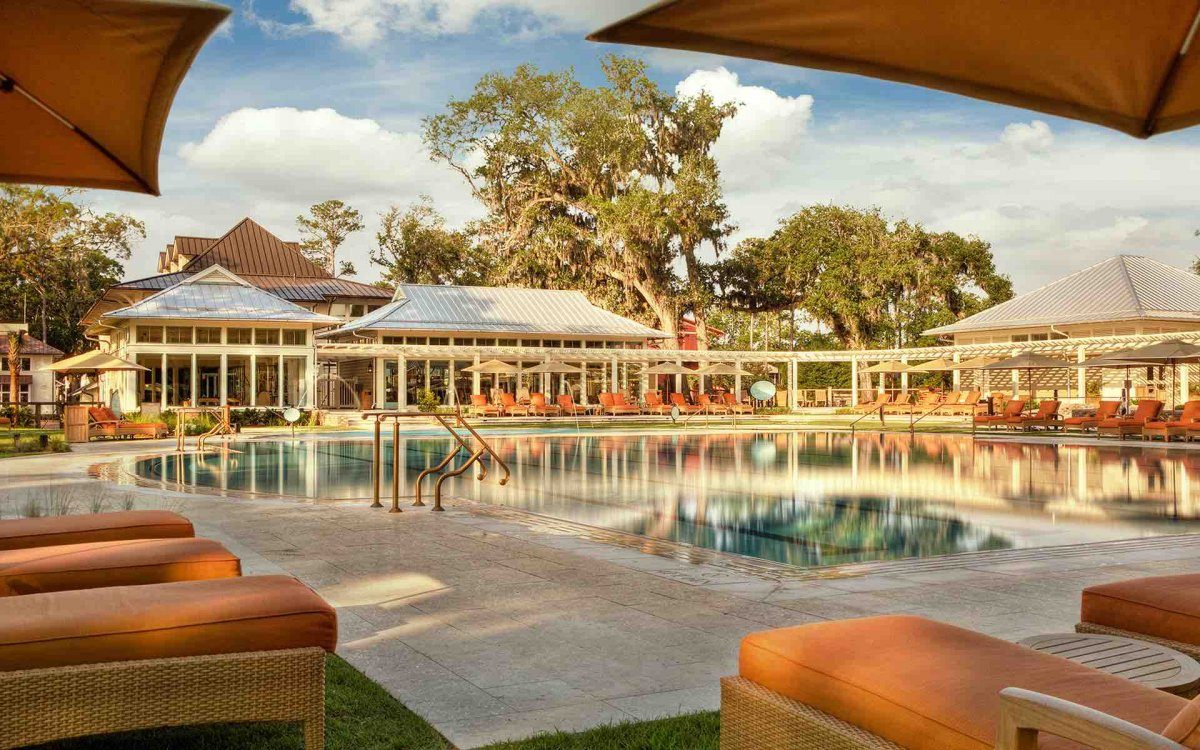 12. Four Seasons – Marrakech, Morocco
You'll be staying in the lap of luxury once you book a stay at the gorgeous Four Seasons in Marrakech. The hotel fuses a rustic look with simple elegance to provide a dazzling atmosphere that children and adults will both love. The onsite kids' club has belly dancing lessons, bread making classes, as well as monitored pool activities and fun basketball games everyone can take part in.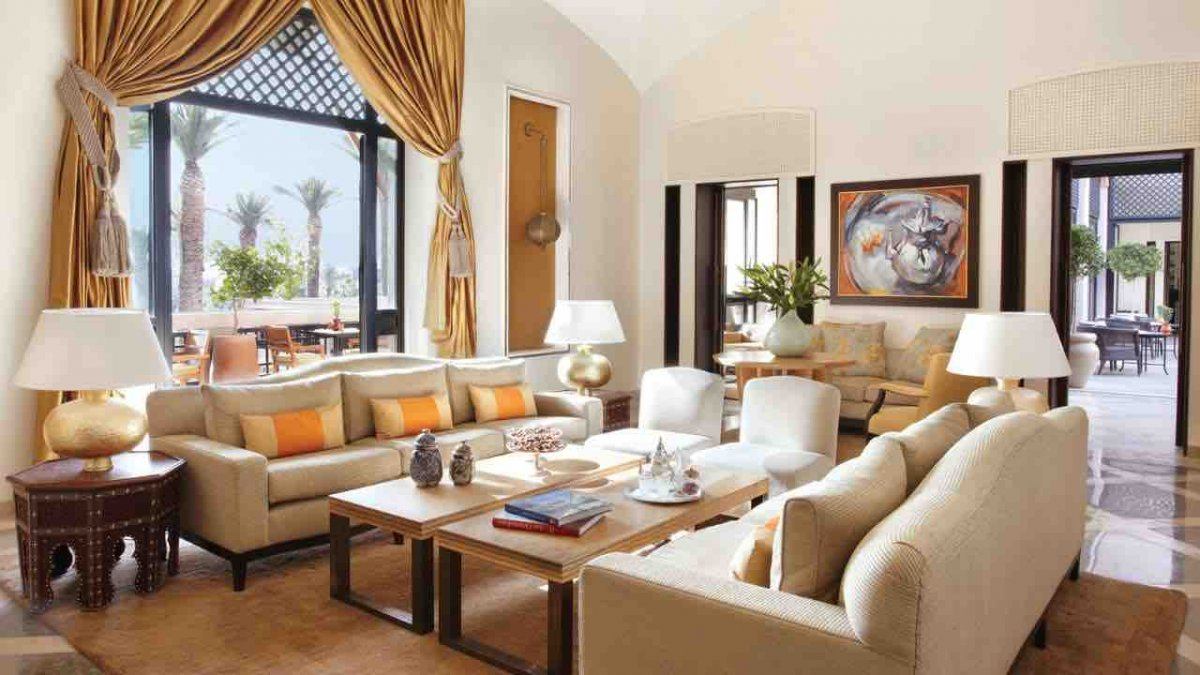 13. Cavallo Point – Sausalito, California
This trendy and luxurious hotel is in the city of Sausalito – just minutes from the bay and San Francisco's Golden Gate Bridge. The hotel hosts various events for travelers with small children, including kite making classes and hiking excursions at Golden Gate National Park. A brand new kids club just opened in May 2016, so now's the best time to book a stay!
14. Ekies All Senses – Halkidiki, Greece
This beautifully designed hotel is right on the beach in Halkidiki so you can spend your entire time building sand castles or going for dips in the water with your family. Suites are large enough to provide privacy for multi-generational groups, and the hotel makes sure there are more than enough bikes available for your entire crew to go for a sccenic ride.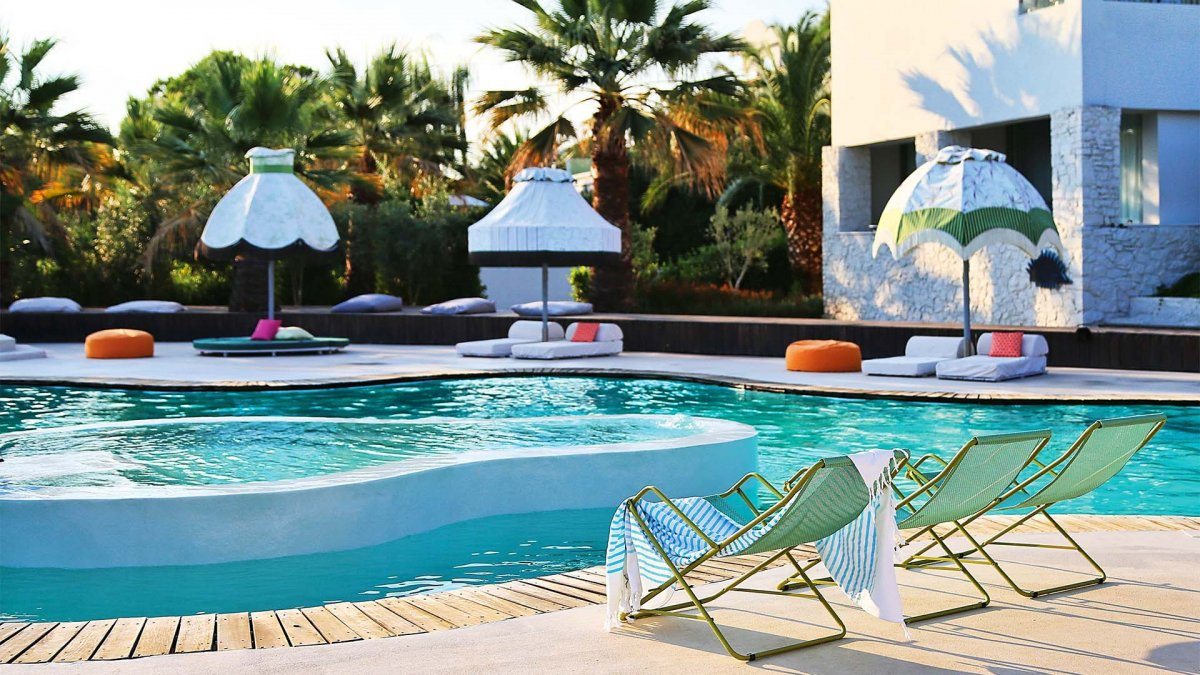 15. Chatham Bars Inn – Chatham, Massachusetts
You'll fall in love with Cape Cod and this coastal hotel in the heart of Chatham. The resort sits on a private beach, and there are daily kid-friendly activities to ensure your children have a ball during your stay. When you're all done relaxing in the heated pool, don't hesitate to head out onto the sprawling lawn to engage in a game of football with your family.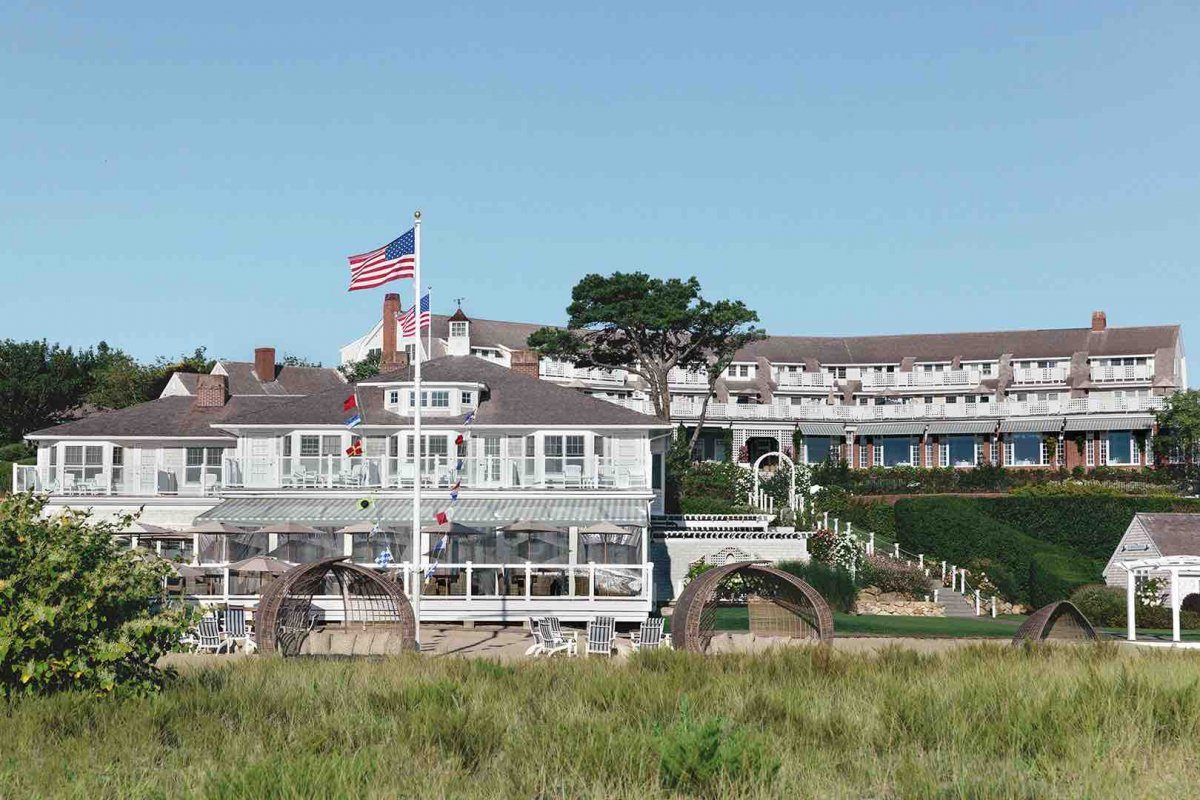 16. One&Only Palmilla – Mexico
A Los Cabos vacation is definitely what the doctor ordered. One&Only Palmilla is a family-friendly retreat that has four-bedroom suites with their own infinity pools overlooking the beach. A yacht is waiting at the dock to whisk you away on an impromptu ride, and the outdoor fire pit is the perfect place for you all to unwind after a full day of fun.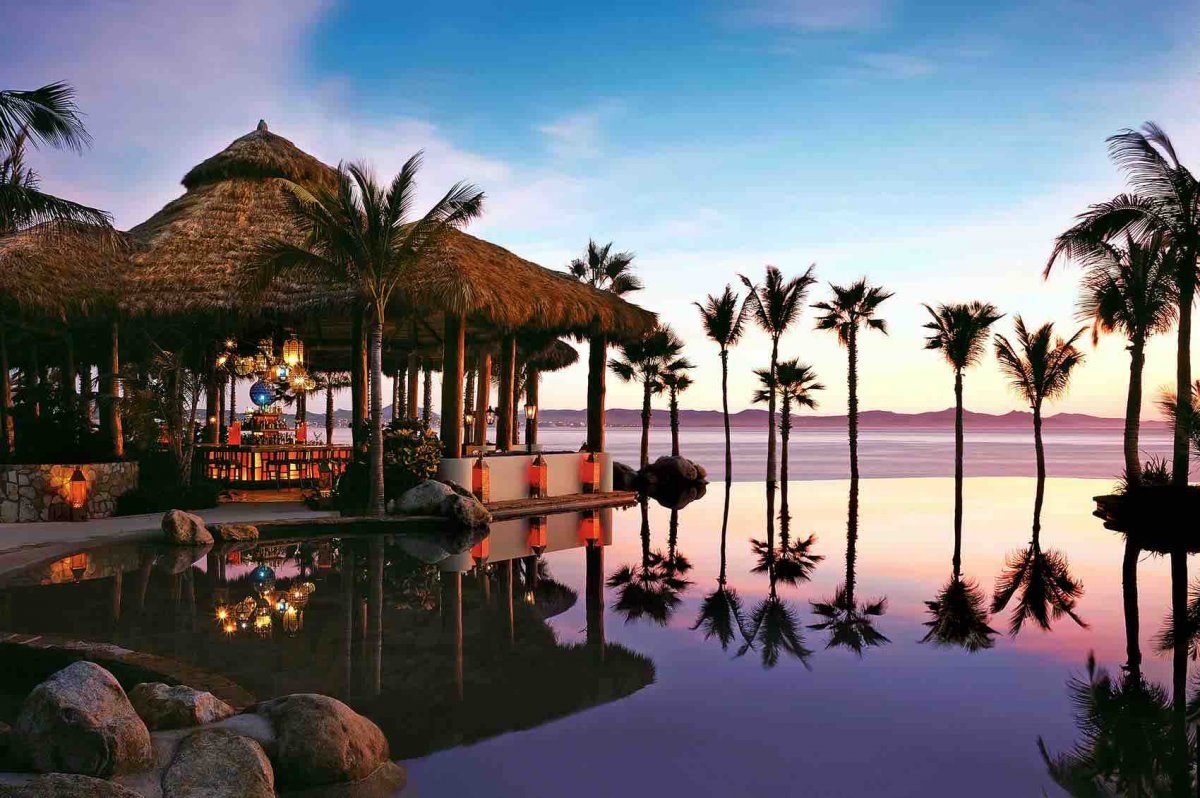 17. Montage Deer Valley, Park City, Utah
This luxury mountain resort includes 66 rooms and private residences for those who are traveling in large groups. Right outside of the hotel are the Wasatch and Uinta mountains where the kids can go sledding in the winter or take photography classes in the summer. The resort also offers yoga classes for guests of all ages and there's an arcade, nightly s'mores-making sessions, and six restaurants to keep you all full and content.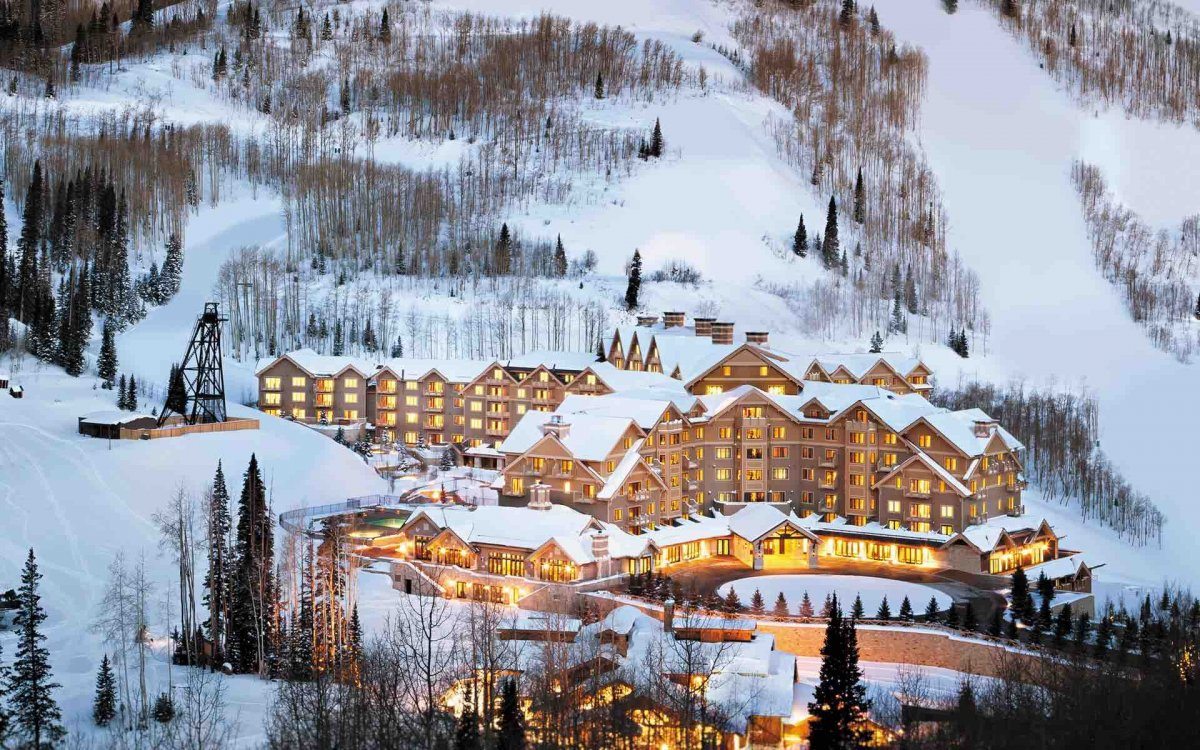 18. Rosewood Jumby Bay – Antigua
Rosewood hotels hit a home run when it debuted its Antigua location in Long Island. This Caribbean resort has an engaging kids' club that includes an area where they can feed and pet the lambs. The hills are perfect for a family bike ride, and the beach shack offers snacks to suit everyone's taste, including ice cream, coffee, and smoothies.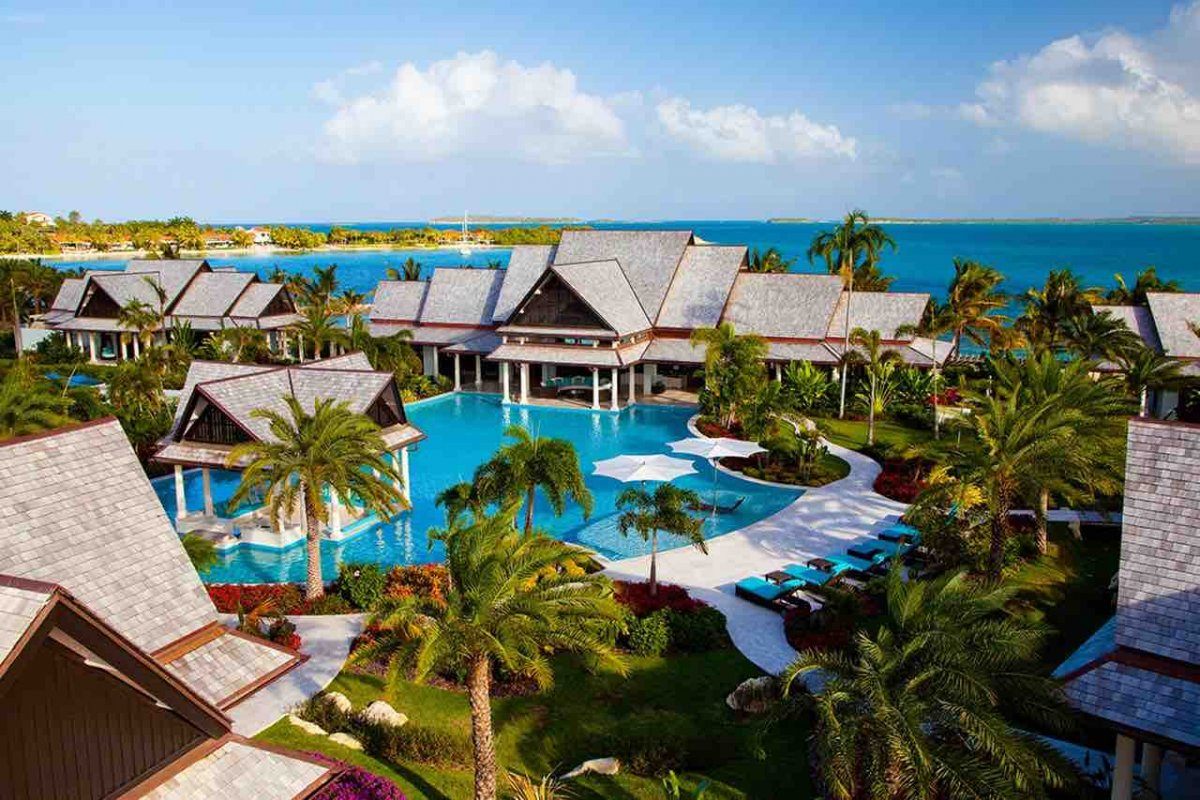 19. Sea Pines Resort, Hilton Head Island, South Carolina
Sea Pines Resort is calling your name! This family-friend compound includes 5,000-acres of fun. If you aren't soaking up the sun on one of the pristine beaches, you can go on a nature hike, go kayaking, or go alligator watching with the kids.
20. Borgo Egnazia – Puglia, Italy
You haven't experienced luxury until you've visited the countryside of Puglia and the Borgo Egnazia. This 5-star retreat is perfect for kids, and the staff makes sure the little ones are entertained in the Trullalleri kids' club while the adults lounge in the sun or enjoy a drink in the bar.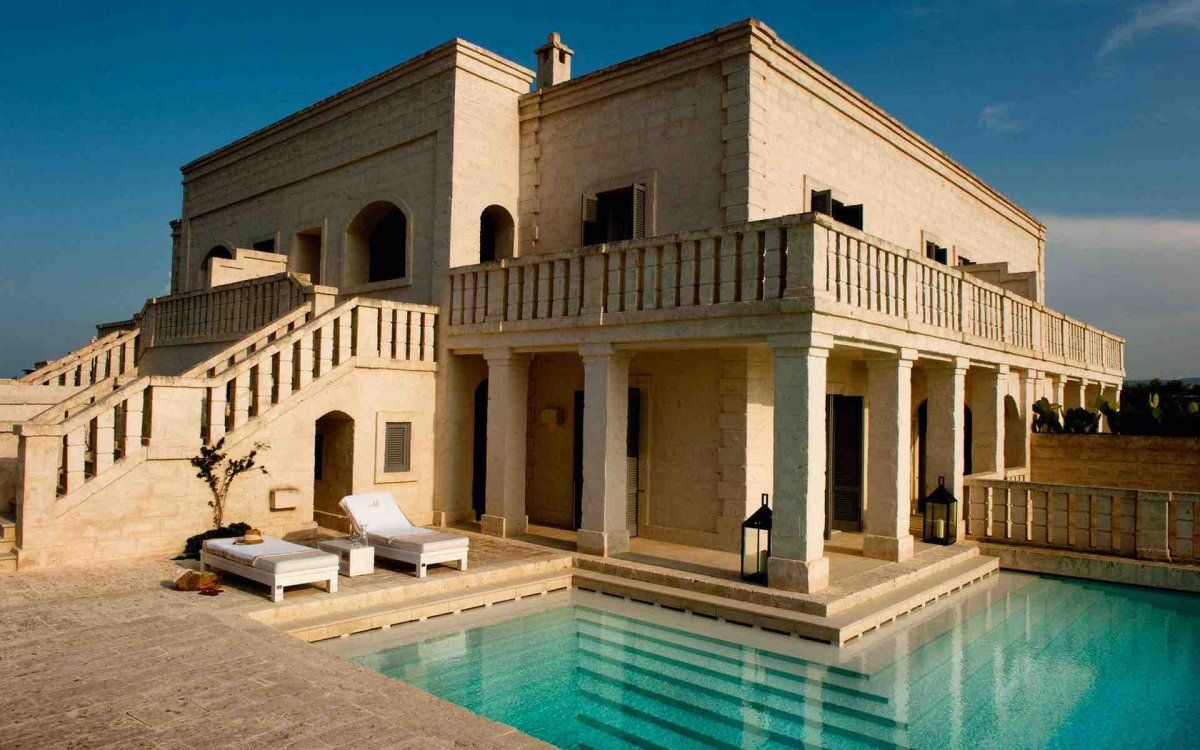 21. Grand Hotel, Mackinac Island – Michigan
When you pull up to the Grand Hotel, it will instantly take your breath away. Designed in 1887 and known as a summer retreat for wealthy travelers, the hotel still has the same charm from centuries ago. Families can enjoy games on the spacious lawn, watch movies on the big screens, or create some arts and crafts when they're not having fun in the hotel's serpentine-style pool.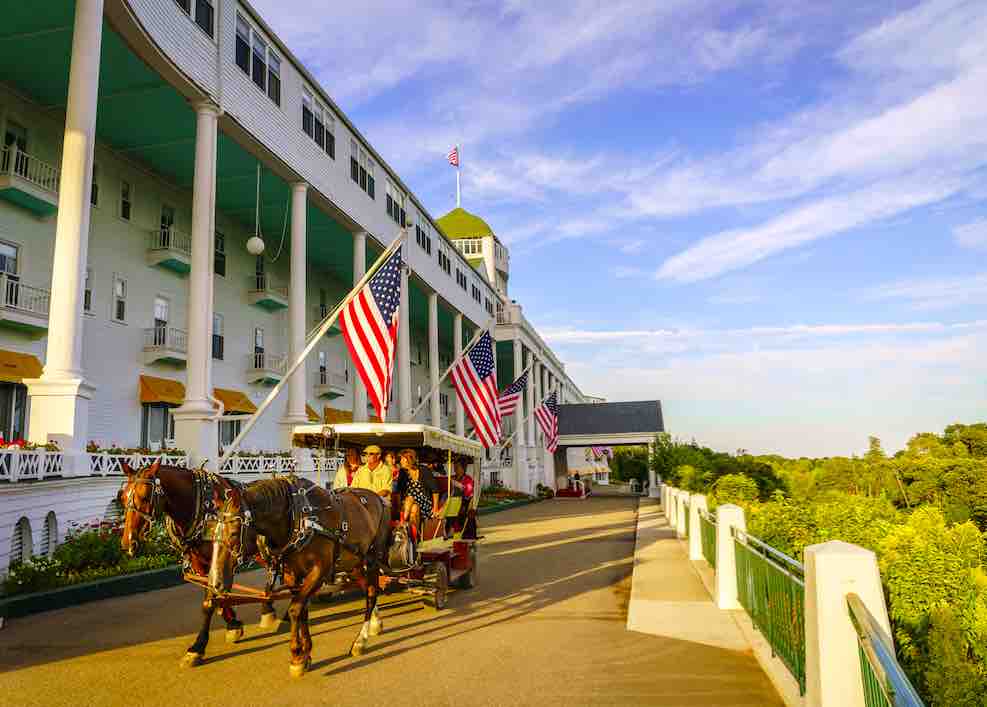 22. Six Senses Zighy Bay – Oman
The beachside resort is flanked by white sand beaches and the most beautiful sunrises you'll ever see. Six Senses may be in the heart of the Middle East, but you'll feel at peace as soon as you arrive. Kids can take paddle boarding or diving lessons, while the parents chill out and sunbathe on the picturesque beach.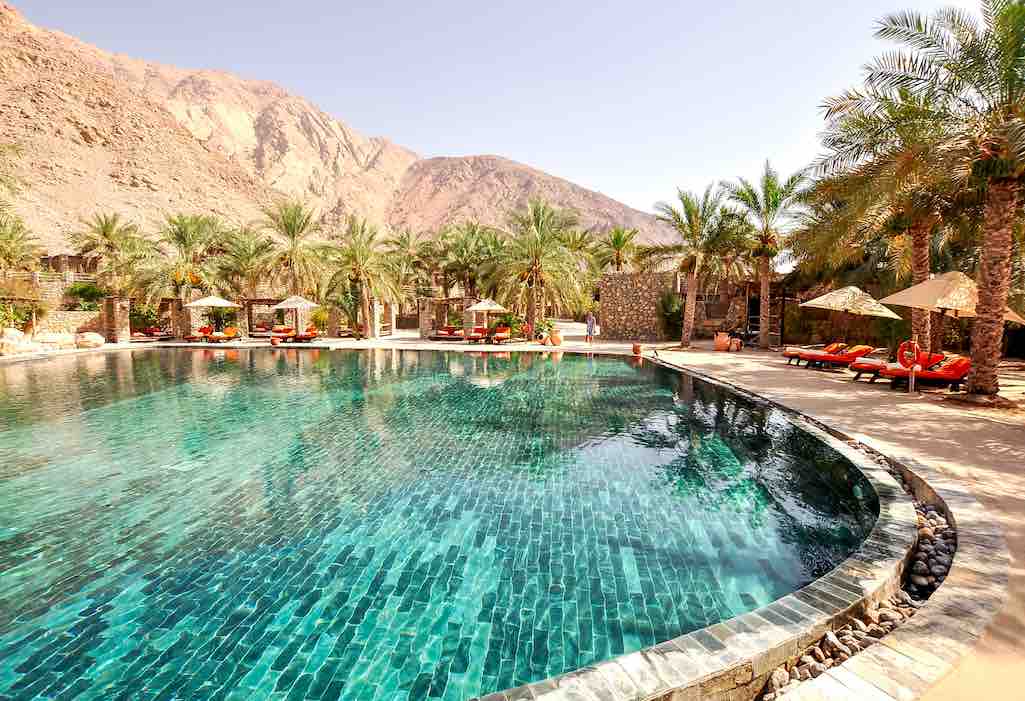 23. Sandpearl Resort – Clearwater Beach, Florida
For some family fun, look no further than the Sandpearl in Clearwater, FL. This sprawling resort is just steps away from the beach, and the eco-friendly hotel offers tours through the Gulf, kayaking excursions, and nature walks for guests of all ages.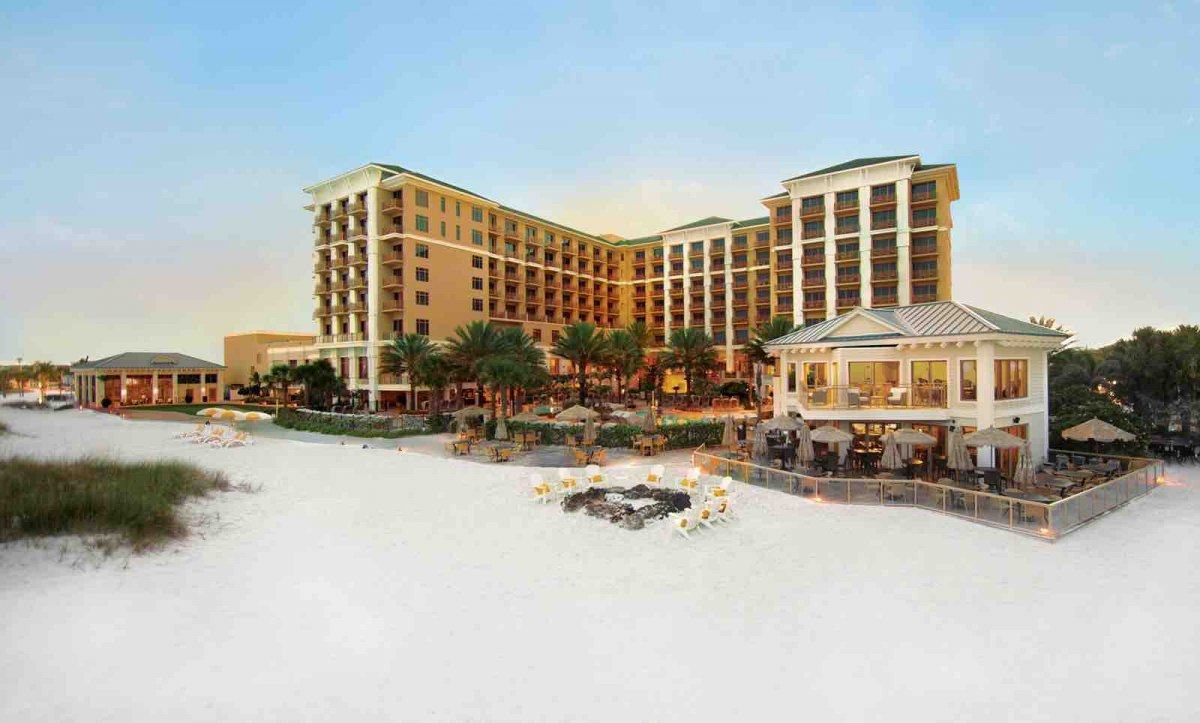 24. Marbella Club – Spain
This golf resort and spa has family suites available that are beautifully designed with intricate wood details. But who goes on a vacation to stay in the room the entire time? Thankfully, Marbella Club has a bunch of activities on its grounds, including a splash pool, a vegetable patch, and a cinema filled with comfy bean bag chairs.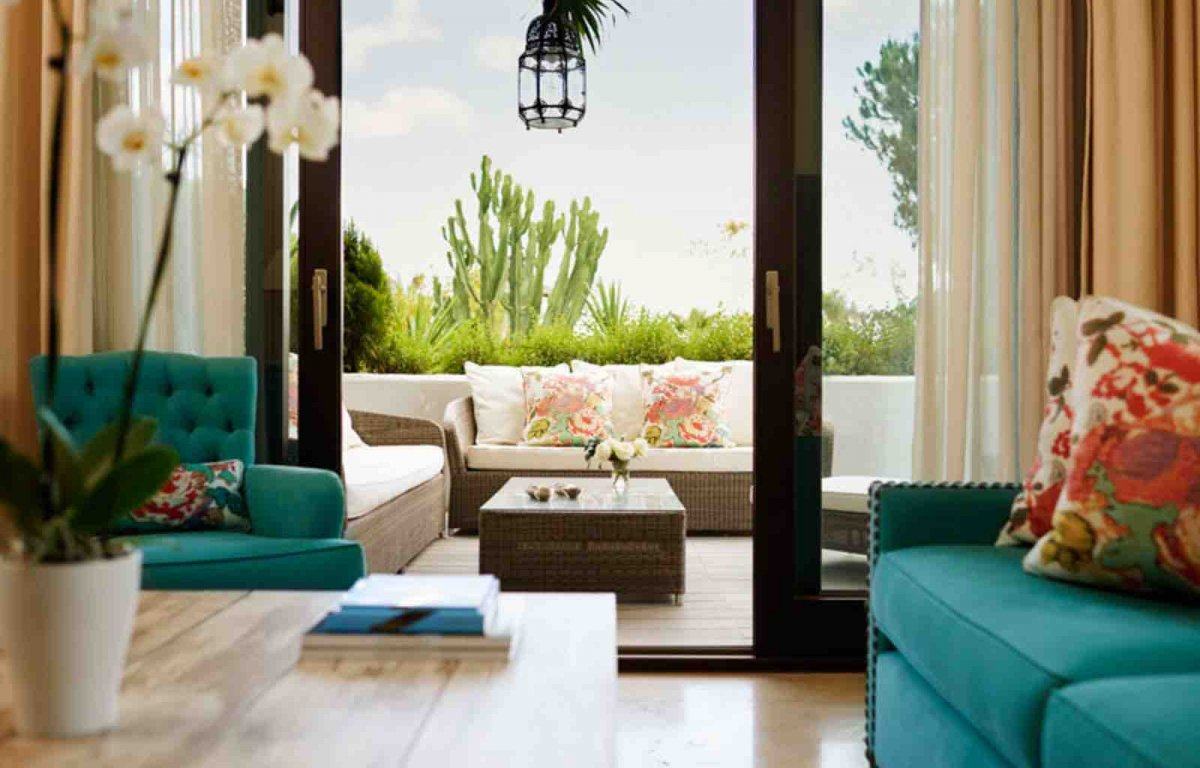 25. Kauai Marriott Resort – Kaua'i, Hawaii
A trip to Kaua'i is always in order when you're looking for a place where you can relax in paradise. Don't be afraid to bring the young ones along with you because this gorgeous resort is not just for honeymooners. The large swimming pool is perfect for some family fun, and the beach provides guests access to boogie boards, canoes, and surfboards.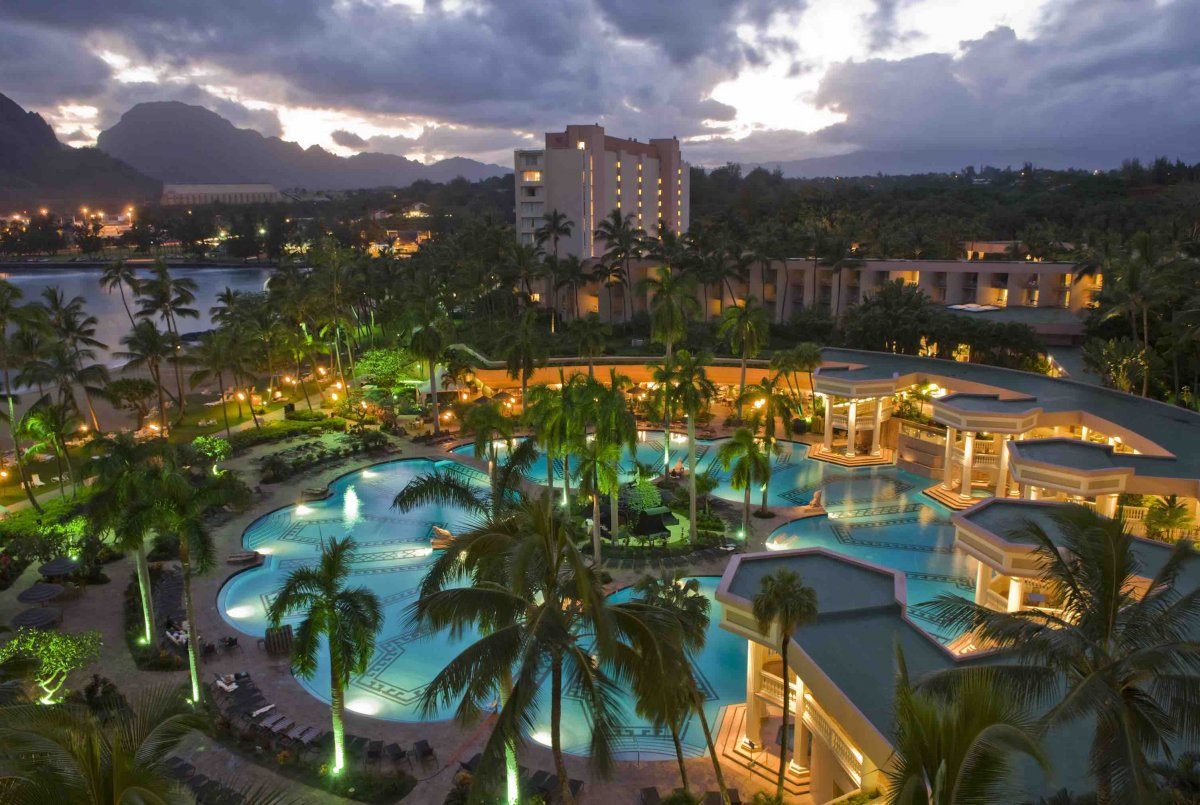 26. One&Only Hayman Island – Australia
If you've ever dreamed of vacationing in paradise, One&Only Hayman Island was made for you. You'll have to take a boat and a golf cart to get to the resort, but it's definitely worth the trek. Sixteen suites are available, and the activities for children are plentiful, including kayaking and jet skiing lessons.
27. One&Only Ocean Club – The Bahamas
Another One&Only resort that's family-friendly is located in The Bahamas. This hotel is perfect for young and older visitors alike thanks to its gorgeous pool, beautifully maintained lawn, and its kids' club that provides all-day activities, including art classes and magic shows.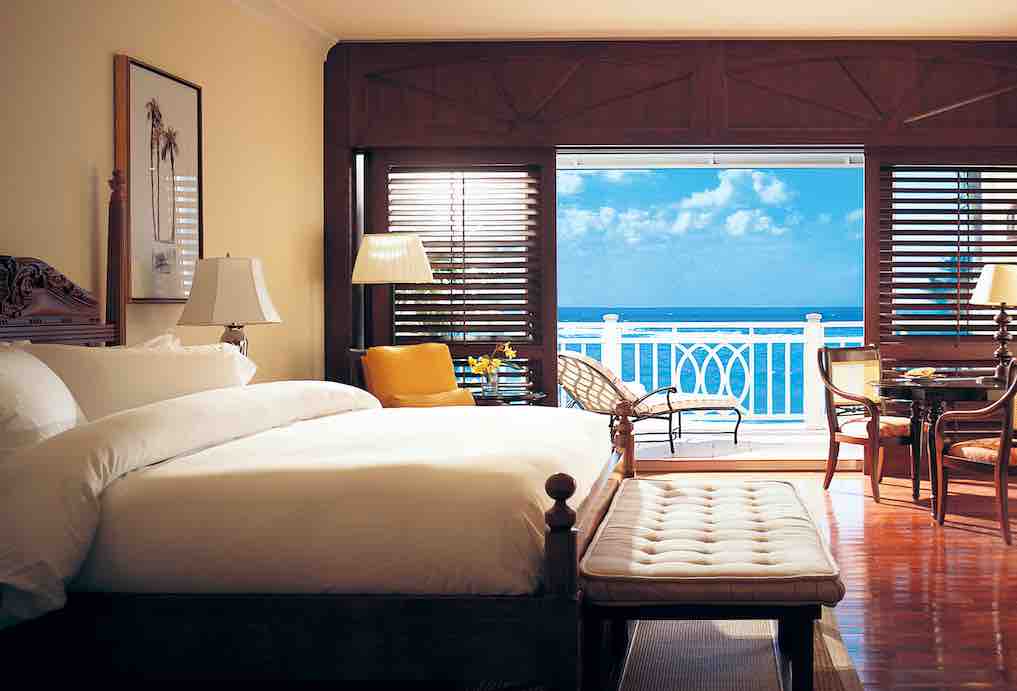 28. Porto Zante – Zakynthos, Greece
The private villas and spa at Porto Zante will provide you with ample amount of peace, quiet, and relaxation. That doesn't mean the kids will be bored out of their brains though. There are babysitters on hand to entertain younger guests in the pool, take them out on jet skis, or accompany them on banana boat rides in the bay.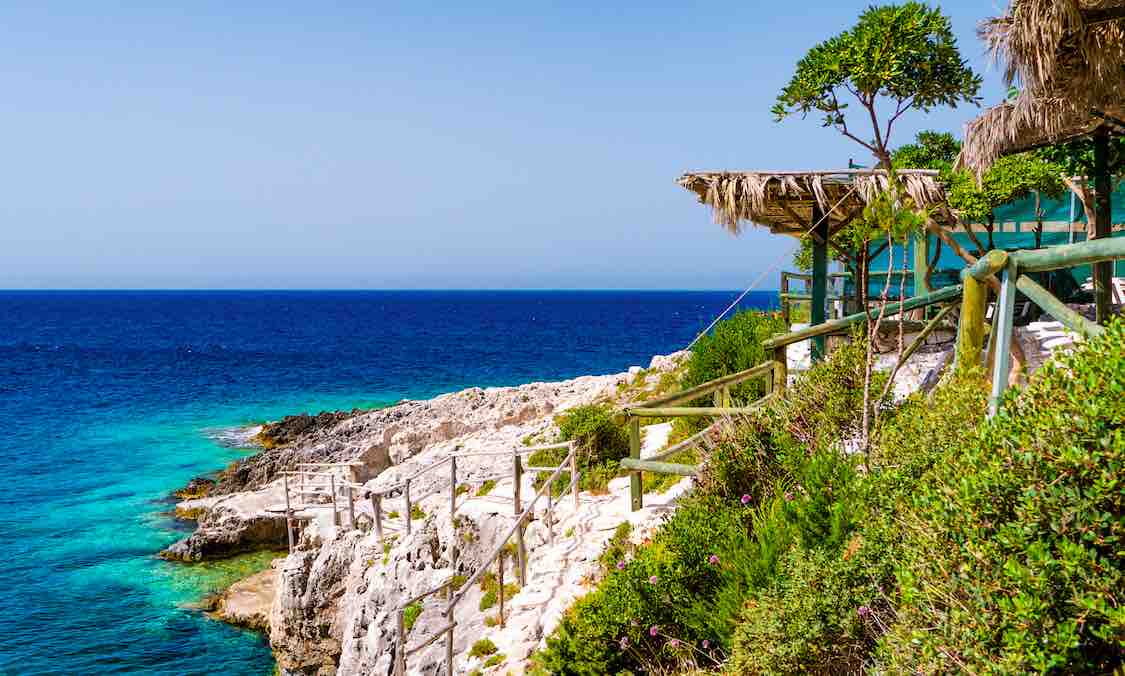 29. The Sanctuary at Kiawah Island Golf Resort – South Carolina
This luxury Charleston hotel entices golfers, but it's also a prime destination for families with small children. The kids' club will entertain guests ages 8-17 with surf camps, fly-fishing, and archery classes, while parents can let off some steam on one of the many golf courses.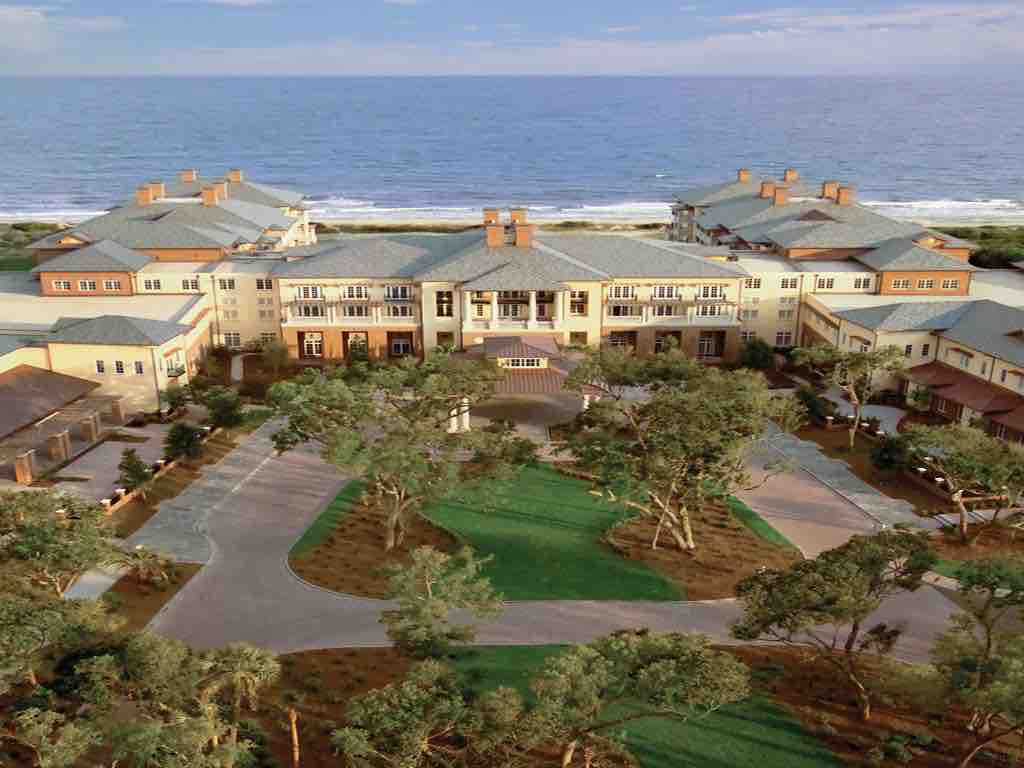 30. Spa-hotel Jagdhof – Tyrol, Austria
The 5-star Jagdhof in Tyrol is the best hotel for families that seek adventure. Hiking trails are nearby, and there are trampolines, seesaws, and basketball courts for the kids to burn off some energy. At night, the restaurants include delicious cuisine for adults, as well as tasty treats, such as chocolate mousse pie, that kids will love.

31. One&Only The Palm – Dubai
On the coast of a manmade island, you'll find the family-friendly One&Only The Palm resort. Kids can join in on a camel riding adventure, take a henna painting class, learn Arabic, or practice their belly dancing skills. For older guests, there's no better place to enjoy their vacation than on the serene beach.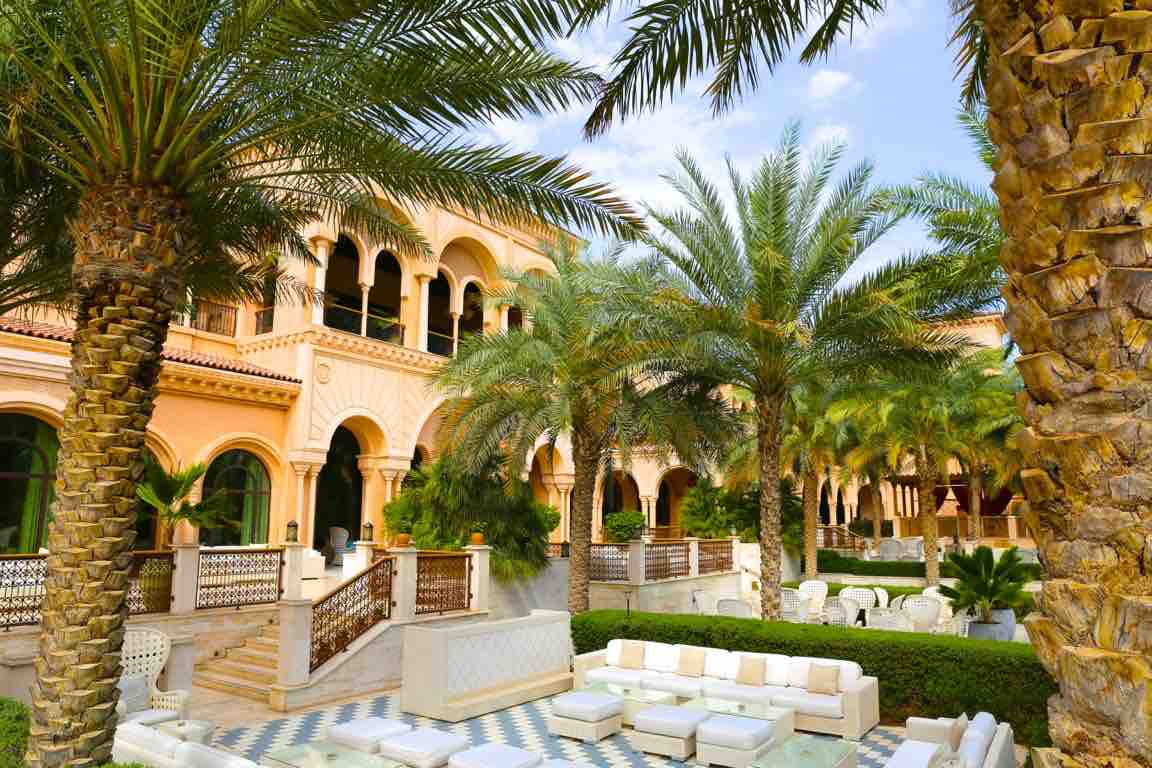 32. Sunscape Puerto Plata Dominican Republic
The Dominican Republic has long been the best destination for travelers who are looking to have some fun in the sun. And come to find out – this Caribbean nation includes a gem that's perfect for families. Sunscape hotel is an all-inclusive resort that has a supervised kids' club, nine restaurants, a spa and fitness center, and an array of watersport activities.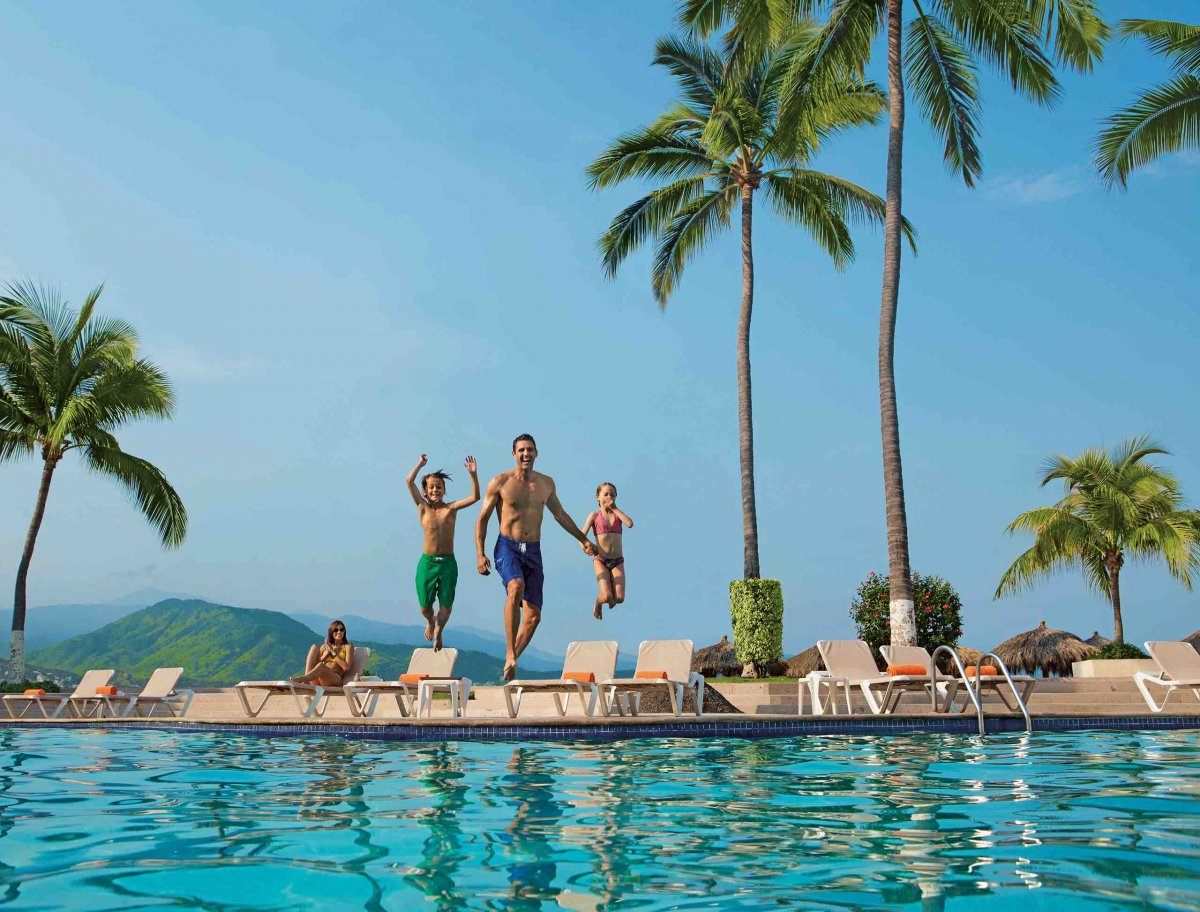 33. Anassa – Cyprus
This gorgeous hotel in the heart of Cyprus is perfect for families with small children. English-speaking nannies are available to watch the kiddies as the adults stroll the beautiful grounds or take a dip in the plunge pool.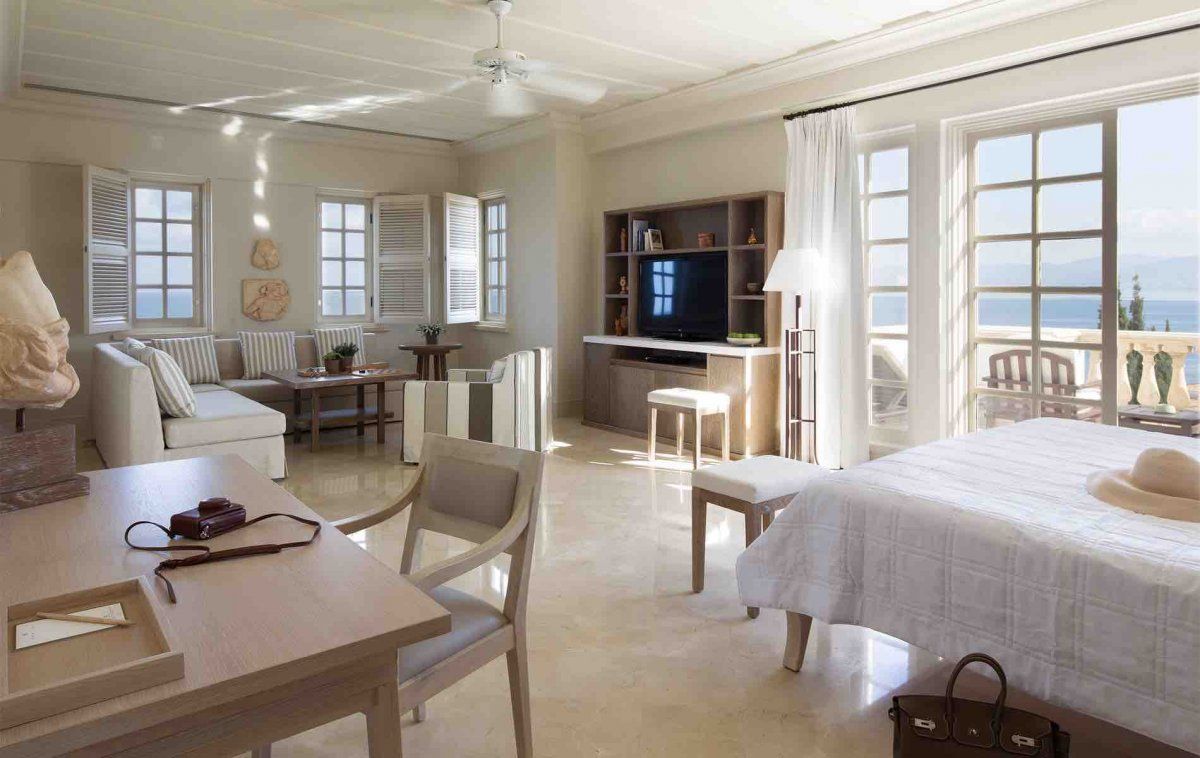 34. Banyan Tree Mayakoba – Mexico
Dozens of private retreats line the coast of Banyan Tree Mayakoba. Bicycles are provided for visitors in each suite, and they're perfect for taking a ride down to the beach. The poolside bar also has children-friendly drinks, such as milkshakes and virgin concoctions. During your stay, don't be surprised if you see a sea turtle or a group of iguanas outside your front door!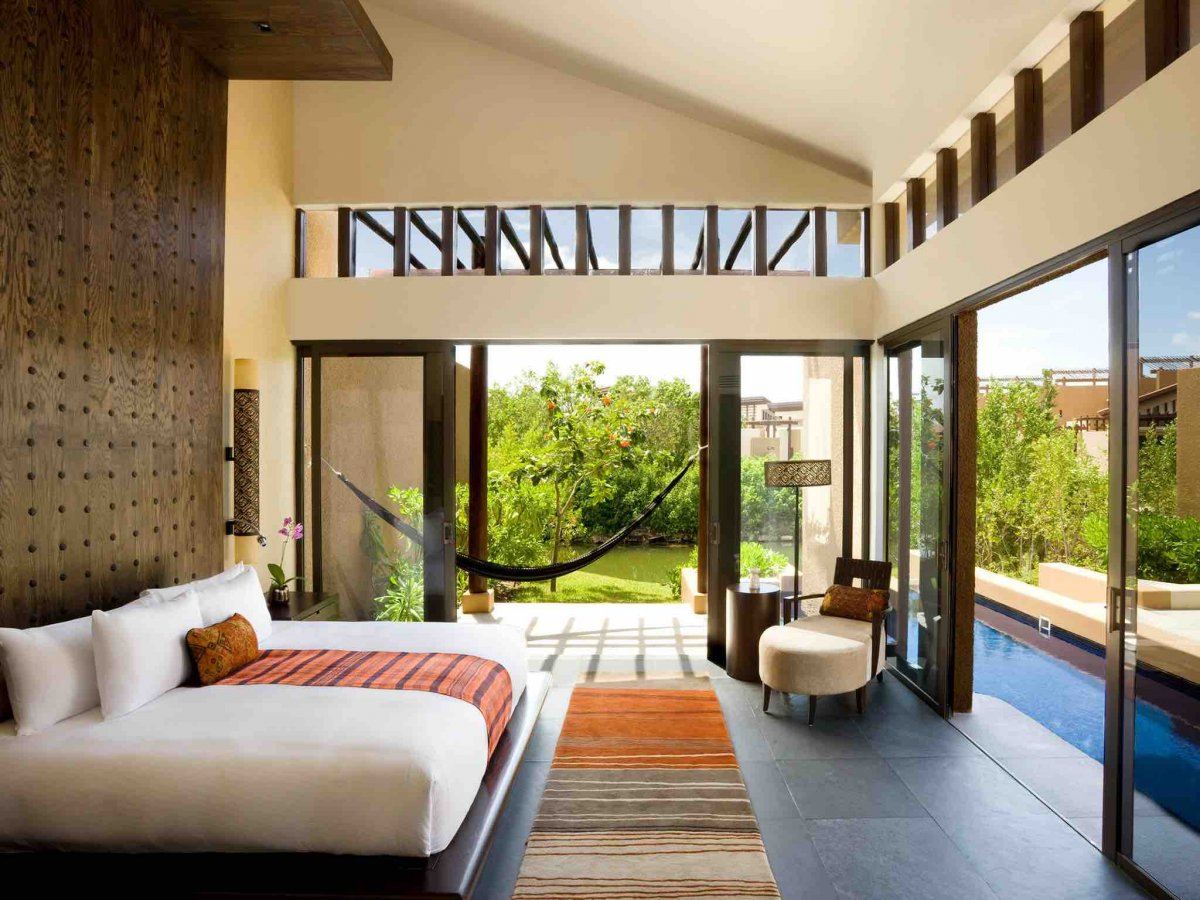 35. Clayoquot Wilderness Resort – Canada
Head out into the great outdoors for a Western-style adventure at Clayoquot Wilderness Resort. Leave the electronic devices behind and instead, take part in some of the adventurous activities, such as ziplining, paddleboarding, or whale watching.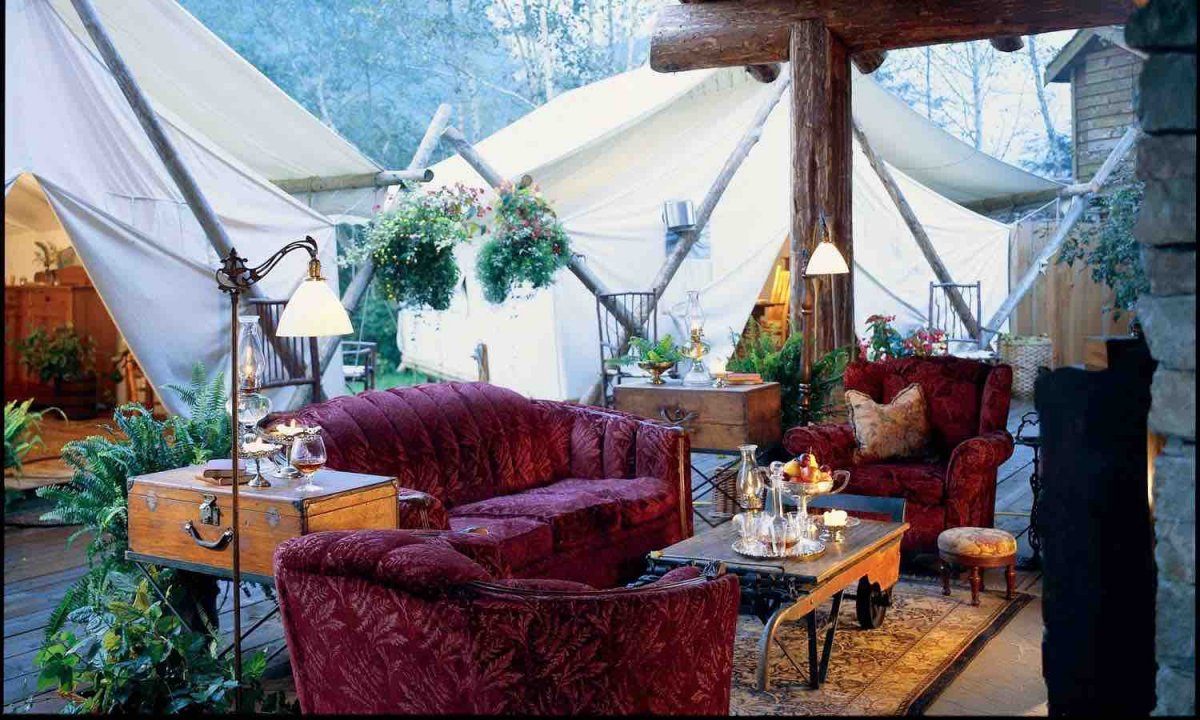 36. Mohonk Mountain House – New Paltz, New York
Overlooking the Catskills mountains, Mohonk Mountain House is the perfect destination in the winter or the summer. An ice skating rink is constructed in the fall, and the kids will have tons of fun going tubing and playing in the plush snow. In warmer months, families can go bike riding or horseback riding in the great outdoors.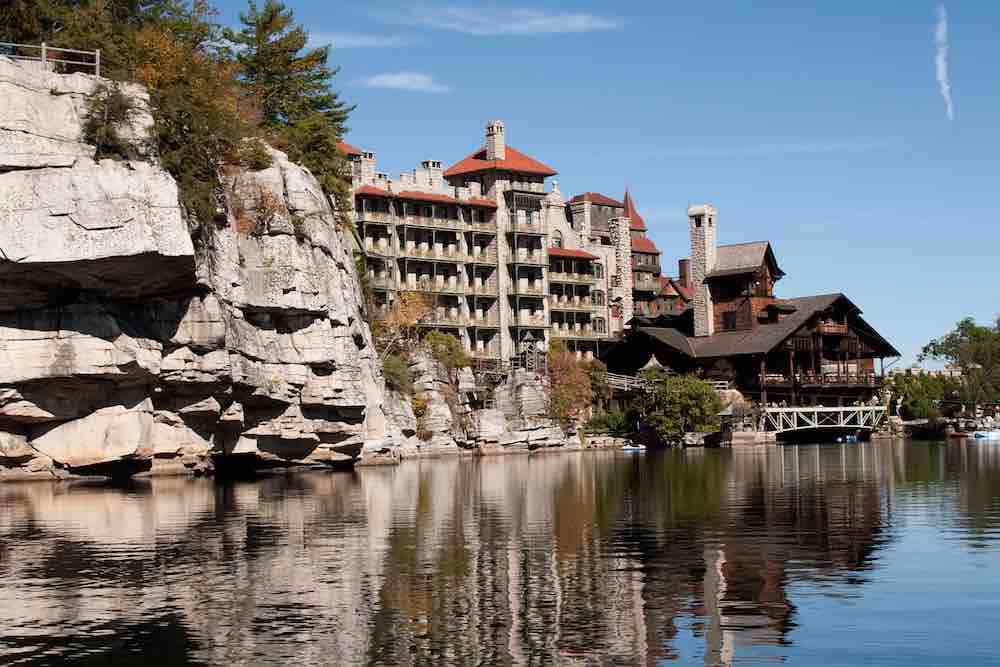 37. Sugar Beach – St. Lucia
For a luxury experience in a tropical paradise, Sugar Beach has you covered. The St. Lucia resort sits next to sugary white sand beaches and is all decked out with plunge pools outside of each suite. Cuddle up with the kids and read a book in one of the comfy hammocks, or send them on a shell-collecting hunt with Generation V – the resort's kids' club.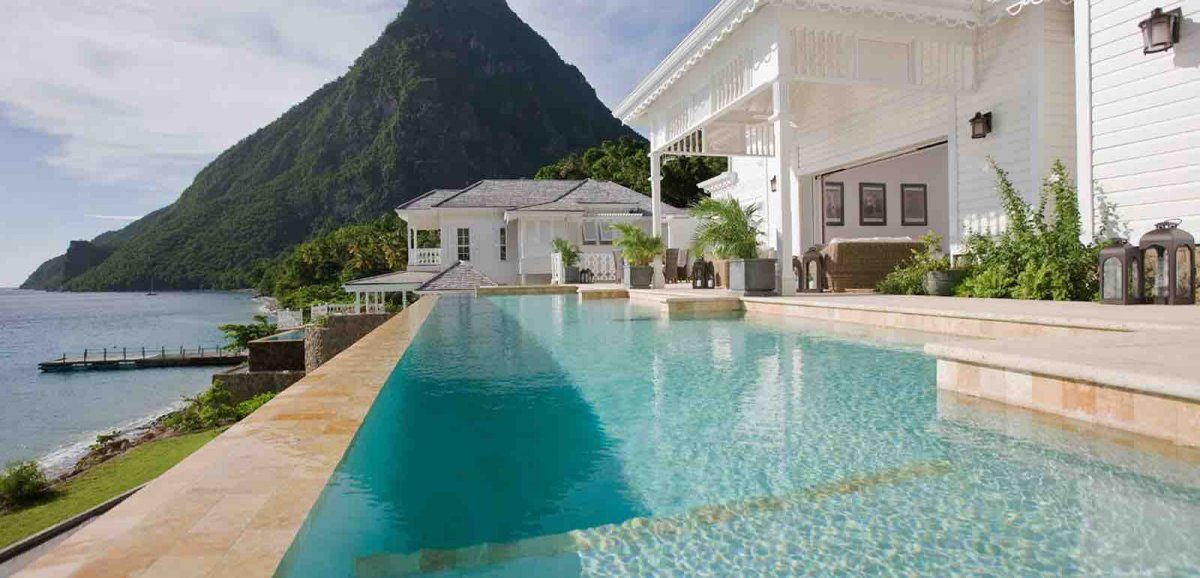 38. Four Seasons Safari Lodge – Serengeti, Tanzania
This hotel offers an all-inclusive package that will cover all of your food and drinks, personalized excursions to suit your family's needs, and multiple infinity pools where you can all have some fun underneath the Serengeti sun.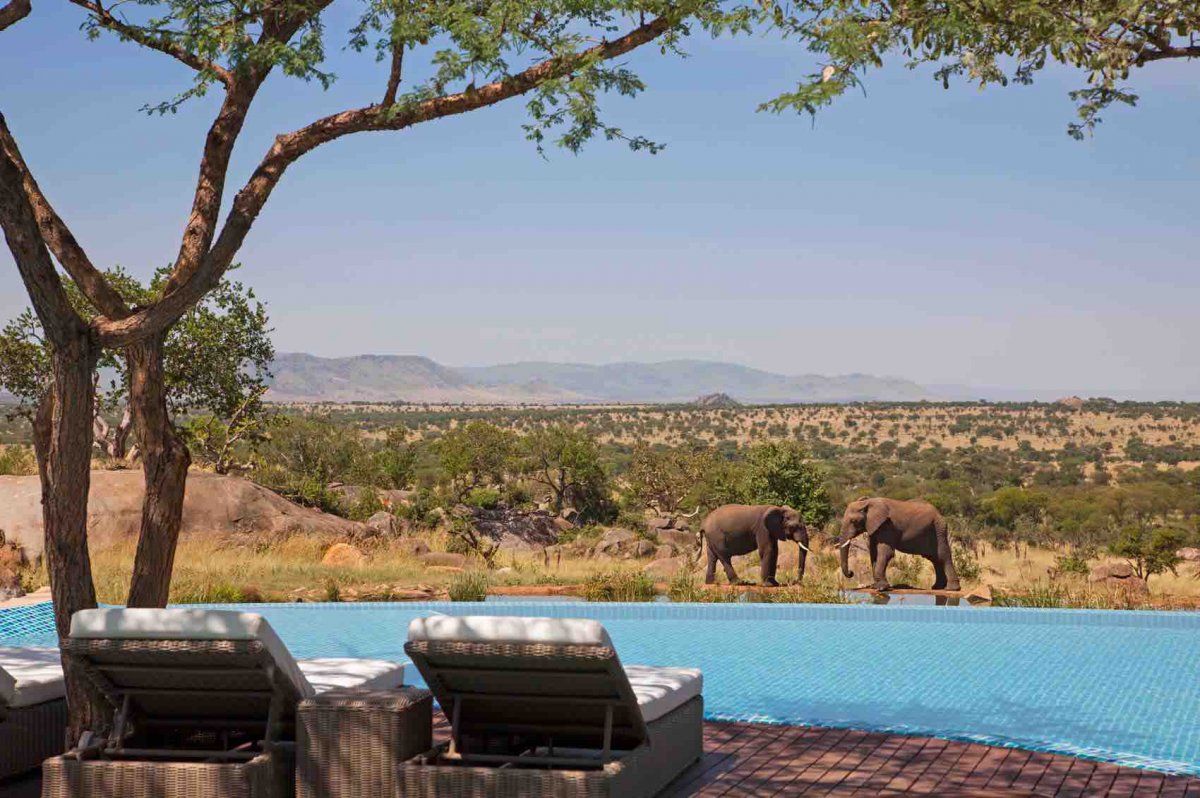 39. Carlisle Bay – Antigua
With designated family areas on the beaches of Antigua, Carlisle Bay hotel is the perfect place for you and the kids to vacation. The two-bedroom suites can accommodate up to six guests, and the back doors lead out right to the beach. The Cool Kid Club is free for kids up to six-years-old, and they can spend the day splashing around in the pool or playing on the jungle gym before meeting up with the rest of the family at the resort's delicious Italian restaurant.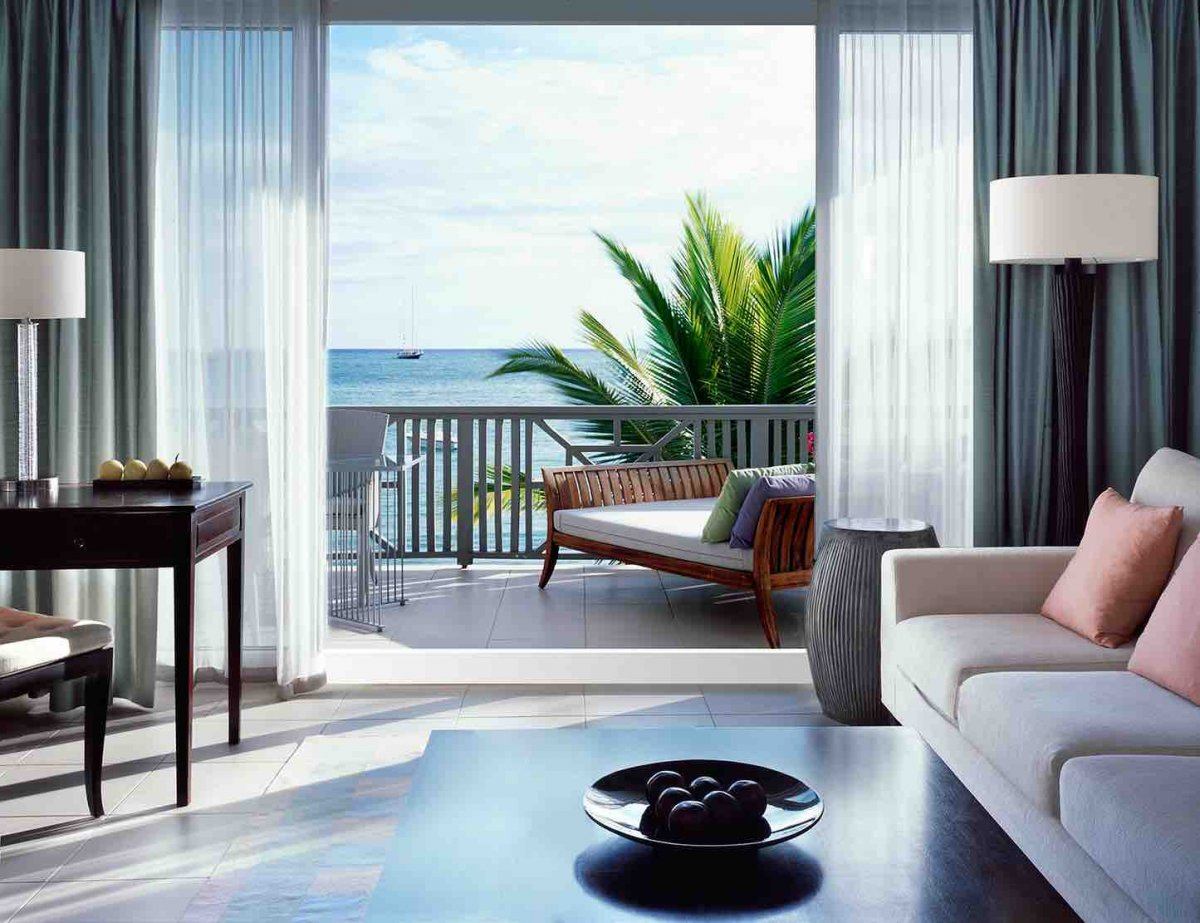 40. Teton Mountain Lodge & Spa – Wyoming
Located high in the mountains of Wyoming, Teton Mountain Lodge is the perfect ski resort for the winter months. In the spring and summer, guests can go hiking, kayaking and horseback riding, and they even provided passes to visit nearby Yellowstone National park (for an additional fee).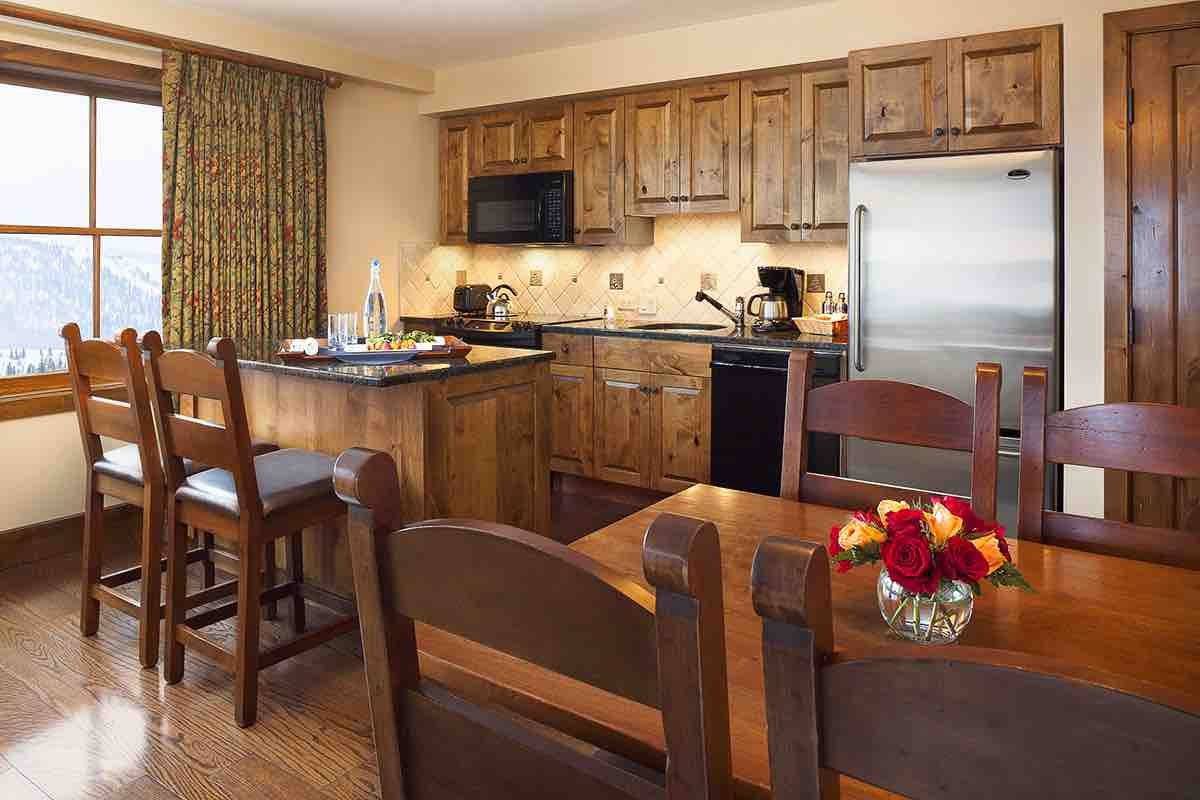 41. Grootbos Private Nature Reserve – South Africa
Your kids will love this 5-star accommodation just as much as you. Grootbos is full of delicious cuisine, fun activities, and a relaxing spa that's perfect for pampering. While the kids are away with the staff playing football, the adults can go horseback riding or lay out on the beaches of Walker Bay.
42. Mount Nelson – Cape Town, South Africa
While peering through the windows of your room at Mount Nelson, you'll surely fall in love with the scenery of South Africa's legislative capital. After getting face to face with the country's wildlife on an exhilarating safari, you can hang out in the heated pool or play a game of cricket.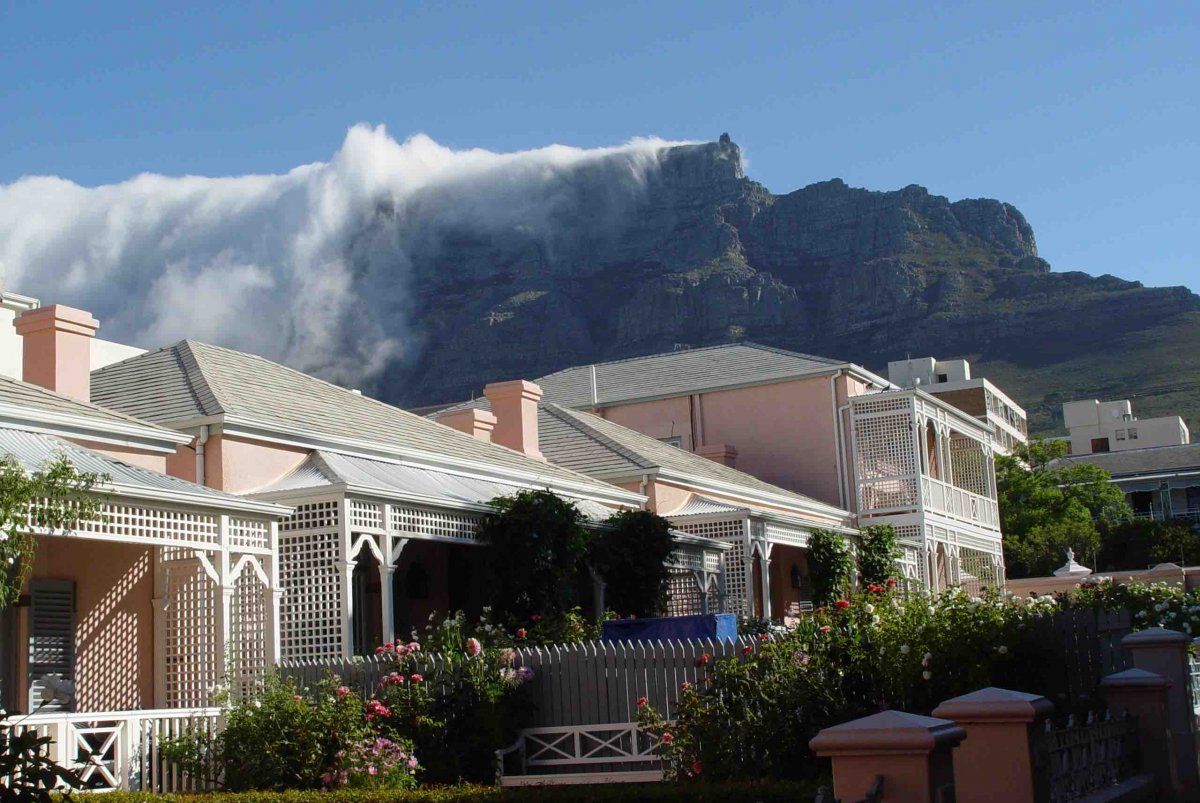 43. Martinhal – Portugal
Beautiful beaches, perfect weather, and enough activities to keep you and your family entertained for the duration of your stay. What more could you ask for? Martinhal has a kids' club for kids up to 18-years-old, as well as an onsite playground where the little ones can play to their heart's content. There are also tennis courts and a sports field available, as well as the infamous Blue Room where kids can play on the Nintendo Wii game consoles or play a game of foosball.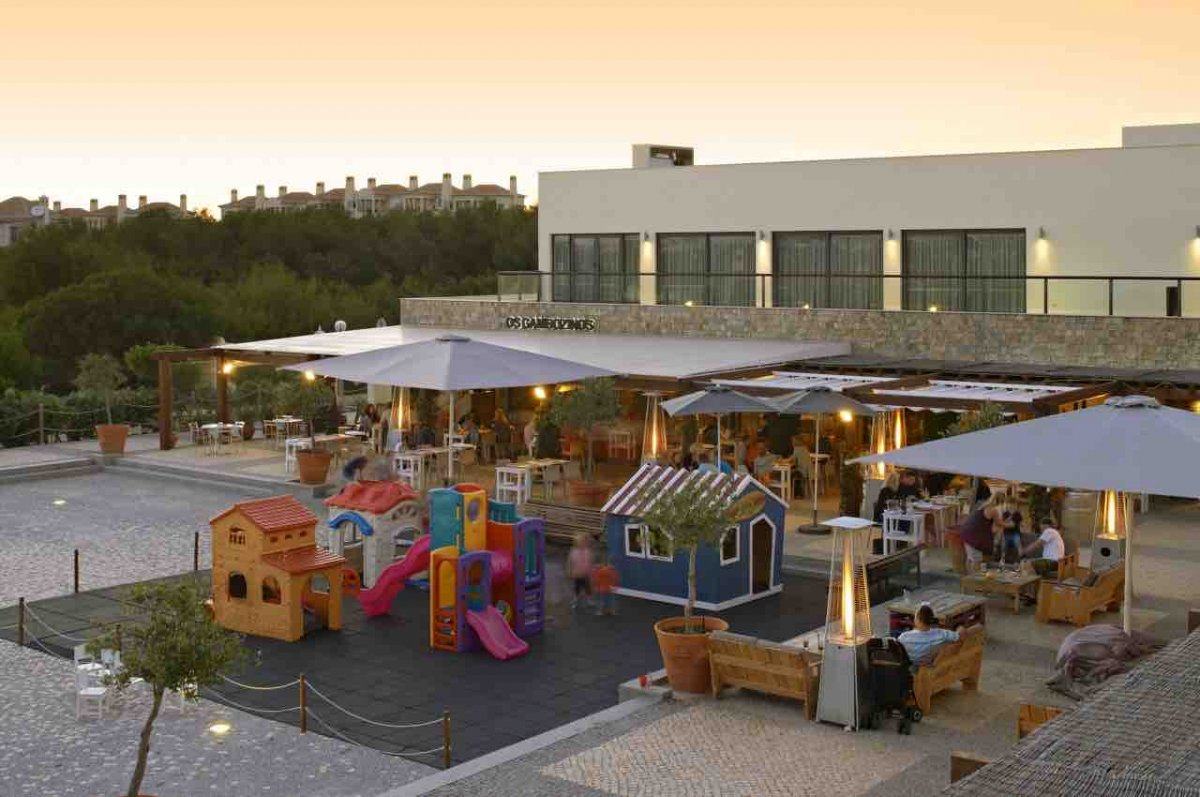 44. Emirates One&Only – Wolgan Valley, Australia
Situated on a conservation estate, this resort includes 40 villas that overlook the Blue Mountains. Kids can perfect their archery skills throughout the day while the adults get pampered in the spa or work on their tan in front of one of the many pools.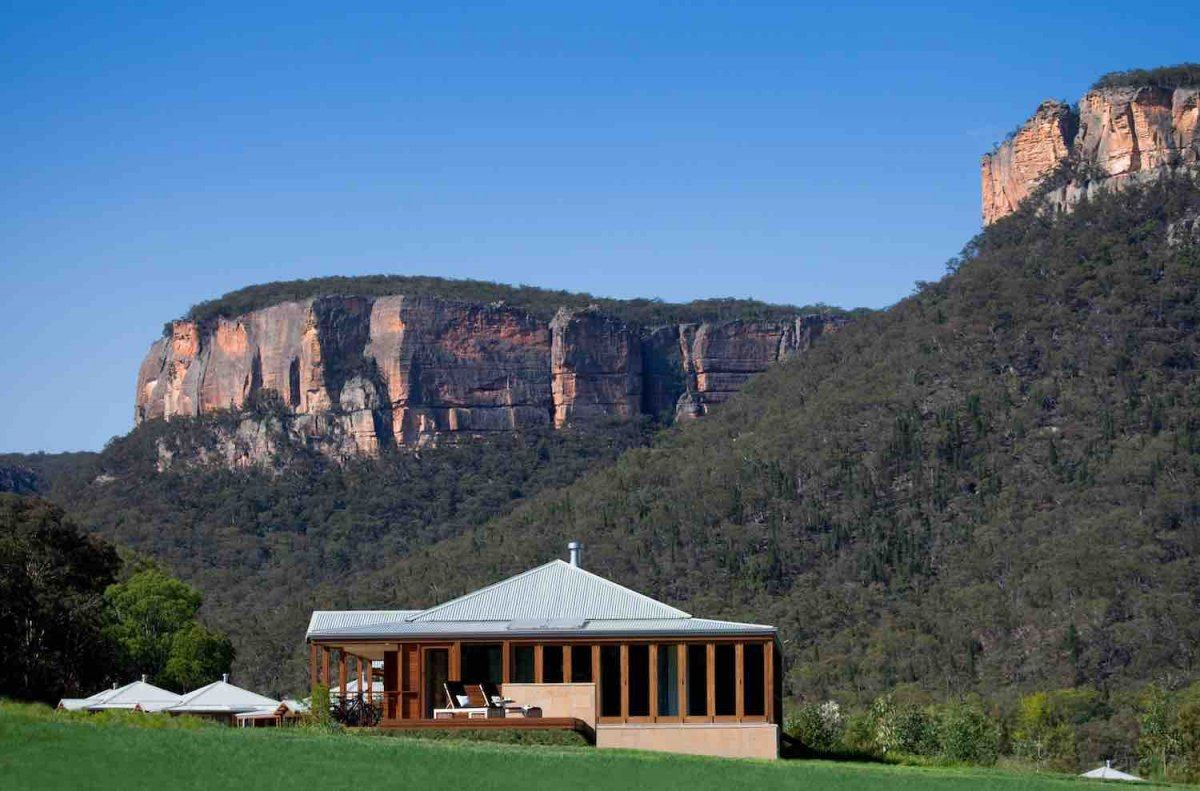 45. Ocean House, Watch Hill, Rhode Island
This charming hotel on the coast of Rhode Island has been the go-to resort for travelers since 1868. When the weather permits, visitors of all ages can go on sailing trips around the Atlantic Ocean, take part in hikes to explore the outdoors, or go on the hunt for clams at nearby farms.

46. The Cloister – Sea Island, Georgia
Located on Sea Island, The Cloister is a Mediterranean-style resort that has been a fixture in Georgia since 1928. There are so many areas on the island's 1,000-acres for you to enjoy, including the salt marshes. Back at the hotel, they have daily activities for families, including movie and ice cream nights.
47. Tea Horse Road – Lijiang, China
You'll have a truly unforgettable experience at this Lijiang, China resort. Explore the country's fascinating culture during your stay by learning how to cook traditional meals, and you can also sign the children up for Dongba classes to teach them the pictographic glyphs of the Naxi people. When your family is in need of some fresh air, simply hop on a horse or rent a bike to take a ride around the beautiful grounds of this charming hotel.
48. Hotel Wara – Copiapo, Chile
Venture out to the desert and enjoy a truly relaxing and lavish vacation in the heart of Chile. Hotel Wara is a mixture between glamorous amenities and rustic architecture in the Atacama Desert. The kids will keep themselves busy in the pool while the adults can enjoy the amazing scenery in the vineyards.
49. Hilton Waikoloa Village – Hawaii
There is so much to do at Hilton Waikoloa Village. This Hawaiian resort has a putt-putt course for kids, an array of watersport excursions, and boats that shuttle guests back and forth between their rooms and the resort's 14 restaurants and pools.

50. Nihi Sumba Island – Bali
Booking a trip to Bali is always a good idea, and we promise you'll want to stay awhile once you step foot on Nihi Sumba Island. On the coast of the island, the three-bedroom treehouses are big enough to fit your entire family. Personal butlers are also on hand to fulfill your every desire while your family relaxes in style!