Whether you're an experienced enthusiast or a first-timer, the thrill of bungee jumping (sometimes spelled bungy) can lead to discovering new locations and remarkable scenery as you dive into the unknown. While there are many amazing destinations for this activity globally, here are a few standouts in this world of extreme sports.
1. Bloukrans Bridge, South Africa
At 710 feet, the Bloukrans Bridge along the Garden Route in South Africa is the tallest jump location in the world. The single span arch bridge is located near Nature's Valley, Western Cape, South Africa, and jump experts take you through the necessary preparations prior to this impressive jump. With a visually tantalizing backdrop and nothing but air as you fall, this is a knockout experience for bungee jumpers worldwide. So get with the countdown that happens before the jumps and take off in five, four, three, two…
2. Verzasca Dam, Switzerland
On the Verzasca River of Ticino, Switzerland is the Contra Dam (also known as Verzasca Dam or Locarno Dam). Following the 1995 "James Bond" film Goldeneye, starring Pierce Brosnan, where a stuntman jumped off the arch dam in the opening scene, it became a major bungee jumping destination among enthusiasts. Can't blame jumpers either, as Bond movie moments are what extreme memories are made of.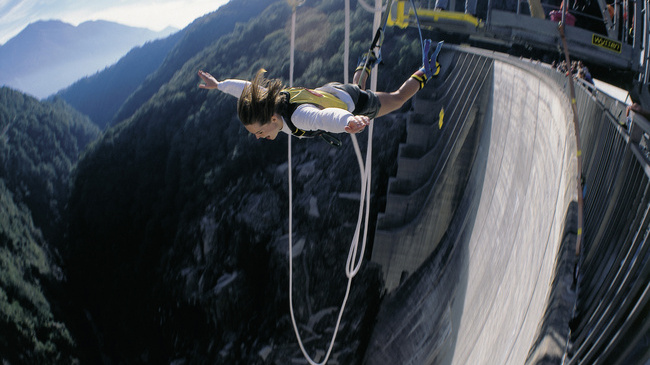 3. The Nevis Highwire, Queenstown, New Zealand
New Zealand is already known as a land of adventure and the unknown, where explorers can discover places and things they'd never dreamed of. Additionally, Queenstown was the site for the world's first commercial bungee jump location when the legendary A J Hackett somehow convinced people it was a good idea to jump off a bridge attached to an elastic chord. With all that in mind, it's no wonder that they have multiple options for jumpers ready to launch themselves into the air. One of these is the Nevis Highwire. It's not a bridge, but a remote station hanging from a wire across a canyon. It offers a 440-foot drop towards the river below, perfect for daredevil bungee lovers.
4. Victoria Falls, Zambia, Africa
Victoria Falls is a famous waterfall on the Zambezi River in southern Africa, and is a jump that is not for the faint of heart. It forms the border between Zambia and Zimbabwe and is 354-feet tall and 5,604 feet wide. The Kololo tribe that lived in the area in the 1800s described it as Mosi-oa-Tunya (the smoke that thunders) and bungee jumpers must get a real feel for that moniker, as water thunders in their ears while braving this incredible leap.
5. Corinth Canal, Greece
At 260 feet, Greece's Corinth Canal sees numerous jumpers take to its edge in weekends during the summer, as the company Zulu Bungy organizes regular jumps. The canal acts as a bridge between mainland Greece and the Peloponnese, and adventurers can take the quick way down with an exhilarating leap.
6. Alta Vila Tower, Brazil
While all of the jump spots previously mentioned have amazing views, one that's sure to take your breath away is found in Brazil at the Alta Vila Tower of Nova Lima. Sightseers crowd the location as there is an amazing view of the mountain-surrounded Belo Horizonte. Then again, staring at the panoramic view isn't usually the top priority for people about to take the plunge off the side of a 233-foot building.
7. Royal Gorge Suspension Bridge, Colorado, USA
Want to jump from a bridge that until 2003 was the tallest in the world? Though it was usurped by the Beipan River Guanxing Highway Bridge in China after 74 years of dominance, bungee jumpers take on the Royal Gorge Suspension Bridge not just for the thrill but for lifelong bragging rights. It's suspended above the Arkansas River, spanning over the Royal Gorge Route Railway 955 feet above the river. At 1,260 feet long, suspended from 150-foot high towers, those that aren't ready to jump — or never intend to — can still use the wooden plank-way for a scenic and unforgettable trek across.
8. Ponte Colossus, Italy
Cult followings are usually related to pop culture, but in the bungee and base jumping world, this is also true of bridges. Ponte Colossus in Italy, aptly nicknamed "Colossus" due to its sheer size, has been drawing crowds of dedicated and newbie jumpers since it opened in 1995. It is an eight-tiered bridge located halfway between Torino and Milano. The center affords jumpers the opportunity to launch into the air from 499 feet — one of the highest bridge jumps available. As you can imagine, this isn't for the faint of heart.
9. The Pipeline Bungy, New Zealand
If you're not quite prepared to jump above 400 feet, how about smaller steps with the Pipeline Bungy in New Zealand. Until the late 1990s, this was one of the most popular bungee jumping site in the bungee-crazy region, where you leap off the longest single span suspension footbridge over the Shotover River. For four seconds your heart is either in your mouth or at your feet, as you plummet from the jumping platform into the tumultuous river. Everything's perfectly fine though, as you say goodbye to the raging waters in exchange for the safety of a boat that takes you back to shore.
10. Macau Tower, China
Picture this: A 1,108-foot high tower and a 764-foot high observation deck where you, bungee equipment securely intact, prepare to take a literally breathtaking leap. The Macau Tower in China is one of those hair-raising experiences that at times have even the most experienced bungee jumpers tentative to try. The equipment used allows jumpers to hop off in practically any weather and they can reach speeds of 200km/hr. Enthusiasts must use what is known as a second generation bungy cord — a sphere-shaped cord that has a larger top than bottom. When jumping from major heights, this evenly distributes the jumper's weight along the cord's entire length. This is necessary as 98 feet from the ground, jumpers slow down and are rebounded back up with ease without fear of slamming into the tower.
11. Colorado River, Costa Rica
Though it is mainly a hot spot for hobby anglers, the Colorado River, or the Rio Colorado, in Costa Rica, features the Colorado River Bridge, which is a great bungee jumping site at 279 feet. The company Tropical Bungee works from this bridge and offers jumpers a variety of options, including an all-day pass. This way you get the most out of your bungee jumping experience no matter your skill-level, and they pay special attention to the safety of all jumpers. The river it spans goes 265 feet deep, and this jump is one of the tallest in the Americas.
12. Kawarau Gorge Suspension Bridge, Queenstown, New Zealand
Queenstown is a mecca for bungee jumpers for a reason and another great location to test those latent bird skills is at the Kawarau Gorge Suspension Bridge spanning the Kawarau River in the Otago Region. Just over 141 feet high, this is a great jump for those testing the waters, or if you want to get experimental with somersaults and flips as you're airborne. Famous for being the world's first bungee jump location, it's worth checking out to observe others even if you're not prepared to jump yourself.
13. Navajo Bridges, USA
Across the Colorado River and the Grand Canyon, there is a 467-foot bridge spanning these natural works of art, known as the Navajo Bridge of Marble Canyon. September is a perfect time for jumpers to take their leaps, as the scenery, mixed with the incredible visions of autumn and its rich colors, contribute to unforgettable bungee jumping experiences.