One of the most relaxing ways to unwind is to settle in with a baited hook in the great outdoors. Fishing is about more than just the catch. It eases the tension and stress that can come along with everyday life and allows you to commune with nature in breathtaking environments. So, where in the USA can you go for some of the best fishing around? Check out our top picks.
1. Boston Harbor, Massachusetts
Boston is one of the oldest cities along the eastern seaboard, and the Boston Harbor is known for its trophy-sized bluefish, flounder, and striped bass. If you don't know where to begin, stop off at Boston Harbor Shipyard & Marina, which is the hub for docking your boat, as well as meeting and hiring local guides and fishing charters. You can fish while enjoying stunning views of the Boston skyline. Alternatively, explore the Boston Harbor islands, which are ripe for beaching, boating and casting a line. Just up the Massachusetts coast are the charming towns like Gloucester and Rockport which are idyllic for a quintessential New England fishing trip.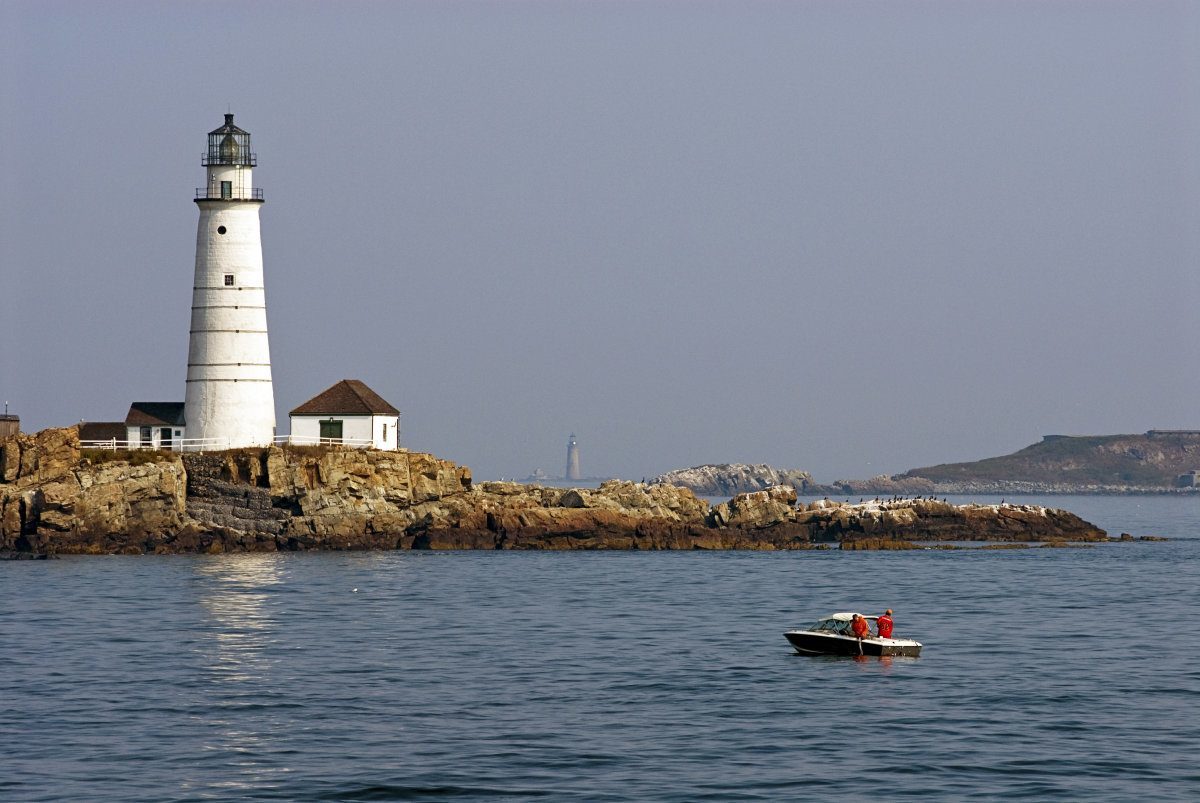 2. Mountain Home, Arkansas
Get your flies ready to fish up some big trout in the White or Norfork (North Fork) Rivers, in Mountain Home, Arkansas. While the White is known for areas teeming with hundreds of 5-plus-pound brown trout per mile, the Norfork produced a 38 pound 9 ounce former world-record brown trout in 1988. This places them securely among the world's best trout fisheries, and as a plus, the area is still not over-developed, expensive, or over-crowded. If trout aren't your bag, stripers, largemouth bass, and walleyes are at home in abundance in Bull Shoals Lake and Lake Norfork too.
3. Bighorn River, Montana
Another trout-lover's dream is a tributary of the Yellowstone known as Bighorn River, where there are not only great trout streams, but numerous amazing lodges as well. Found in southern Montana, Bighorn River Lodge is a top spot for fly fishing enthusiasts and sportsmen. With trout that ranges from 15 to 19 inches—and some exceeding 20 inches—it's no wonder that the location is a big hit for fly fishing. The approximately 461-mile river also flows in Wyoming.
4. Traverse City, Michigan
Grand Traverse Bay, located in Traverse City, Michigan, is home to some of the best carp flats and smallmouth pockets in America. May to October is prime fishing season and with numerous natural lakes and rivers found along the 32-mile long, 10-mile wide bay, you won't be able to cover all of it in a season. Here anglers can search for panfish, Coho salmon, walleye, trout, bass and steelhead.
5. Bristol Bay, Alaska
If you're thinking salmon, then Bristol Bay, Alaska is the place to be. The world's largest natural salmon migration occurs there each year in southwest Alaska. With many shallow estuaries and freshwater nursery lakes, Bristol Bay has become the largest commercial sockeye salmon producing region in the world. While you're taking in the crisp air and incredible salmon fishing, you can also try your hand at hooking into arctic char and huge rainbow trout that are also common in these rivers.
6. Green River, Utah
Brown and rainbow trout have the area below Flaming Gorge Dam in Green River, Utah, on lockdown. Fly fishing enthusiasts are in for a treat with this river, as are river runners, who can raft in locations such as Gray and Desolation canyons. If you want your fishing getaway to be about more than the glorious waters, check out Green River State Park, the put-in point for Stillwater and Labyrinth canyons, where there is not only great fishing, but birding, a cottonwood-shaded campground, and a nine-hole golf course along the river's banks.
7. Minocqua, Wisconsin
With approximately 70 lakes, Minocqua, Wisconsin features an impressive range of species. A couple include trout found in the creeks and an underrated small smallmouth bass fishery. The cabin community is four hours away from Madison and five from Milwaukee, and is a place where taking in all the outdoors has to offer is a way of life.
8. Atchafalaya Basin, Louisiana
Atchafalaya Basin, Louisiana, is America's largest river swamp. It begins near Simmesport, LA. and carries on 140 miles south to the Gulf of Mexico. With nearly one million acres of the country's most noteworthy bayous, swamps, bottomland hardwoods, and backwater lakes, you can imagine that there is some great fishing to be had. Though Hurricane Katrina put a halt on it for a while, facilities are back up and running and tour operators are once again focused on aiding avid fishermen and fisherwomen to catch billfish and redfish.
9. Colorado River, Colorado
The 1,450-mile Colorado River, Colorado, is one of the principal rivers of the Southwestern United States and northern Mexico. Gold Medal trout have been hooked in this river and fish are generally 16-20 inches long. There are other draws too as superb lodges can be found here, as well as the Rocky Mountains range, which is known for having the highest peaks in central North America. It makes for breathtaking views on a fishing trip.
10. Florida Keys, Florida
Deep sea fishing is the daily norm in the Florida Keys, and a fishing vacation there can see you relaxing on a hired boat, hooking into anything from bonefish, tarpon, marlin, sailfish and swordfish. It's easy to hook into a fishing charter in these parts, and many take a catch-and-release approach to balance preservation with recreation. One of the cool things about a fishing trip to the Keys is that if you want to throw in your fishing hat and be a voyeur instead, there are great diving, scuba, and snorkeling opportunities where you can see a great selection of fish and coral in the warm waters.
11. Bozeman, Montana
Angling for a Big Sky Country adventure? One of the premiere fly fishing towns in Montana is Bozeman. Located near Yellowstone National Park and in the heart of the Rocky Mountains, this is a major hub for those who want to take in this outdoor recreational activity. Guided angling trips and camping adventures are easy to find in these parts.
12. Kenai Peninsula, Alaska
Red, pink, silver, and king salmon, along with Pacific halibut, char, rainbow trout, and a multitude of other fish species fill the waters of Kenai Peninsula, Alaska. With glacier-topped mountains as the backdrop, camping grounds in remote areas of Kachemak Bay State Park and Kenai Fjords National Park, brown bears meandering in their search for fresh fish just as you are, and beautiful untouched forests and lakes, this is a nature lover's and fishing enthusiast's dream.
13. Glenwood Spring, Colorado
Not one to go by fishing seasons and looking for great fly-fishing even in the coldest winter? Then look no further than Glenwood Spring, Colorado. Here Gunnison, Eagle River, and Frying Pan are breezy day trips, there is an abundance of trout in numerous lakes, and the Colorado and Roaring Fork rivers merge in town. With over 300 sunny days annually, hot springs, and at least one world-class fly fishing option during winter, coupled with the fact that it's far enough downstream from Aspen to make it more affordable, Glenwood Spring is a must-visit for any avid angler.