Many people have "swimming with dolphins" on their bucket-list. Young girls, in particular, seem to long for this coveted photo-op, but it appeals to all ages. Close encounters with dolphins is a dream that can be fulfilled at many resort attractions around the world. However, there is increasing concern and controversy that these tourist experiences are not so good for the cetaceans. Most are caught from the wild or born in captivity to live in confining pens and perform tricks. They miss out on complex pod socialization, and often show signs of stress. While it may be a thrill to the human participants, it's of little benefit to the dolphin. These SWTD programs often claim their research, breeding and educational components outweigh the negatives, but anyone with concern for animal welfare might want to think twice. If you really want to take the plunge with our ocean cousins, here are 10 places where you can swim with dolphins. Consider this a list of attractions to avoid if you truly care about the species.
1. Discovery Cove, Orlando
This SeaWorld theme park's highlight attraction is their one-on-one dolphin swim experience. Participants ages 6 and up can head to the dolphin lagoon, accompanied by a trainer, and come nose-to-nose with a bottlenose. After 30 minutes of hugging, kissing and playing with the animal, you are encouraged to grab the dorsal fin for an aquatic joy ride back to shore. Memories of a lifetime? Absolutely. Incredible photos and some hands-on learning about the species? Sure. But those concerned about the ethics of dolphin swims should give this a miss.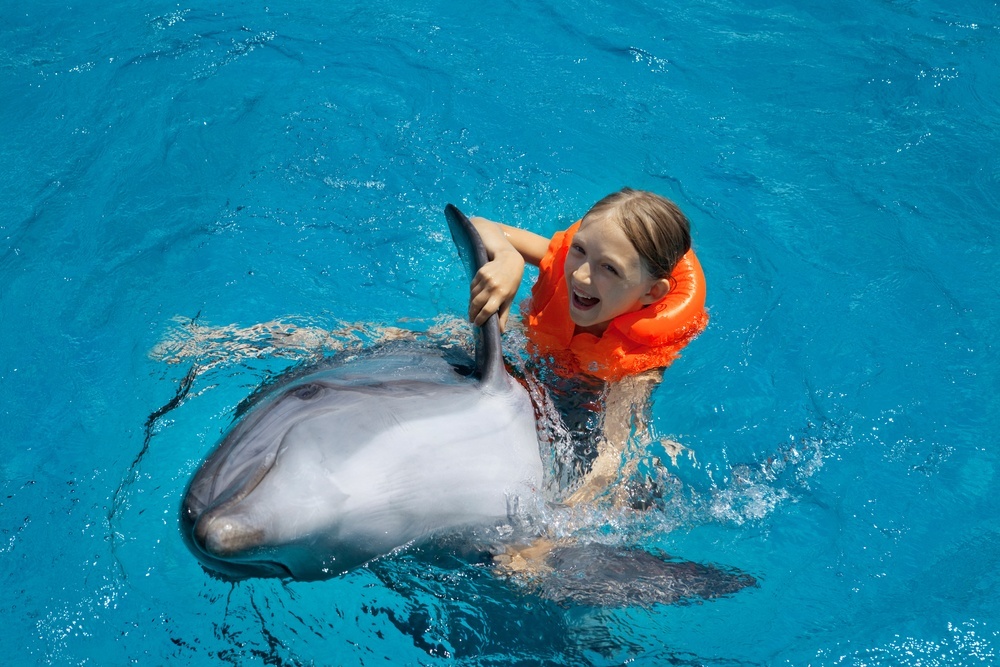 2. Dolphin Cay, Bahamas
For many marine life enthusiasts, Atlantis is the ultimate resort to go to for all sorts of aquatic adventures. They have rescued bottlenose dolphins on hand for a memorable interactive encounter. They offer several dolphin programs including a deep water swim and trainer-for-the-day experience. It doesn't come cheap, and there are all sorts of extra charges for photo packages and bystanders to watch from the beach. In fairness, this operation has made commendable efforts towards humane treatment of their cetacean residents. Their pen is 14-acres with 7 million gallons of seawater. It is one of the largest marine habitats and rescue-rehabilitation facilities in the world. However, if you think about it from the dolphins' perspective, that's a lot of tourist manhandling to endure each day.
3. Anthony's Key Resort, Roatan
If you're heading to Honduras, this tropical beach resort has a lot to offer. It's attached to the Roatan Institute of Marine Sciences and offers a range of dolphin encounters for visitors. You can play with them in the shallow Bailey's Key enclosure or dive with them out in the the open sea. You can also sign up to be a trainer-for-a-day or participate in a six day Dolphin Scuba Camp. They make efforts to educate the participants about the aquatic mammals and the local ecosystem, but it's also a business. They book a lot of cruise ship passengers who bombard them for a day of hands-on dolphin manipulation and photo-ops. Should these sentient creatures really be subjected to this for our tourist kicks?
4. Dophinarium, Dubai
One of Dubai's many sought-after attractions is the Dolphinarium in Creek Park, where seals and dolphins put on several artistic and acrobatic shows for its audiences. You can also arrange to have an in-water session with their six resident dolphins. It is no-doubt a "wow" for kids and adults to experience, but activists have critiqued the acquisition and treatment of their bluenose residents. Of course, management has defended the allegations, countering that their dolphins are well cared for and happy. It's hard to know who to believe, but perhaps its better to learn about these magnificent creatures through videos and books.
5. Dolphin Research Center, Grassy Key, Florida
This education and research facility in the Florida Keys is home to dolphins that were born here, rescued, rehabilitated or deemed unsuitable to be re-released back into the wild. The center's mission is to promote "peaceful coexistence, cooperation and communication between marine mammals, humans and the environment." Their intentions may be good, but they do offer a wide range of dolphin interaction programs that are of questionable benefit to the cetaceans. Dolphin dips, in-water encounters, out-of-water play sessions, trainer and researcher programs and even "paint with a dolphin" art experiences are available. It's one of the more conscientious centers out there, but you can't help but wonder, do the dolphins really like being groped, fin-shaked and kissed like that?
6. Dolphin Quest, Hawaii, Oahu and Bermuda
This company has specialized in fun and educational dolphin encounters in spectacular settings for over 27 years. You'll find them on Hawaii's Big Island, Oahu and Bermuda. They seem devoted to animal care, scientific study and environmental stewardship, but they still collect a lot of their funds from tourist SWTD programs. A range of encounters are available, from a quick 15 minute meet-and-greet dolphin dip for $125 to a 30 minute private premium experience for a cool $975. Photos are an additional cost. If a swim with dolphins is your ultimate bucket-list dream, this is a fine operation to check it off in. Just give some serious thought to whether this is really the best way to show your love for them.
7. Ocean Park, Hong Kong
Hong Kong's Ocean Park has been touted as the world's best theme park. No doubt it's full of shows, thrills and enlightening exhibits. Not surprisingly, they also offer nose-to-beak encounters with playful dolphins as well as other aquatic animals. These programs do have an educational component, and it is certainly a joy to get up close to these graceful beauties. It just seems a little unsettling to subject such intelligent mammals (second only to humans) to petting-zoo conditions. Is the opportunity to splash around, pose and swim with dolphins really worth it to you?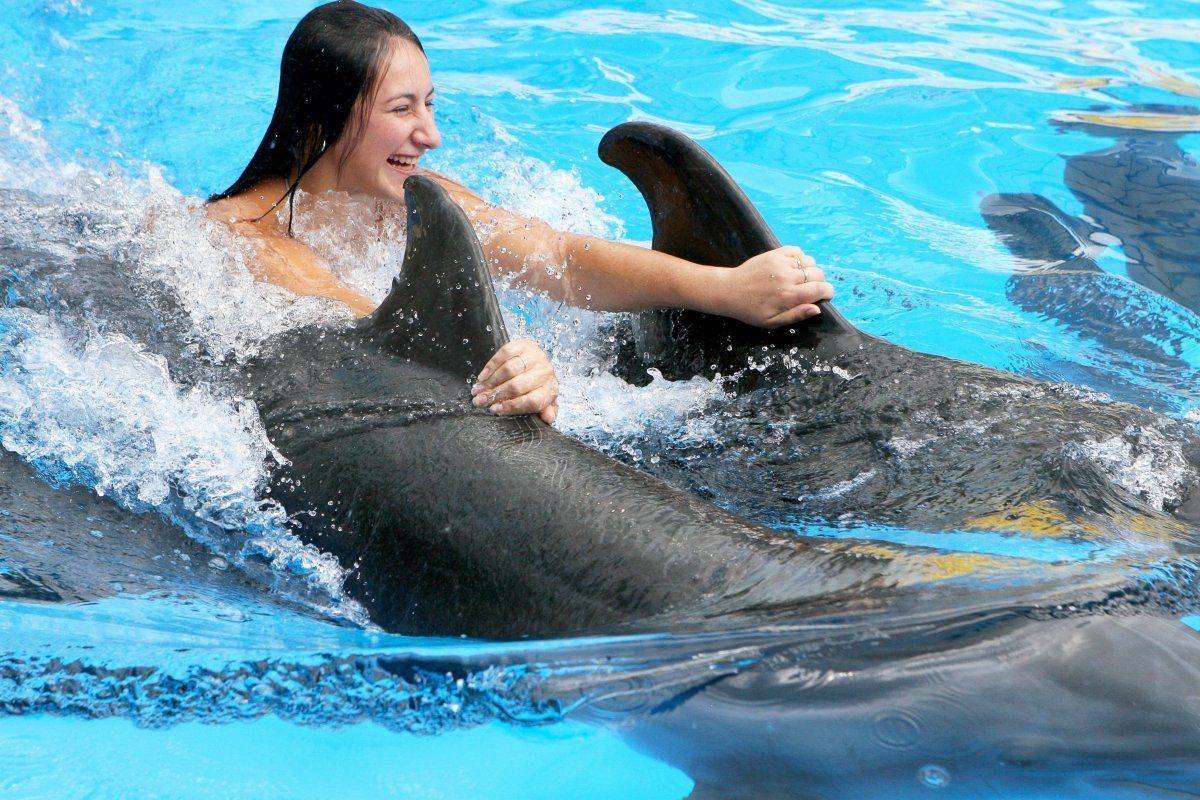 8. Dolphinaris, Mexico
If you're heading to Cancun, Cozumel, Riviera Maya, Barcelo or Tulum and have your heart set on a magical swim with dolphins, Dolphinaris is set to satisfy you. Their interactive dolphin programs are some of the best around, at least for the human's involved. They can coordinate all the belly rides, foot pushes, kisses and fin-to-hand-shakes you could dream of. We do see some benefits to these kinds of encounters, which can educate people about this special species and the conservation issues surrounding them. They may help foster a generation to care about marine life. On the flip side, it makes a commodity out of these living creatures and seems more than a tad exploitative. Does the good outweigh the bad?
9. Dolphin Cove, Jamaica
One of Jamaica's biggest tourist attractions is its swim with dolphins program in Ochos Rios. Their ocean enclosures are flanked by lush tropical rainforest, making a stunning tropical setting for this kind of experience. Dolphin Cove also has locations in Negril and the Cayman Islands. They offer a range of encounters, from knee-deep water hugs to immersive underwater Dolphin Treks in a breathable helmet. If you want to grab that dorsal fin and get towed through the waters, that's available too. There's just something a little disconcerting about hordes of cruise ship passengers and island vacationers descending upon these cetaceans for their personal thrills, though, don't you think?
10. Vancouver Aquarium, Canada
This intimate aquarium in Vancouver's Stanley Park was the first in the world to stop capturing cetaceans from the wild for display. It's a reputable marine science center and non-profit conservation organization, as well as a tourist attraction. Visitors age 8 and up can participate in their behind-the-scenes program where you'll explore the habitat, prepare a fishy snack and hand-feed the Pacific white-sided dolphins. You can't actually get in the water for a swim but you do get plenty of touchy-feely interaction from the dockside. You'll also learn about the research, conservation and animal care projects at the facility. If close encounters with dolphins is something you really want to do, this is one of the better places to consider.