For those seeking an extreme adrenaline rush, swimming with sharks presents the ultimate psychological challenge. From cage-diving with some of the ocean's deadliest predators to swimming freely among enormous yet docile whale sharks, the world is full of places for some unforgettable marine excitement. Check out these 10 places to swim with sharks, if you dare.
1. Cocos Island, Costa Rica
Situated some 340 miles off the coast of Costa Rica's mainland, Cocos Island Marine Park is a beautiful unspoiled tropical paradise. The small island features 20 main diving sites, many of them teeming with sharks. The most common sharks in the region are hammerheads, although tiger sharks, blacktips and the great white shark can be found there. It's a known "cleaning station" and social hangout for large schools of sharks, so chances of an encounter are good. Many dive operators focus on shark dives for those who want this bucket-list experience.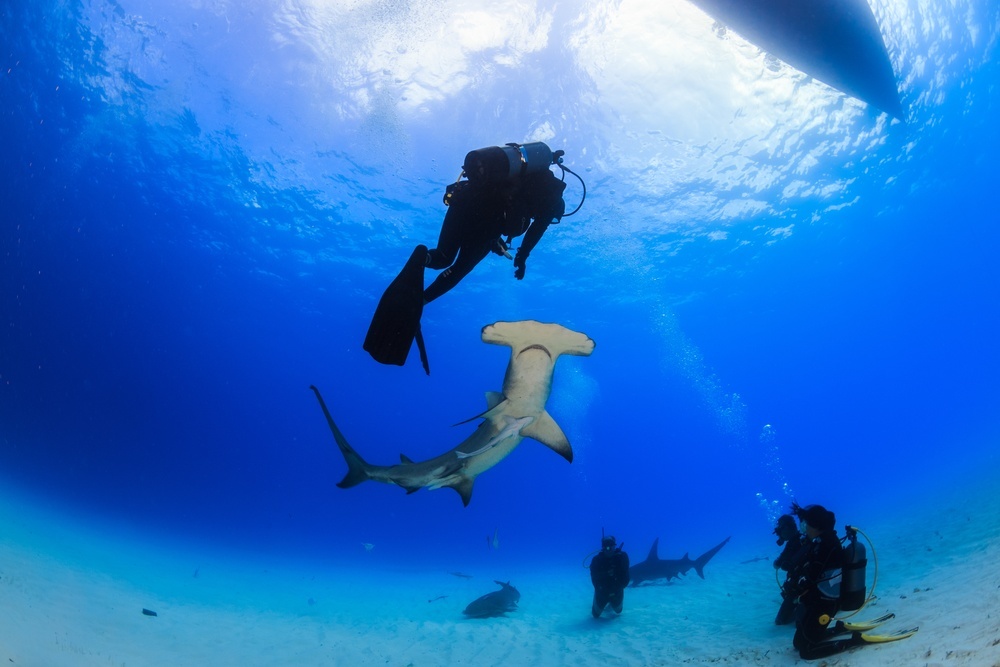 2. Isla Guadalupe, Mexico
A popular draw for cage diving, Isla Guadalupe is the ultimate destination for thrill seekers wanting to get up close and personal with one of the world's most feared and lethal predators – the great white shark. Divers can descend into the home territory of the great white in a reinforced metal cage either solo or accompanied by several other divers. This relatively new Bio-Sphere Reserve has quickly established itself as one of the world's premier places to swim with sharks.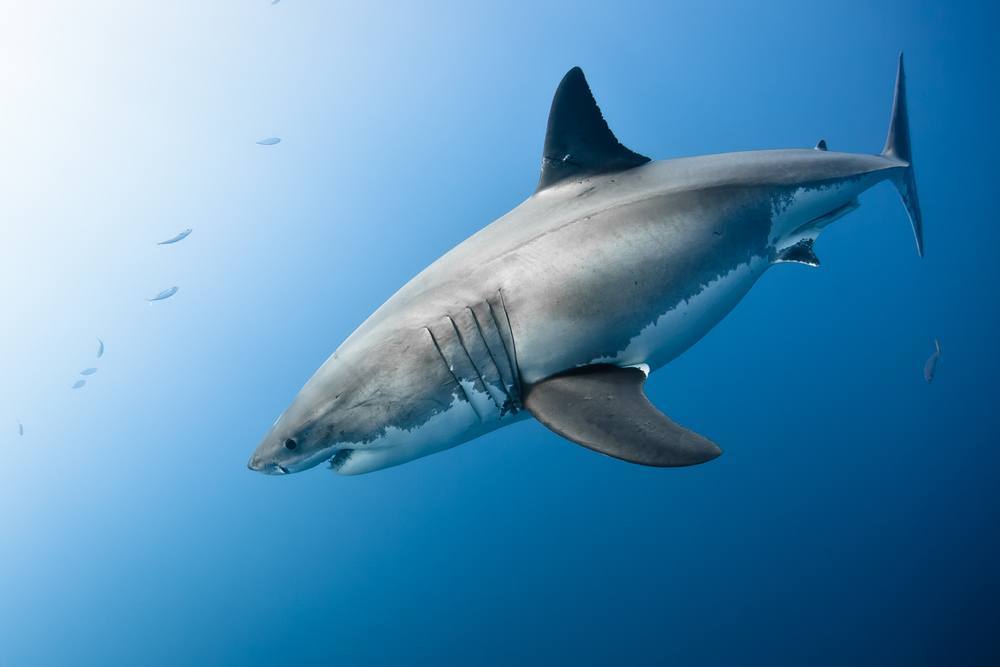 3. Mahe, Seychelles
With its golden sandy beaches, crystal-clear waters and lush palm forests, Mahe presents the epitome of a tropical paradise. The region is also home to the enormous whale shark. Growing up to 40 feet, the whale shark is the largest of all fish species. Despite its formidable size, it is a docile creature that poses no threat to humans. Sometimes, divers can even hitch a lift on their backs. Whale shark encounters are one of the most coveted sightings scuba divers have on their wishlists.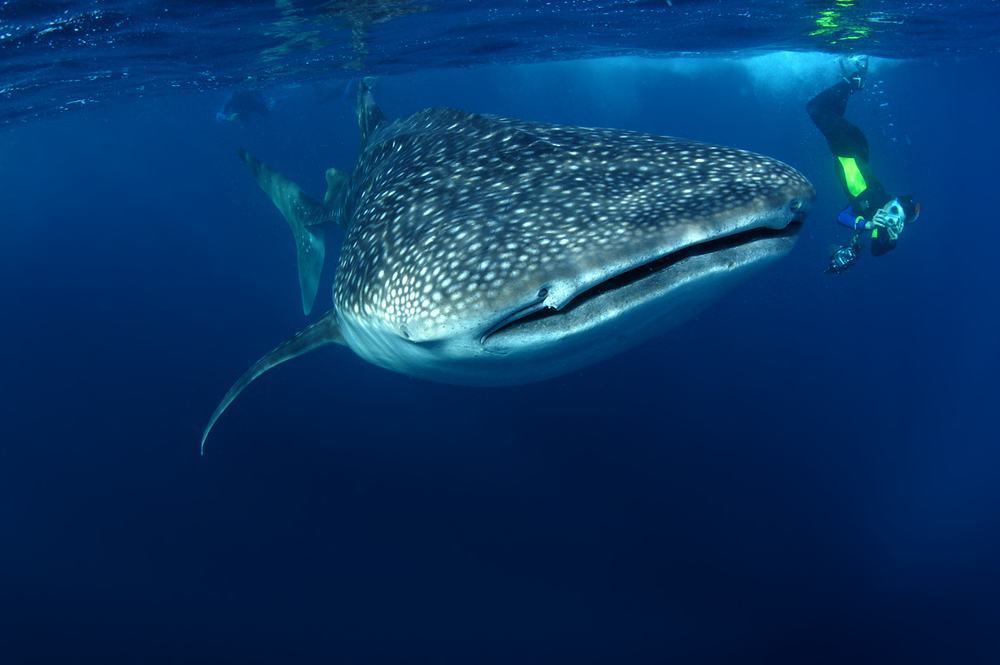 4. Puerto Ayora, Galapagos
While strong currents generally make the Galapagos unsuitable for beginners, more adventurous and experienced divers will be able to freely swim with hammerheads and a variety of other sharks. The Galapagos Islands themselves are home to some of the world's most fascinating wildlife too, with many species being endemic to the region. Whitetip reef sharks, nurse sharks and Galapagos sharks are prevalent in these prolific waters. Don't worry, there have only been 6 recorded shark incidents these since 1854. There's so many other food sources in the area, they don't bother munching on the tourists. Check Scuba Iguana for top-notch Galapagos dive trips.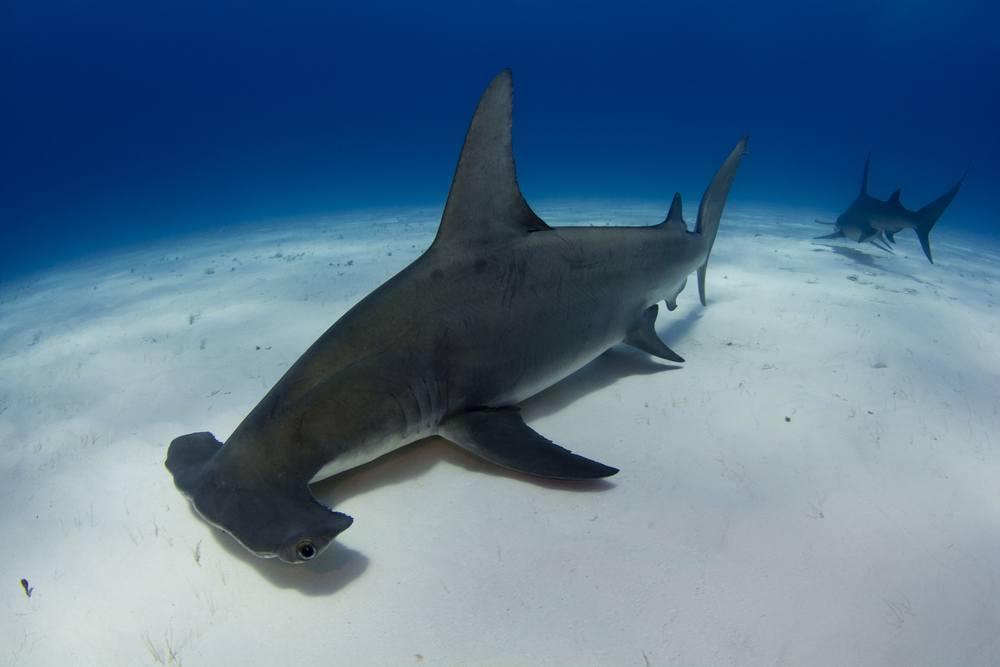 5. Belize Barrier Reef, Belize
Suitable for swimmers and divers of any level of experience, the Belize Barrier Reef is home to many exotic species of sea life. Visitors can swim with nurse sharks, which generally do not pose any threat to humans, despite their ominously large size. The Belize Barrier Reef is also a great spot for snorkeling with whale sharks, particularly during full moon from March to June.
6. Morehead City, North Carolina
You don't always have to go to some far-flung exotic destination to dive with sharks. North Carolina's coast has plenty of excellent shark-diving opportunities where you'll get a chance to swim with sand-tiger sharks. For example, Discovery Diving, based in Morehead City, provides a wide range of diving courses and expeditions, including exploration of shipwrecks in the area.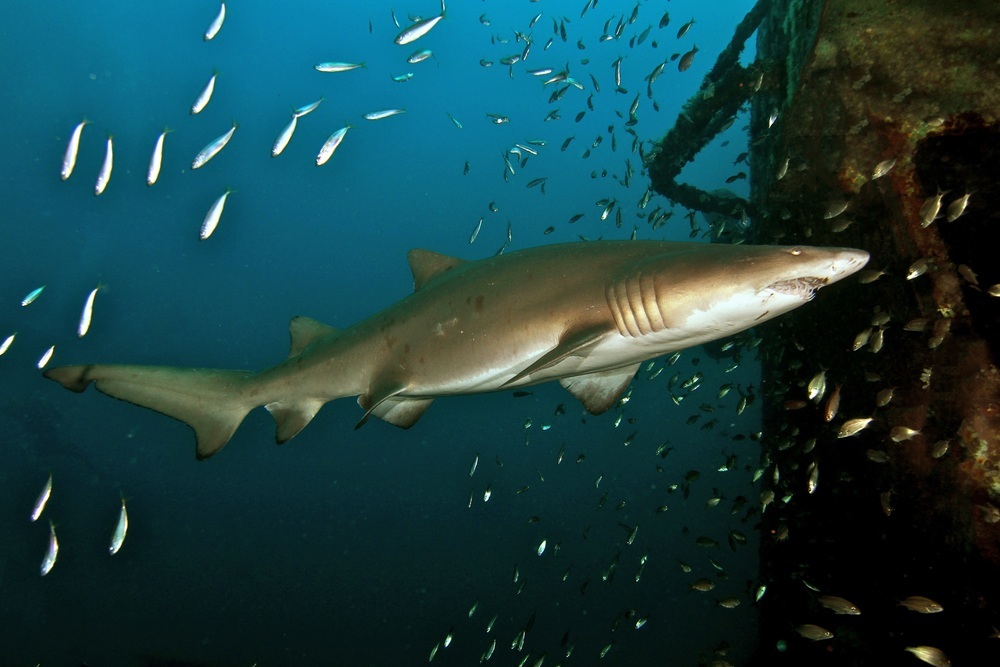 7. Grand Bahama, Bahamas
The Underwater Explorers Society in Grand Bahama provides dolphin excursions, shipwreck diving, scuba diving with reef sharks and more. Their Shark Junction dives brief you on these magnificent creatures and dispel some shark myths before taking you in the waters. The seas around the Bahamas are home to a variety of sharks, some of which are relatively docile and harmless, such as the lemon shark. However, those seeking the ultimate adrenaline rush can even dive with oceanic whitetips or tiger sharks.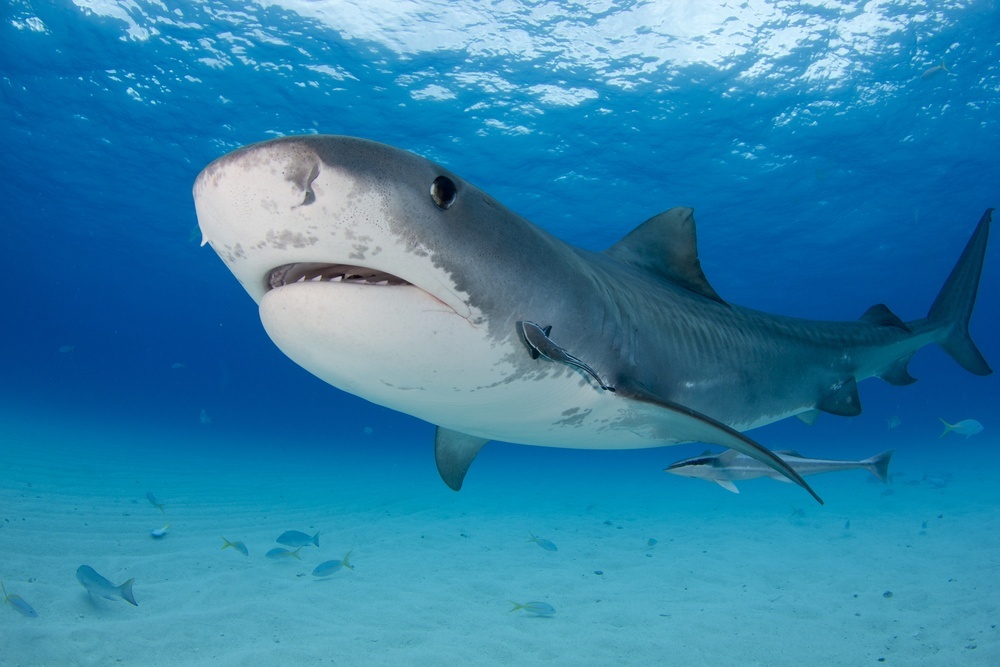 8. Great Barrier Reef, Australia
The largest and most spectacular reef in the world, Australia's Great Barrier Reef is a paradise for adventurous divers. The extensive coral reefs are home to many types of shark, including the harmless whale shark, reef shark, blacktip and the occasional deadly whitetip and tiger sharks. Rest assured, most encounters pose little threat to divers or snorkelers. The great whites tend to hand out in the chillier waters in the southern ocean, not the tropical north. Visitors will also be able to enjoy excellent visibility, prolific marine life, exquisite corals and a wide range of diving opportunities around the Great Barrier Reef. There's no shortage of dive operators in this prime diving region.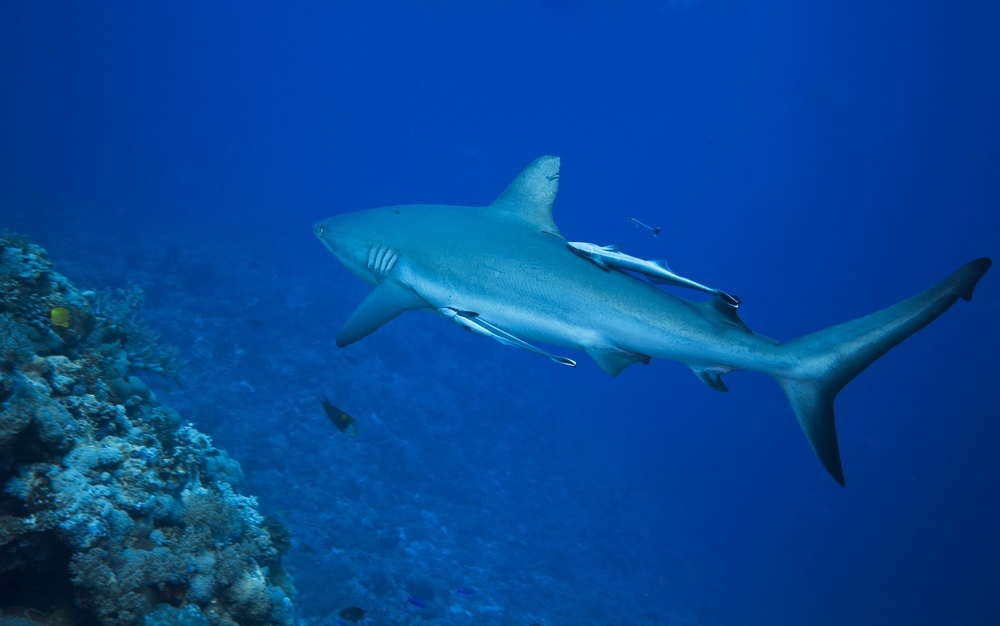 9. Kwazulu-Natal, South Africa
The Kwazulu-Natal region of South Africa is one of the best spots in the world to have a heart-pounding close encounter with a great white shark. No diving experience is necessary in most cases, and some companies, like Shark Cage Diving KZN, even promise to give you your money back if no sharks show up. Other species in the region include hammerheads, bull sharks, tiger sharks, dusky sharks, spinner sharks, Zambezi sharks and whale sharks. Best not to poke your fingers outside the cage bars around here.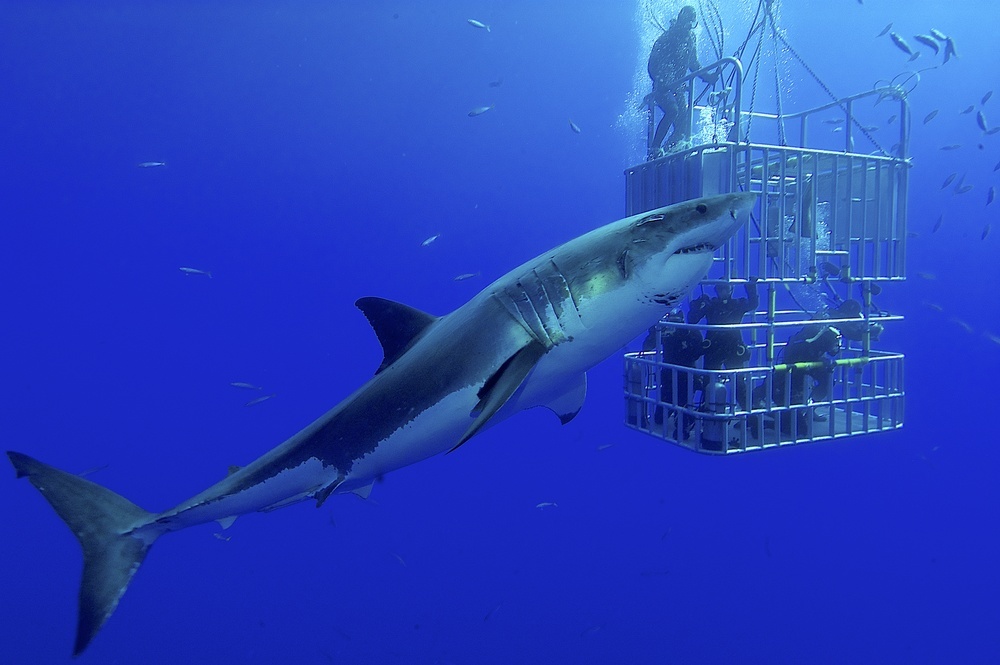 10. Oahu, Hawaii
Hawaii Shark Encounters is one of many companies that allow divers to experience the thrill of getting up close and personal with sharks in Oahu Island. You'll be safely behind a steel cage with reinforced glass windows, where you'll be able to see any of about 40 native shark species in the region. Reef sharks, hammerheads, tiger sharks, sandbar sharks and whitetips are all common in the area. The aim of these shark encounters is to educate and enchant visitors to the world of these magnificent, often misunderstood marine creatures.
What other places to swim with sharks do you know about?