Zip lining has become the must-do adventure sport for gutsy travelers all over the globe. It's relatively fool proof, no is experience necessary and it offers breathtaking views. Companies are upping the ante with new and improved zip line courses, trying to beat each other out for faster, longer and higher thrills. If you are an adrenaline junkie, look no further than these ten best zip lines around the world. Don't worry, there are gentler options for apprehensive first-timers too.
1. Pronutro Zip 2000, Sun City, South Africa
Proclaimed as the longest zip line in the world, this exhilarating line runs a record 1.2 miles. Riders here will reach speeds of up to 85 miles per hour, the fastest speed one can reach on such a wire (thus far). To make things even more exciting, "zippers" are strapped in superman style with a rudder placed between their legs to keep from going straight down this course. Expect to soar over 900 feet above ground over rugged terrain on this heart-pumping thrill.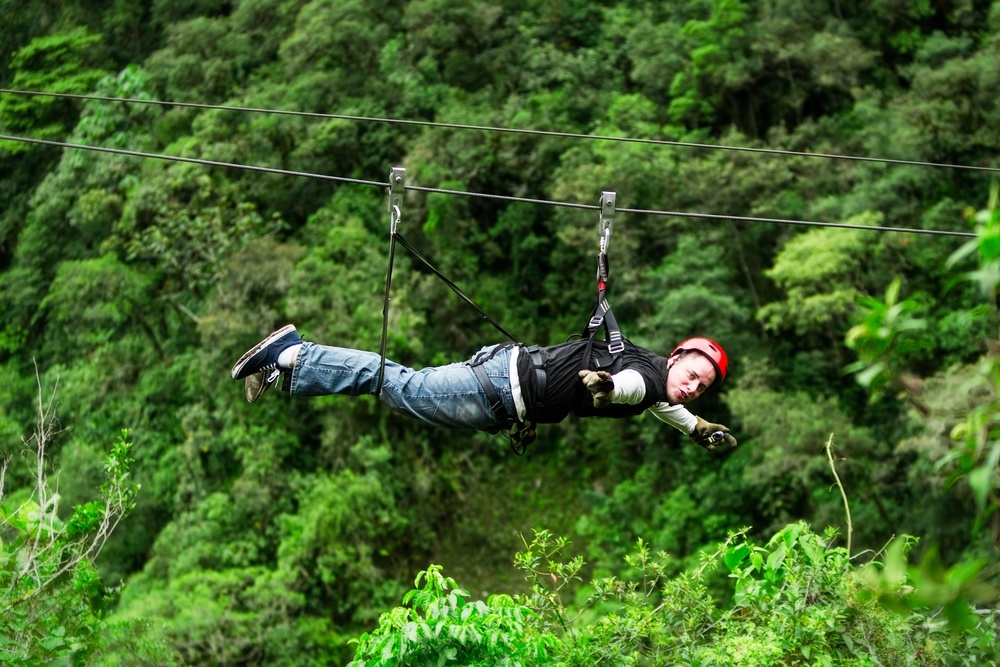 2. AdrenaLUNA, St. Lucia
This is one of the only places you can zip line at night, and only a few times a month around the full moon. The AdrenaLUNA lets visitors explore the nocturnal rainforest by zooming from platform to platform by moonlight. A special treat awaits you at the end as you swing off a Tarzan rope into a large nest. From there you can choose to rappel peacefully or rapidly back down to earth. What makes this zip line so sought after is its uniqueness that comes from going at night, perhaps even spotting some nocturnal rainforest creatures in the canopy. However, daytime canopy zips with Adrena-Line are also awesome. Both are offered through St. Lucia's Rainforest Adventures.
3. Icy Straight Point, Alaska
This zip line claims to be the largest in the world and it may be just that, offering six separate one-mile lines. Six riders at a time take to the top and drop 1,300 feet over 90 seconds. Average speeds hit about 65 miles an hour but the record to date is 82 miles per hour. The ride starts with a 45 minute tour and an eight mile bus ride to the top of the mountain. The views are unparalleled; rugged treetops, mountain peaks and ocean views.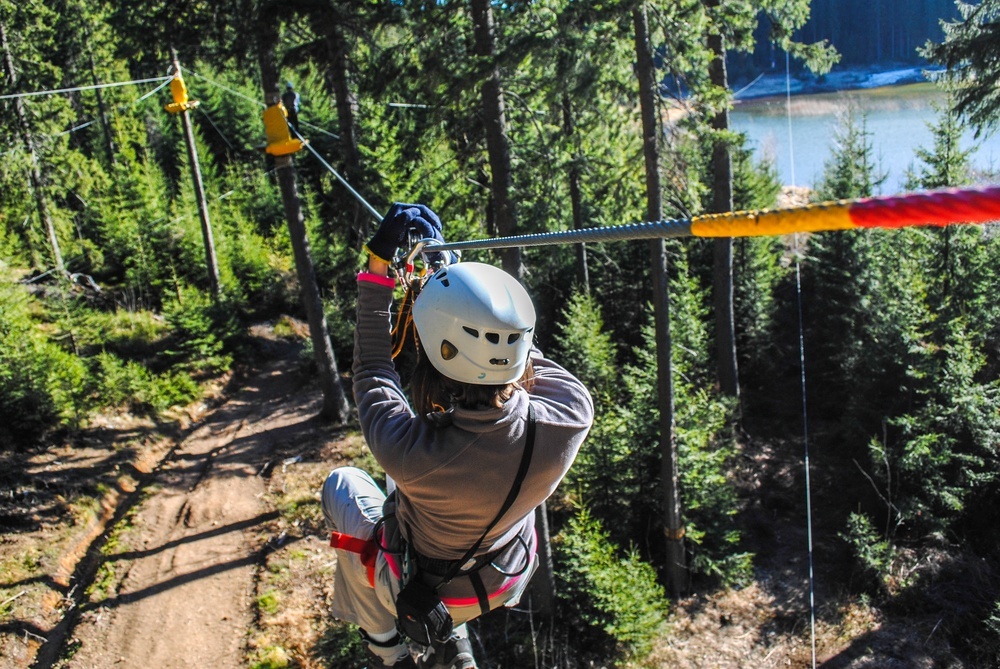 4. Gravity Canyon, New Zealand
Fly superman style on this awesome Kiwi thrill (one of many). This zip line, dubbed the Flying Fox, can have riders hitting speeds up to 100 miles per hour along 3,600 feet. "Zippers" will pass over the Rangitikei Canyon looking into the riverbed nearly 600 feet below. The course runs under a bridge and up towards a cliff face. This isn't a one way system; you roll back and forth a few times until you stop in the middle. Then the crew pulls you back in, so you can get back in line to do it all over again.
5. Ka'anapali Zip & Dip Ultimate Tour, Maui, Hawaii
This nine line adventure is certainly one of a kind as it allows riders to splash into a natural mountain pool. You'll be racing against friends while taking in sweeping views of the Pacific Ocean and the West Maui Mountains. Rated as the number one zip line tour in Hawaii, riders should prepare themselves for the view of a lifetime. A cool-off swim or paddleboard in the water after a day of zipping doesn't hurt either.
6. Dragon's Breath Flight Line, Labadee, Haiti
It may cost $100 and last just under one minute, but you cannot beat the view while zipping down this line. Riders start 500 feet up and swoosh 2,600 feet over the sparkling blue ocean. They hit speeds of about 50 miles per hour but it is the sheer thrill of racing down the side of the mountain and over the ocean that makes people want to do this zip line time and time again. Plus, getting to the launching pad in an open-air truck driven by a local is quite the experience. As the longest zip line over water, this is one not to be missed. It's one of the best zip lines out there, and a popular option for cruise excursions in the area.
7. Screaming Eagle Tours – Banning, Georgia
Screaming Eagle is officially the world's longest and largest zip line canopy tour, as verified by Guinness World Records. Don't miss it if you happen to be in the historic town of Banning, Georgia. This zip line tour company offers different levels of thrills to accommodate families, extreme daredevils and everyone in between. Their ultimate package includes up to 60 zip lines including the half mile long high-speed Screaming Eagle. Riders can expect speeds of 80 miles per hour and a whole day of adrenalin spikes here.
8. Flight of the Gibbons, Bangkok, Thailand
Head to the middle of the Thai jungle for some full action thrills with the Flight of the Gibbons zip line adventure. The course is 3km in length and offers 24 platform stations, two hanging bridges and two rappel descents. The scenery is the selling point of this tour as you zip through trees that look like they belonged in the dinosaur era. If you are an extreme thrill seeker this may not be the best option for you, as the lines are not the highest nor fastest in the world. However, those looking to zip through a lush setting will enjoy this exotic location.
9. Sky Trek in Arenal, Costa Rica
Costa Rica boasts some of the best zip lines in the world, and this one is hard to beat. Riders start off this tour by taking an open air gondola ride up to the heights where an excellent observation point awaits you. This is launching point of your zip line adventure. The zip lines stretch between canyons and through treetops, and even if it rains, bursting through the fog at high speeds can be even more fun. There are seven zip lines to conquer, the longest being 760m. Riders will get a full view of the Arenal Volcano and its surrounding lands, which is a breathtaking way to see it.
10. Toro La Bestia, Orocovis, Puerto Rico
Fly through the air, either traditional-style or superman-style, through the mountains and lush green vegetation of Puerto Rico. This zip line tour offers eight tracks that allow you to race against your fellow travelers. One 1.446km line is nicknamed 'the beast'. You will have to be between 105-300lbs to ride the superman style down this one. The wind often whips through this area letting riders fly through the mountains at speeds up to 80 miles per hour.