Stonehenge gets all the fame and glory, but there are plenty of other ancient archeological areas from which to enjoy this mystical time of year. In fact, there are over 1000 stone circles in the UK alone that put on a spectacular sunrise to sunset show. The best part is, you won't have to fight the tens of thousands of gawkers that Stonehenge tends to draw on the longest day of the year. These might not be as solstice-significant as the mighty "henge" but they're still worth a look if you want to tap into your inner druid. Check out some of these other prehistoric places to bask in the light and shadows of the day.
1. Beaghmore Stone Circles, County Tyrone, Northern Ireland
Discovered in 1940s, these ancient rocks date back to the Neolithic period. They are thought to signify an old burial site, a ceremonial circle or an arrangement to enhance soil fertility.
2. Castlerigg Stone Circle, Cumbria, England
If you're ever in the Lake District, be sure to visit what is one of Britain's earliest stone circles thought to date back to 3000 BC. You'll often find sheep grazing around them.
3. The Ring of Brodgar, Orkney Islands, Scotland
These mystical rocks are the northernmost circular henge in Britain, and are a UNESCO World Heritage Site.
4. The Rollright Stones, Oxfordshire, England
Stop by this circle of Bronze Age rocks near Chipping Norton, which have evocative names like The Kings Men and the Whispering Knights.
5. Drombeg Stone Circle, West Cork, Ireland
This is one of the more visited megalithic sites in Ireland, and is also called the Druid's Alter.
6. Boscawen-Un Stone Circle, Cornwall England
A lone stone pillar leans sharply in the center of this circle of 19 stones near St. Buryan, Cornwall.
7. Long Meg and her Daughters, Cumbria, England
This late Neolithic site in Eden Valley consists of a proud 12 ft. high sandstone monolith near a circle of of 59 stones. It's the sixth biggest stone circle in north-west Europe. Couldn't they have built that road around it?
8. Duddo Stone Circle, Northumberland, England
This prehistoric monument consists of five stones standing silently at attention just south of the Scottish border. There's a row of man-made cup marks carved on the large stone facing east.
9. Avebury, Wiltshire, England
Not too far from Stonehenge sits another awe-inspiring ancient arrangement. Built between 2850 BC and 2200 BC, it was originally comprised of 100 stones. The complex is actually larger than its more famous cousin up the road. This mysterious scattering includes a main circle, two ceremonial avenues and several barrows.
10. Callanish Stones, Isle of Lewis, Scotland
These 13 central stones stand like a circle of sentinels on the Outer Hebrides. One lone monolith is positioned in the middle. The site is infused with mythology and folklore, and was featured in the animated movie Brave.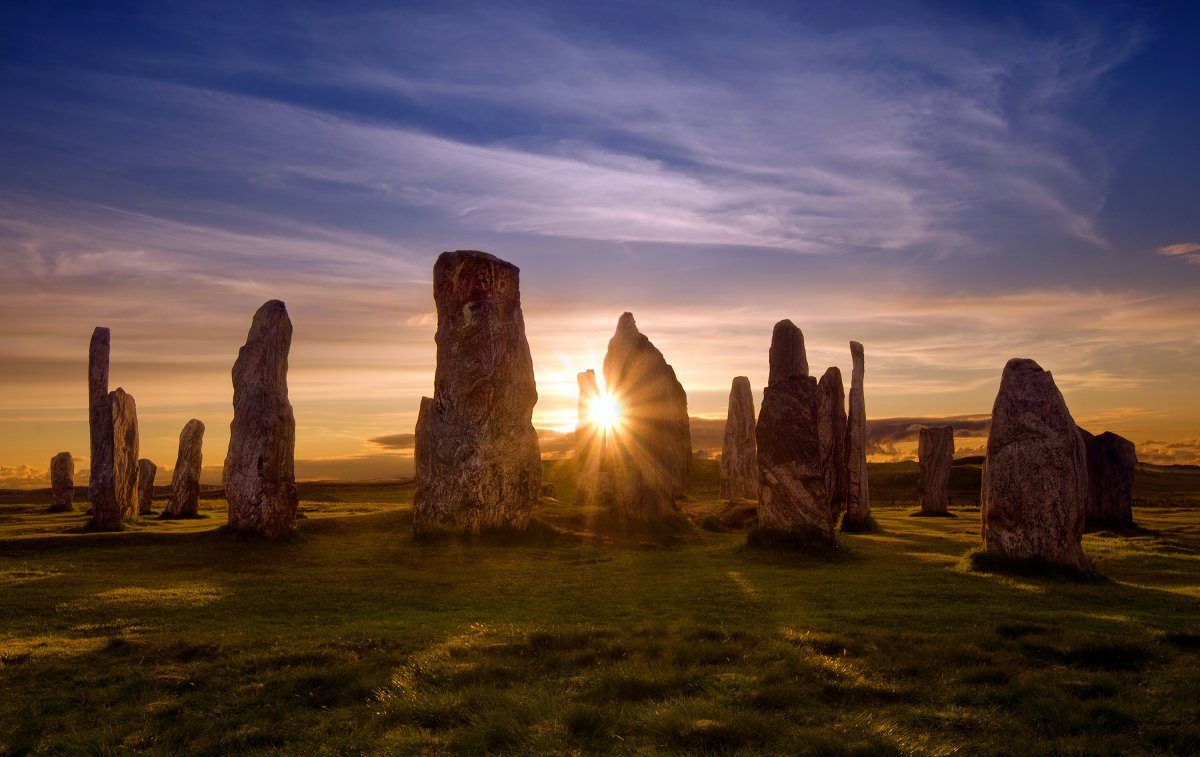 11. Stanton Drew Stone Circle, Somerset, England
This little known site is actually the third largest complex of prehistoric stones in England. It has 26 surviving standing stones, but archeologists believe it was once part of a more elaborate ritual site.