There was a time when airline travel had a touch of glamor to it. People would dress up and conduct themselves in a civilized manner. Flight attendants (or stewardesses, as they were called) were respected. Everyone was on their best behavior as they jetted off into the skies.
Times have changed. Plane flights today are no more glamorous than an inner-city bus trip. Mutual respect seems to have gone out the window. Those of us with manners have little recourse when affronted by selfish, unhygienic, misbehaving cabinmates. Have cheap flight tickets made air travel too base for civilized folk?
Well, now you can take back a little power and at least document these inconsiderate offenders. PassengerShaming.com is a social media site by former flight attendant Shawn Kathleen where people can post snaps of these inflight ingrates. It may not change anything, but at least we can commiserate and, hopefully, make people think twice about how they conduct themselves on public planes. Here is some extreme photo evidence of passengers behaving badly above the clouds.
1. Keep Your Shirt Buttoned Up, Please
Do we really have to say this? I don't care how hot and stuffy it might be on the flight. Keep your shirt buttoned up and your belly to yourself. Nobody wants to see this at 30 thousand feet. And what's with that hat, sir?
2. You're Not on the Beach Yet, Buddy!
It's not just rotund bellies we have a problem with. Even rock hard six pack abs should be kept under wraps. We're not sure what he's swigging from that bottle, but it's certainly clouding his better judgment.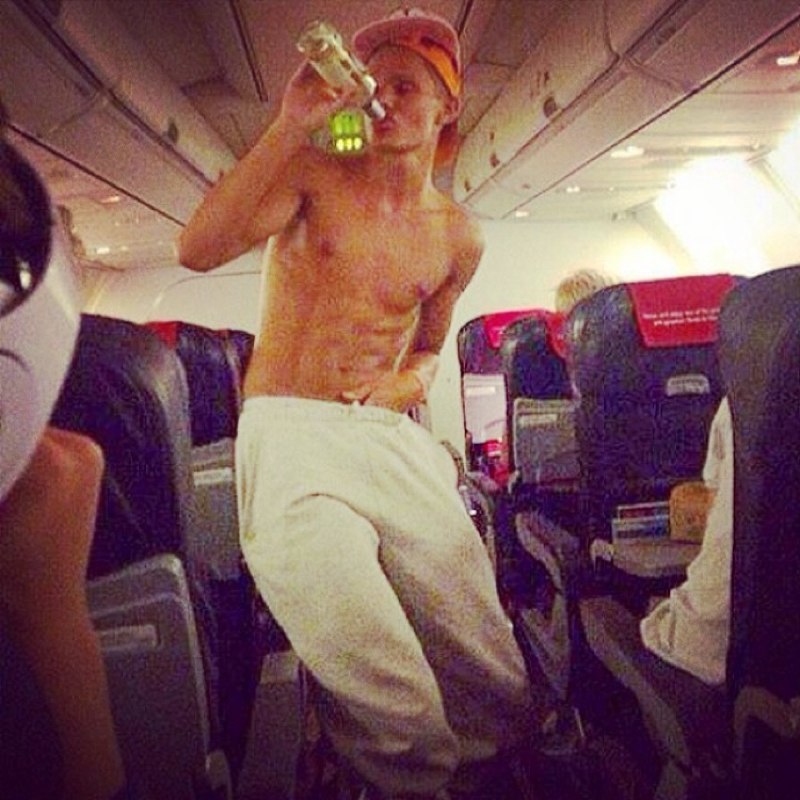 3. We Don't Want to Smell Your Feet
We understand that sometimes feet swell at high altitudes, so discretely slip off your shoes under your seat if you must. But keep your socks on, and don't stick your stinky bare feet in other people's personal space. Not only is this guy flaunting his feet, he is also stretching them across the aisle, blocking it for fellow passengers and flight attendants.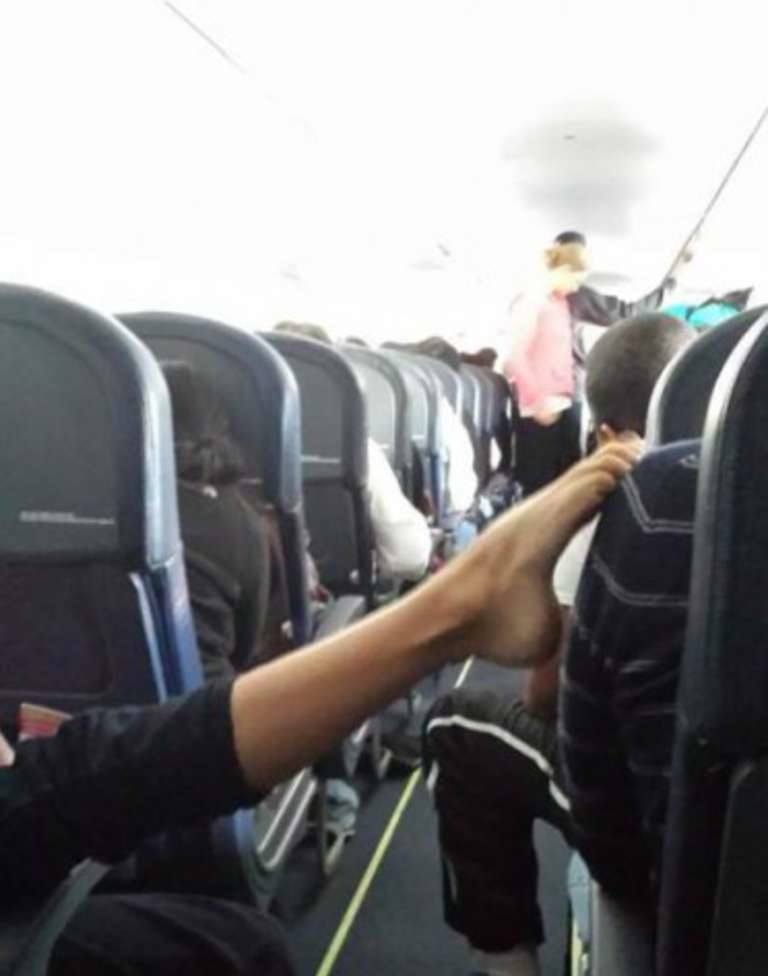 4. Plane Seats are Not Footrests
We don't care how tired you are or how much you want to stretch out. Nobody wants your smelly socks on their seat.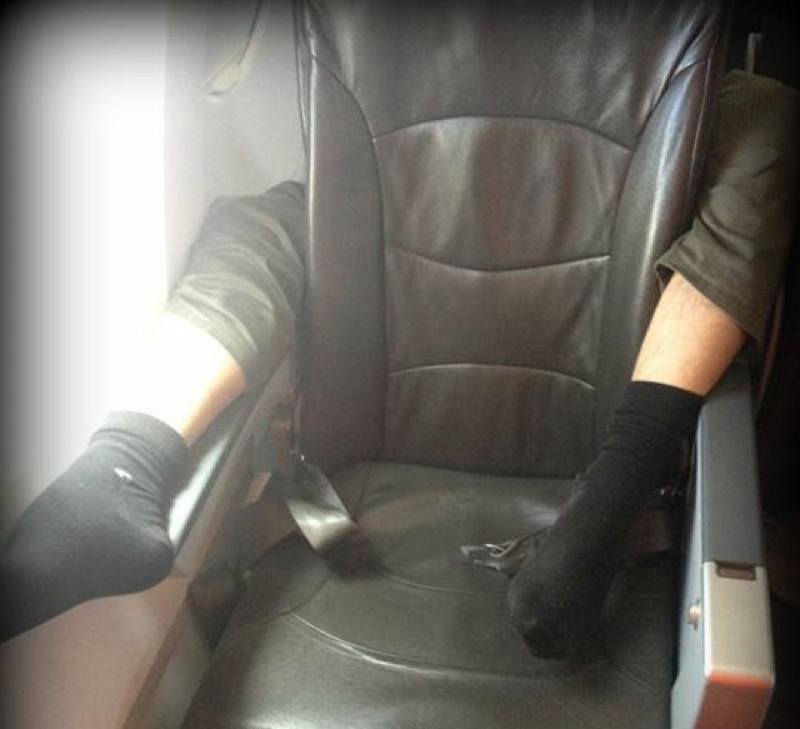 5. Are You a Seat Hugger?
We all attempt to stretch out when we are blessed with a row to ourselves, but hugging your seat is not recommended. Not only is unsafe, but you look foolish doing it.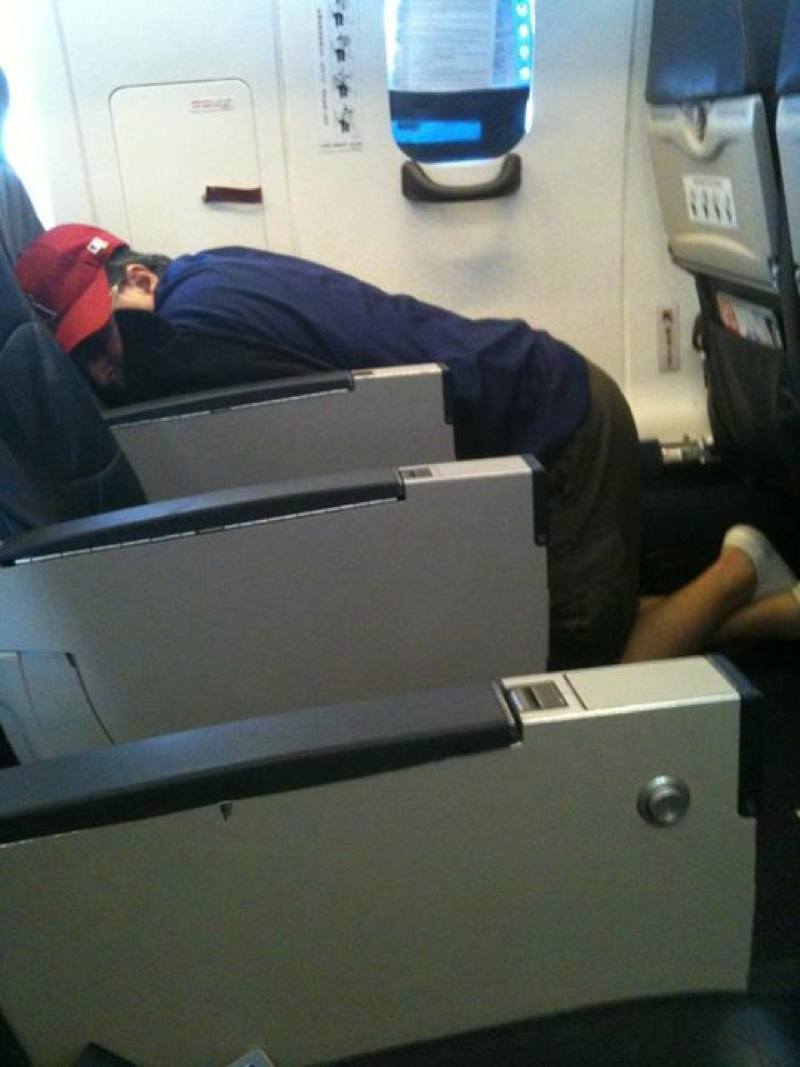 6. Keep Your Hands Where We Can See 'Em
If you do manage to get some shut eye on a flight, try not to let your hands wander into your pants like this.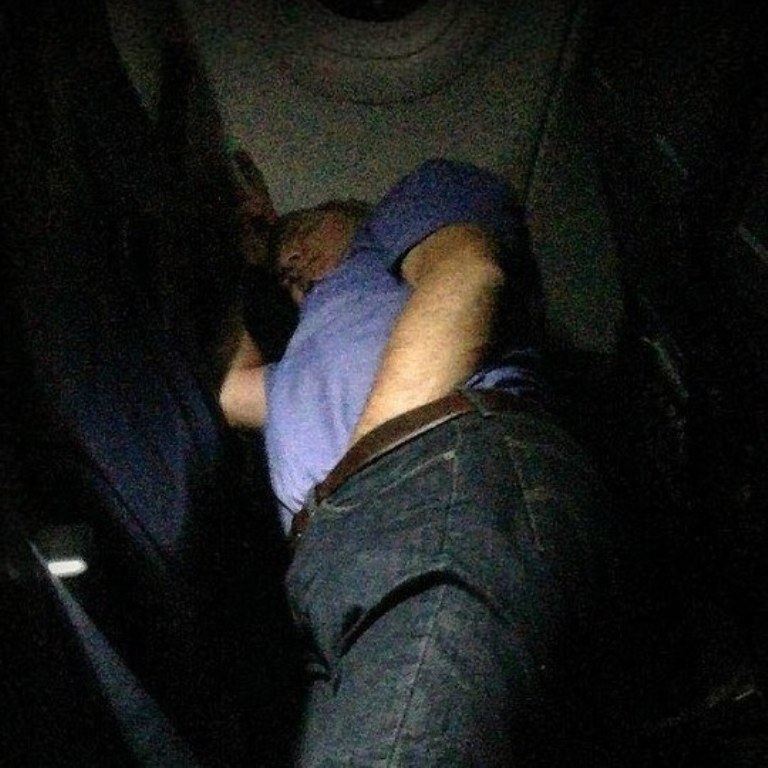 7. I Blame the Parents
There are other ways to entertain your kids on a plane than letting them deface the tray table with a pack of permanent stickers. Who do you expect to pick those off for you? Kid passengers behaving badly is fodder for a whole other post.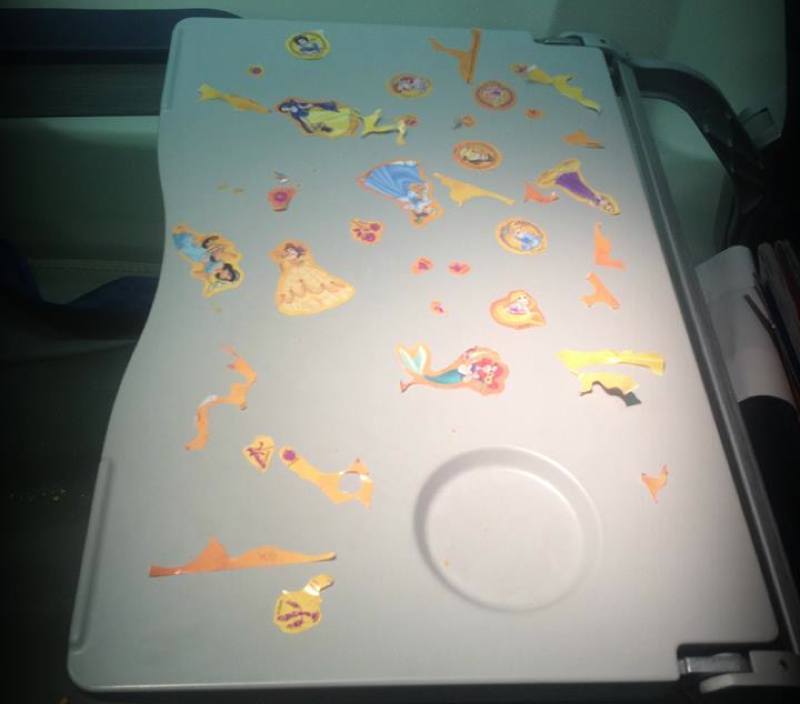 8. Tone Down the Airborne PDA
We all have those "mile high club" fantasies, but most of us don't act them out on an aisle seat in full view of other passengers. Sorry, but it's just not the place for full make-out straddle.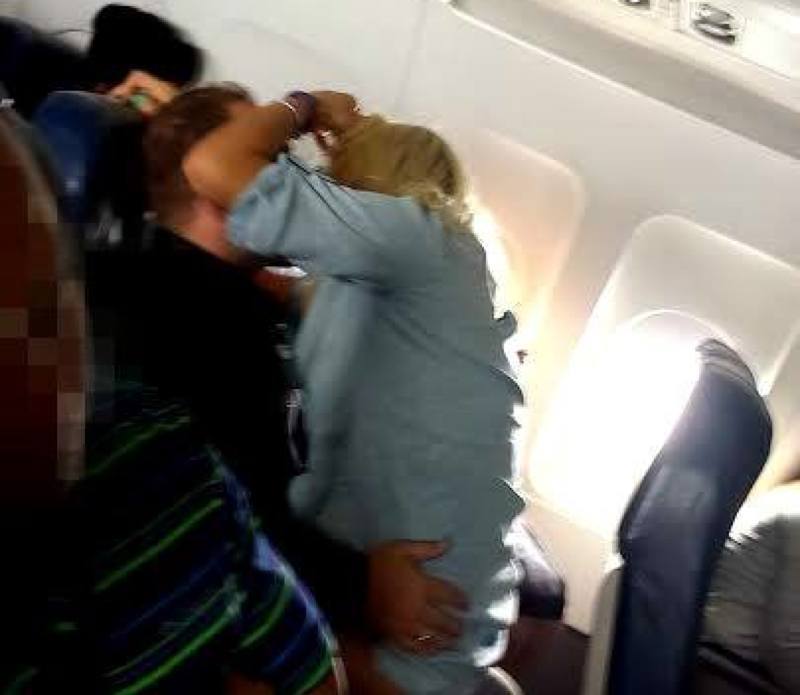 9. Yes, That Is What You Think It Is
And if you must do the deed discretely (must you?), at least don't leave your condoms lying around, used or otherwise. Cabin cleaning crews really aren't paid enough to pick up after you like that.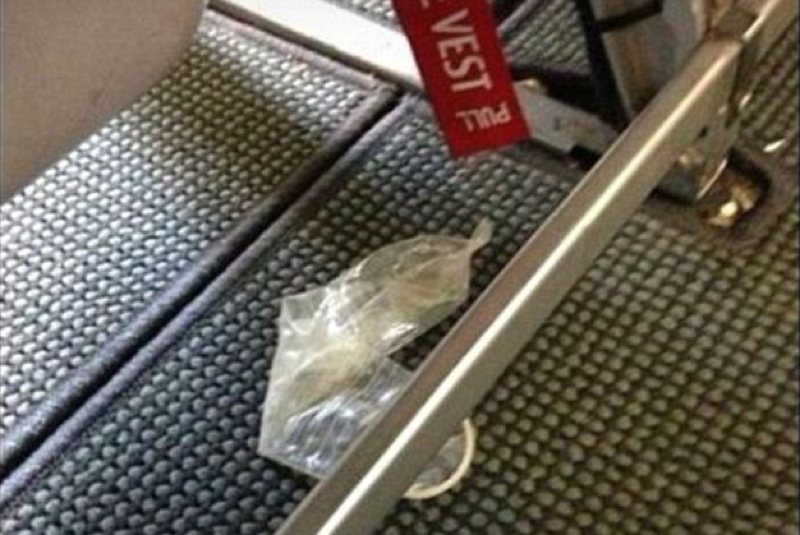 10. C'mon! Pick Up After Yourself
On that note, don't treat your seat or row like your own personal pig sty. A few crumbs and a dropped napkin is one thing, but don't just leave dirty diapers, wads of chewing gum, spilled drinks, fallen crackers and other garbage like your own personal dumping ground. This is an all-too-common example of passengers behaving badly. Maybe public shaming will teach some of these thoughtless barbarians a lesson.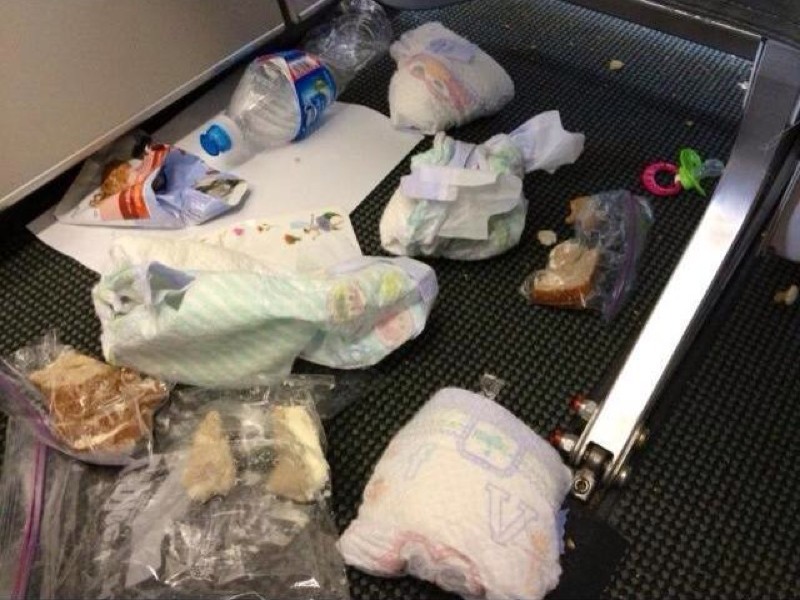 11. Flights Are Not the Place for a Mani-Pedi
It may seem like a good use of time, seeing as you're just sitting there captive for hours on end. But trimming your nails and leaving your clippings at your seat is just a big no. Ditto for nose hair trimming, eyebrow plucking, zit popping or nose picking. Keep your personal grooming private.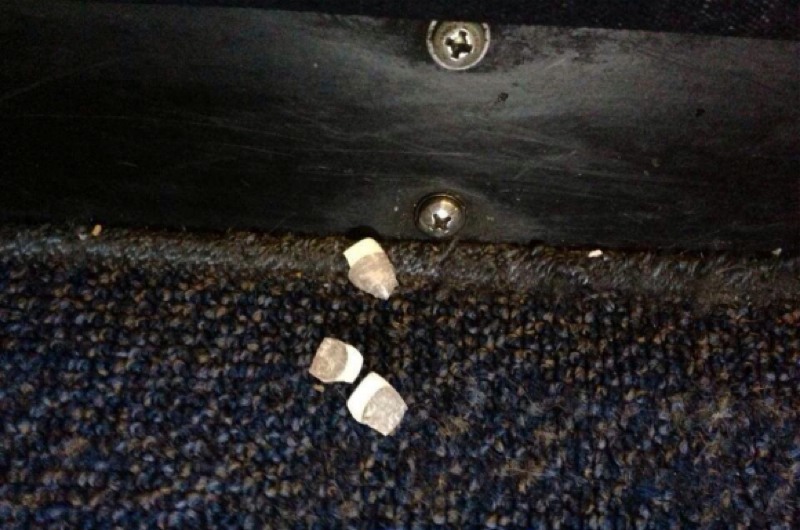 12. A 747 Galley Is Not Your Gym
They say a little stretching and movement on a plane is good for your circulation. Don't take this to mean you should do a full gym routine complete with push ups pose in the galley!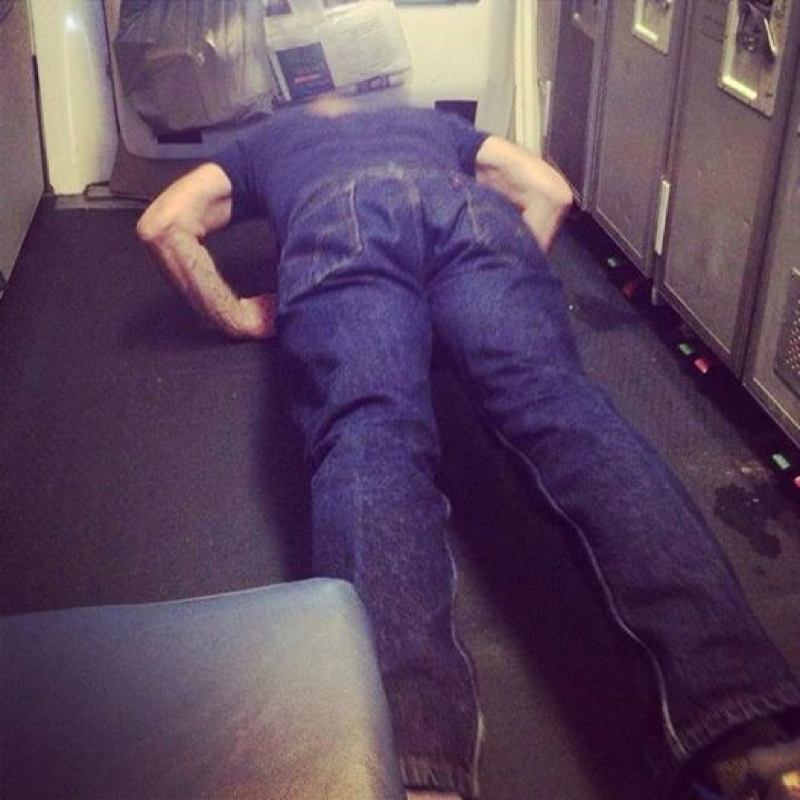 13. Hairy In-Flight Entertainment
The next time you want to whip your long hair over the headrest, give a little thought to the viewing pleasure of the guy behind you. This gal is begging for a few swift kicks in the seatback.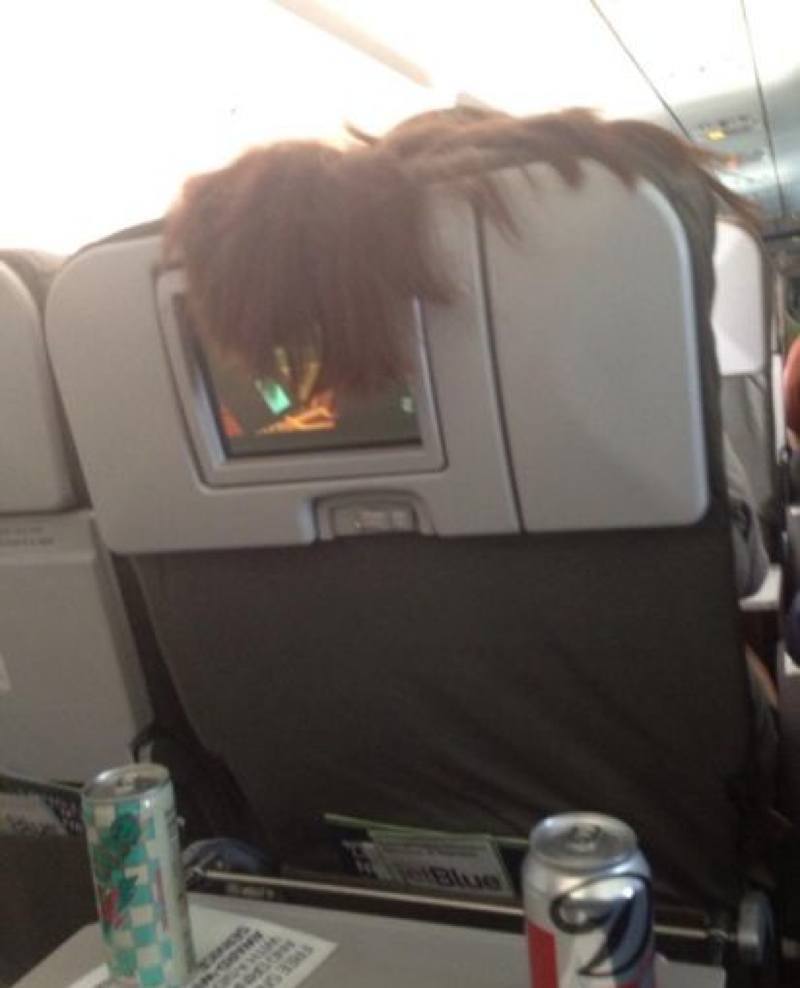 14. Ok, I Admit, This Is a Pretty Creative Use of a Bra
While we commend this creative solution for an eye shade, please keep the lingerie off your head when you're on a public plane.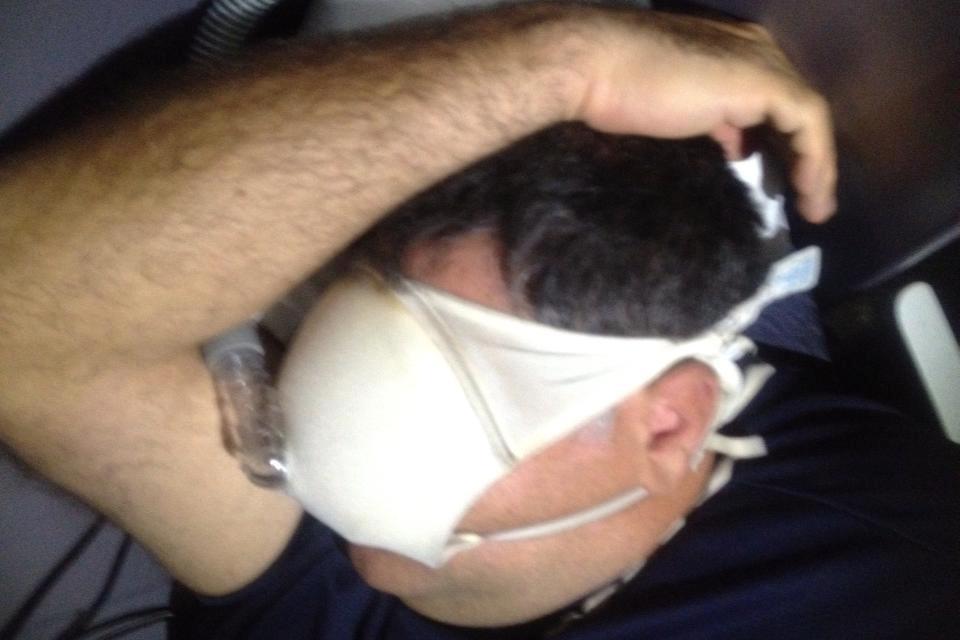 14. Who Leaves Their Underwear on Their Seat!?!
Keep your undies off the seat, too. There really is no acceptable scenario for this one. If you capture any other examples of passengers behaving badly, send them over to PassengerShaming.com.