Who hasn't dreamed about going into space one day? Planet Earth is nice and all, but when you look up in the night sky and see all those stars, moons and planets, it just begs for exploration. Those of us raised on Star Trek and Star Wars have a head full of space fantasies, but today the reality is upon us. Not all of us have the right stuff to become a full-fledged astronaut, but opportunities are opening up for regular folks with deep pockets to experience the thrill of space travel. There have already been a handful of civilians up in the skies, and many more have made reservations for upcoming liftoffs. Here are nine companies actively working on space tourism projects, including a few contests that anyone can try for. The future is now. Start the countdown to your own space trip.
1. Zero G Weightless Experience
Most brides want to loose a few pounds before their wedding, but here's a way you can be completely weightless on your big day. Yes, you can arrange a zero gravity wedding and float like a couple of astronauts in your white gown and tux. Wedding or not, Zero Gravity Corporation has been in operation since 2004 and is the most immediate and affordable way non-multimillionaires can experience this thrill. You're not really traveling to outer space, but you take a modified Boeing 727 flight with parabolic arcs that produce that floaty flying feeling. It costs about $5000, with a jumpsuit, photos, video footage, merchandise and certificate of weightlessness thrown in for added value. If you want to bring some friends, colleagues or your entire wedding party along, you can charter a private flight for 36 people for just $165K.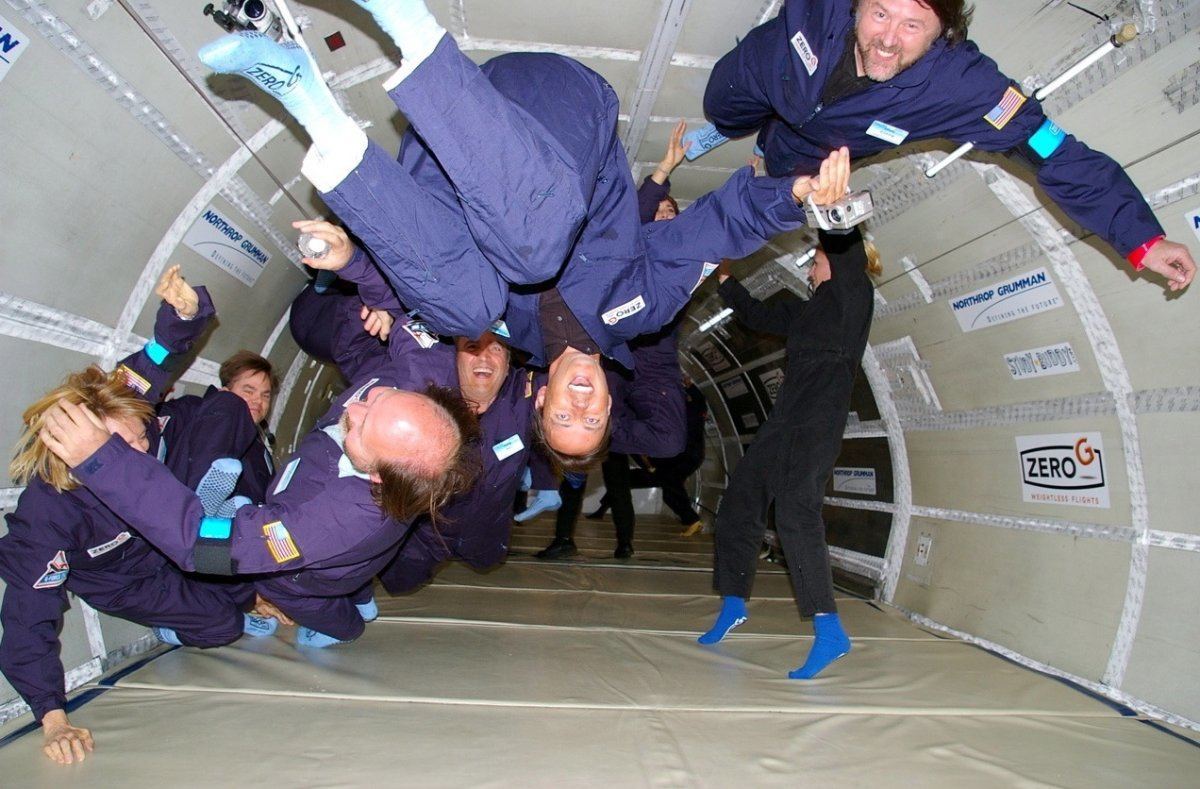 2. Virgin Galactic
After years of anticipation, autumn of 2014 is when these commercial suborbital spaceflights are set to launch. The precise date has been a moving target as further tests and fine tuning are required, but all indications are that this operation will be hitting the stratosphere soon. Already over 580 people have signed up for a joy ride on the Spaceship Two out of New Mexico's Spaceport America, among them Tom Hanks, Ashton Kutcher, Angelina Jolie, Leonardo DiCaprio plus company founder Sir Richard Branson. A mere $250,000 and 3 days pre-flight training will get you a seat on this six passenger Astrobatic cabin that will take you 68 miles above the planet's surface. When you reach 50,000 feet, the supersonic vessel will blast into space at 3 times the speed of sound. Then you can buckle out of your seat and experience a few glorious minutes of weightlessness – or extreme nausea as the case may be. Even still, it sounds like this would be a hard trip to top.
If that price is a little steep for you, a new NBC/Mark Burnett program called Space Race has been green-lighted where contestants will compete to win a trip on an upcoming Virgin Galactic space flight. Somebody's got to win, why not you?
3. Space Expedition Corporation
SXC is now selling tickets on its suborbital spacecraft for around $100K, taking one passenger at a time on a one hour flight to the edge of space 62 miles above the Earth's surface. You'll be in the co-pilot seat as you experience a thrust that breaks the sound barrier, reaching Mach 2 or more before the engines shut off and the parabolic flight begins. Experience that weightless sensation in the darkness of space, the Earth's curvature visible through the wide cockpit window. After 5 out-of-this-world minutes, you'll reenter the atmosphere, reducing speed with a spiral 4G maneuver before gliding unpowered back to one of two spaceports, in Curacao or the Mojave desert. This pioneer of space adventure tourism is set to launch in 2014, with 4 flights a day starting in 2015. Each Lynx craft is designed to fly 5000 times using sustainable bio-fuel, and the company plans to conduct scientific research on every flight. Contact one of their Space Agents (cool job title) to facilitate a booking.
Don't have a $100K to spare? A new contest promoted by Buzz Aldrin and AXE men's body spray is offering 22 civilian winners a thrill ride on this spacecraft. Check out the AXE Apollo Space Academy website for details.
4. Space Adventures
This is the only company that has already sent seven self-funded civilian space tourists up to the International Space Station since 2001 (a fitting year for a space odyssey). Now Space Adventures are gearing up to provide a wide range of opportunities to paying customers, including suborbital flights, zero gravity joy rides, private space station visits, spacewalks and lunar circumnavigations. In fact, an expedition to see the earth rise from the far side of the moon is expected to launch in 2017. Two private citizens will join one cosmonaut on a Russian spacecraft for this amazing excursion. Celebrity trivia: soprano superstar Sarah Brightman is in training for an upcoming trip to the ISS, where she plans to record in space.
5. Excalibur Almaz
This international commercial space transportation company based in the Isle of Man revamps heritage capsules from Russia to keep costs down. It's focused on providing affordable and reliable human and cargo transit to the moon and beyond (Buzz Lightyear would approve). Lunar exploration, asteroid mining and libration point missions are also on their radar, with some missions scheduled to launch as early as 2015.
6. SpaceX Dragon
If there's anyone who can give Richard Branson a run for his money it's Elon Musk (of PayPal and Tesla Motors fame), who's commercial rocket venture Space Exploration Technologies is the first private company to make a round-trip flight to NASA's International Space Station. One of his many goals is to revolutionize access to space travel by bringing down the astronomical costs, and an even bigger dream involves interplanetary space exploration for all. On the roster for 2015 is a manned mission on the Dragon capsule, a reusable free-flying spacecraft that will take a 370 kilometer orbital trip. It's not open to the general public at this point, so don't be calling their toll-free number to make a booking. However, keep an eye on this company, as they are making serious inroads to open up civilian space flights soon and even manned missions to Mars in 10 to 20 years time.
7. Mars One Colonization Project
Who's up for a one-way ticket to the Red Planet? Apparently over 200,000 people from 140 countries have already applied for the opportunity to be part of the first experimental earthling settlement on Mars. It's being partially funded by crowdfunding and a reality TV project, so it could be more of a PR stunt, but wealthy Dutch entrepreneur Bas Lansdorp is behind this project and claims to be seriously interested in exploring the possibilities of human life on Mars. By 2015, six to ten teams of four individuals will be shortlisted for a seven year training program, and one will be selected for the 2023 launch.
8. Inspiration Mars
If a one-way trip to Mars seems too much of a commitment, here's another Mars-bound opportunity for you and your spouse. This one plans to send a two-person man/woman couple on a 501 day slingshot journey around Mars and back. The target date is January 5, 2018, as that's when the planets are optimally aligned (2021 and 2031 being back up dates). This may sound far-fetched, but its being spearheaded by multimillionaire Denis Tito, who bought himself a seat on a Soyuz spacecraft and had an eight-day soujourn on the International Space Station back in 2001. He's a visionary who follows through, and he's planning on leveraging this project for maximum science, engineering and educational opportunities.
9. Space Island Group
Space Island Group (SIG) in involved in the designing, building and operation of commercial space transportation systems and destinations. While most of their missions will be dedicated to commerce, research and solar power, space tourism is also a priority. They are developing a stand-alone space infrastructure in Low Earth Orbit (LEO) 400 to 500 miles above our planet which, along with science and manufacturing purposes, could serve as the first space resort. It's so cool to think that might happen in our lifetime, but it begs the question, how much should you tip a space bellhop?