Can you believe we're coming on to the 25th anniversary of the fall of the Berlin Wall? For three decades it sliced Germany in two, a physical and philosophical barrier separating east from west, communism from capitalism. More than 5,000 escape attempts were made and over 130 people died trying to flee life behind the Iron Curtain. Then on November 9, 1989, the first sledgehammers pounded into the concrete to "tear down this wall". It took 18 months to bulldoze the 140 km (87 mile) structure. Most of the materials were crushed and recycled into roads. However, some choice chunks were sold, auctioned off or donated as objet d'arts around the world. Take a look at 16 pieces of the Berlin Wall on display across the globe. You won't believe where some of these stone slabs are.
1. Montreal, Quebec
This graffiti-filled segment of the Berlin Wall is on display at the World Trade Centre Montreal (Centre de Commerce mondial de Montréal). It was given to the city in 1992.
2. Los Angeles, California
The Wall Along Wilshire is longest remnant of the Berlin Wall in America. Ten panels stand outside the Wende Museum, brought here in 2009 as part of The Wall Project which supports "the legacy of the Berlin Wall as a concrete canvass for art and political expression". This stretch displays original Cold War era graffiti and some new murals, including a famous one of Kennedy and Regan.
3. Seoul, South Korea
This three-slab chunk of the wall stands in Berlin Square, a plaza near the Jiangtong Bridge and Cheonggyecheon stream. It was brought to Seoul in 2005 as a gift from the City of Berlin to inspire South Koreans to hope for a similar reunification with North Korea in the future.
4. Dallas, Texas
The Hilton Anatole hotel in Dallas, Texas prides itself on its extensive art collection. There are over 2000 pieces displayed on 27 floors of this 1606 room hotel. One of the highlights is this two-piece remnant of the Berlin Wall, painted in 1990 by German muralist Jurgen Grosse.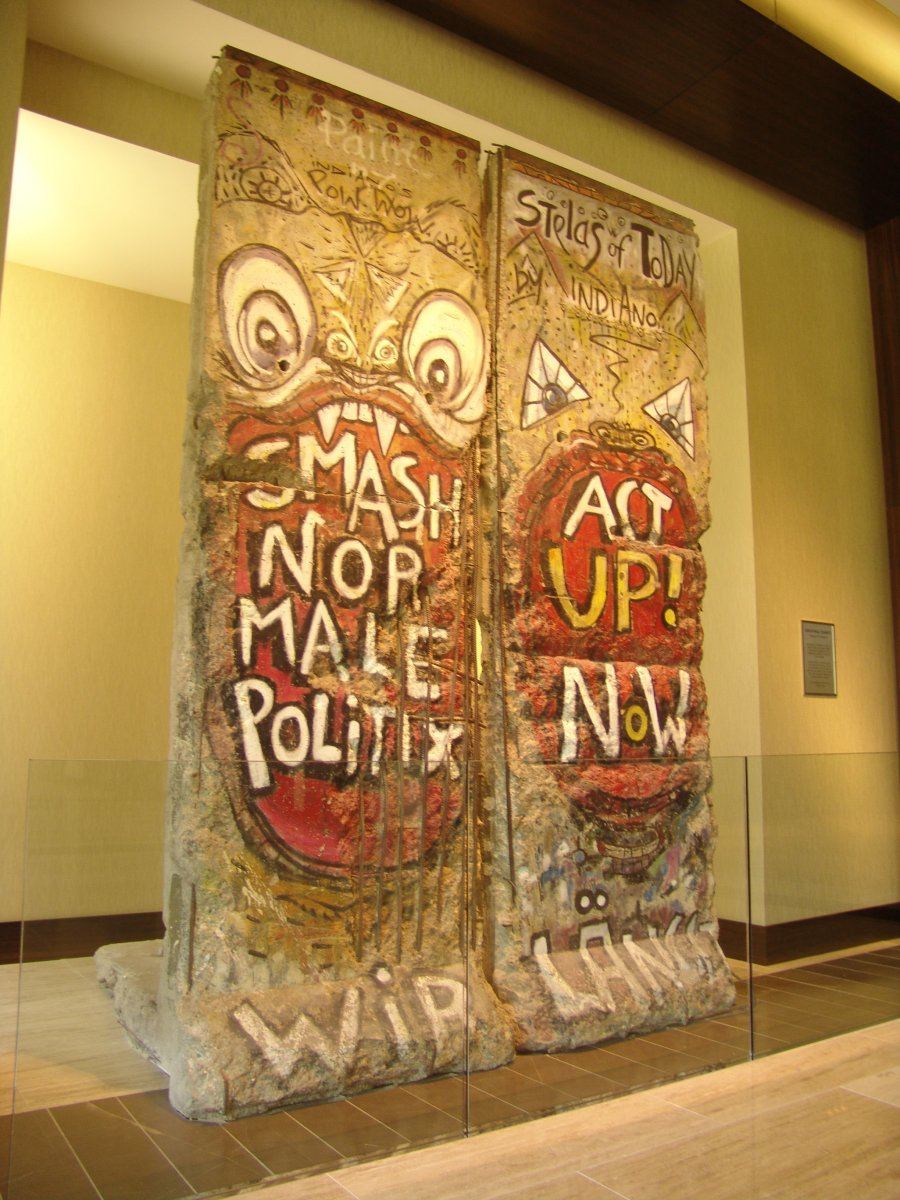 5. London, UK
A fitting place for this segment of the Berlin wall is outside the Imperial War Museum in London. The concrete slab emblazoned with a "change your life" message originally stood near the Brandenburg Gate.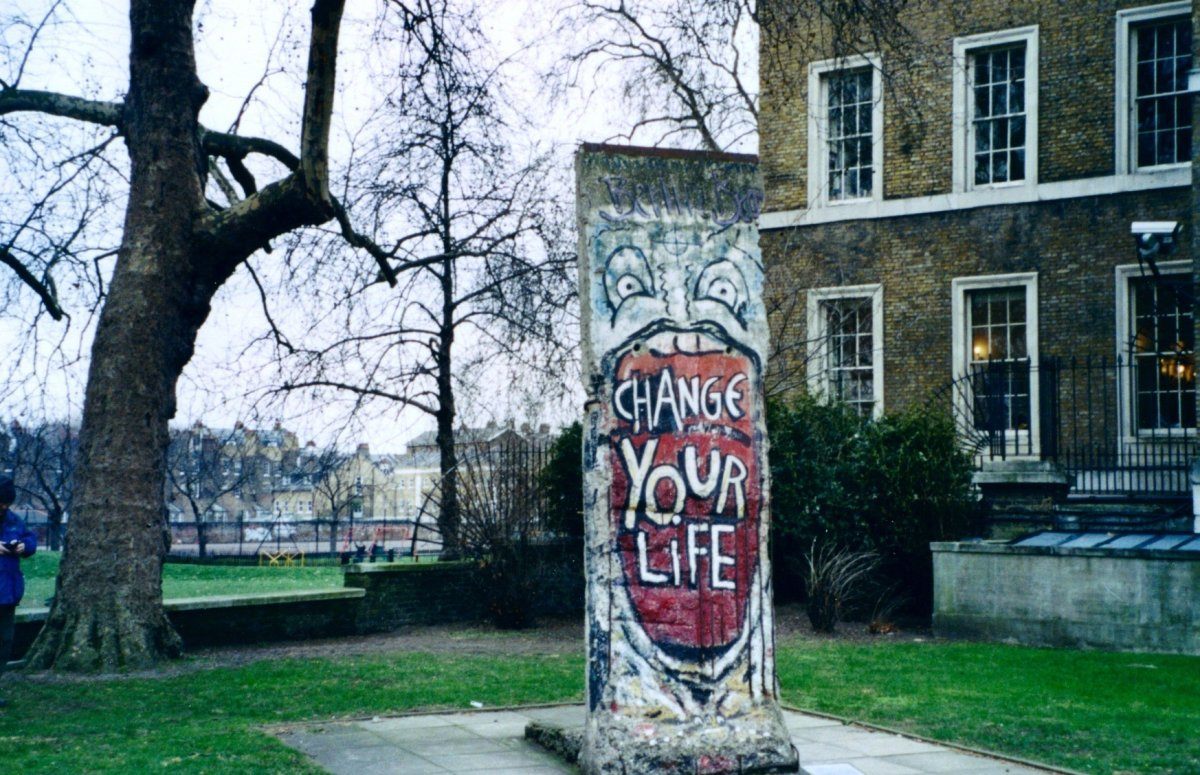 6. Las Vegas, Nevada
Yes, the formidable symbol of oppression is now on display behind three urinals at a Vegas casino. The men's room at the Main Street Station Casino has had the Berlin Wall as a backdrop for almost 20 years, appropriately overlaid with a protective glass splash guard.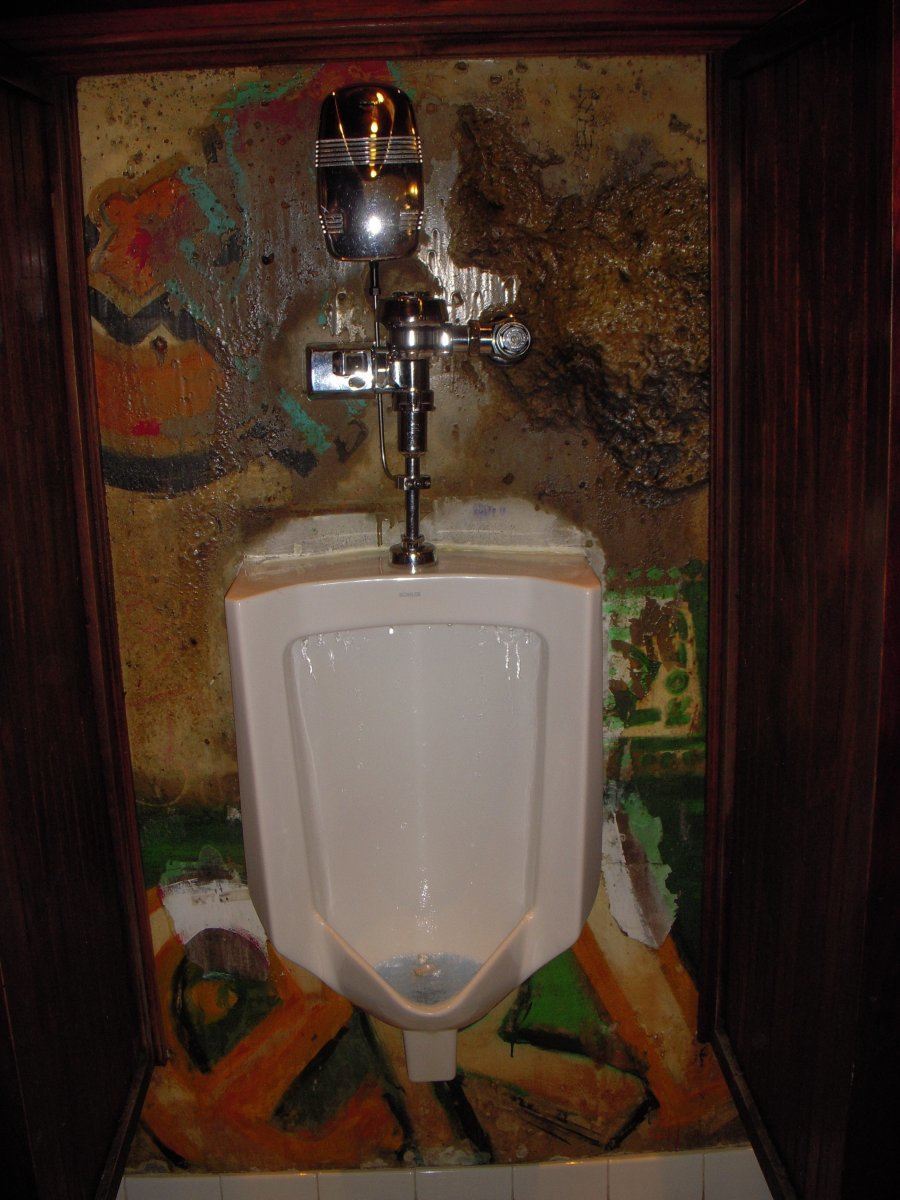 7. Singapore
Four segments of the Berlin wall have been on display at Singapore's Bedok Reservoir Park since January 2010. It depicts the Kings Of Freedom, by German graffiti artist Dennis Kaun. It's not hard to guess which king represents the west and which one represents the east. This chunk of the wall was brought here by an American oil tycoon and his Singaporean wife, who have recently decided to move it back to the US to decorate one of their personal properties.
8. Orange, California
Chapman University in the Southern California city of Orange proudly displays a panel of the Berlin Wall in Liberty Plaza, a peaceful landscaped section of the campus.
9. Lunenburg, Nova Scotia
There are actually quite a lot of fragments of the Berlin Wall scattered throughout Nova Scotia (who knew?). This plain gray concrete slab stands outside historic Old Town Lunenburg on Falkland Street, next to the Lunenburg Foundry. It's rare to find a part of the wall that isn't covered in commentary or art.
10. Schengan, Luxembourg
This simple slice of the wall is in a village with a population of only 2000, but it does have a historical significance. The tiny town in southeast Luxembourg was where the Schengen Agreement was signed, which allows citizens of 26 European countries to travel freely between them without border control. It stands outside the European Museum.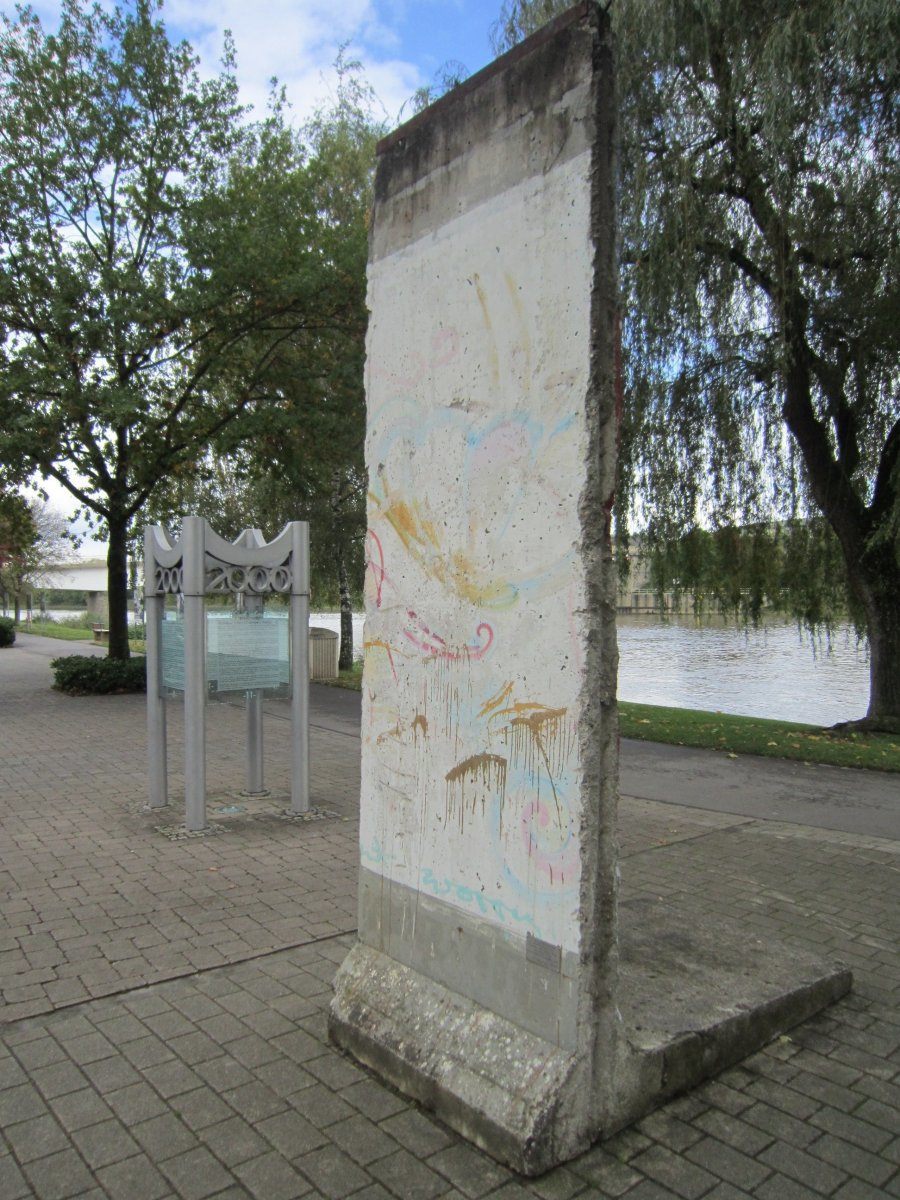 11. Vatican City
Even the Vatican has a piece of Berlin history on display. It stands in a peaceful garden where popes have prayed since the 13th century. Apparently a former Ferrari director won it at a Monte Carlo auction and gave to the Vatican as a gift in 1994.
12. New York, New York
Many tourists and locals have no idea a large swatch of the Berlin Wall stands in Midtown Manhattan until they stumble upon it in a courtyard near East 53rd Street and Madison Avenue. Then it's hard to miss the five 12 foot tall panels covered in angry graffiti and a dystopian face. It has been the backdrop of this public square since 1990 – but don't look for it right now. No, the wall has not fallen yet again. It's just undergoing a little restoration work at the moment and should return to its post later this year.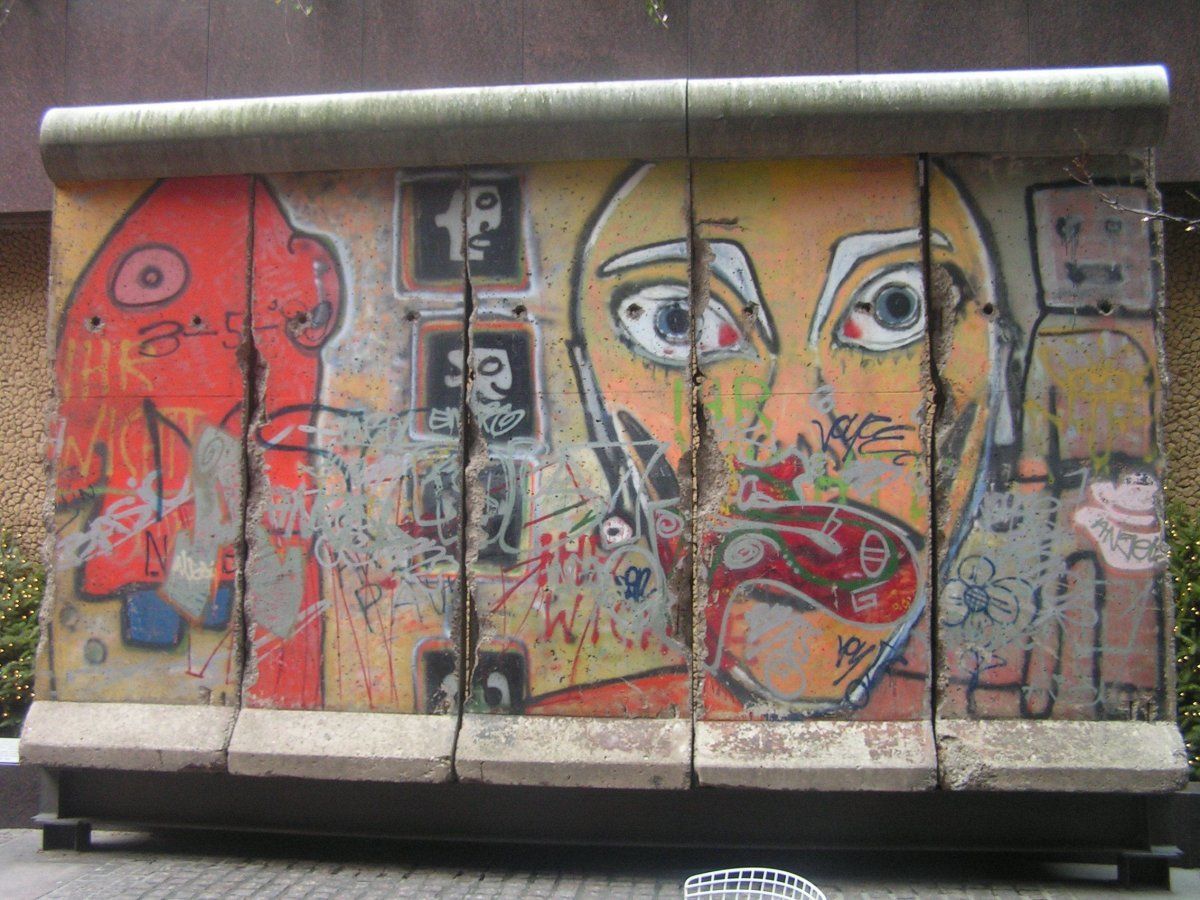 13. Madrid, Spain
Parque Europa on the fringe of Madrid contains small models of 17 European landmarks within its landscaping. One of these is an original chunk of the Berlin Wall. Behind it stands a replica of the Brandenburg Gate, which was once blocked by the wall.
14. Tirana, Albania
A 2.6 ton panel of the Berlin Wall stands in Tirana, Albania as part of a memorial to former political prisoners. Some 100,000 Albanians were imprisoned, sent to internment camps or executed during dictator Enver Hoxha's Communist regime from 1944 to 1990.
15. Ein Hod, Israel
There's a modest slab of the Berlin Wall in Ein Hod, Israel on display at an artist's village. Israel is erecting its own barrier wall along the West Bank. Protection for the Israelis or annexation of the Palestinians? The debate rages on.
16. Berlin, Germany
Many people are surprised to find so little of the wall in Berlin itself, beyond a token 1.3 km painted stretch called the East Side Gallery. There's a museum/memorial at Checkpoint Charlie and a cobblestone line along where the barrier once stood, but the city has merged so well it's hard to distinguish east from west these days. There are, however, six concrete panels on display at Potzdamer Platz, a modern plaza in the city. Many of these monuments have been defaced by chewing gum and vandalism so it's not the most dignified memorial. But maybe that's an authentic expression of disdain for this former divisive line.