Is there anything more enchanting than a tunnel of trees? Something just beckons you to stroll down it and be enveloped by nature. We've found 14 photos of fairytale tree tunnels around the world that are truly mesmerizing. Some are the magic of Mother Nature while others have a little help from human TLC. Whether bedecked in a glory of colorful foliage or a simple bevy of boughs, check out these spectacular woodsy wonders and be wowed.
1. Path to the Halnaker Windmill, Sussex
The Halnaker Windmill is a West Sussex landmark set amongst wild-flowers, chalk grassland and a rich forest. It boasts 360 degree views of the bucolic countryside and, on a clear day, you can even see the Isle of Wight. However, the stroll up here is almost more of an attraction than the old mill itself. The walking path to reach the hilltop is like something out of a storybook. The ancient track was once part of the London to Chichester Roman road, and has grown into a circular tube of shady branches. Head towards the light at the end of the tunnel.
2. Nakameguro Sakura Tunnel, Tokyo

Sakura season in Japan is a surreal time when the country becomes awash with the sight and scent of pink cherry blossoms. It starts in the south and works its way up to the north of the country, inspiring springtime picnics, artists and poets to revel in its fleeting splendor. This tunnel of blossoms along Tokyo's Meguro river shows off this delicate beauty particularly well.
3. Tunnel of Love, Ukraine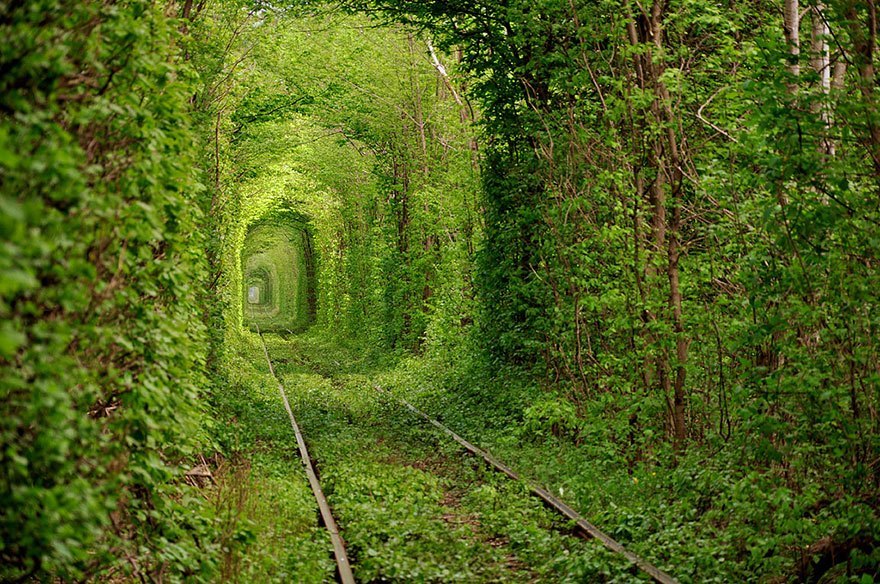 The Tunnel of Love is a 3 km section of railway track in Klevan, Ukraine that has taken on a mythical quality because of its enchanting character. Surrounded by lush greenery on all sides, it is said that if lovers make a sincere wish while walking under the arches, it will come true.
4. Maple Tunnel, Oregon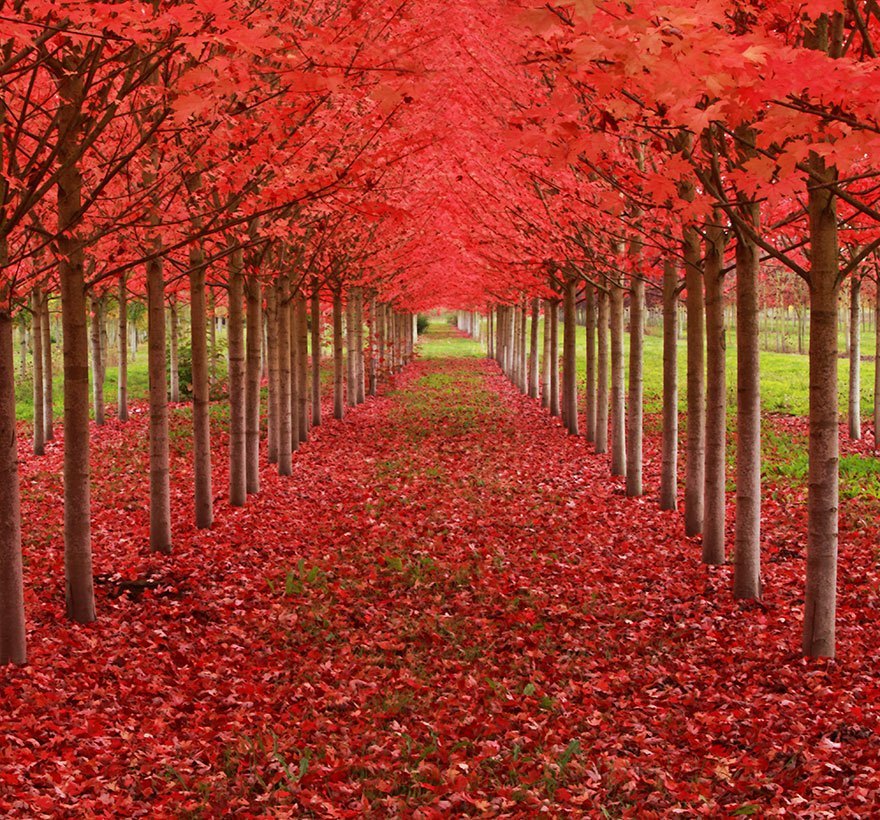 It's hard to top a stately row of maple trees at their peak of color for an awesome autumn view. This photo was taken in St. Luis, a small town in Oregon. The roof of red leaves above and the carpet of crimson below is so inviting.
5. Sagano Bamboo Forest, Kyoto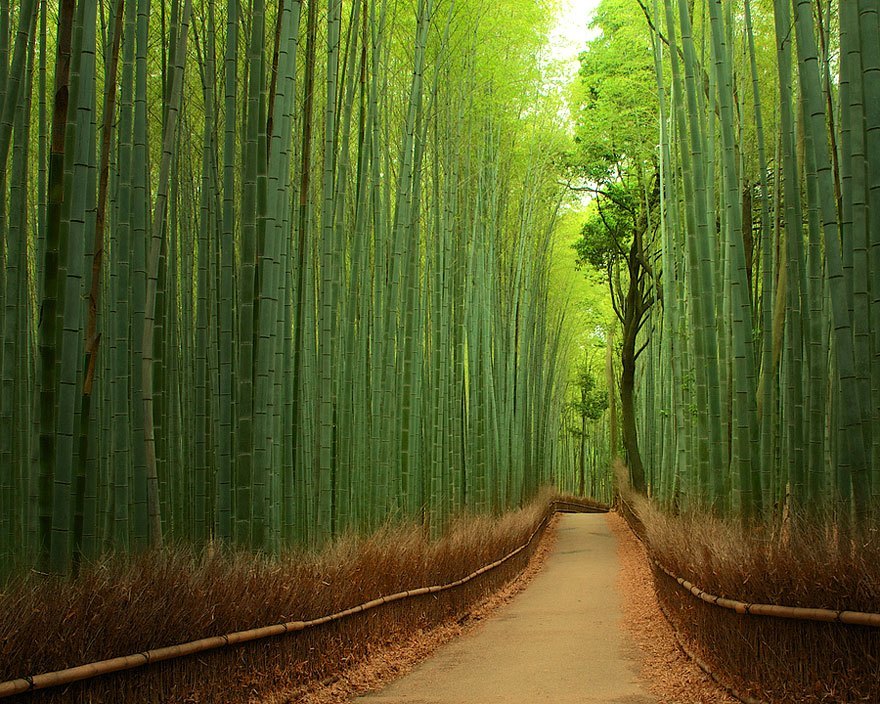 If you want to get technical, bamboo is actually a grass, not a tree, but it makes for a towering tunnel-like pathway nonetheless. In fact, it's one of the fastest growing plants in the world that can reach staggering heights in record time. The Sagano Bamboo Forest is in the Arashiyama district of Kyoto, Japan. Tourists and locals love to stroll down and photograph this thicket of verdant vertical stalks that seem to touch the sky. The sound of swaying bamboo is so soothing, the Japanese Ministry of Environment has voted it one of the 100 must-preserve sounds of the nation.
6. Dark Hedges, Northern Ireland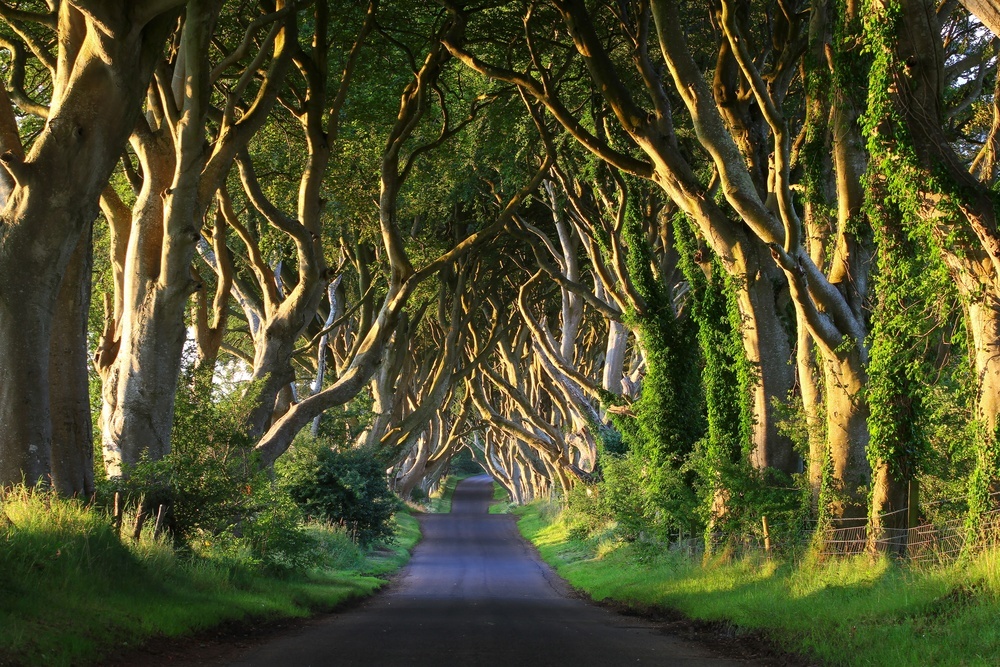 This one almost has a spooky element to it, like it's a pathway to a witch's hideout at the back of the woods. But that's all part of the fairytale mystique. This impressive avenue of beech trees was planted by the Stuart family back in the 18th century as a welcoming approach to their home, Gracehill House, near the town of Ballymoney. Tourists, photographers and artists love to come here at dawn and dusk to capture the serpentine effect of the branches and boughs. Adding to the intrigue is the legend of Lady Grey, who is said to haunt this tunnel of trees.
7. Parque Francisco Alvarado, Costa Rica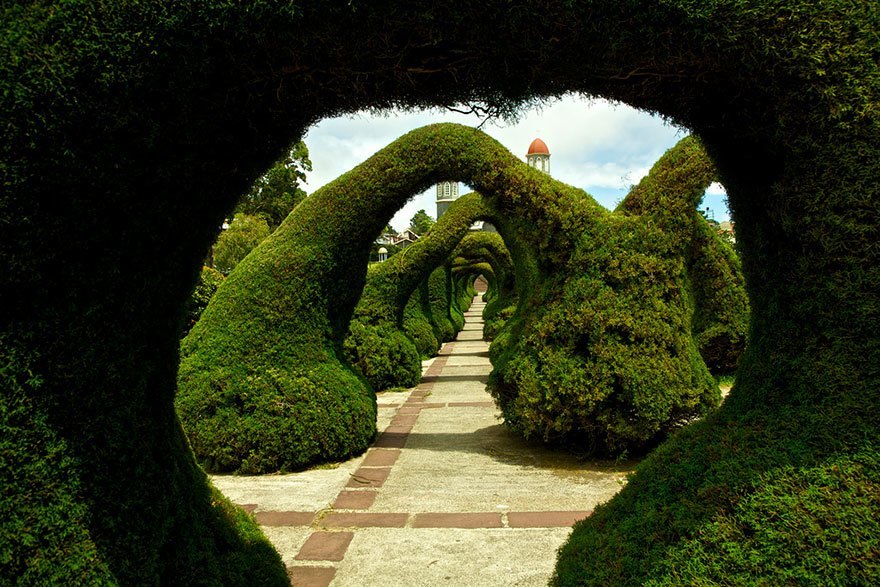 This may be a carefully manicured topiary tunnel, but its human design doesn't make it any less appealing. In fact, it's like stepping into a dreamy Dali painting or something out of Dr. Seuss. This park in the town center of Zarcero has been whimsically cultivated and lovingly maintained by Evangelisto Blanco since the 1960s. An ecclectic array of shrubs are shaped like animals, dancers, helicopters, dinosaurs and other abstract designs. The centerpiece is the 16 funky green arches that lead towards the church.
8. Kawachi Fuji Garden, Japan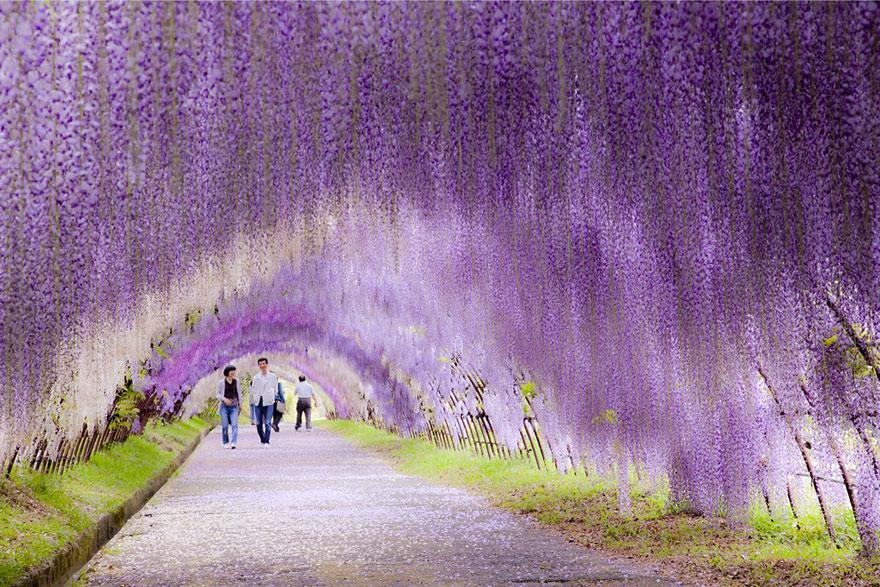 This private garden in the city of Kitakyushu, Japan, showcases 150-odd Wisteria plants that form one of the most stunning photos of fairytale tree tunnels around. If you visit during April or May, the purple flowers are in full bloom creating a shimmering cascade effect that is out of this world.
9. Cypress Tree Tunnel, Point Reyes, California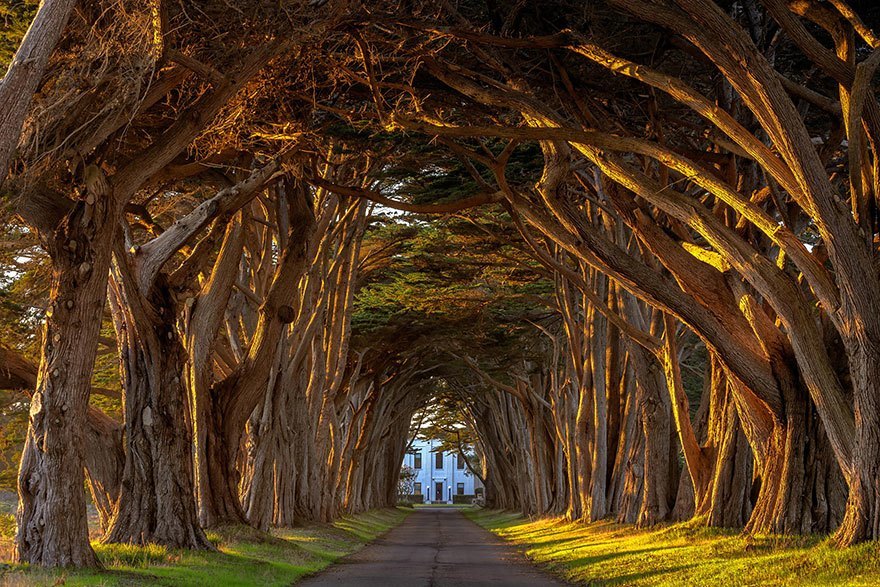 This stately cypress tree tunnel at the Marconi Wireless Station near Monterey is a signature landscape feature that draws visitors to the area almost as much as the historic station itself. The approach up the long driveway with its shady canopy overhead is a photographers dream.
10. Laburnum Arch, Bodnant Gardens, Wales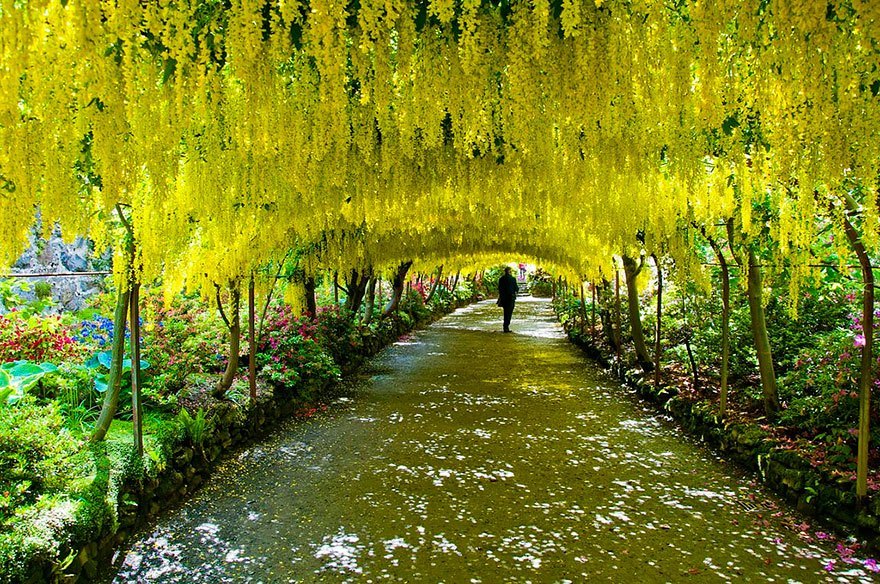 This grand tunnel at Bodnant Gardens in Conway, North Wales, is a must-see in late Spring when it is in full glorious bloom. That's when the 55m long arch of laburnum trees bursts into a cascade of yellow tendrils that fall like golden rain. A metal framework and a team of gardeners help create this dazzling foliage-filled alleyway, which draws 40,000 visitors during the fortnight that it's at its peak.
11. Drive-Thru Tree Park, California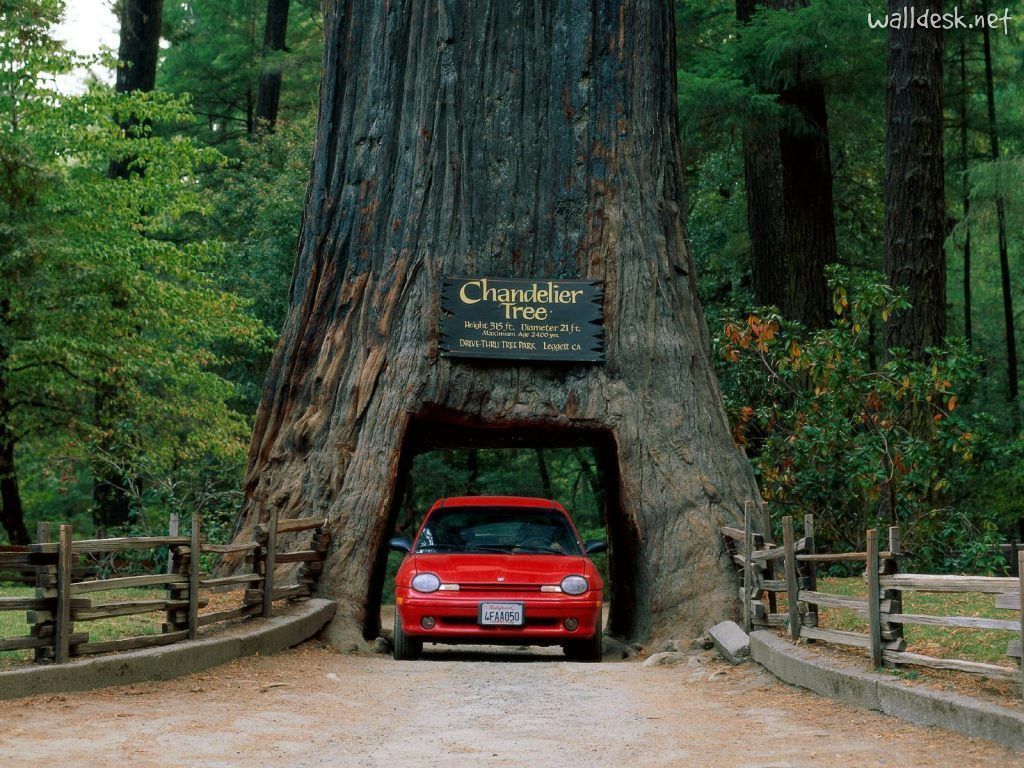 The mighty redwoods of Northern California are enormous, as illustrated by the Chandelier Tree in Leggett, California's Drive-Thru Park. This 315 foot (96 m) tall coast redwood tree has a sizable tunnel cut from its base that cars can pass through. The Chandelier Tree was carved out in the 1930s and is now a signature attraction in the area. How can you not stop and take a picture?
12. Oak Alley, Louisiana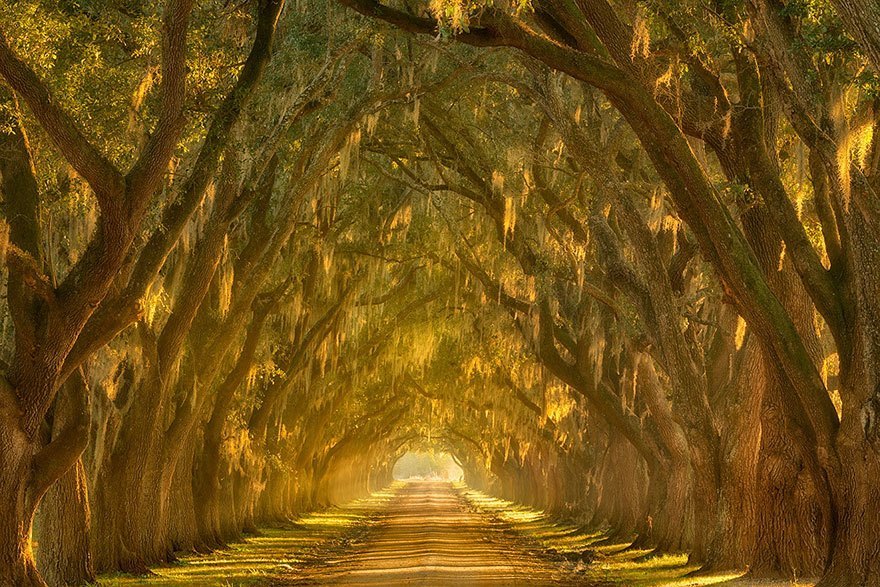 Oak Alley is an aptly named historic plantation near New Orleans, Louisiana. Two rows of majestic oak trees line the road towards the Antebellum mansion, forming a stunning canopy just brimming with old South charm.
13. Jacarandas Walk, South Africa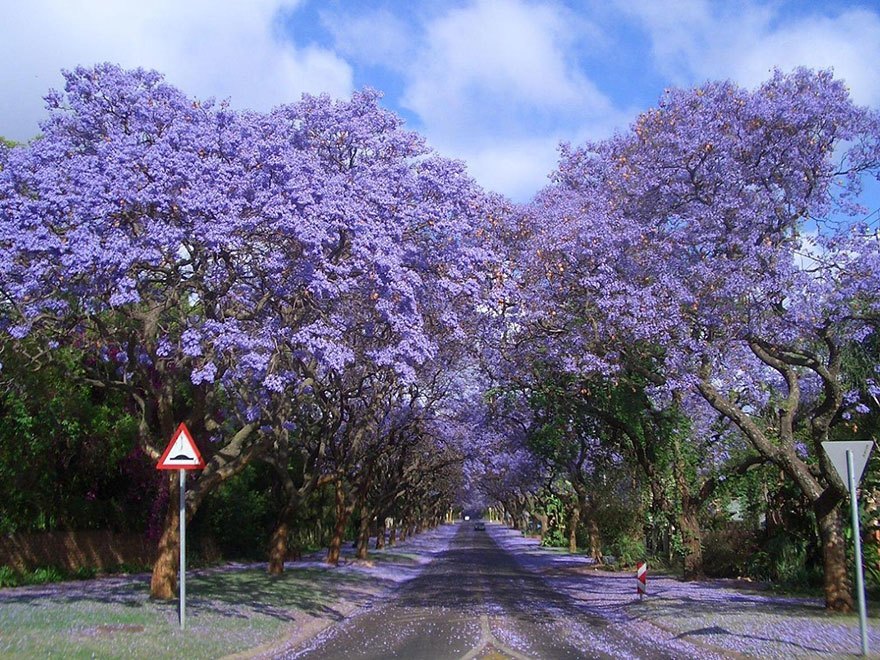 Both Johannesburg and Pretoria are known as cities of Jacarandas as they are brimming with vibrant purple trees right out of a box of crayons. Originally imported here from South America over 100 years ago, they have taken root in South Africa and have become a distinctive feature of these fine cities. September through November is the best time to see these bedazzling blooms in full glory. Some streets are so thickly lined with these colorful blossoms it forms a purple tunnel.
14. Ginkgo Tunnel, Japan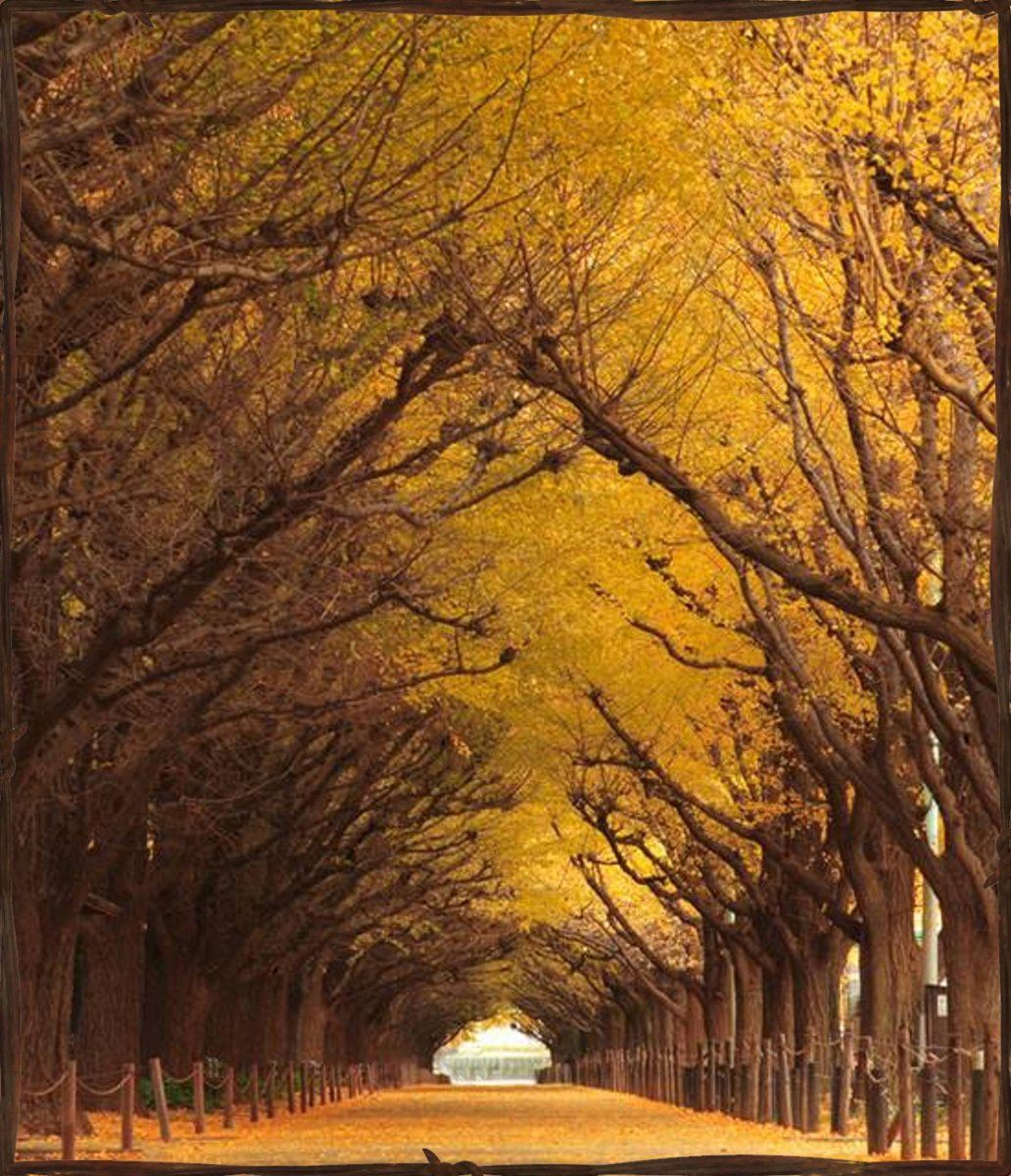 You have to admire the strength of the Gingko biloba tree. Apparently six ginkgo trees survived Japan's Hiroshima bombing, and have since become a symbol of resilience in Japanese culture. Those six trees still survive today, and are regarded as "the bearer of hope". Beyond this symbolic significance, ginkgo trees are just plain gorgeous, especially when seen collectively in a glorious golden row. They say 65,000 ginkgoes grace the streets of Tokyo today. This tunnel is situated near the outer gardens of the Meiji Shrine.