There's no place like home for the holidays, but sometimes its good to escape from all those hall-decking and feast-preparing obligations. If you ever have the opportunity to plan a getaway over the yuletide season, consider some of these festive destinations around the world. Some will give you a traditional Christmas experience while others will do quite the opposite, enlightening you on how other cultures get merry in December. Either way, they are sure to get you in the spirit. Here are 14 of the coolest places to celebrate Christmas at least once in a lifetime.
1. Bethlehem, West Bank
It's hard to beat the supposed birthplace of Jesus himself as a sacred destination to celebrate Christmas. Various denominations of Christians hold services and events throughout December and January in the little town of Bethlehem, including Catholic, Protestant, Greek Orthodox, Ethiopian, Armenian and more. Even if you're not particularly religious, there's something special about being in Manger Square and the Basilica of the Nativity, considered to be the site of Christ's birth. Word to the wise, you might want to take a tour here from Jerusalem rather than follow a star.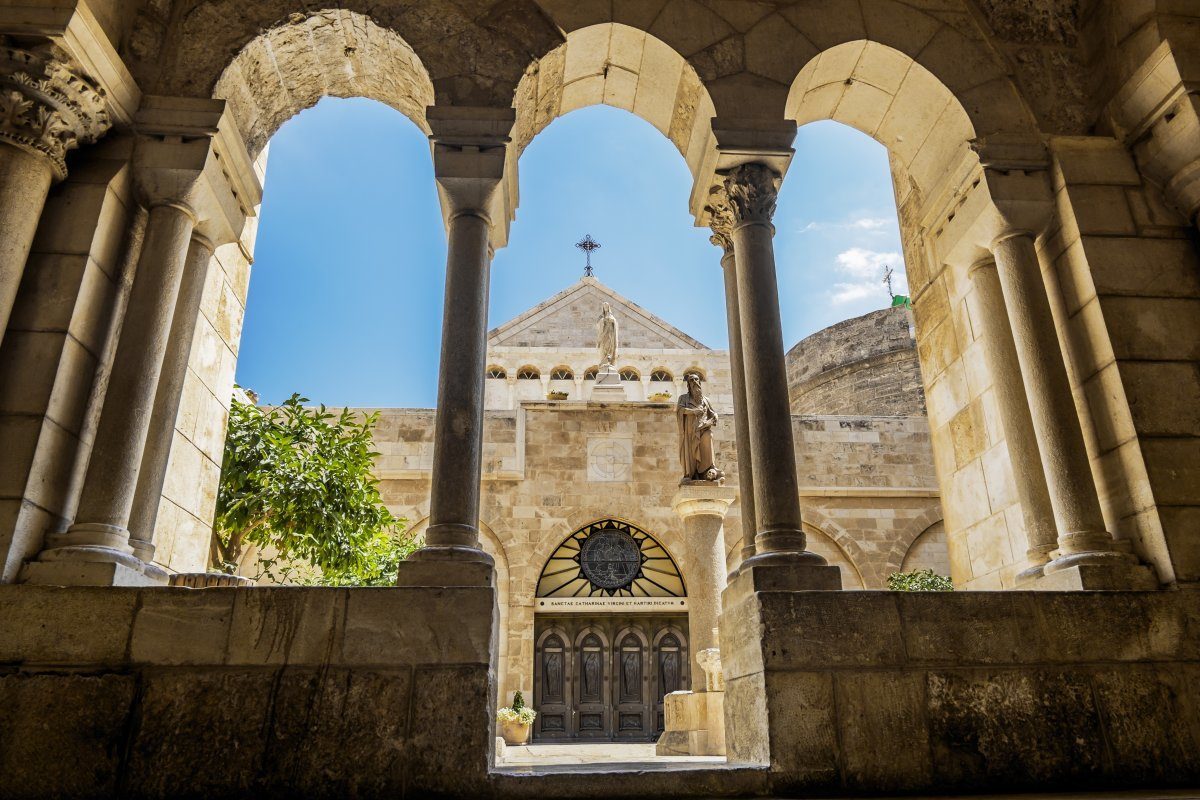 2. Santa Claus Village, Finland
And now for a more secular Christmas celebration, head towards the North Pole to visit Santa Claus Village. It's not really the North Pole, but Finland's Rovaniemi, Lapland is pretty close and will make any child – or child and heart – get into the festive spirit. Take a holiday photo on the Arctic Circle, which runs through the town. Mail your Christmas cards from the village post office and get that Santa Claus postmark on them. See the Elves' Toy Factory and exhibitions of Christmas celebrations from around the world. You may even meet the man in red himself.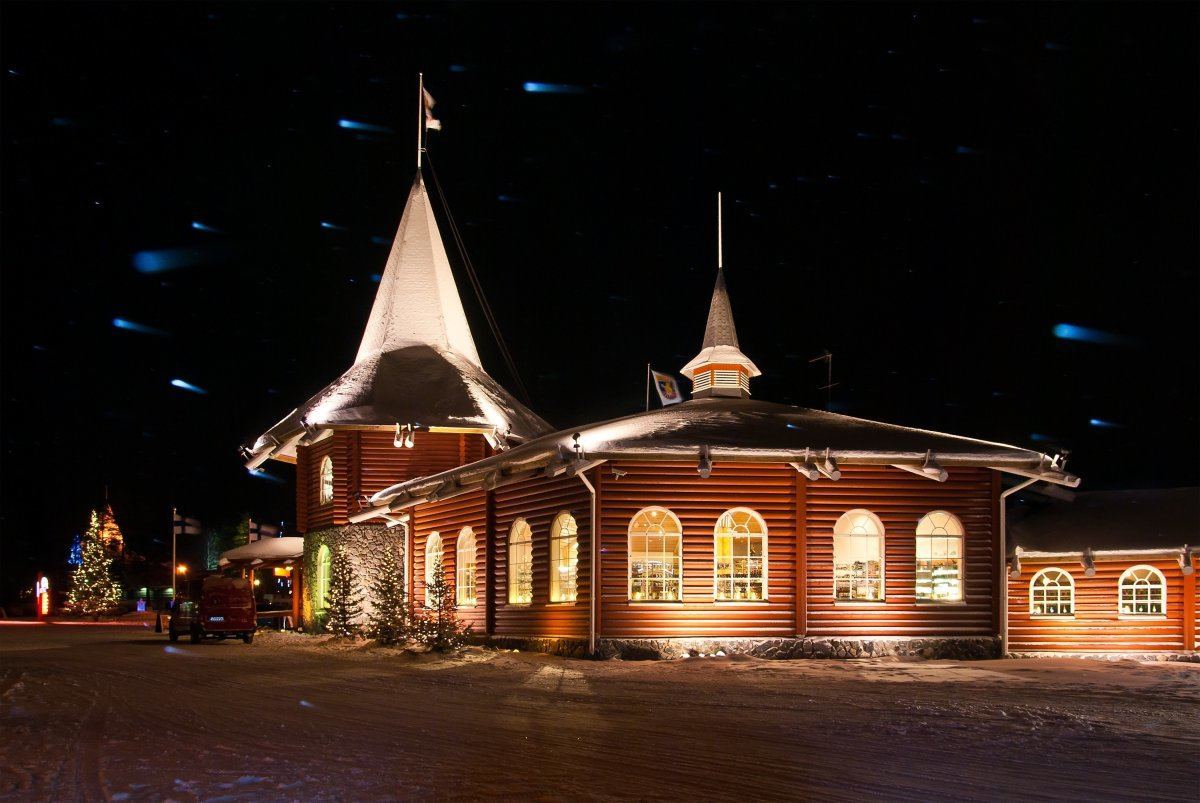 3. Santa Claus, Indiana
If the Arctic Circle is a bit too remote (or cold) for you, check out the town of Santa Claus, Indiana. America's Christmas Village offers Santa's Candy Castle, Santa's Christmas Store, Santa's Stables and more ho-ho-ho than you can handle. Have a traditional Christmas dinner, roast chestnuts on an open fire and see the lights twinkling on Lake Rudolph. The village is open year round, but things really come alive during the December holiday season.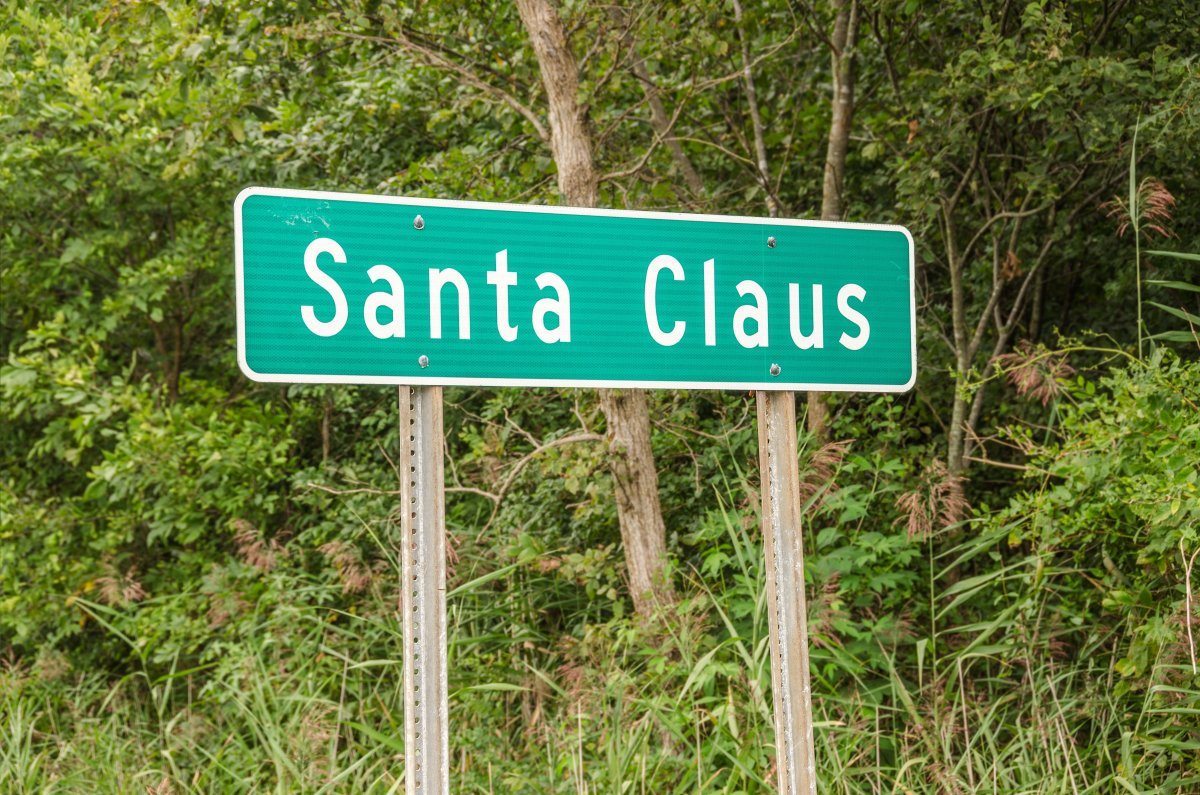 4. Prague, Czech Republic
You've sung the carol Good King Wenceslas, so why not celebrate Christmas in Prague's Wenceslas Square? The Czech Republic's capital city is a winter wonderland of lights, castles, concerts, cafes and Christmas markets galore. This city will charm you any time of year, but it is particularly magical during the holidays.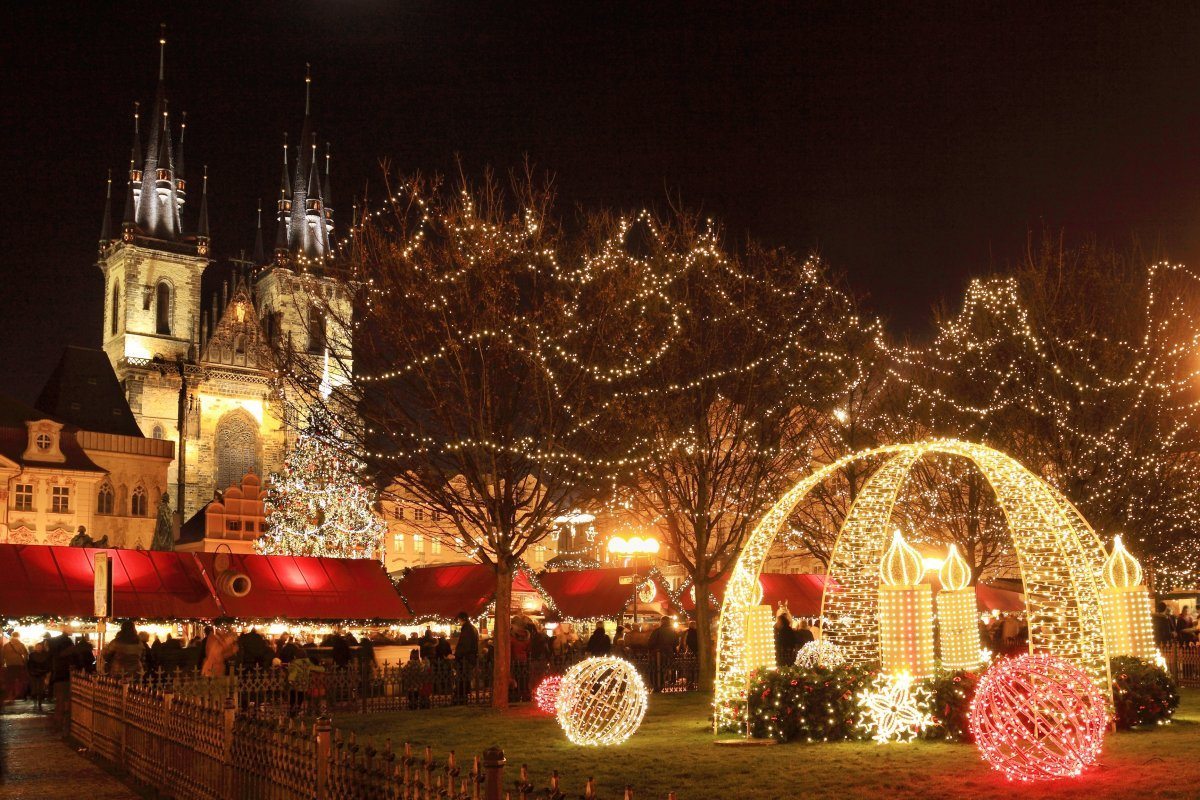 5. Dublin, Ireland
If there's one town that knows how to exude Christmas cheer, it's Dublin. Check out the sparkling lights along Grafton Street and the traditional Christmas Market in St. Stephen's Green. Be inspired by a performance of Handle's Messiah, which debuted in Dublin, or a Carols by Candlelight celebration at one of the city's cathedrals. If you're brave enough, jump into the local tradition of a chilly Christmas morning dip into the Irish Sea near Sandycove on the outskirts of Dublin – then warm up in a cozy pub.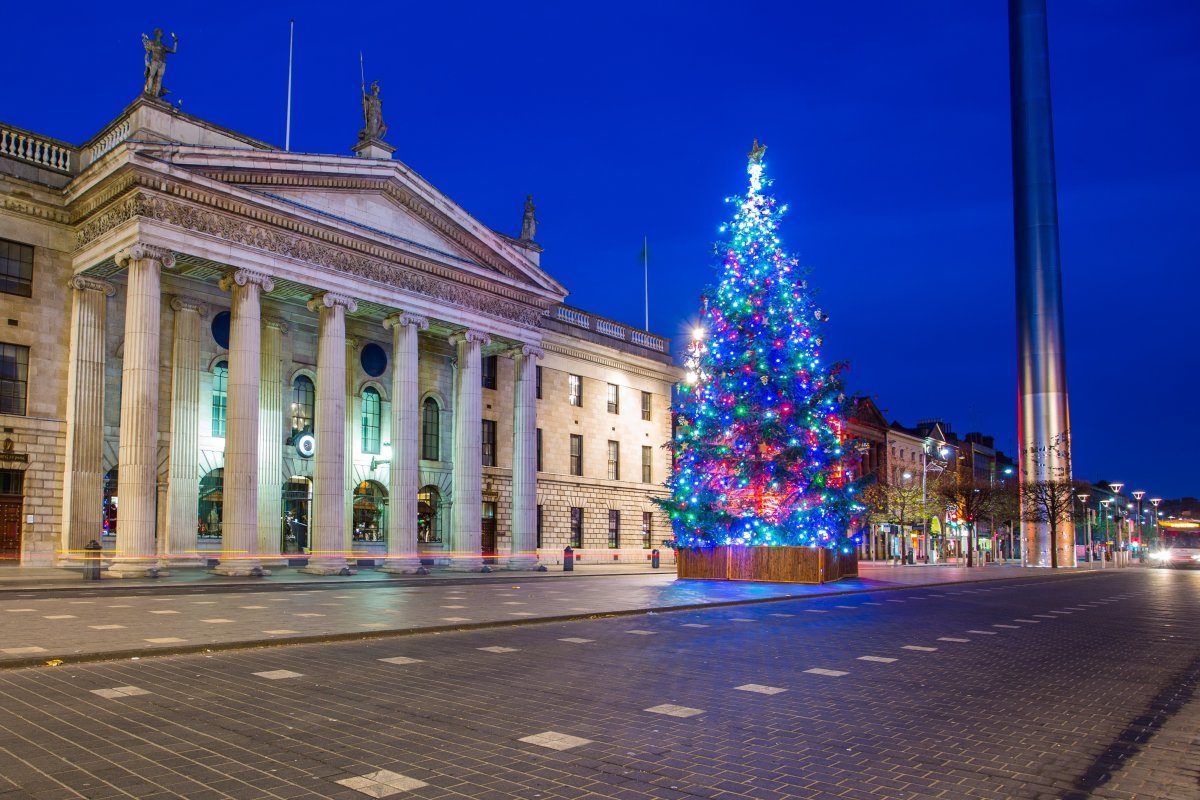 6. Taos, New Mexico
Not only is Taos a winter wonderland of world-class skiing, it is also a wonderful place for multicultural celebrations at this time of year. Naturally, Christian and Jewish festivities are marked, but so are Native American, Hispanic and Winter Solstice traditions. Plenty of holiday concerts, lights, processions and exhibitions will keep everyone entertained and inspired.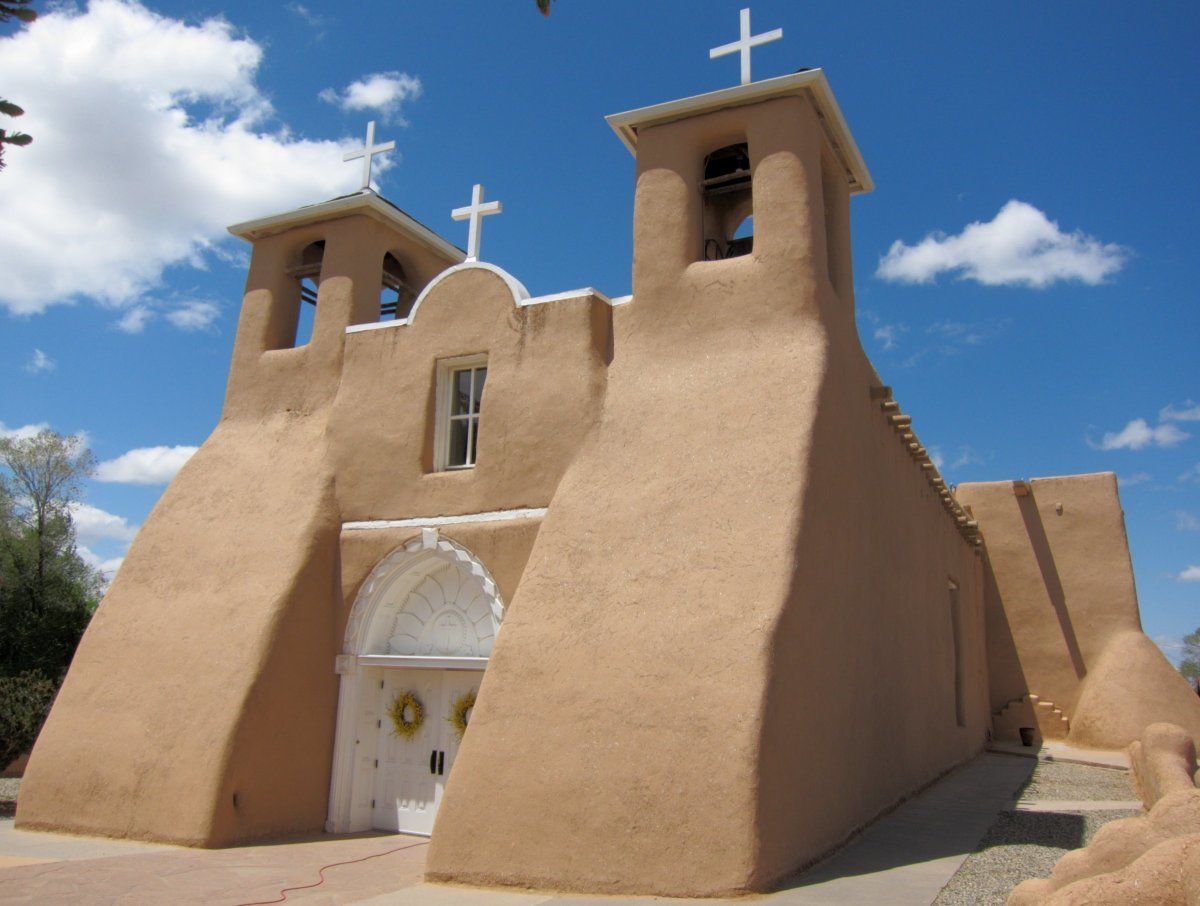 7. Cologne, Germany
Many Western traditions of Christmas stem from Germany, so Cologne makes a fitting destination for a yuletide getaway. This medieval city is picture-perfect setting to be dazzled by the lights, music, art and architecture. Most of the stained-glass adorned Gothic churches are stunning. There are at least seven Christmas markets for all your stocking stuffing needs, and a must-see/must-taste Chocolate Museum near the Rhine. Of course, don't forget to pick up a bottle of eau de Cologne for a special giftee while in the city.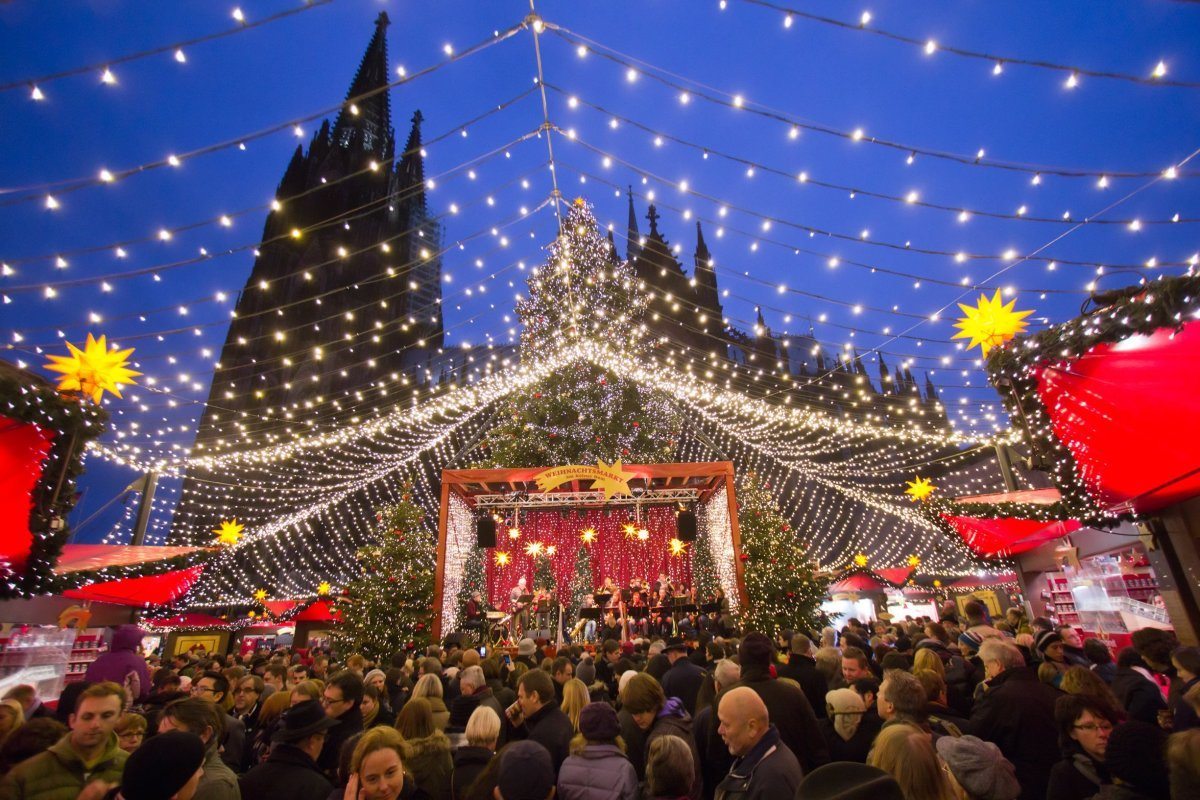 8. Sydney, Australia
Flip Christmas on its head by heading down under for a warm-weather Antipodean celebration in Sydney. They may lack snow, but they make up for it in many festive ways. The city is lit up from head to toe, with all the trees, bells and whistles you could imagine. Christmas concerts at the Sydney Opera House are not to be missed, but there are plenty of other special events and performances around town to get you in the spirit. Darling Harbour hosts a month long ramp-up to December 25, with endless shopping and dining options. There are other entertaining events in Martin Place, Hyde Park, Rushcutters Bay, Rosebery, Alexandria and Surry Hills. Many local Australians flock to the beach on the big day, capped off with kaleidoscopic fireworks displays.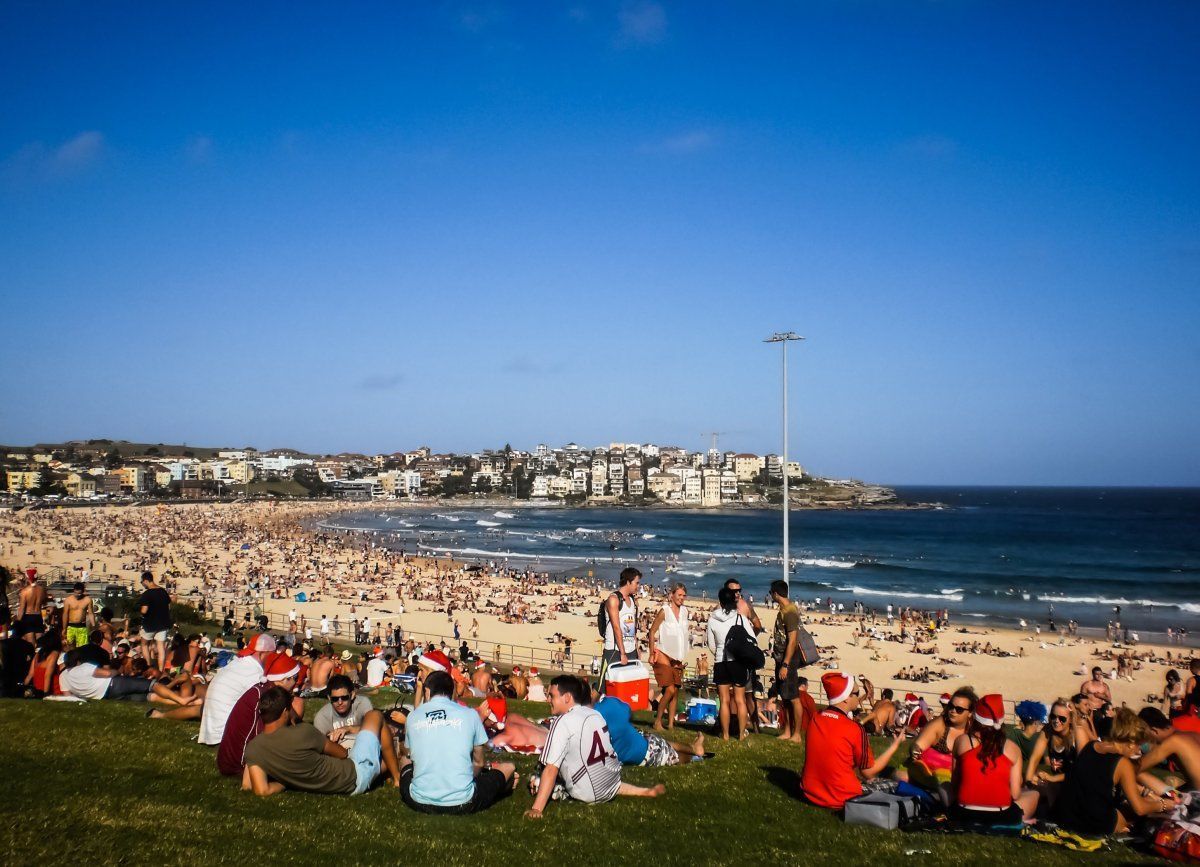 9. Banff, Canada
Imagine a classic snow-globe diorama of Christmas perfection and that's Banff. The Rocky Mountain setting is so spectacular, it'll almost make you forget the cold. Spend the days skiing in one of several slopes in the area, or cozy up to a roaring fire at a number of majestic hotels. Huddle under some blankets and go for a horse-drawn sleigh ride, jingle bells and all, or give some adventurous dog sledding a go. Even if you don't stay there, pop into the famed Fairmont Banff Springs Hotel and see Canada's closest thing to a fairytale castle all dressed up for the holidays.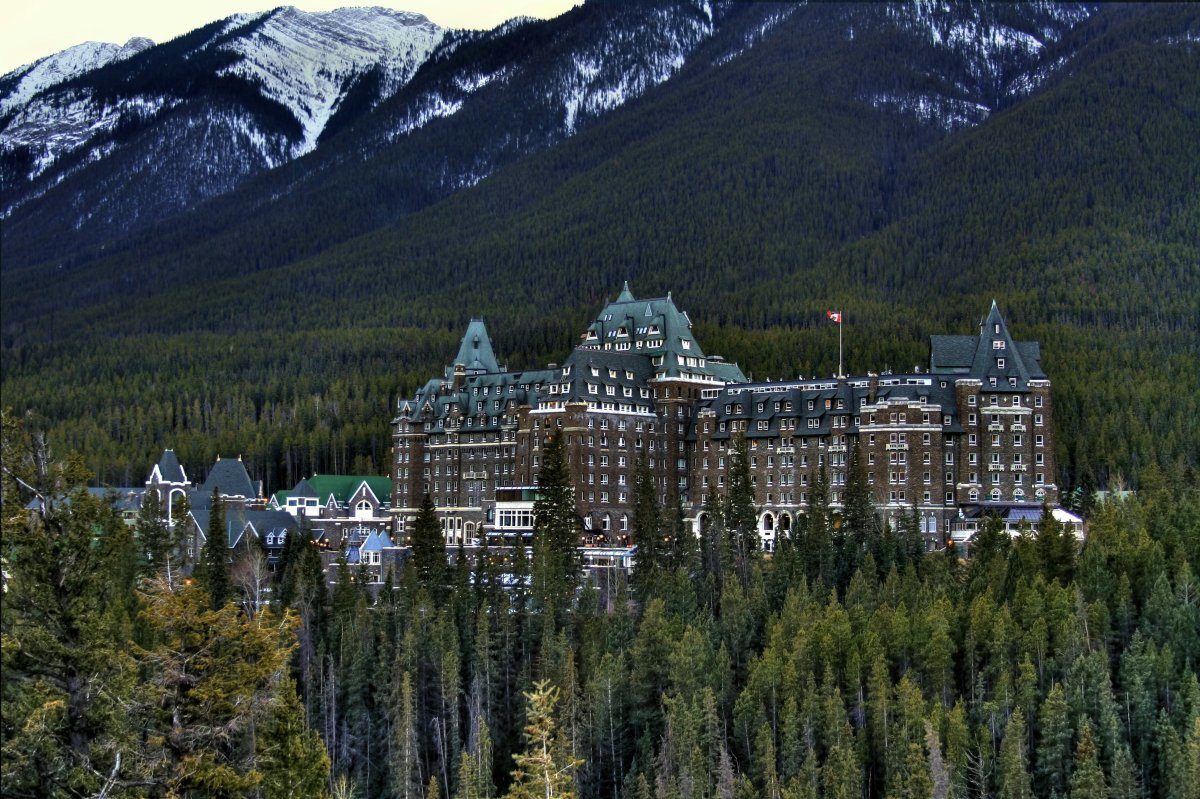 10. Vatican City
Not surprisingly, Christmas is a big deal at the Vatican, being the center for the Roman Catholic Church and all. Christmas mass with the Pope is a bucket list experience for the devout (make arrangements at least 2-6 months in advance), but even less-religious people will be dazzled by the pageantry. There's a gorgeous tree and nativity scene displayed in St. Peter's Square outside the Basilica. You'll have to contend with a crowd of about 80,000, but it will no doubt make a memorable holiday. If you can't make the midnight mass, try to catch the Pope's Christmas message from his balcony overlooking the square at noon on December 25th.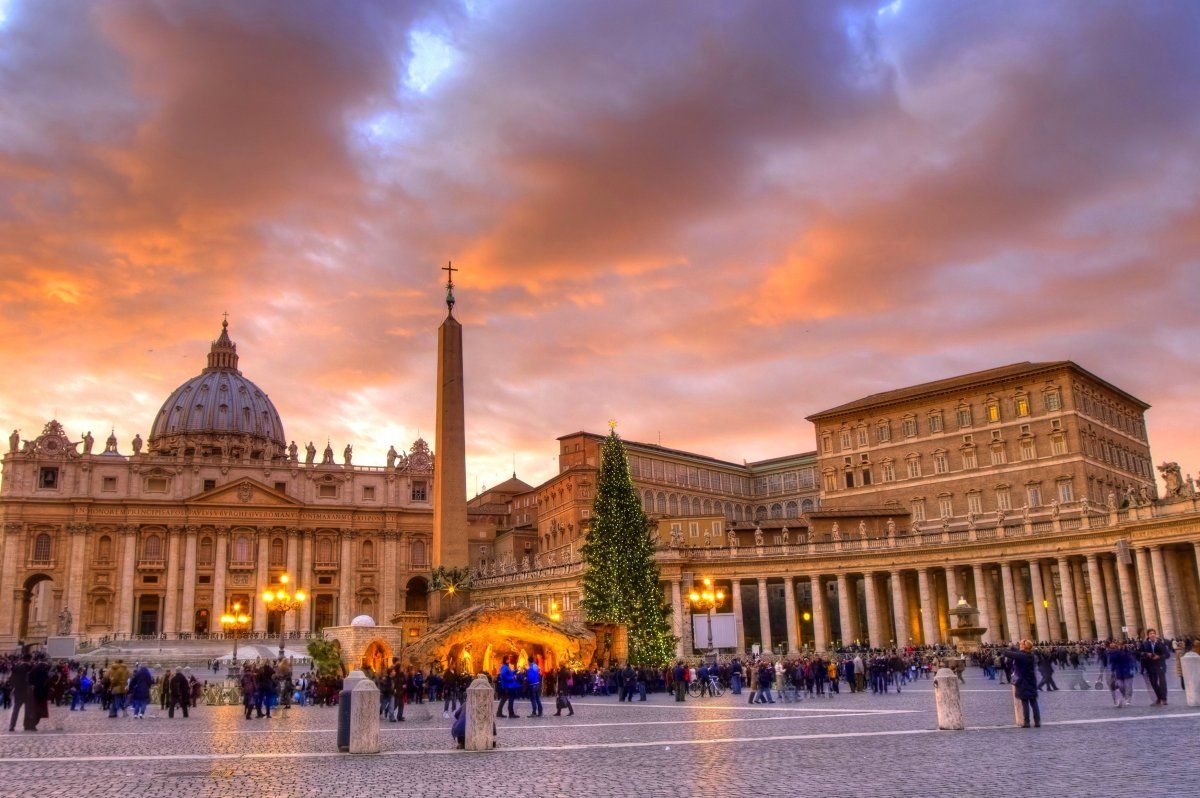 11. New York, USA
NYC is another one of the best places to celebrate Christmas at some point. Just brace yourself for the crowds with a large dose of patience to keep your inner-scrooge at bay. You won't believe how big the tree is outside New York's Rockefeller Square, all ablaze with 45,000 LED lights. It's a perfect place to lace up some skates and get into the spirit (along with hordes of tourists). Central Park's Wollman Rink is another spot to enjoy some outdoor merriment. Christmas shopping opportunities abound in the city that never sleeps, from the miraculous Macy's on 34th Street to FAO Schwartz's toy store on 5th Ave. and all the boutiques in between. The world-class window displays will delight all ages whether you spend a bundle or not. See the lights of Times Square, check out the annual Rockette's Christmas Spectacular at Radio City Music Hall and take in a Broadway show. Christmas in New York is a sensory overload, but with the right attitude it can be spectacular.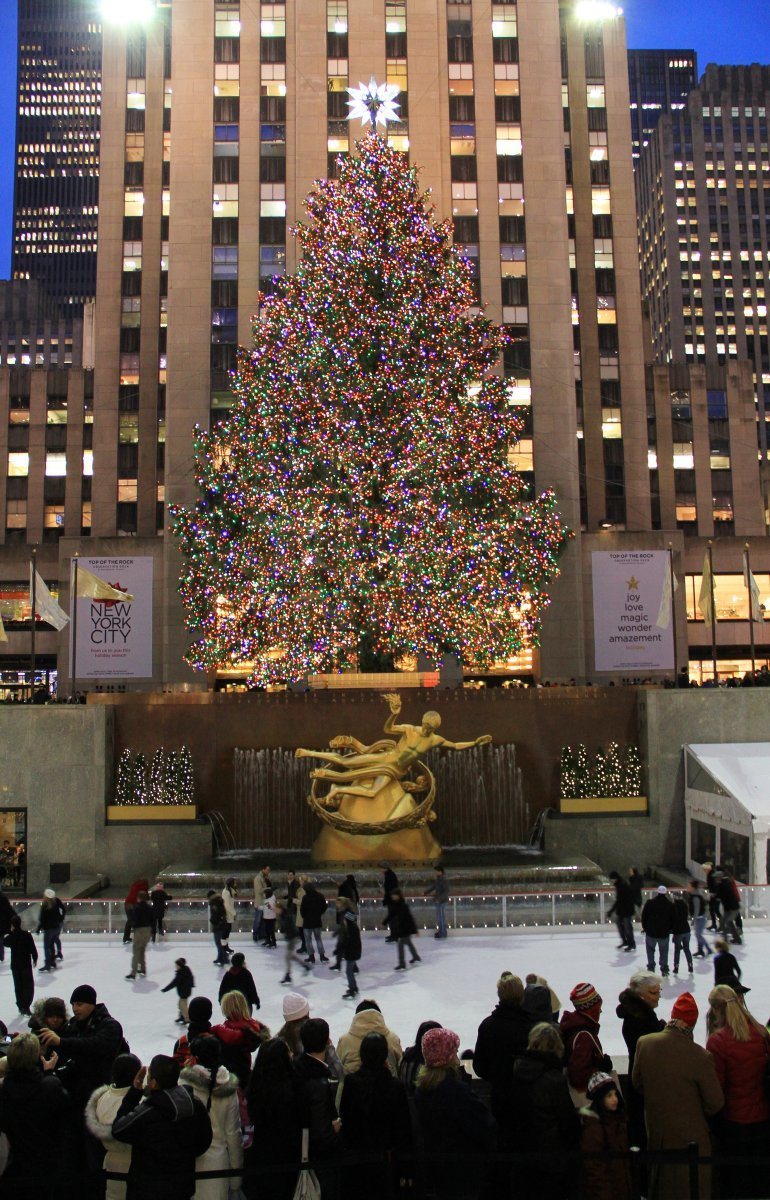 12. Paris, France
What better place to be bedazzled for the holidays than the City of Lights itself? Parisian pageantry at Christmastime is particularly impressive. It's got all the elements for an elegant romantic getaway or a fun-filled family-friendly holiday. The decorations along the Champs-Élysées are spectacular, as is the twinkling Eiffel Tower itself. Patinoires (skating rinks) dot the town, and make-shift sledding hill is set up outside the Hotel de Ville. The dining and shopping pleasures go without saying. In particular, the Christmas markets of Paris are truly incredible. Try to make the Christmas service at Notre Dame, or on the opposite end of the spectrum, there's always Disneyland Paris.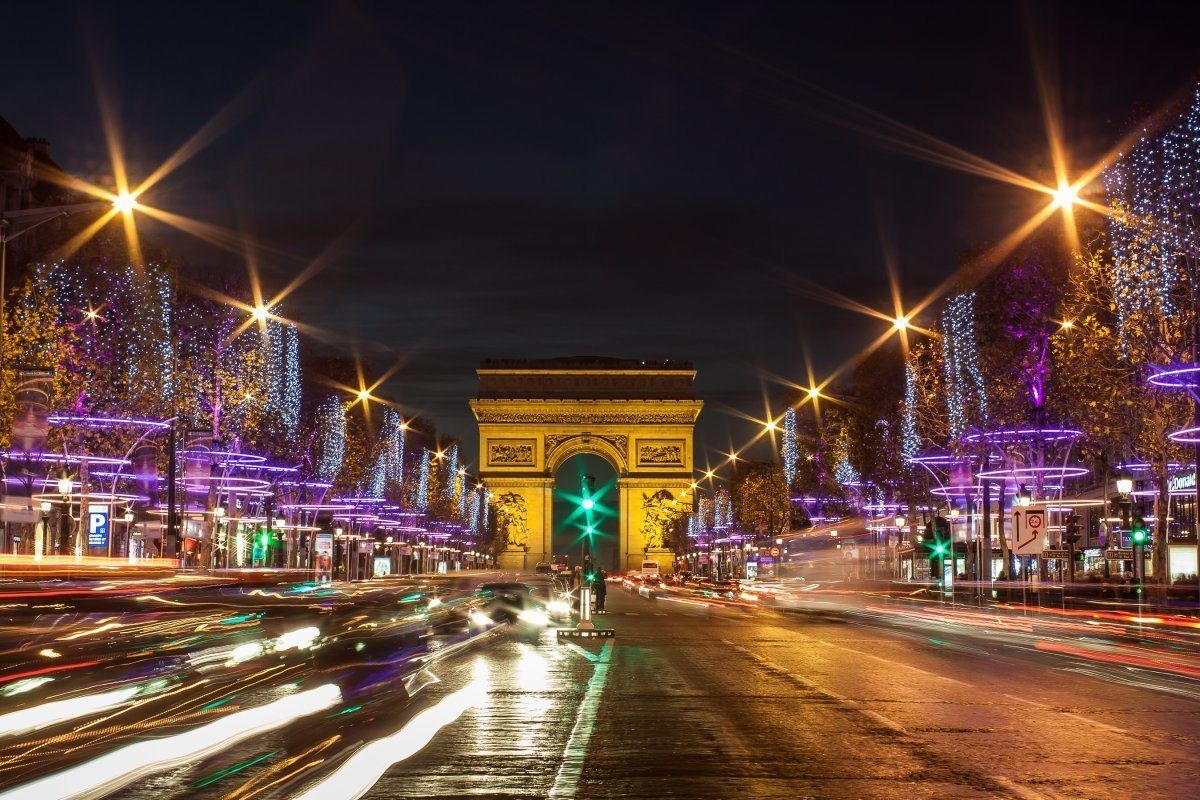 13. Barbados
Trade your snowmen in for sandmen with a warm-weather Christmas getaway to Barbados. With its British heritage, some of the traditions of the season may be familiar but with a Caribbean twist. Enjoy some delicious jug jug, baked ham and great cake, washed down with some sorrel or a nutmeg-dusted rum punch. The hotels are decked out to the fullest, and lots of caroling, concerts, events and performances are held throughout December. Many locals head to Queen's park for a Christmas morning stroll or "lime" on the beach for a sunny seaside soak. Warning: spend Christmas here and you might never want a white Christmas again.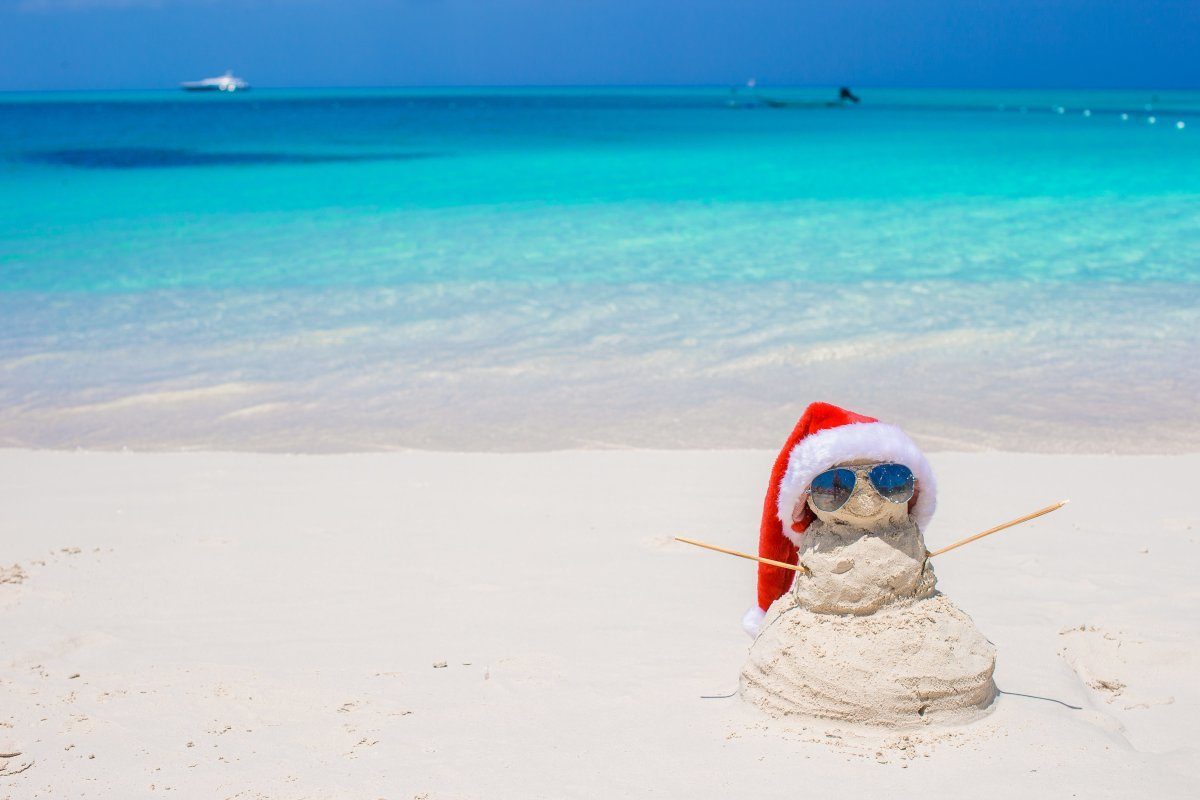 14. Tokyo, Japan
Less than 1% of the Japanese population are Christian, so December 25th is not a national holiday and Christmas is not a traditional celebration here. However, like many customs from around the world, Japan has appropriated certain commercial aspects of the holiday and made it their own. The Tokyo department stores are decorated to the hilt, trees are lit up to the nines and Christmas cakes are gobbled up. Cutesie presents are often exchanged (Hello Kitty does well here) and well-marketed KFC "Christmas Chicken Dinners" are consumed by the bucketful. Many office parties occur around this time of year, so you may see more inebriated salarymen on the Tokyo trains than usual. Check out Ginza, Shinjuku and Roppongi Hills neighborhoods for Tokyo's elaborate brand of Christmas bedazzlement.
What other places to celebrate Christmas would you suggest?