There's something inviting about a refreshing splash in a hotel swimming pool. However, these extraordinary pools take things up a notch. Several notches, in fact. They offer a unique size, shape, color or plunge with a view that elevates laps to a whole new level. Some seem precariously perched or a bit too close to the edge for comfort, but you still can't resist taking a dip. Check out these 12 crazy cool hotel pools around the world and be amazed.
1. Marina Bay Sands, Singapore
This impressive 8 billion dollar hotel/resort boasts a SkyPark infinity pool that makes you feel like you're on top of the world. At 57 floors up and stretching 150 m along the three-towered rooftop, it's the largest swimming pool at this elevation anywhere. As you can imagine, the skyline views of Singapore are spectacular from up here, day or night.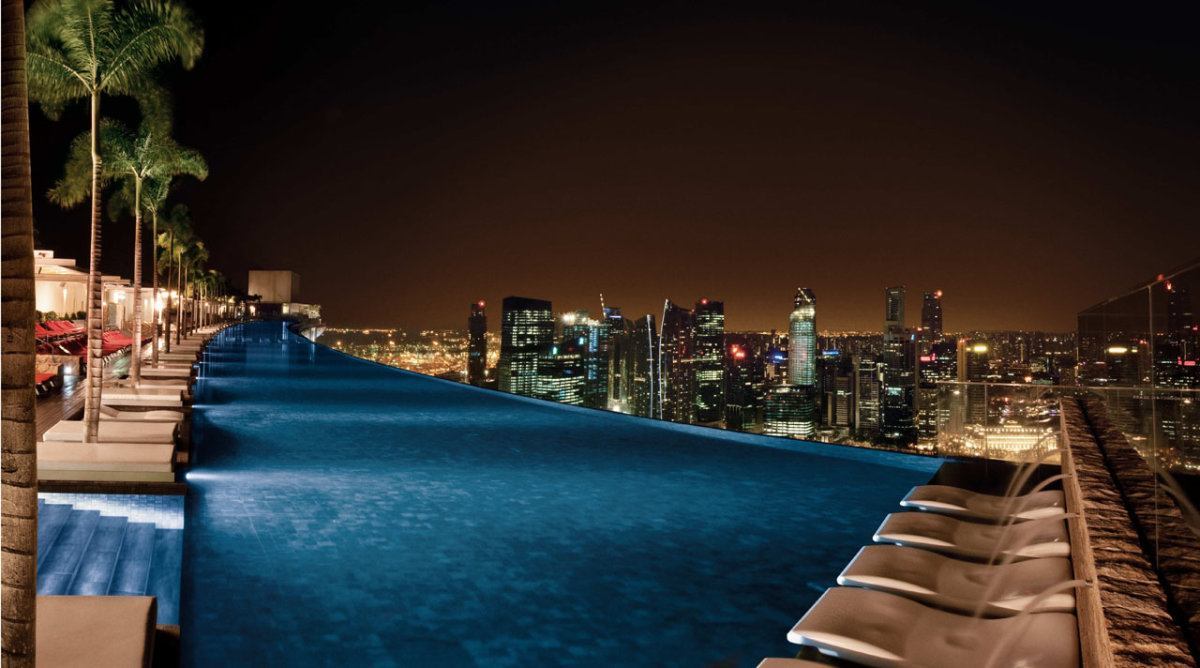 2. San Alfonso del Mar, Chile
This resort in Chile has the largest swimming pool on the planet, known as the Crystal Lagoon. Opened in 2006, this baby holds 66 million gallons of H2O and is big enough to sail boats on. It's the length of 20 Olympic-sized pools, so doing one lap is a big accomplishment. Pace yourself, or you might not make it back to your lounge chair. The Crystal Lagoon's filtration system alone cost $3.5 million, and it has an annual maintenance fee of over $4 million. That may seem a little excessive considering the ocean waters are just a few feet away, but you have to admit this is one of the super cool hotel pools out there.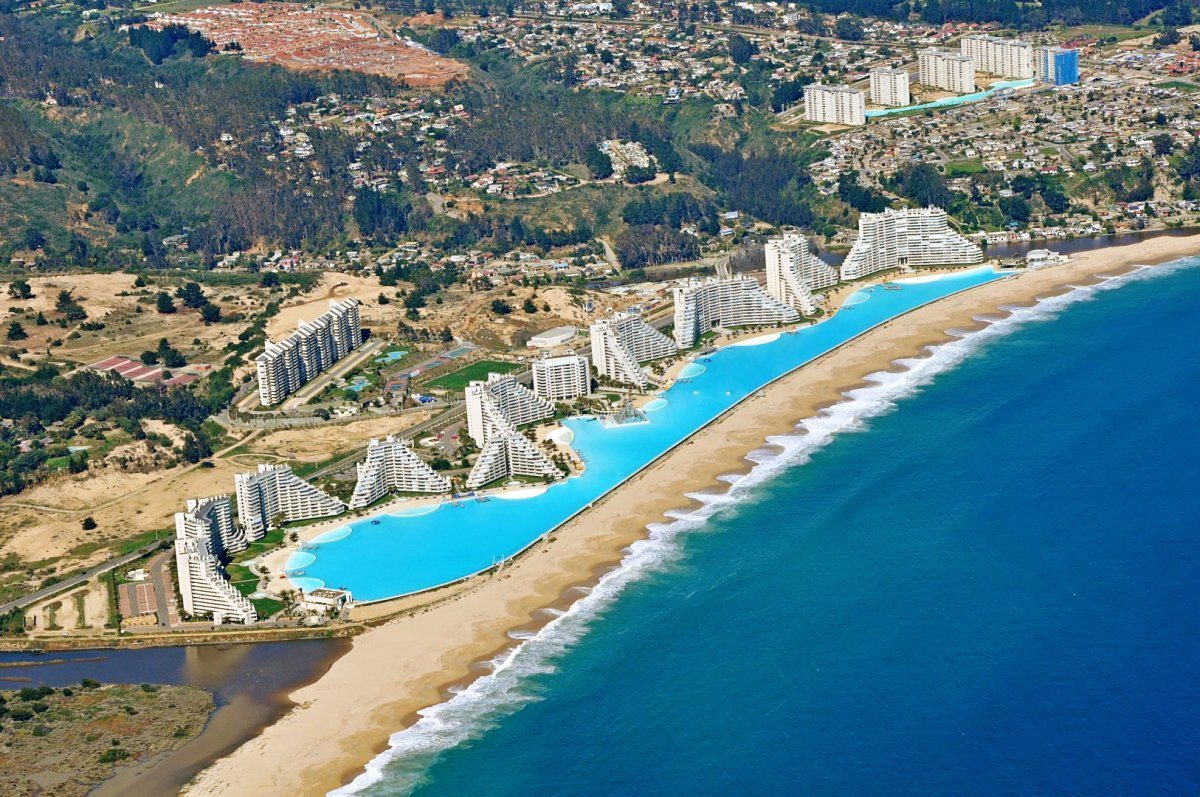 3. St. Regis, Lhasa
We tend to think of Tibet as a place of humble, restrained Buddhist sensibilities, but there's an oasis of luxury in them there Himalayas. This glamorous, glittery hotel pool is literally lined with gold tiles. Do Kim and Kanye know about this place? Soak in the therapeutic salt waters of the Golden Energy Pool, where you can swish away in liquid gold warmed to a soothing 28-32 degrees Celsius. It's either the ultimate bling swim, or it's a little off-putting. That yellowy hue makes one feel like a group of toddlers with bladder-control issues might have had a pool party in there.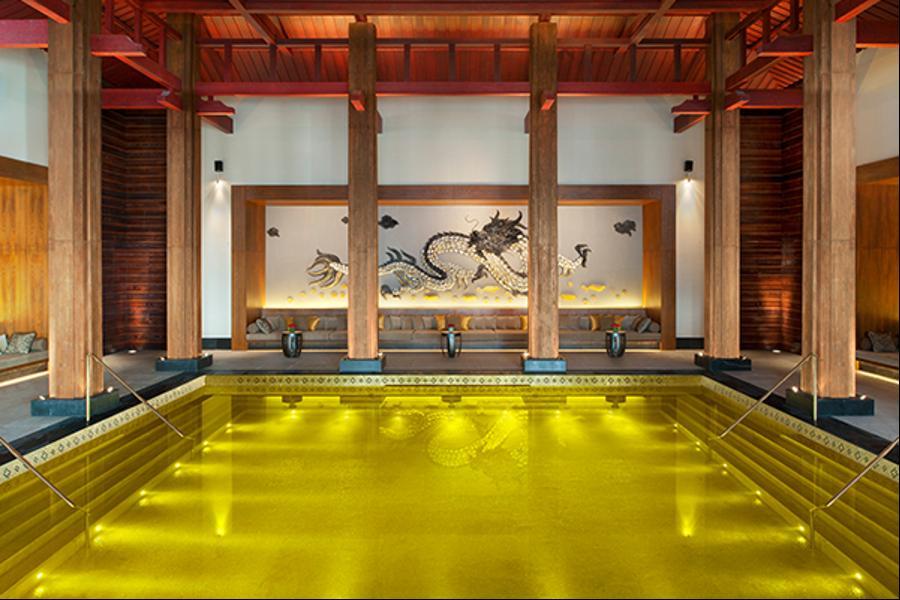 4. Sanctuary Swala Camp, Tanzania
Make like a hippo and lurk eyeball level in the waters of this limpid infinity pool in Tarangire National Park. From this stealth position, you can spy herds of elephants, leopards, impala, lions, giraffe, kudu and other wildlife hanging out by their own watering hole beneath the acacia trees. That's one swanky safari sanctuary. Let's hope the creatures don't get the two water sources mixed up.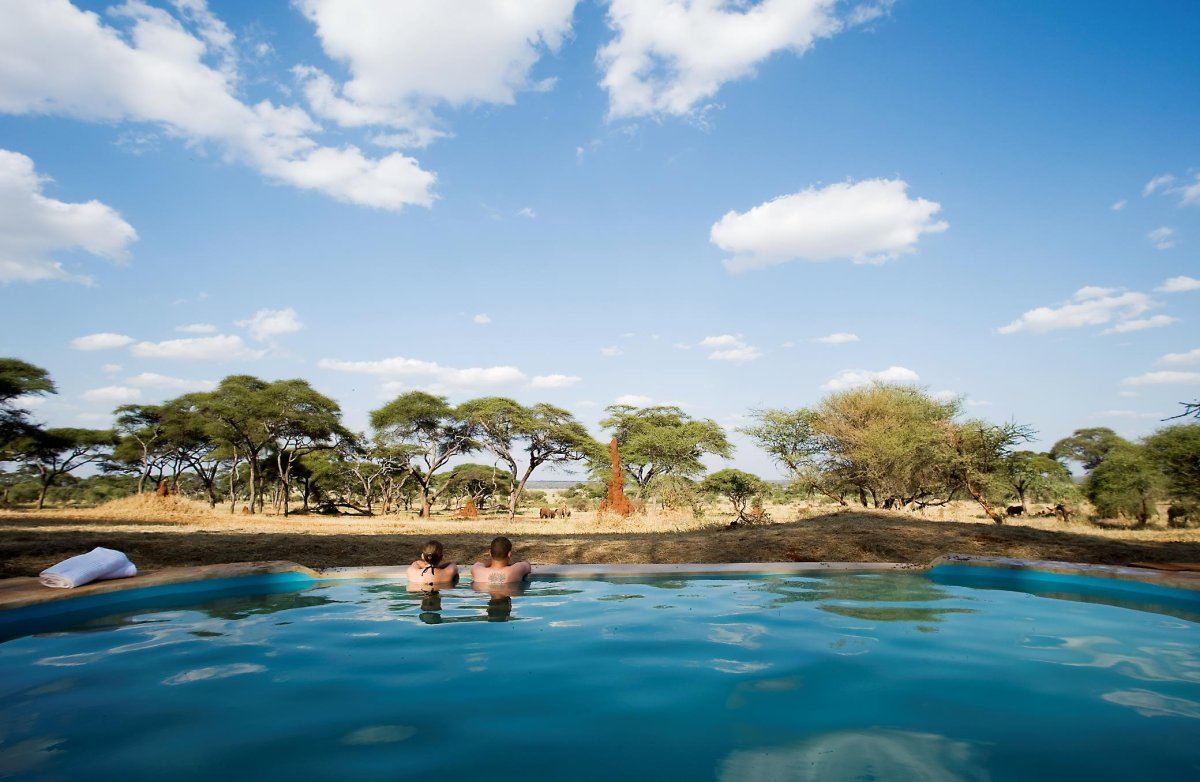 5. Joule Hotel, Dallas
This glass-front pool literally dangles over the edge in Dallas. The tenth floor cantilevered design juts eight feet beyond the walls of the hotel. It's a small roof, so I guess they had to do something to make a little more swimming space. The view at the end of the lane is pretty stunning, if you're brave enough to splash around in here.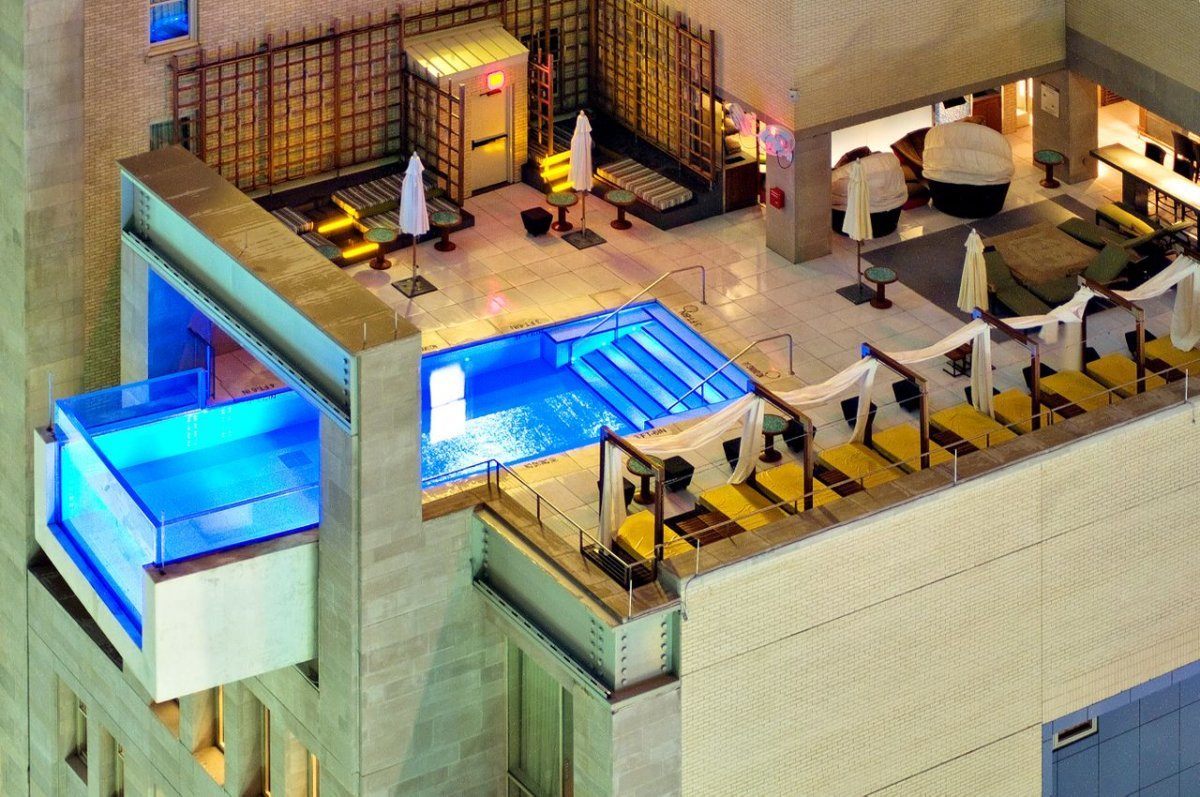 6. InterContinental Festival City, Dubai
Taking things one step further, this crazy hotel pool not only juts out over the side of the rooftop, but it has a plexiglass bottom floor so you feel like you're swimming on thin air. It may give you the sense that you're about to plummet while you plunge, but it must be a bit of a thrill, don't you think?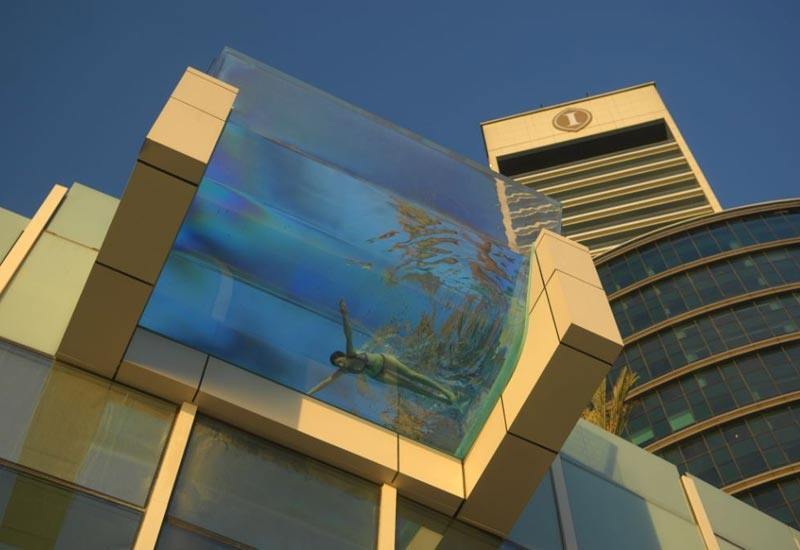 7. Golden Nugget Shark Tank, Las Vegas
Vegas has a lot of awesome pools that are more party palaces than swimming holes, but this one oozes cool for another reason. With a name like Shark Tank, it's no great surprise to hear that you'll be swimming with sharks here. Don't worry, they're behind protective glass of the aquarium along with other colorful aquatic animals, but you'll feel like you're immersed among them. It that's not enough for you, there's a three-story glass tubed waterslide (the Shark Chute) slicing through the aquarium just to give you an added adrenaline rush.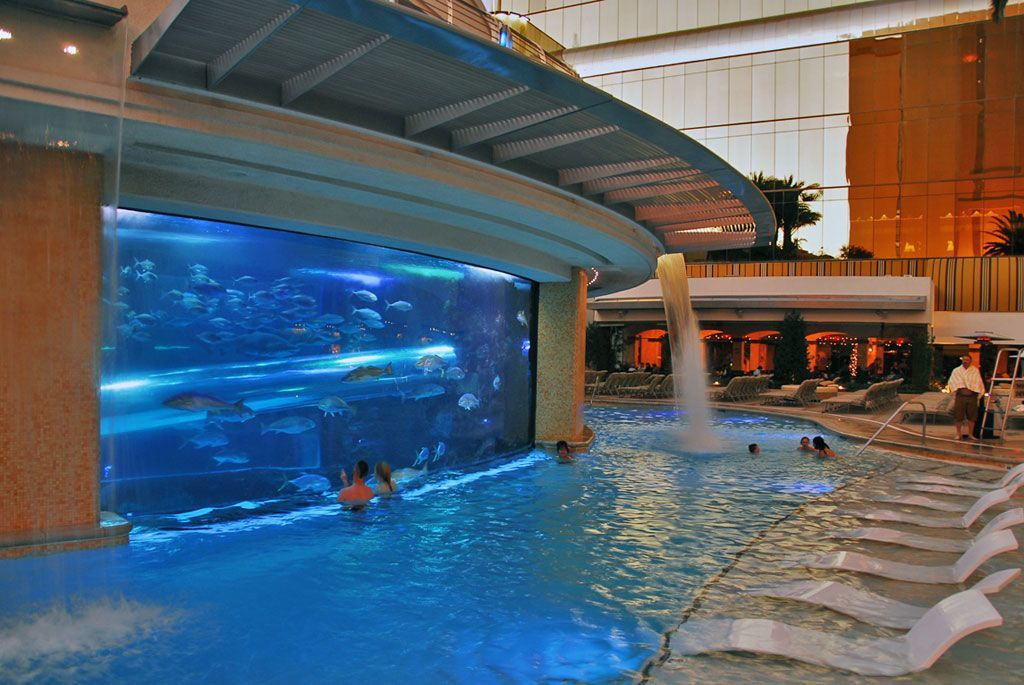 8. Hanging Gardens Resort, Bali
If this five-star Balinese boutique hotel pool doesn't make you say ahhh, nothing will. The stunning split-level swimming sanctuary is suspended over the lush jungle with undulating curves. It's lined with Batu Candi stone with geometric walls of solid volcanic ash, giving it a distinctive natural ambiance. The top level cascades below to the bottom tier for a soothing waterfall effect. It's little wonder this photogenic spot often tops lists of cool hotel pools.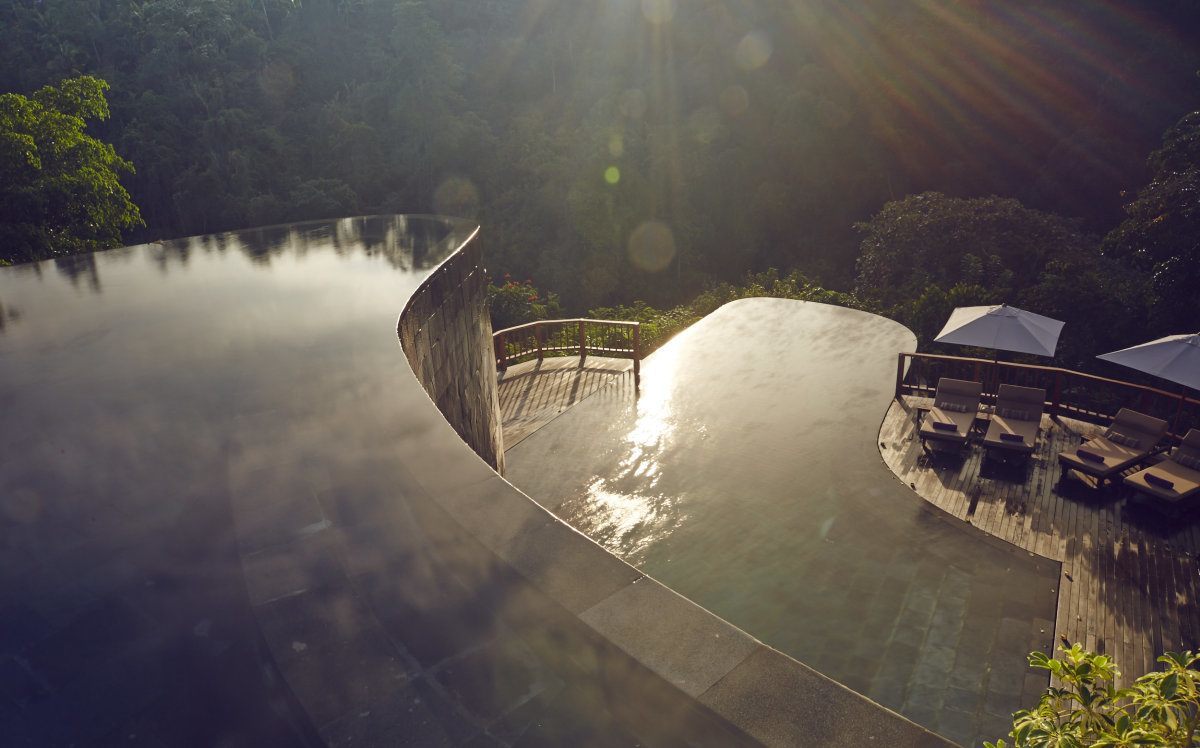 9. The Library, Koh Samui
One one hand, this exotic Thai pool separates itself from the rest by going with a signature scarlett shade for its beachfront bathing oasis. However, there's something about this red hue that makes one think shark attack or bloody massacre. It's just the pretty mosaic tiles of red, orange and yellow jewel-toned squares that have this effect, but perhaps they should have run this by a few focus groups first. Chaweng Beach is inches away if you'd prefer a less jarring soak in the big blue sea.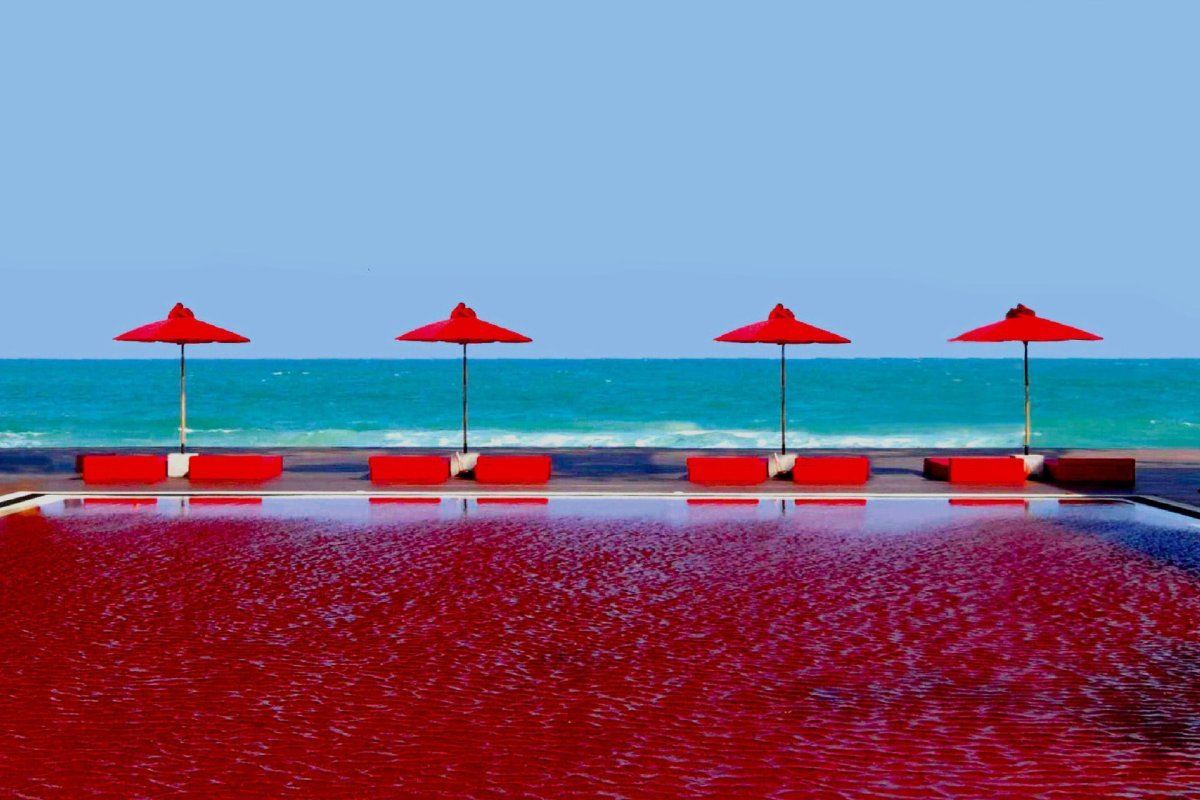 10. Huvafen Fushi, Maldives
Just when you think nothing can top Mother Nature's splendor in the Maldives, you got to hand it to human architects for designing this breathtaking resort swimming pool. Huvafen Fushi is an Indian Ocean resort on the North Male Atoll that goes above and beyond expectation at every turn. With amenities like a private yacht, glass-floored bungalows on stilts, a marine biologist on staff and a luxurious underwater spa, you know this is no ordinary island paradise. However, it's the lagoon-front infinity pool that really makes are jaw drop. It is sprinkled with fairy lights to give it a bioluminescent effect. You can actually book a table in the shallows of this pool for a reflective toes-in-the-water dining experience.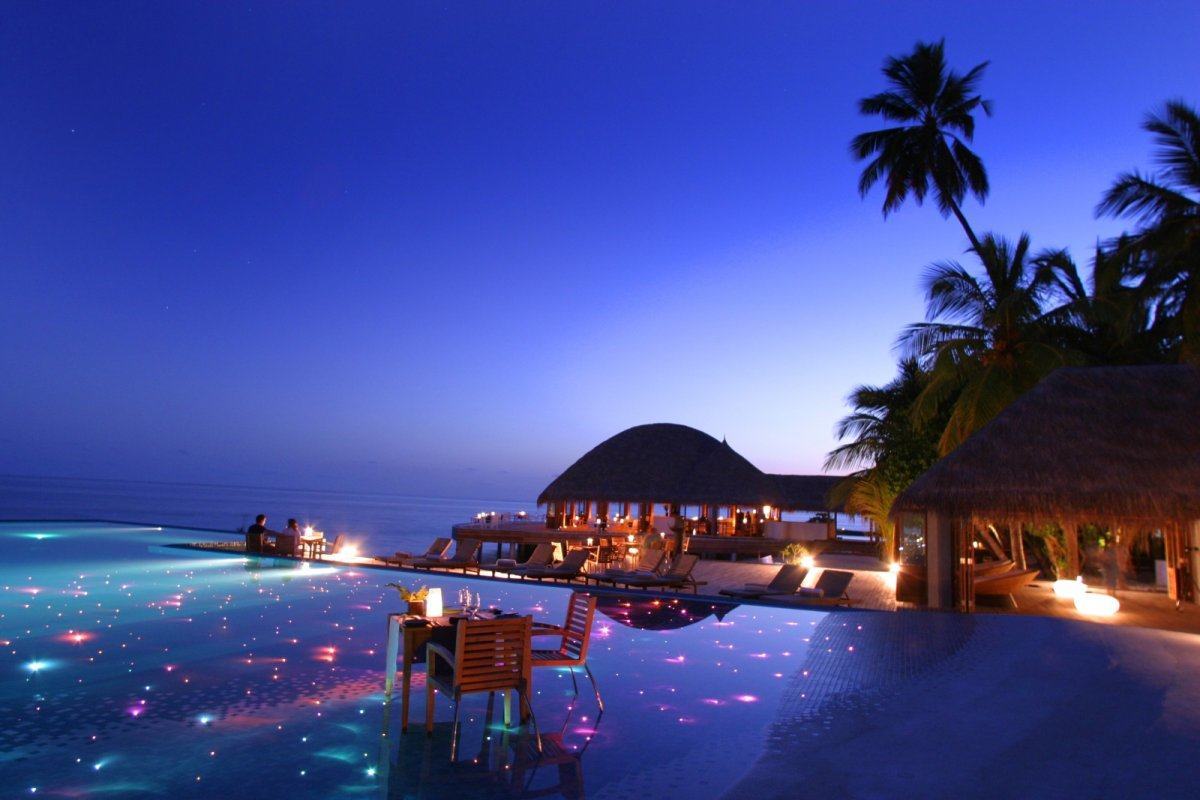 And Now: 12 Hotel Rooms That Are Super Cool