Every region of the planet has its local produce and cuisine that adds flavor and flair to the culture. One of the great treats of international travel is the opportunity to sample some of these edible delights. Then again, some of these global delicacies are kind of strange or downright unappetizing. Only a brave and adventurous palate would be tempted to choke some of these down, unless, of course, you're into sperm sacs, maggots and brains! Here are 12 weird foods from around the world. Granted, some of our food may seem odd to a foreign tongue, too.
1. Head Cheese
People of Europe have commonly eaten gelatinous head cheese since the Middle Ages. Not to be mistaken for a dairy product, head cheese is a kind of meat jelly that is made from calf or pig's head. Don't worry, the brain, eyes and ears are usually not included. People who eat this food say the meat is quite tender and and tasty. Don't believe it? You'll have to try for yourself.
2. Airag
Airag is a popular beverage served in Mongolia where it is made from fermented horse milk. Once fermented, the milk takes on a fizzy quality. While slightly sour, the fermented milk contains some alcohol that somehow makes this spoiled milk more palatable. Also known as kumis, think of it kind of like kefir yogurt with a buzz.
3. Lard
Lard may not seem like a weird food. It's certainly a commonplace ingredient that many cultures use for frying or baking. In the Ukraine, however, lard is typically smoked and eaten on its own along with a hearty piece of rye bread. The next time you fancy a sandwich, just slice off a slab of pig fat lard and see what you've been missing!
4. Akutaq
Akutaq is an Eskimo dish that is somewhat similar to ice cream, although that might be a stretch. Akutaq is typically made from reindeer fat and flavored with salmon eggs and berries. The dish is served cold and creamy. This hasn't caught on in too many other places, but Eskimo people love it. Ask your local ice cream parlor to make a batch and give it a try.
5. Stargazey Pie
Stargazey Pie is a popular savory pastry dish served on the coast of Cornwall. This dish actually stares up at you while you eat it. The pie is served with fish heads poking upward through the pie crust. If you can handle those beady eyes, it's supposed to be quite tasty.
6. Shirako
Shirako is one of those Japanese dishes that doesn't taste all that bad until you know what it is (sometimes it's best not to ask). Shirako is the sperm sacs of fish such as cod or puffer fish. When served, the sacs look like small brains that can be dipped in a tasty sauce.
7. Snake Wine
Snake wine is popular in some Asian countries like Vietnam and Korea. While the drink may look creepy with its dead snake coiled in a bottle, people find this enhanced rice wine quite a delightful drink on a hot day. Apparently, the more venomous the snake, the better the wine. Don't worry, the ethanol deactivates the poison.
8. Black Pudding
Black pudding, a.k.a. blood pudding, is a congealed dish of blood that is often made with suet, oatmeal or breadcrumbs. Even though this dish might not sound appetizing to the uninitiated, it is commonly eaten in many parts of the world like Europe and Asia. Sliced and grilled, it's often part of a traditional breakfast in the UK.
9.  Casu Marzu
Casu Marzu is a Sardinian cheese that makes ordinary stinky cheese seem quite pleasant. Casu Marzu is a robust cheese that relies on fly larvae to give it is distinctive taste. In other words, it's maggot-infested cheese. Not for the faint of heart, Casu Marzu is considered to be a delicacy. Want some?
10. Puffin Hearts
Puffins are such adorable creatures that it seems quite heartless to think of consuming them, let alone their hearts. However, puffin heart is a common dish in Iceland where these marine birds thrive. In fact, if you visit Iceland, you're sure to see this popular dish of the menu. Did we mention this delicacy is eaten raw?
11. Escamole
Definitely no relation to guacamole, escamole is a Mexican dish made from ant larvae that congregate around the roots of the agave plant. This is the same cactus plant which is used to make tequila. If you order this dish, you might need a stiff drink to wash it down with.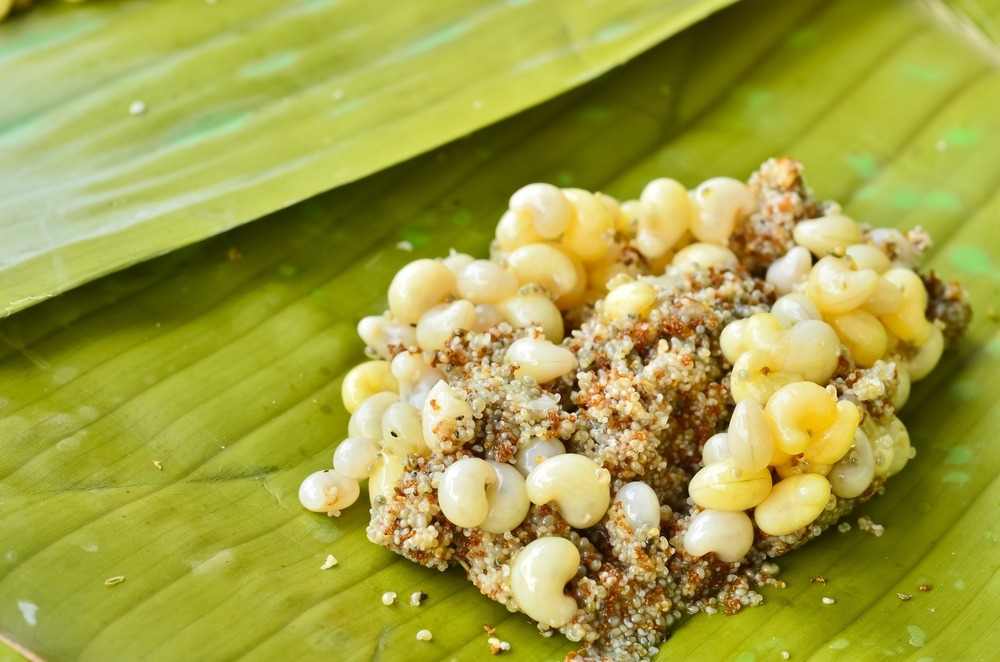 12. Brain Sandwhiches
In Central America, fried cow or pork brains are often served on a sandwich. The brain is usually battered, sprinkled with hot sauce and served on a bun, burger style. Before you think this is some crazy Latin thing, this sandwich used to be popular in the US, too. Perhaps McBrains will soon be on the menu.
What other weird foods from around the world have you tried?