Americans get a lot of flack for not traveling internationally as much as other countries' citizens do. Even we took a satirical shot at this issue in a recent post. However, the flip side is that many Americans are content with the wide array of travel offerings right at home. Beyond distinctively American icons like the Grand Canyon, Statue of Liberty and the Washington monuments, there is a world of locations, landmarks and attractions with an international flair one can visit on US territory – no passport required. We're not suggesting Americans shouldn't get out and see the world, but if you can't visit the real thing, the following facsimiles might be the next best thing. Here are 15 ways to travel the world without leaving America.
1. Have a Great Dane Experience in Solvang, California
Have you always wanted to visit Copenhagen but couldn't afford the airfare? You can experience some of that Danish spirit in the Californian town of Solvang, in the wine-filled Santa Ynez Valley. The town was founded in 1911 by a community of settlers from Denmark, so this is more than just some cheesy tourist construct (side note: Danish Havarti cheese is divine). The town's architecture reflects traditional Danish style, and there are many shops, restaurants and bakeries specializing in delicacies from the motherland. There's a replica of Copenhagen's Rundetårn (Round Tower), a copy of the famed Little Mermaid statue, a mini Tivoli Square and several whimsical windmills around the charming village. You can't visit without sampling some æbleskiver, a delicious Danish twist on the donut hole.
2. Feel Like You've Gone to Hong Kong In San Francisco's Chinatown
Need a dim sum fix? Head to San Francisco's renowned Chinatown and pretend you've transported to the Far East. San Francisco has the largest Chinatown beyond Asia. Established in 1848, it is also the oldest on the North American continent. The moment you pass through the ornate Dragon Gate, you'll be immersed in the hustle and bustle of merchants, herbalists, fish markets, temples and restaurants. It'll give you a good sense of the hubbub along Hong Kong's Nathan Road. Meander down some side streets and alleys off of Grant Street to absorb some more authentic Chinese character. If you can visit during the Autumn Moon Festival or Chinese New Year, all the better. Go on and check out the Golden Gate Fortune Cookie Factory, but know that this take-out staple is not a traditional Chinese post-meal nibble. They were invented and popularized here, making them a real San Francisco treat.
3. Nashville's Parthenon is Better Than the Original
Athens, schmathens. There's a full scale replica of the Greek capital's Parthenon right in the center of Music City, Tennessee. This one's not in ruins, which gives you a great sense of what the real Parthenon looked like way back when. While it's not as old as the Greek original (built around 447 BC), it still has some historical pedigree having been built in 1887 – quite ancient by American standards. The classical structure with 46 columns was built to precise mathematical and geometrical specifications according to classical Greek design. An enormous statue of the goddess Athena is housed inside, just like the one in ancient Greece did before the Romans took it. Originally built for an exposition, the Parthenon in Centennial Park now serves as an art museum in the city known as the "Athens of the South".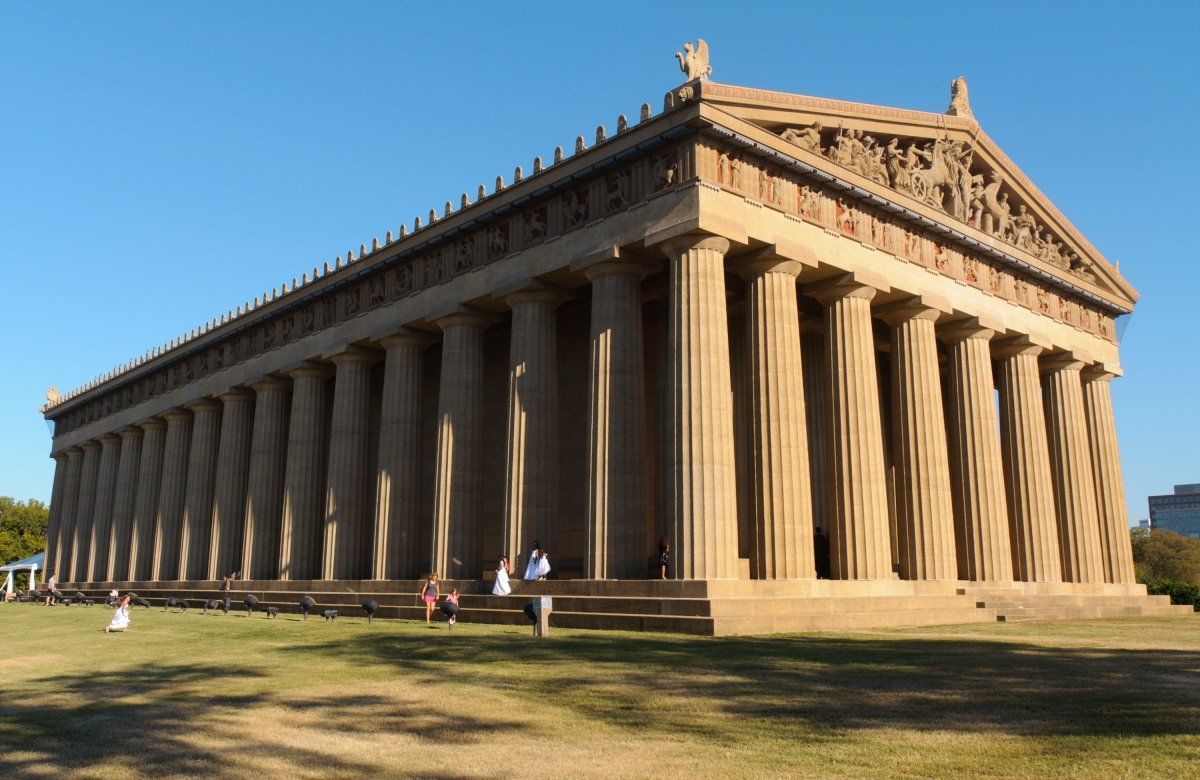 4. Alaska's Denali Mountains Will Give You That Himalayan Feeling
Alpine enthusiasts won't be disappointed with the the mega-mountains in Denali National Park. This spectacular range rivals anything the Himalayas have to offer. Sure, they may have Everest, but Alaska's Mt. McKinley is just 9000 ft shorter. If you want to get technical, when measured from base to peak McKinley is actually the tallest land based mountain on earth (Everest is only taller because it starts high on the Tibetan Plateau). But size isn't everything. The grandeur of this mountain range and the pristine wilderness around it will bring awe to anyone who explores it.
5. Old World Spain Is Alive in San Antonio, Texas
A visit to San Antonio will take you to another place and time. The city is one of the finest along the Old Spanish Trail, a route running from St. Augustine, Florida to San Diego, California, linking America's cities of Spanish conquest.

 San Antonio's 18th century Spanish colonial missions are particularly well preserved (who could forget the Alamo?). The ambiance along the tree-lined Paseo del Rio (River Walk), while full of modern shops, restaurants and tour boats, still exudes a distinctive Spanish charm – with a touch of Venice thrown in for good measure.
6. California's Napa Valley is a Good Stand-in for Tuscany
The velvety vineyard's of Italy's Tuscan countryside are on many travelers' bucket list (or should that be barrel list?). However, the US of A has its own rolling hills that rival anything in Tuscany, both in terms of landscape and produce. California's Napa Valley is a world-renowned region of wineries, spas, inns and retreats, making it a must-see/must-drink destination, especially for oenophiles. Some of its wineries are styled after grand Tuscan castles and medieval wine caves. Drink enough of the Napa vino and you can pretend you've hopped a plane to Tuscany.
7. Did You Know America Has its Own Stonehenge?
England doesn't have the cornerstone on mysterious rocks. There's a perplexing man-made stone arrangement in America's New England too. The Merrimack Valley region of New Hampshire has a collection of free-standing rocks, cairns, caves and chambers estimated to be more than 7,000 years old. Nobody knows who built this archeological site or why. Like the Stonehenge in Wiltshire, some of these stones are in astronomical alignment. Whoever built them had some pretty sophisticated understanding of the stars. Theories of origin have involved the Celts, Irish monks or Native Americans, but the mystery remains unsolved. The Georgia Guidestones, a mysterious granite monument in Elbert County, are also sometimes referred to as America's Stonehenge. They were erected in 1979, but nobody knows who commissioned the stone structure with the multilingual message. A few millennia from now, this might be as big a tourist draw as England's Stonehenge.
8. Experience Bavaria's Oktoberfest in Leavenworth, Washington
No need to go all the way to Munich if you're hankering for some Bavarian brews. Just head to Leavenworth, Washington for the next best thing to the real Oktoberfest. The small town was modeled after a German village, complete with the Cascade Mountains as a substitute for the Alps. Each October it hosts a lively Oktoberfest celebration, featuring keg tapping, parades, oompah music, lederhosen and dirndl. It's a fun celebration of German heritage right in the USA.
9. Zen Out Like Japan on Oahau, Hawaii
Hawaii is alluring for many reason – the beaches and luaus, for starters. But there are more than just Polynesian pleasures awaiting you there. While in Oahu, you can experience a taste of Japan, too. The Byodo-in Temple is a replica of the 1000 year old United Nations World Heritage Site in Uji, Japan. It's on a smaller-scale, but is still an impressive example of Buddhist architecture – made without nails! It was built in 1968 to commemorate the 100 year anniversary of Japanese immigration to Hawaii. The lush grounds at the foot of the Ko'olau Mountains include a large reflecting pond, small waterfalls, a peace bell, and meditation niches ideal for zenning out.
10. We've Got Our Own Amazon-like Rainforest in Puerto Rico
No need to get a visa or risk malaria with a South American jaunt to the Amazon. In El Yunque, you can be enveloped in a lush tropical rainforest right on the US territory of Puerto Rico. Various jungle trails let you experience the diverse flora and fauna up close. Look for (or more like listen for) the chirping coqui tree frogs and the Puerto Rican amazon parrot. Cascading waterfalls add to the wonder of the landscape. Unlike the real Amazon, there are no poisonous snakes in El Yunque National Forest. A trip to Puerto Rico gives American's a real sense of a foreign getaway, with no passport necessary.
11. There's a Little Slice of Paris in the Heart of New Orleans
Evidence of its French colonial heritage abound in NOLA, especially around its famed French Quarter. It's apparent in the food, the accents and the architecture, albeit with its distinctive Cajan twist. However, when you visit Jackson Square you'll feel like you've gone to Paris. The public space was designed after Paris' 17th century Place des Voges. Cast-iron fences, inviting walkways, beckoning benches, decorative fountains and Parisian-style landscaping give it that je ne sais quois. The St. Louis cathedral and surrounding buildings are all exude old world French panache. Nearby is Café du Monde, in the historic French Market. It is known for its chicory-infused café au laits and sugar-dusted beignets, served there continuously since the 19th century.
12. The Mexican Margarita's Are Pretty Authentic in San Diego's Old Town
Located just a few miles from the border, San Diego has mucho Mexican flair. The city has a large Hispanic history and population, which means the food, drink and architecture are about as authentic as it gets. While its a little touristy, a visit to Historic Old Town will make you feel like you're really in Mexico. As the birthplace of California, there are 17 historic points of interest there, as well as museums, artisans, galleries, mariachis and dancers. Weed through some of the tchotchke vendors and you'll find some elegant Mexican art, ceramics, silverwork, weavings and crafts. The restaurants surrounding the village square are all delicioso. Go ahead and order that carne asada, enchilada and margarita without fear of Montezuma's revenge.
13. No US Passport Required for this Caribbean Beach Paradise
You don't even have to pretend to be on a Caribbean island for this one. The US Virgin Islands of St. Thomas, St. John and St. Croix (plus smaller atolls) are actual tropical island paradises in the Caribbean Sea and official US territories. American's are free to travel there without any bureaucratic hassle or currency exchange. Heck, you can even move or retire there if you wanted to live the laid-back island dream, complete with a few familiar comforts from the mainland. The palm-fringed beaches are as beautiful as anywhere in the region.
14. Fake a World Tour at Epcot
Okay, this is a bit of a stretch, but for those who want to get a sense of what its like to travel the world without leaving America, Orlando's Epcot may hit the mark. Yes, it's a Disney theme park, so authenticity is out the window. But they really do a fine job in recreating pockets of the world in one easy-to-stroll-in-a-day attraction. The World Showcase features remarkable representations of Mexico, Norway, China, Japan, Italy, France, Germany, Morocco, Canada, the United Kingdom and even the United States. Informative pavilions, cultural exhibitions, representational restaurants and shops add to the international-esque experience. Throw in a few thrilling rides, and it makes for a fun "round the world" adventure for kids of all ages.
15. There's Always Vegas, Baby
Travel snobs may cringe at this, but Las Vegas, too, can give you that feeling of an international getaway without actually leaving the US. Some of the city's most famous resorts and casinos are themed with this in mind. Pretend you're in Egypt at the Luxor. Take a gondola ride at the Venetian. Make like a Caribbean pirate at Treasure Island. Head to ancient Rome at Ceasar's Palace. Dine French-style at Paris Las Vegas. You get the drift. For those who'd like to travel the world but would rather not spend the money on an grand global tour, this just might scratch that wanderlust itch. If not, it still makes for a wildly entertaining escape if you play your cards right.