When planning a trip to China, consider at least a few days' stopover in Yangshuo. This scenic small town in southern Guangxi province is not exactly off the tourist trail. It's been a haven for expats, budget backpackers and adventure travelers for a few decades, and is now a popular must-see destination for burgeoning domestic tourists too. Don't let this turn you off, though. There's good reason why this ancient, bucolic, laid-back area is such a compelling draw worthy of an extended stay. Here are some of the highlights awaiting you in Yangshuo.
1. Unreal Scenery
Yangshuo is surrounded by fairytale karst mountains, snaking rivers and breathtaking valleys unlike anywhere else on the planet. You'll immediately understand why this limestone landscape has long inspired Chinese poets, painters and moneymakers (the scenery is depicted on the ¥20 bill). Hundreds of pointed peaks poke out of the paddies like a whimsical child's drawing. If you do nothing but gawk at these hallowed hills you'll be happy you came here. Keep your camera at the ready as you'll no doubt want to capture every angle.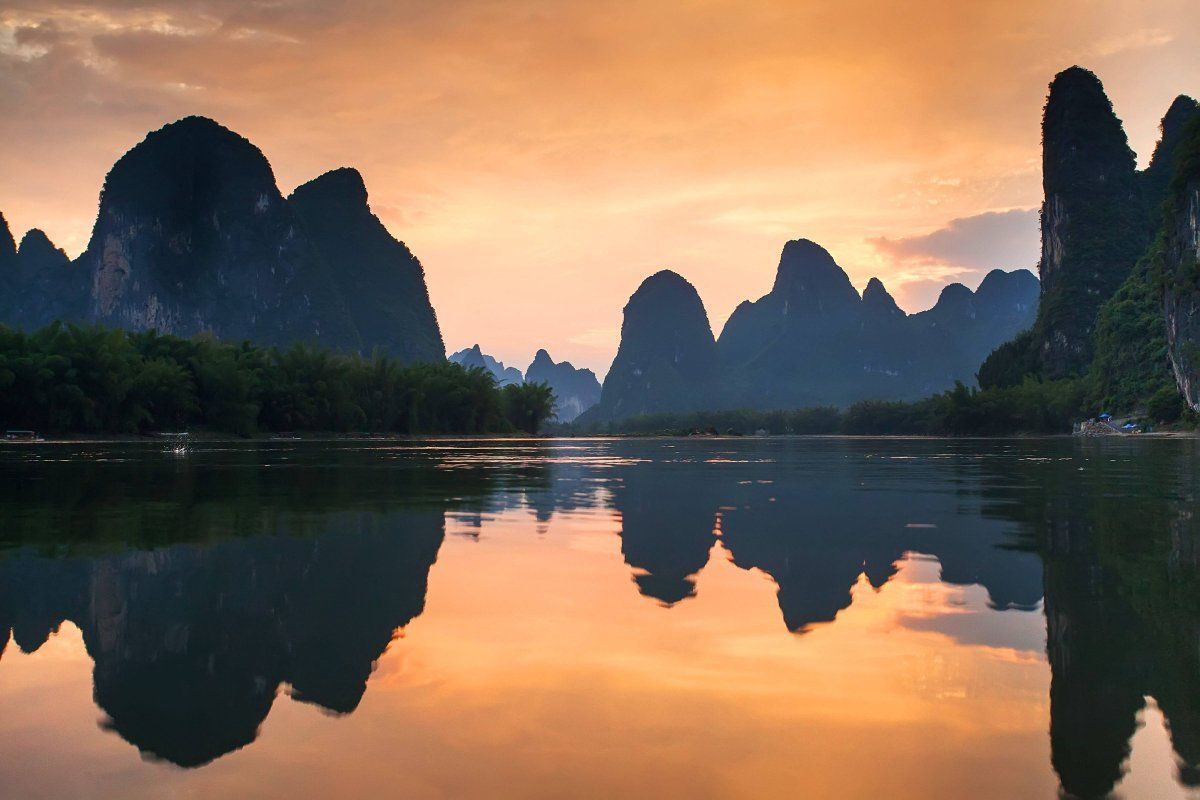 2. Pedal Through the Paddies
One of the best ways to explore the magical mountains, mirroring rivers and terraced farmland around Yangshuo is by bicycle. You'll have no trouble finding a bike to rent and a map of good routes to meander. It's one of the main things to do in the area and there's no shortage of people trying to hook you up with a set of wheels, with or without a guide. Once you get out of town, the roads and pathways are relatively flat, peaceful and suitable for a range of abilities. Even families with kids can enjoy this. You'll soon find yourself immersed in the pinnacles, paddies and pastoral paradise that is the essence of Yangshuo. Choose from a short and leisurely pleasure ride to a longer hard-core cycling adventure, or anything in between.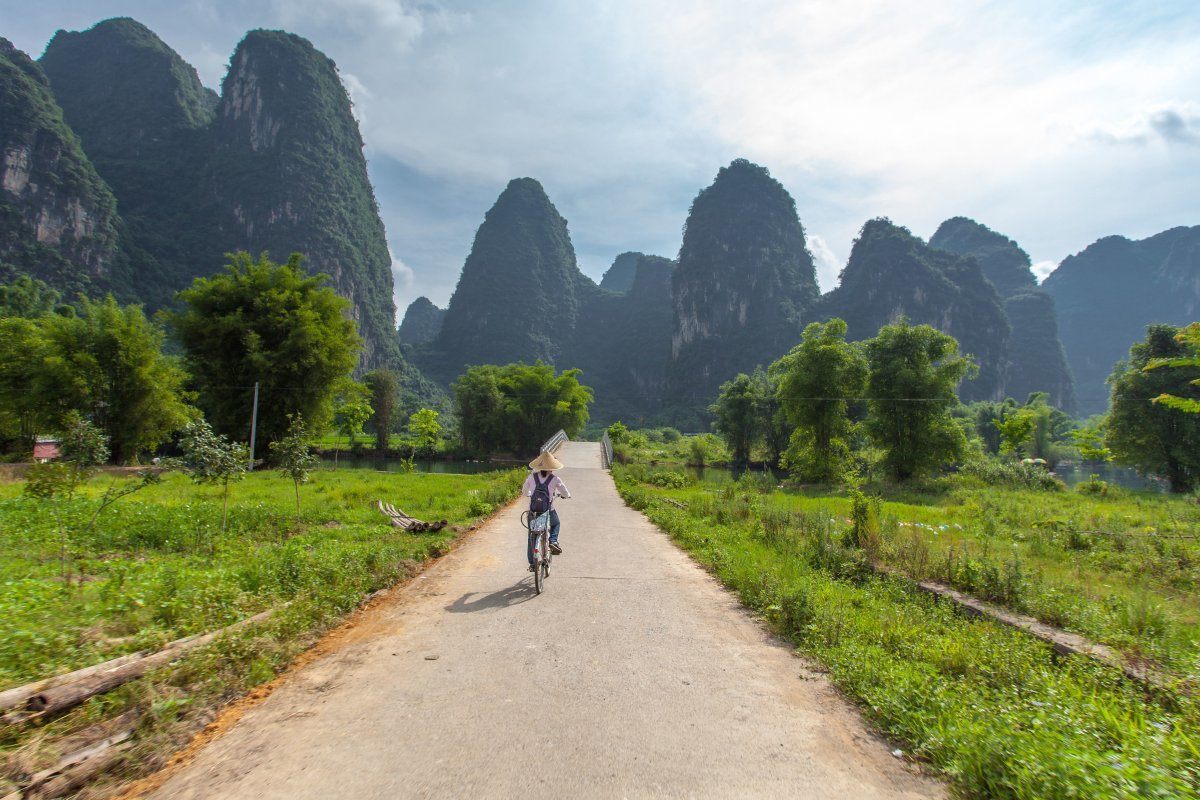 3. Trek to Moon Hill
It's hard to pick a favorite peak, but Moon Hill is so special it seems to top everyone's list. This craggy karst mountain has a distinctive crescent shaped cut-out in it that makes it stand out amongst the rest. Whether you bike or hike here, you must make it to Moon Hill at some point in your trip to Yangshuo. The winding path and 800-odd steps are manageable for any reasonably fit traveler in less than an hour, and there are even 14 rock-climbing routes on the northwest side for more adventurous challenges. There's a nominal charge to enter Moon Hill Scenic Area, but the trek up to the peekaboo arch and the panoramic views from high up are worth the token expense. You'll find drink, snack and souvenir vendors along the route, but rather than be annoyed by the commercialism try to support these local "man in the moon" entrepreneurs.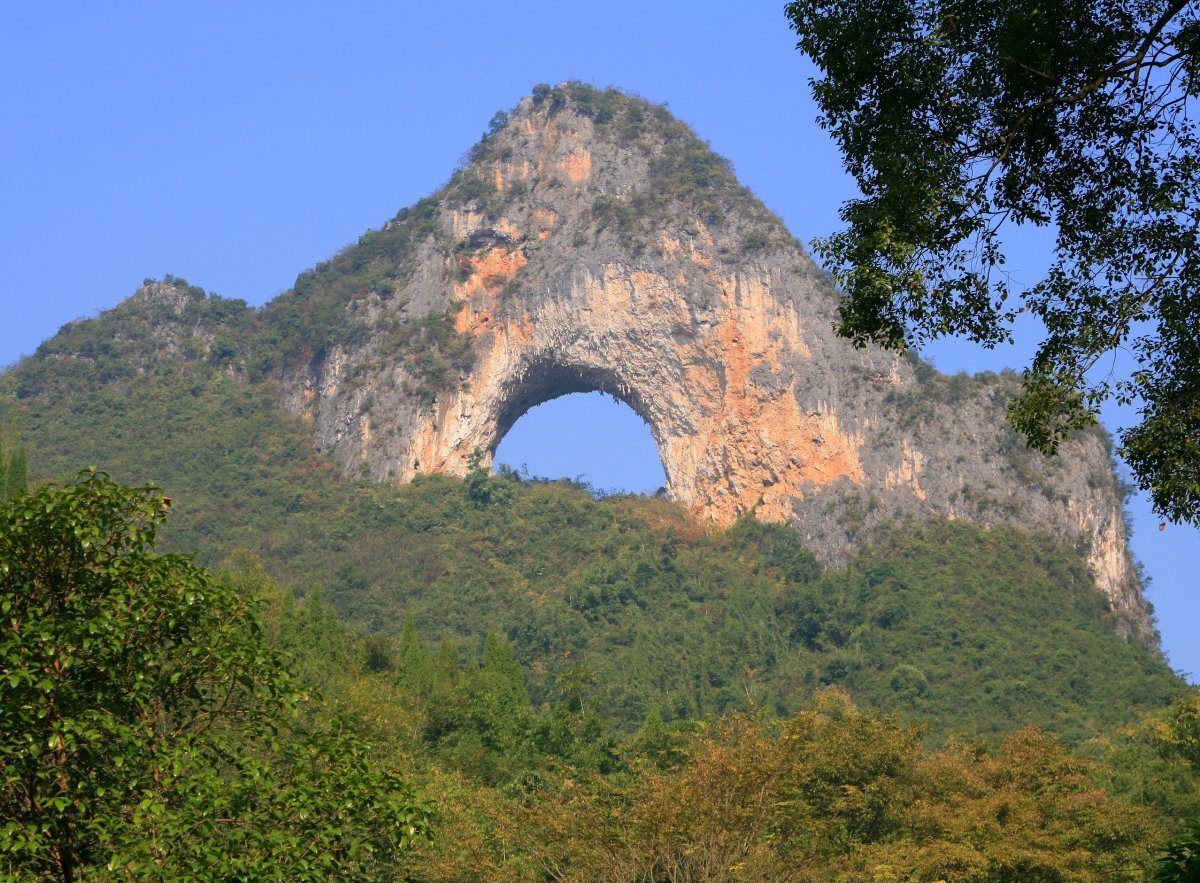 4. Raft Along the Yulong River
Another must-do activity in Yangshuo is taking a scenic bamboo rafting trip along the Yulong River (Dragon River). Drifting through through the magnificent countryside is such a pleasant way to while away a couple of hours, passing by small villages, mountain vistas, lumbering water buffalo and terraced farmland along the way. The Yulong river has plenty of guides ready to take you on a bamboo rafts, usually fit for two or three passengers. Some let you bring bikes with you, so you can float one way and ride the other way back. Other routes drop you off in a town where you can then hop a bus back to Yangshuo. Soaking in the scenery may take on another meaning here. Many bamboo rafts are equipped with water pistols so your leisurely float may turn into a friendly water fight at some point.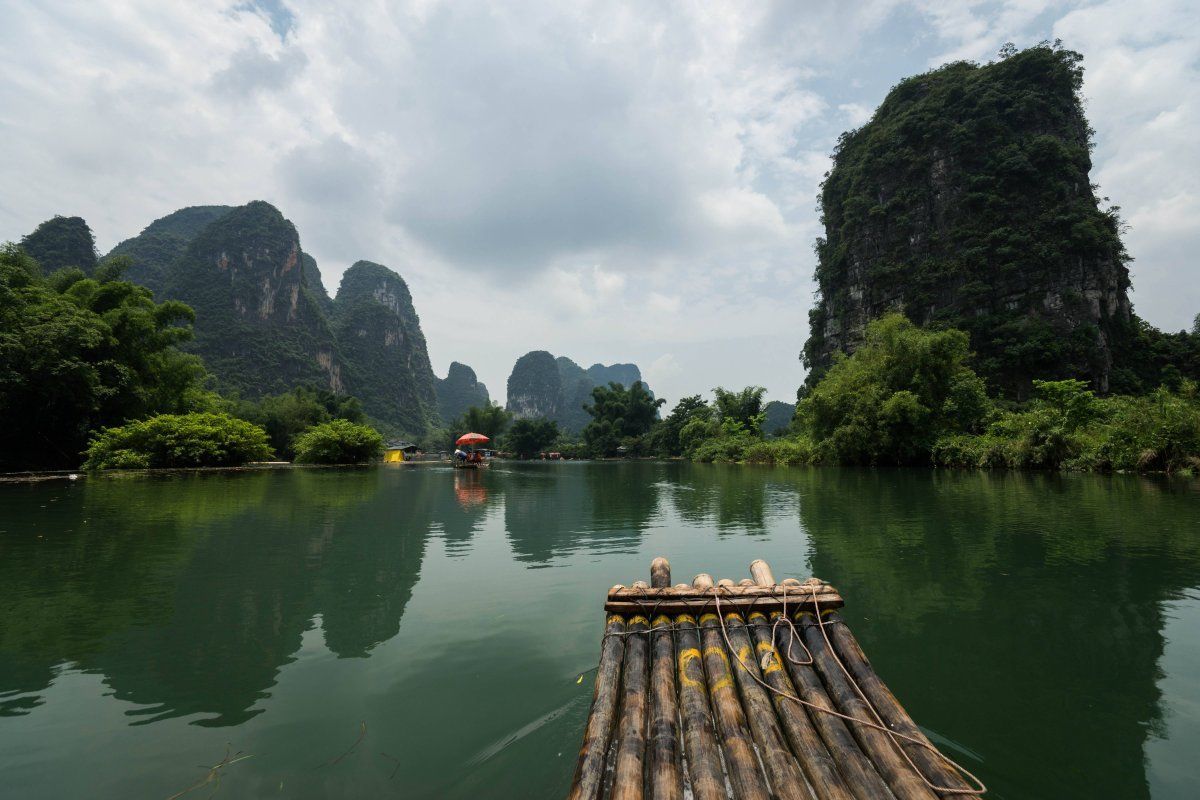 5. Check Out the Cormorant Fishermen
Some local Yangshuo fisherman still use the age-old traditional style of catching fish with cormorant birds. This is mostly a display put on for the tourists these days, but it is fascinating to watch this effective fishing method nonetheless. The trained aquatic hunting birds are fitted with a ring around the throat that allows them to swallow small fish, but any larger fish they catch can be retrieved for the fisherman's bounty. It may sound a little off-putting to eat fish coughed up from a bird's gullet, but it's an efficient demonstration of man/bird teamwork. The cormorants' fishing instincts are sharp, and loyalty to their human masters is ingrained as hatchlings. Early evening is the best time to watch the cormorant Huangs on the rivers near Yangshuo.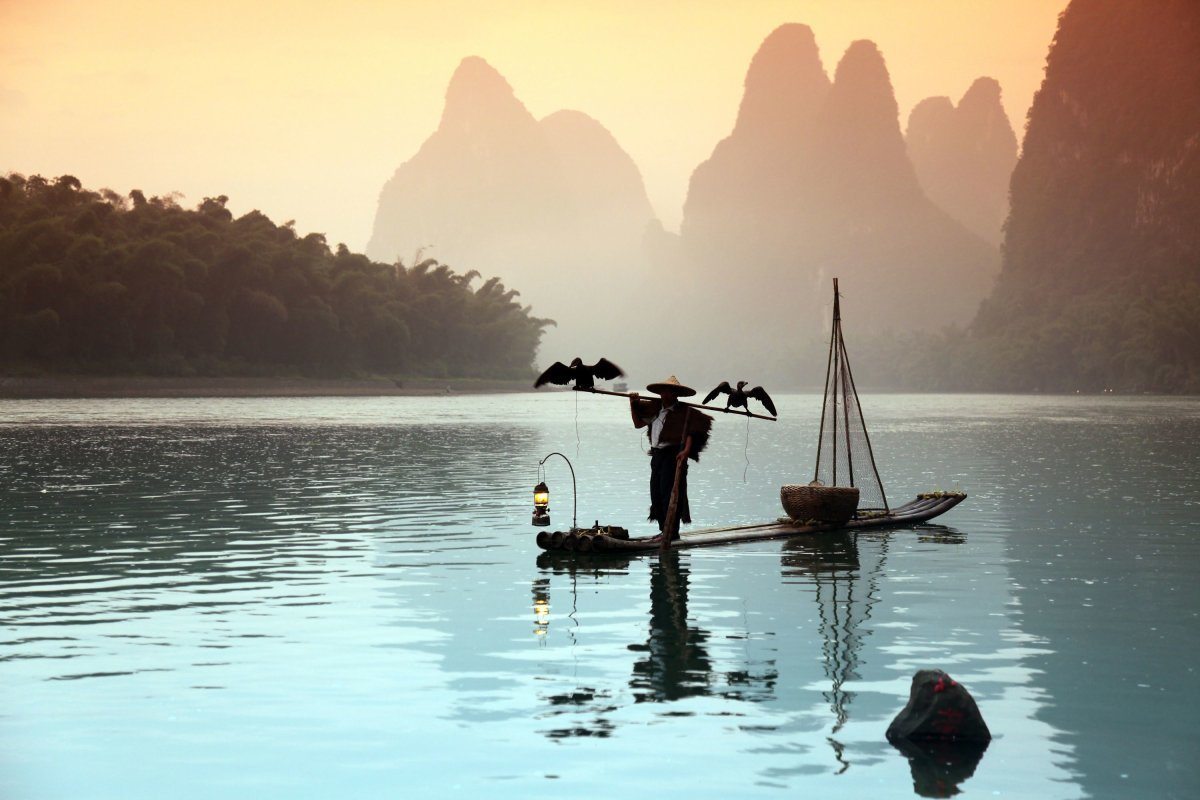 6. Explore the Caves
The nearby city of Guilin is famous for its magnificent Reed Flute Cave, but Yangshuo boast quite a few worthy cave systems too. Silver Cave on the road to Lipu is an impressive cavern open to tourist exploration, with colored spotlights illuminating the limestone stalagmites and stalactites. Longmen Cave near the Moon Hill Scenic Area is popular as it has an subterranean river that can be traversed by a small boat. Buddha Water Cave and Real Water Cave, also close to Moon Hill, are two other large cave systems with lots of cool rock formations. Bring a swim suit and towel as you'll have a fun opportunity to take a mud bath here, then wash off in a crystal clear pool.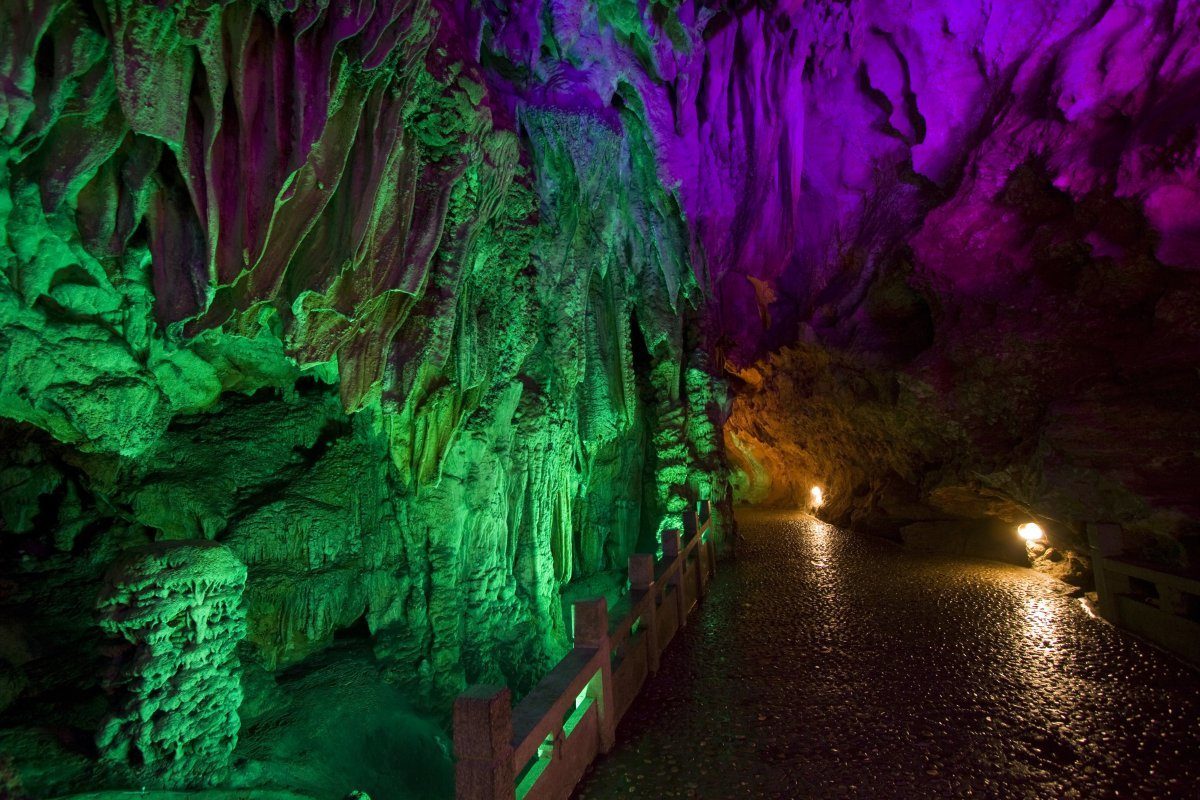 7. Take a Tai Chi Class
A number of tai chi schools are located in Yangshuo, giving travelers the opportunity to to learn or practice this ancient Chinese discipline in an idyllic setting. The gentle, slow-paced, mind-body choreography is a mental and physical workout that improves strength, flexibility, circulation and concentration. Most learning centers offer a one hour class to tourists that go through 10 basic beginner movements of tai chi. Experienced practitioners can take more in-depth courses or martial arts workshops too.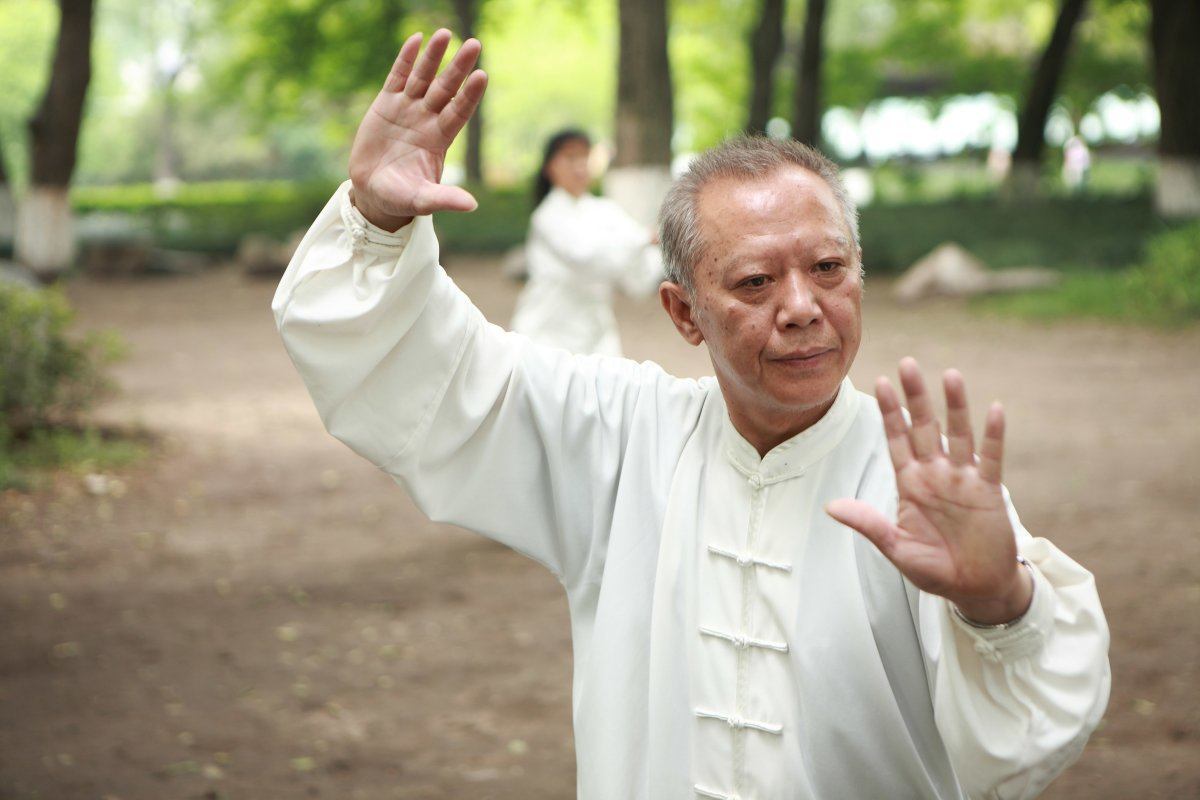 8. Try A Chinese Cooking Lesson
You'll find several cooking schools geared towards travelers in Yangshuo. Food is an important aspect of culture, so it's a good way to gain insights into Chinese traditions, customs and way of life. Several restaurants offer workshops in various languages that take you through ingredient selection at a local farmers market (and perhaps a live meat market) to preparation techniques and, the best part, eating your culinary creations. It's a flavorful souvenir you can enjoy back home again and again.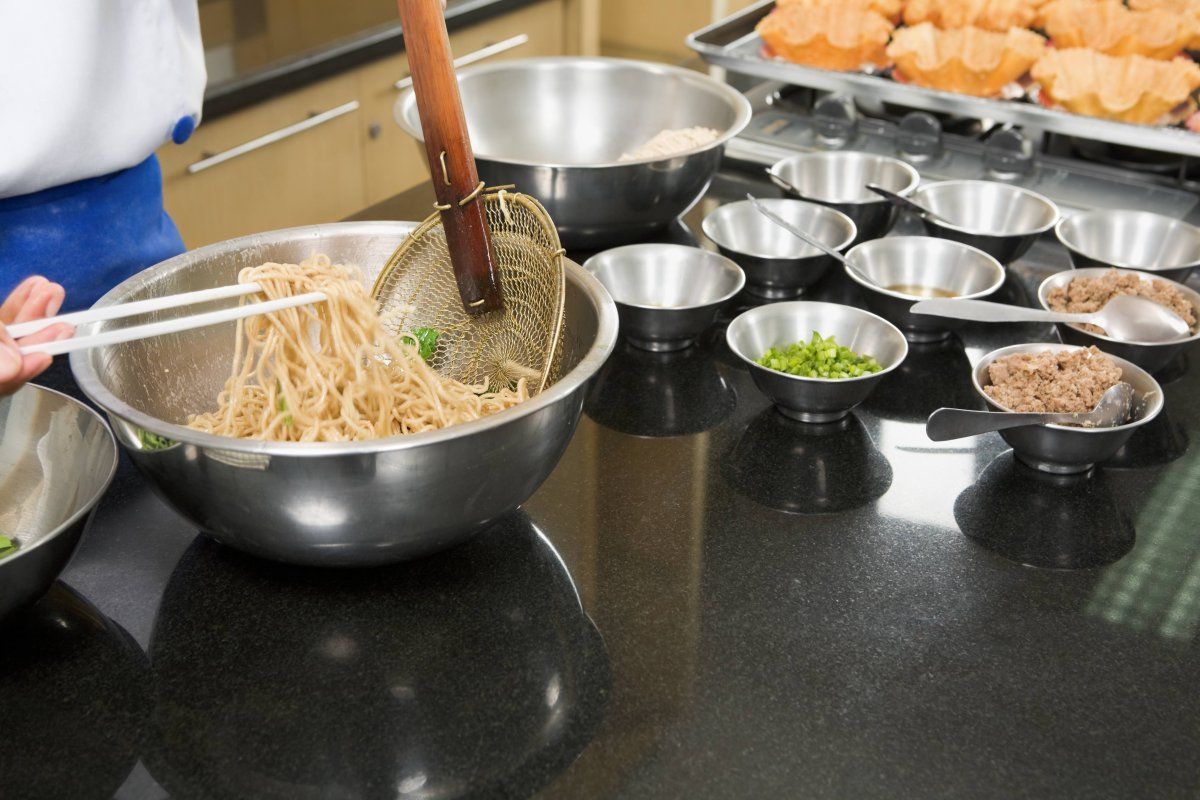 9. See the Impression Liu Sanjie Show
Some purists might disparage this as a big tourist spectacle, but this grand open-air extravaganza of light, music and Chinese legend is bound to mesmerize you. The show takes place at night on the banks of the Li River, where a phenomenal multicolored light show bounces off 12 misty mountains and watery platforms making the world's largest natural theater out of the Yangshuo landscape. The cast is made up of over 600 actors, singers and musicians from the local Zhuang minority villagers. Elaborate costumes and choreography will spellbound you even if you can't follow the plot of the seven-part traditional folk tale.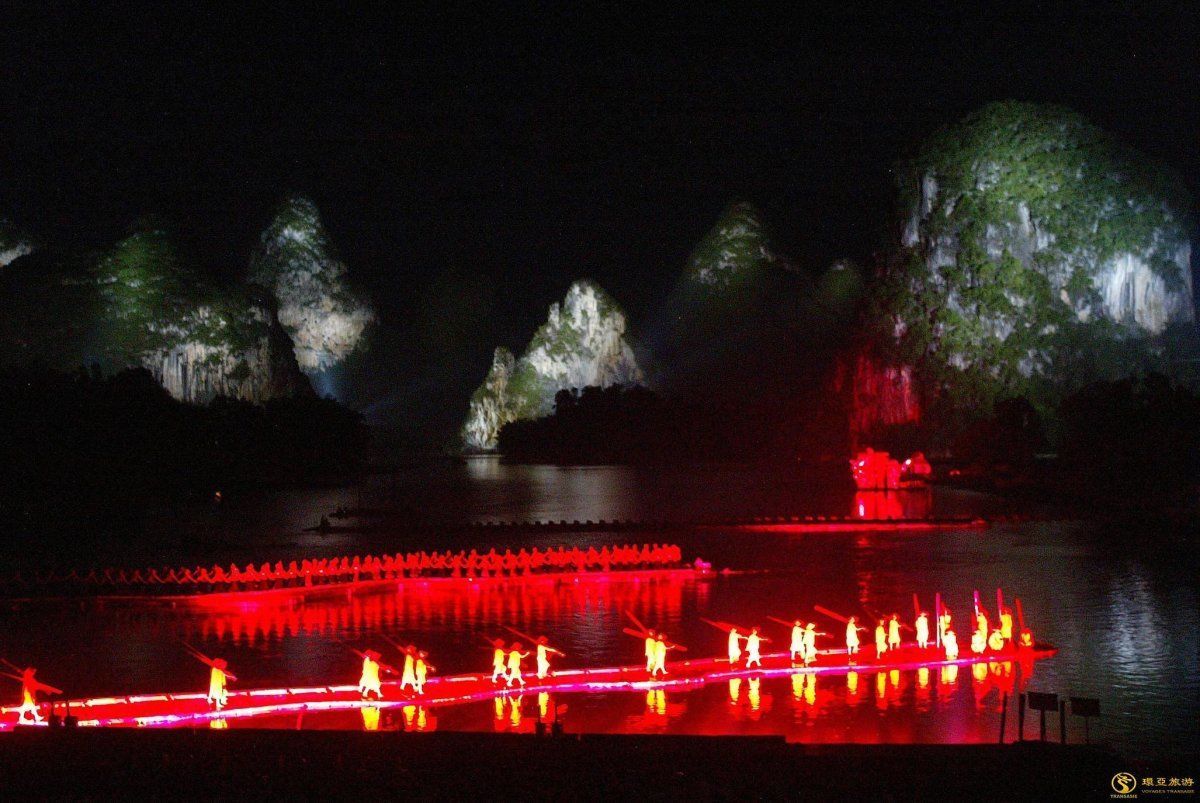 10. West Street (Xi Jie)
Love it or hate it, West Street is the bustling hub of Yangshuo for international travelers. East meets west here, as this oldest street in town dating back 1400 years is a multicultural melting pot of Chinese and other cultures. You'll find a wide range of expat-run bars, restaurants, hotels, shops, internet cafes and tour operators on the strip, with many languages spoken and global cuisines served. You'll also find many classical Chinese offerings, including crafts, calligraphy, antiques, martial arts studios and language classes. Avoid it if you prefer to find more authentic pockets of China in the area, or use it as a break to enjoy some Western food and drink in the country. Sometimes you just need the comfort of a good cup of coffee and a banana pancake to recharge your traveling batteries.