What's better than enjoying a rum cocktail after a long day? How about enjoying a rum cocktail while your feet are nestled in soft white sand and the gentle roar of the Caribbean Sea serves as your background music. Somehow the drinks taste better in the islands. Here, it's not about flashy style, fancy decor or pricey drinks. Caribbean beach bars have a welcoming laid-back vibe that beckon you kick back, chill and stay a while. We've uncovered the most distinctive beach bars in the region to compile this top 10 list, and there's not a pretentious one in the bunch. Next time you're in the islands, these are the spots to enjoy the sun, sand, surf and sips.
10. The Sunset Bar & Grill, St. Maarten
The Sunset Bar & Grill is located on Maho, on one of St. Maarten's most popular beaches. What makes this beach bar so special? It's situated at the end of the runway of the Princess Juliana International Airport. Not only can you enjoy an ice cold beer, you can also feel the exhilaration of a jumbo jet soaring just meters above your head! Now that's a rush. Like the name sounds, the bar is also an excellent spot to take in a spectacular St. Maarten sunset. Daily hermit crab races add to the quirky fun.
9. Ju Ju's Beach Bar, Barbados
Ju Ju's Beach Bar is located just north of Holetown on the western "platinum coast" of Barbados. Resting on a secluded section of sand, this rustic bar offers both delicious fresh seafood and potent rum cocktails. It's a bit hard to find, which adds to its allure. Just look for Barbados' famous Lone Star Hotel and you'll find it beachside to the left. Pull up a chair under the palms and sip a rum punch as the sun goes down over this eastern Caribbean island.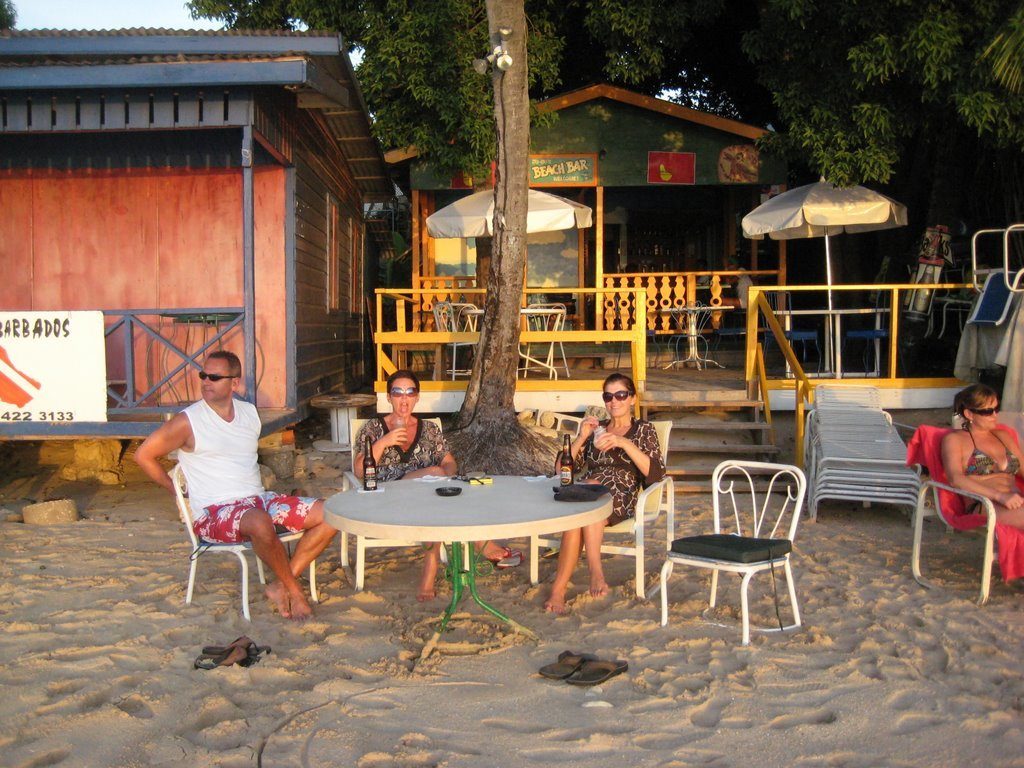 8. Le Petibonum, Martinique
This famous beach bar won Caribbean Journal's top title in 2012. Located in Le Caberet on the northwest corner of Martinique, this casual drinking hole boasts both French and Caribbean influences. It has been described as "part French bistro, part beach shack," which makes a cool combination. Le Petibonum offers traditional Creole cuisine and a delicious signature rum cocktail known as Ti'Punch, made exclusively with Les Rhum HSE.

7. Pelican Bar, Jamaica
The Pelican Bar is not really a beach bar because it actually sits on stilts a few feet above the sea. It makes our list of top Caribbean beach bars despite this technicality. The ramshackle man made island-bar  is located a half mile northwest of Treasure Beach in Jamaica's southern parish of St. Elizabeth. Pelican Bar is owned by local fisherman, Floyd Forbes, who dreamed up the idea of a thatched bar resting in sea. Ask one of the local fisherman to ferry you over, grab a cold Red Stripe and enjoy Floyd's freshly caught fried fish.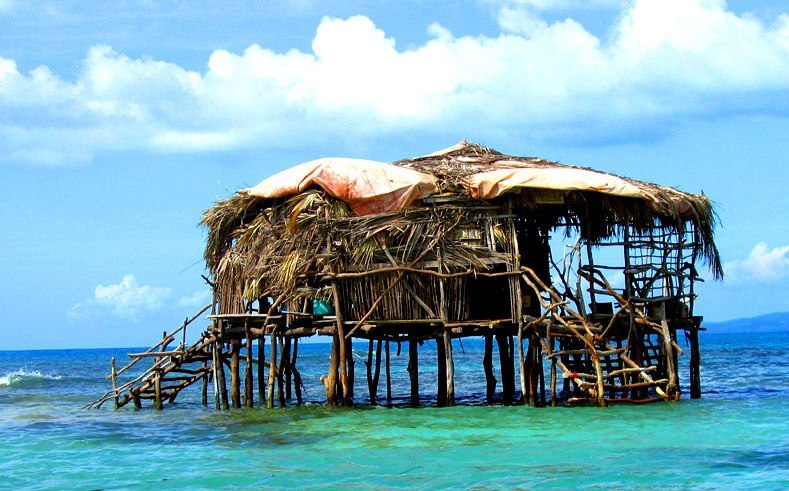 6. Iggie's Beach Bar, St. Thomas
Iggie's Beach Bar rests on the southeastern shore of Bolongo, St. Thomas in the USVI. Iggie's was voted the Best Beach Bar in 2012 by Caribbean Travel & Life magazine. The bar is a collection of small thatched-roof huts and features live entertainment 365 days a year. Have a seat in one of their hammocks that hang between two tall coconut palms, and enjoy a bucket of their famous VooDoo juice.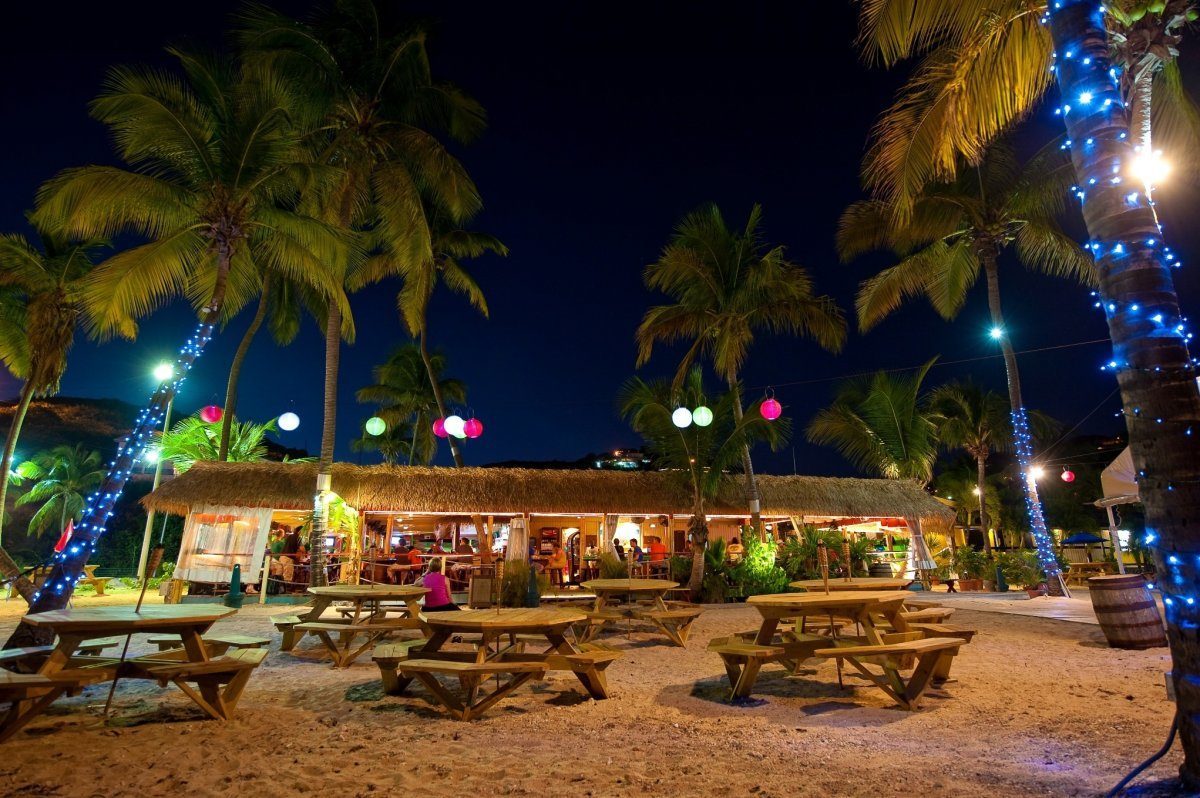 5. Sunshine's Beach Bar, St. Kitts & Nevis
Sunshine's Beach Bar and Grill is located on the smaller of the two isles which make up this island nation. Situated on Nevis' most famous beach, Sunshine's Grill offers a delicious menu featuring local seafood dishes and a variety of tasty BBQ items. It's also world-renowned for its "Killer Bee" cocktail. Sunshine, the owner of this relaxed establishment, is very secretive about the Killer Bee's actual ingredients, saying, "first there's some rum, then some passion fruit juice, then some more rum." One thing he can guarantee is that it's sure to give you a buzz.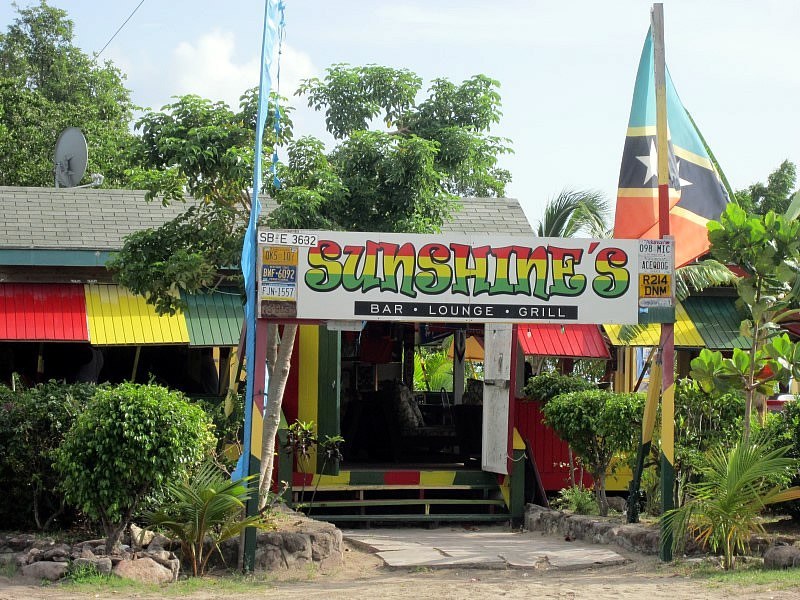 4. Happy Island, Saint Vincent and the Grenadines
This is one of the most unique Caribbean beach bars on our list. This bar is situated on an island in the Grenadines made completely out of conch shells. Janti Ramage gathered enough discarded conch shells from a nearby shore to build his own island on a shallow part of the reef. It's located just off the coast of Union Island in the Grenadines. You can only reach Happy Island by a shallow-bottomed boat, but Janti assures you that one Happy Island Rum Punch and a freshly caught grilled lobster are well worth the sail.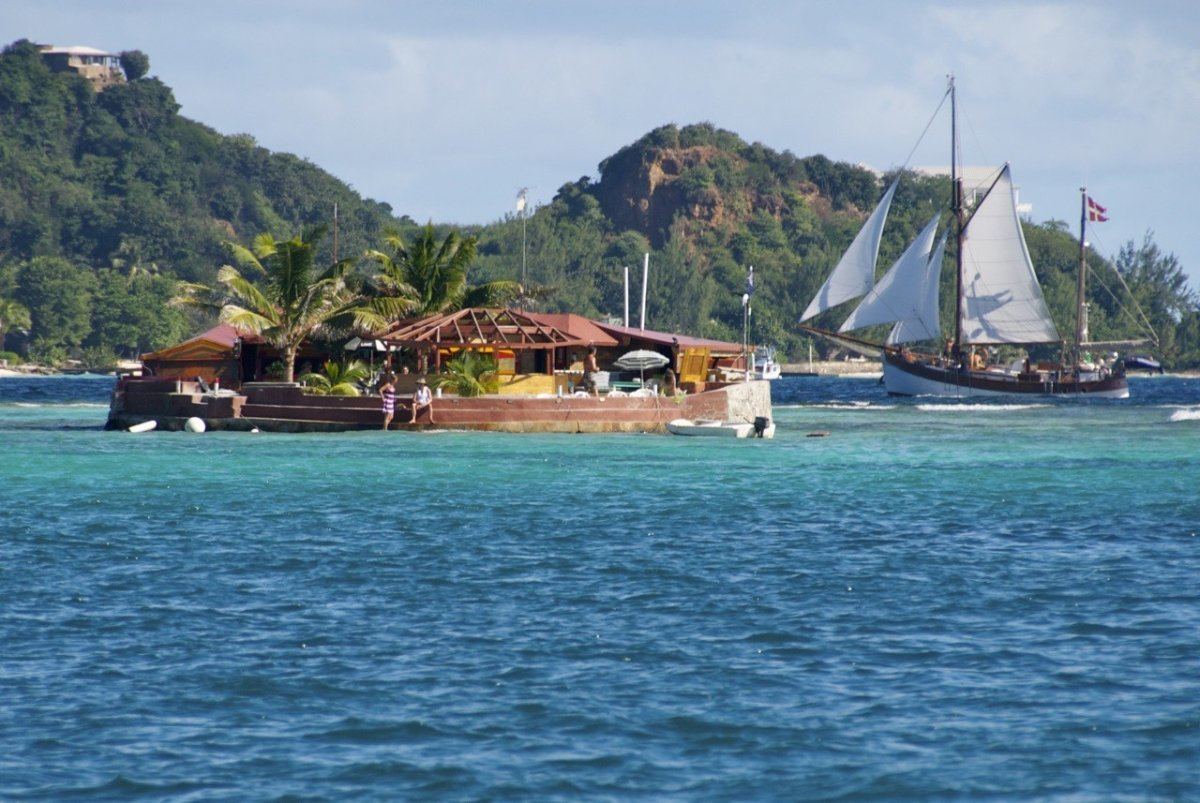 3. Da Conch Shack & Rum Bar, Turks and Caicos
CNN voted Da Conch Shack one of the top 50 beach bars in the world in 2013. Located on Blue Hills Beach in the Providenciales, it boasts the freshest local seafood, especially conch dishes. The conch is harvested right in front of your eyes – can't get fresher than that! Try their famous ceviche, conch fritters or conch salad. Have a seat at one of the picnic tables situated under the shade of swaying coconut palms and enjoy a local Turks Head beer. Take things up a notch with an Island Party, a bucket of 6 conch knockers (shots).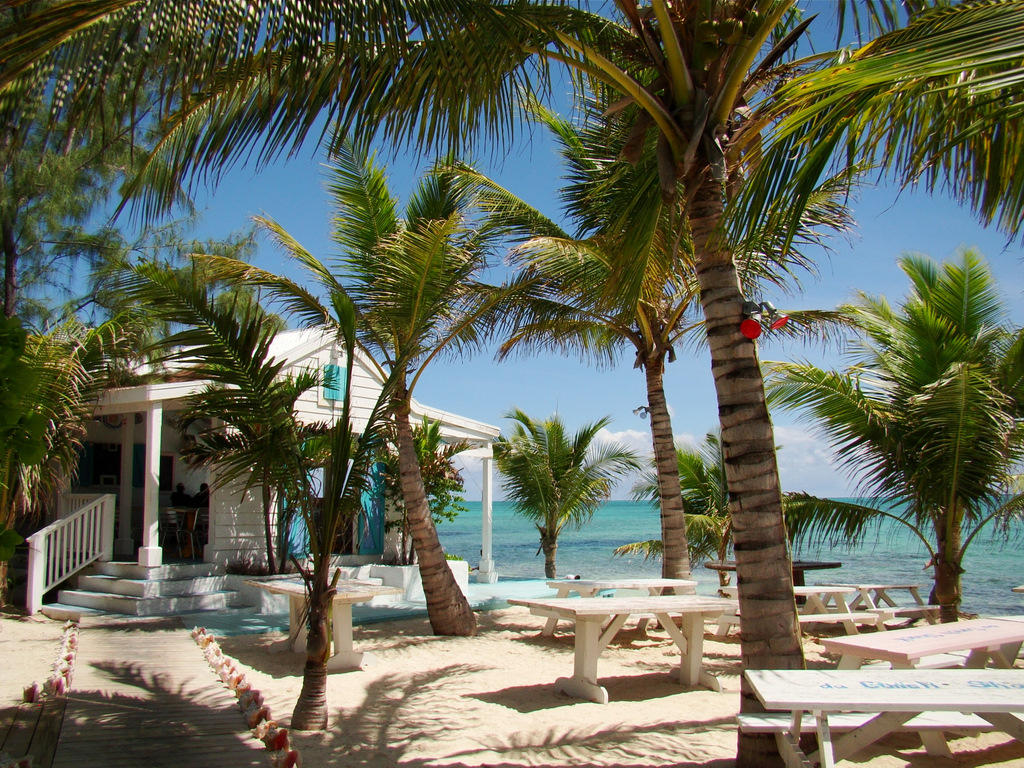 2. Dune Preserve Beach Bar, Anguilla
The Dune Preserve Beach Bar is situated at Rendezvous Bay on the southwestern tip of Anguilla. This little slice of paradise actually was voted the number one beach bar in the world by CNN in 2012. Dune Preserve is run by reggae musician extraordinaire, Bankie Banx, who provides background beats on occasion when his friends stop by. The bar itself is made simply of dune deck, wrecked racing boats and seashells. Try the signature Duneshine or Dune Rum Punch and you're sure to have a "jammin" time.
1. The Soggy Dollar Beach Bar, British Virgin Islands
The Soggy Dollar Beach Bar, nestled at White Bay, sits on the west coast of John Van Dyke in the BVI. As the name suggests, expect to get your money wet as swimming from shore is the only way to reach the bar. No docks here! The Soggy Dollar is home to the Original Painkiller, a dangerous concoction of dark rum, coconut cream, fresh pineapple and orange juices with a hint of nutmeg. The bar itself is quite simple – a few wooden bar stools, round tables made of tree trunks, and hanging flags of visitors past are all that are needed to complete the setting that truly lets you unwind. Try your hand at the Ring Game which supposedly originated in the times of Blackbeard. Winner gets a free shot of rum!