Dubai is known for its luxury shopping, its sleek architecture, its lively nightlife, and its lavish hotels. Booking a stay at one of the posh accommodations on our list means you'll be pampered and catered to from the moment you check-in. If you're looking for a glamorous hotel or resort for your next trip to the United Arab Emirates, we've got you covered.
1. Burj Al Arab
If you feel like sleeping on top of the world, head over to the Burj Al Arab, the third tallest hotel in the world. This five-star hotel offers special amenities to each guest, including a team of assigned butlers on each of its 60 floors. Various two-story suites are available, and they come with marble and gold staircases and canopy beds on rotating pedestals. Numerous on-site restaurants are also available, such as French cuisine in Al Muntaha and the seafood restaurant Al Mahara which features a dazzling aquarium.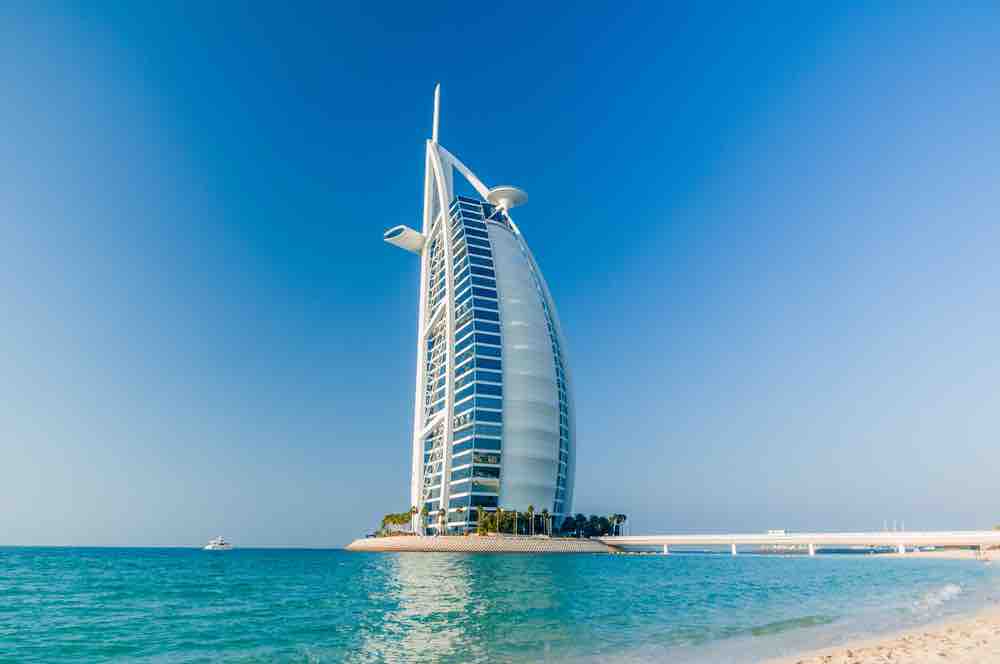 2. Park Hyatt Dubai
Globally, the Park Hyatt chain is known for its luxury hotels and resorts, and its Dubai location is the crème de la crème. The hotel sits on acres of sprawling land and it's nearby to a few of Dubai's top golf courses, including the Dubai Creek Golf & Yacht Club that just underwent a major redevelopment in 2005.
All 223 rooms and 34 suites in this modern and spacious hotel are accented with designs inspired by the Mediterranean and infused with Moorish details. When you're done soaking in the standalone bathtub, feel free to rent a private yacht, take a cooking class, eat in one of the hotel's six restaurants, or relax and destress in Amara Spa.
3. Shangri-La Hotel, Dubai
This high-end hotel first opened in 2003. Since then, it has been the go-to spot for luxury travelers. Each of its 302 rooms are designed in elegant decor with views overlooking central Dubai.
The Shangri-La Hotel's signature restaurant, Shang Palace, serves traditional Cantonese dishes, while the restaurant Marrakech has a menu packed with signature Moroccan cuisine. After burning off some calories in the hotel's state-of-the-art fitness center, guests can relax and take a dip in the curved swimming pool.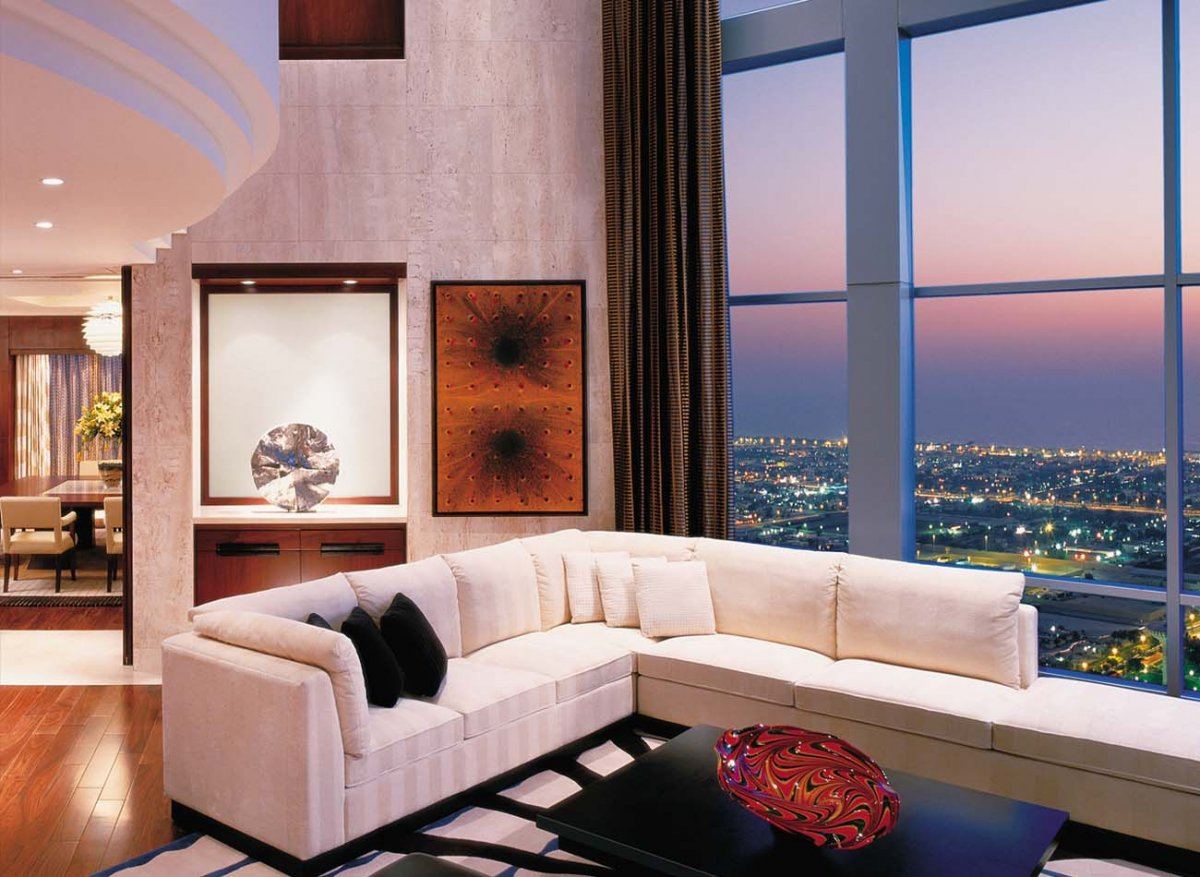 4. InterContinental Dubai Festival City
Set in the heart of Dubai's shopping and entertainment district, the five-star InterContinental Dubai Festival City is a beacon of luxury in the center of a desert oasis. 508 guest rooms and suites contain upscale amenities; including chic decor, elegant toiletries, standalone tubs, and marble accents.
With numerous dining options available, most guests typically flock to Reflets par Pierre Gagnaire, headed up by Michelin-star chef, Pierre Gagnaire. Dine on the most exquisite French dishes before heading out to shop the 500 retail store locations adjacent to the hotel.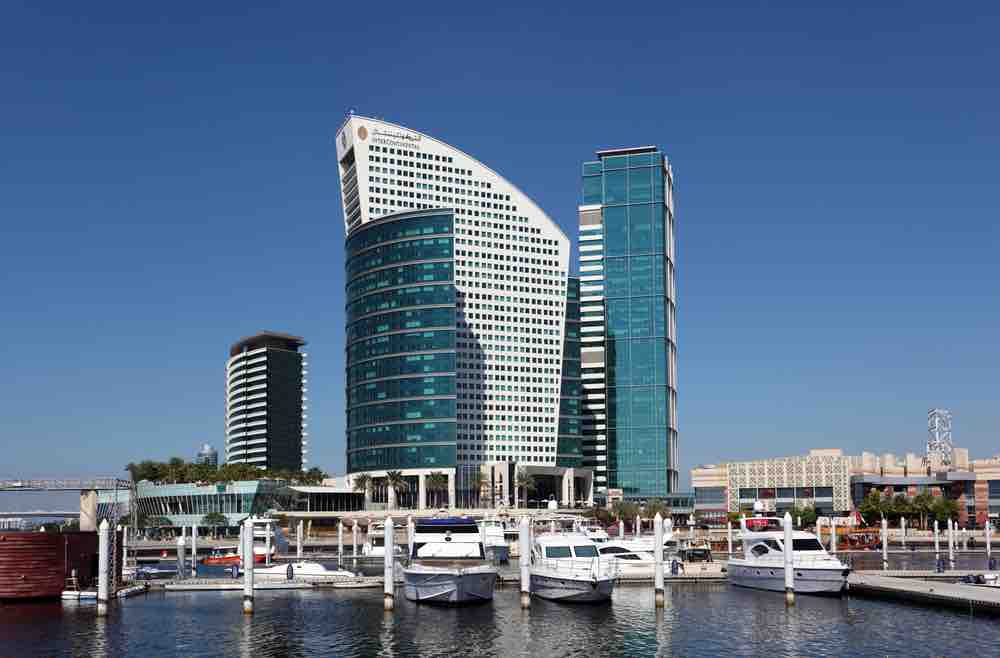 5. Al-Maha Desert Resort
The Al-Maha is a gigantic resort that was created for adults and families (although children under 10 aren't permitted). Designed with Bedouin style influences, it has 42 intimate suites that sit scattered around the property and surrounded by the desert landscape. From the infinity pool, you can gaze at the wildlife in the distance or hang out on your own private sundeck.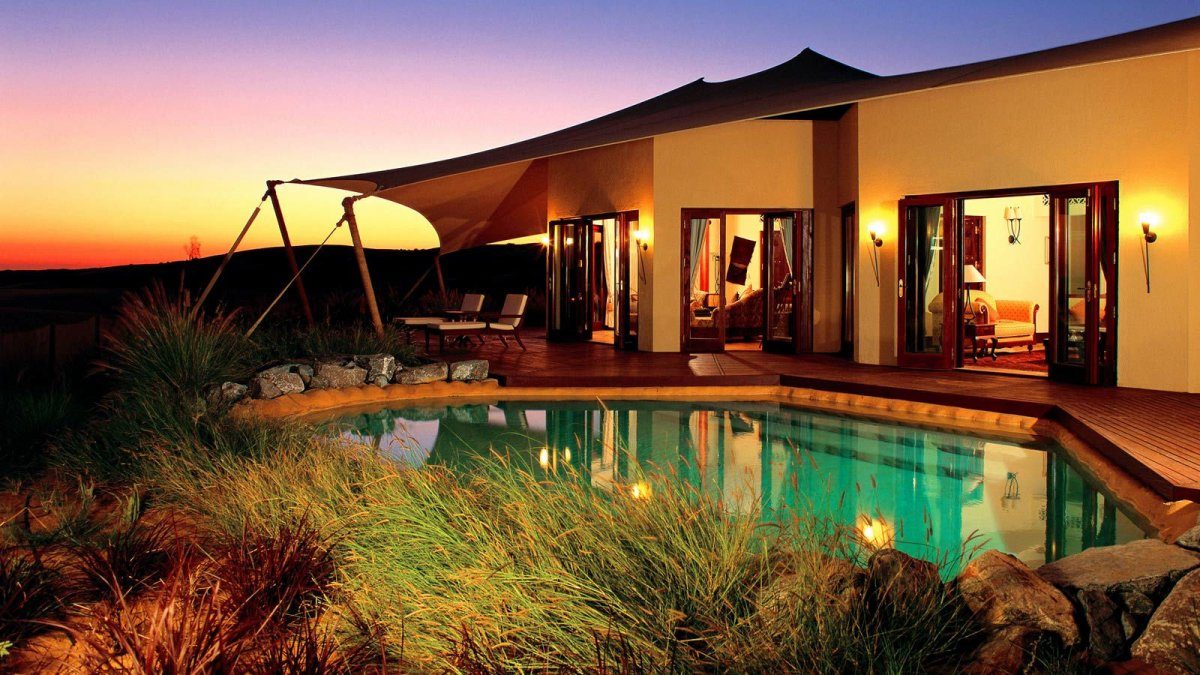 6. Jumeirah Beach Hotel
The Jumeirah hotel chain is nothing short of a posh hotel designed with intricate embellishments. This waterfront location is perfect for families on vacation thanks to its array of available watersport activities that will keep your entire group entertained for hours on end.
The 618 guestrooms have modern finishes, including iPod docks and flat-screen TVs. Check out all four of the hotel's pools, stop by the fitness room to get a workout in, or enjoy a feast at one of the 21 restaurants. For those who want to explore the city, Downtown Dubai is just a 15-minute cab ride away.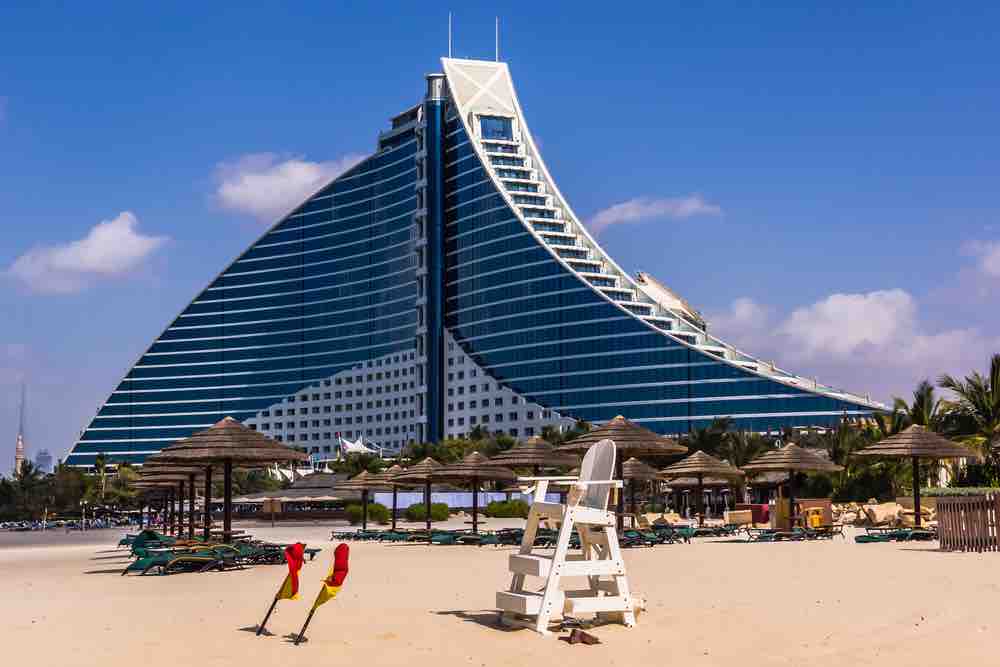 7. Al Qasr
Also apart of the Jumeirah hotel chain is Al Qasr. Qasr stands for "palace," and staying at this hotel will definitely make you feel like royalty! It was designed to resemble a Sheikh's summer residence, with its classic Arabian style influences in each of its 292 guest rooms. Each room also has its own private balcony with magnificent views of the ocean.
Guests are given full rein to all the property has to offer; including the sprawling health club, the 25-meter indoor pool, the relaxing spa, and a water park for kids.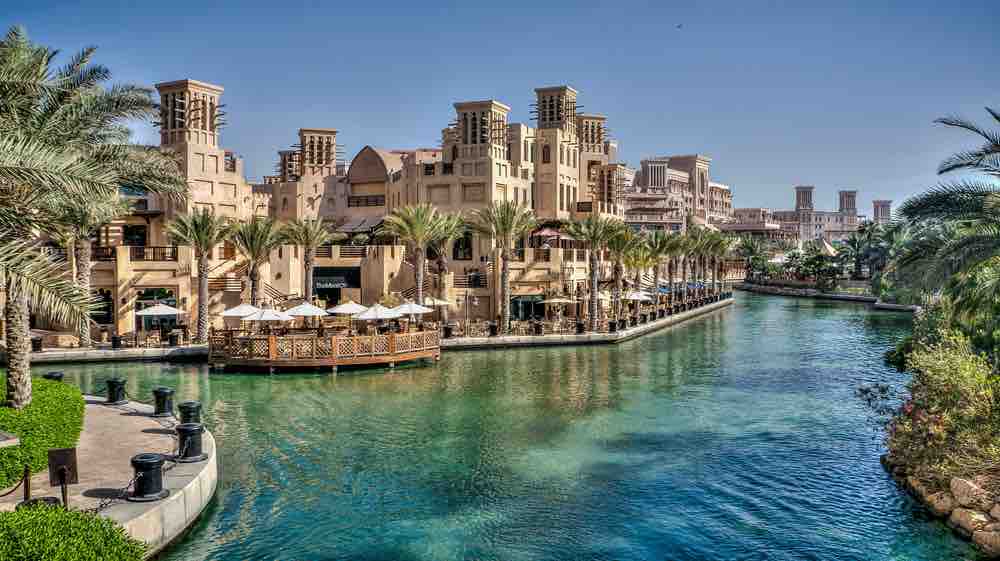 8. Taj Dubai
There are high-end features throughout the Taj Dubai – a decadent and elegant hotel that's rich in Indian style elements. Just five minutes from the luxurious Dubai Mall, the Taj Dubai's guest rooms also offer views of the stunning Burj Khalifa.
Foodies will love this hotel, especially its signature restaurant Tesoro where international dishes from all corners of the globe are served. At Bombay Brasserie, the best Indian cuisine is delivered right to your table. A high-energy gastropub, The Eloquent Elephant, serves the stiffest cocktails; and afternoon tea is provided at Byzantium Lounge.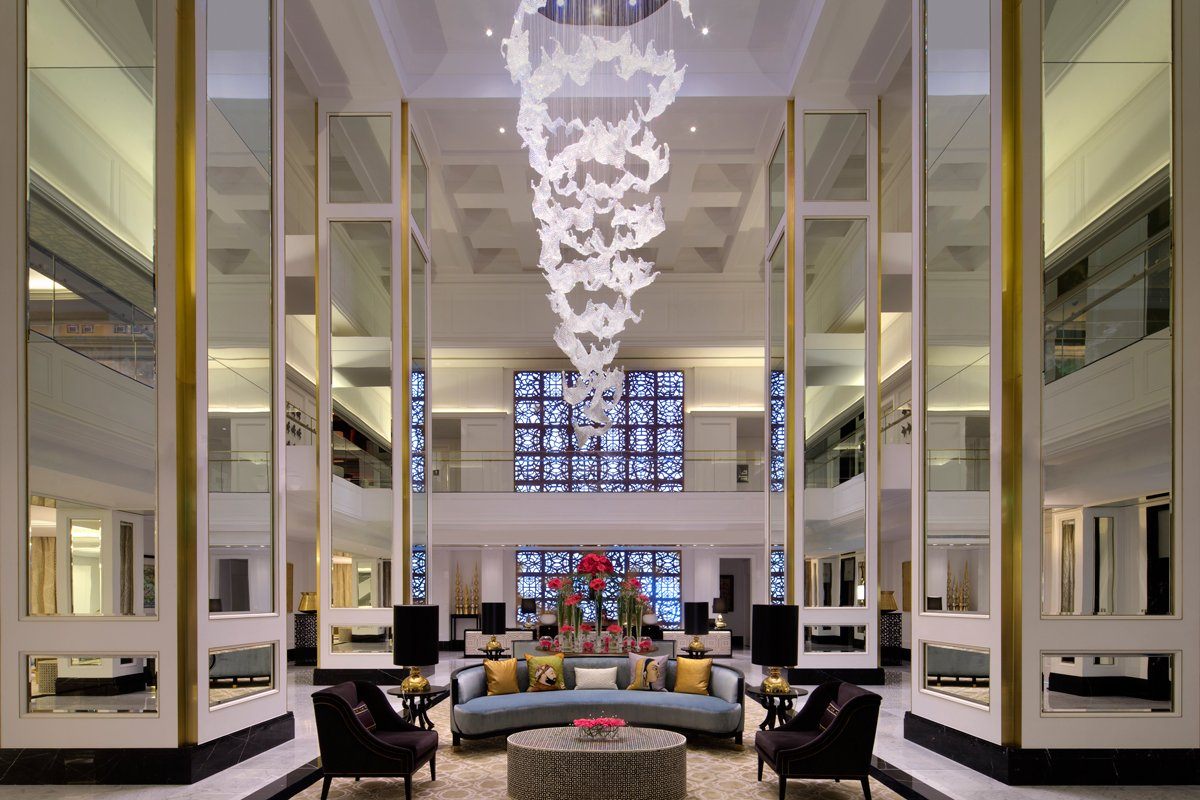 9. Kempinski Hotel Mall of the Emirates
The 393-room Kempinski Hotel Mall of the Emirates is an impressive five-star hotel full of luxe features. The huge rooms and massive suites contain modern technology and lavish bathrooms with marble accents. Various dining options are available, including Spanish tapas at Salero and Levantine dishes at Olea.
Connected to a shopping mall, guests can easily peruse over 700 shops. And for those who are looking for a way to beat the heat, the shopping mall is also home to the indoor ski slopes at Ski Dubai & Magic Planet. Chalets overlooking the snow slopes can be requested for those who wish to turn their desert vacation into a winter wonderland!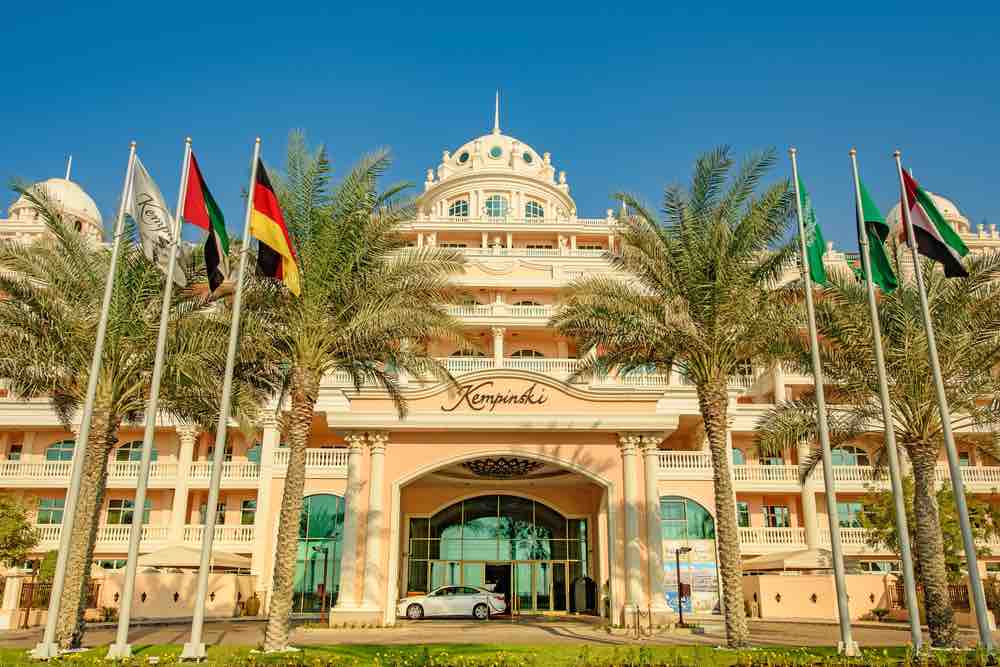 10. Raffles Dubai
252 spacious rooms are available in the five-star Raffles Dubai. From the outside, the architecture of this glass and stone, pyramid-shaped hotel will take your breath away, and the inside is even more stunning. Luxury fabrics and the finest, handcrafted materials were used in each room, and the private terraces provide the perfect escape to get away from it all and enjoy an Arabian sunset.
The hotel is just a 10-minute drive from Dubai International Airport, and it's conveniently attached to the premium Wafi Mall. International breakfast and buffets are available in 24/7 dining establishments, as well as delicious cocktails in the Pool Restaurant and Bar.