The gods are petty, narcissistic jerks. When thinking about the Greek pantheon, that's as good a place as any to start. Pretty much every one of the major and minor deities in ancient Greece was either consistently pursuing their own selfish ends or being victimized by someone pursuing their own selfish ends. Ancient Greek mythology is just a prolonged soap opera that, you know, loosely explains existence. The world around the Greeks was vibrant, but brutish, and their religious fables are a reflection of that. Here, for your consideration, are some of the most prominent myths of ancient Greece.
The Origin of the Pantheon
In the old times, a Titan named Cronus ran the world. He was a paranoid god who actually ate all of his children in order to ensure that he'd never be usurped. Cronus' wife Rhea got tired of all the kid-eating and hid away her youngest child, Zeus. Zeus grew up to become Cronus' cup-bearer — though the Titan had no idea who Zeus truly was. One day, Zeus poisoned Cronus' wine cup, causing the Titan to vomit up all his kids. In turn, Zeus organized his brothers and sisters against the Titans (he also called in some help from a couple of Titans, one of whom was Prometheus) and overthrew them. Zeus and his brothers Poseidon and Hades drew straws for the Universe. Zeus won the heavens and dominion over everything, Poseidon won the ocean, and Hades drew the short straw, gaining lordship over the Underworld.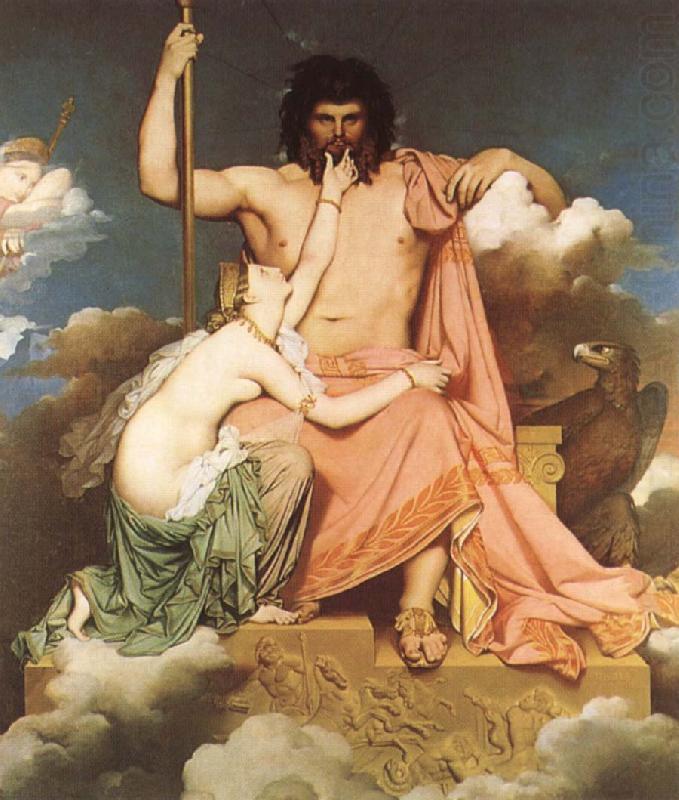 The Renegade Fire-Wielder
When Zeus had just wrested power from the Titans, he and his cronies were lounging around in Olympus chowing down on nectar and ambrosia. Prometheus was irritated by the gods' laziness, so he went down into the world of man hoping to find something to fill his time. Instead, he found men huddled in caves and just barely scraping by. Prometheus knew that the simple gift of fire would get men up off the ground and moving toward something approaching civility, but Zeus forbade it. The head god was worried that fire would give mankind too much of an edge and would ultimately lead to the gods' downfall (which was true). Prometheus didn't care for this kind of casual tyranny, so he snuck fire down to the people and showed them how to use it. As a result, mankind was able to stay warm, cook their food, stave off disease, and live longer. As punishment, Prometheus was tied to a mountaintop and left to hang there exposed to the elements and being torn apart by birds.
Where Bad Things Come From
When mankind got fire, Zeus knew he had a brewing problem on his hands. In order to delay their inevitable progress toward supremacy of the world, he built a woman of contagious charm. Her name was Pandora. On her way out of Olympus, Zeus gave her a golden casket, saying that there were several precious things inside. Athena, the goddess of wisdom, warned Pandora to keep the lid shut, but on arriving in her new home (as the wife of Prometheus' brother by the way), Pandora simply couldn't contain her curiosity. She lifted the lid ever so slightly and inadvertently unleashed the dual horrors of disease and anxiety upon mankind. And all because Prometheus dared to deliver the wonder of fire.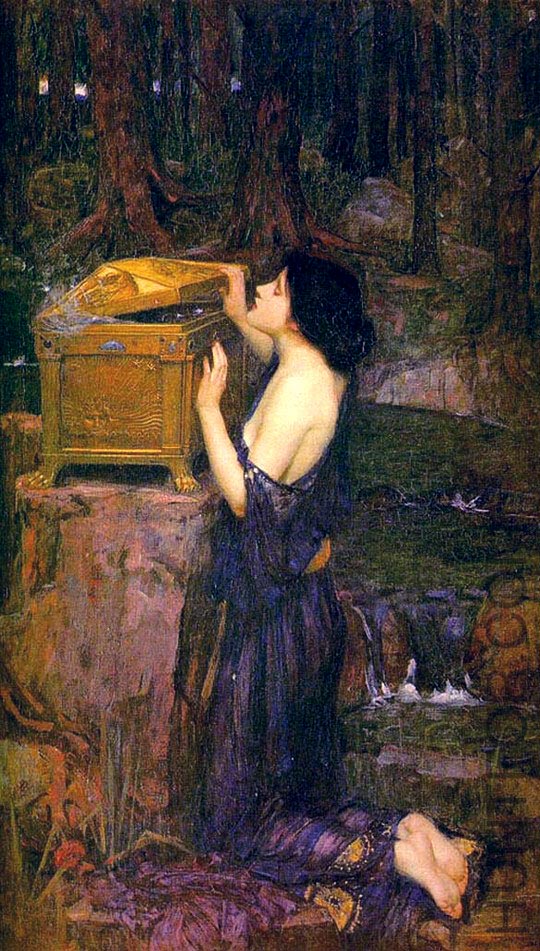 The Three Fates and Your Inevitable End
In the ancient Greek world, the average life was loosely defined by the actions of the Moirai. At someone's birth, the youngest of the Moirai, Clotho, spun out the thread of life and passed it on to her sister, the matronly Lachesis, who defined the length of a life and pointed out the path it might take. Finally, the thread was handed to the oldest and most terrible of the Moirai, Atropos. Often depicted as a crone, it was Atropos' unenviable job to snip the thread and determine how long a life might last. None of the Fates' work was for certain. The gods could interfere or an individual could defy their own plan.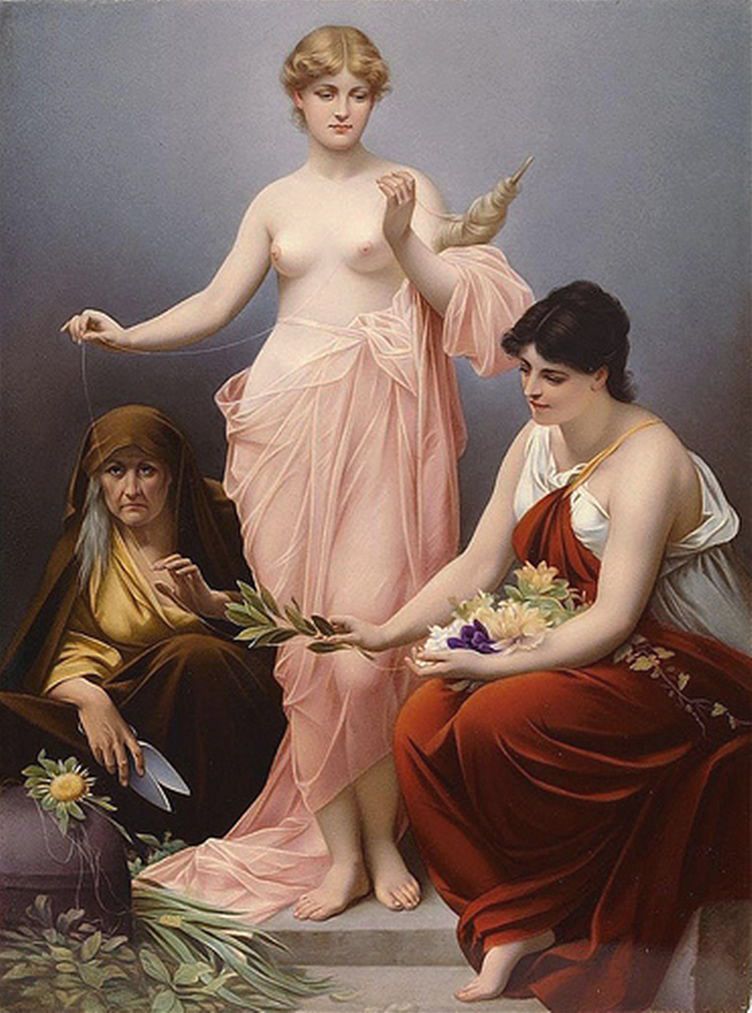 Seasons: the Story of a Stalker-God
Originally, winter wasn't in the cards for mankind. Demeter, the goddess of agriculture, let man have a bounty of grain and bread all year round. Then the king of the Underworld, Hades, took a liking to Demeter's daughter, Persephone. Being kind of a tool, Hades rode up to the earth and kidnapped Persephone, dragging her down to the Underworld. In her despair at her daughter's capture, Demeter refused to let anything on the Earth bare fruit. In order to get mankind on their feet, Zeus decided to return Persephone to her mother. Unfortunately, Persephone had broken one of the Underworld's by-laws and eaten a handful of pomegranate seeds while in Hades' "care." This meant that she was obligated to divide her time between the earth and the Underworld from there on out. Now, each time Persephone heads out to be with Hades, Demeter inflicts winter on mankind. When Persephone leaves the Underworld, spring appears.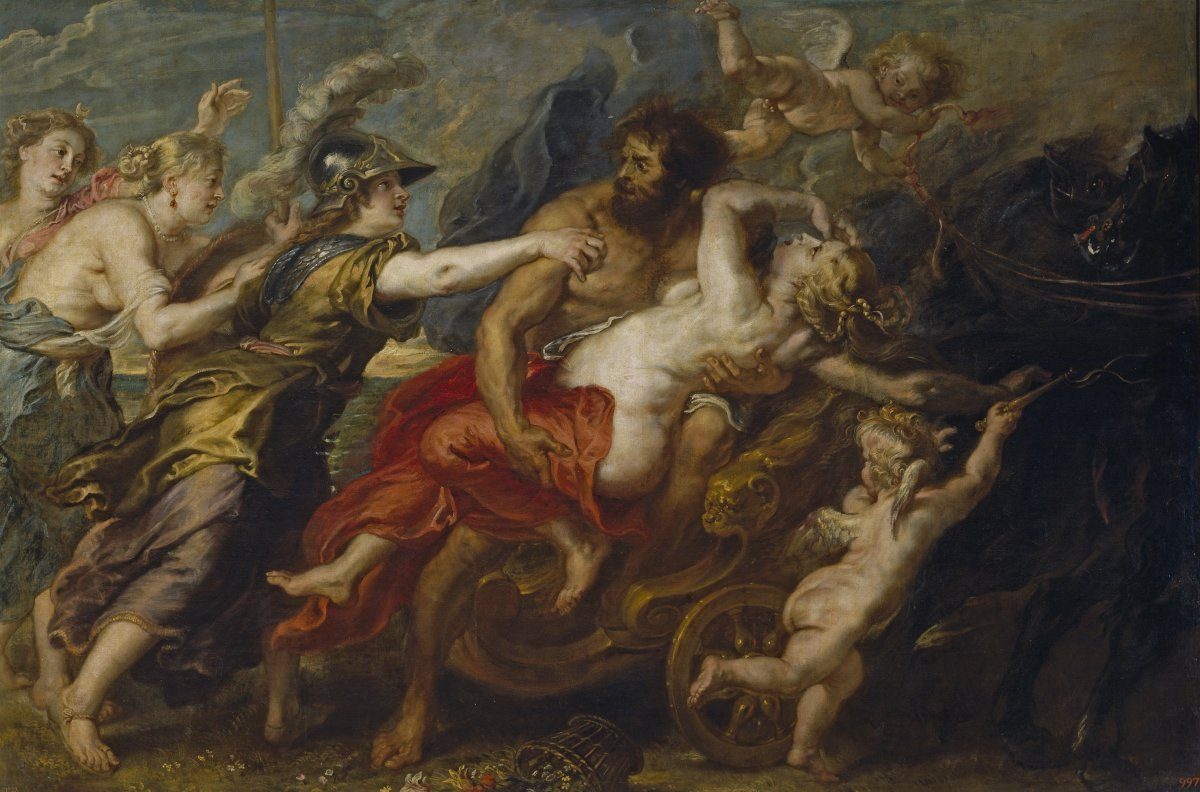 Icarus' Death Is Caused By Sex with a Bull
Okay, so, in the beginning Poseidon got Minos appointed supreme ruler of Crete by sending a sign in the form of a snow-white bull. Rather than sacrifice the bull to Poseidon in a show of respect, Minos kept the thing. This ticked Poseidon off something fierce, so he made Minos' wife Pasiphae fall in love with the bull and, ahem, get amorous with it. The result was the minotaur, a half-man, half-bull monstrosity that Minos hid deep within a massive labyrinth. The labyrinth was constructed by the ancient world's preeminent craftsman, Daedalus. In payment for the service, Minos stuck Daedalus and son, Icarus, at the top of a tall tower. In order to escape, Daedalus constructed two sets of wings held together by wax. As the the two attempted to make their escape, Icarus ignored his father's warnings to stay low to the ground. The kid got too close the sun, the wax melted and he fell into the sea.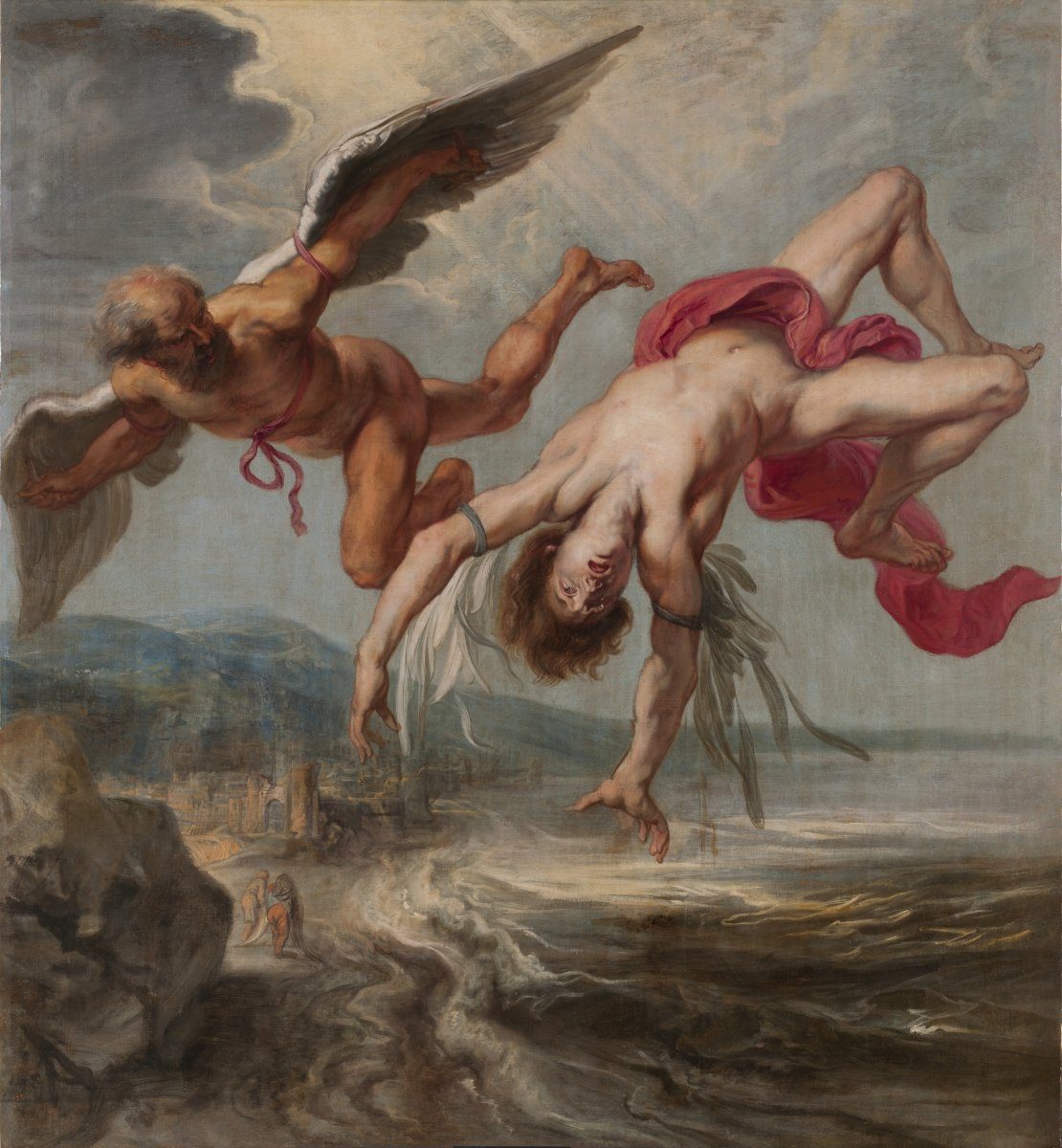 An Eternity of Grapes, Just Out of Reach
You might have heard about the story of Sisyphus, who's doomed to endlessly roll a boulder up a hill only to have the thing roll back down each time he nears the summit. Sisyphus' story has nothing on Tantalus though. Tantalus was one of Zeus' many (many) illegitimate children. According to myth, Tantalus invited the Pantheon to his table and then served his son to them prepared as a meal. The only god who chowed down though, was Demeter, who was worked up about Persephone's disappearance. The rest of them realized the foul play, brought the kid back to life, and replaced his eaten bits with a nice ivory fixture. As for Tantalus, he was doomed to spend his life in Tartarus, slowly withering from an unquenchable thirst and hunger. At his feet is a river of wine that sinks into the earth each time he bends down. Above his shoulders are branches of lush grapes that rise out of his grasp when he reaches for them.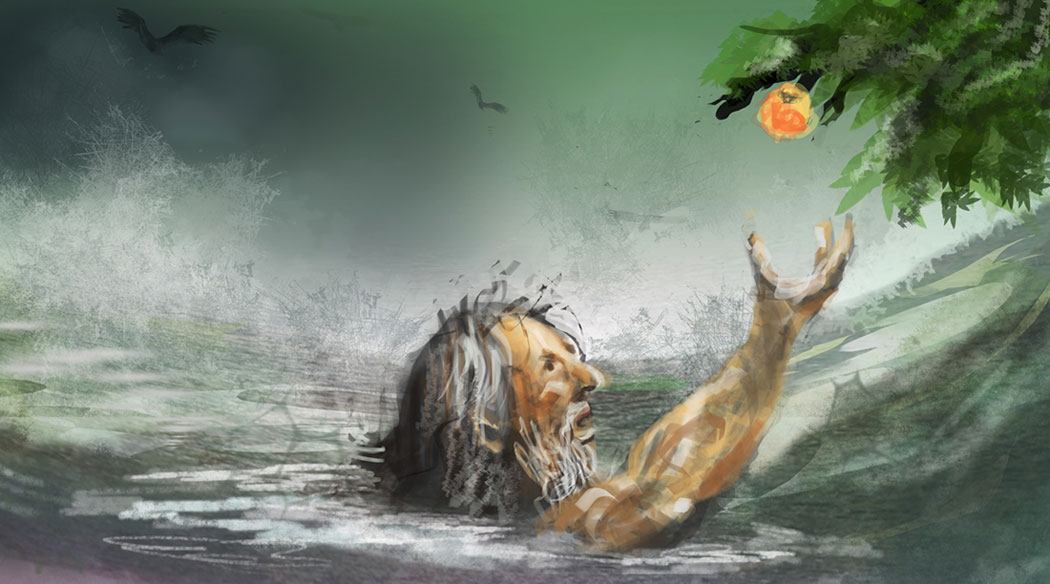 A Cow Named Io
In Argos, there was a beautiful young woman who was devoted to her patron goddess, Hera. Unfortunately, Hera's rape-y husband, Zeus, wanted to get down with the fair maiden, so he transformed into some clouds, surrounded Io, and the two got busy. Hera was totally irate at the affair, so she transformed Io into a cow and sent a gadfly after the poor woman to sting her repeatedly. Io was forced to wander the ancient world, fleeing the gadfly. Until that is, she ran across Prometheus, who told her to head to Egypt. There, Zeus gave her back her body and she bore a great race of people who counted Hercules among their offspring.