It's a summer ritual many of us look forward to each year. State fairs in the US are annual outdoor festivals full of Ferris wheels, deep-fried foods, quirky contests and good old fashioned family fun. There's nothing highbrow about these grass-roots celebrations, and that's just the way we like it. The first fair debuted in Syracuse in 1841 to showcase regional businesses, spotlight innovations, host competitions, feature exhibitions and generate a little local tourism. Today, millions of attendees flock to these extravaganzas taking place in all corners of the country. Here are some cool and unusual things to see at some of the top state fairs in the US.
1. Minnesota State Fair
The Minnesota State Fair takes place from August 27 to September 7, 2015. This year there's an impressive roster of big-name entertainment coming, including Def Leppard, Keith Urban and Carrie Underwood. Along with the agricultural competitions, midway mayhem, daily parades, mass singalongs and general fairground fun, don't miss the butter sculptures. Watch as talented artists render busts of Minnesota's dairy princess and her court out of 90-pound blocks of locally churned butter. Minnesota isn't known as the proud "butter capital of the nation" for nothing.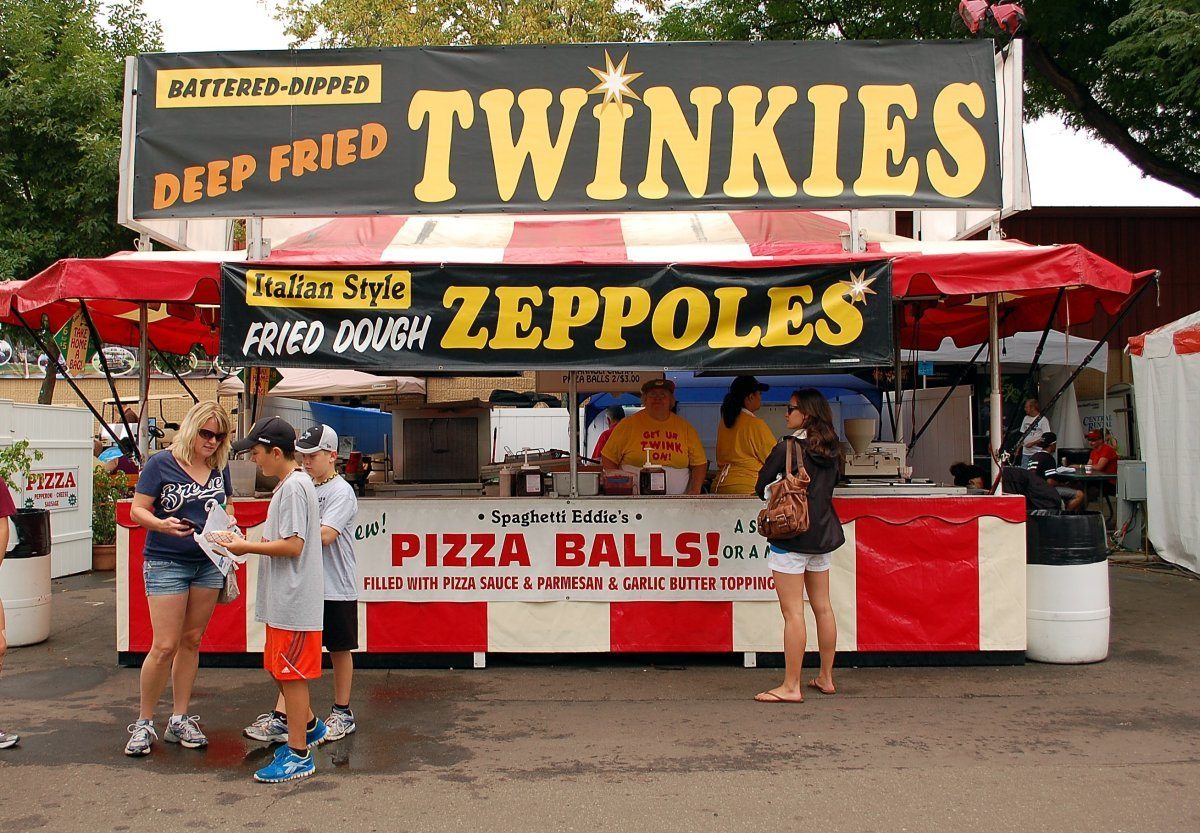 2. Iowa State Fair
If you're going to be in Des Moines from August 13 to 23 this year, check out the Iowa State Fair. You might enjoy seeing the truck and tractor pull along with a few concerts. This mid-west fair is famous for its wacky contests. Forty-five zany competitions take place, including the Ladies' Husband Calling, Mohawk/Mullet Contest, Cow Chip Throwing and Rubber Chicken Toss. In the dairy spotlight is the 600 lbs life-sized Butter Cow that has been freshly carved each year since 1911. Last year's fair featured 70 food-on-a-stick delicacies, so check your diet at the gates and indulge. Finger's crossed deep-fried butter will be on the menu again this year.
3. Texas State Fair
They like things big in Texas, so the annual Big Tex fair is the biggest of all State Fairs in the US. You have to take a spin on the 212 feet tall Texas Star Ferris wheel. Music, livestock, football, auto shows, ostrich races and chilli cook-offs are just some of the endless activities and entertainment on the daily schedule. Food is a big part of the festivities, and they've been known to serve up deep fried beer, fried sriracha balls, fried peaches and cream in past years, not to mention the Fry Dog (a hotdog enrobed with a french fry bun). Big Tex runs later in the season, from September 25 to October 18, 2015, at the Fair Park in Dallas.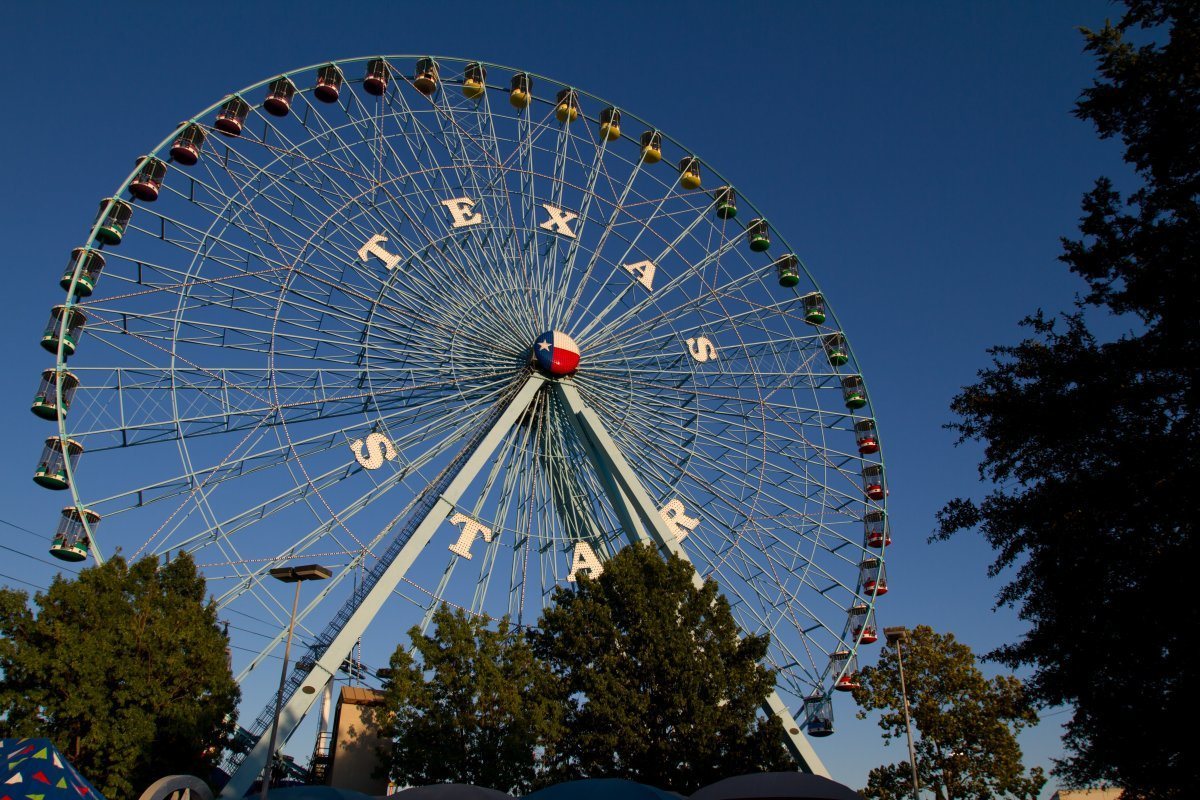 4. Wisconsin State Fair
Held in Milwaukee, one of the Wisconsin State Fair's claim to fame is the invention of the cream puff. It debuted in 1924 and these iconic pastries have been devoured there ever since. In fact, they're so popular here, you're encouraged to place an order 24 hours in advance and pick up your puffs through a drive-thru window. Everyone looks forward to "The Sporkies", the annual awards for the top fair foods of the season. This year's finalists include Beer Battered Pretzel Coated Cheese Curds and the Wis-Cone-Sin, a pretzel cone filled with chicken schnitzel, potato pancake and German rotkohl. It's not all deep-fried junk, as there are a few healthy gluten-free options out there, too. But the crowds love the calorific concoctions, especially when they tap into the local Eastern European heritage of the region. 2015's fair will take place from August 6 to 16.
5. California State Fair
Sacramento hosts the annual California State Fair, which is happening from July 10 to 26 in 2015. Multiple stages showcase free and ticketed musical concerts and performances, so there's something for all ages and tastes. Horse racing, sports and rodeo feature prominently at this fair. For something a little different, check out the National Drone Racing championships this year. Don't miss the local wine tastings on offer, something California's agricultural scene does particularly well. Of course, carnival rides and fairground food are also part of the fun that's been going on here for over 160 years.
6. Indiana State Fair
August 7 to 23 marks the 2015 Indiana State Fair in Indianapolis. This year's theme is "The Year of the Farmer," spotlighting the past, present and future of agriculture in the Hoosier state. This fair always kicks off with a hot air balloon race, but there are also monster truck demonstrations, harness racing, a car show, 4-H competitions, extreme biking, and a demolition derby to entertain the masses. The Indiana State Fair had an alcohol ban for 67 years, but that Prohibition era is over. Now adults can enjoy beer, wine and spirits at select venues and concerts. The Indiana Beer and Wine Exhibition features locally produced beverages.
7. Arizona State Fair
Arizona adds a little art in with the agriculture at its annual state fair in Phoenix. Due to the warm weather, this one occurs late in the season, running October 16 to November 8 in 2015. The concert line-ups are still in the works, but you can expect midway rides, obnoxiously delicious food, motor racing and endless events at this classic carnival/exhibition. Don't miss the Great American Duck Races or the Thunderbird Model Railroad Club tracks.
8. Alaska State Fair
Even the northernmost state in the union has an annual state fair. It takes place about an hour north of Anchorage, surrounded by mountains in the Matanuska-Susitna Valley. It's that last big summer hurrah before winter returns, from August 27 to September 7, 2015. This year's concert line-up includes Pat Benetar, Doughtry and Kacey Musgraves. Highlights of this fair include jousting tournaments, cooking contests, gorgeous flower gardens and the off-the-chart displays of enormous fruits and vegetables. You wouldn't believe how big produce can grow. Bring an RV and plan to camp up here to enjoy the fun.
9. Ohio State Fair
The Buckeye State knows how to put on a great fair, which runs July 29 to August 9 this year. There's a lot of hands-on activities for all ages to learn more about agriculture, including opportunities to milk a cow and spin wool. There's a communal monster mural that everyone can put their artistic stamp on, and an elaborate Lego train made of thousands of bricks. Pig races, pony rides, petting zoos and wolf education are all on hand. And for something a little different, this year there's a zombie zone where you can play paintball with the undead. Reba, Meghan Trainor and Patti LaBelle are some of the headliners, along with plenty of other free concerts, performances and roving entertainment. Don't forget to check out Ohio's butter cow sculptures, too.
10. New York State Fair
This was America's first state fair that started it all. We tend to thing Big Apple when we think of New York, but there's a rural heritage to the state, too. Tap into those roots by attending the New York State Fair – a great way to wind down the summer towards Labor Day. The Syracuse event takes place from August 27 to September 7 in 2015. There are some cultured activities such as Wine & Cheese Seminars, arts and crafts competitions, and culinary displays. But you can also get your hands on some udders and witness a calf birthing, too. Nick Jonas, Snoop Dogg, Melissa Ethridge and Salt-N-Peppa are among the eclectic list of musical performers.
11. North Carolina State Fair
The North Carolina State Fair takes place in Raleigh from October 15 to 25, 2015. Check out the antique farm equipment, the traditional tobacco barn, horse shows, livestock competitions and the Village of Yesteryear where you can interact with artisans honing their old timey crafts. Among various culinary competitions involving pecans, sweet potatoes and grits is the not-to-be-missed Great American SPAM Championship. Don't laugh, they come up with some pretty gastronomic canned meat creations.