Singapore International Airlines has won the 'World's Best Cabin Crew Service' by the Business Traveller Asia-Pacific Awards for last 23 consecutive years and the Singapore Girls have contributed significantly to the company's reputation. Singapore Girls, the female flight attendants of SIA, are the epitome of elegance and grace and have been the airline's brand ambassadors since 1972. Being a Singapore Girl is a highly coveted position and the interviewing and training process is rigorous and detailed, lasting over four months at the Singapore Girl Flying College. We've uncovered exactly what it takes to become a Singapore Girl. You'll be shocked by how critically the interviewees are assessed through various rounds of physical examinations, question and answer sessions and intensive safety training.
1. Degree Requirements
All Singaporean and Malaysian applicants are required to have at least 2 principal passes and 2 subsidiary passes in their A-levels (or its equivalent) and a relatively high standard of English. Candidates from the other approved Asian countries must have a degree. Preference is given to those who speak foreign languages and those with previous customer service experience. Hardly any other airline in the world requires a degree higher than a high school diploma for potential flight attendants.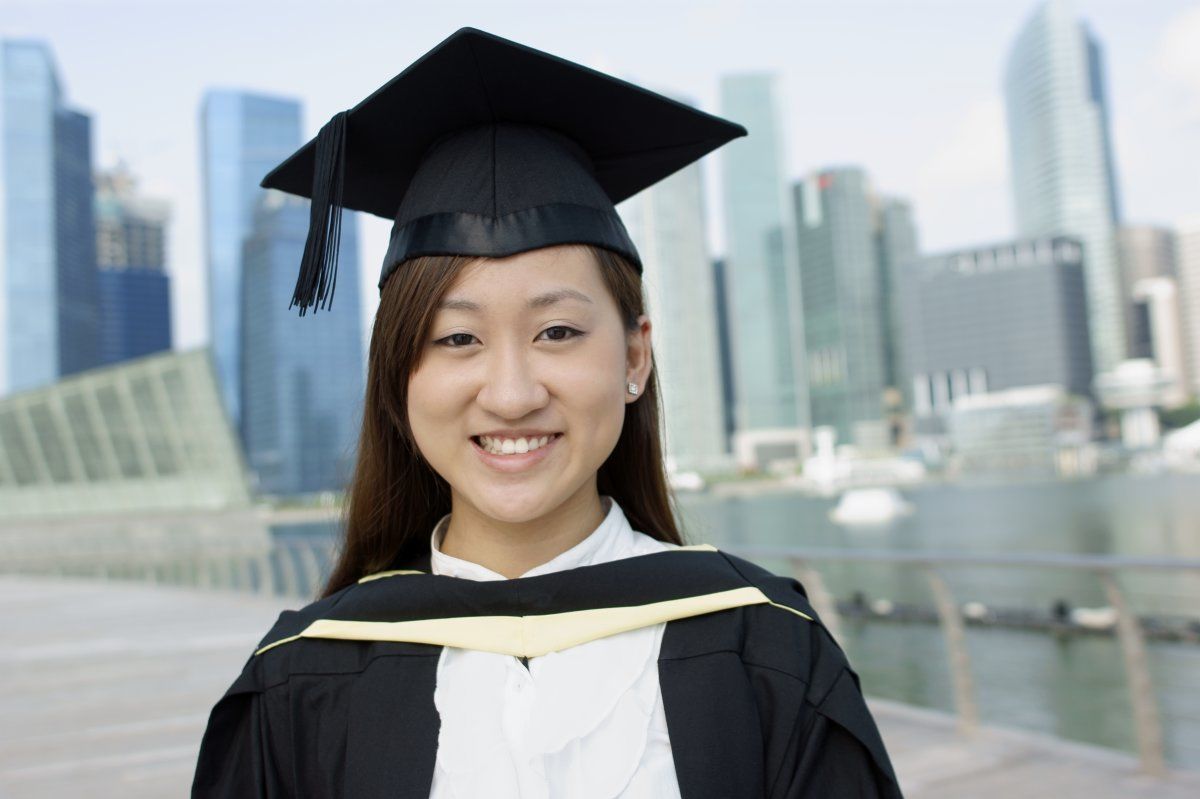 2. Strict Hair Requirements
Singapore Airlines require all flight attendants to color their hair black or dark brown. Flight attendants are forbidden to use highlights. Attendants with long hair are instructed to coil their hair into the signature Singapore Girl chignon or into approved French twists. Their buns must measure 6.5-7 cm across and be centered between 1 and 3 o'clock positions on the back of the head. Trainees admitted that at first it takes a few hours to perfect the signature bun.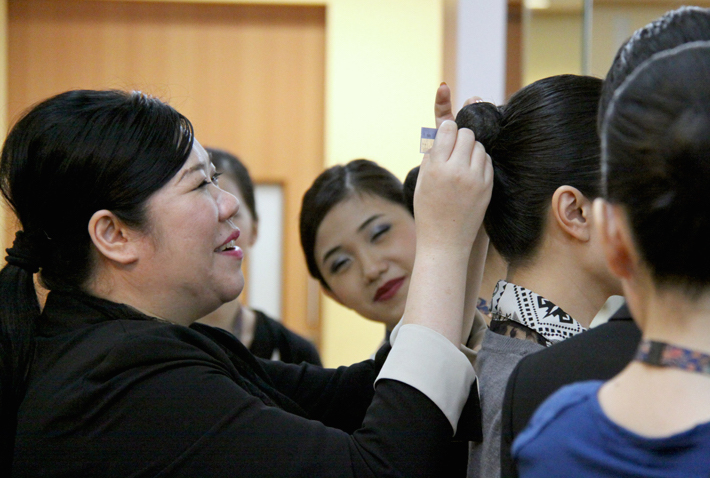 3. There's A Skin Check
One potential Singapore Girl described how anxious she was during the second stage of the interview process. She mentioned that all of the candidates were required to undergo a skin check in which examiners checked for acne, moles, tattoos and scars. During the skin check round, the assessors shine a huge light on the interviewees while they examine their face, forearms and hands and neck. Fingernails and cuticles are also examined, and for hygienic reasons, 0.4 cm is the maximum length.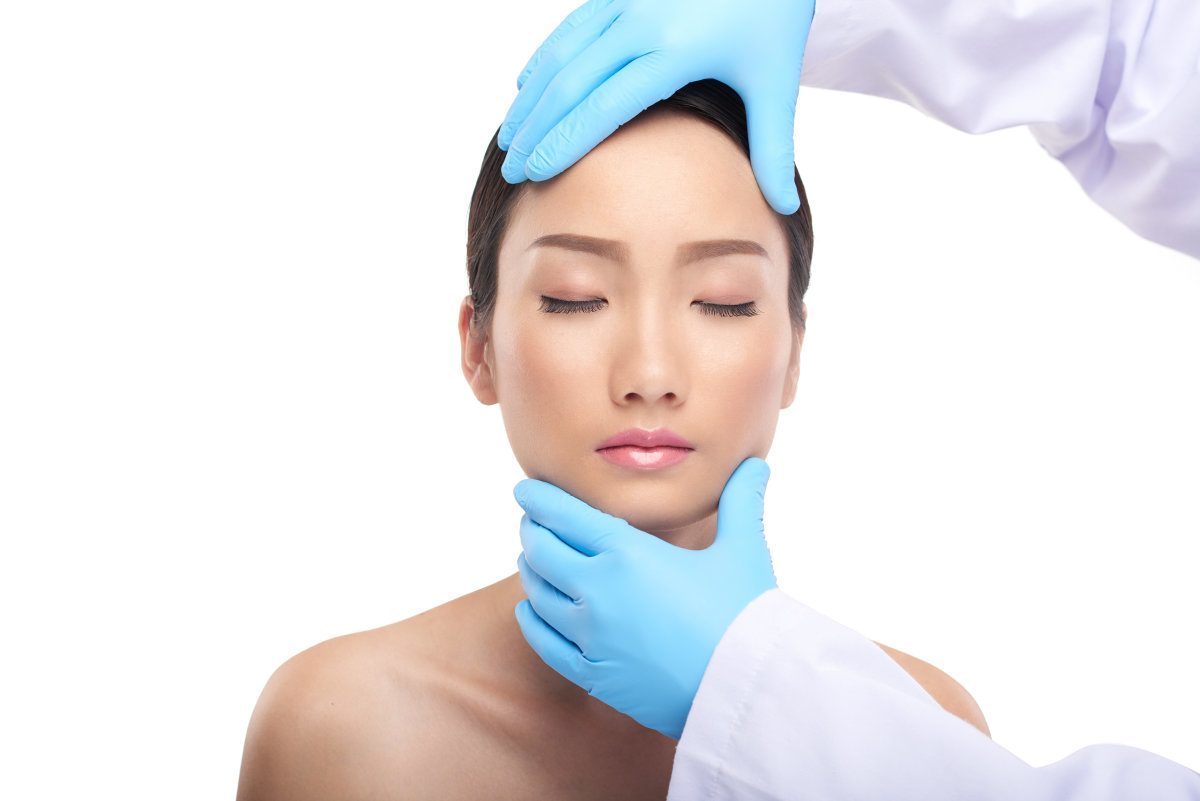 4. Sarong Kebaya Fitting
Following the skin check, all SIA flight crew potentials must undergo a sarong kebaya fitting. The candidates must chose which size kebaya they feel will fit them best and take a short walk around the room. Interviewers are watching for graceful, confident strides.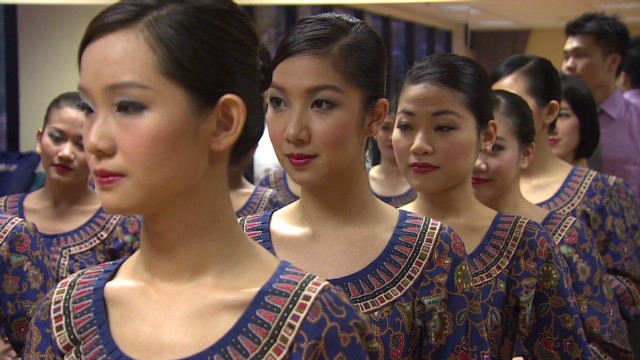 5. Stringent Makeup Requirements
Singapore Girls are required to have groomed eyebrows, they must be shaped, and cannot be fake, be it drawn-on or tattooed. Eye shadow must be of the color prescribed by the company, either blue or brown, depending on the attendant's skin tone and rank within the company. Lipstick colour must be among the few shades of bright red authorized by Singapore Airlines. False eyelashes have recently been allowed, if they are not more than 1cm in length. Potential Singapore Girls are trained for days on how to correctly apply the appropriate makeup.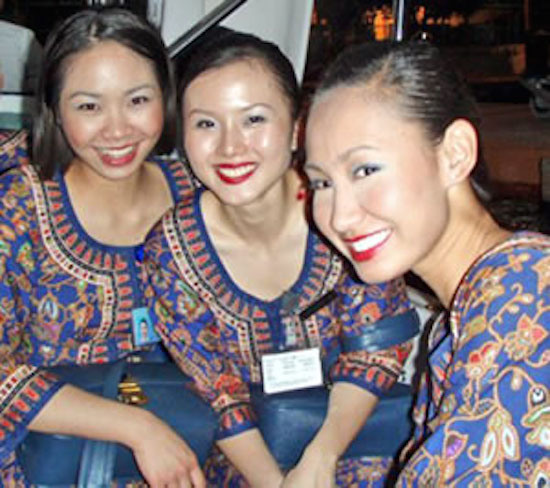 6. You Must Be from the "Right" Country
Singapore Airlines exclusively recruits flight attendants from nine countries: Singapore, Malaysia, China, Taiwan, Japan, Korea, India, Indonesia and Thailand. It's legal to discriminate against employees because of their nationality in Singapore and SIA believes that "homogeneous regional appearance of flight attendants is essential to their brand experience."
7. Extensive Safety Training
Singapore Airlines places a strong emphasis on the appearance of their flight attendants, but that doesn't mean the company skimps on safety training. "Repetitive training in simulated cabins teaches trainees to address common service issues under the close scrutiny of peers and stern Safety and Emergency Procedure trainers." Attendants are also exposed to several cabin emergency simulators, including an enormous wave-generating pool for the "open sea" aircraft ditching practice. The flight attendants must learn standard first aid, CPR, and fire fighting. Safety training is ongoing, with frequent testing throughout the year.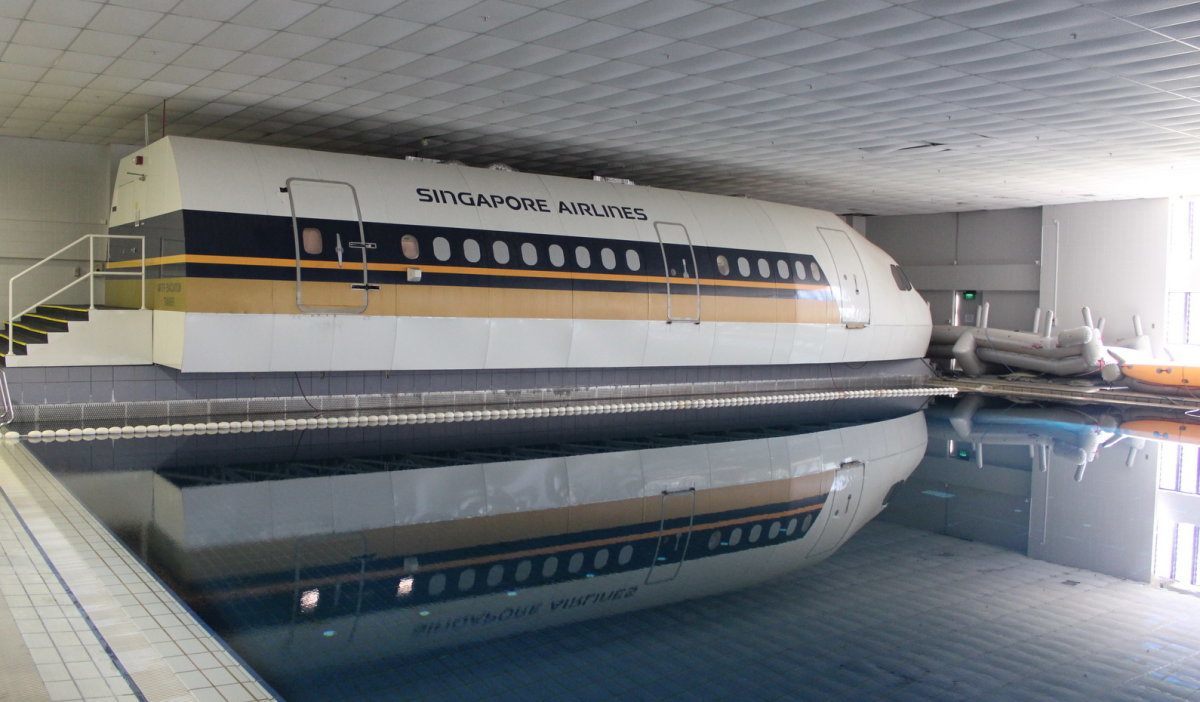 8. Singapore Girls Must Exude Polite Confidence
Through rigorous safety training, Singapore Girl trainees are taught how to handle the most stressful situations in the sky without becoming flustered or upset. They're taught how to tactfully appease disgruntled passengers without getting their buns in a twist.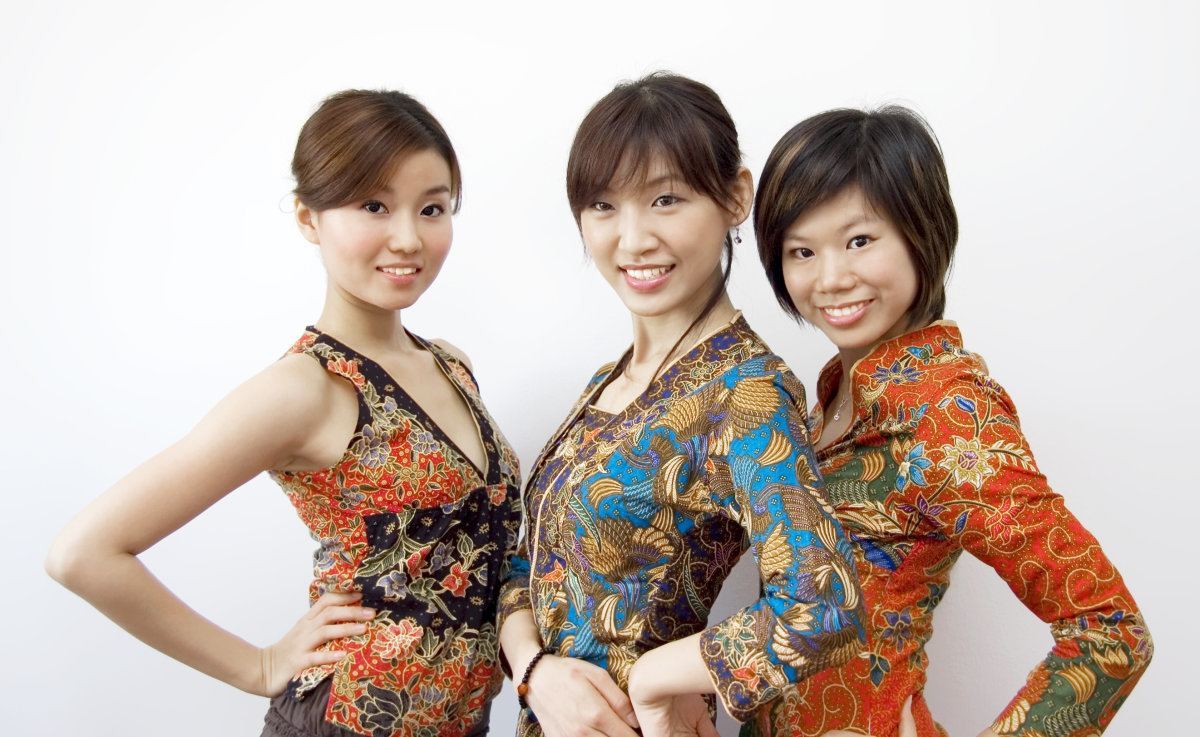 9. There's a Reason Their Uniforms Are Different Colors
The colors of the airline cabin crew's uniform, including kebayas, scarves, and ties, reflect rank: blue for basic flight crew; green for leading stewards; red for chief flight attendants; and purple for inflight supervisors. The form fitting sarong and kebaya has practical advantages for the flight crew. The long skirts protect flight attendants from friction on slides and keep their legs warm during colder flights as hosiery is forbidden because of its flammable qualities.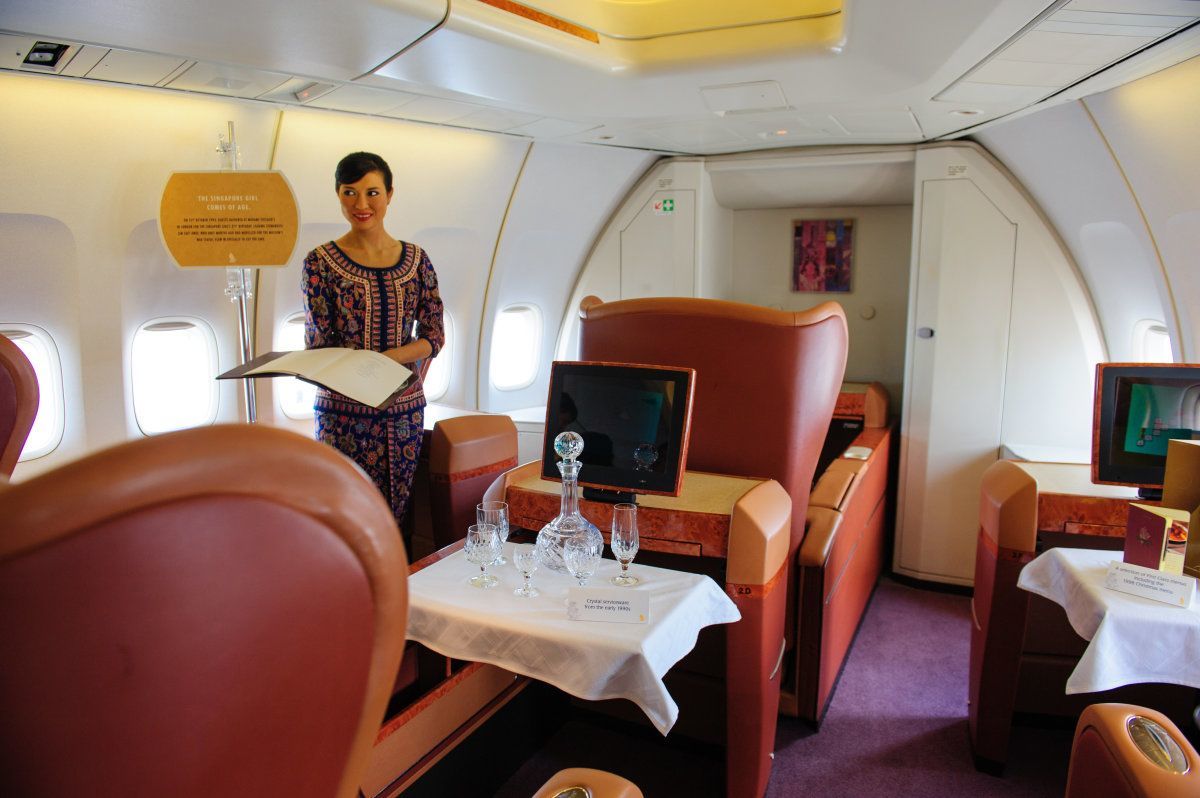 10. There's a Theme Song
Every morning the SIA flight attendants gather to recite the company's pledge: "We, cabin crew of Singapore Airlines, pledge to: excel in delighting passengers with our passion for service; work as a team, respecting all colleagues; and uphold our Company's image, always!" and sing the Singapore Girl song.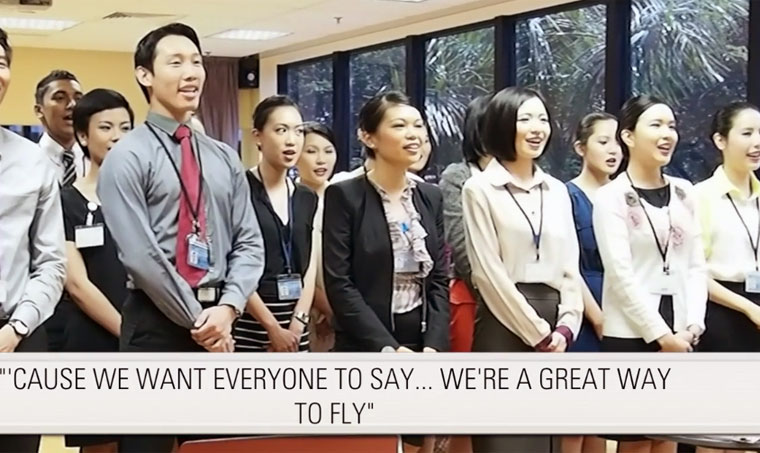 11. They're Expected to Remain Flawless Even Off the Clock
Singapore attendants are expected to behave appropriately during layovers and on their off days. Like with many airlines, flight attendants are the company's brand ambassadors – their attitude and appearance reflect the values of the airline. With Singapore Airlines, there are even after-hours appearance requirements for all members of the cabin crew.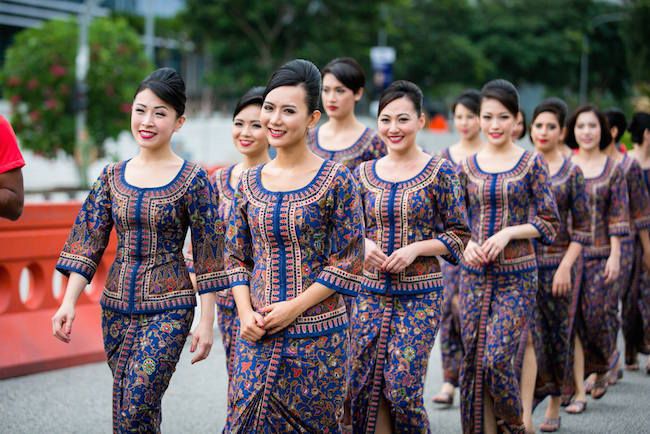 12. After Graduation
Following completion of the Singapore Flying College all new employees are required to sign a 2 year compulsory service bond, with a 6 month probation period. Singapore Girls are also offered renewable 5 year contracts which pay out generous lump-sums.