This is a snapshot from the author's recent backpacking journey through Vietnam, Laos and Thailand.
It had been exactly 18 days since I had a latte.
Don't get me wrong, I kept myself comfortably caffeinated via Vietnamese coffee – even egg cream coffee – and green tea. Vietnam pleasantly distracted me from my latte habit: it is one of the largest exporters of coffee, second only to Brazil. Vietnam accounts for approximately 16% of the world's coffee production, and its coffee industry employs over 1 million people. Milk in Vietnam is expensive and often hard to find, especially for the budget-conscious backpacker, so the strong coffee is usually dressed with the über decadent sweetened condensed milk.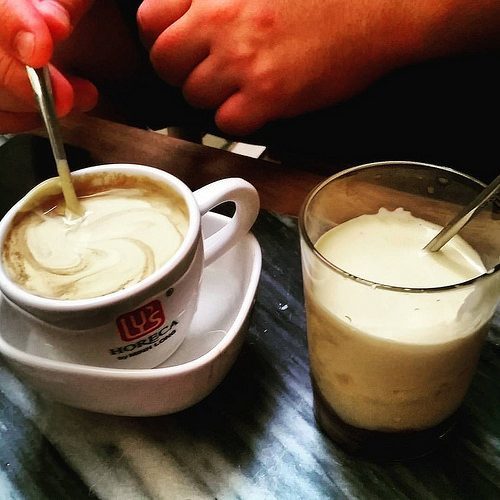 Two and a half weeks of coffee heaven in Vietnam was juxtaposed against the world of instant coffee in Laos, which, when mixed with lukewarm bottled water, left much to be desired. When we passed an expat café in Luang Prabang – one that could have easily been plopped comfortably in any liberal college town in the USA – my spidey senses percolated much like the espresso I was hoping to find, and I did. Although my expensive latte was a splurge at almost half a day's food budget, it was a welcomed taste of home before I embarked on a two-day journey across the Mekong River from Luang Prabang to the Thai border.
The Mekong River is the 12th longest river in the world and the 7th in Asia, operating as a major trade route between China and Southeast Asia. It spans a distance of 4,350 km/ 2,703 mi, running through six countries: China, Burma, Laos, Thailand, Cambodia and Vietnam. Second to the Amazon River, the Mekong boasts one of the world's most expansive areas of biodiversity, including over 23,000 different species of plants, birds, fish, mammals, amphibians and reptiles. Of catfish alone, there are 92 different species to be found in the Mekong. Scientists are also discovering new species of animals in and around the Mekong River all the time, and this includes 145 new species discovered in 2009.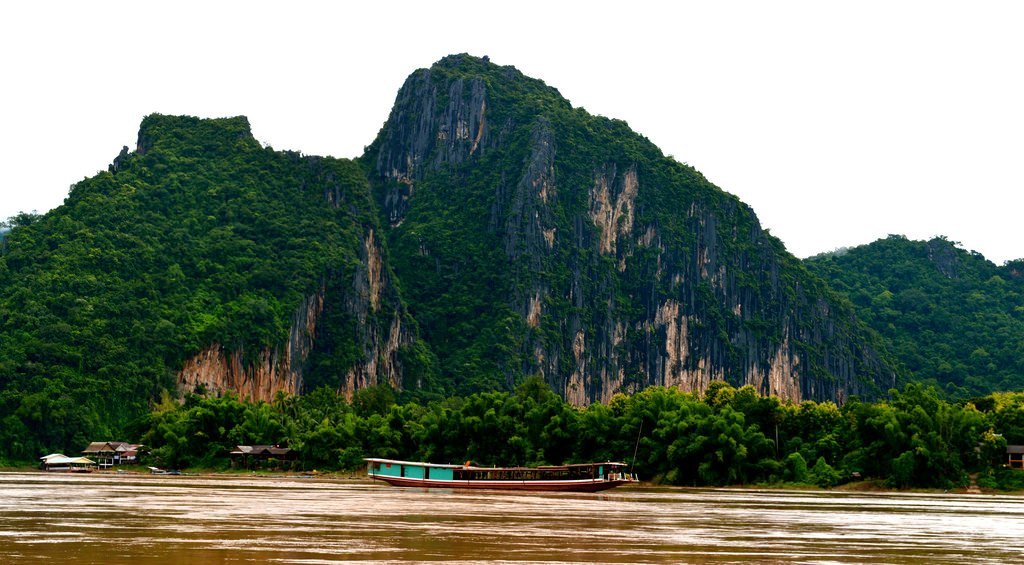 The region is also very popular among tourists who have many options when it comes to how they can experience the Mekong. From day trips to almost two-week long cruises, there are options for all. Popular cruise operators include Pandaw, Viking Cruises and Avalon Cruises. Many group travel companies like G Adventures and Intrepid Tours include a Mekong River Cruise as a part of their Southeast Asia trip packages.
Our 20-minute tuk tuk ride from the city center to the houseboat was bumpy for all and especially sloshy for me, but it was worth it. Being properly caffeinated (by my finicky standards) was, for me, an important pre-requisite for my impending 14-hour journey, which was to be followed by an overnight stay with a local hill-tribe just outside of Pakbeng, Laos. This particular village houses roughly 60 people and the occasional boatload of tired tourists, and it would signal the halfway point in our journey to Thailand. I had no idea what to expect, so I let my latte and my Kindle distract me.
The houseboat was made from a gorgeous mahogany, and the family who both lived on and operated the boat kept a full supply of vegetable fried rice at all times. The green tea and bottled water were included in the price of the trip with the option to buy sodas and local beer. The river was smooth and the ride was slow, so my seasickness was nonexistent. I was nearing the end of a spy novel on my Kindle where the charming and good-looking sweet-talker was actually a psychopathic murderer (they always are). I breezed past the clichéd ending, and took a nap on one of the beds on the boat. Life was good.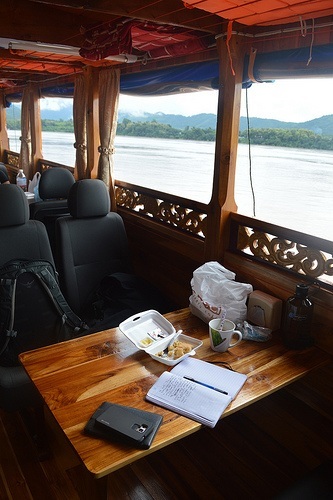 Outside of the gorgeous world European espionage on the proverbial pages of my e-reader, I found myself in a world of beauty drifting across the Mekong, and it was unlike anything that I had ever experienced. The lushness and vibrancy of the green hues were akin to that of the scenery I've experienced in Costa Rica, but everything here was intensified like a well-placed Instagram filter that appropriately cranked up the contrast and the brightness.
It, most certainly, was not lost on me as to why the surrounding jungle was so green. Laos has two seasons – dry and wet – and I was experiencing the life of the latter. The wet season in Laos is from May through September, and the dry season goes from October to April. The day on the houseboat was actually my first day in Laos when I was able to stay consistently dry for more than five hours at a time. When it did start to rain, we quickly pulled down the plastic protectors, which were surprisingly effective, and the rain let up after a speedy two hours. Our local guide on the previous day let us know that he had prayed to the rain gods so that we would have a safe and enjoyable journey – free of impending mudslides and floods – through his country. So far, so good.
I, too, found myself sending private "thank you's" to the rain gods throughout my time in Laos – particularly during some hairy moments driving up and down steep mountains. To get to Luang Prabang, our spritely, 30-something year-old family van navigated around the fresh remains of small-scale mudslides with cows and chickens on one side of the van, a cliff on the other and no guardrail in sight. It was like a dangerous game of Frogger in which I had some choice words with the rain gods. As we neared the village toward the end of our houseboat journey, our guide – minus his microphone that did not fare terribly well in the rain – informed us that it would be in our best interest to not get sick while we were in the village as the closest local hospital was several hours away via boat. I, then, said an extra prayer to the advanced medicine gods.
Fourteen hours on the boat rendered our group a bit loopy as we approached the village, which is nestled in the hills on the outskirts of Pakbeng, Laos. Thanks to a loan from the World Bank, Pakbeng lights itself via hydroelectric power rather than from generators, and its main road was paved in 2005. As I climbed my way to the top of the hill with my overnight bag, the lack of pavement stairs was painfully clear. I was able to carry my own bag, but there were a couple stragglers from my group who required the assistance of some of the local children to schlep their essentials up the muddy and thorny hill. I fell just once, but the largest bruise laid on my ego after a barefooted twelve-year old ascended and descended the hill twice in the time it took me to reach the top. A latte I was not going to find, I knew that for sure, but I had no idea what was in store once I entered the village.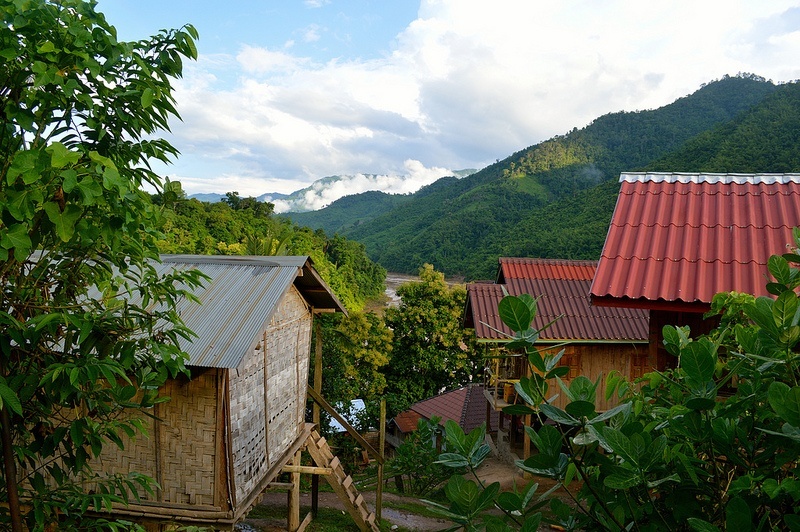 Read part 2 of the series here.
Lindsey Frick left her corporate job in online marketing to travel the world. The first stop on her tour? Spending several weeks backpacking through Vietnam, Laos and Thailand. When she's not traveling, she's experimenting in the kitchen, lost in a book or training for a half marathon — and taking many pictures along the way. You can follow her adventures on her Instagram page.
Do you have a traveling tale to tell? Share your Postcards from the Road by contacting us here.