Day in and day out, millions of people rely on Google Maps and Google Earth to get where they're going. The combination of top-down photography and random street view shots create both an awesome way to get around and a comprehensive glimpse of the diverse, chaotic, weird, and generally incomprehensible tapestry that is human existence. You would be amazed at the sheer insanity that has been accidentally captured by Google's seemingly omnipresent cameras as they set about making sure you can find the local Starbucks. So, why not take a few minutes from your next PowerPoint presentation to take a short trip around the world for some of the strangest results that Google Earth and Google Maps has to offer.
1. Painting on the Landscape
This moldering shipwreck on the Indian coast is probably pretty desolate when you're on the ground, face-to-face with the failure. From the sky, however, caught in the swirling mix of white sand and blue seas, it's an abstract painting that will stay with you on the ride home (or at least through the next few slides).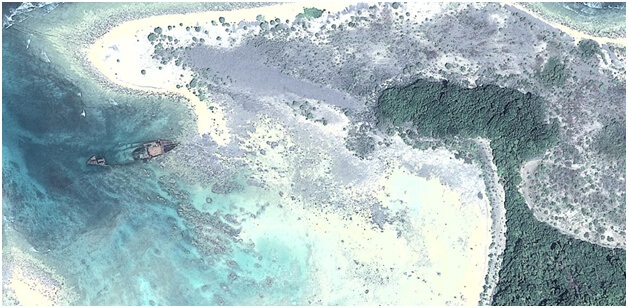 2. Guardian of the Badlands
A lot of times, when someone points to a rock formation and says, "There's a face there," or "You can see a cat pooping right there," they're reaching. That is not the case with this aerial photograph, where a face (lower-middle) is apparently on guard for some ancient threat.