Winter often gets a bad rap, but there are ways to make the best of the season. The Quebec Winter Carnival is a 17 day long frozen fairyland celebration that has been around for 60 years. In fact, it's the largest winter festival in the world, set in one of the most charming towns on the continent. This year's action takes place from January 29 to February 14. It started out as a rather rowdy party but it has evolved into a family oriented one that draws about 500,000 visitors each year. Here are some reasons why Canada's coolest carnival is an experience that shouldn't be missed.
1. Bonhomme
Bonhomme is the 400 pound snowman mascot of the carnival and his popularity rivals that of Santa Claus. The giant snowman has been the carnival ambassador since 1955 and you can visit him at his Ice Palace or catch him in one of the parades. He speaks both French and English and while his name means "good man," he is known to be a bit mischievous.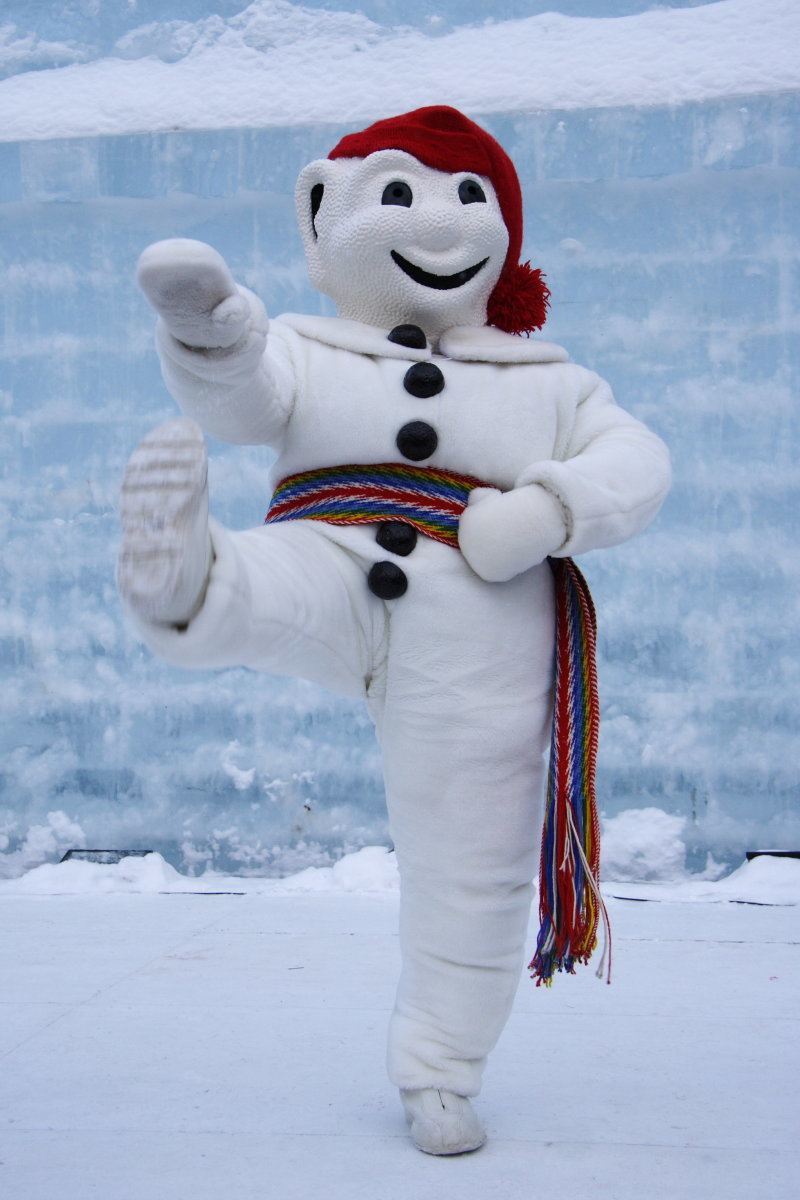 2. The Ice Palace
The frosty focal point of the carnival grounds is the Ice Palace, home to Bonhomme himself. The phenomenal Ice Palace is rebuilt each year in a different design using 300 pound ice blocks from Montreal. The design can be an elaborate feat of engineering and looks particularly magical when lit up at night. Don't miss a walk-though of this igloo-on-steroids.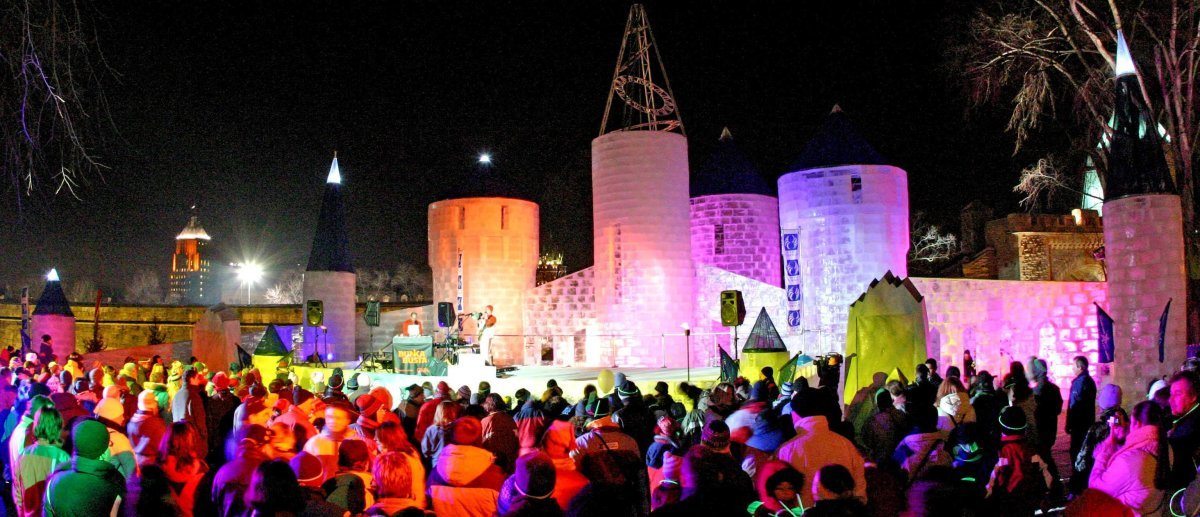 3. Maple Taffy
Maple taffy is a must-try treat to enjoy at the carnival. Head to the Sugar Shack (cabane sucre) to make your own maple lollipop of sorts. To make the treat, sweet maple syrup is heated up and then poured directly into the snow, where it is twisted onto a popsicle stick for a deliciously sticky Canadiana confection.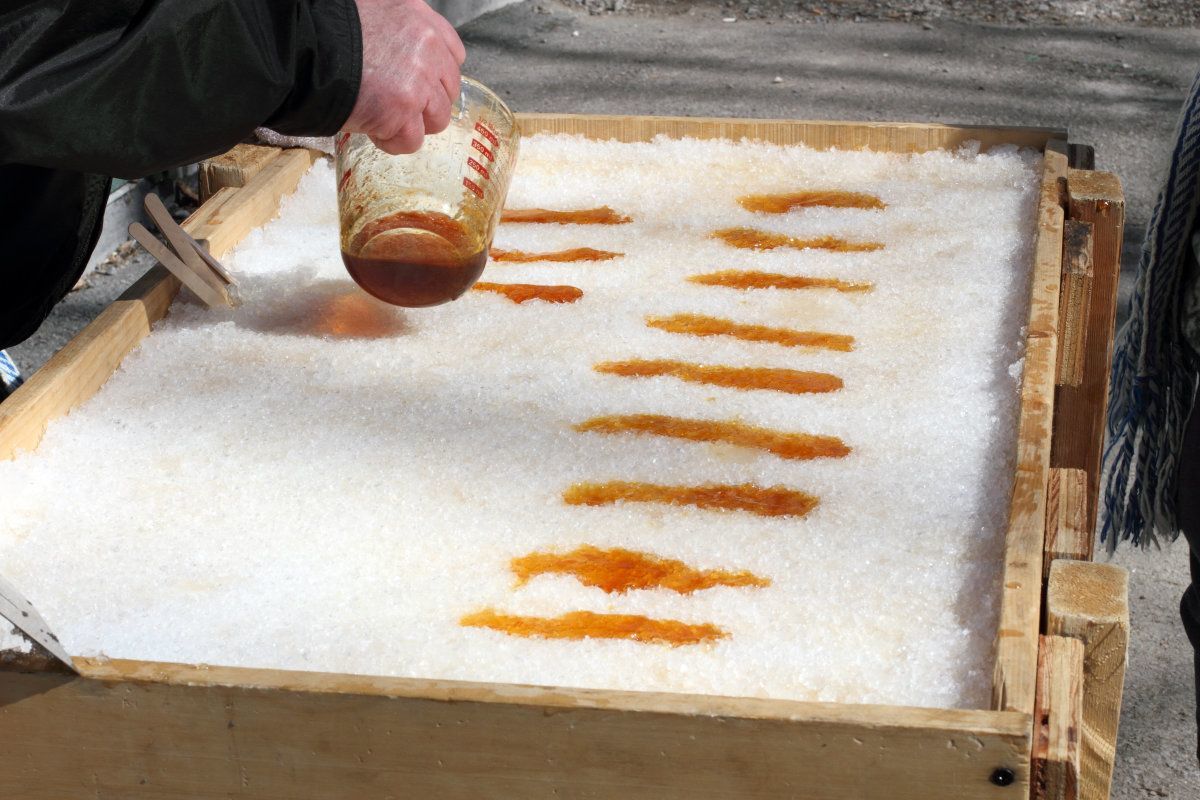 4. Yukigassen
Yuki-what? Competitive snowball fights, that's what – more like snow battles. Organized Yukigassen tournaments started in Japan about 20 years ago, but the sport has now come to the Quebec Winter Carnival. Two teams of seven play on a snow court filled with snow forts and walls, trying to capture their opponents flag by throwing 90 snowballs per period.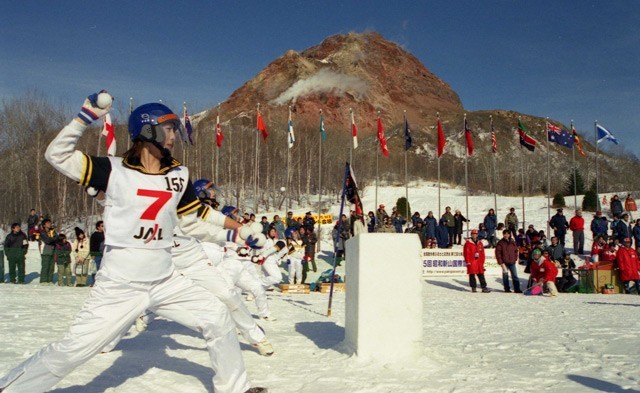 5. Dog Sledding
Another must-try activity at the carnival is dog sledding. You have to pay extra and only get one lap around the track, but it's an exhilarating thrill that inspires a lot of people to book a longer dog sledding excursion.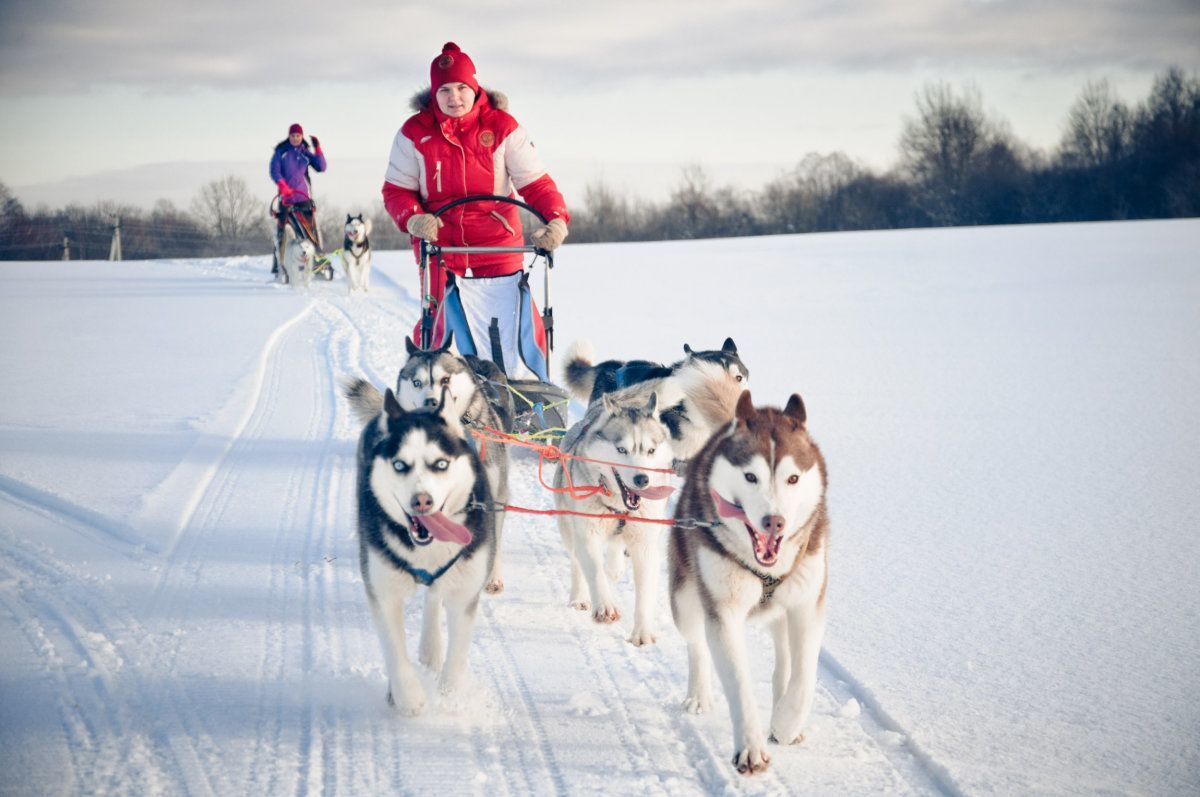 6. Sleigh Rides
Gather the whole family or cozy up with your sweetheart to enjoy a sleigh ride that lasts about 10 to 15 minutes. Besides being fun, it's a great way to take a break from walking around and warm up bundled up in a blanket. Hearing the jiggle-bells as you glide along the Plains of Abraham with the fabled Chateau Frontenac in view is a Carnival must.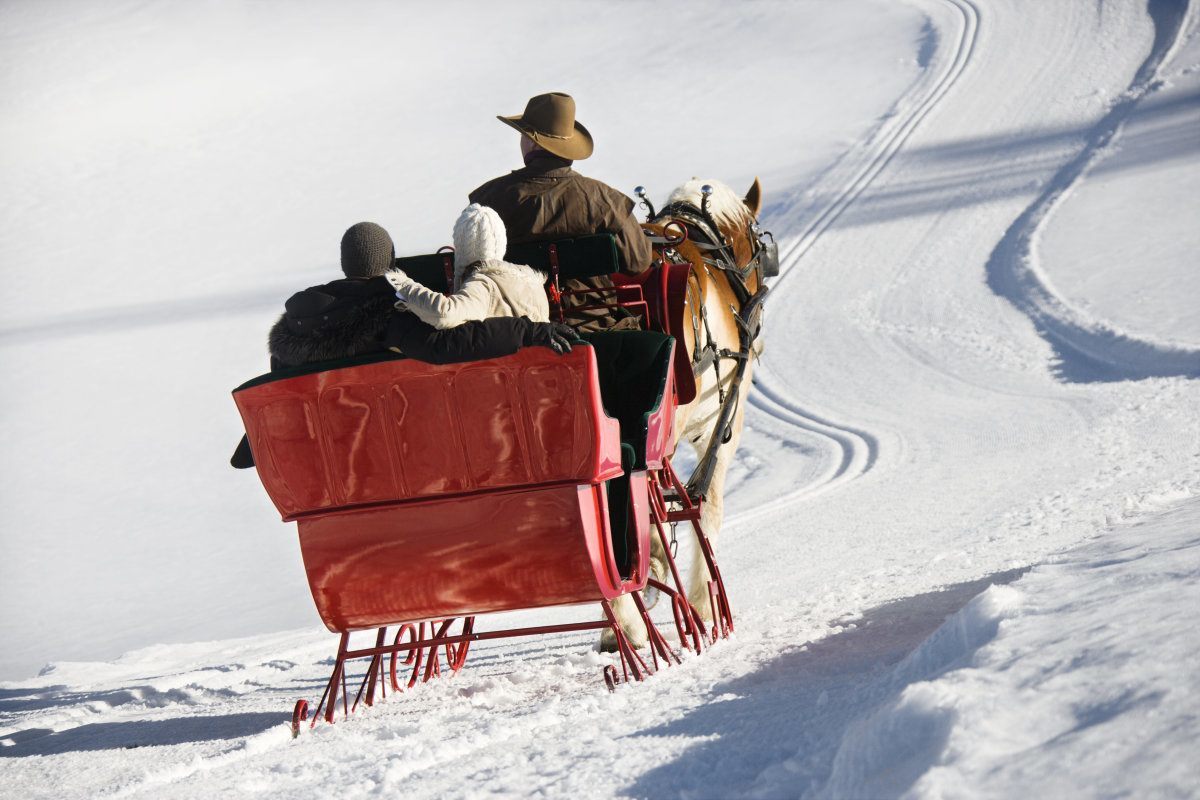 7. Test Your Stamina in a Snow Bath
One activity that you can actually do alongside Bonhomme is partake in a snow bath (or bain de neige, as the locals call it), which is essentially stripping down to your bathing suit to spend ten minutes in the freezing snow. For bragging rights, one would suppose? You'd be surprised to find out how many people sign up for this chilly feat.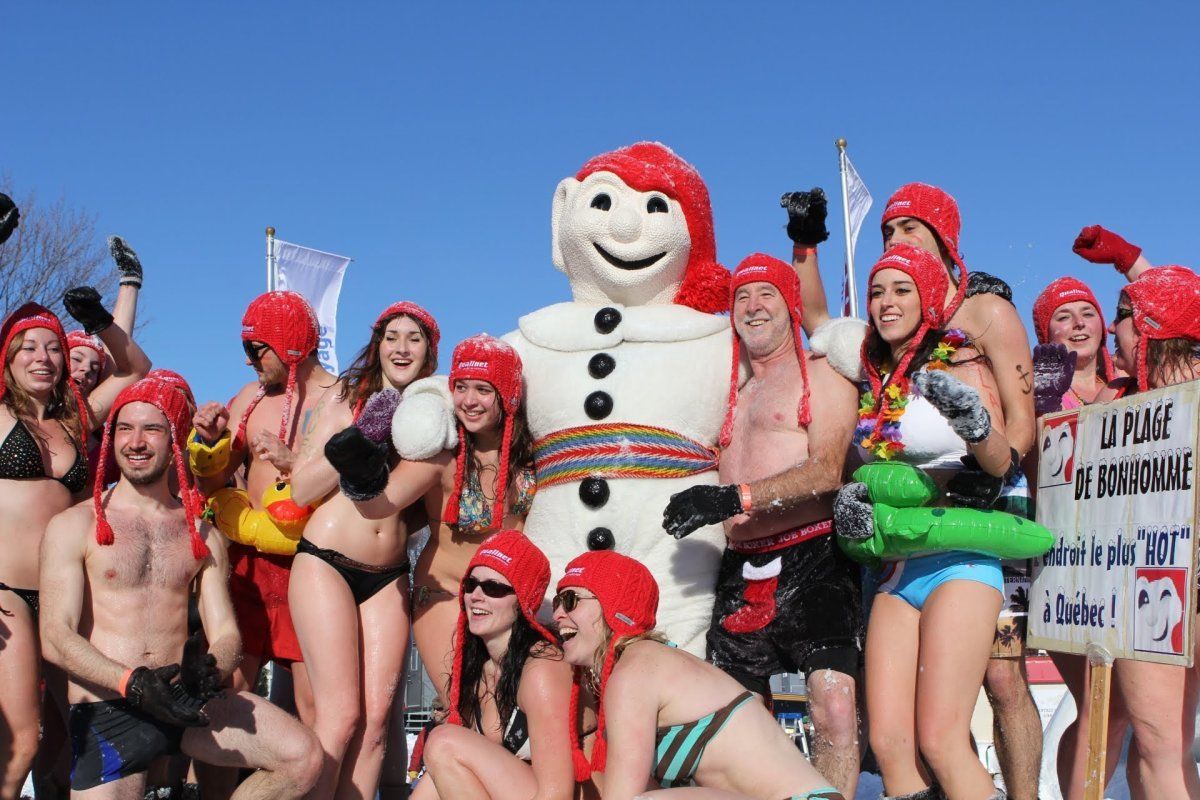 8. Come For the Caribou
You might think we're talking about the reindeer-like animal, but in this case we're talking about an alcoholic beverage that is a specialty of the Quebec Carnival. The caribou drink is generally made with either red wine or port, brandy, vodka, and a touch of local maple syrup. According to legend, the original version included real caribou blood. It is served hot or cold, sometimes in an ice glass or in long red tubes.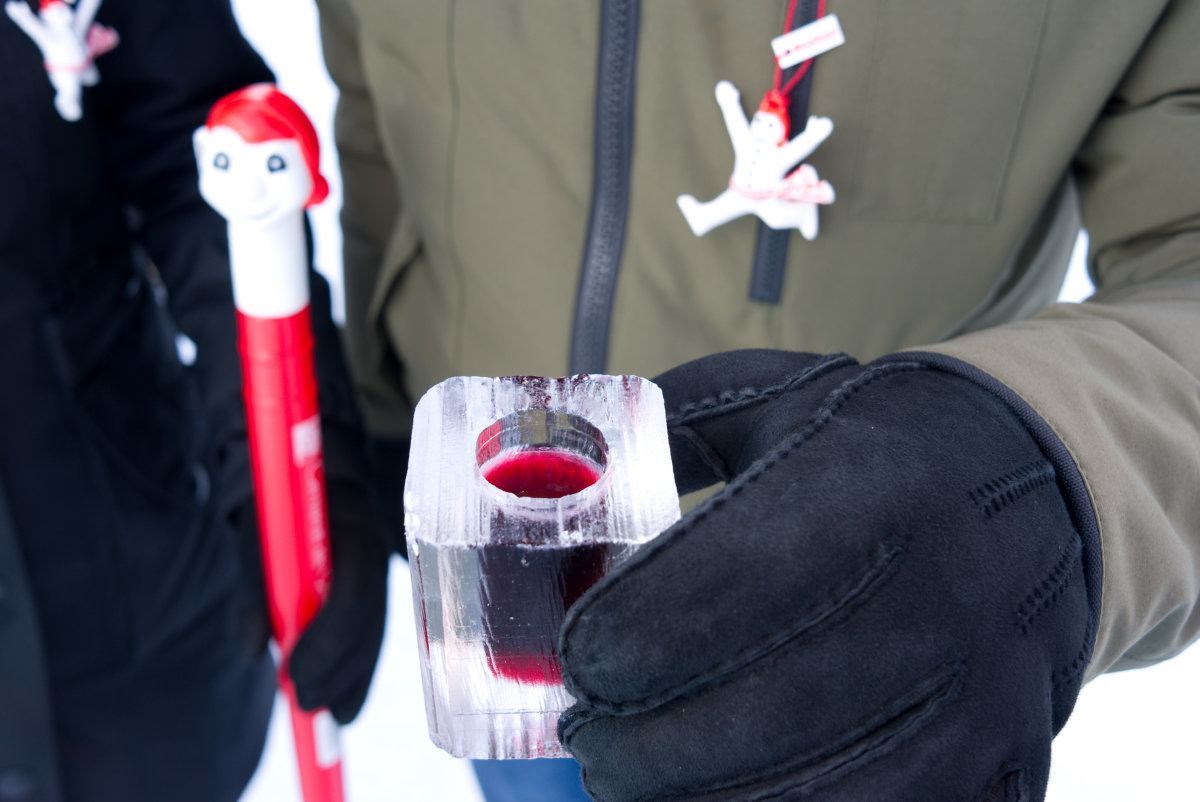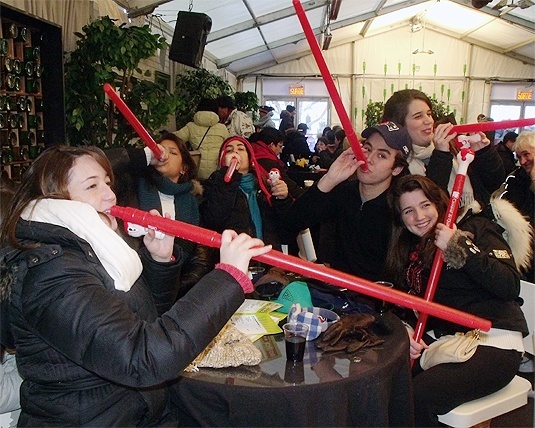 9. Stay at the Ice Hotel
The Ice Hotel, or as they say in French, Hotel de Glace, is located a few minutes outside of Quebec City and it's a huge draw of its own. The ephemeral hotel is rebuilt from scratch and opened each January. You can actually stay overnight there in one of 44 frosty chambers where even the beds are made from ice blocks. They give you coats, gloves and blankets to make things as cozy as possible, but it takes a bit of an adventurous spirit to sign up for this. It's definitely worth checking out, even if you don't want to stay the night.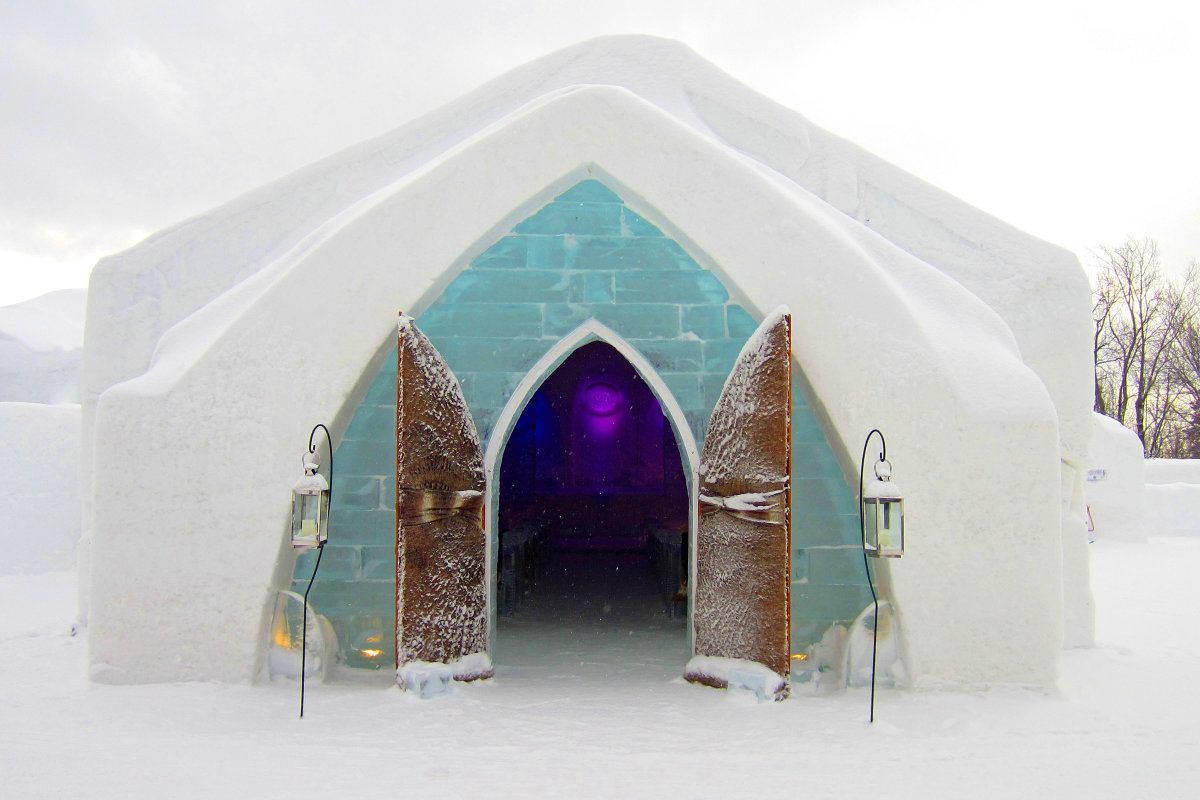 10. Ice Canoe Races
The Saint Lawrence river freezes over into chunky, sloshy ice in the winter, but that doesn't stop it from being the venue for some crazy ice canoe races. Since paddling is out of the question, the teams basically push their canoes along as quickly as possible.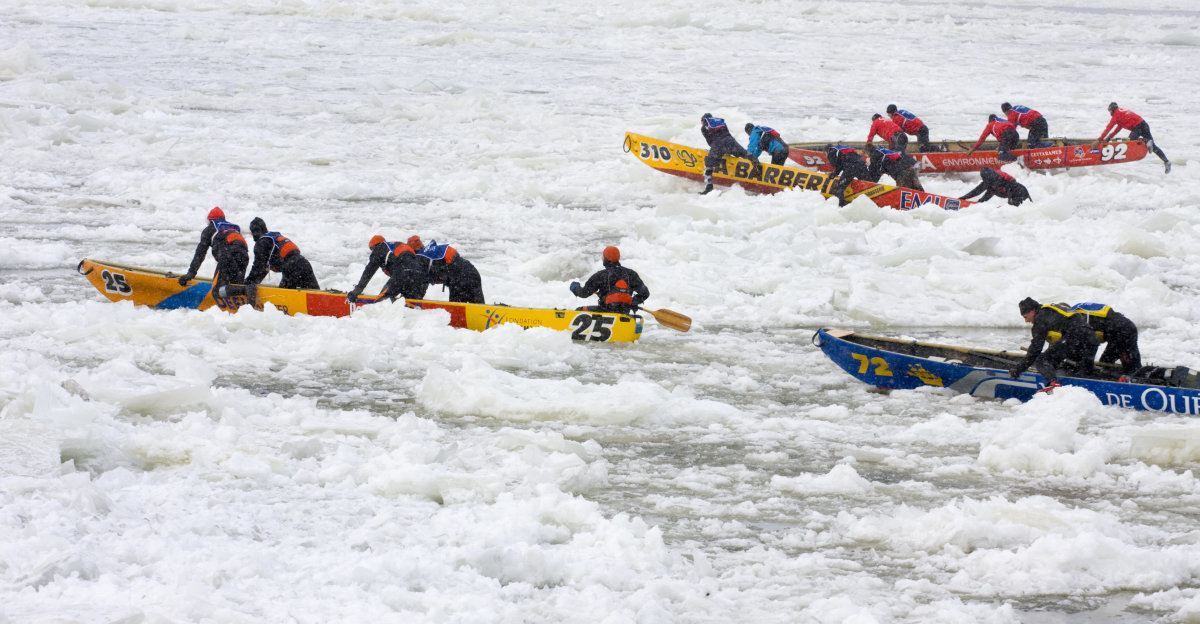 11. Snow Sculptures
These aren't your everyday backyard snowmen and snow angels. These blizzard wizards create some truly impressive structures out of densely packed snow blocks, wielding their tools and making their magic in front of spectators. Champion winter artists come from all over to build their intricate designs and sometimes even work in teams.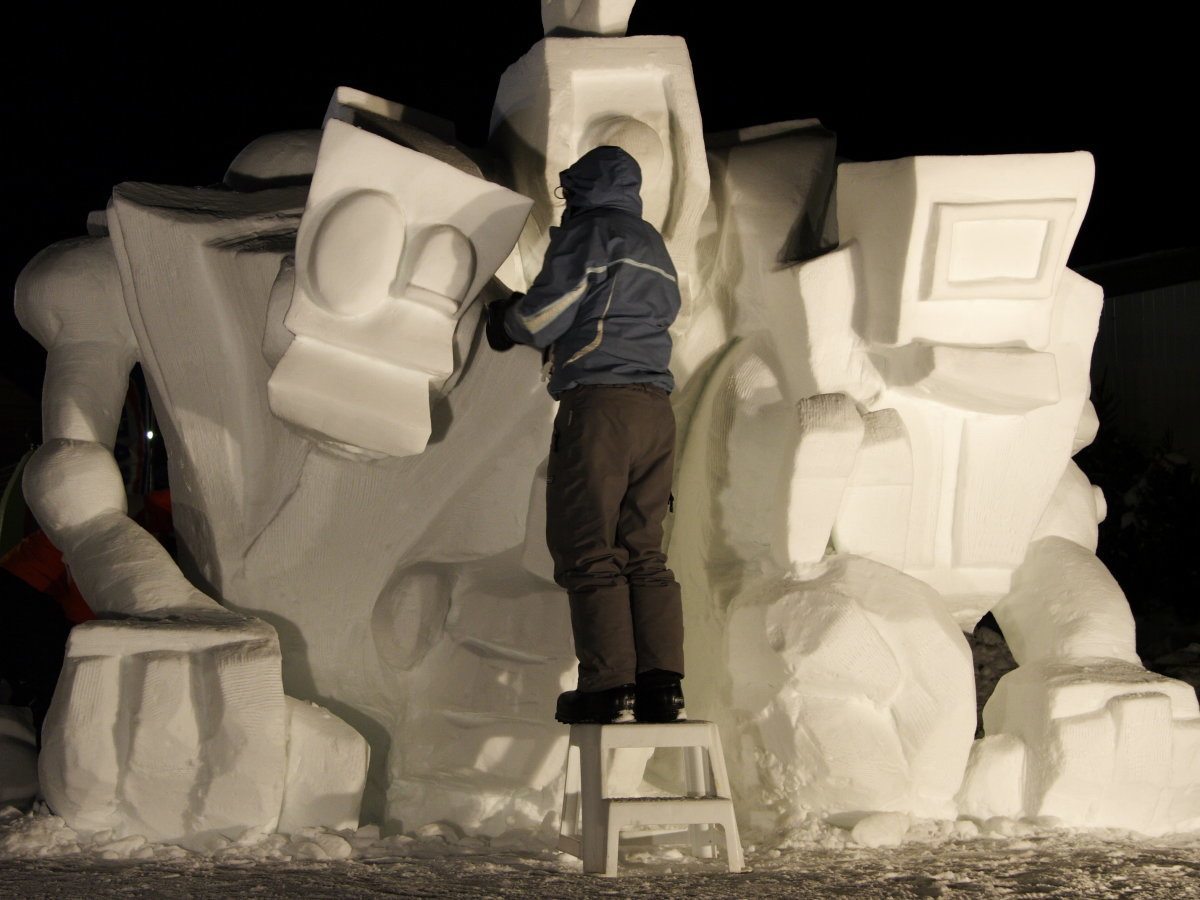 12. The Parades
Each weekend of the festival there are elaborate night parades which are enjoyable for both kid and adult revelers. The parades last about 30 minutes and have floats with jugglers, singers, bands and, of course, Bonhomme the giant snowman.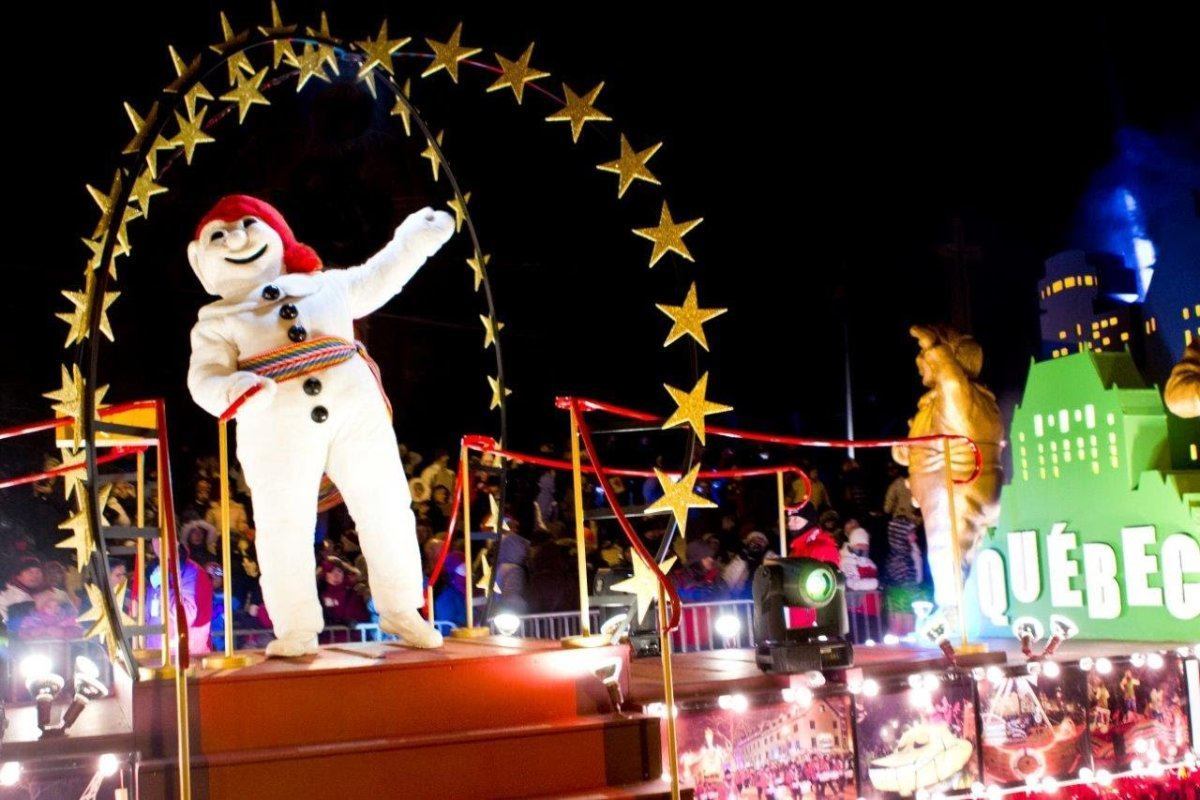 13. Ice Fishing
The carnival makes ice fishing easy by cutting circles of ice in a small, well-stocked trout pond (meaning your odds of catching something are very good.) Once you catch a fish, you either have the option of having it cooked up for you on the spot (can't get any fresher than that), or you can donate it if you're fishing for the experience more than the meal.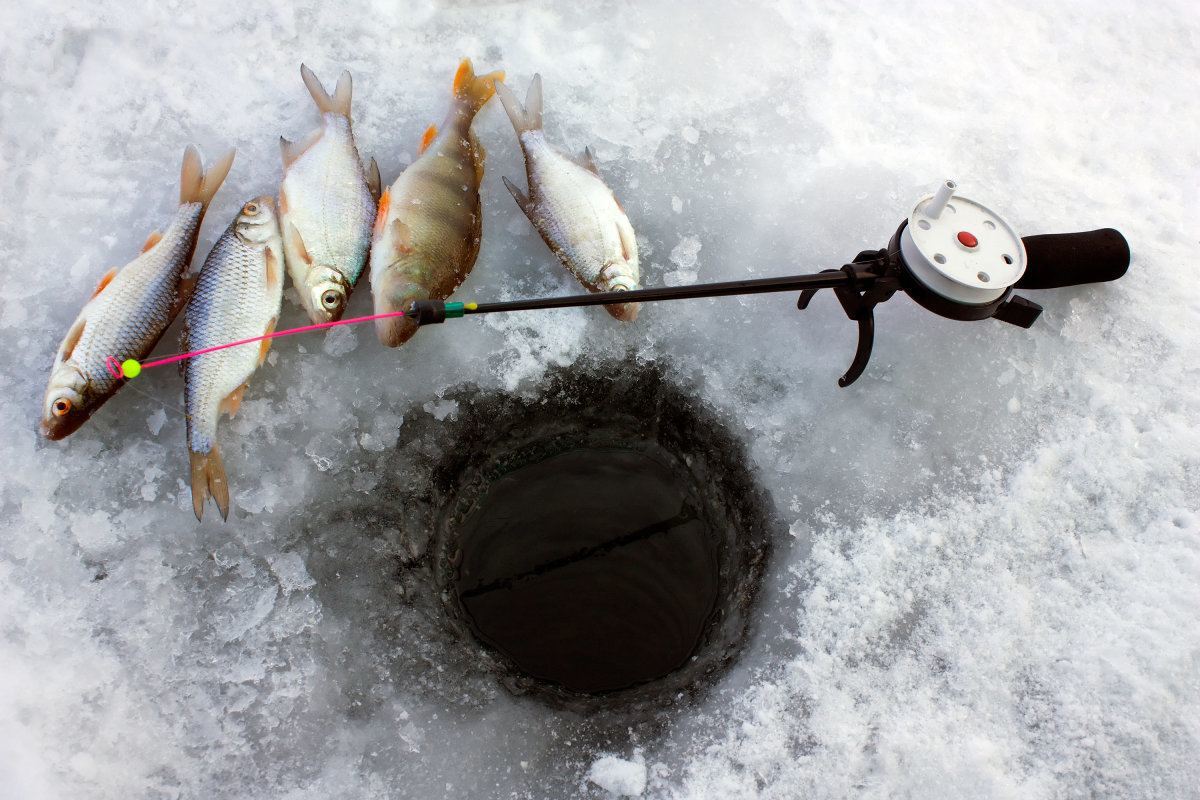 14. Beaver Tails
Another worthwhile snack to try at the festival is the Beaver Tail. No, Canadians don't munch on the tails of cute bucktoothed rodents. These Beaver Tails are basically a fried dough pastry (kind of like a flat donut) that is topped with cinnamon sugar, lemon, Nutella or other goodies. They go great after a dish of Quebec's specialty, poutine.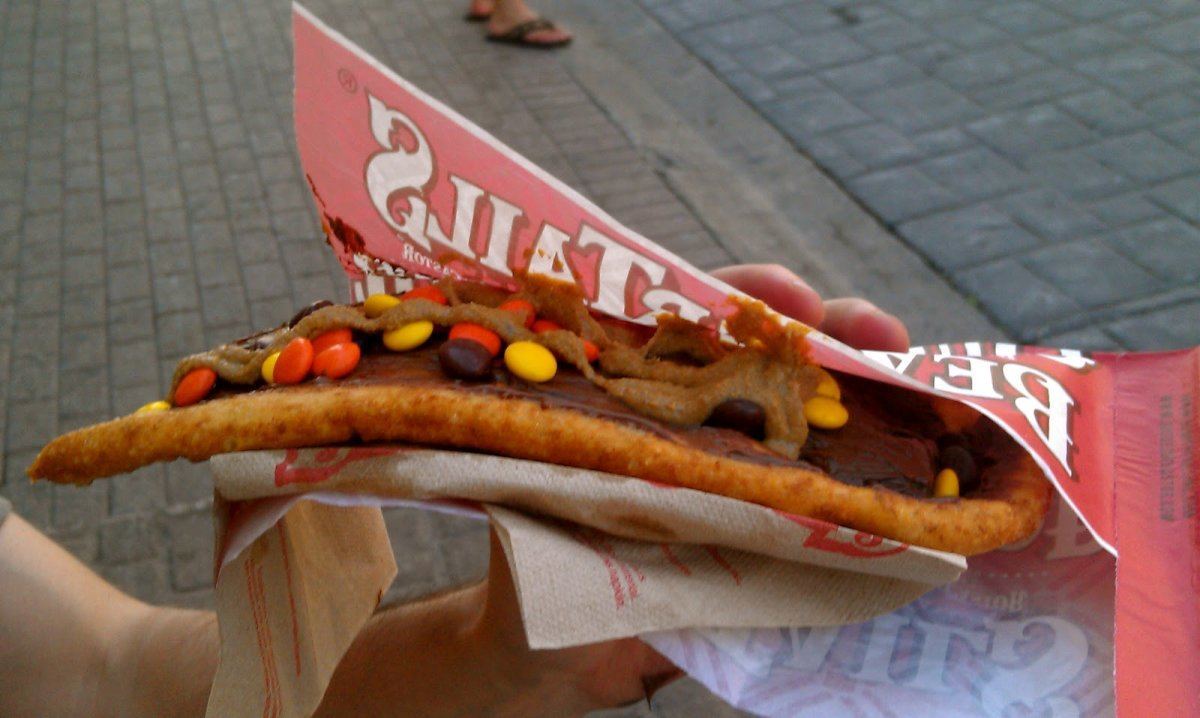 15. Hot Tubbing
If you really want to warm up at the festival, you might consider hopping into one of the hot tubs…although there's no guarantee that you won't be cold when you hop back out again.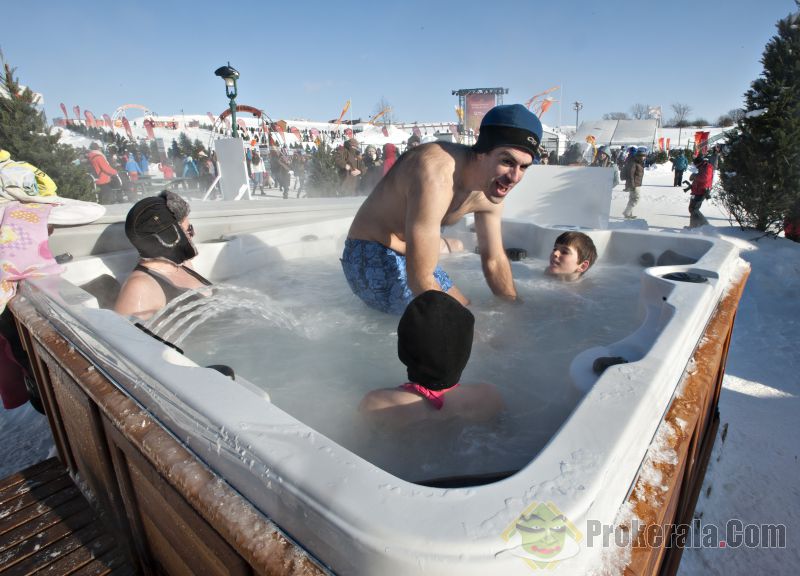 16. Dancing
Music is a big part of the Quebec Carnival. There are usually some big name acts and bands playing throughout the event. On certain days there are huge outdoor dance parties scheduled that are equipped with renowned DJ's blasting hypnotic rhythms. Moving to the music is one way to stay warm. Things can get a little wild during these party bashes, so you might want to avoid if you're with kids.