Microbreweries and smaller craft brew operations have been sweeping the nation over the past decade or two. Many of these breweries now produce some of the best beer you can find. If you're tired of those substandard suds made by the big brands, be sure to check out these companies that cater to the more refined beer connoisseur or those looking for some bolder flavors. Their distribution might not be nationwide, but they make great local quaffs when you're in their neighborhoods. Here are 15 of the best small breweries in the US.
1. Stone Brewing Company, Escondito, California
Founded in 1996, Stone Brewing Company is most famous for its Stone Pale Ale. Their limited releases include a Smoked Porter infused with vanilla beans, a Coffee Milk Stout, and Do These Hops Make My Beer Look Big. Don't miss their bourbon barrel-aged Arrogant Bastard Ale. Known for is innovative style, unique collaborations and reliably great beers, Stone Brewing Company also features tours that are popular with travelers.
2. Bell's Brewery, Kalamazoo, Michigan
Bell's has been producing extraordinary craft beers since 1983. Its Two-Hearted Ale has been voted one of the top five beers in the country. Touring the brewery or eating at its Eccentric Café is a treat – the food and beer perfectly complement each other. Bell's grows their own barley in a local sustainable farm to use in their beer. From Cherry Stout, Smitten Golden Rye Ale and Oktoberfest Beer, their bottled and draft brews will knock your socks off.
3. Three Floyds, Munster, Indiana
Three Floyds is a remarkable brewery with a loyal following that produces world-class beers like Alpha King and Arctic Panzer Wolf. The brewery is a treat to visit with its adjoining bar and restaurant. Three Floyds is famous for its seasonal batches and Dark Lord Fest, the only time you can purchase the iconic brew. If you get a chance, be sure to try the Admiral Nelson, a deep amber ale with complex malt sweetness and pronounced apricot hoppiness.
4. Harpoon Brewery, Boston, Massachusetts
Founded in 1986, Boston's Harpoon Brewery is well known for its Boston-based beer festivals. However, its best beers are distributed nationwide. Flavors like raspberry and rye complement their wide array of beers. If you're traveling in the area or are lucky enough to see it on your local bar menu, be sure to sample their award-winning brews like UFO Gingerland and Chocolate Stout.
5. Shipyard Brewing Company, Portland, Maine
Brewing remarkable beers since 1992, Shipyard Brewing Company is easily considered one of the best hand-crafted breweries on the East Coast. When visiting, be sure to sip some Melonhead, Pumpkinhead, Smashed Blueberry or the celebrated Bourbon Barrel Aged Series. If you can find this beer in your area, you'll definitely want to stock up.
6. SweetWater Brewing Company, Atlanta, Georgia
Atlanta's SweetWater Brewing Company is one of the highest ranking and best loved microbreweries in the country. It's most popular product is its SweetWater Extra Pale Ale, but you should also sip some Hop Hash, a unique hash-infused double IPA. Recently, the award winning company has increased its distribution, so now more states are enjoying their brews than ever.
7. Lagunitas Brewing Company, Petaluma, California
Lagunitas Brewing Company is known for putting its own unique stamps on traditional brews. As one of the top-selling craft breweries in the country, Lagunitas is quickly becoming a household name. It has year round favorites and a line of get-em-while-you-can seasonal brews too. So far, the brewery ships its products to thirty-two states, but that number is likely to increase in the coming year.
8. Rogue Ales, Newport, Oregon
Rogue Ales has been brewing full-flavored beers since 1988. The brewery was started by a few Nike executives who opened their first brewpub on the city's waterfront. They grow their own hops, barley, rye, pumpkins and honey for their operation. Try the Brutal India Pale Ale, the Sriracha Hot Stout or the Voodoo Donut Bacon Maple Ale. Success has certainly followed the brewery, which continues to garner praise from beer lovers all over the country.
9. Narragansett Brewing Company, Providence, Rhode Island
Founded in 1890, Narragansett Brewing Company is a veritable veteran in the brewing industry still going strong as one of the best small breweries in the US. An iconic New England beer associated with the Boston Red Sox, Narragansett continues to brew for its loyal fans who enjoy classic American lagers and ales. If you've ever seen Jaws, you might remember the crushed can scene that features this popular beer.
10. Oskar Blues Brewery, Longmont, Colorado
Founded in 1997, Oskar Blues Brewery has become an increasingly popular craft brewery in an area of heavy competition. They're one of the few craft breweries that eschew glass bottles to sell their beer in convenient, recyclable, keep-fresher-longer cans. The brewery is particularly famous for its tours and taste testings. Oskar Blues' celebrated grill and bar feature more than forty brews on tap.
11. New Glarus Brewing Company, New Glarus, Wisconsin
New Glarus has been delighting Wisconson beer lovers with its great-tasting beers since 1993. Its Spotted Cow beer leads the brewery's sales and is a farm-style ale that's sweetened with corn (not high-fructose corn syrup – and important distinction). Try their Raspberry Tart or Serendipity beers for some refreshing fruity brews.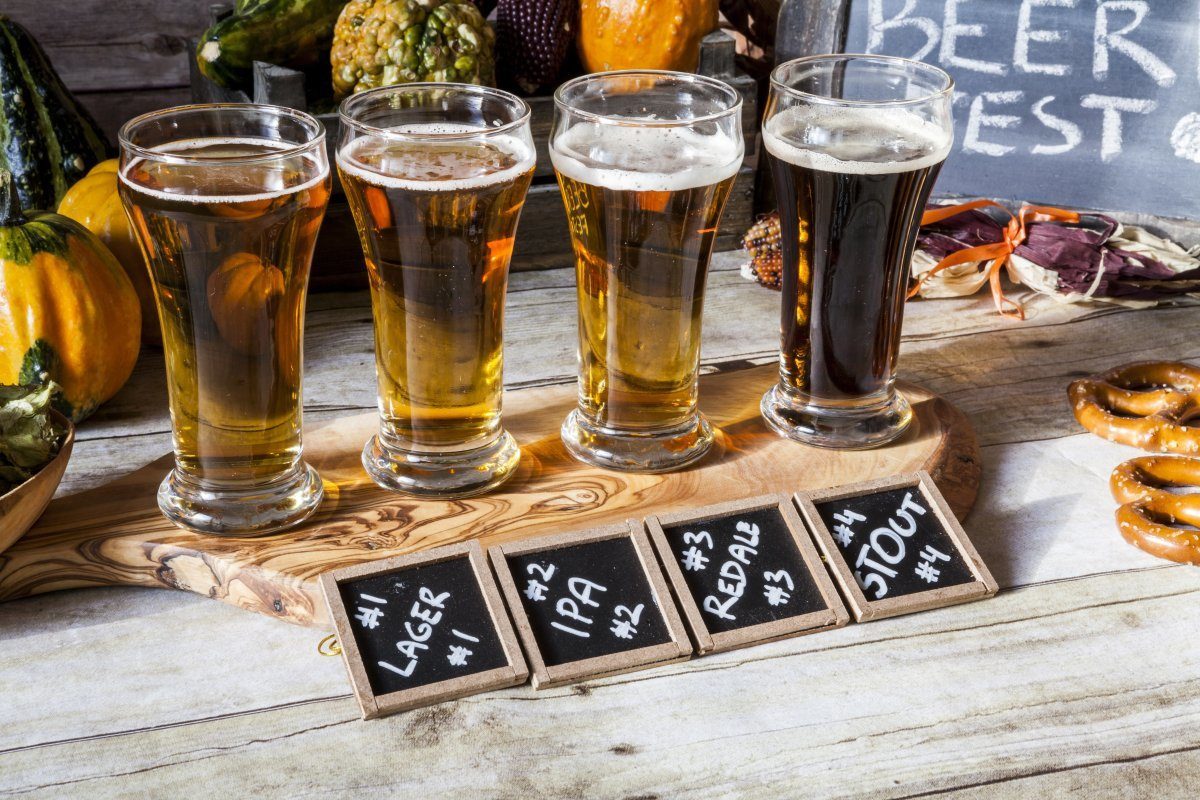 12. New Belgium Brewing Company, Fort Collins, Colorado
New Belgium Brewing Company is a popular craft brewery that is known for its popular offerings like Fat Tire, Ranger IPA and Sunshine Wheat. Pucker up with their line of sour beers, aged in wood barrels and full of green apple, cherry and plum-skin notes that will turn your tongue on its head. Founded in 1991, the brewery has been growing at a steady pace.
13. Deschutes Brewing Company, Bend, Oregon
A favorite among Oregon craft brew fanatics, Deschutes Brewing Company has been creating signature beers and ales since 1988. With its year round faves and seasonal brews, Deschutes will blow you away with their edgy style. Known for its creative flair, this brewery has earned its reputation as an innovative leader. The company has won a string of accolades including America's Best Label at the 2014 World Beer Awards.
14. Founders Brewing Company, Grand Rapids, Michigan
Founders Brewing Company didn't set out to make beer for the masses. They're passionate about making complex, bold, flavor-rich, in-your-face ales for a small cadre of renegades and rebels. Despite these humble ambitions, they have been ranked as one of the top breweries in the world by Ratebeer.com for the past five years. Try their barrel-aged Kentucky Breakfast Stout is infused with cocoa, coffee and vanilla.
15. Tröegs Brewing Company, Hershey, Pennsylvania
Two brother's are behind this Pennsylvania micro brewery that produces six year-round and five seasonal beers. Their Mad Elf Ale is a Christmastime favorite, with cherry, honey, dark chocolate and spicy notes. Try the crisp and hoppy Sunshine Pils for a refreshing warm weather brew. Pop in for a brewery tour and tasting when you're in the area. They're one of the finest small breweries in the US.