About 50 million tourists visit Italy each year to soak up its phenomenal food, art, history, fashion and landscapes. You can't do it all in one trip, so deciding which places to see and which to skip is always the challenge. There are countless mountain villages, beach towns, lakeside communities, idyllic islands and rural regions to choose from, but this list is focused on the more urban areas. Chances are you'll want a little city action peppered throughout your visit. Each one has its own personality, flavor and aesthetic appeal. Here are our picks for the 12 most beautiful cities in Italy not to miss.
1. Verona
The fair city of Verona would exude elegance and charm even without its Shakespearean connection. The Bard based The Two Gentlemen of Verona there and it was also the romantic setting for Romeo and Juliet. While there is a "Juliet's balcony" tourists flock to, keep in mind that this play was a work of fiction. A more authentic attraction is Verona's Arena, an ancient Roman amphitheater built in 30 AD. Even if you're not an opera fan, you must take in a performance at this age-old acoustically astounding venue – even just to watch the passionate crowd. Verona has so many historically significant buildings, the entire city has been declared a World Heritage Site. Just wandering the shops, cafes and homes in the side streets of the walled historic center will be a treat for the soul.
2. Turin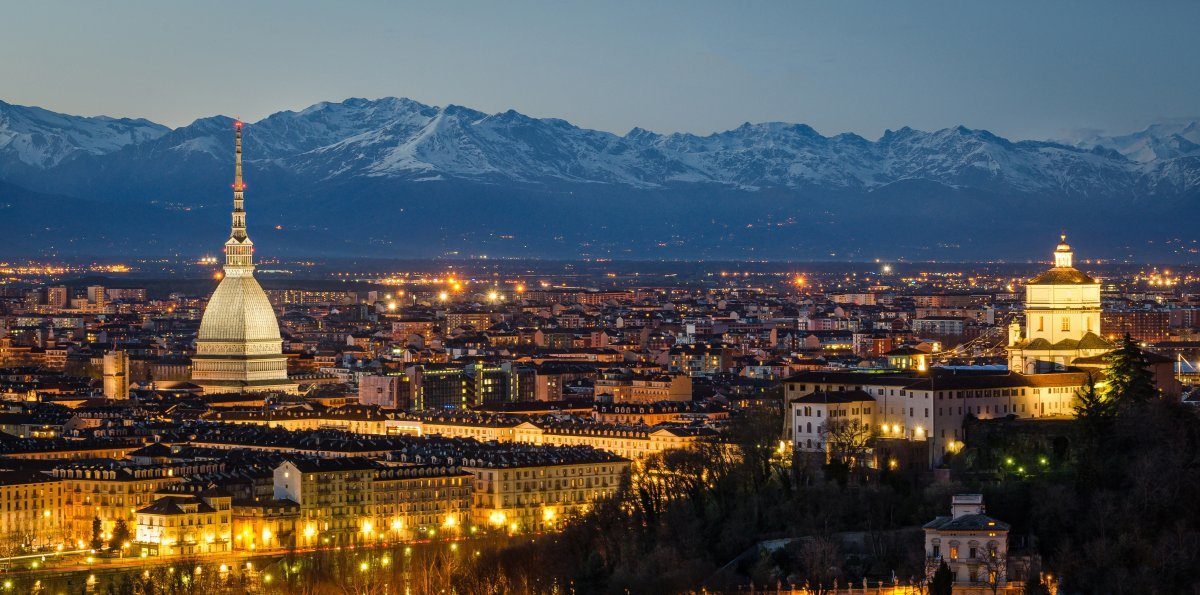 Turin (Torino) doesn't always make it on the itineraries on people's tours of Italy, but those that do visit are in for a treat – quite literally. Turin was the birthplace of the individually wrapped chocolate bonbon (grazie mille!), and it is still a major center for chocolate production today. It was newly unified Italy's first capital, but now it's mostly know it for its Holy Shroud, Fiat factories and hosting of the 2006 Winter Olympics. With tree-lined boulevards, snow-capped Alps on the horizon, fashionable boutiques, baroque palaces, art nouveau mansions and an innovative culinary scene, this underrated Piedmont treasure may surprise you.
3. Lucca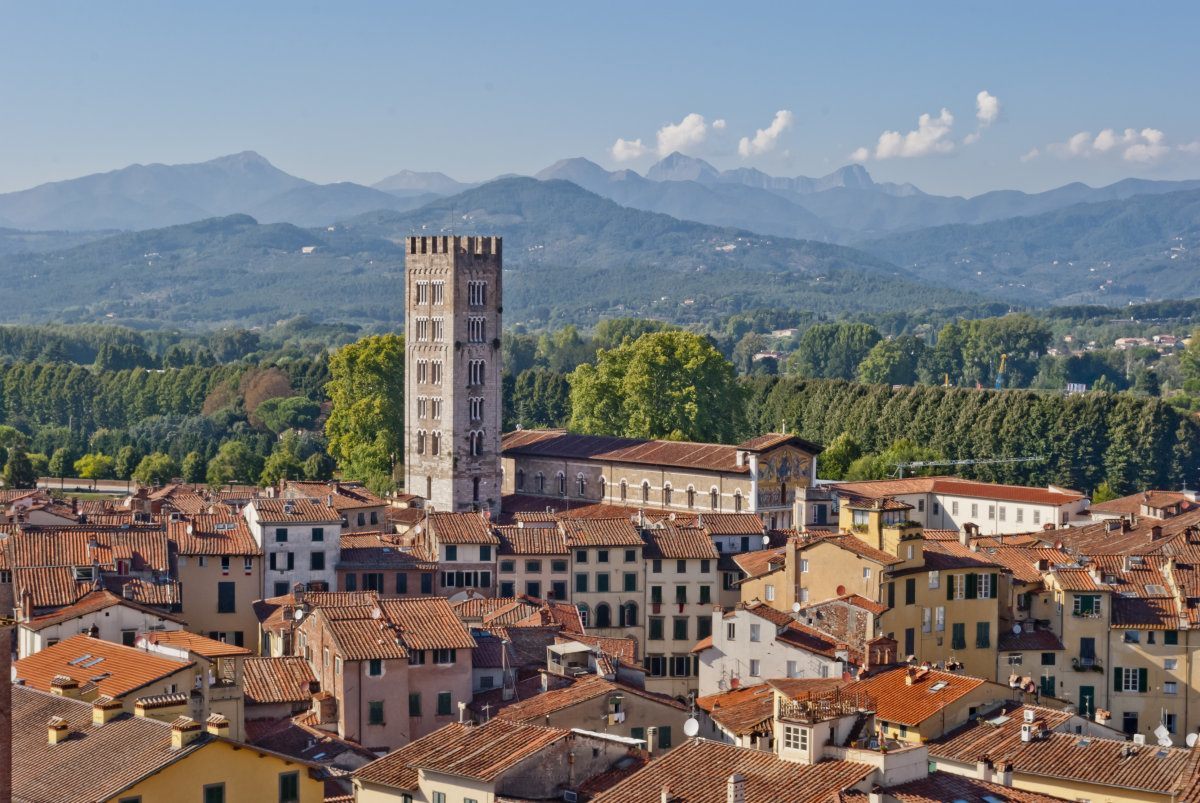 Most visitors choose Pisa when they're in Northern Tuscany, desperately seeking that iconic shot of the Leaning Tower. However, don't overlook this pretty Renaissance town at the foot of the Apuan Alps. It can be a great base from which to explore Pisa, Florence and other Tuscan towns, but has its own appeal too. As you might expect there are countless churches, cathedrals, piazzas and clock towers giving the cobblestoned city a historical pedigree. Lucca is one of the rare enclosed cities with its walls intact. No longer a military blockade, today's top of the walls are a pedestrian promenade where people traverse the town by foot or by bike. The views of the city and surrounding countryside from up there are spectacular, and best enjoyed with a gelato in hand.
4. Venice

No list of beautiful cities in Italy could omit this jewel, arguably the most visually stunning in the world. Nothing else compares to this multi-island city set in a shallow lagoon, with its meandering myriad of canals, 409 bridges and countless architectural wonders. Thankfully, there are no cars to contend with here so you get around by foot or by boat. Don't be too proud to take a gondola ride; everyone should do it at least once in a lifetime. It's best to wander aimlessly through the back streets and alleyways without an agenda. You'll stumble upon endless craftsmen, artisans, markets, cafes, churches, palaces, galleries, theaters and more. Venice's only negative is its popularity, as hordes of day-tripping cruisers and other tourists cram into its famous squares, churches, clock towers, restaurants and museums every day. Go there during the off-season or stroll around at night to truly take in its hauntingly beautiful atmosphere.
5. Taormina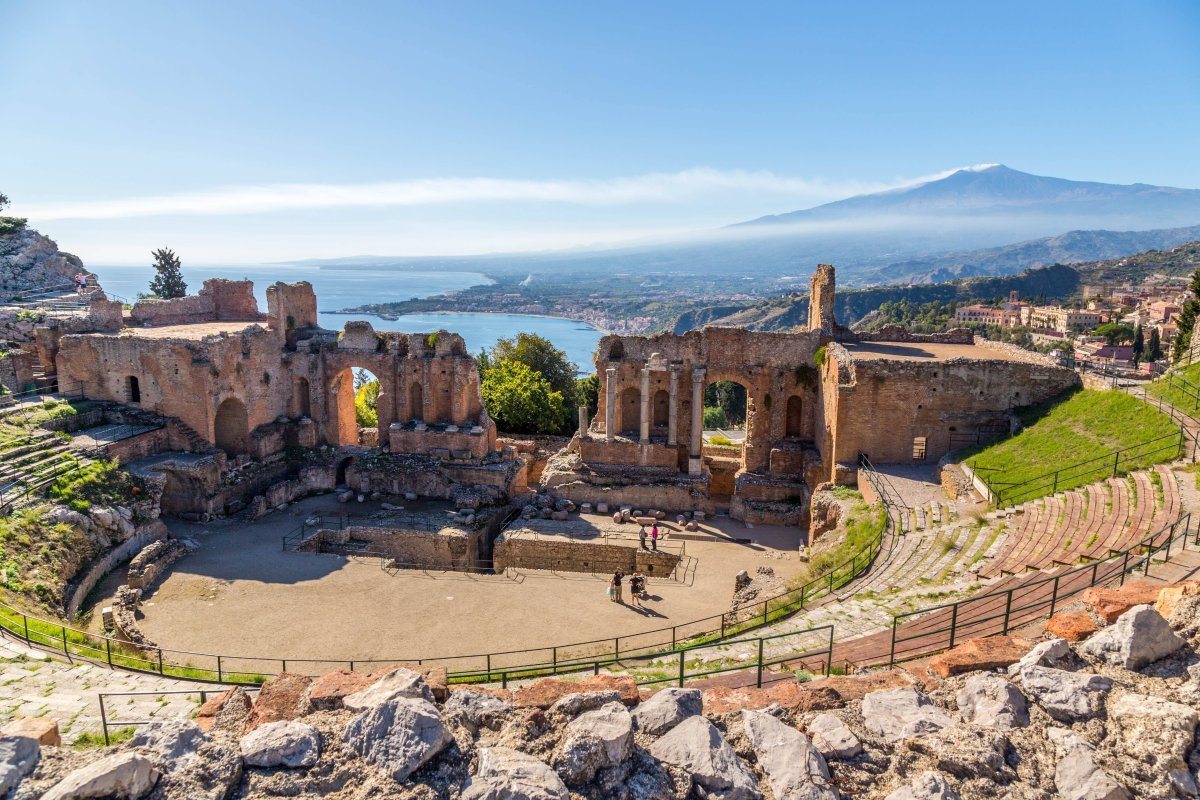 Taormina is Sicily's most popular resort town, and is well worth a trip off the toe of the boot. With sweeping views of two bays and active Mount Etna looming over it, Taormina has a magical, mythical beauty to it. Its ancient heritage is evident in its Greek amphitheater, where world-class concerts and performances are still held today. Taormina's old Medieval quarter is particularly inviting, with elegant piazzas offering an array of shopping and dining opportunities. Some of the best pasta in all of Italy can be found here.
6. Siena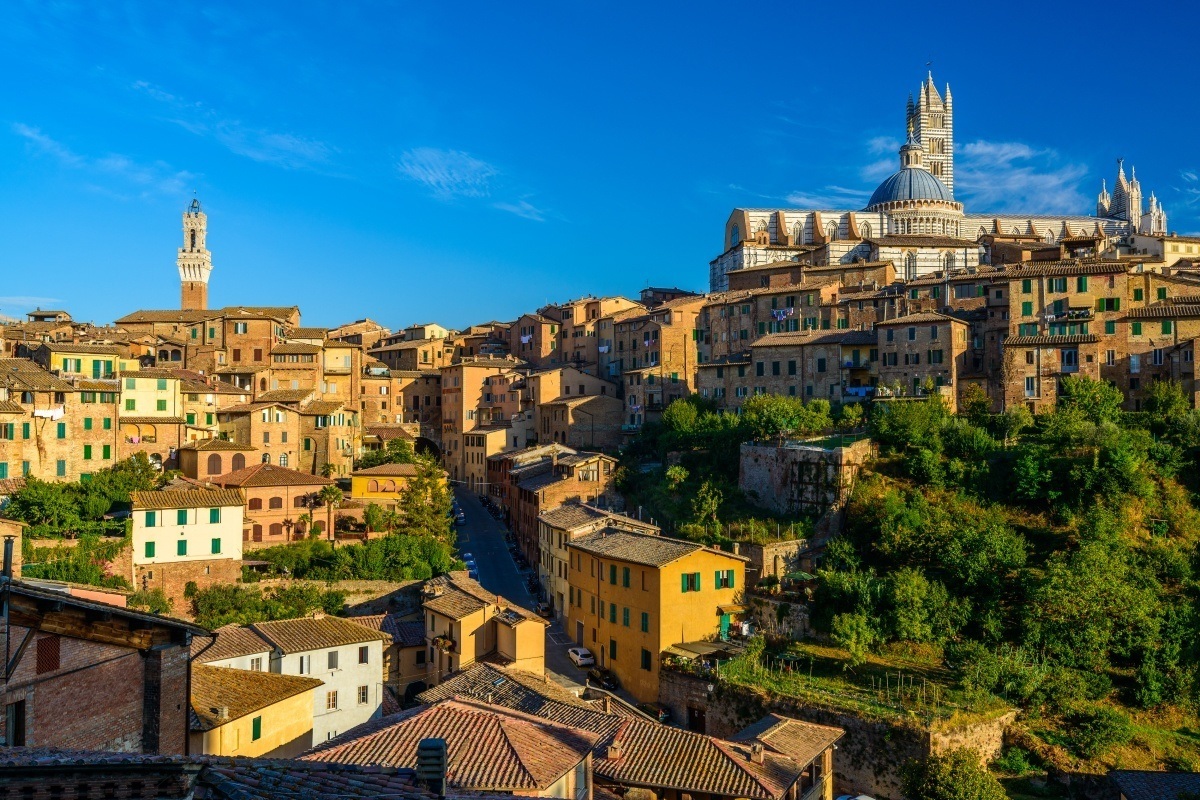 Brimming with Gothic architecture and artistic masterpieces, the medieval town of Siena has also been declared a UNESCO World Heritage Site. It is set on three hills and is one of the most scenic cities in all of Tuscany. Many people try to time a visit with the summer Palio festival, an age-old horse race that runs around the central shell-shaped piazza. Il Campo is dominated by the red Palazzo Pubblico and its Torre del Mangia tower. Climb the 500 steps and be rewarded by idyllic views of the town and surrounding Chianti countryside.
7. Rome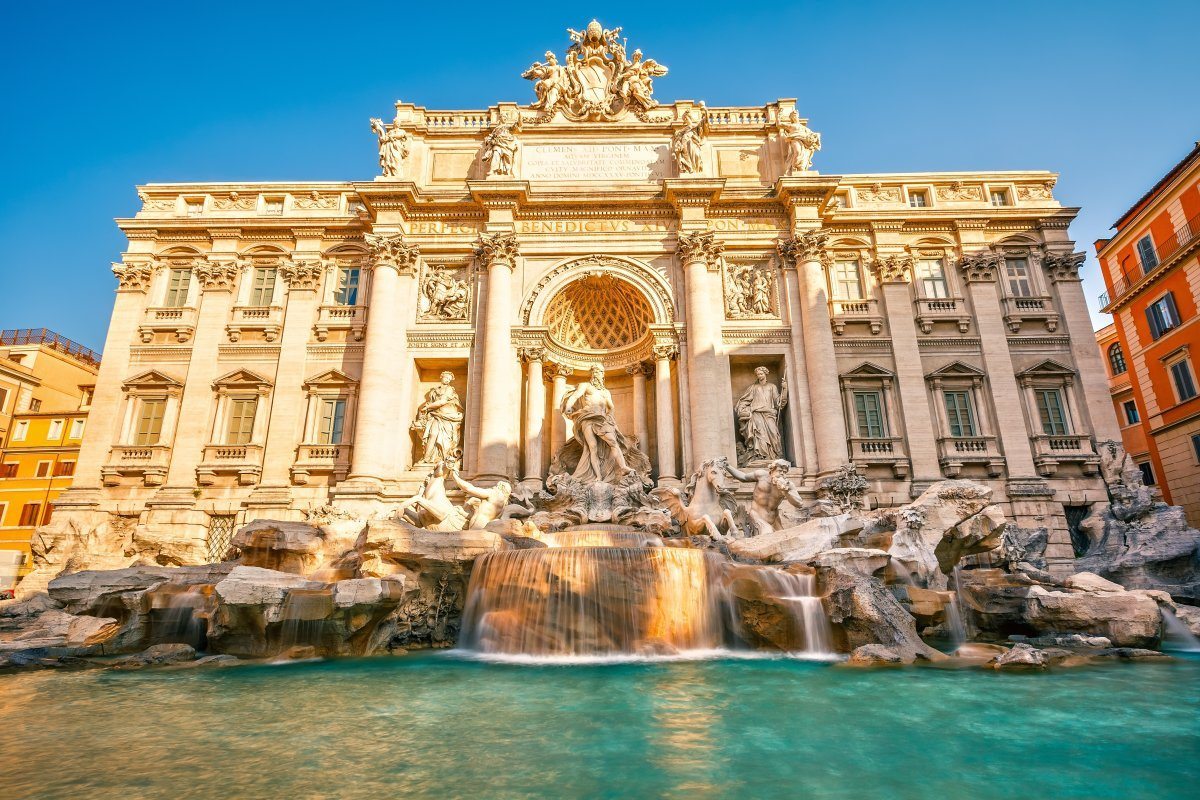 A visit to the hub of the Roman Empire is on every traveler's wish list. This showcase of Western Civilization is so rich with historic, artistic and culinary marvels, you can't miss out on experiencing the "Eternal City" first hand. Just walking past the Colosseum, the Forum or the Pantheon will have you humbled by antiquity. The Baroque flamboyance of the Trevi Fountain and Piazza Navona will dazzle you. Perusing the Vatican, the Capitoline Museum and the Borghese Gallery will leave you artistically awestruck. True, the traffic is mayhem and the suburbs nondescript, but you don't have to look hard to see the inherent beauty in this city set on seven hills. It's a feast for the eyes and the palate.
8. Alberobello

Granted, this is more of a small town than one of the beautiful cities in Italy, but it's just so distinctive it had to squeeze onto the list. Alberobello is in the southern Italian region of Puglia, and what makes it unique is its trulli architecture. The whitewashed limestone structures with the pointy-hat roofs give the town a gnome-like feel. There's a surreal beauty to wandering around these 14th century dwellings, some of which are now tchotchke shop and tourist restaurants. There are about 1500 conical trulli in town, and they are a sight to be seen.
9. Bologna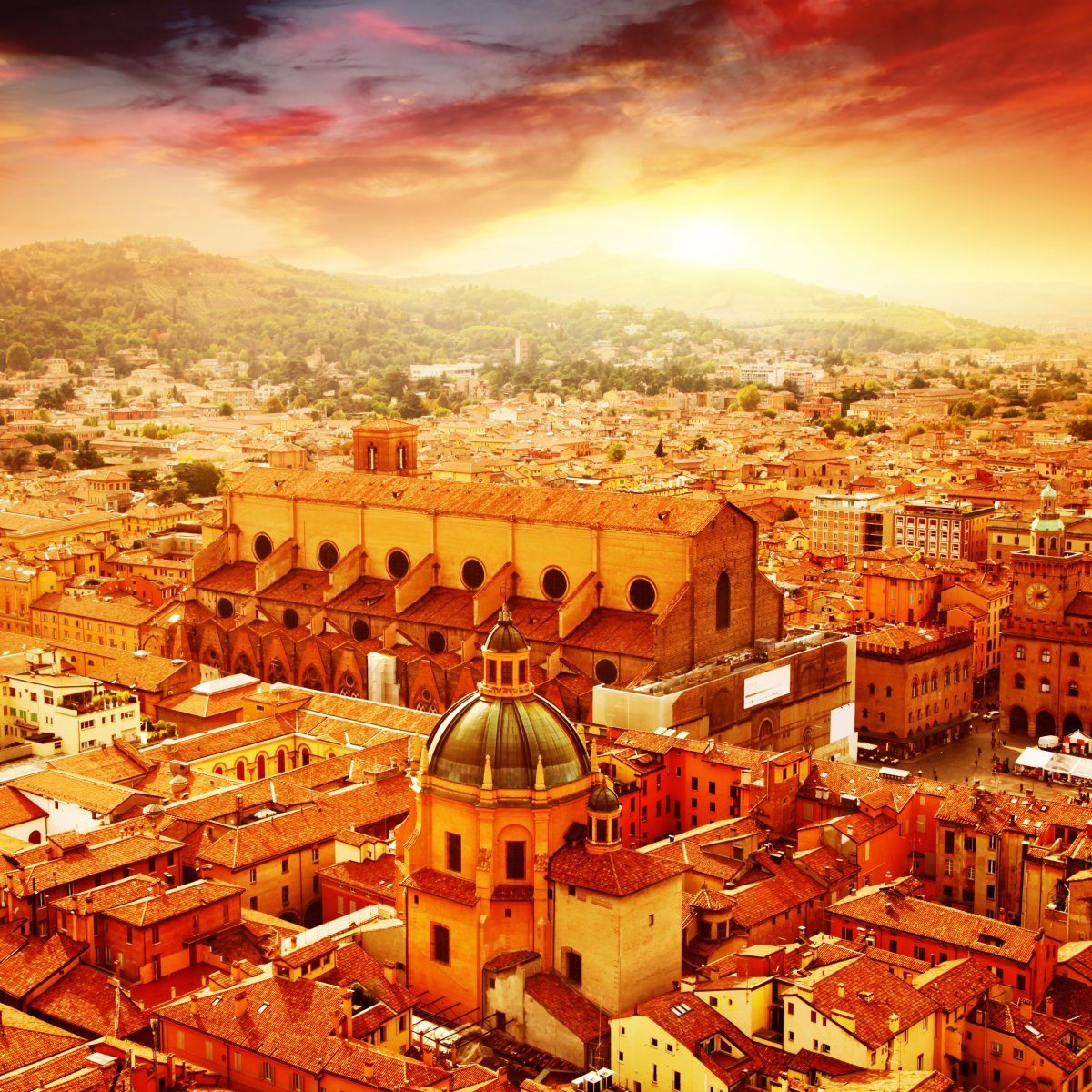 Bologna isn't a show-off town with checklists of must-see tourist attractions. However, this multifaceted well-to-do Emilia-Romagna city is worthy of a visit. It houses the world's oldest university (founded in 1088), so there's an intellectual element and student vibe in the mix. It also has a sophisticated side, with plenty of opera houses, theaters and galleries to impress your artistic sensibilities. Its historical center boasts beautiful medieval towers, red-roofed antique buildings, elaborate churches and historical basilicas. Perhaps its biggest boast is its culinary excellence. We should all tip our hats to this town for bringing us spaghetti Bolognese and cured meats, among other delicacies.
10. Genoa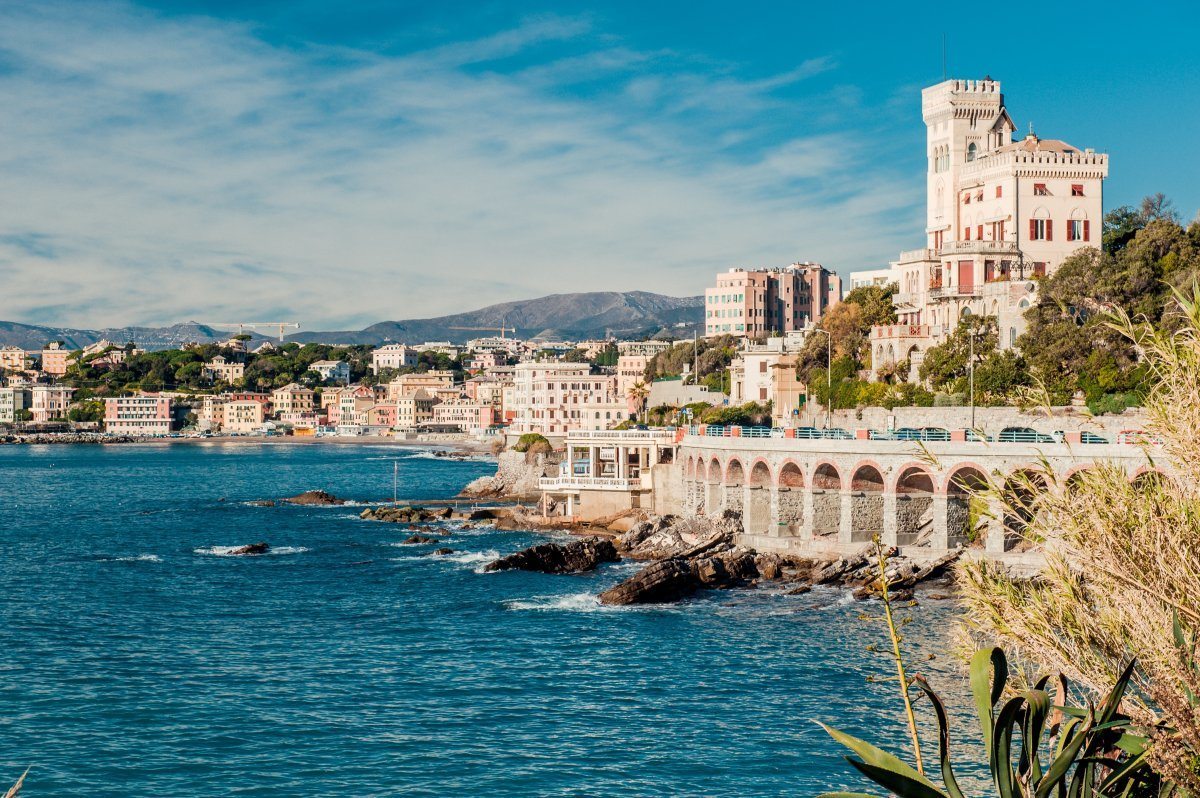 Genoa, the birthplace of Columbus, was a Mediterranean juggernaut back in the 12th and 13th centuries. Today, its the most bustling city in Liguria and the largest seaport in Italy. Beyond the busy shipyards and steelworks is a culturally rich metropolis with a vibrant art, music and gastronomy scene. In fact, it was declared the 2004 European Capital of Culture. The cosmopolitan center is snaked with twisting lanes called caruggi that are fun to explore. Medieval and baroque architecture adds to the Genovese charm. The city is bordered by the Ligurian Sea and the Apennine Mountains so there are plenty of scenic vistas to enjoy, such as the promenade along the Lido d'Albaro. If you need an escape, Camogli, Portofino and other coastal towns are not far away.
11. Perugia

Tuscany seems to get all the glory, but Umbria holds its own as well. Its small and friendly capital, Perugia, is a gem of cobblestoned alleyways, storied mansions, historic churches and inviting piazzas. While this Etruscan city is seeped in the past, it also has a modern energy due to its role as a student-filled university town. There's always a concert, festival or artistic happening around here. Views of the surrounding hills and valleys are blissful.
12. Florence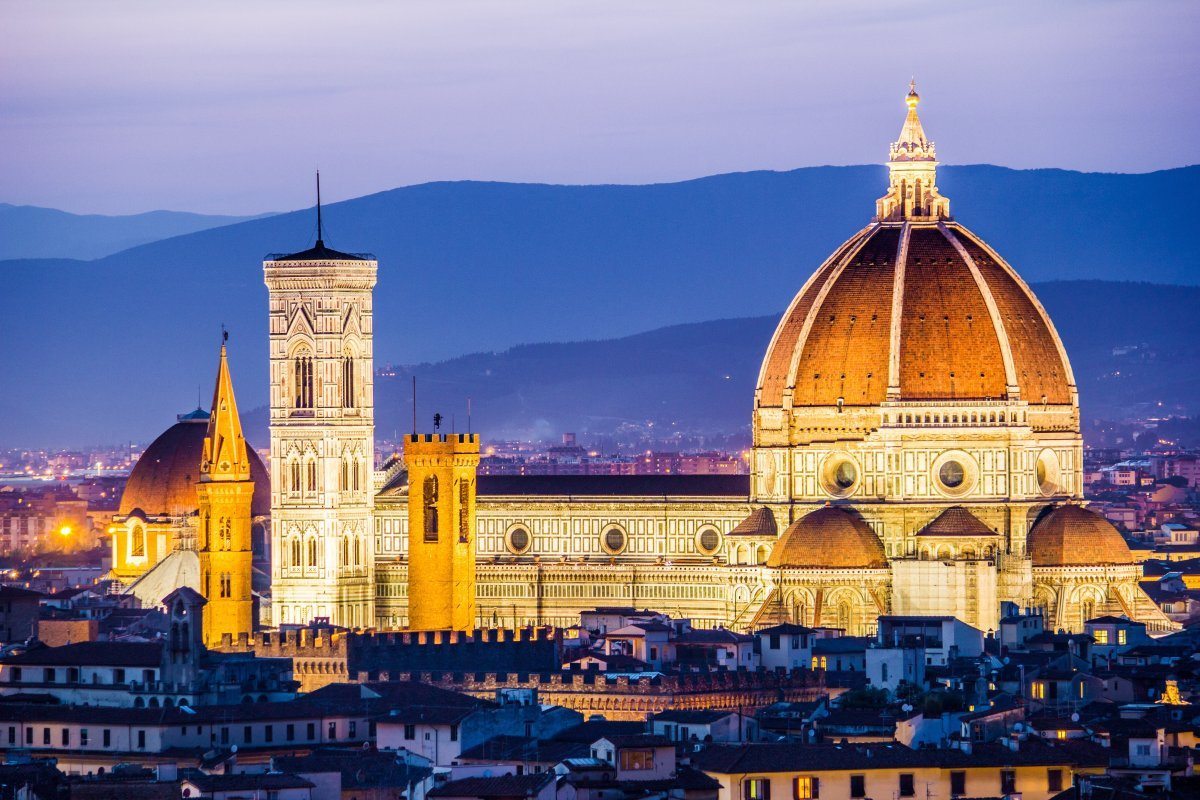 Florence (Firenze) is a major magnetic draw within Italy, the kind of place you can return to again and again and always discover something new. It's like stepping back into Renaissance times, except with more gawking tourists around. You can't blame them, as you will be slack-jawed too. Everywhere you look is a magnificent marvel of art, architecture or sculpture, and that's not even touching on the exceptional food and wine. From the Duomo to the Uffizi, the Piazza della Signoria to the Ponte Vecchio, you will be soaking in beauty in this remarkable city.
What would you add to this list of beautiful cities in Italy?