Las Vegas is a veritable playground even if you're not that into casinos. While the slots and tables used to be the main attraction in Sin City, they're almost an afterthought for many Vegas visitors today. There's just so much else to see, do and experience here. With its luxury resorts, world-class spas, top-chef restaurants, premium golf courses, spectacular shows and endless shops, Las Vegas will never leave you bored. Here are 11 things to do in Vegas besides gamble.
1. Red Rock Canyon
Red Rock Canyon National Conservation Area is just outside the city and is a top natural attraction for outdoor enthusiasts. Climbing to the top of the rocks can be a workout, especially in that desert heat, but it's worth it just to enjoy the stunning views of the surrounding terrain. Red Rock Canyon makes for a exciting excursion when you feel like taking a break from the bright lights of the Strip.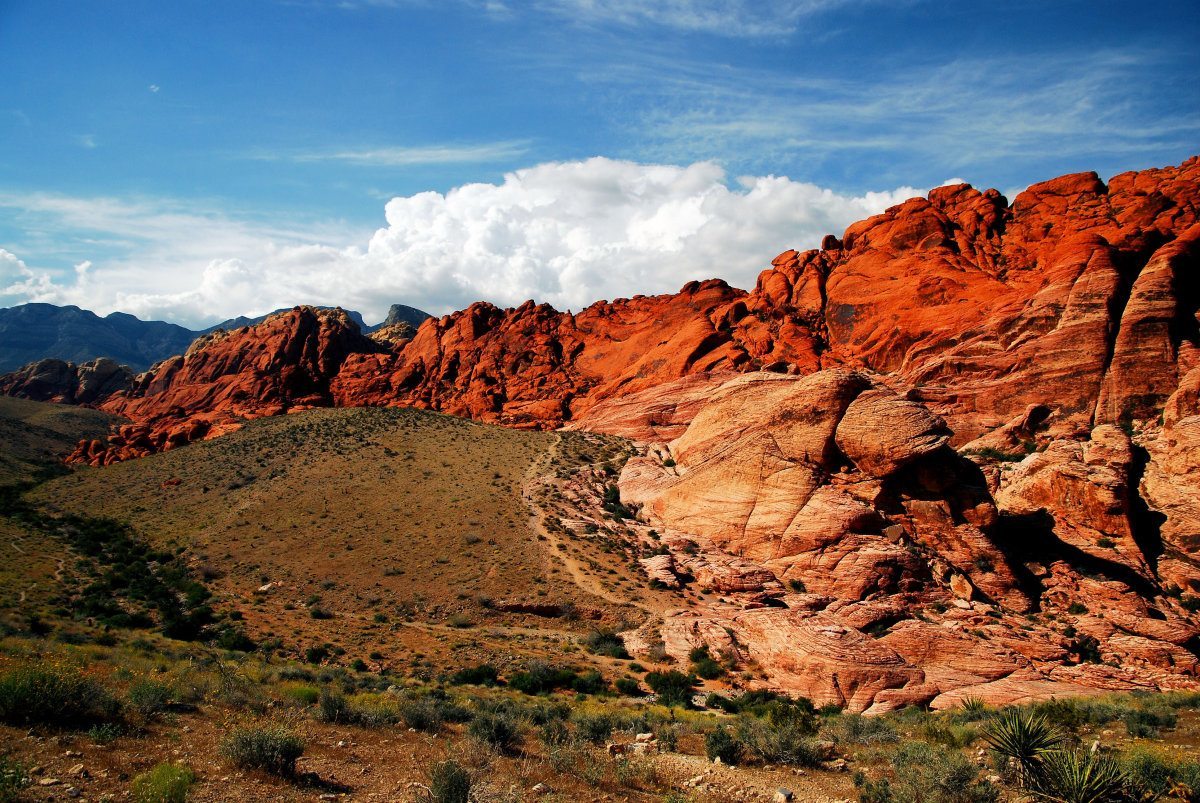 2. Bellagio Conservatory and Botanical Gardens
The Bellagio is famous for its dancing fountains, but it also boasts a conservatory with 120 gardens that are nothing short of enchanting. Free to the public and open all day, every day, these gardens are a rare peaceful oasis in a city that isn't exactly known for its tranquility. However, this being Vegas, the botanical beauties are bedazzled with incredible Vegas-worthy constructions and highlighted by incredible light shows you have to see to believe.
3. The Venetian's Grand Canal Shoppes
The Venetian boasts an outstanding array of shops and boutiques to entice any discriminating shopper. You'll find designer fashions, world-class wines, high-end jewelry and other specialty shops. Even if you're just window shopping, the faux Italian atmosphere is something to see. Take a gondola ride to explore the glittering mall and have a bite at one of the many sidewalk cafes or fine dining restaurants. Stroll along the cobblestone streets and over bridges while being serenaded by wandering opera singers. See living statues you'll think were made of stone. It's the next best thing to being in Venice.
4. Neon Museum
The Neon Museum showcases the glitzy signs and past relics of Vegas. The marquees of old casinos, hotels and other venues are laid to rest outside on the six-acre campus. You can enjoy the sunshine while photographing the artifacts of early Vegas. You don't want to miss a guided tour of this nostalgic "neon boneyard".
5. Hoover Dam
Located less than an hour's drive from Vegas, Hoover Dam is a remarkable feat of engineering. Enjoy a self-drive day trip or take a tour of the dam on the border of Arizona and Nevada. Check out the on-site museum and learn about its importance for the region. Having opened in 1936, the dam has been instrumental for providing hydroelectric power to the desert. With all that Las Vegas neon, you know this is significant. If you're traveling with kids, this is great sight to show them.
6. Cirque du Soleil
Offering eight of the most spectacular shows in the city, the Cirque du Soleil franchise has become one of the must-see attractions in Las Vegas. Audiences are thrilled with their amazing acrobatic performances, incredible music and innovative artistry. There are a wide array of popular shows in this city, but there's something special about Cirque. Order tickets online in advance as these popular performances can sell out. The aquatic O with its pool stage and dramatic high-dives is a particular favorite.
7. Flamingo Wildlife Habitat
The Wildlife Habitat is open to guests and non guests of the classic Flamingo Hotel, the oldest hotel still in operation on the Las Vegas Strip. Situated near the hotel's majestic pool, the garden habitat is home to a wonderful array of animals like Chilean flamingos, swans, duck, koi, and more. Relax in the sunlit courtyard while viewing the creatures on display.
8. Silverton Aquarium
One of the city's best-loved free attractions, the Silverton Hotel and Casino's large saltwater Aquarium features about 4,000 types of fish including various sharks and stingray. Catch the kitchy mermaid show when you visit. It's also fun to view the interactive fish feedings.
9. Shark Reef Mandalay Bay
For an even more amazing aquarium experience, head to Mandalay Bay on the Strip and check out their Shark Reef exhibit. It's billed as a total sensory experience under the sea, and showcases mainly dangerous aquatic predators including 15 species of sharks. Walk through the acrylic tunnel and explore a shipwreck environment. It's the closest thing to scuba diving without getting wet. However, if you don't mind the water and are a certified diver, you can actually arrange to dive in this enormous tank, allowing you to interact with more sharks than you ever could in the wild. Don't worry, they give you chain mail suit to keep you safe.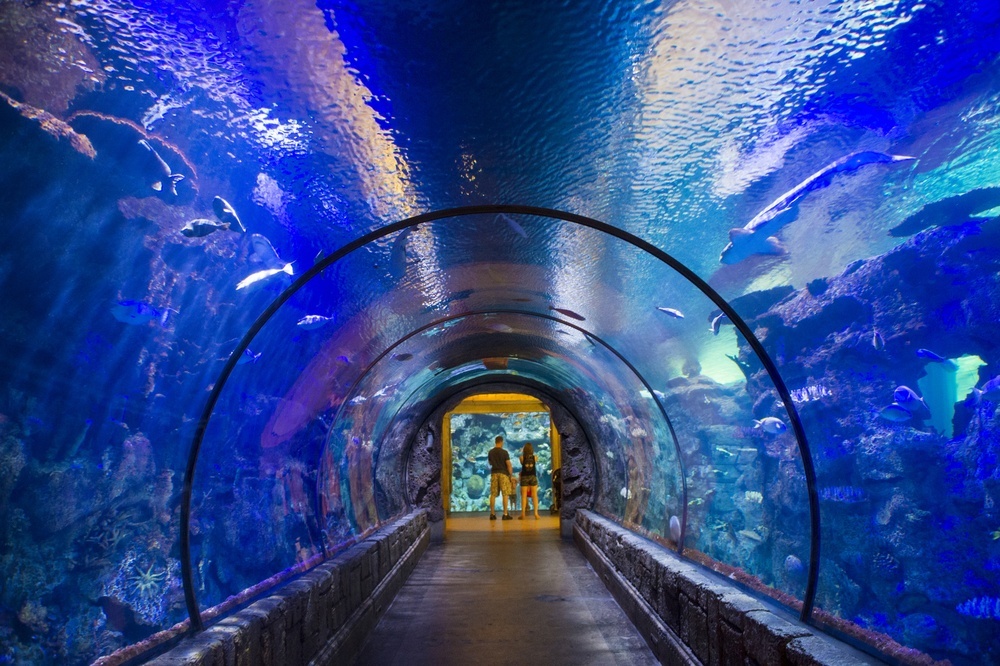 10. Excalibur Tournament of Kings
The medieval performances at the Excalibur Casino are a fun experience to enjoy when you visit the city. All ages seem to love the jugglers, jesters and jousters as you are transported back in time to the Middle Ages. For a remarkable finger-licking banquet complete with dancing maidens, live horses and armored knights, check this classic Vegas show out.
11. Las Vegas Motor Speedway
You might be lucky to be in town for a big pro race, but why not get behind the wheel yourself? The Las Vegas Motor Speedway offers Dream Racing five-star driving experiences in a Ferrari, Lamborghini, Porche or other exotic race car. Have fun on the simulator then get out on the track for a couple of heart stopping laps while an instructor offers you tips and pointers. For a true car enthusiast, this might trump all other attractions in Vegas. Packages don't come cheap, but you only live once, right?