Nearly every municipality in Japan is home to at least one temple or shrine. Although tourists often interchange these two terms, it's akin to mistaking a church with a synagogue. The two main religions in Japan are Shinto, which is practiced in shrines, and Buddhism, which is practiced in temples. Many Japanese people dabble in both faiths, so there is no great offense taken if you mistake one for the other. From a visitor's point of view, these places of worship are scenic structures with features like pavilions, gates, statues and pagodas, often in picturesque garden settings. It's hard to imagine traveling to Japan without visiting at least a few of these celebrated spots. Here are 11 stunning temples and shrines of Japan to put on your list.
1. Kinkakuji
Kyoto is often regarded as the city with the best temples and shrines of Japan. At the top of the must-see list is Kinkakuji Temple, famous for its gold-leaf finish and beautiful woodsy setting. The famous Zen temple (also known as Rokuonji) is situated on the banks of a pond and is well known for its gilded upper stories. In Japan, it is known as the "Golden Pavilion," and it is a spectacular sight in all four seasons.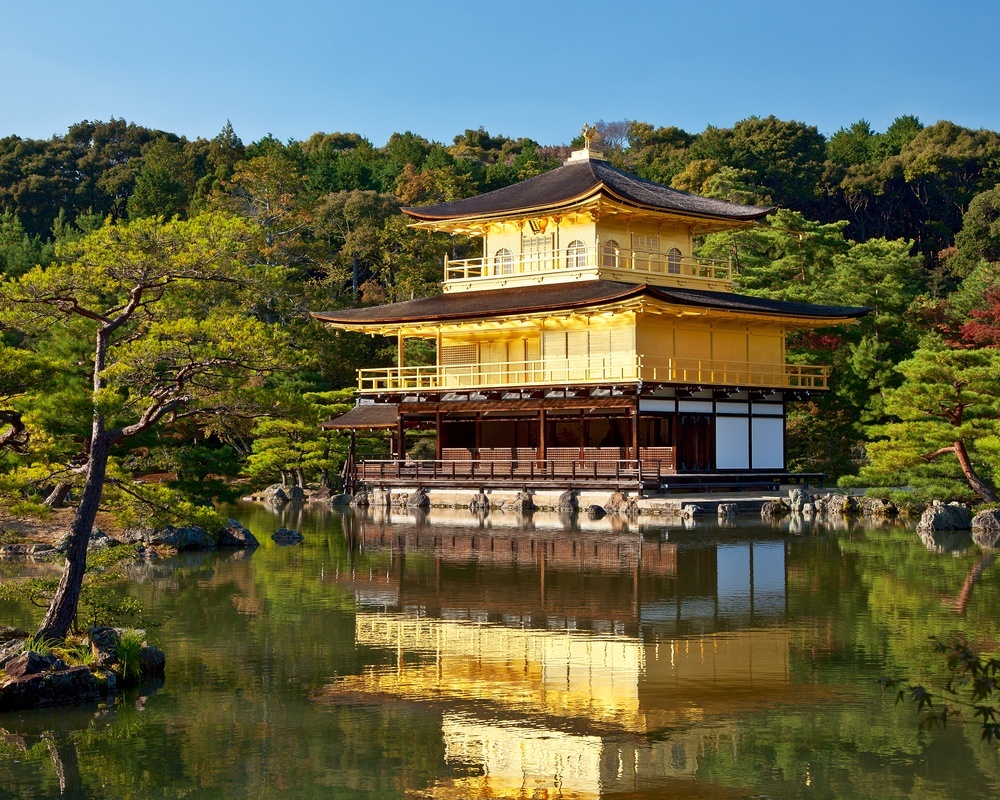 2. Sensoji Temple
Founded in 628 AD, the Sensoji Temple (also known as Asakusa Kannon) is the oldest temple in Tokyo. Located in the bustling neighborhood of Asakusa, this popular temple is revered for its celebratory setting, especially during the Festival of Sanja Matsuri in May. Because so many locals and visitors come here each year, there are many shops and eateries in the colorful streets of the area. Nakamise is the centuries-old main street where you can buy traditional Japanese goods like folding fans, yukata robes and parasols – and no doubt a few tacky Godzilla souvenirs as well. When visiting the capital, you don't miss Sensoji.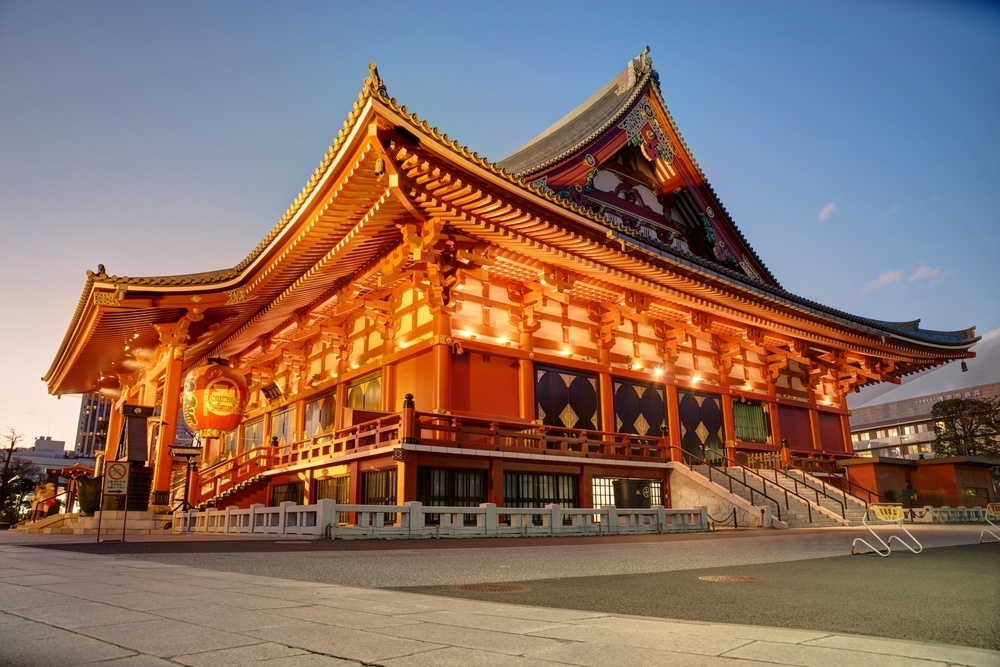 3. Ginkakuji Temple
Known in Japan as the "Silver Pavilion," Ginkakuji is located in a mountainous area of Kyoto where it is situated amidst a lovely moss garden. It was founded by the grandson of the man who built the "Golden Pavilion" who had every intention of covering it in silver-leaf. It never happened, but the name stuck. It's rather ironic that this structure that was supposed to be ornate and ostentatious is now a symbol of the Japanese aesthetic of restraint and refinement. Ginkakuji was converted to a Zen temple in 1490, and today, the sacred site is known for its air of tranquility.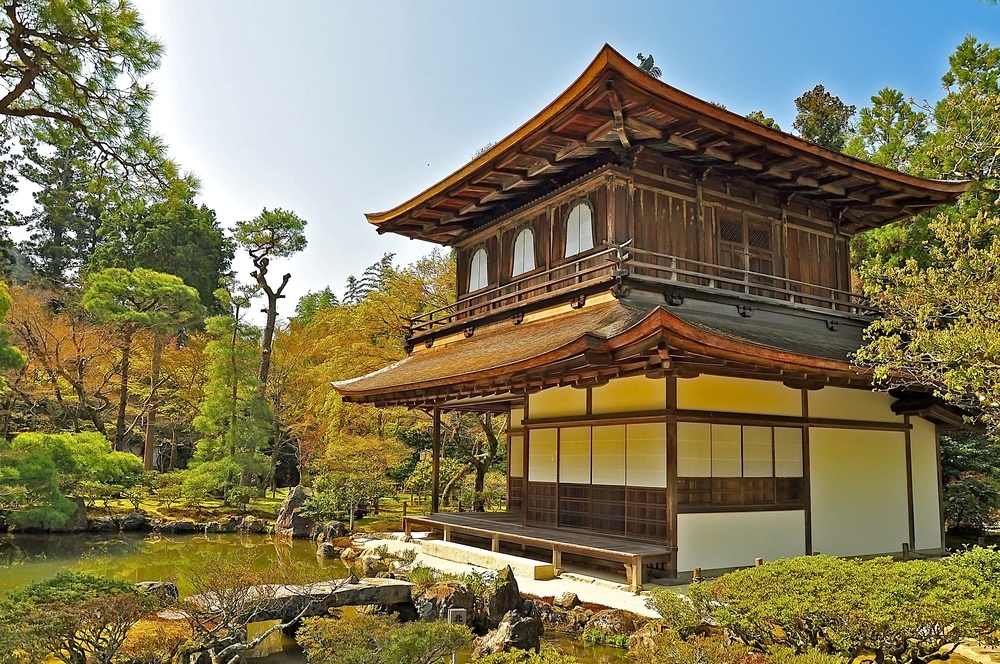 4. Hase Kannon Temple
With its majestic views of Kamakura Bay, Hase Kannon Temple is revered for its beautiful landscape filled with hydrangeas. The temple is uniquely built to include a cave that features a winding tunnel. Founded in 736 AD, it is home to one of the nation's largest wooden statues of Kannon, the goddess of mercy. Nearby is the "Great Buddha" Daibutsu statue, a towering bronze icon of Japan.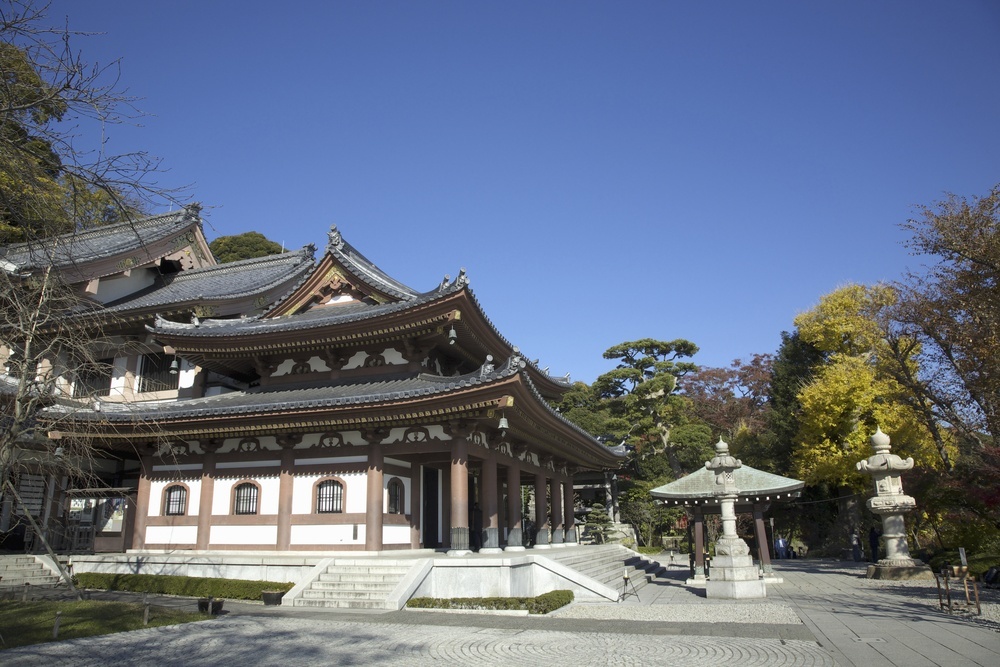 5. Kiyomizudera Temple
Known as the "Pure Water Temple," Kiyomizudera was established in 780 AD in the forested hills of Kyoto. A UNESCO World Heritage Site, Kiyomizudera was named for its nearby waterfalls and continues to be revered for its picture-postcard setting. With its stunning wooden terrace and surrounding pillars, this temple is widely regarded as one of the most beautiful in Japan. It's all the more impressive when you consider not one nail was used in its construction.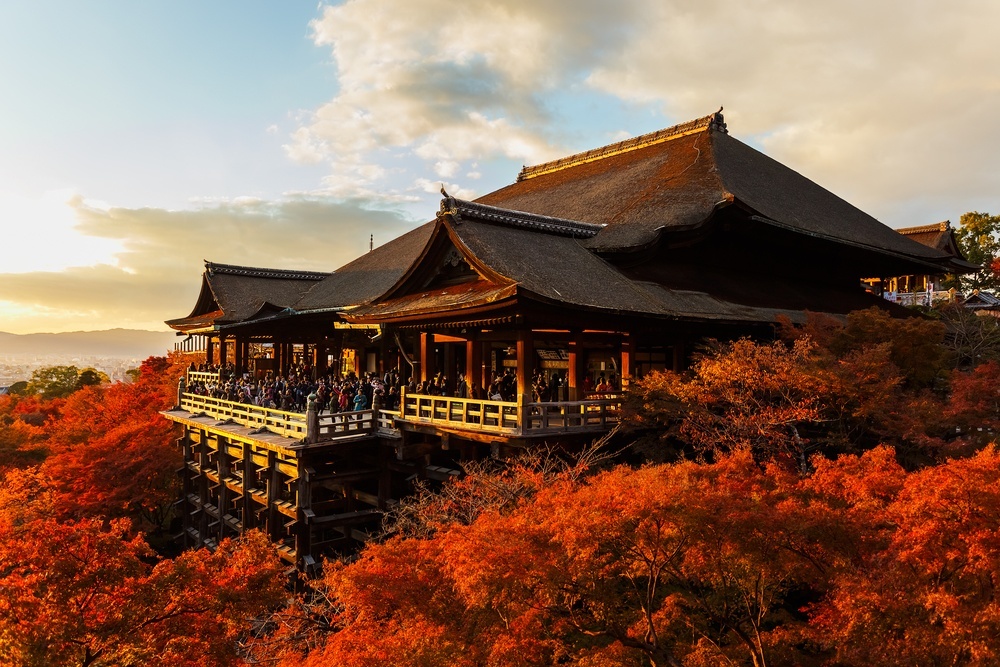 6. Toshogu Shrine
The Toshogu Shrine in the mountains of Nikko is the final resting place of Tokugawa Ieyasu, founder of the Shogun dynasty that ruled Japan for 250 years. The lavishly decorated complex is renowned for its gilded decoration, its five story pagoda and intricate wood carvings, including the famous sleeping cat and three wise monkeys. It contains both Buddhist and Shinto elements, and is a UNESCO World Heritage site. The Toshogu Shrine is well worth a day or two's trip up to Nikko when you're in Tokyo.
7. Ninnaji Temple
Located in Kyoto, the Ninnaji Temple is also a UNESCO World Heritage Site that was founded in 888 AD. The graceful rock gardens and ponds that surround the elegant structures are superbly designed. If possible, try to plan your visit when the temple's grove of cherry trees is in bloom, usually around mid-April.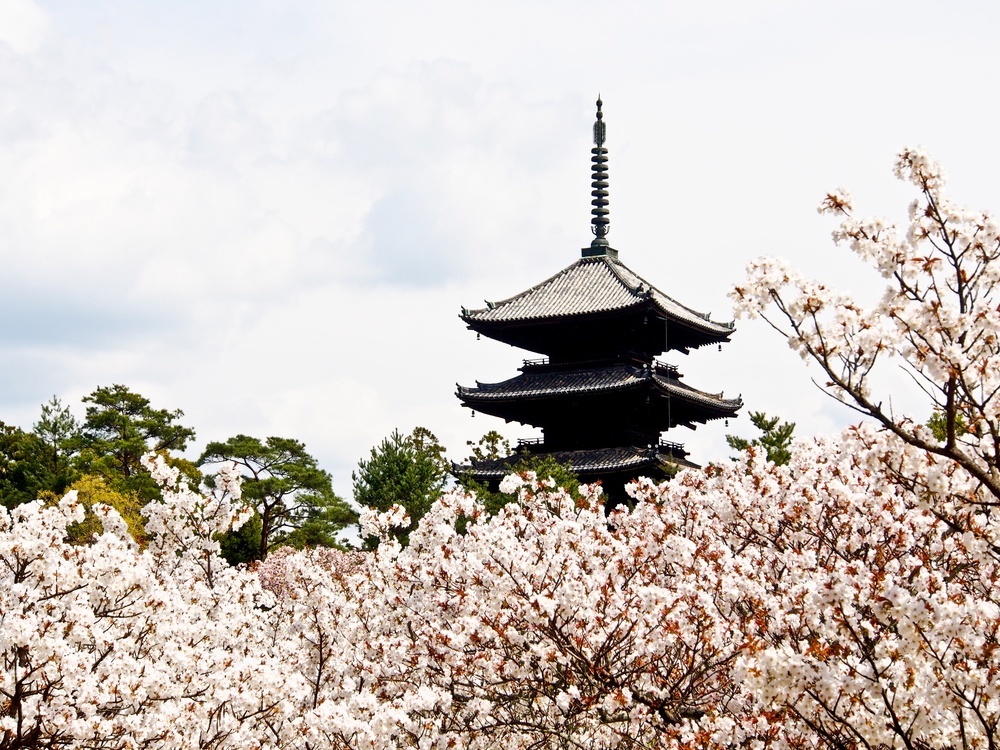 8. Haguro Five-story Pagoda
This revered Shinto shrine near the sacred Three Mountains of Dewa is located in Yamagata Prefecture. The five-story pagoda is a popular pilgrimage site. It was a favorite spot of haiku poet Matsuo Bashō. Located at the base of a mountain, the pagoda is considered a National Treasure of Japan.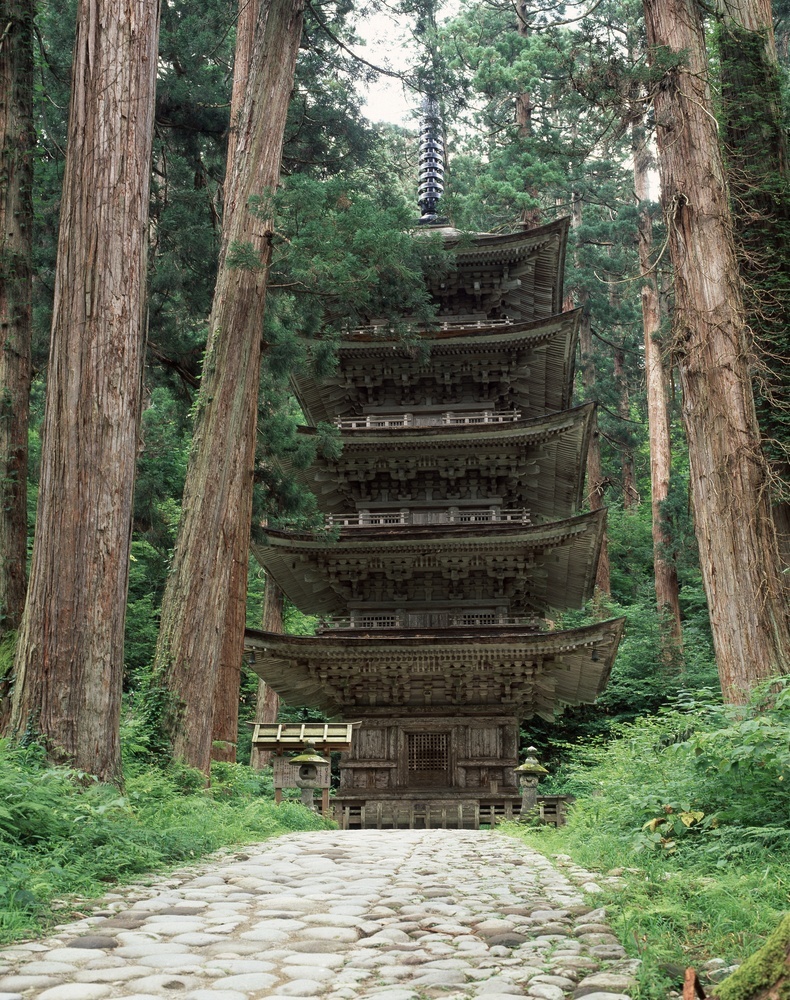 9. Anrakuji Temple
Simple yet beautiful, Anrakuji Temple is an octagonal three-story pagoda that is the oldest Zen Temple in the prefecture of Nagano. The temple was a revered center for learning during the middle of the Kamakura period. Its maple lined setting is one of Japan's most photographed sights during the autumn foliage season. If you are in the area, don't miss a chance to be inspired by this peaceful temple.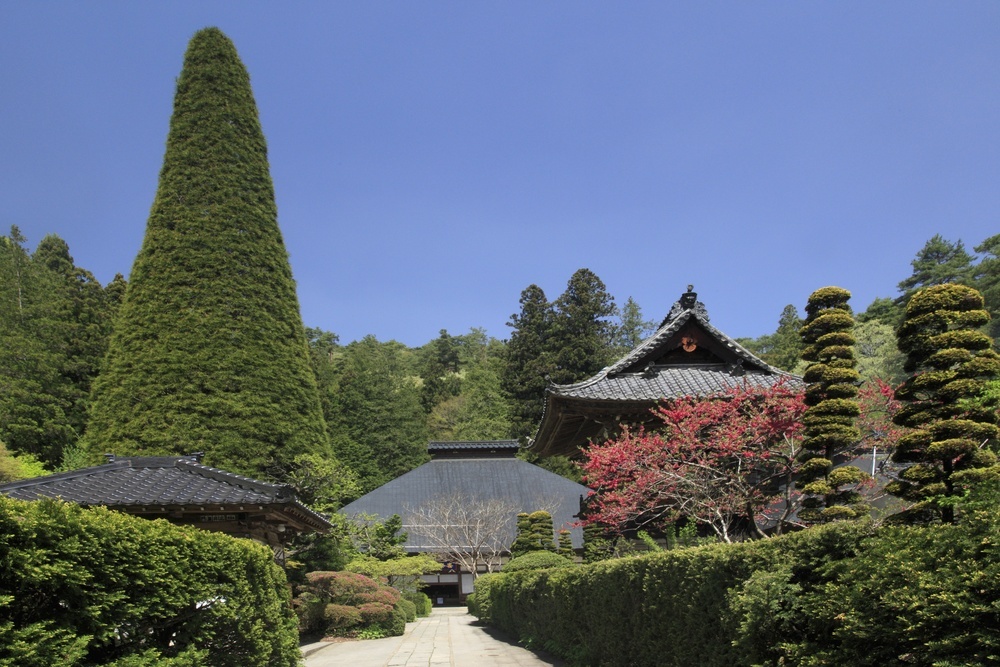 10. Toji Temple
The remarkable Toji Temple is located in east Kyoto and features an impressive 55m tall five-storied pagoda. The temple dates to the Edo period and is the country's tallest wooden structure. With its famed garden and pond, the Toji Temple is an historic monument of Japan that is renowned for its simple beauty. A little less sacred, the grounds of Toji also host a popular flea market on the 21st of each month.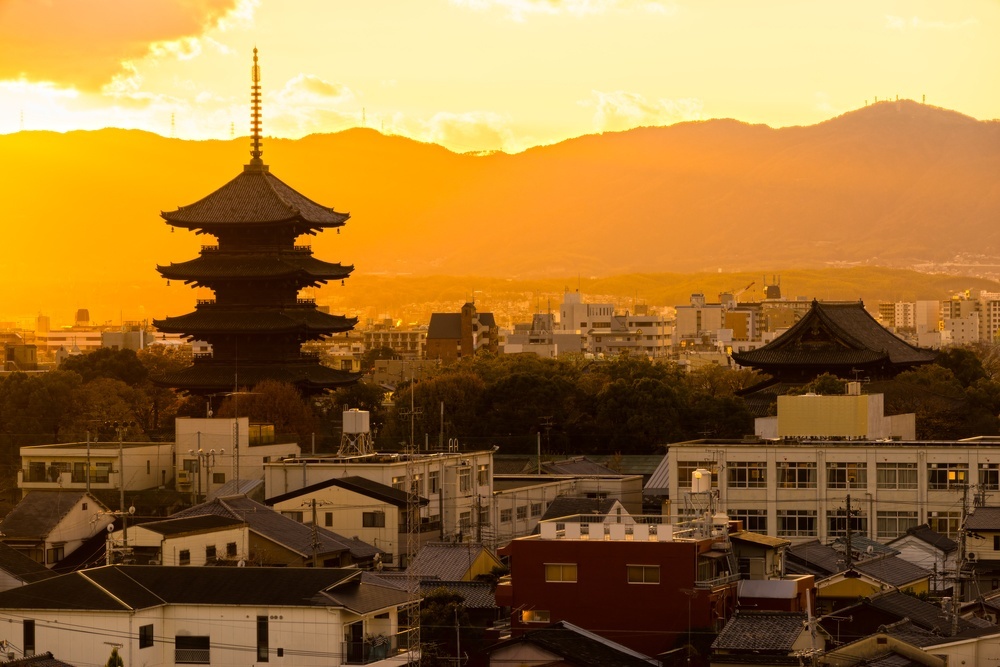 11. Kasuga-Taisha Shrine
You may be "templed out" after a trip to Kyoto, but its worth taking a short side trip to Nara for yet another one of the fabulous temples and shrines of Japan. The forest path to Kasuga-Taisha shrine passes through Nara's Deer Park, where free-roaming animals said to be Shinto spirits escort you along the way. Over three thousand stone and bronze lanterns welcome you to this sacred shrine. These are only lit twice a year, in February and August, during two Lantern Festivals.