Eternal flames are often intentionally ignited as a symbol of religious, historical or even sporting significance. Jewish sanctuary lamps, the John F. Kennedy Memorial or the Olympic flame come to mind (not to mention that insipid Bangles love song). However, there are also plenty of natural blazes burning around the world, some of which have been flaming for 6000 years. Some were sparked by lightening, volcanoes or spontaneous combustion. Many are perpetually fueled by pockets of coal, oil or natural gas. This is the hot stuff that inspired mythological creatures and biblical tales, spouting like raging dragons or hell on earth. They make fascinating, mysterious, oddly beautiful features, and often compelling tourist attractions. Here's a hot list of 11 natural eternal flames you've probably never heard of, but should.
1. Chestnut Ridge Park, New York
It's a bit of a mystery how this eternal flame keeps alight behind a pretty waterfall in Shale Creek Preserve. Ethane and propane have been identified as the fuel source, but scientists are perplexed by where the gas is coming from or what ignited it. The rocks underneath the park don't seem to emit sufficient heat to spark a flame or keep it burning, especially considering its watery environment. The best guess is that Native Americans set it aflame thousands of moons ago but more research is required to figure out how it sustains itself. Regardless of the science behind it, this flaming waterfall is a beautiful natural contrast to see.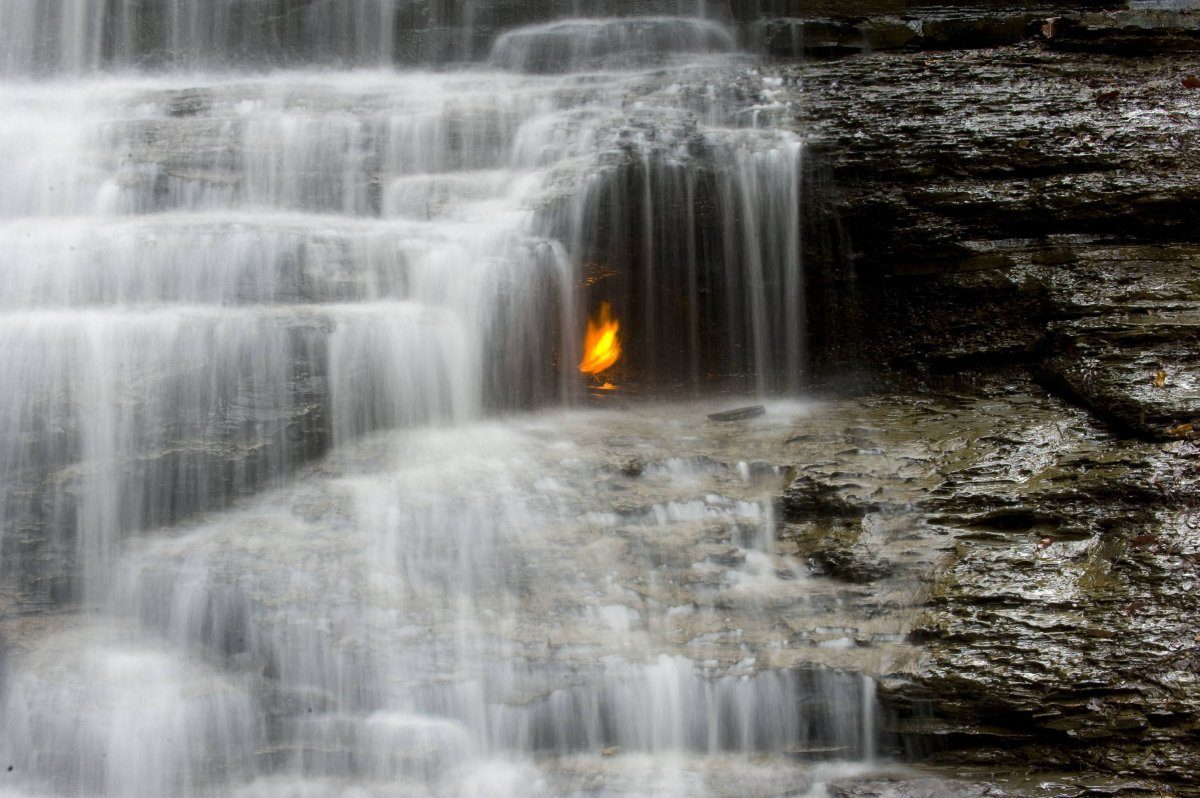 2. Smoking Mountain, Ethiopia
The two Lava Lakes of Erta Ale are also known as the "smoking mountain" or, more sinisterly, the "gateway to hell". This volcanically active northeastern region of Ethiopia is one of the driest and hottest places on the planet and strikes a rare geothermal balance where the the magma stays molten rather than solidifying in the lake's cooling waters. The result is a pool of glowing liquid fire, making one of the most spectacular sights for adventurous and intrepid travelers to behold.
3. Eternal Fire of Baba Gurgur, Iraq
This extensive Iraqi oil field has been blazing for over 4000 years, as referenced by ancient Greek Herodotus back in the day. Some scholars believe this was the "fiery furnace" referenced in the Bible (where Nebuchadnezzar tossed Meshach, Shadrach and Abednego). Natural gas seeps up through the rocks and keeps the fires perpetually burning, with no end in sight. Legend has it that shepherds used to gather here in winter to warm their sheep. Locals also used the natural asphalt around the pit to construct roads and buildings. You can see the orange flames from the city of Kirkuk, but visitors should stay upwind when visiting this site as it emits harmful hydrogen sulfide gas.
4. The Gates of Hell, Turkmenistan
This destructive inferno near Darvaza, Turkmenistan has been raging for 40 years now. The 200 feet hole was created in a Soviet industrial accident that exposed an underground cavern of methane gas. They lit the pocket on fire in the hopes that it would burn off and fizzle out, yet decades later it's still glowing strong.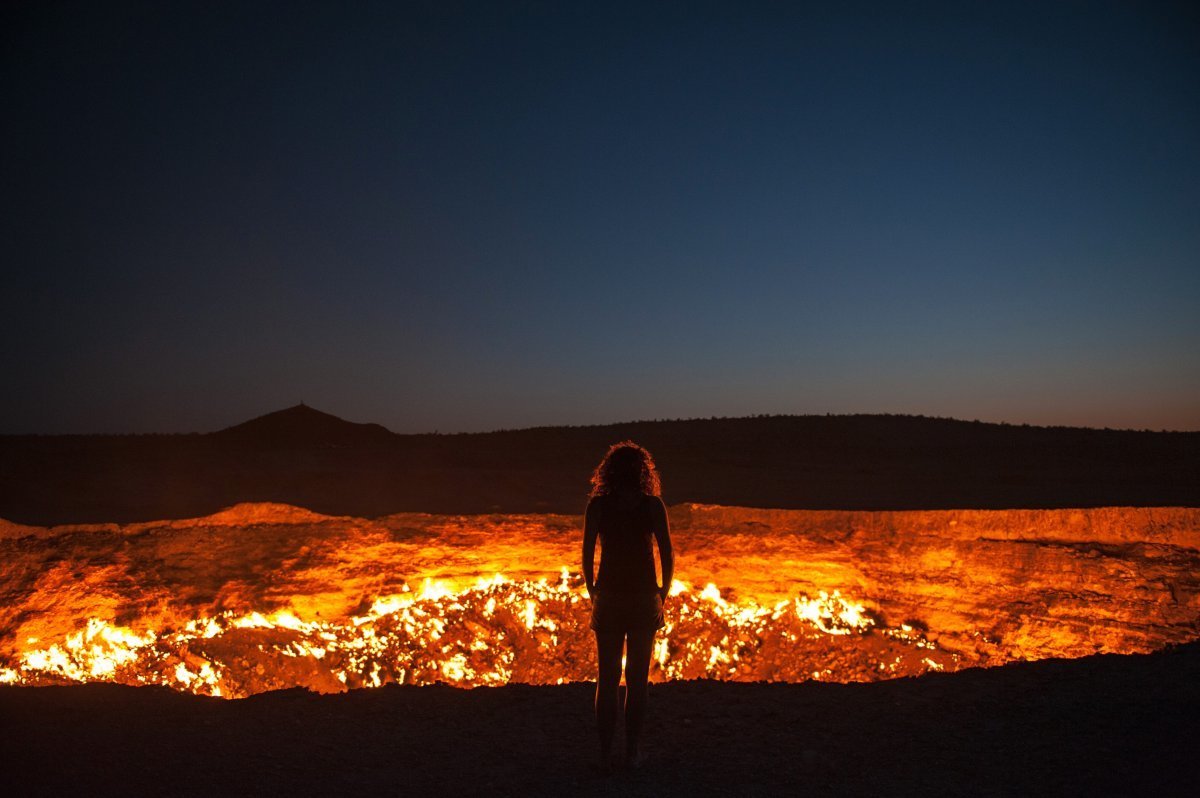 5. Smoking Hills, Canada
The hills are alive with the smell of sulphur and the sight of smoke. This land of fire and ice is in Canada's Northwest Territories, where enormous deposits of lignite (a combo of carbon-rich shale and sulphur-rich pyrite) spontaneously combust and billow smoke plumes that can be seen for miles. The phenomenon was discovered and named in 1828 by Sir John Franklin, who later went missing in his quest to find a Northwest Passage. In 1850, British Navy Captain Robert McClure lead an search and rescue expedition through the Arctic and thought the smoke might be a signal from the missing crew. A landing party brought a sample of smouldering rock to him which reportedly singed a hole through his mahogany desk. The local Inuit people call this area the "land of sour water".
6. Chimaera/Olympos Mountain, Turkey
This long-flaming area is said to be the inspiration for the Chimaera, a fire-breathing monster in Greek mythology. It may also be what Pliny the Elder was referencing when he wrote about "a flame that does not die by day or by night". For over 2000 years, sailors used the mountain's firelight as a natural lighthouse to help navigate the rocky shores. Methane gas seeping up through the rocks is what fuels these fires, although volcanic activity may also be a factor. The flames can be extinguished when covered in dirt, but sooner or later the gas reignites again.
7. Water and Fire Cave, Taiwan
You'd think the surrounding H2O would extinguish this inferno, but somehow water and fire coexist in this scenic open cave near Taiwan's Biyun Temple. Methane gas bubbles through cracks in the rock, and even the running spring can't quell these eternal flames. It's quite a beautiful sight that seems to go against the laws of nature. Reports of this were recorded by a monk in 1701 so it has been burning for at least 300 years.
8. Fire Temple of Baku, Azerbaijan
Azerbaijan is known as the "Land of Fire" as it boasts a number of natural eternal flames. This one near Baku has been ablaze for centuries, often mentioned in ancient texts. Even Marco Polo made reference to this fiery phenomenon when he passed through the region in the 13th century. The country's rich gas reserves keep the fires burning. Today, the surrounding temple and museum is a both a place of worship and a tourist attraction.
9. Centralia Coal Mine, Pennsylvania
This coal mine was set to be a financial boon for the town of Centralia, PA but unfortunately it burst into flames that just won't quit. The now abandoned gas reservoir sparked in 1962 and despite attempts to put out the fire, it continues to smoulder and cause faults in the ground to this day. The town was condemned in 1992, but nine stubborn residents refuse to leave their hazardous homes.
10. Brennender Berg (Burning Mountain), Germany
This seam of coal in Saarland, Germany ignited in 1688. No one really knows how it started, but it could have been spontaneous combustion. We do know that poet Wolfgang von Goethe saw this phenomenon in 1770, as he wrote about it: "Dense steam arose from the crevices and we could feel the hot ground even through the thick souls of our shoes". There's a plaque commemorating his visit there. School children used to visit the site and steam eggs on the vents like Mother Nature's oven. The flames have quelled a bit since the 1800s, but steam can be seen and heat can be felt emanating from the rocks.
11. Mount Wingen, Australia
This continuously blazing underground coal field in New South Wales rages on beneath the hill's surface, making the landscape glow like a burning mountain. It may be the world's oldest perpetual coal fire, with some estimates claiming it's been aflame for over 6000 years. It moves one meter per year, so about 6km since it ignited.
Check Out This Summary on YouTube